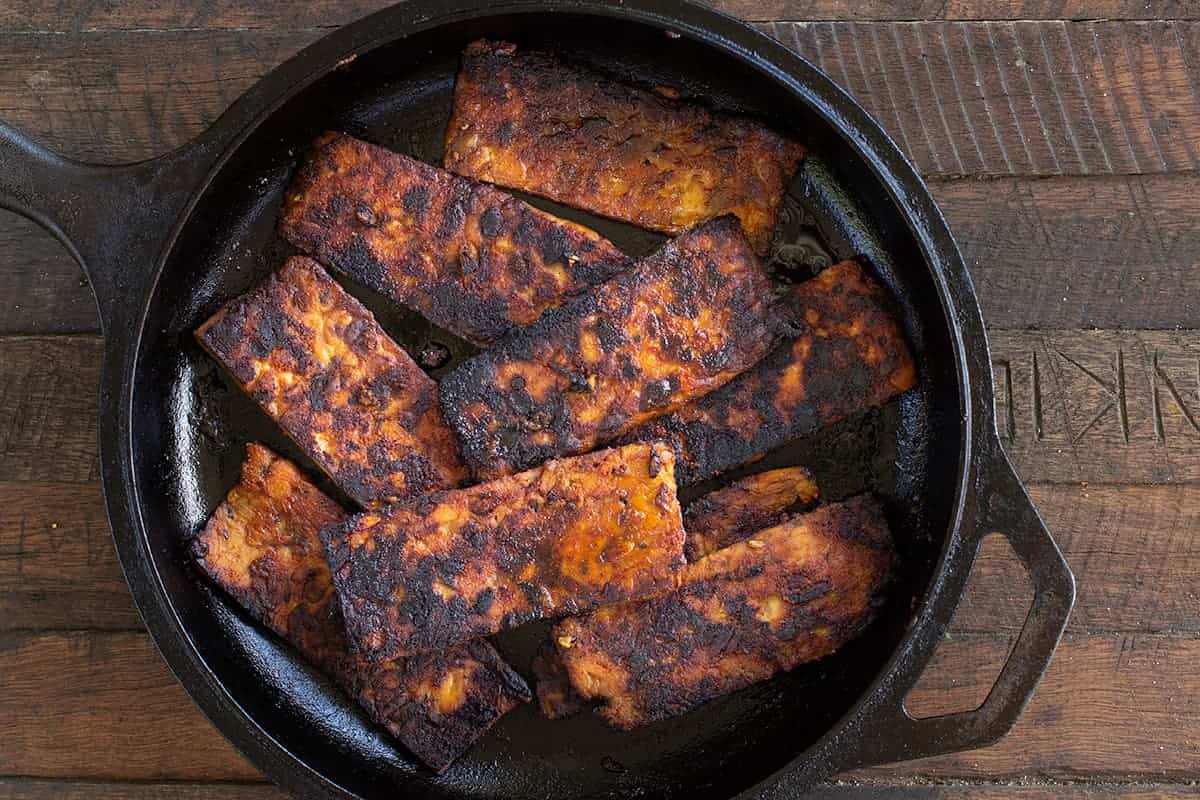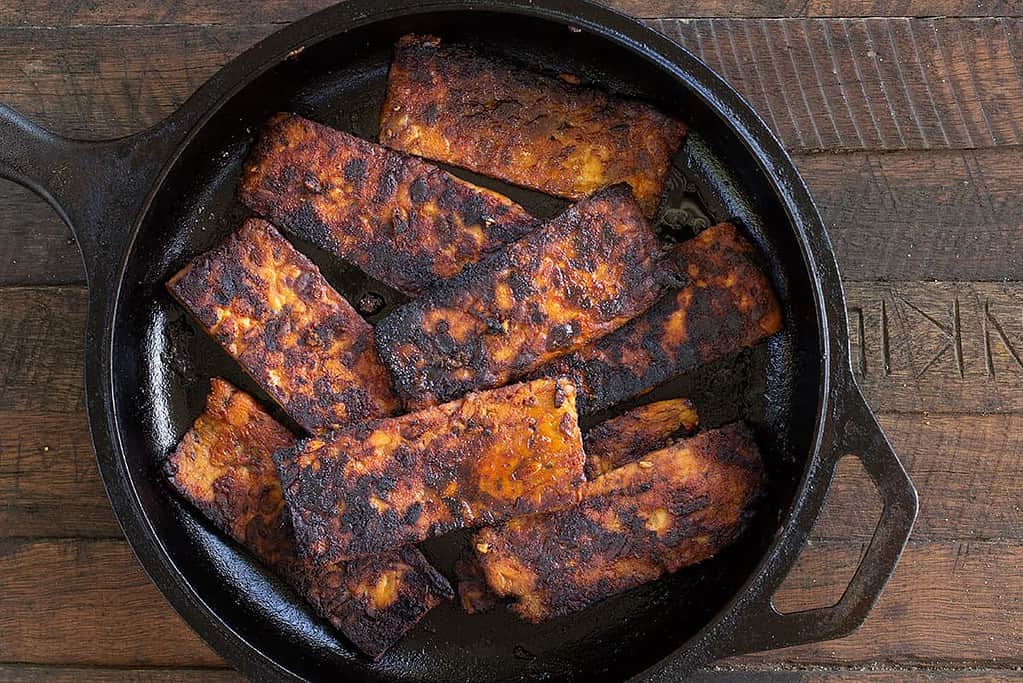 It is more common than not that the average Joe or Jill has never tried tempeh, or, has tried it and disliked it. I'm hoping by the end of this blog post I can persuade you to give tempeh a go either for the first time, or to try it again as I truly believe unless tempeh is cooked correctly it can be a pretty sad experience. Conversely, when you prepare and cook tempeh in the right way as per this recipe for Easy Marinated Fried Tempeh, well you are in for a treat dear reader!
common mistakes with preparing and cooking tempeh
The most frequent mistake made with tempeh is the preparation method (specifically the thickness of the slices) followed closely by not cooking the tempeh enough. Tempeh is traditionally served fried with chilli sauce (sambal) in Indonesia where its origins lie. Tempeh is not made to be treated the same way you would tofu. It has a completely different texture and density that requires an alternative approach for the best culinary outcomes.
Tempeh should be well cooked and lends itself to being either fried till super crisp as seen in this recipe, or crumbled up and incorporated into dishes like vegan or vegetarian burgers (there is a great one in my cookbook e.a.t), lasagnes and bolognese sauces where it takes on a similar texture to mince. Personally I find cutting tempeh into cubes as you would tofu and adding it into stir fry's is the last thing you want to do with it (and probably the most common mistake made). Tempeh treated this way in a stir fry will end up stodgy, pasty and will not take on the flavours of the stir fry very well – the result being like biting into a raw mince patty. Not great.
how to prepare tempeh for frying
If you follow me on Instagram you will see that I posted a video of making this tempeh in my IG Reels. However, let's look at a step by step guide of how to prepare the tempeh, including the use of the marinade along the way.
Note: I have used a tempeh that has been flavoured with some spices (hence the red colour). Usually tempeh will be a pale yellow colour with discolouration spots due to the natural fungus (white Rhizopus mold) that gives tempeh its delicious fermented taste.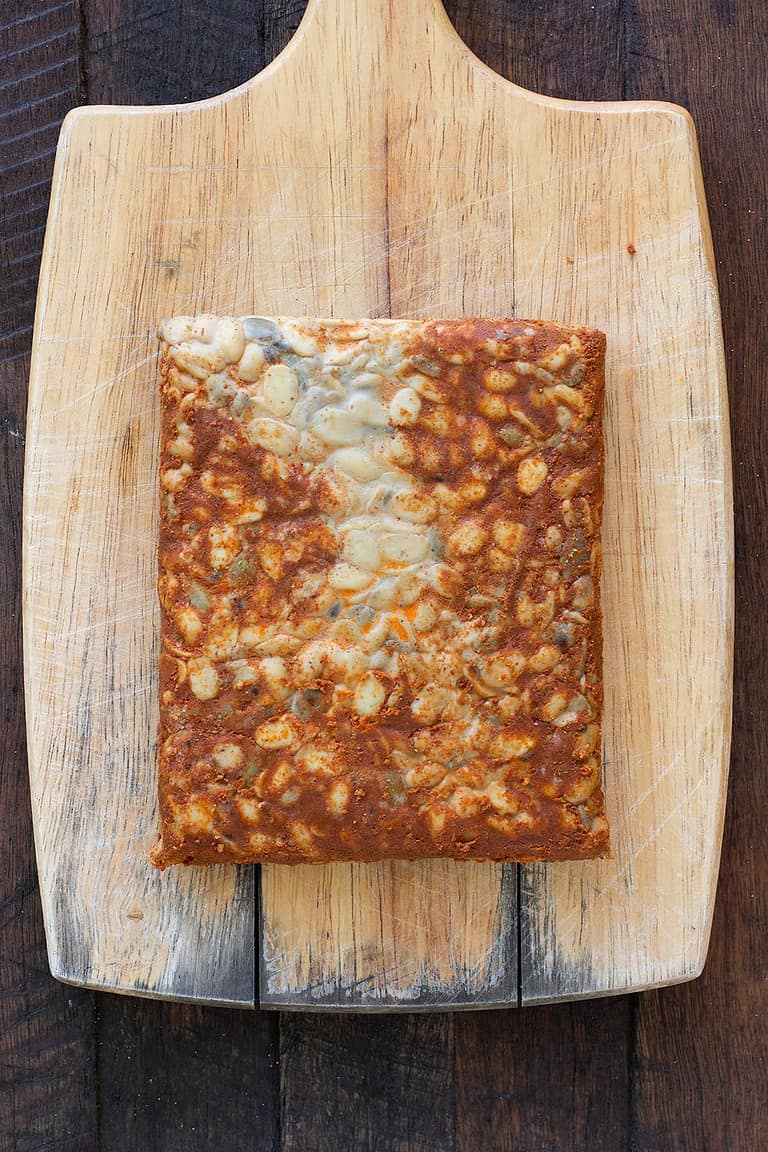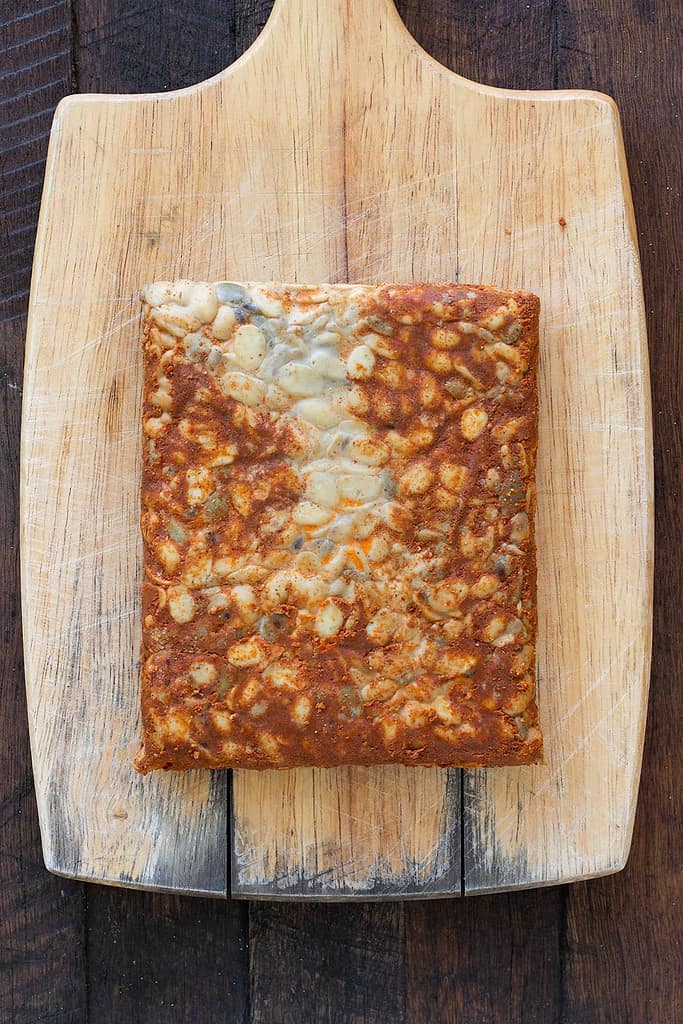 Use a standard block of tempeh. Tempeh is commonly sold in 250g – 300g blocks. Common brands in Australia are NutriSoy Organics and Macro Organics sold in supermarkets along with my favourite, Primasoy Organic that I personally source from our local health food store. Plain flavoured is fine, however a pre-flavoured option also works well (I find the pre-flavoured ones in the brand I like aren't that strong in flavour at all).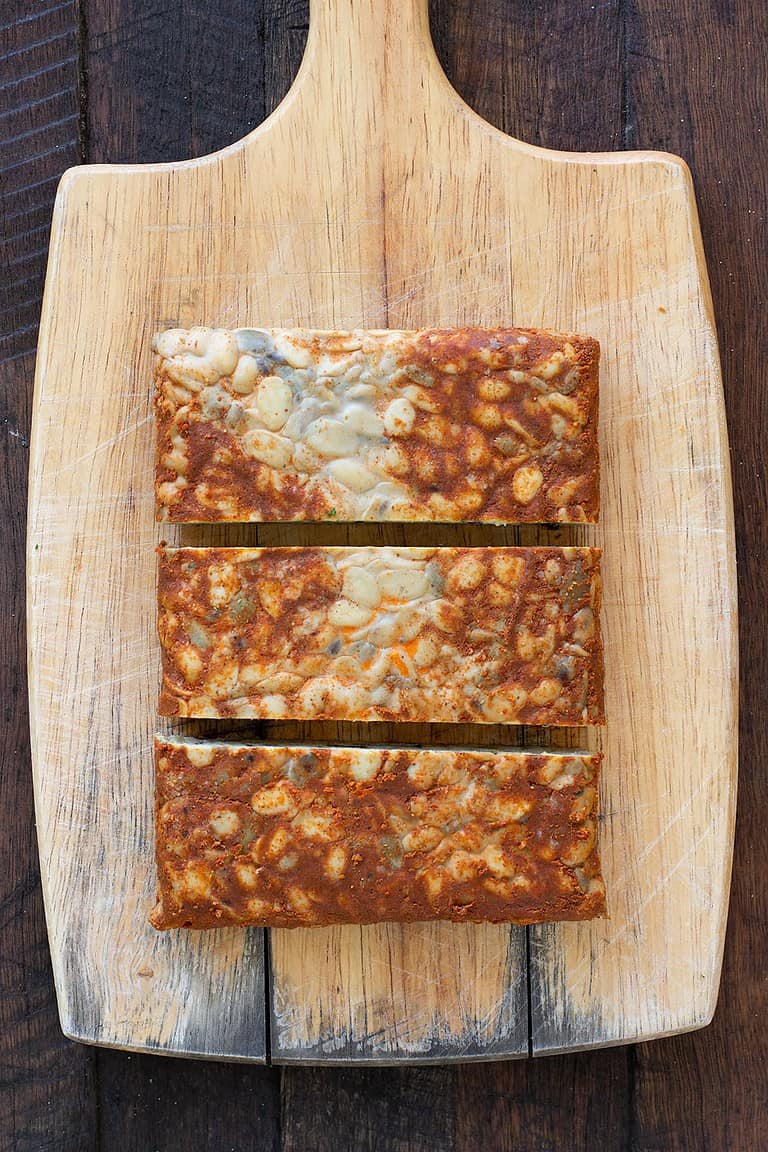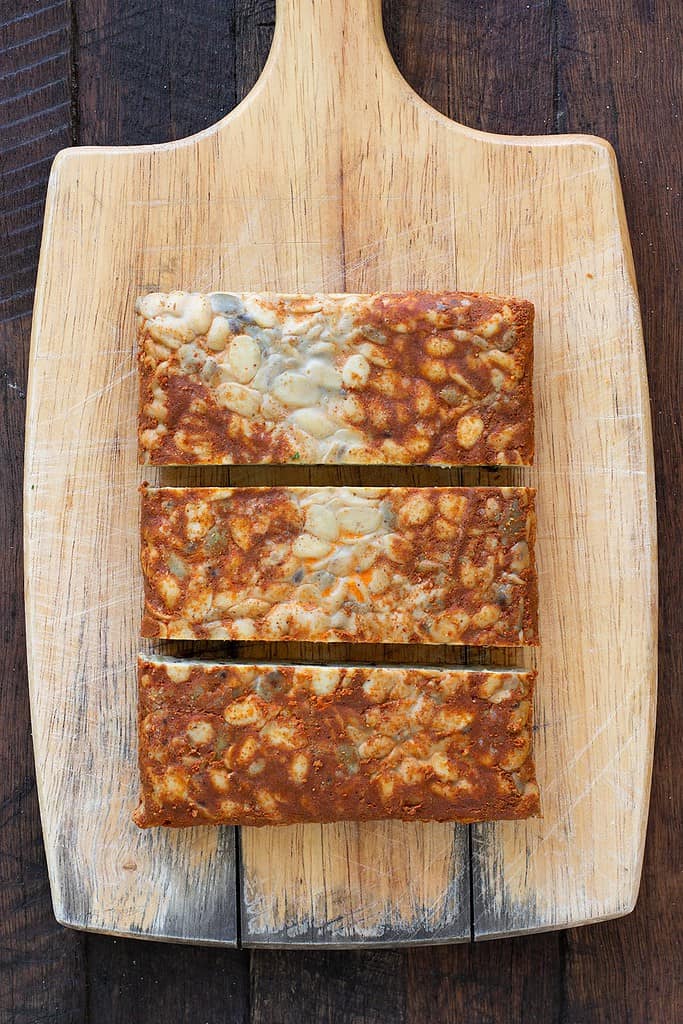 2. Cut the tempeh into three slices. I prefer horizontally but its not a big deal if you do it vertically either. 'Apples to apples' on this one.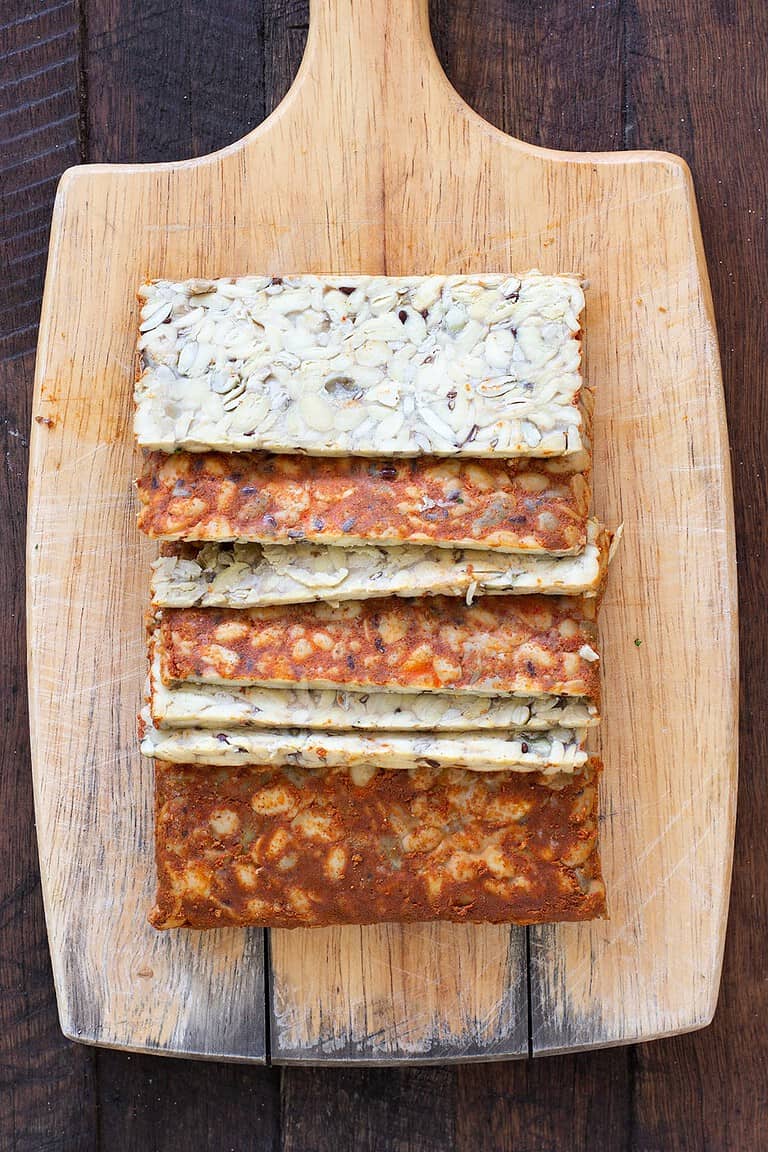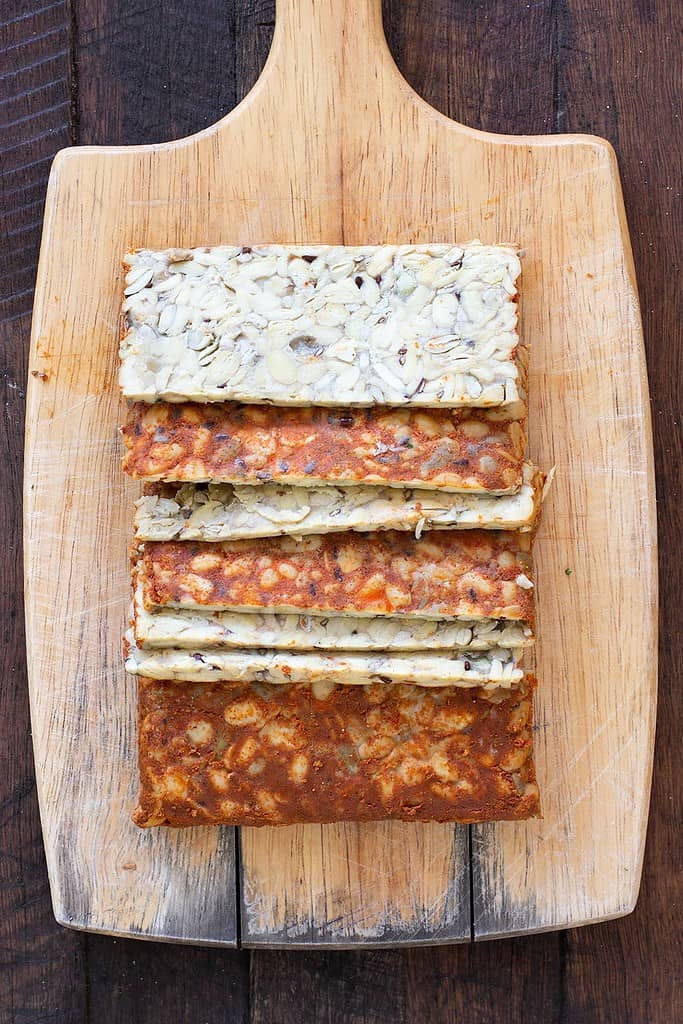 3. Now cut each third into three slices through the centre of the tempeh to yield 9 thin slices. If they crumble a little or are a bit uneven don't panic, it happens.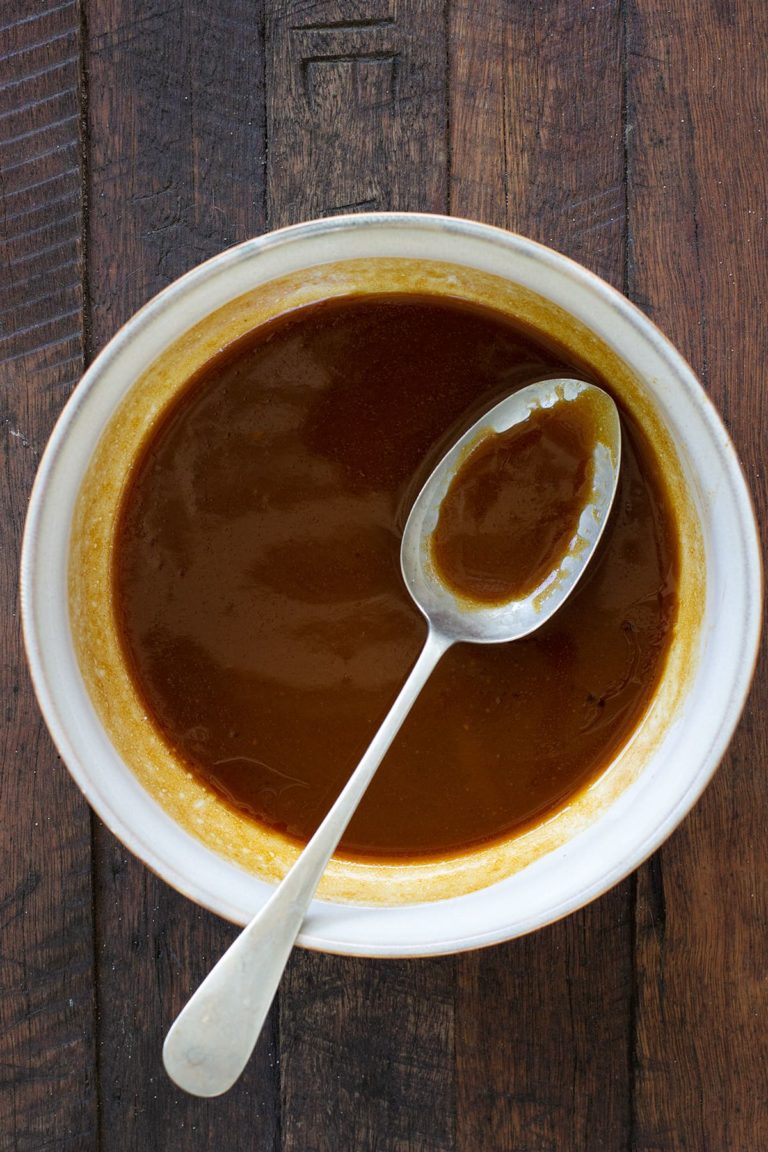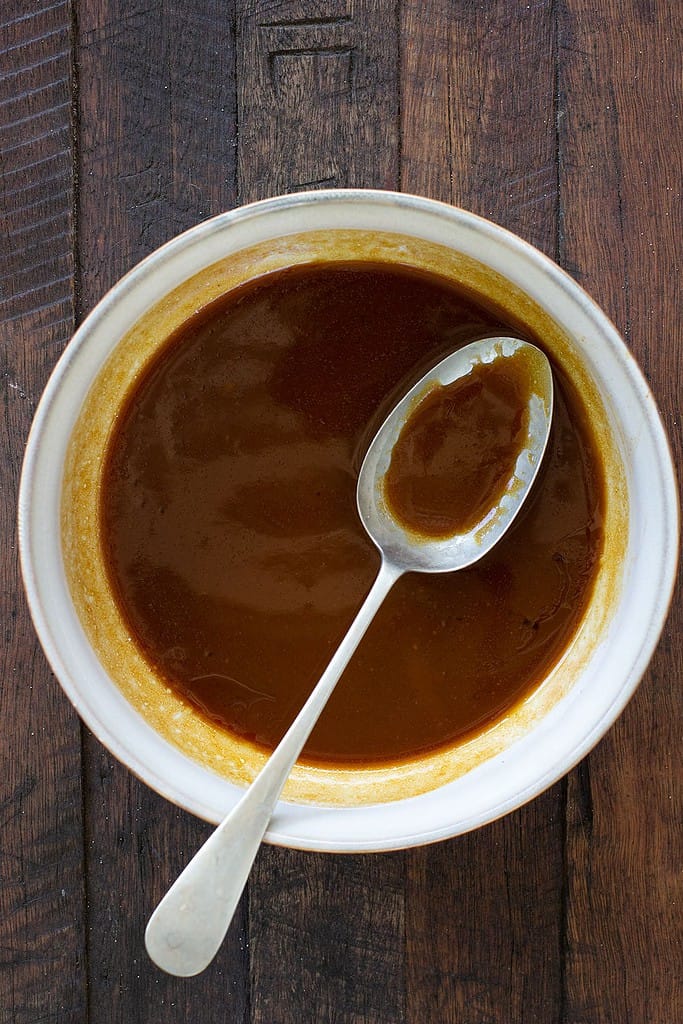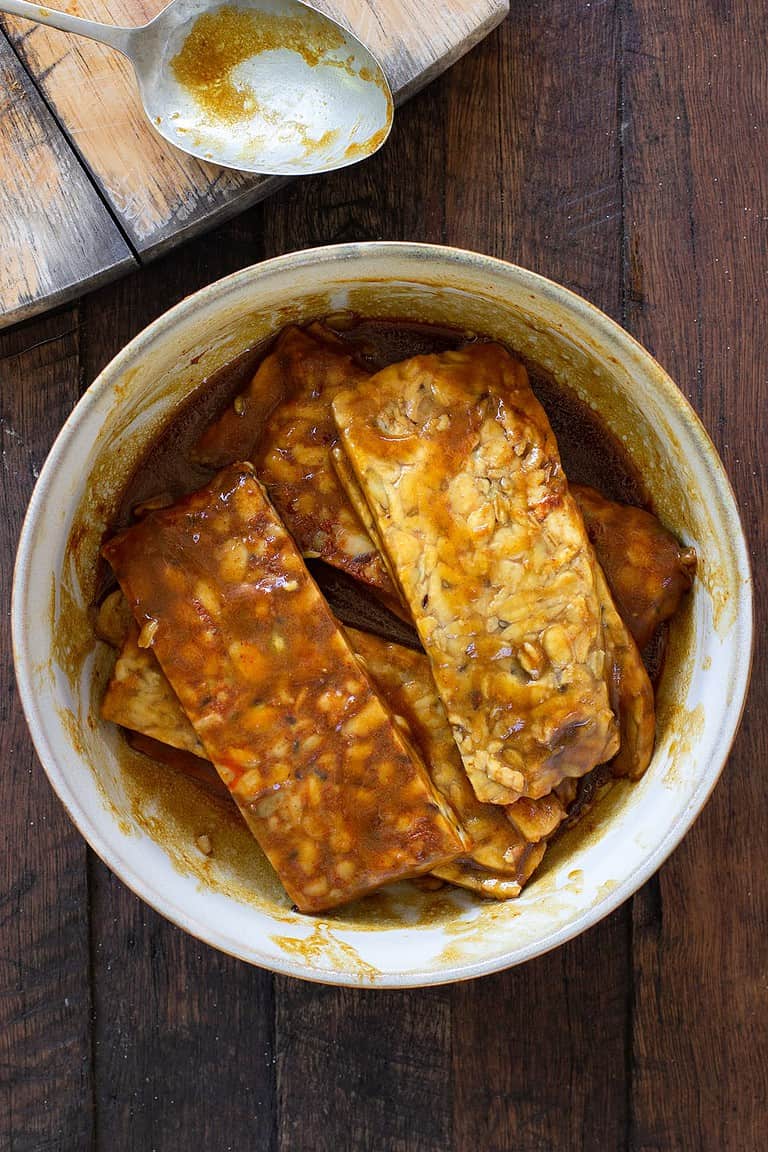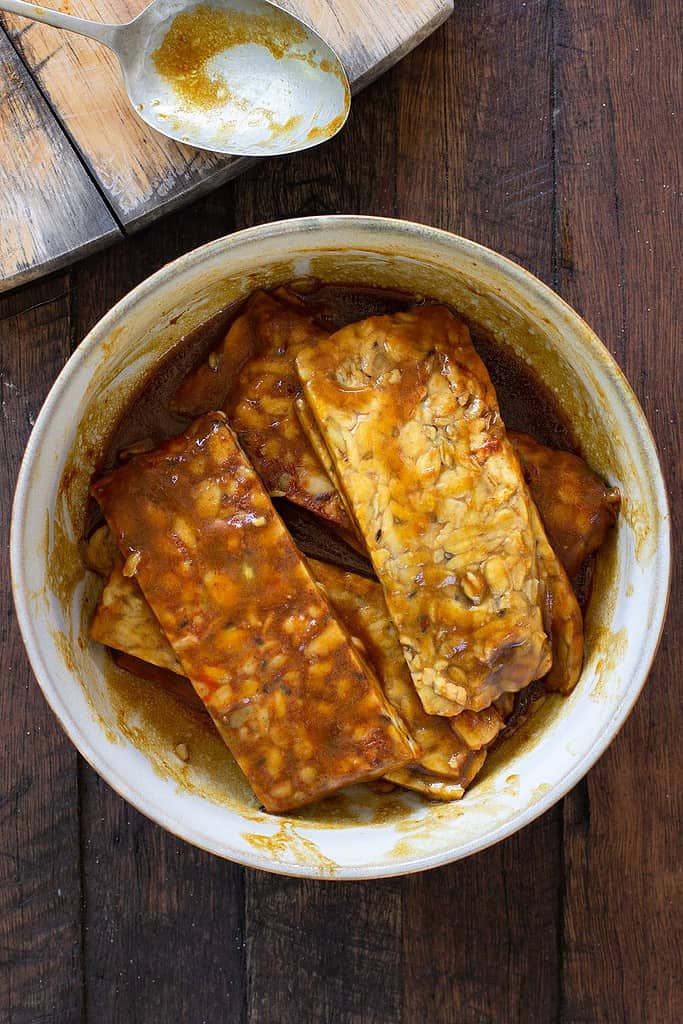 4. Now take your pre-made marinade (see recipe) and coat the tempeh slices in the marinade leaving them to sit nice and snug in the bowl for a few minutes whilst you heat a wide based frying pan to start the cooking process in the method below.
Like what you're seeing? Subscribe for new recipes and nutrition tips every week!
how to eat fried tempeh
This Easy Marinated Fried Tempeh can be enjoyed in a multitude of ways. One of my favourites is in these Tempeh Wraps. We make these wraps at least weekly and enjoy them as a hearty vegetarian meal rotating the roast vegetables in them based on the season. You can also add Fried Tempeh to burgers for a vegetarian BLAT or on top of Sweet Potato Toast spread with tahini. Essentially think of it as a bacon-y substitute. I also love it torn through grain salad like this Roasted Cauliflower & Chickpea Salad.
As always, please let me know how you find this recipe enjoyable, I love hearing from you and your feedback always helps others find these recipes! xo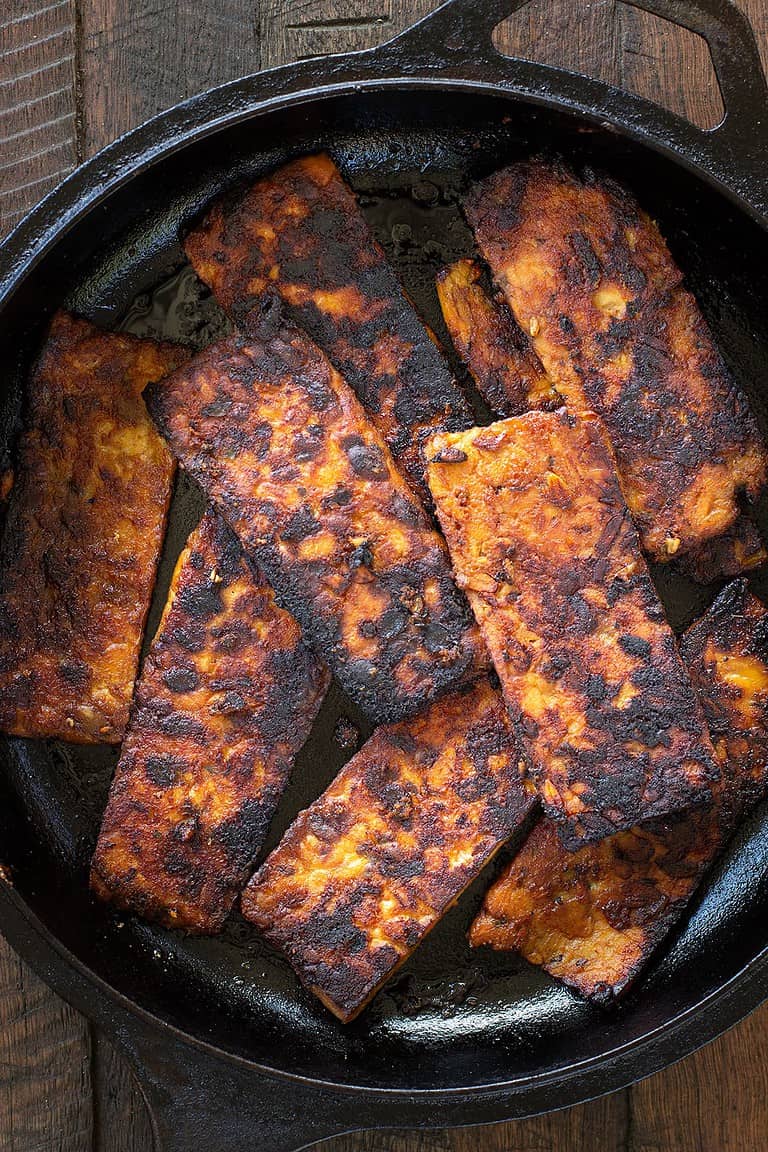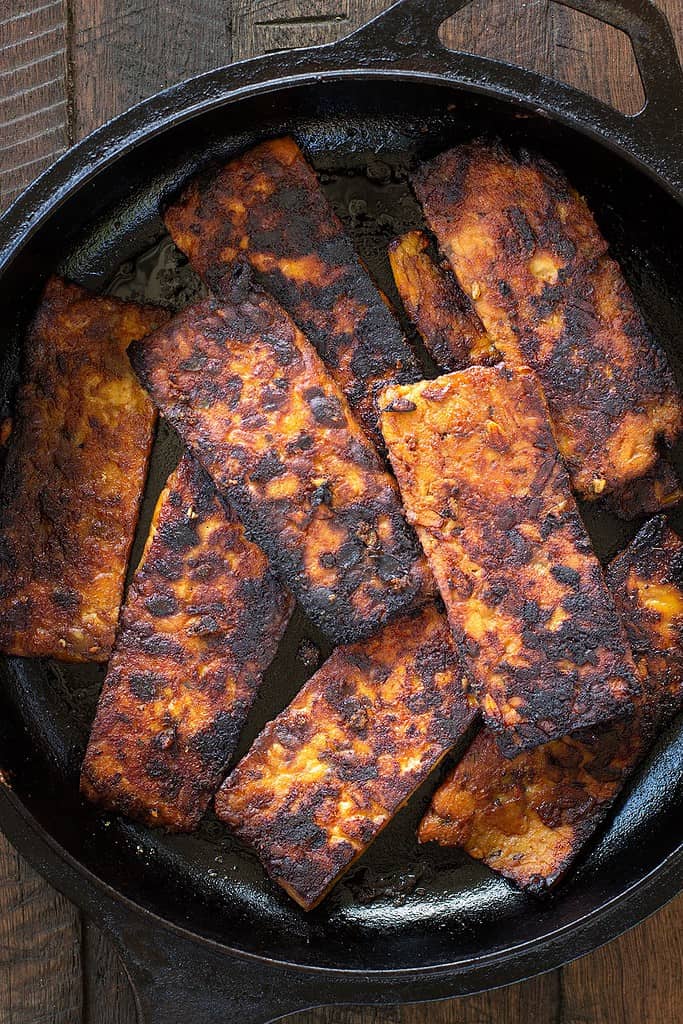 Need personalised nutrition advice catered to your needs?
If you are after personalised nutrition advice and dietary planning individualised to your health and dietary needs then contact us at The JCN Clinic with your enquiry. We are always happy to answer any questions you have!
easy marinated fried tempeh
serves

makes 9 slices

preparation time

10 min

cooking time

8 – 10 min
ingredients
250 – 300g block tempeh
2 tablespoons tamari (or soy sauce)
2 teaspoons rice malt syrup (or maple syrup)
2 tablespoons dijon mustard
2 teaspoons garlic infused extra virgin olive oil (or 1 clove crushed garlic)
1 tablespoon extra virgin olive oil
method
Start by cutting and preparing the tempeh into slices as per instructions above.
Add to a medium sized bowl the tamari, rice malt syrup, dijon mustard, garlic infused extra virgin olive oil and extra virgin olive oil and mix well.
Take each strip of tempeh and toss it in the marinade coating well (I like to just leave them once coated in a stack on the side of the bowl). Once they are all coated you are ready to cook, however if you like you can cover the tempeh and place it in the fridge to leave it to marinade longer.
Heat a wide based fry pan to medium – high heat and add the strips of marinated tempeh being careful not to overcrowd the pan or they will steam instead of fry (you may need to get two pans going depending on the size of your fry pan). There will be leftover marinade in the bowl so set this aside as you will use this to baste the tempeh as it cooks.
Cook the tempeh strips for around 3 minutes until they are starting to get a golden crust and then flip over and use the leftover marinade to baste the top of the tempeh strips. Cook again on the underside for another 3 minutes then flip once more, basting with remaining marinade. Continue to flip back and forth each minute until the tempeh strips are deeply golden and starting to char from the natural sugars caramelising.
Remove the tempeh from the pan when cooked through and serve immediately, or allow to cool and place in an airtight container for 4 days. This marinated tempeh will also freeze well for 3 months.
nutritional information for easy marinated fried tempeh
Tempeh is made from cooked and de-hulled soybeans prepared with some form of lactic acid or vinegar and then inoculated with spores of rhizopus oligosporus mold. The tempeh is fermented for around 24 hours at approx 30c allowing the fungus web (mycelium) to form. Due to this fermentation process those with histamine sensitivities will need to avoid tempeh in most circumstances, but as always please check with your practitioner or health care provider. As tempeh is made from legumes, some people with sensitivities to the legume family may have digestive issues with this ingredient. It is considered low FODMAP but clinically I would not use tempeh straight up with digestive issues clients at The JCN Clinic.
Nutritionally, 1/2 cup of tempeh provides 8 grams carbohydrates, 9 grams fat (predominantly polyunsaturated and monounsaturated fats) and 15 grams protein making it a wonderful vegetarian or vegan protein source. Tempeh is also high in B Vitamins (especially B1, B3 and B6) alongside manganese, copper, potassium, phosphorus and magnesium, iron and calcium.
Jessica Cox is a qualified practicing Nutritionist with a Bachelor Health Science (Nutrition) and over 15 years of clinical experience. She is the founder and director JCN Clinic, published author and established recipe developer. Jessica is well respected within health and wellness space for her no fad approach and use of evidence-based nutrition.