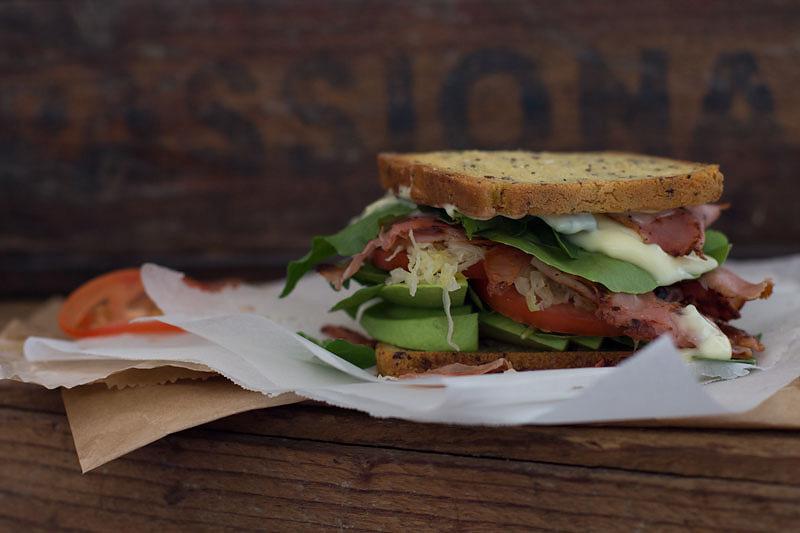 This is one of those posts that I hope will break the 'nutritionists only eat rabbit food' mould. I love a good BLT. When its done right, its like someone started a party in my mouth and every single taste bud has been invited.
This BLT is a weekly tradition in our household. It usually comes out on a Saturday night after a hard day of house renovations when my fiancé and I have really worked up an appetite. Its that time of the week when a lot of us choose to order in take away (or eat toast for dinner). This ready in 5 minutes option is like homemade take away with a healthy twist.
Traditionally of course a BLT, (or BLAT techinically here with the addition of avocado)  is made with bacon. If you can get your hands on some good quality free range, nitrate free bacon then that could also be used. Generally bacon will increase the saturated fat content of the dish, but if its lean bacon then that is not usually too much of a worry.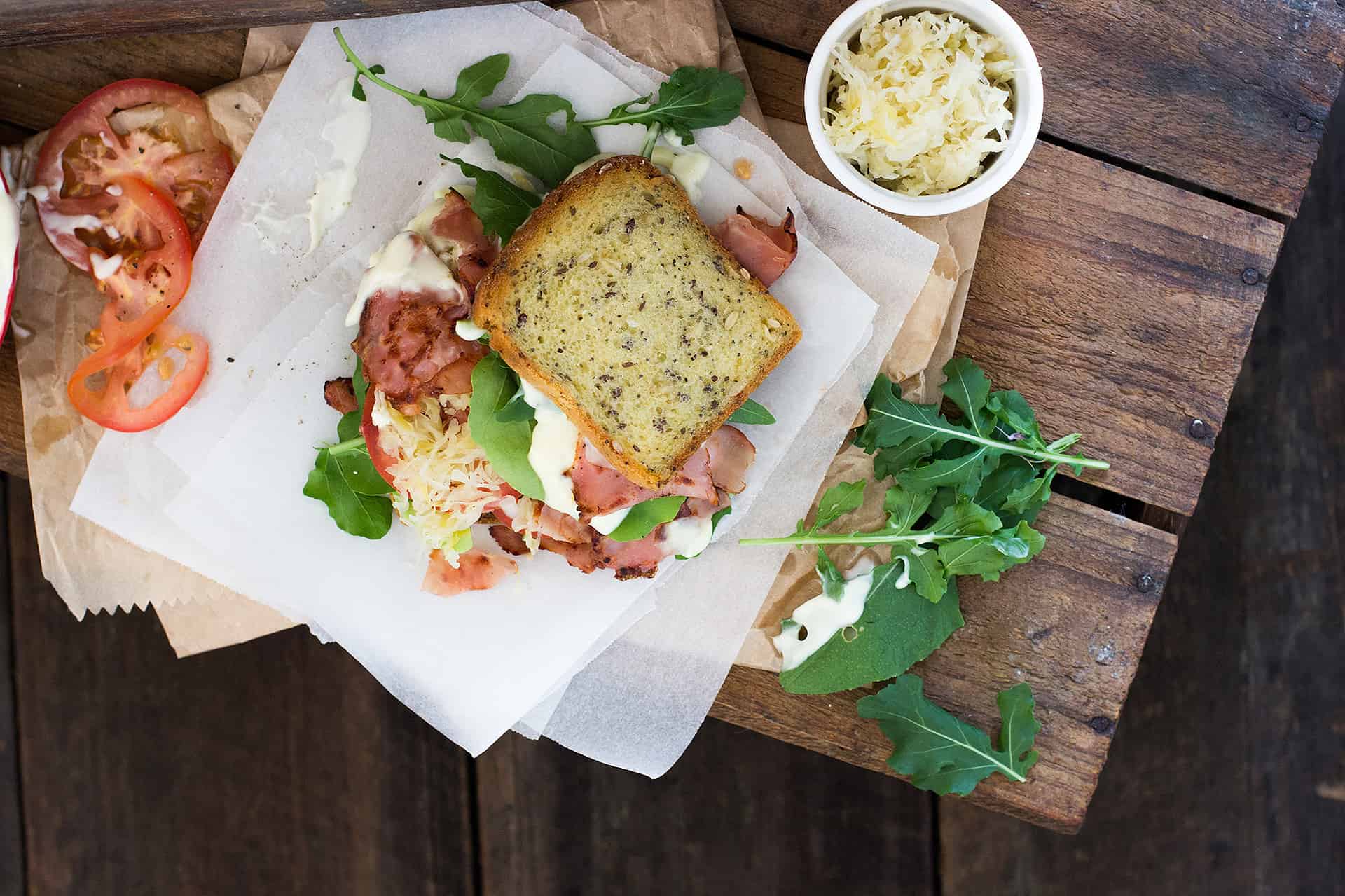 For me, a BLT is made special by the quality of the ingredients. If you use tasteless tomatoes and hoe hum lettuce, then you are asking for a boring meal. This BLT uses seasonal avocados with juicy truss tomatoes. It is also adorned with fresh peppery rocket, which works a treat alongside the creamy mayo. The addition of sauerkraut goes fabulously as it provides a lovely astringent that cuts through the fats in the dish. Of course, you don't have to add sauerkraut, but I do recommend giving it a try.
Finally, the greatest BLT really is made by the quality of the ham (or bacon). I buy mine from our local butcher, Jasons Quality Meats, who sells predominantly free range, organic meats. I strongly recommend finding a supplier in your area that offers similar produce. Not only will it taste so much better, you are also supporting an industry that follows humane treatment guidelines.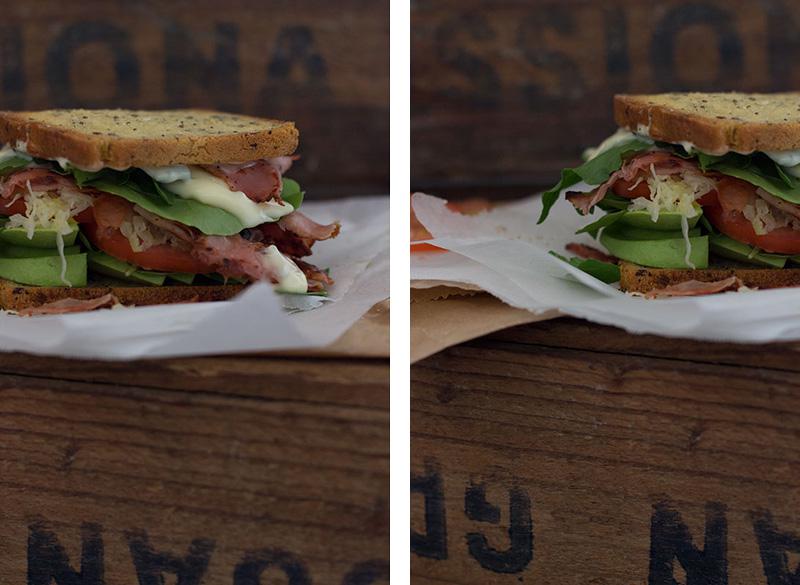 A word of warning…eating this BLT is a messy job! Be prepared for its lovely juices to run down your fingers and hands and end up dripping off your elbows. Licking off said juices running down ones arms mid BLT is highly recommended.
jess's b.l.t
serves

1 person

preparation time

5 minutes

cooking time

3 – 4 minutes
ingredients
2 pieces of wholegrain bread of choice (I used mega grain gluten free 'sol bread')
1/2 truss tomato, sliced (or other good quality tomatoes)
1/4 avocado, sliced
small handful rocket
2 – 3 slices ham off the bone (preferably free range and nitrate free)
1 dessertspoon sauerkraut
good quality mayo to dress
method
Heat a frying pan on medium heat and place the ham on to cook as you would normally do with bacon. Turn as the ham sizzles and starts to brown on the underside.
While the ham is cooking, place the toast in the toaster to heat through.
To assemble, place one piece of toast on your plate, top with avocado, rocket, sliced tomato, sauerkraut and finally pan cooked ham. Finish with a generous dollop of mayo and place the final piece of toast on top to serve.
nutritional information
Why nitrate free? Nitrates are artificial chemicals used to give meats a smoky flavour and red colour. Nitrates have been shown to be carcinogenic in high doses. Of course, there are regulations on the amount of nitrates used in human food, however it is good practice to keep them as low as possible.
Sauerkraut is rich in glutamine, an amino acid that is integral to healthy gut function. Glutamine is used as fuel by the cells of the intestinal tract. Glutamine also supports neurotransmitter function and is specifically useful for reducing anxiety.
For a egg free version, use tahini mixed with a little lemon juice and olive oil to create a creamy sauce instead of mayo. For a vegetarian version, use pan fried tempeh instead of ham. All options are still delicious!
Jessica Cox is a qualified practicing Nutritionist with a Bachelor Health Science (Nutrition) and over 15 years of clinical experience. She is the founder and director JCN Clinic, published author and established recipe developer. Jessica is well respected within health and wellness space for her no fad approach and use of evidence-based nutrition.