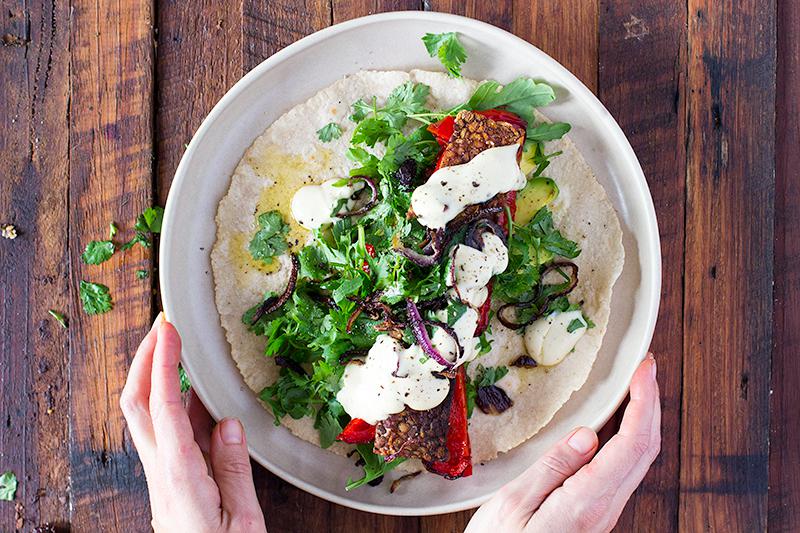 So it's late on a Thursday night and I am sitting at Brisbane central station waiting for a train that is delayed, drinking my 100% hot chocolate from Noosa Chocolate Factory. By the time I get home it will be 7:30pm and in my ravenous state I wish we had left overs of these tempeh, crispy onion and capsicum wraps, but unfortunately we ate every last bite last night and devoured the rest as left overs. Meals like this have a short shelf life.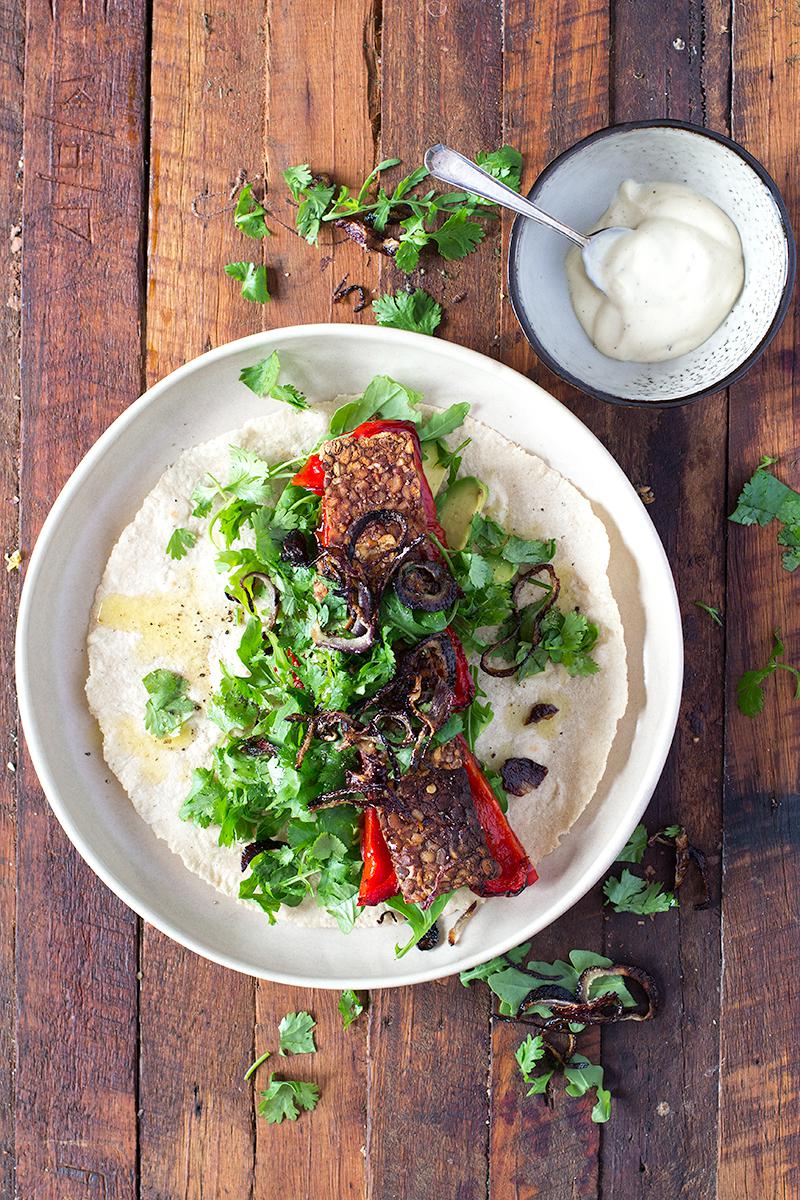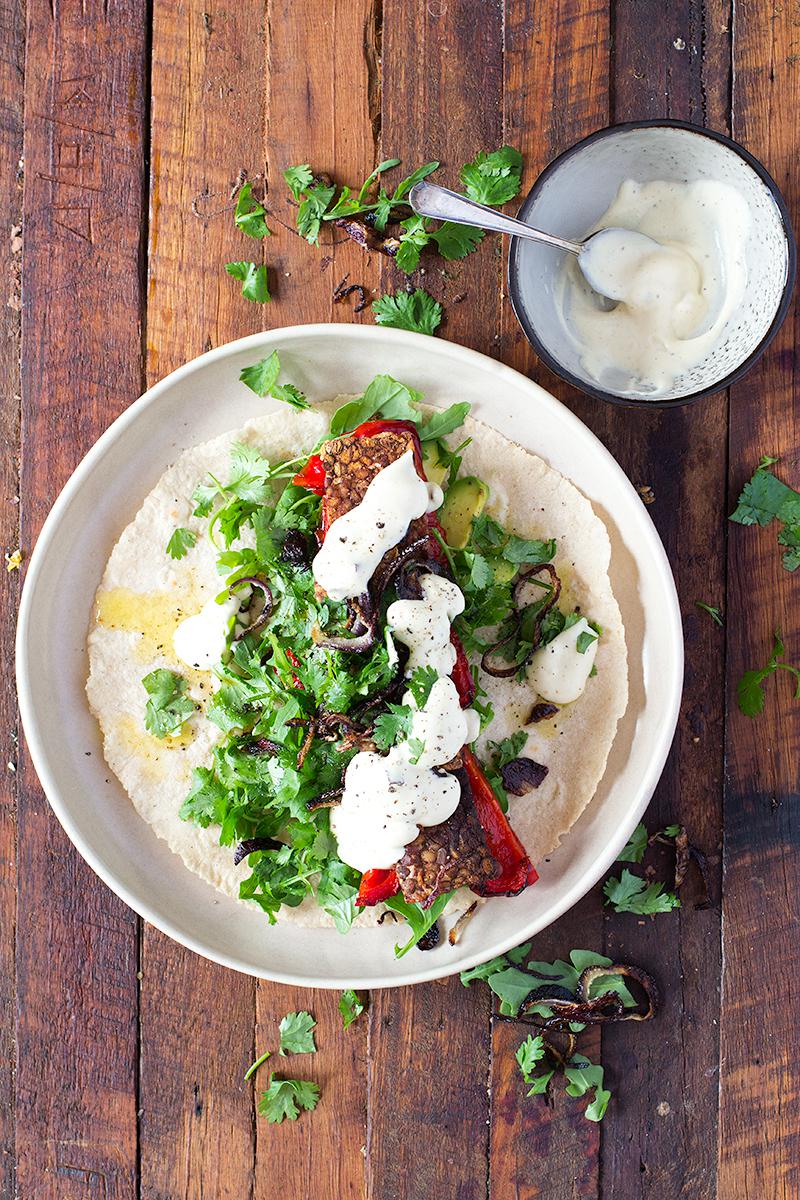 Eating meals at regular times and not too late in the evening is textbook #nutritiongoals. The thing is that life happens in-between these ideals and for many of us we get home quite late and therefore are eating dinner around 8pm commonly. Many of my clients are in this boat and often ask about whether they should be eating dinner earlier. My answer is, in a world where you finished work at 5pm and were home by 6pm at the latest, that would be wonderful. However as your job is not about to change in its hours (or demands) then you need to work with what you have. Feeling guilty about eating later meals is not going to help achieve anything. The best that you can do is make the right choices and keep this dinner time meal on the lighter side, thus avoid going to bed with a heavy stomach.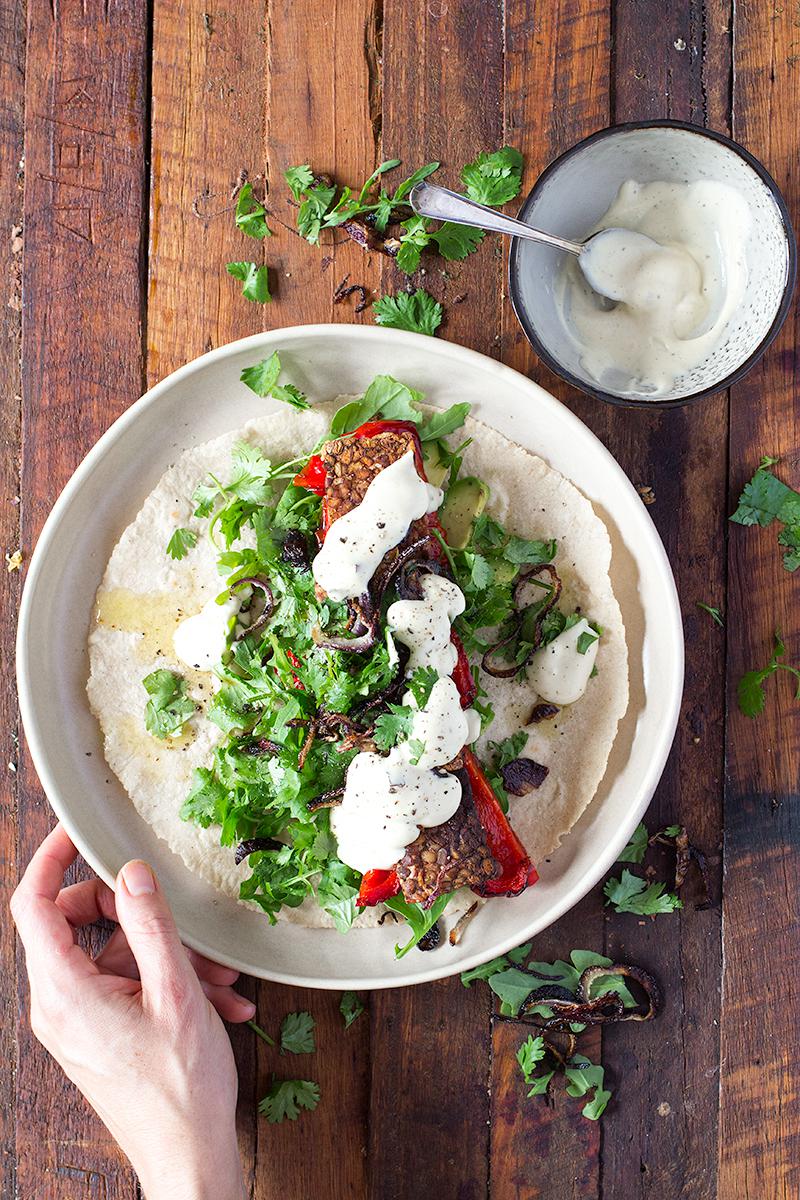 I also know that the key to managing a late dinner is eating balanced and nutritious meals throughout the day. If you fuel your day right with macronutrient balanced meals from breakfast through to lunch, with a mid afternoon snack to see you through late finishes, then you are less likely to get home and want to rip apart the kitchen cupboards devouring everything in site. Sustaining your day correctly means even with later finishes you are more likely to complete your day with a lighter meal and adequate portion size without overeating.
This brings me to these tempeh, crispy onion and capsicum wraps, which are a stand out option for a quick meal that is super light and a great option for whizzing up when you're late in the door. I'll often shorten the time of baking by cooking the tempeh in a frying pan instead and then jack the oven up to 220c to bake the living hell out of the capsicum within 20 minutes flat. It's not my preferred method of preparation for this recipe but it does work! The mayo falls into the same category. Sometimes I use a quality bought mayo, others I'll whizz this up while the capsicum and tempeh are cooking.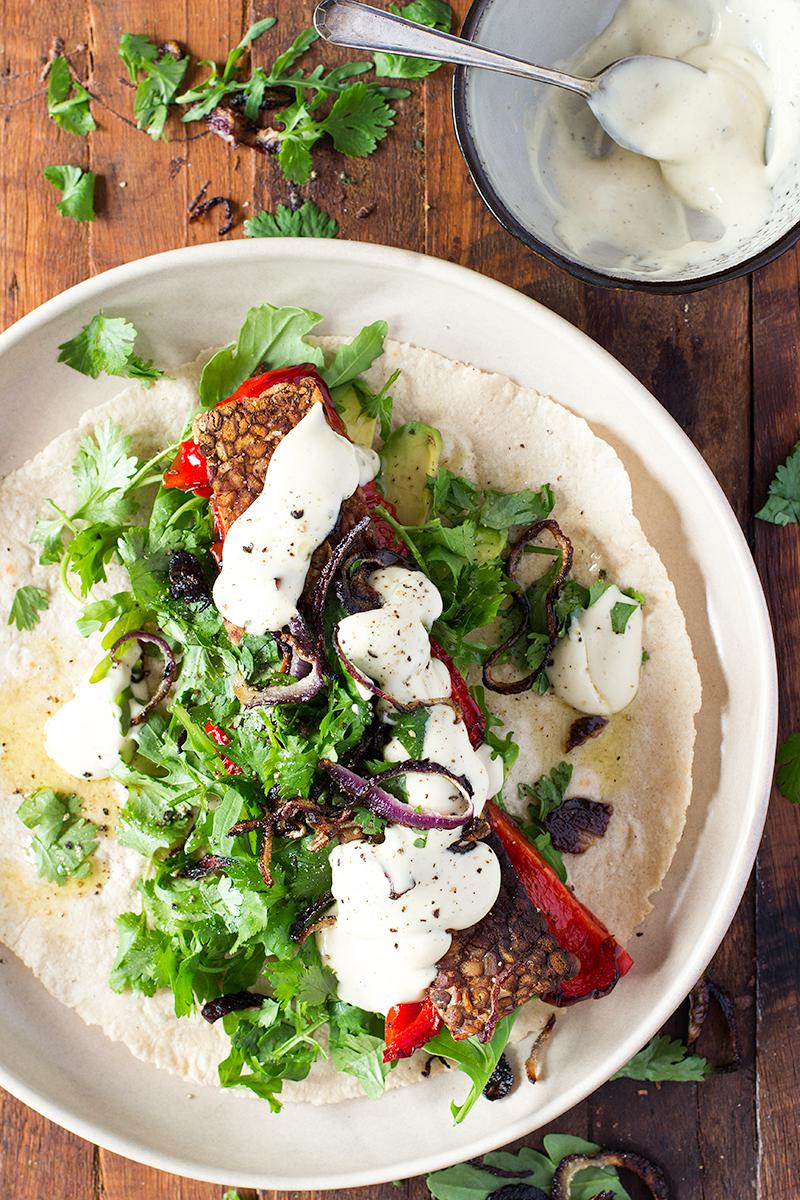 Some of you might be thinking, Jessica this is not a quick meal. A quick meal is eggs on toast. I get it, but as a foodie this is my version. If a well balanced and super nourishing tasty meal is put together in 30 – 40 minutes then that is fine by me. I'd rather eat my tempeh wrap at 8pm than baked beans on toast at 7:35pm.
Shall we talk about tempeh? I know some of you will be shaking in your booties at the idea of eating soy. If you would like to read more on my thoughts on soy you can do so here. Let's just surmise though and say that quality soy eaten as part of a wholefood diet is really not an issue for the majority of us. Lets leave the 'soy kills' hype at the door shall we? If you do avoid soy due to intolerances you can purchase chickpea, lupin and even red rice based tempeh in health food stores. I do love these myself as an option to shake things up.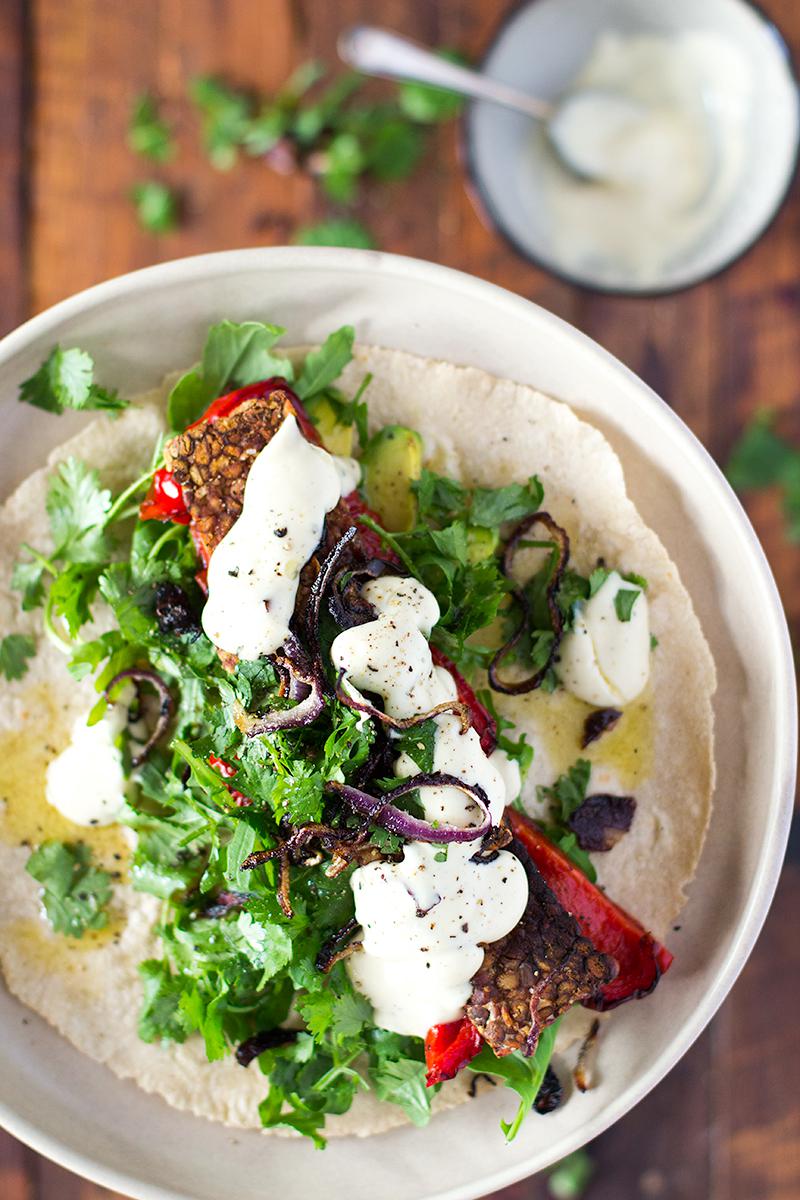 Lastly, these wraps are meant to be messy. Don't get all polite on me and try and eat them with a knife and fork. Roll them up and enjoy the mess that ensues. Lick the juices from your hands and wrists as it runs down your forearms and savour the moment. Eating with your hands in pure bliss and not enjoyed enough in our culture. Just learn the art of changing channels on your TV remote with your elbows and you'll have everything covered.
tempeh, crispy onion & roast capsicum wraps + homemade whole egg mayo
serves

makes 3 wraps

preparation time

30 minutes

cooking time

40 minutes
ingredients
2 medium sized red capsicums, core removed and cut into quarters
250g tempeh
2 tablespoons extra virgin olive oil
1.5 tablespoons tamari
3 wholegrain based wraps (gluten free if needed)
1 avocado
3 handfuls rocket
1/2 cup coriander leaves, roughy chopped
1 medium red onion, sliced thinly
6 tablespoons homemade whole egg mayo
// whole egg mayo //
1 free range egg
1 tablespoon apple cider vinegar
1/4 teaspoon salt
1/4 teaspoon pepper
2 tablespoons dijon mustard
1 cup cold pressed macadamia nut oil
2 teaspoons lemon juice + extra for serving
method
Preheat oven to 200c fan-forced.
Cut tempeh into three even sized blocks. Now slice the tempeh through the centre of each block to create three thin strips yielding nine strips to finish. Place tempeh in a shallow small dish and toss with 1 tablespoon extra virgin olive oil and the tamari.
Place the tempeh on a baking dish with the capsicum pieces. Toss the capsicum with the remaining olive oil and season everything generously with salt and pepper. Place in the oven for 4o minutes, turning the capsicum and the tempeh half way. The capsicum should start to char and blacken and the tempeh should be nice and toasted.
While the capsicum and tempeh are in the oven prepare the onion and the whole egg mayo. For the onion, heat a small frying pan to a low heat and add the thinly sliced onion to the pan to slowly caramelise with a little more olive oil, stirring often with a wooden spoon. The onion should darked to a deep golden brown and become quite crispy. Set aside.
For the whole egg mayo, place the egg, dijon mustard, salt, pepper and apple cider vinegar in a food processor and blend for 1 minute till well combined. Now slowly drizzle in the macadamia nut oil careful not to add too much at once otherwise the mayo will split. Once all the oil has been added you will end up with a nice thick whipped consistency. Add the lemon juice and blend again for a 30 seconds. Taste for seasoning and adjust if needed.
To assemble, place wraps on a plate and top each wrap with avocado. Top with rocket, coriander, charred capsicum, tempeh, crispy fried onions and finish with two generous tablespoons of homemade mayo ( you will have left over mayo so just store in an airtight jar in the fridge). Drizzle with some extra virgin olive oil and a squeeze of fresh lemon and enjoy!
nutritional information
To make a vegan and egg free version, simply omit the mayo and use tahini instead to drizzle over the wrap. You can also make your own wrap by mixing buckwheat flour with some water to bring to a crepe like consistency. Pour into a hot pan with evoo and cook like a crepe. Use this to top with your fillings as described above. I often fall back onto a homemade buckwheat crepe when I am out of wraps.
Jessica Cox is a qualified practicing Nutritionist with a Bachelor Health Science (Nutrition) and over 15 years of clinical experience. She is the founder and director JCN Clinic, published author and established recipe developer. Jessica is well respected within health and wellness space for her no fad approach and use of evidence-based nutrition.