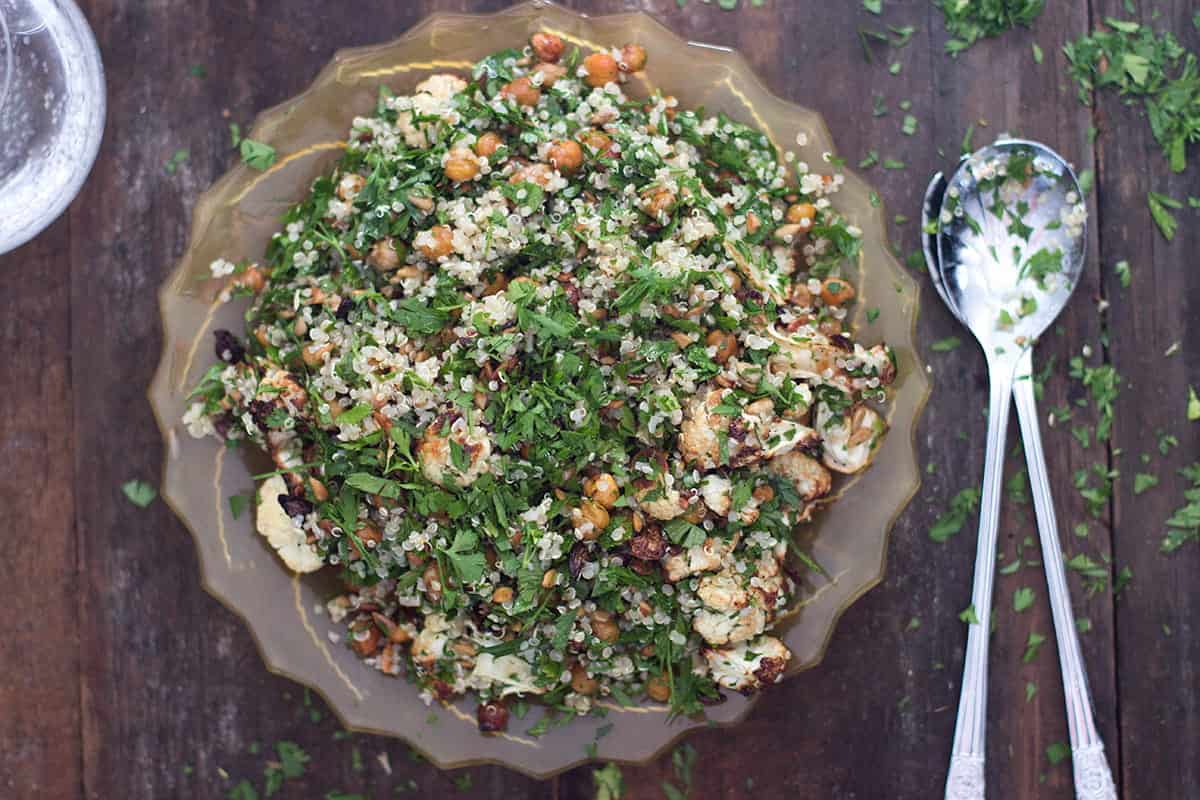 This roast cauliflower and quinoa salad salad is a mid week stable at our house. It compliments all protein sides and is lovely on its own or as an easy lunch on the weekends. I love to cook up a large amount so it can be used for weekday lunches or late night finishes.
If you have never tried roasted cauliflower (or chickpeas and sunflower seeds for that matter) you are in for a treat. Roasting the chickpeas makes them deliciously crunchy whilst roasting the sunflower seeds creates a nuttiness similar to peanuts. Delicious!
roast cauliflower & quinoa salad
serves

4-5 people

preparation time

15 minutes

cooking time

35 minutes
ingredients
1/2 cup quinoa
6 tablespoons malt vinegar or apple cider vinegar for gluten free
1 can chickpeas, washed
2 very large handful of parsley, roughly chopped
1/3 cup sunflower seeds
1/2 good sized cauliflower (stem and all), cut into florets roasted
1 teaspoon fennel seeds
salt and pepper to season
3 tablespoons extra virgin olive oil for roasting
3 tablespoons extra virgin olive oil for dressing
method
Preheat the oven to 220c. Place the cauliflower florets, sunflower seeds, chickpeas and fennel seeds in a large roasting dish. Drizzle with 3 tablespoons of oil and season with salt and pepper. Toss well till everything is well coated and place in the oven to roast for around 35 minutes. It is a good idea to take the dish out half way through and give everything a good stir to stop the ingredients on the outside of the roasting dish from browning too much.
In the mean time, bring a saucepan of water to the boll and add in the quinoa. Boil till tender, around 8 minutes, or until the quinoa is transparent in the centre. Drain well and leave aside to steam dry.
Once the cauliflower and chickpeas mixture is roasted, pour contents of the roasting pan into a large salad bowl making sure to scrape down and add all the lovely crispy bits. Add in the quinoa and the parsley and toss together. Finely add in a olive oil and the vinegar mixing well till all combined. Serve with a protein side such as grilled fish or bbq meats.
nutritional information
For a quicker alternative you could choose to not roast the cauliflower, chickpeas and sunflower seeds and create a raw salad. This is a great option when you don't feel you have the spare half hour for roasting or it is simply too hot!
If fennel seeds aren't your thing then they can be omitted. Perhaps try swapping them for cumin seeds instead.
The chickpeas and the quinoa will provide protein in this dish. Realistically to sustain you as a meal you need to add a protein side. I love this salad with lamb cutlets or salmon fillets. It would also be lovely topped with a fried egg or some tempeh.
Jessica Cox is a qualified practicing Nutritionist with a Bachelor Health Science (Nutrition) and over 15 years of clinical experience. She is the founder and director JCN Clinic, published author and established recipe developer. Jessica is well respected within health and wellness space for her no fad approach and use of evidence-based nutrition.