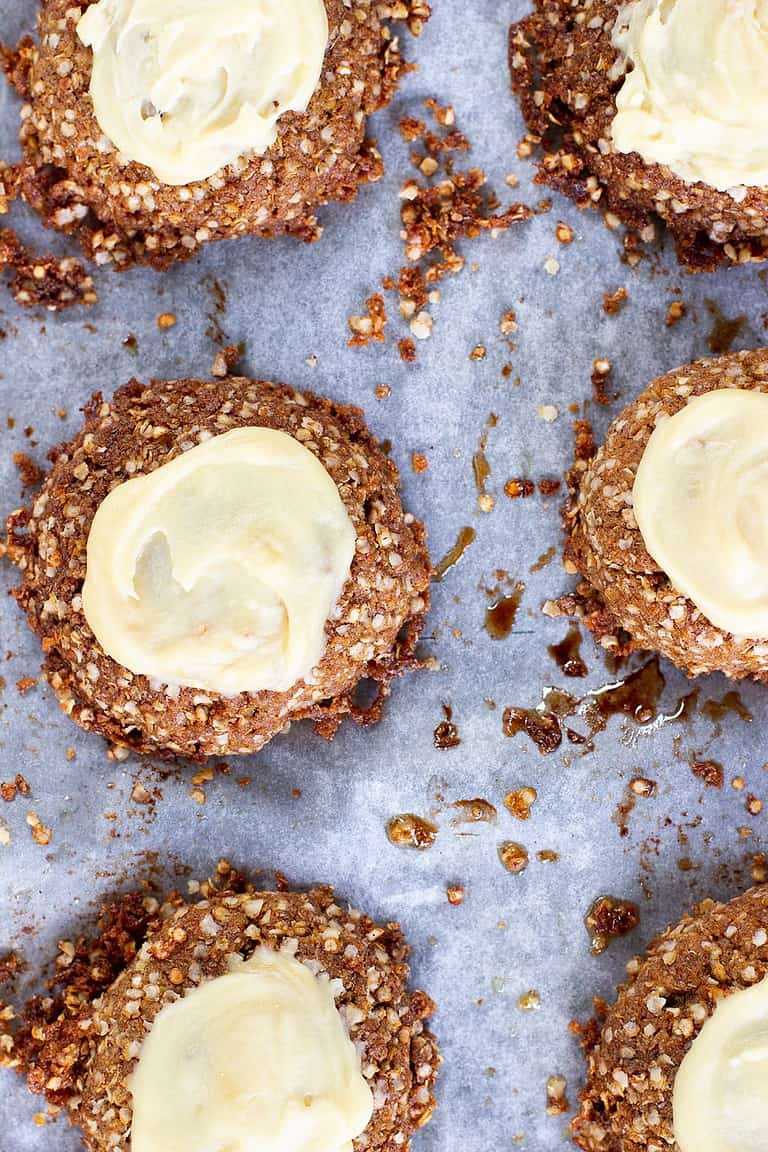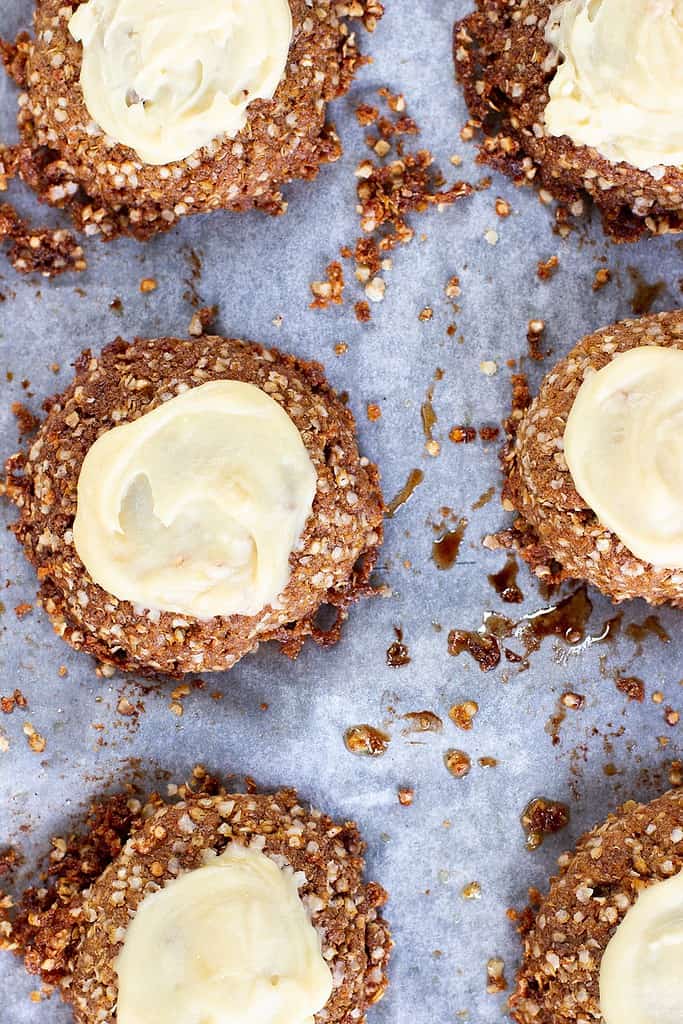 Like many recipes these Chai Spiced Cookies w Salted White Chocolate Topping were born from playing around with other recipes, combined with some kitchen blunders. The 'playing around' part of the equation was me making a batch of my Healthy Jam Drop Cookies for the umpteenth time. I was out of some of the flours I needed so I subbed in coconut, knowing the texture would make a difference. What resulted (which is the 'blunder' part) was some seriously flat pancake cookies with an abstract jam drawing in the middle. I don't think there was a flatter cookie since the time Volta (god rest her evil soul) sat on my molasses, chia and hempseed slice back in the day (this blog post explains).
The thing was, these flat cookies tasted sublime. Even though Hubbard thought it was the funniest thing he'd seen in a while, I stood strong by the fact that they tasted bloody amazing! Hence, over the coming weeks I mulled over in my head ideas for taking this adapted recipe and pushing it in a new cookie direction.
Vegan Salted White Chocolate Topping
I also wanted to explore a diary free white chocolate topping to take these cookies up a notch. I've made white chocolate once before for these Matcha White Chocolates. Essentially it's the same concept minus the matcha and adding in more salt. Regular dark chocolate is pretty common as an alternative but vegan white chocolate is not as easy to find, and when you do it's crazy sweet! This version is more to my palette, a hint of sweetness with a salty kick.
The main super star ingredient to this vegan salted white chocolate is the cacao butter. If you make my Pimped Up Matcha's you will most likely have a supply of this already in your pantry. If not, you will find cacao butter in any health food store or bulk store. Sometimes it's even found in the beauty sections of chemists. I love cacao butter as the base of many recipes and adore its flavour. Its my go-to instead of coconut oil, mainly because I get sick of the way coconut flavour takes over everything.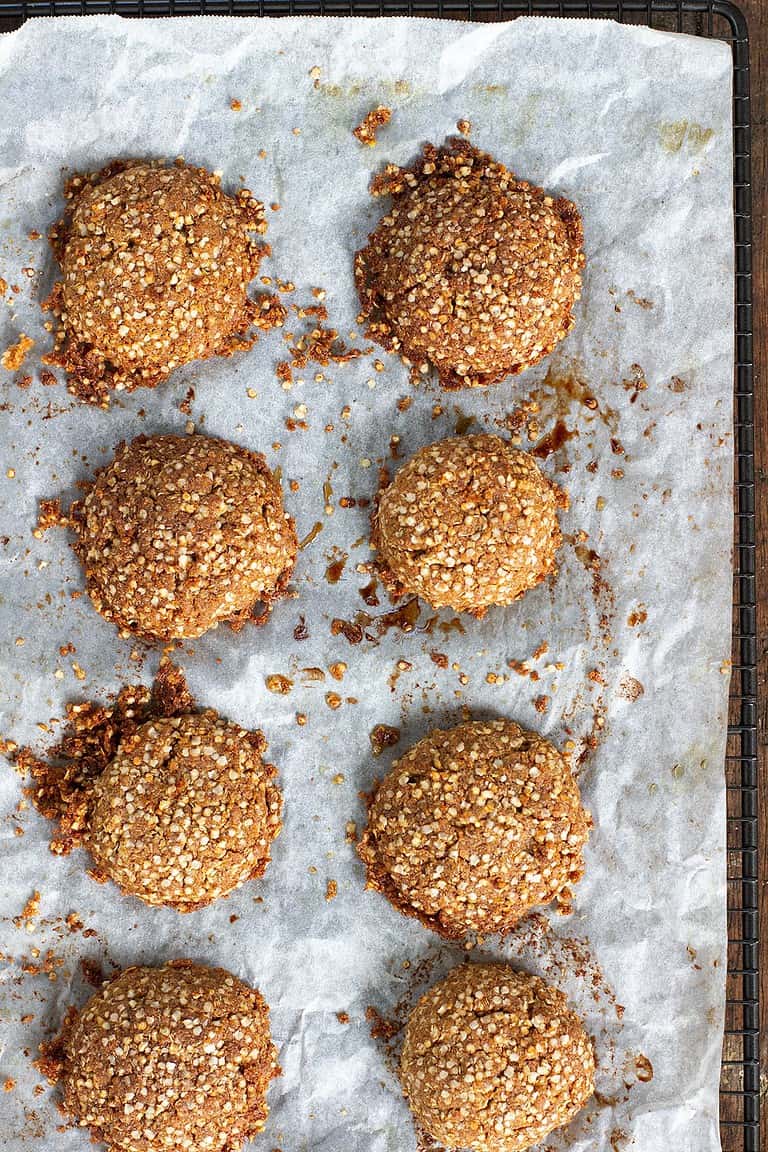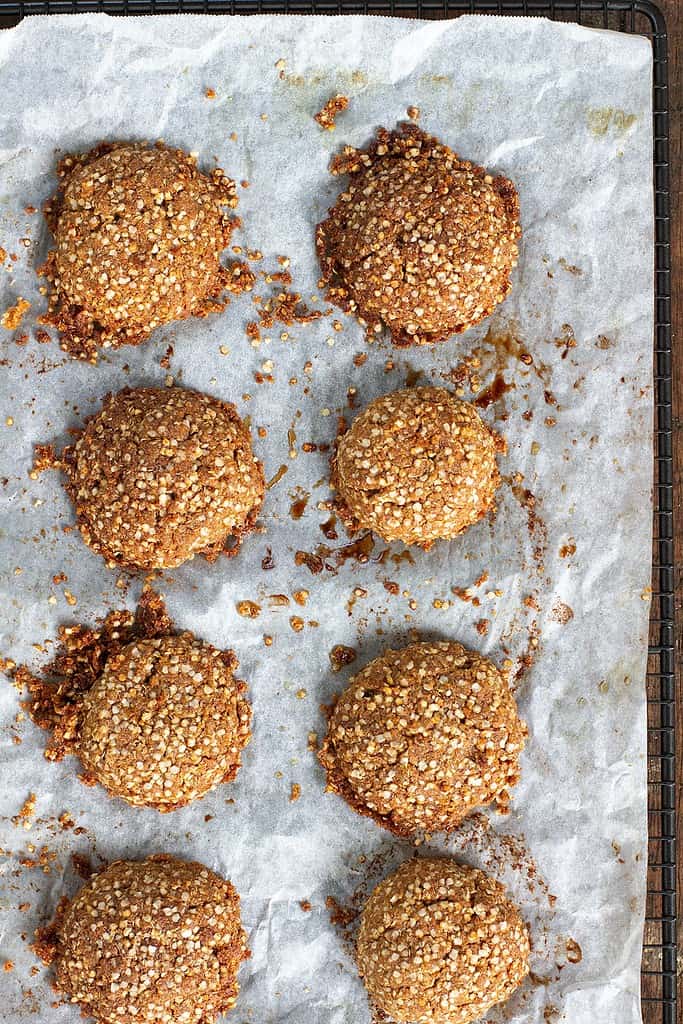 a love affair with healthy cookie recipes
In my earlier days of recipe creating you would say I had an obsession with muffins. Savoury muffins and sweet muffins adorned the website archives. This then morphed into an obsession with protein balls and/or bliss balls. All the flavours – chocolate hazelnut, lemon vanilla, jaffa, cookie dough, ginger balls, savoury balls….you name it! In the last few years this has transitioned again to cookies.
I think it's been the move to the cooler weather. That snack itch is more now scratched by a warm cuppa or hot chocolate accompanied by something on the side. A cookie is the perfect something don't you agree? A protein ball is not quite the same and a muffin too much with a steaming milk drink. So once again, my obsession is being rubbed off your way with another cookie recipe.
As far as 'healthy cookies', my idea is that whether its a ball, muffin or a cookie I want to create a recipe that is made with wholefood ingredients. Fibre rich flours, nuts, seeds, lowered amounts of added sugars, loads of spices. That's my jam. I want a cookie that is also free from common reactants in the gut health space like gluten and dairy – not that this automatically means 'healthy' – oh no, one walk down the 'health food' food isle at the supermarket is proof of that. Essentially I want a cookie you can munch on each day that makes your gut feel good and gives you sustained energy.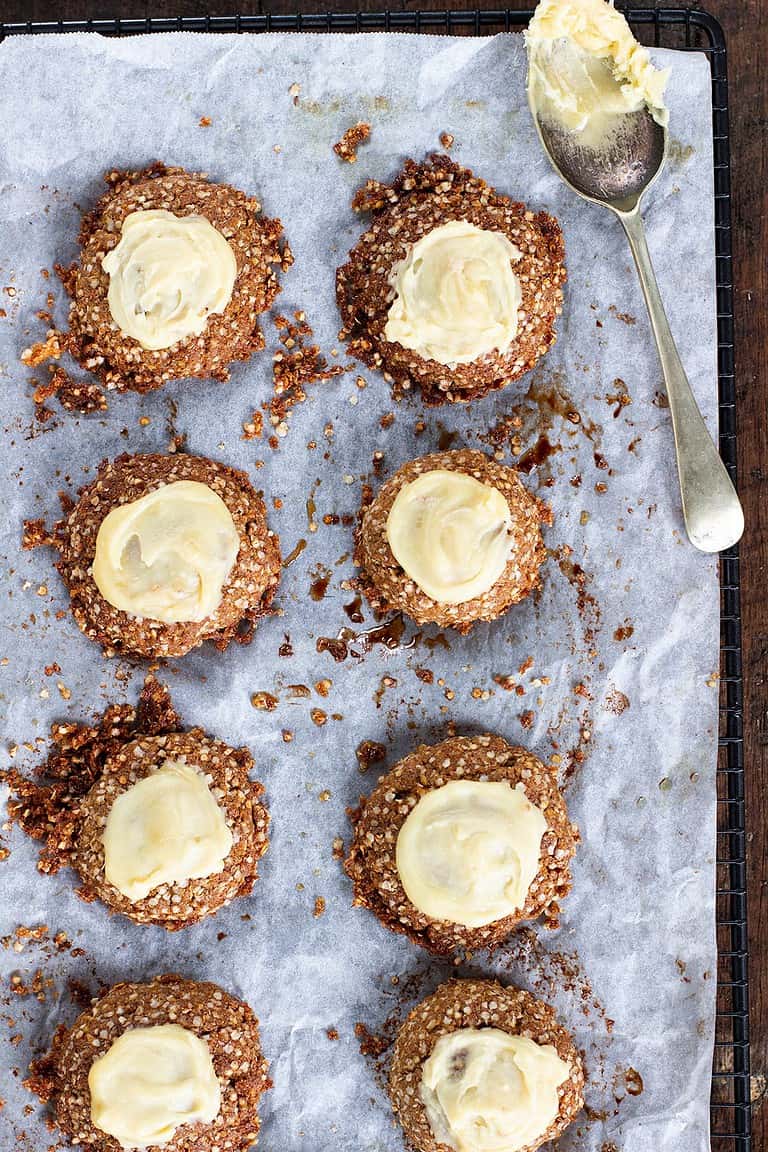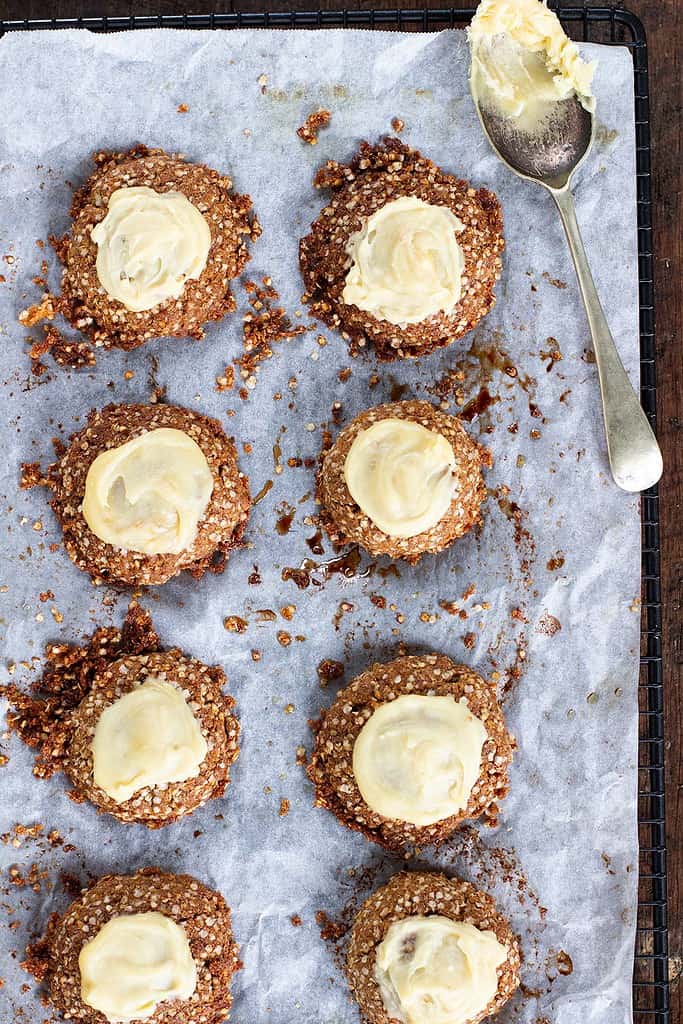 Like what you're seeing? Subscribe for new recipes and nutrition tips every week!
My continual driving passion is to make wholefoods enjoyable and not a chore. My cookbook e.a.t is all about this (where you will also find some of my favourite cookies like Raison & Nut Cookies & Peanut Cookies). Life is too short and food is too grand to eat bland meals and snacks. In saying this, there is still ironically such a gap in making wholefood meals and snacks that taste really bloody good. It's an oxymoron that the internet and social media is littered with health bloggers but its dime in a dozen when you find someone that actually creates recipes that consistently deliver with taste. My thoughts anyway.
As always, please let me know how you find this recipe for these Chai Spiced Cookies, I love hearing from you and your feedback always helps others find these recipes! xo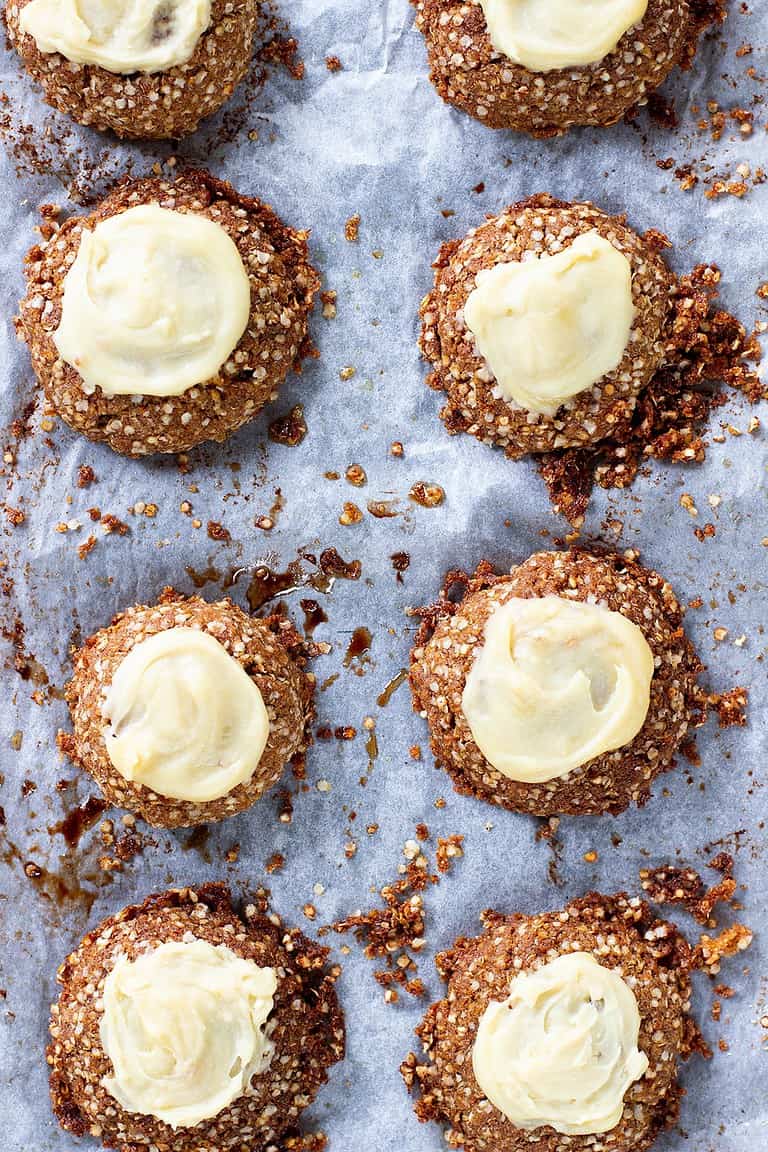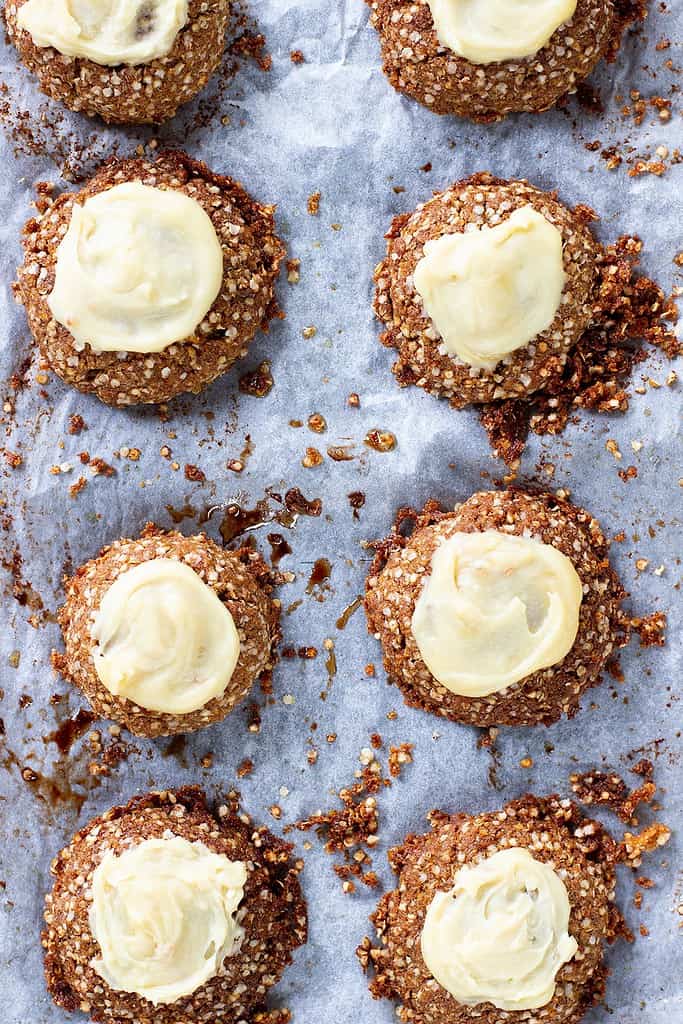 Need personalised nutrition advice catered to your needs?
If you are after personalised nutrition advice and dietary planning individualised to your health and dietary needs then contact us at The JCN Clinic with your enquiry. We are always happy to answer any questions you have!
chai spiced cookies w white salted chocolate topping
serves

makes 10

preparation time

15 min

cooking time

20 – 25 min
ingredients
1 cup quinoa flakes
¾ cup brown rice flour
¼ cup desiccated coconut
¼ teaspoon salt
1 teaspoon ground ginger
2 teaspoons ground cinnamon
1/2 teaspoon ground cardamon
½ teaspoon ground cloves
1/2 cup extra virgin olive oil
1/3 cup rice syrup
white salted chocolate topping (optional)
40g cacao butter
1 tablespoon rice syrup
1 teaspoon pure vanilla extract
1 large pinch salt
method
Preheat your oven to 200c, fan forced.
*The rice syrup can be swapped for honey or maple syrup, however please note this will make these cookies sweeter overall.
In a large mixing bowl combine the quinoa flakes, brown rice flour, desiccated coconut and salt. Mix well.
Create a well in the centre with a wooden spoon and add in the rice syrup and the extra virgin olive oil. Mix well bringing to a very sticky batter. After a minute or two it will be easier to use your hands to do this.
Take heaped tablespoon amounts of the batter and roll into balls (similar in size to a protein ball) and then gently press out to a thick disc shape.
Place the cookies on a baking tray ensuring space between for any spreading.
Place the cookies on the baking tray into the oven for 20 – 25 minutes, checking at the 15-minute mark to ensure they are not cooking too fast (oven temperature variations will effect this). Once the cookies are lovely and golden they are ready.
Remove the tray from the oven and allow the cookies to cool on the tray for at least 10 minutes. They will be soft at first and then they will start to harden. After 10 minutes remove them from the baking tray and place on a wire wrack to cool completely. The longer the cookies are left the crunchier the outsides will become.
While the cookies are cooling down you can make your white salted chocolate topping. Place about 2cm of water into the bottom of a small saucepan so that you can easily rest a bowl over the top to create a double boiler.
Add the cacao butter to the bowl and bring the water in the saucepan to a boil allowing the cacao butter to gently melt. Add to the cacao butter as its melting the vanilla extract, rice syrup and salt stirring in well. Once the cacao butter is completely melted remove the bowl from the heat.
The salted white chocolate mix will take some time to cool down naturally and as it does you want to give it a good stir to ensure it stays homogeneous. To speed up the process you can place the bowl in the freezer but make sure you check it every minute so it does't harden on you. Essentially you are looking for the mix to come to a thick yoghurt consistency so you can spoon it on top of the cookies.
Once the salted white chocolate mix is ready use a spoon to place dollops on top of the cookies and spread out with the back of the spoon. Alternatively you could use the mixture when it's a little runnier and drizzle over instead. If the mix goes too hard just re-heat over the double boiler again.
Store in an airtight container for up to 4 days, then place in the fridge. Freeze any left over after 1 week.
nutritional information for chai spiced cookies w white salted chocolate topping
These cookies are rich in carbohydrates and quality fats while containing a low amount of refined sugar. This makes them a fabulous sustaining mid morning or mid afternoon snack. These Chai Spiced Cookies are also nut free, perfect for school lunch boxes.
Spices like ginger, cinnamon and cloves are quite 'warming' to the digestive system and are often used in therapeutic levels to support digestive secretions. Ginger in particular is used to support motility of the small intestinal tract. It has the ability to stimulate gastric emptying and contractions of the lower stomach. (Ming-Luen Hu et al, 2011)
Jessica Cox is a qualified practicing Nutritionist with a Bachelor Health Science (Nutrition) and over 15 years of clinical experience. She is the founder and director JCN Clinic, published author and established recipe developer. Jessica is well respected within health and wellness space for her no fad approach and use of evidence-based nutrition.