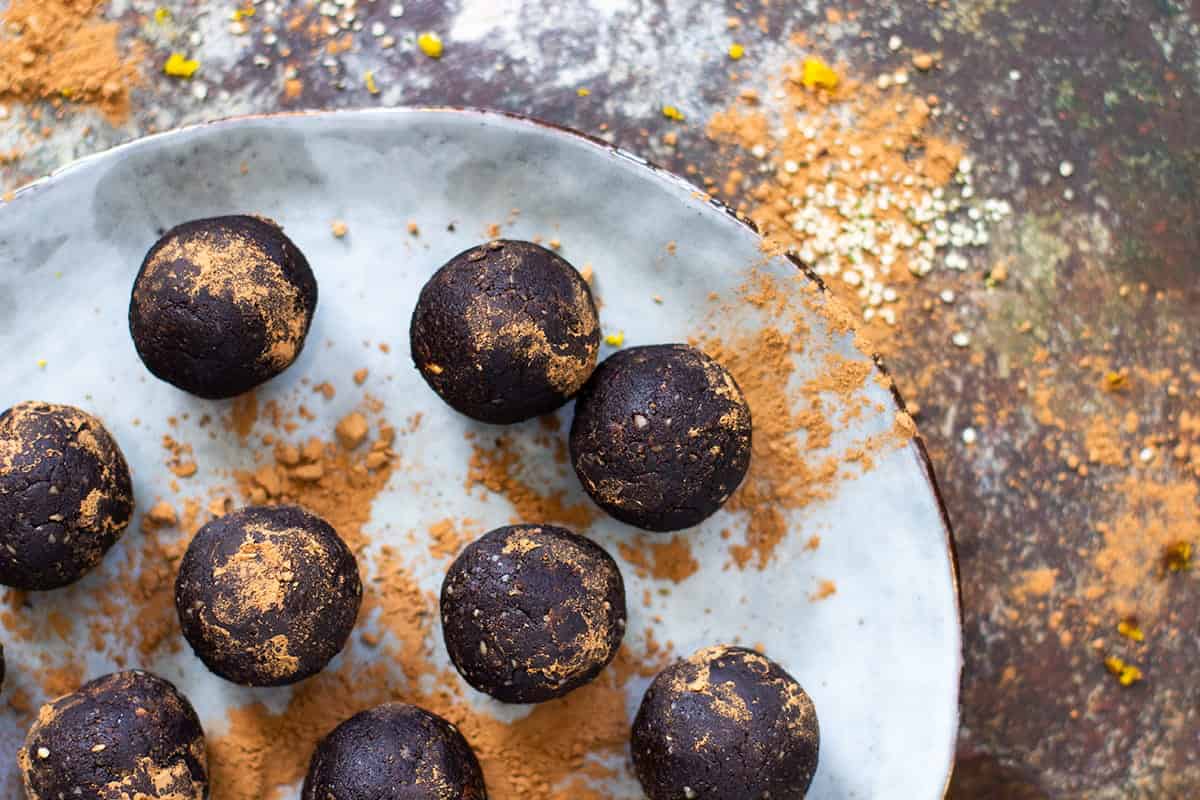 The inspiration for these Carob Jaffa Hemp Protein Balls came from about a thousand directions. Usually I have one clear train of thought. One clear uh-huh influential moment and that's it. For these protein balls, it was a collective of wants/needs/lusts that collided:
One, The Source Bulk Foods (Bulimba is my regular go-to) sells orange and chocolate bliss balls that I've been buying and enjoying, thinking time and time again, ' I've gotta make these'.
Two, hemp is having it's moment. What a way to celebrate it's use in food by combining hemp seeds and  fibre rich hemp protein powder in one recipe. I also happened to have a crap load of hemp seeds on hand.
Three, after Christmas I've been inundated (like a lot of you) with way too many chocolates. They might be 'dairy free', 'free –trade', 'organic' blah, blah, blah, but it's still too much sugar for one to eat everyday as their go-to snack. Usually, I'm a hard-core 100% chocolate girl, but the ginger spiced or lavender infused choccy variations currently in my fridge have been getting more of my attention lately. I've drawn a line in the sand and decided it's time to get the more protein rich, lower natural sugars snack situation sorted.
I know I have quite a few protein balls on here already, but one can never have too many variations I say. The Cookie Dough Protein Balls are probably the most popular, but I'm guessing these beauties will give them a run for their money.
As for the hemp point, you'd have to be living under a rock to not know that hemp can now officially be sold as a food item, as previously it was not a legalised for human consumption. I've been buying hemp for some time, however it has been marked in the shops as 'external use only' as a way around it. I can certainly say that my oral consumption of it has not resulted in any "stoned" effects.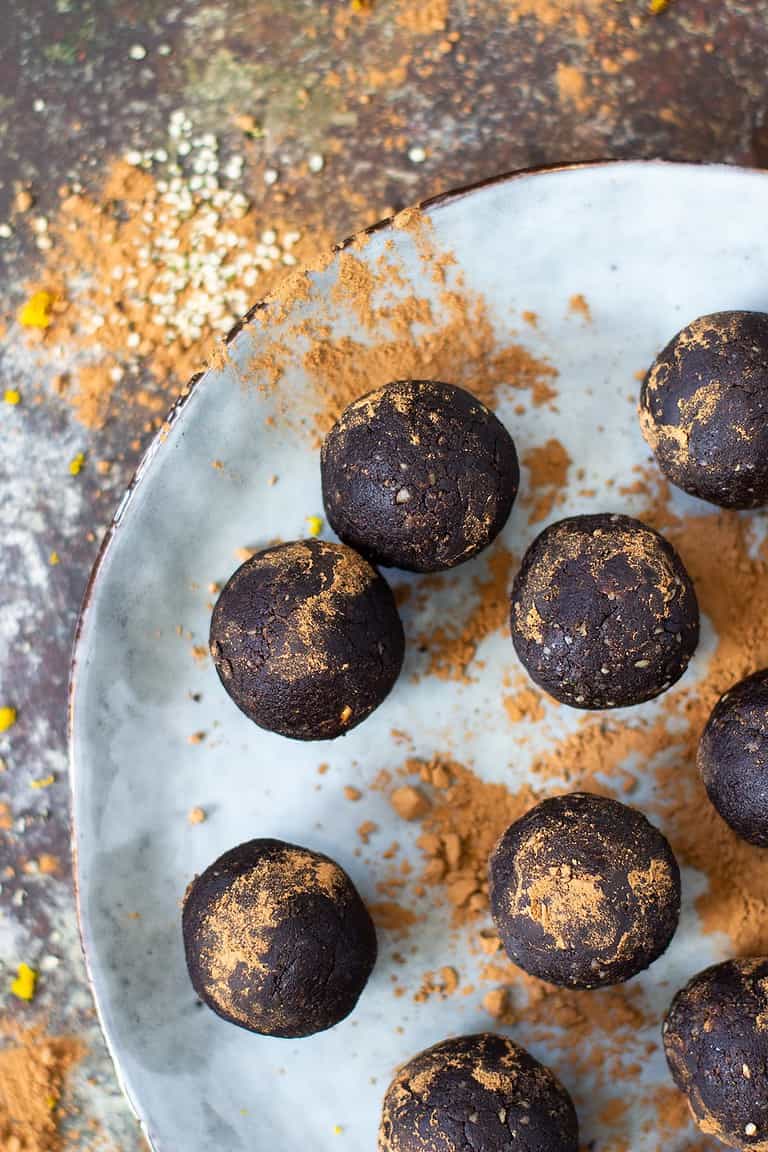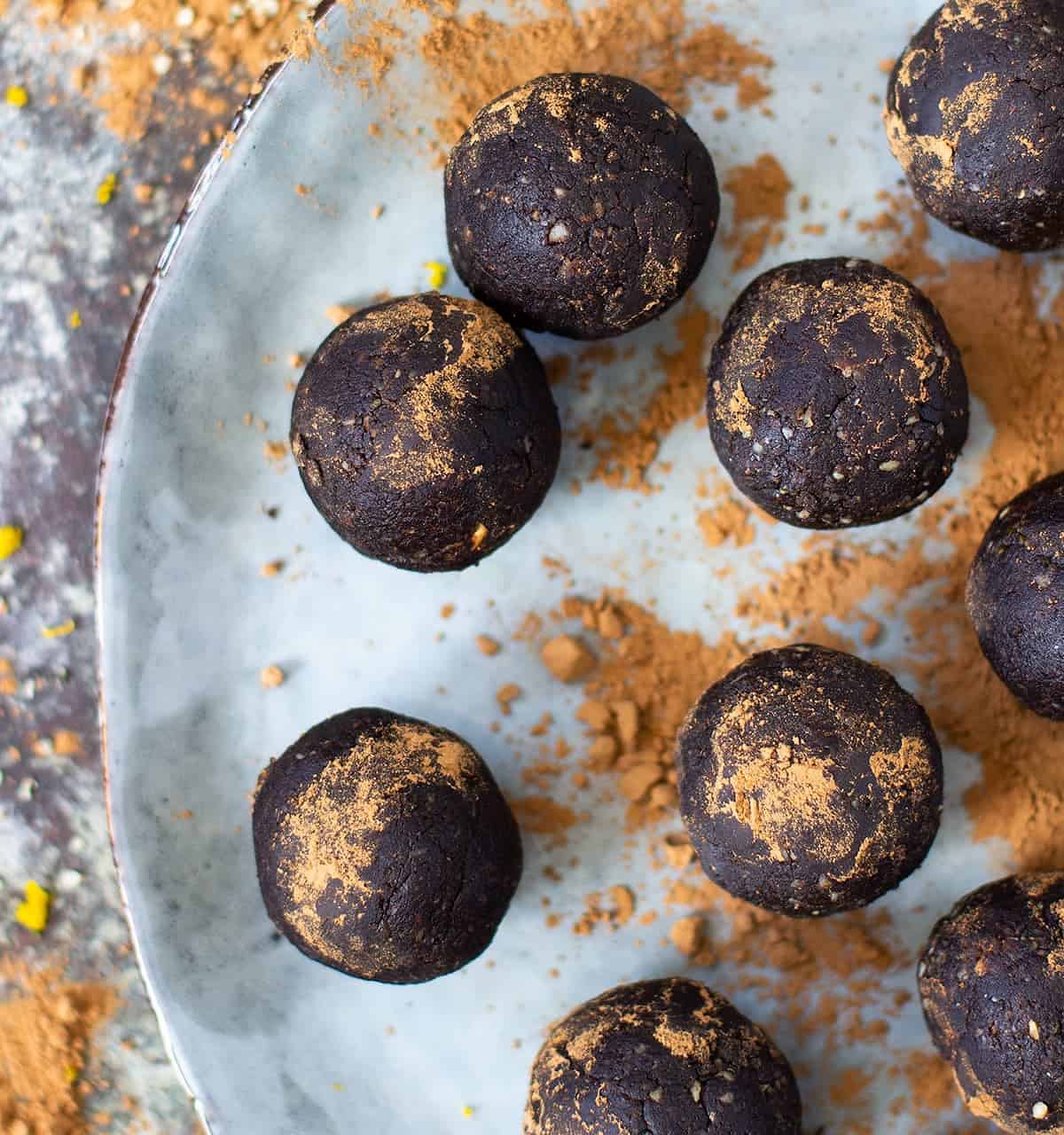 Hemp seeds are naturally high in protein and contain good amounts of the essential fatty acids. Just 30 grams of hemp seeds (about 1 tablespoon) contains around 10 grams of protein (similar to eating an egg). The same amount of hemp seeds also contains 14 grams of fats, with a large amount of this coming from omega 3 and omega 6. Due to the more volatile state of hemp seed based oils (they are rich in polyunsaturated fat) it is super important to keep hemp seed products in the fridge to stop them going rancid.
Another interesting (geeky) sidenote about hemp seeds is that they are rich in stearidonic acid, an alternative type of omega 3. Studies have shown that this form of plant based omega 3 can help increase levels of EPA in the body known very well for its anti-inflammatory effects. This makes hemp seeds a good alternative for those following vegan or vegetarian diets, who exclude seafood from their food intake.
Stepping away from the nutritional details of hemp, I want to also point out that it tends to blend well in smoothies better than plain rice or pea protein. I find rice in particular can be really chalky, where as hemp protein is very low reactive, which makes it a more palatable choice over the other two. Some hemp proteins are gritty (kind of like LSA in your smoothie) but personally I'd prefer that seedy gritty texture any day over the chalky mouth feel.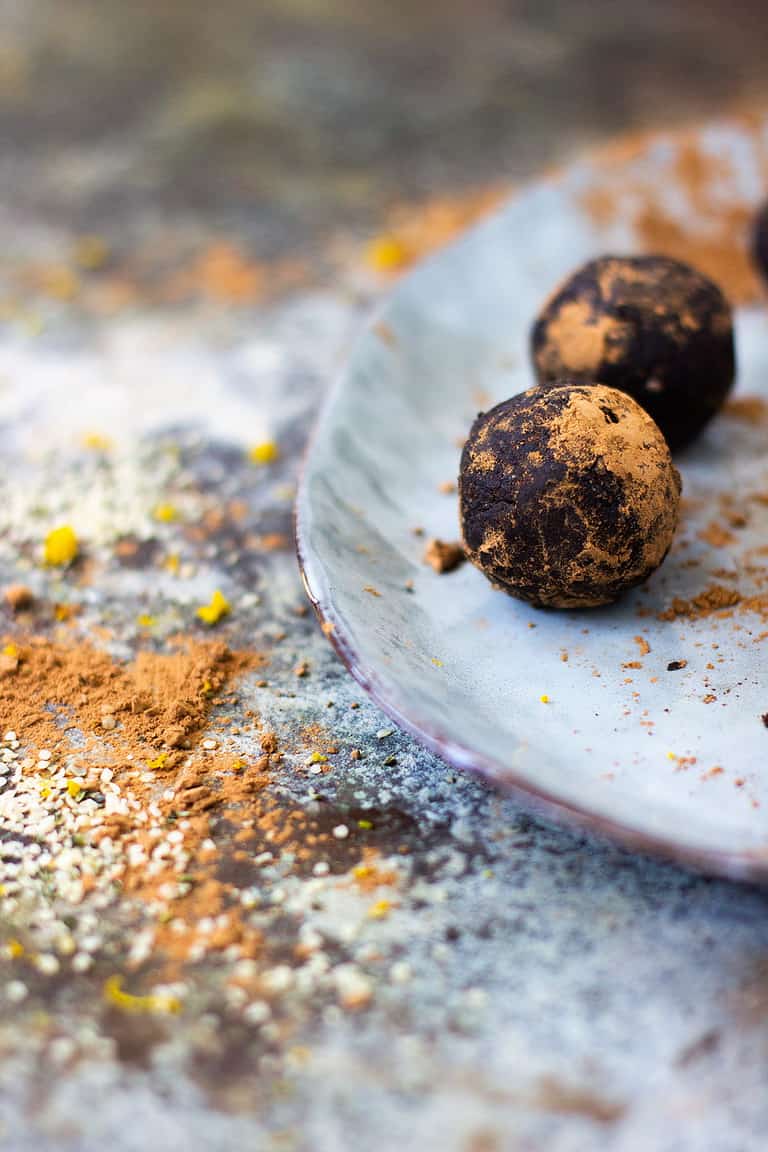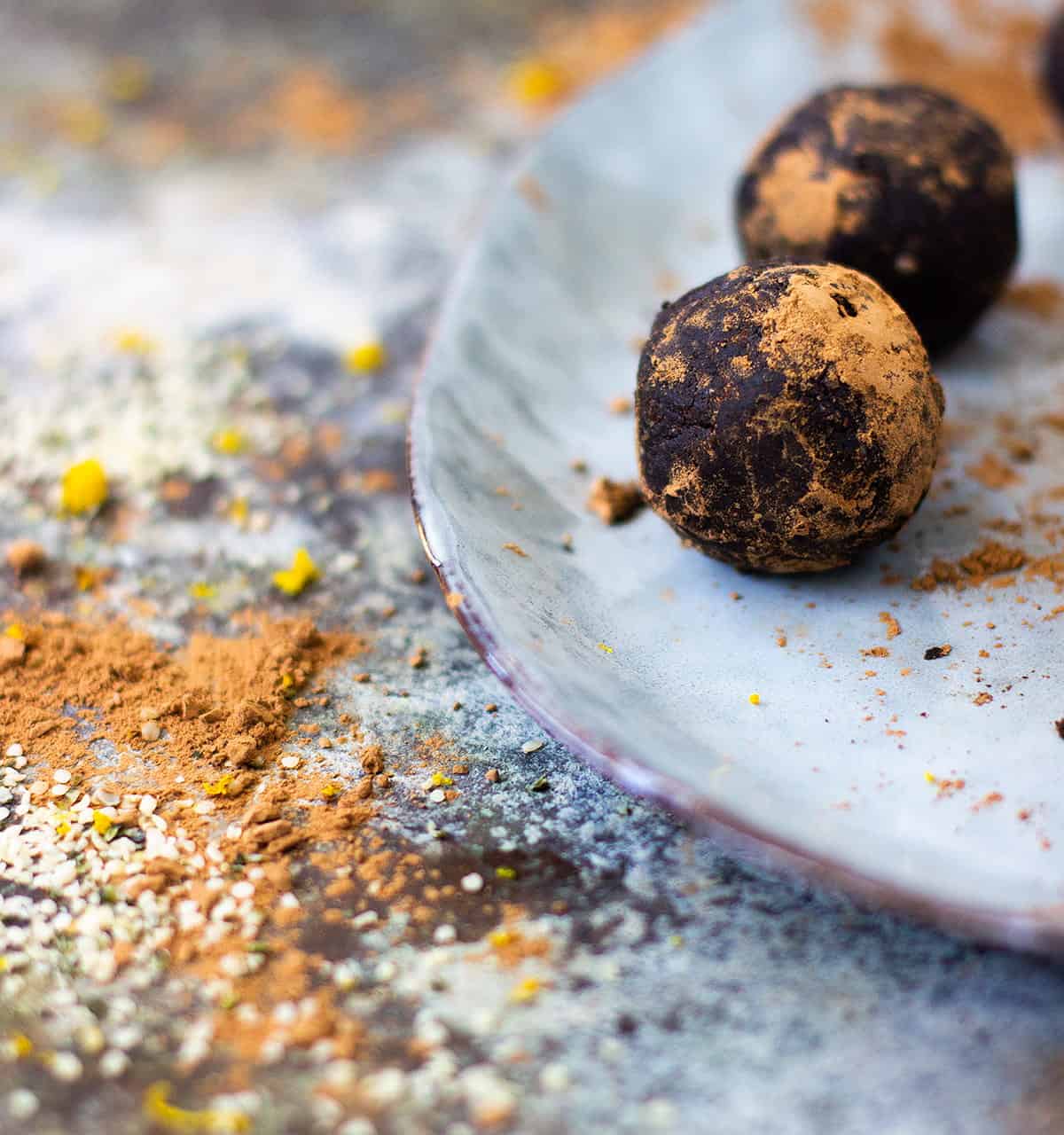 Lastly, a reminder to keep these protein balls safely in the fridge, preferably even the freezer. Not only will it keep the hempseeds nice and fresh, it will also ensure that the orange juice and zest remain fresh within the protein balls. I'd cry a river of tears for you if your balls went mouldy. No one was ever noted as saying they liked mouldy balls. 🙂
carob jaffa hemp protein balls
serves

makes 12 – 13 balls

preparation time

20 – 30 minutes including rolling time

cooking time

nil
ingredients
1 cup brazil nuts
1/2 cup almond meal
1/2 cup hemp protein powder (or plain protein powder of choice)
1/4 cup hemp seeds
1/2 cup carob powder
1/4 cup almond butter
zest of 1 & 1/2 medium sized oranges
1/3 cup freshly squeezed orange juice
method
Place the brazil nuts in a blender or food processor and blend to a rough meal. Now add in the almond meal, hemp protein powder, carob powder and hemp seeds and blend till just combined. The idea is to not break the hemp seeds down too much.
Now add the almond butter, orange juice and orange zest. Blend till well combined and the dough forms a rough ball or at least clumps together in the machine really well. If your dough seems too crumbly just add a touch of water and blend again.
Once your dough has come together nicely, roll into balls around the size of a twenty-cent piece in diameter. Roll in more carob powder if desired.
Store in the fridge and eat within 4 days, otherwise best to freeze them and pull them out as you are ready to eat.
nutritional information
The scant naturally sweet ingredients in these carob jaffa hemp protein balls keeps them very low in sugar, creating a well balanced snack option. Too many protein balls on the market are filled with at least 50-60% dried fruit or syrups, which is a large amount of sugars for a regular snack option. These protein balls are also filled with healthy fats provided by the hemp seeds, almond butter and brazil nut meal, along with ample protein provided by these ingredients with the addition of the hemp protein powder. This makes them a smart choice for an afternoon snack to help carry you through to dinner without demolishing the fridge when you walk in the door at night.
Make sure you keep your nuts, seeds, nut and seed butter and even your hemp protein powders in the fridge at this hot time of year. Nuts and seeds will oxidise and go rancid very quickly in the heat. Store them in airtight jars in your fridge. Tell any whinging partner complaining about fridge space to take a hike.
Jessica Cox is a qualified practicing Nutritionist with a Bachelor Health Science (Nutrition) and over 15 years of clinical experience. She is the founder and director JCN Clinic, published author and established recipe developer. Jessica is well respected within health and wellness space for her no fad approach and use of evidence-based nutrition.