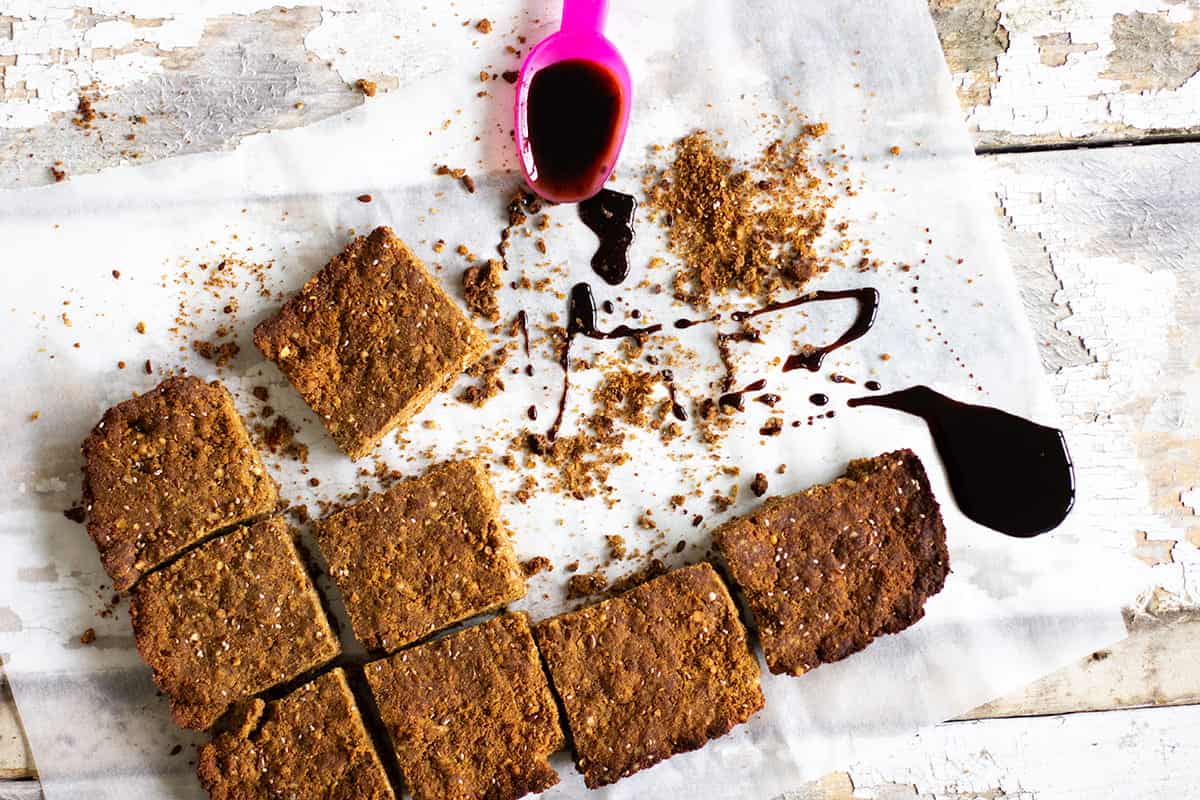 This molasses, chia and hempseed slice is a chewy, yet crunchy snack that is filled with an array of omega packed seeds. This slice is perfect for making up on weekends and using through the week as an easy go to snack. It doesn't require refrigeration for the day, so its perfectly portable, thus creating one of those 'no excuses' options.
Those who follow me on Instagram and Facebook will know that this slice came about after an unfortunate incident with our cat, Volta. The slice actually started as cookies, which were lovingly covered to cool at night with a clean tea towel. Lets just say that during the night the warmth from the cookies was too good to resist for said cat, who perched herself on top of the tea towel (and my cookies) all night. This lead to a pancake of cookies which were saved by a well placed tea towel and some Cox stubbornness. Hence, the slice was born.
A side note, the molasses is a strong flavour, so if it is not to your liking then substitute for honey, maple or malt.
Adapted from Cooking Melangery website.
molasses, chia and hempseed slice recipe
serves

12 slices

preparation time

15 minutes

cooking time

30 minutes
ingredients
1/2 cup tahini
1/2 cup coconut oil
1/4 cup of honey
2 teaspoons vanilla extract
1/2 cup molasses
1 tablespoon potato flour or tapioca flour
3 tablespoons milk of choice
1 teaspoon apple cider vinegar
1 heaped tablespoon ground flax seeds
1 cup brown rice flour
1/2 cup buckwheat flour
1 cup quinoa flakes
1 teaspoon baking powder
1 teaspoon baking soda
pinch of teaspoon salt
1 heaped tablespoon chia seeds
1 heaped tablespoon hemp seeds
method
Preheat your oven to 170c.
In a large bowl combine the tahini, molasses, coconut oil, honey and vanilla.
In a separate bowl, combine the ground flaxseeds, potato flour and milk. Add the vinegar, stir well and then add to the tahini and molasses mixture.
In another separate bowl combine the flour, quinoa flakes, baking soda and baking powder and salt. Mix through the hemp seeds and the chia seeds. Add the wet ingredients to the dry ingredients and mix well. If it feels too dry then add a little water.
Spoon mixture into a baking dish and push down firmly to pack your slice nice and tight. Place in the oven and bake for 25-30 minutes or until golden brown.
Allow to cool in the baking dish, then slice into slice squares. Store in the fridge until you are ready to eat.
nutritional information for molasses, chia and hempseed slice
Molasses has a strong malt like flavour and is rich source of non heme iron.
The seeds in this slice provide a nut free sustaining crunchy slice, whilst providing a powerhouse of essential fatty acids. Chia seeds are also high in calcium, whilst hemp seeds are particularly high in omega 6 and monounsaturated fats. Flaxseeds are high in lignans which help lower cholesterol levels.
This slice can easily be made into cookies instead. Simply shape into cookies and bake. You could also substitute the tahini for nut butters and use nuts instead of seeds if suited.
Other add ins would be lovely such as shredded coconut, cacao nibs or dark chocolate chunks. You could also drizzle the top of the slice before cutting with melted coconut butter mixed with cacao powder.
If gluten free is not needed, then use rolled oats instead of quinoa flakes and wholegrain flour instead of buckwheat and brown rice flour.
Jessica Cox is a qualified practicing Nutritionist with a Bachelor Health Science (Nutrition) and over 15 years of clinical experience. She is the founder and director JCN Clinic, published author and established recipe developer. Jessica is well respected within health and wellness space for her no fad approach and use of evidence-based nutrition.