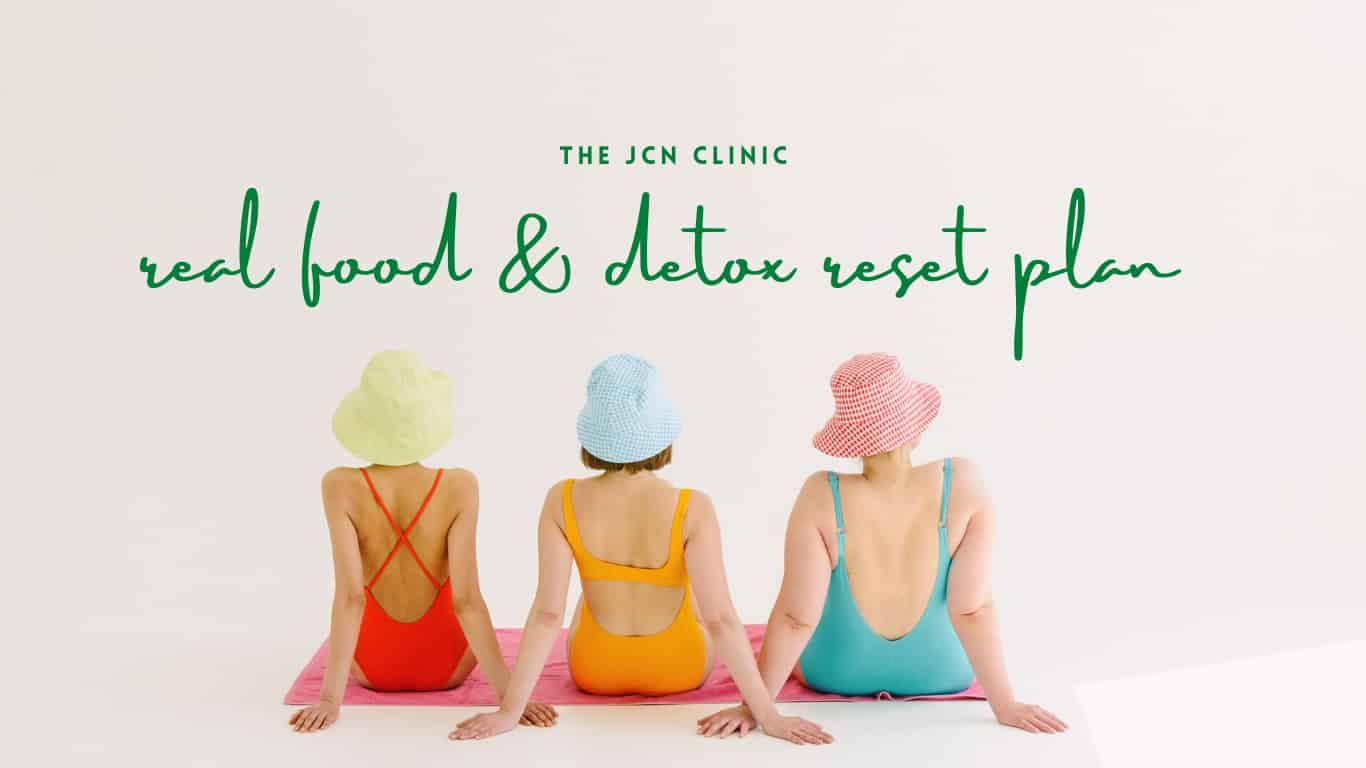 The JCN Clinic team would like to introduce you to our  JCN Real Food & Detox Reset Plan!
Now let's be clear, at The JCN Clinic, we are not about quick fixes and 'New You' BS protocols. What we are about though, is education and addressing health related changes in the right way.
What the JCN Real Food & Detox Reset will not be:
A quick fix for a crappy diet and lifestyle
A bikini body challenge
A bunch of laxative tea's
A juice fast
An ultra-low carb keto diet plan – aka – starvation.
What this actually will be:
Foundational 4 week rotational, beautifully balanced, Gluten and Dairy Free whole food meal plan
4 weeks off all the things our liver really needs a break from: alcohol; refined sugar and coffee
Access to our @thejcnclinic Instagram recordings in relation to the Reset, saved under 'Reset Plan' in our story highlights where our JCN Clinic Nutritionists discussing the do's and don't of supporting detoxification effectively
An optional 'practitioner prescribed supplied supplement pack to support your detoxification processes during the 4 weeks
A Daily 'movement' commitment – this can be anything you like, but you do need to move!
So, if you're looking to kick start into some changes that can be maintained beyond this guide, then this is for you! After 4 weeks you should feel:
More energised
Clearer headed
Less 'toxic' and 'sluggish'
'Lighter and cleaner' in your gut
Motivated to keep this all going!
cost:
The 'JCN Real Food & Detox Reset Plan' is $ 40.00 inc gst. The optional practitioner prescribed supplement pack is $275.00 inc gst including postage.
join us!
Want to join us? The 'JCN Real Food & Detox Reset Plan' is available through our online shop here. You can also purchase the optional practitioner prescribed supplement pack within our online shop here. To join the 'JCN Real Food & Detox Reset Plan', simply visit our JCN Shop here. This will enable you to access to our downloadable Real Food Reset with the option to add to additional supplemental support.
Got a question? Feel welcome to pop us an email at reception@jessicacox.com.au or contact us here with any questions.
Jessica Cox is a qualified practicing Nutritionist with a Bachelor Health Science (Nutrition) and over 15 years of clinical experience. She is the founder and director JCN Clinic, published author and established recipe developer. Jessica is well respected within health and wellness space for her no fad approach and use of evidence-based nutrition.