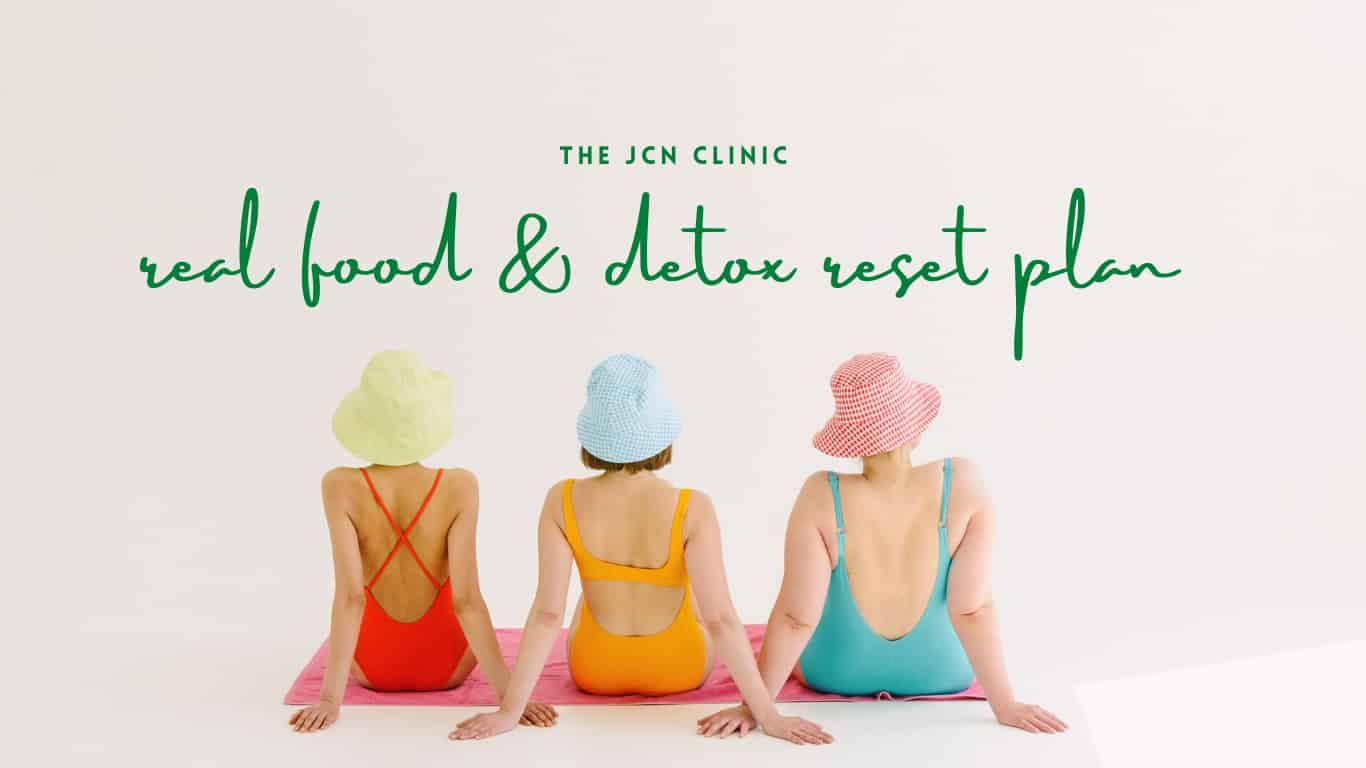 As all of the Christmas and New Year Festivities come to a grinding halt and the new year kicks back in at full speed, we want to encourage you to take the time to consider your health and what things could look like for you as we enter 2022. Therefore, we would like to introduce you to our  JCN Real Food & Detox Reset Plan.
Now let's be clear, at The JCN Clinic, we are not about quick fixes and 'New Year- New You' BS protocols. What we are about though, is education and addressing health related changes in the right way.
This year at JCN we are also by-passing January as far as kick starting any new programs, as we know many of you are still busy and most likely on holiday's. Often getting the kids back into school so you can think clearly again and have some of your own time back is also the focus of January each year. Therefore, so we thought, why not jump on the coat-tails of FebFast and pop together an all inclusive 'JCN Real Food & Detox Reset Plan' for you!
What this will not be:
A quick fix for a crappy diet and lifestyle
A bikini body challenge
A bunch of laxative tea's
A juice fast
An ultra-low carb keto diet plan – aka – starvation.
What this actually will be:
Foundational 4 week rotational, beautifully balanced, Gluten and Dairy Free whole food meal plan
4 weeks off all the things our liver really needs a break from: alcohol; refined sugar and coffee
Weekly IG lives with Jessica, Alexa and Carissa discussing the do's and don't of supporting detoxification effectively
JCN participation alongside you with 'JCN Real Food & Detox Reset Plan' – that's right, Jessica, Carissa and Alexa will also be doing the program too! They will provide daily IG updates on how they're going and also what they're individually up to during the 4 weeks
An optional 'practitioner prescribed supplied supplement pack to support your detoxification processes during the 4 weeks
A Daily 'movement' commitment – this can be anything you like, but you do need to move!
So, if you're looking to kick start into some changes that can be maintain throughout the year and beyond, then this is for you! After 4 weeks you should feel:
More energised
Clearer headed
Less 'toxic' and 'sluggish'
'Lighter and cleaner' in your gut
Motivated to keep this all going!
pssst! not ready to start in February?
That's fine! We have designed the guide to be utilised at anytime that suits you. Our social video content will be saved for you to view in your own time and our JCN practitioners are always available via DM for your questions.
cost:
The 'JCN Real Food & Detox Reset Plan' is $ 40.00 inc gst. The optional practitioner prescribed supplement pack is $275.00 inc gst including postage.
join us!
Want to join us? The 'JCN Real Food & Detox Reset Plan' is available through our online shop here. You can also purchase the optional practitioner prescribed supplement pack within our online shop here. To join the 'JCN Real Food & Detox Reset Plan', simply visit our JCN Shop here. This will enable you to access to our downloadable Real Food Reset with the option to add to additional supplemental support.
Got a question? Feel welcome to pop us an email at reception@jessicacox.com.au or contact us here with any questions.