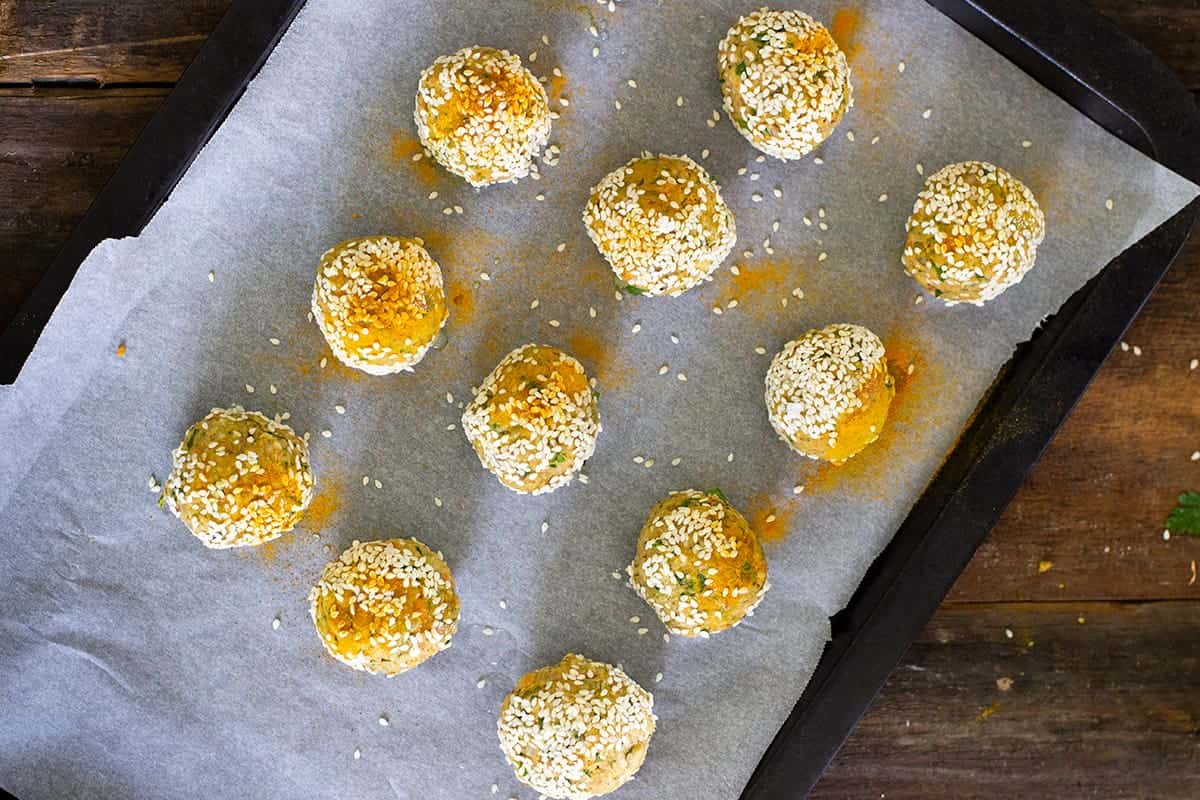 It seems these days all the 'superfoods' being sold in health food stores are catering more so for sweet alternatives. I find myself wondering at times like this, where did all the macro balls go? I remember as a teenager in the eighties (yes, the glorious eighties) wondering into health food stores and seeing macro balls (more on trend now would be savoury goodie balls),  a trendy alternative health food snack of the times. These balls were usually based on brown rice then blitzed with seaweed, vegetables and spices.
Times have of course changed and food fashion comes and goes. Macro balls have given way to bliss balls and acai berries. As with fashion however, the past always holds great concepts and revisiting them with a modern revival can bring knew and great things.
These savoury goodie balls are just that. A revisit of the past with a modern twist. Instead of using rice as a base I have used legumes, which gives these goodie balls sustainable protein, therefore keeping you powering on for longer. They are delicious on their own as a snack, but are really taken to the next level when drizzled with tahini, hummus or natural yoghurt. They are also a fabulous addition to a salad for a vegetarian protein source.
As with most of my recipes, these savoury goodie balls can be adapted to suit. Don't have any carrots? Add grated pumpkin or zucchini. No chickpeas? Add cannellini beans or even black beans. You could also use a cooked grain as a based and combine it with tempeh for a nutty flavour. Please go crazy with your herbs and spices too. I have opted to keep this an easy base recipe so it's not too daunting. I think these savoury goodie balls however would be delicious with added cumin, coriander and perhaps even some sichuan pepper. Your imagination is your limit.
These savoury goodie balls are adapted from Jude Blereau Wholefood Cookbook.
savoury goodie balls recipe
serves

12 balls

preparation time

5 minutes

cooking time

50 – 55 minutes
ingredients
1 can washed chickpeas (preferably organic)
1 clove garlic, roughly chopped
1 medium carrot, grated
1 good sized handful parsley, roughly chopped
1/2 cup sunflower seeds
1/4 cup pumpkin seeds
1 1/2 tablespoons tamari
1 teaspoon sesame oil
good dash of pepper
1/3 cup sesame seeds
1 dessertspoon turmeric
coconut oil for drizzling
method
Preheat the oven to 180c. Line a baking tray with some non stick baking paper.
In a blender, combine all ingredients minus the sesame seeds, turmeric and coconut oil. Blend till well combined and the mixture forms a stiff dough.
Take around 1 heaped tablespoon of the dough and roll into a ball, roughly the size of a ping pong ball. Roll the savoury goodie ball in the sesame seeds and place on the baking tray. Repeat till all the dough is used. Use the turmeric powder to sprinkle liberally over the balls. Finally drizzle the balls with a little coconut oil. Place in the oven for 20 minutes.
After 20 minutes remove the balls and flip over and drizzle with more coconut oil. Turn up the oven to 200c and place the goodie balls back in the oven for 30-35 minutes. The goodie balls are generally cooked when they have developed a slight crust on the outside. You can cook them longer if you would like them more crunchy. 
Remove from the oven and allow to cool. Store in the fridge for up to 5 days or freeze. These savoury goodie balls are delicious eaten drizzled with tahini, hummus or natural yoghurt.
nutritional information for savoury goodie balls
The chickpeas in these savoury goodie balls provide fibre and protein. 1 cup of chickpeas contains close to 15 grams of protein. They are also a great source of manganese, copper, iron and folate. This makes chickpeas a good choice for helping balance blood sugar levels along with supporting blood cell development.
I'm always adding parsley to my savoury dishes. Besides the fact that I love the flavour, it is an abundant source of antioxidants and iron. Combined with the chickpeas these savoury goodie balls are quite the hero food when looking for meat free iron rich foods.
Tamari is a wheat free soy sauce. If you can tolerate wheat then by all means use regular soy sauce. If you are intolerant to soy, or choose to avoid soy then try Braggs Coconut Aminos as an alternative.
Jessica Cox is a qualified practicing Nutritionist with a Bachelor Health Science (Nutrition) and over 15 years of clinical experience. She is the founder and director JCN Clinic, published author and established recipe developer. Jessica is well respected within health and wellness space for her no fad approach and use of evidence-based nutrition.