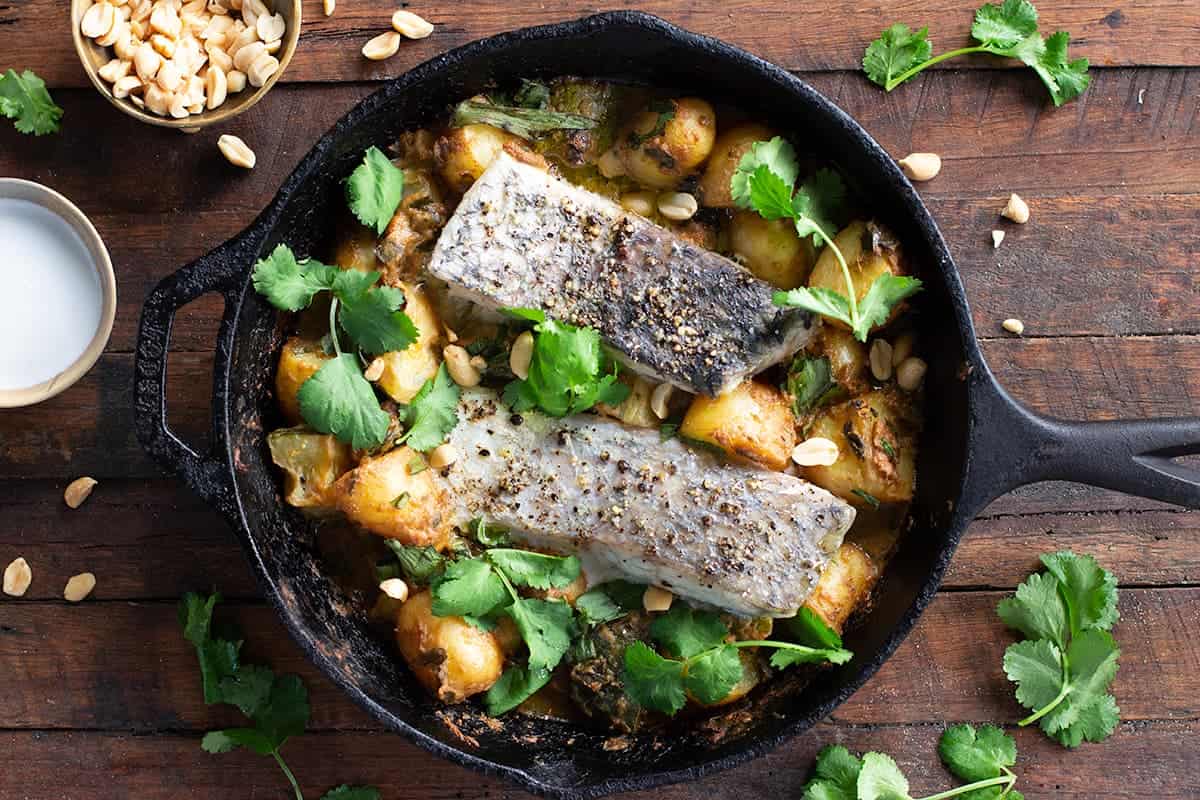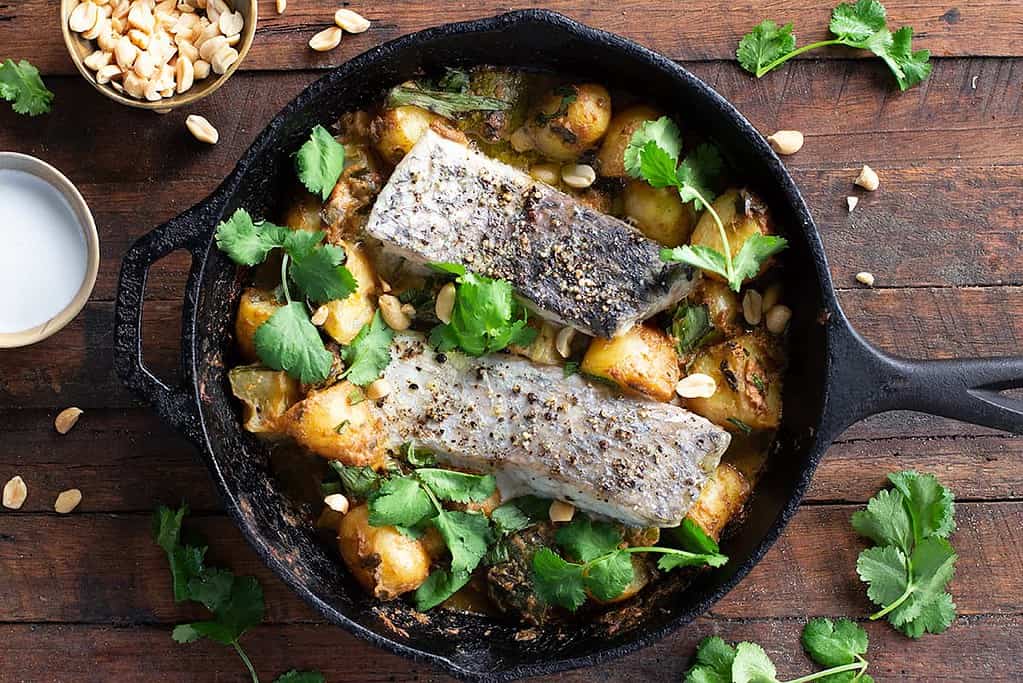 I love curry and I love fish, however I married someone who struggles with chilli heat and doesn't like fish. That means that dishes like this are less frequent in our household. In saying this, I have definitely challenged my husbands taste buds over the years from honest 'just try it my way first' options, resulting in a new found liking for ingredients like brussel sprouts, through to the more sly tactics of not disclosing ingredients and then telling him afterwards – like cauliflower rice (can't believe he thought that was normal rice!). Therefore, I know this new recipe for Baked One Pot Fish Curry is going to be big on the (ideally) changing his mind front.
I'm actually really forgiving in clinic with my clients when it comes to not liking certain foods, flavours or textures. I get that we all are different on that front and it's my job to find ideas in the recipe department that suit each persons requirements. In my own home though, I am a lot less forgiving. God knows how this will translate one day to a cafe! In my own home you eat what you are given and if you say you don't like something and turn your nose up at it you can literally see the steam shoot out my ears and the painful grimace on my mouth. That being said, I get a big kick out of surprising people when they taste something they think they won't like, to only find that its down right delicious. I guess when people are staying in your home there is an element of them eating what you give them due to politeness, but I've certainly seen some tides turned over the years, politeness aside.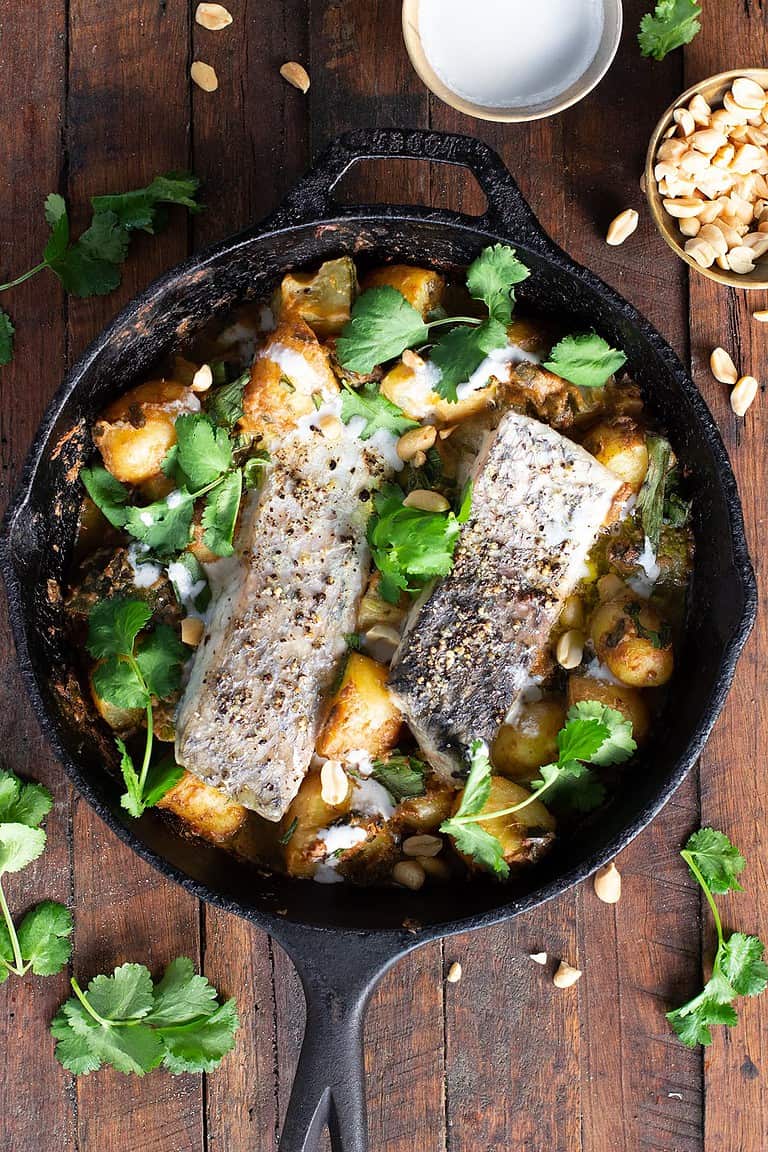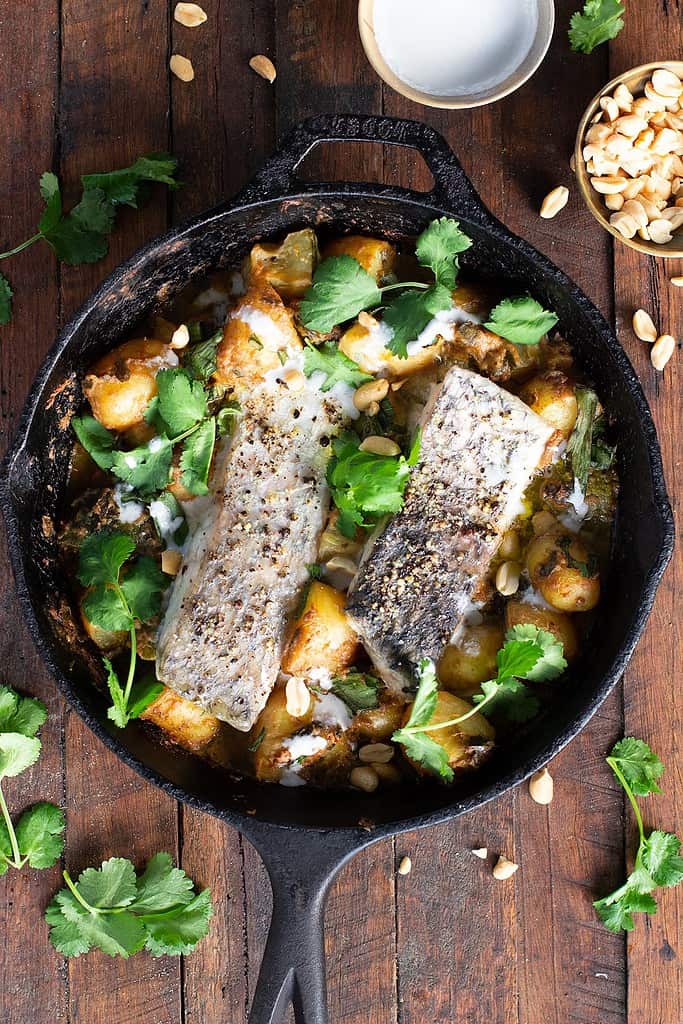 Besides challenging taste perception, I also want to start adding more recipes here for you that are one pot or tray bake type meals. These are common meals that we use in our recipe plans at The JCN Clinic and they are also the types of meals that I use a lot in my own home. A lot of recipes here already are based on this, however, they might be the protein option that I would generally add some extra vegetables to when cooking or vis-versa. Some examples of these types of recipes are my Spicy Sticky Chicken Drumsticks, which I would commonly add some potatoes, eggplant and fennel to the baking tray with the chicken, or my Herb Crusted Salmon Tray Bake that I would add generally add some potatoes or sweet potato to the tray for a complex carb addition.
Some of my other favourite one pot meals or tray bakes are: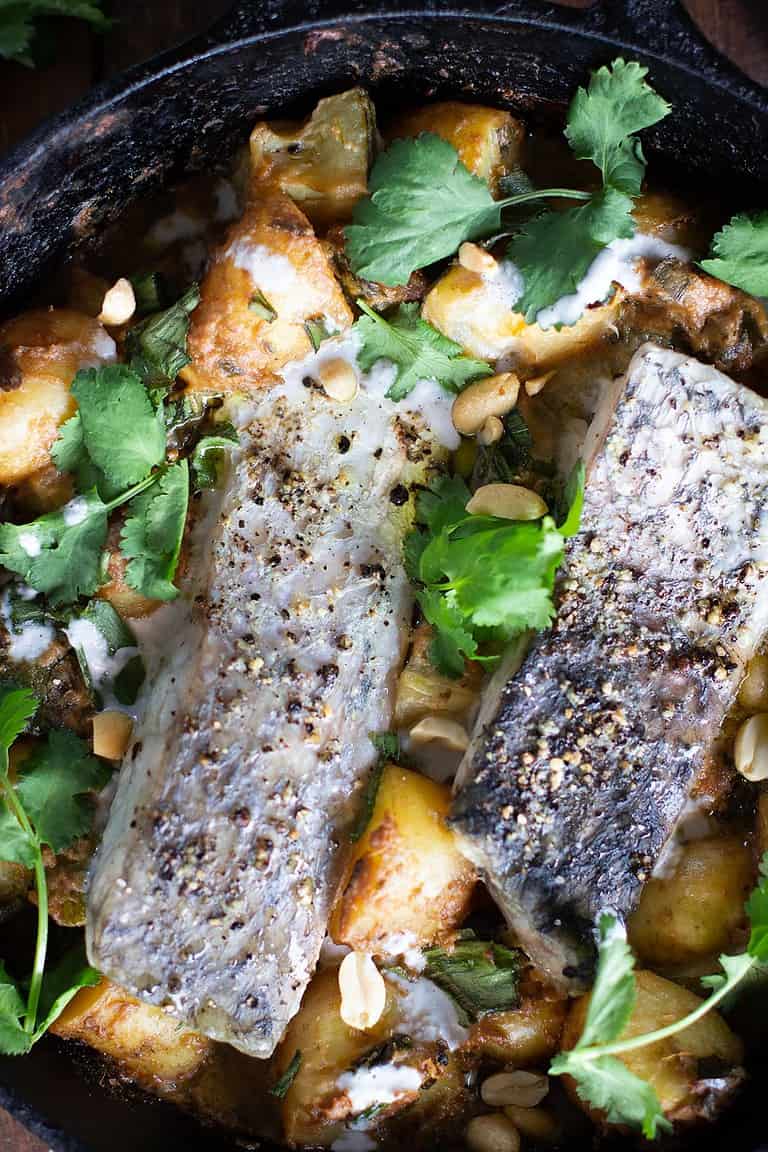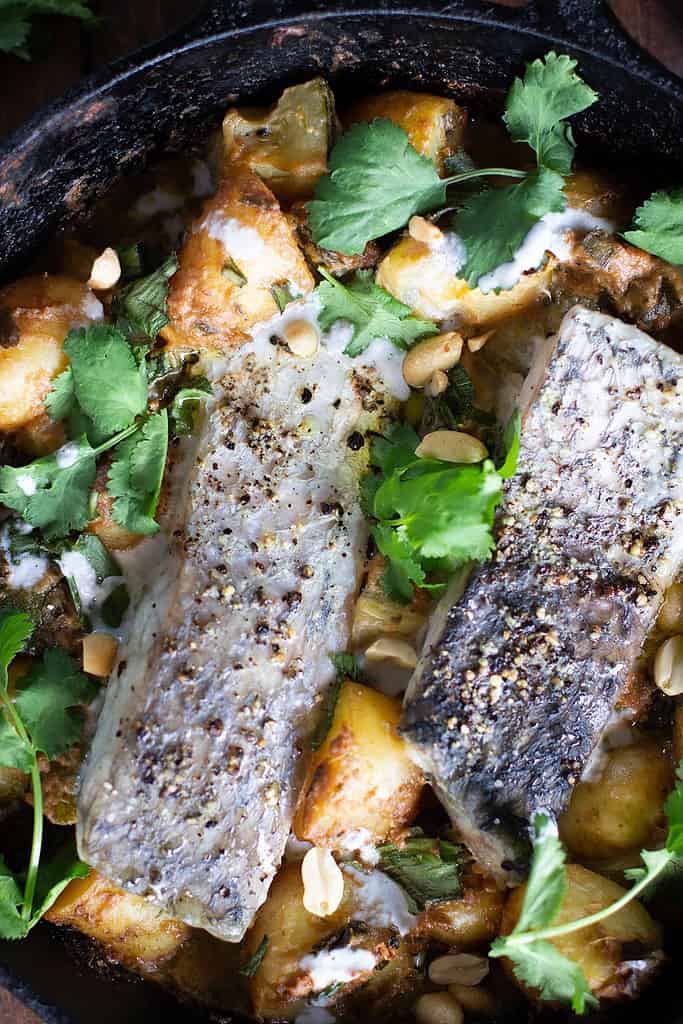 So how did this meal play out when tasted by Hubbard? It was a success! I know he was freaked out by eating it and could smell that 'fishy' smell as it cooked, but I am proud to say this Baked One Pot Fish Curry has the stamp of approval from the fish curry skeptic. I was also not too hot either as I had removed the seeds from the chilli's, so if you want to keep that fiery heat then I'd suggest leaving the chilli's in.
As the name of this recipe imply's, the ingredients used are low fodmap. If you don't need to worry about low fodmap eating then you could easily use garlic in place of the garlic infused oil and use the whole of the spring onion instead of just the green ends. I also love the idea of roasting in quarters of brown onion that would soften and sweeten up in the curry paste as it cooks.
I've also included some suggestions on how you might modify this recipe further in regards to needs for low oxalate or low histamine looking. You can find this below in the nutritional information section. As with most recipes, there is usually a way to make them work, so that everyone can enjoy what they have to give.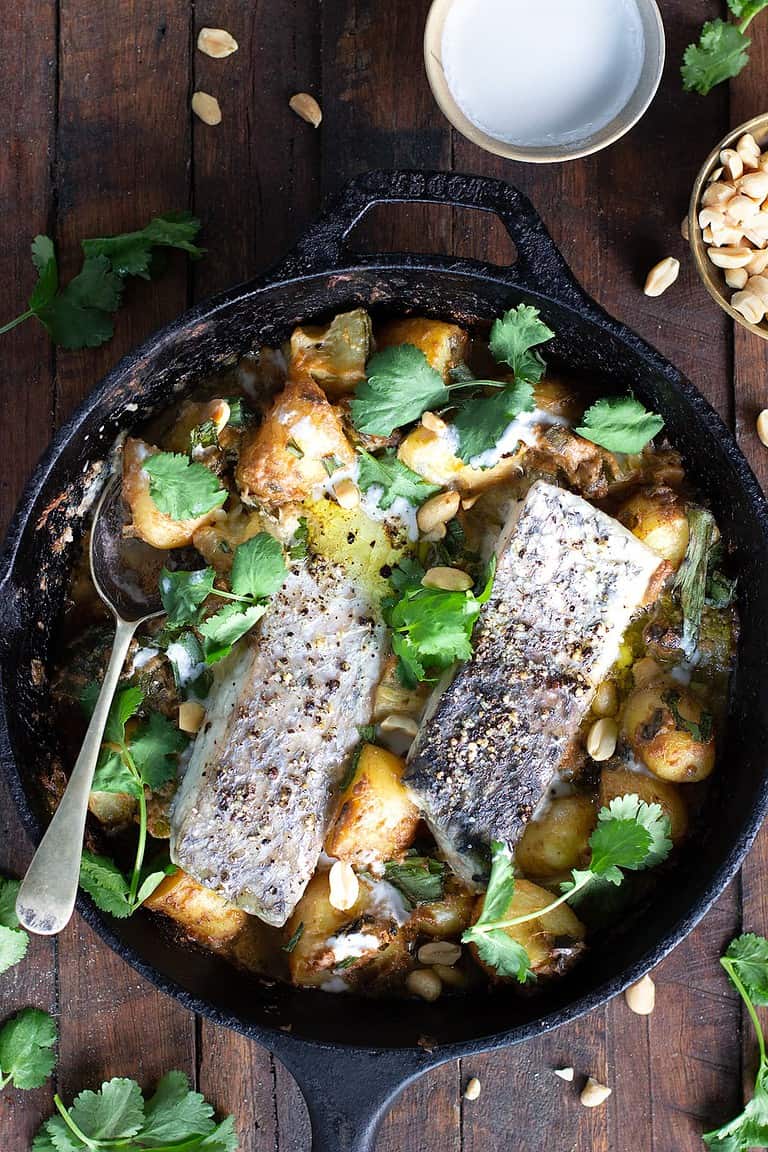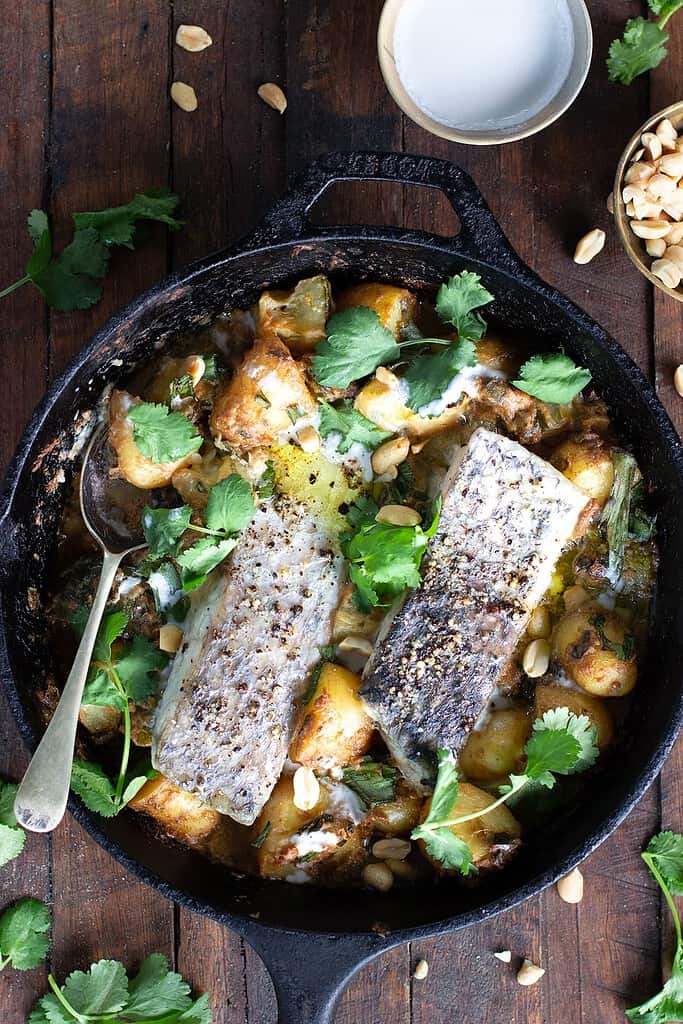 Like what you're seeing? Subscribe for new recipes and nutrition tips every week!
Need personalised nutrition advice catered to your needs?
If you are after personalised nutrition advice and dietary planning individualised to your health and dietary needs then contact us at The JCN Clinic with your enquiry. We are always happy to answer any questions you have!
baked one pot fish curry (low fodmap)
serves

2

preparation time

15 min

cooking time

70 min
ingredients
350g small potatoes
1 medium (250g) zucchini
2 tablespoons peanut butter
1.5 tablespoons tamari (or gluten free soy sauce)
2 tablespoons lime juice
zest 2 small limes
1 green chilli, finely chopped (seeds removed if needed)
2 tablespoons grated ginger
2 teaspoon garlic infused olive oil (or 2 small cloves garlic, crushed)
1/4 cup canned coconut milk
1 cup roughly chopped green ends spring onions
2 fillets (300g) barramundi (or fish of choice)
1/2 cup coriander leaves roughly picked
// optional toppings //
2 tablespoons roasted peanuts, roughly chopped
extra coconut cream for drizzling
method
This recipe is loosely adapted from River Cottage, Light & Easy by Hugh Fearnley-Whittingstall.
Preheat the oven to 180c.
In a small mixing bowl combine the peanut butter, tamari, lime juice, lime zest, chopped chilli, grated ginger, garlic infused olive oil and coconut cream. Mix well and set aside.
Prepare the potatoes and zucchini by chopping into large bite sized cubes (make the zucchini a little bigger as they tend to shrink a lot). Place the potatoes and zucchini into a oven proof baking dish. Add half of the chopped spring onions and then pour over the satay sauce and mix well till everything is combined and all the vegetables are nicely covered.
Cover the baking dish with a lid and place in the oven to bake for 60 minutes, or until potatoes are tender (check them after 40 minutes to ensure they are not already done as oven temperatures will vary). After 60 minutes remove from the oven and take off the lid and give everything a good stir. Scatter over the remaining chopped green spring onions and 2 tablespoons of water. Add the fish skin side up and season the top of the fish with salt and pepper and a little extra virgin olive oil drizzled over. Place back in the oven for another 10 – 12 minutes with the lid off, allowing the fish to cook through and the vegetables to turn a little golden.
Remove from the oven when the fish is cooked through. To serve, divide between plates and top with fresh coriander and chopped roasted peanuts if desired. Also lovely served with an additional drizzle of coconut milk and wedges of lime.
nutritional information for baked one pot fish curry (low fodmap)
For a lower oxalate version of this recipe use butternut pumpkin or turnip instead of potato and sunflower seed butter instead of peanut butter (although the peanut butter and nut butter in general in minimal in this recipe). For a lower histamine version use macadamia nut butter instead of peanut butter and if possible use fresh coconut milk (although you may be fine with canned coconut milk – it is up to your tolerance level) and omit the tamari and use 1 tsp salt. There is also a lot of lime zest in this recipe so depending on your tolerance omit and just keep the juice, doubling the amount of lime juice (juice is generally tolerated better than the zest).
This baked one pot fish curry provides a well rounded macronutrient balanced meal. The potatoes provide the complex carbs, the peanut butter, coconut milk and fish provide fats and the fish overall provides the protein. The non starchy vegetable component is provided thanks to the zucchini and fresh coriander. You could add more to this by including a variety of other non starchy vegetables if you like.
Jessica Cox is a qualified practicing Nutritionist with a Bachelor Health Science (Nutrition) and over 15 years of clinical experience. She is the founder and director JCN Clinic, published author and established recipe developer. Jessica is well respected within health and wellness space for her no fad approach and use of evidence-based nutrition.