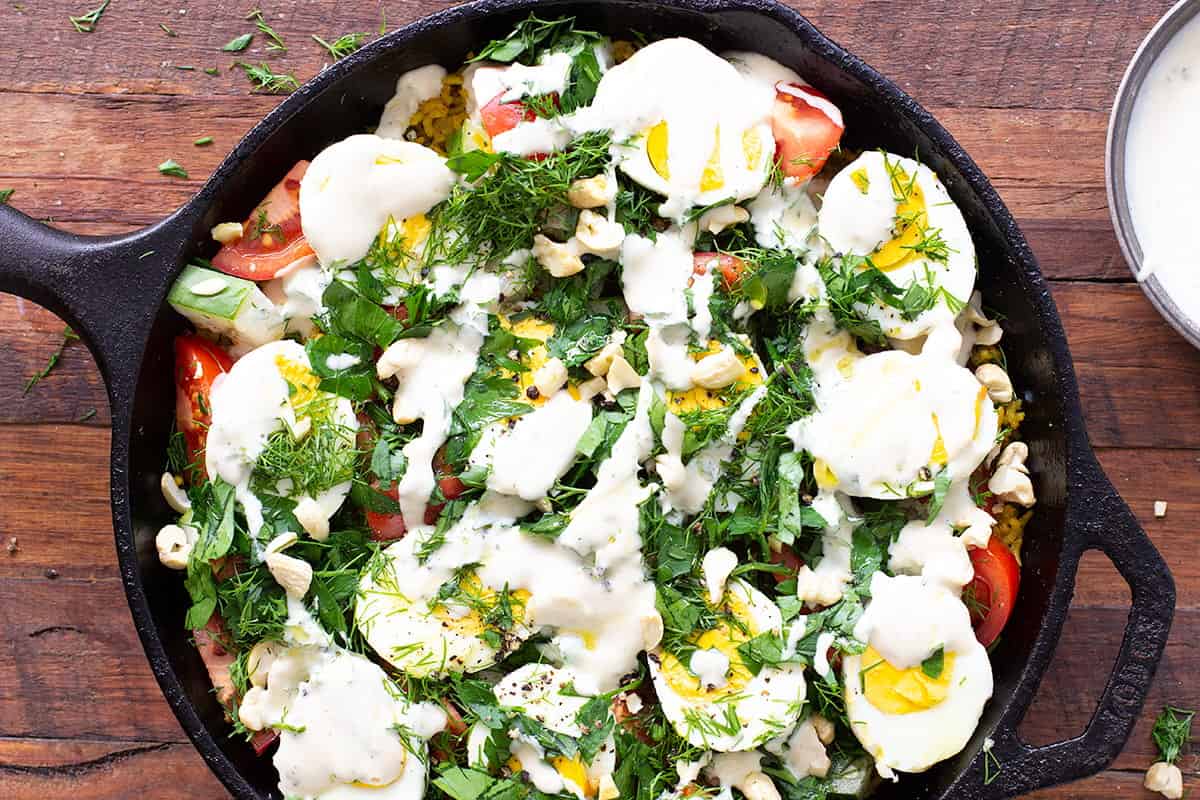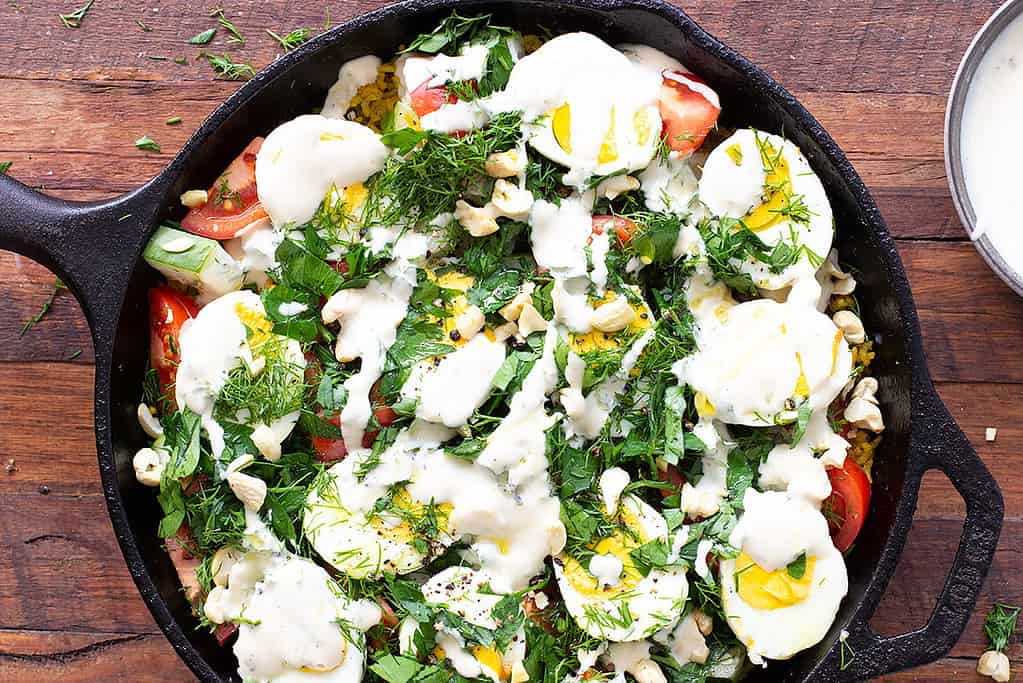 This recipe for Middle Eastern Rice Pilaf was really a fusion of cultural flavours, but I felt that if I had to pick a flavour camp it would be the explosion of flavours that is synonymous with the Middle East. The heat of spices combined with the earthy creaminess of tahini and the freshness of dill and parsley. To me these combinations are heavily laced in middle eastern dishes.
I think there is also a strong hint of Indonesian at play here too. One of my favourite Indonesian dishes is Nasi Lamak, a rice dish served with chilli, eggs, salty peanuts and fish and freshened with cucumber and tomato. It's a dish that I adore and always struggle to replicate at home. For something that is so simple its a mystery to me as to why I can't get it just right.
This Middle Eastern Rice Pilaf comes at a time when a lot of you are looking for easy, family friendly comforting meals while spending 99% of our time indoors in light of the current climate. When I put a call out on Instagram about what sort of recipe you would like there was a unanimous call out for savoury comfort meals. Everyone seems to be using the time at home to get their cook on more, be it recipes for dinner that have been on the 'to do list' forever, or baking up a storm in the sweets department. I imagine google is seeing a bloody big rise in recipe searches right now that's for sure.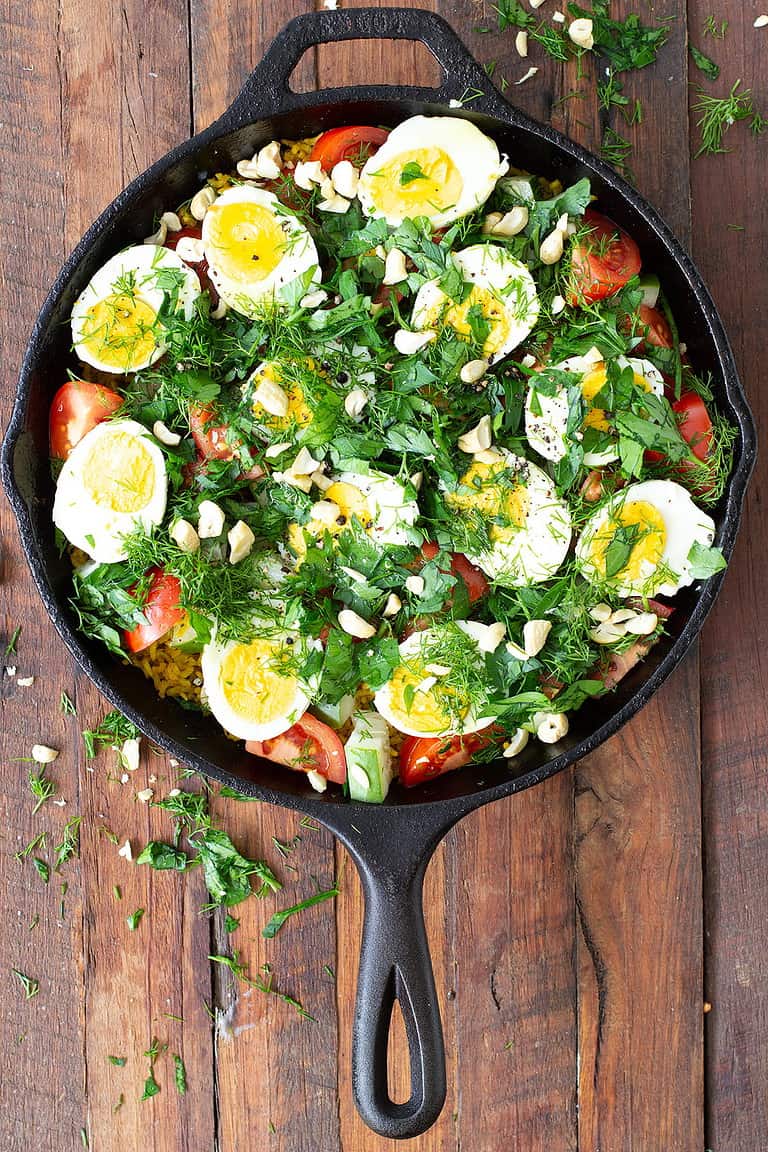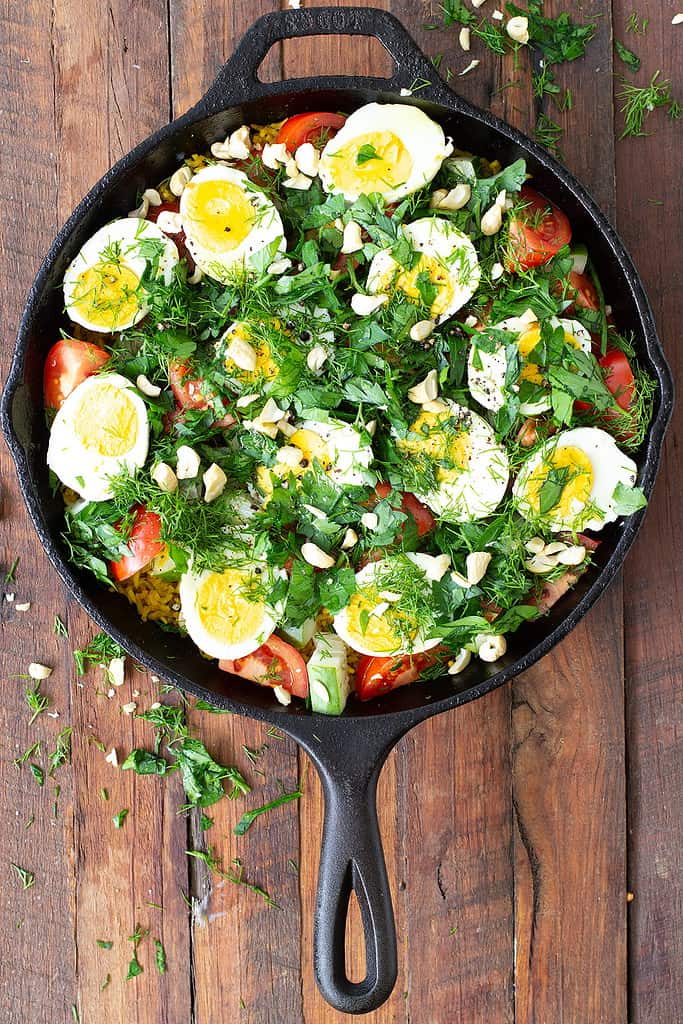 I think if anything is going to break the internet though it will be all the searching for baking recipes (maybe not as high up there with the memes, but must be close!). Honestly, I haven't looked at my own stats for recipe searches these last weeks but I bet you the muffins, cookies and slices have been smashed. The amount of baked goods I've been tagged in on social media as people go next level baking mad in the kitchen is astounding. Winners to date have been the Double Batch Gut Friendly Bread (from e.a.t cookbook), Gluten Free Anzac Cookies w Hemp Seeds, Healthy Jam Drop Cookies, Banana Pecan Muffins, Strawberry & Brazil Muffins and Moussaka (again from e.a.t cookbook). It's rubbing off on me and I'm now googling my own recipes desperate to shove Anzac Cookies in my face.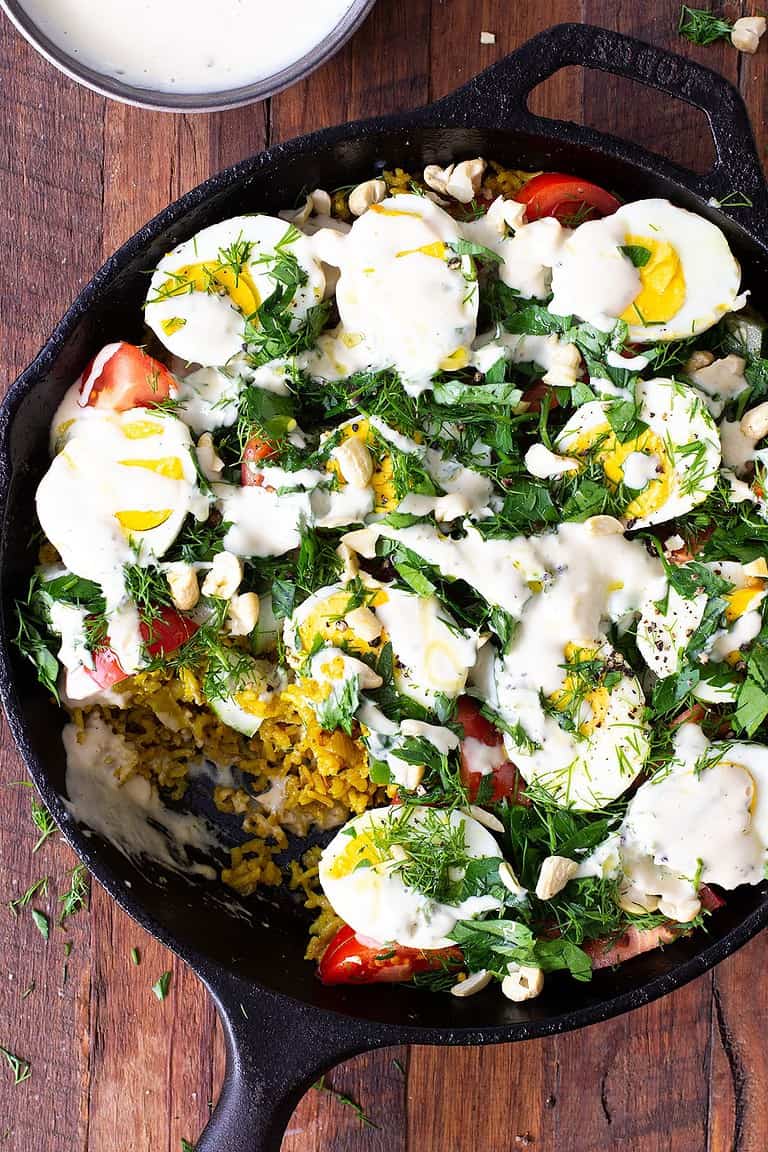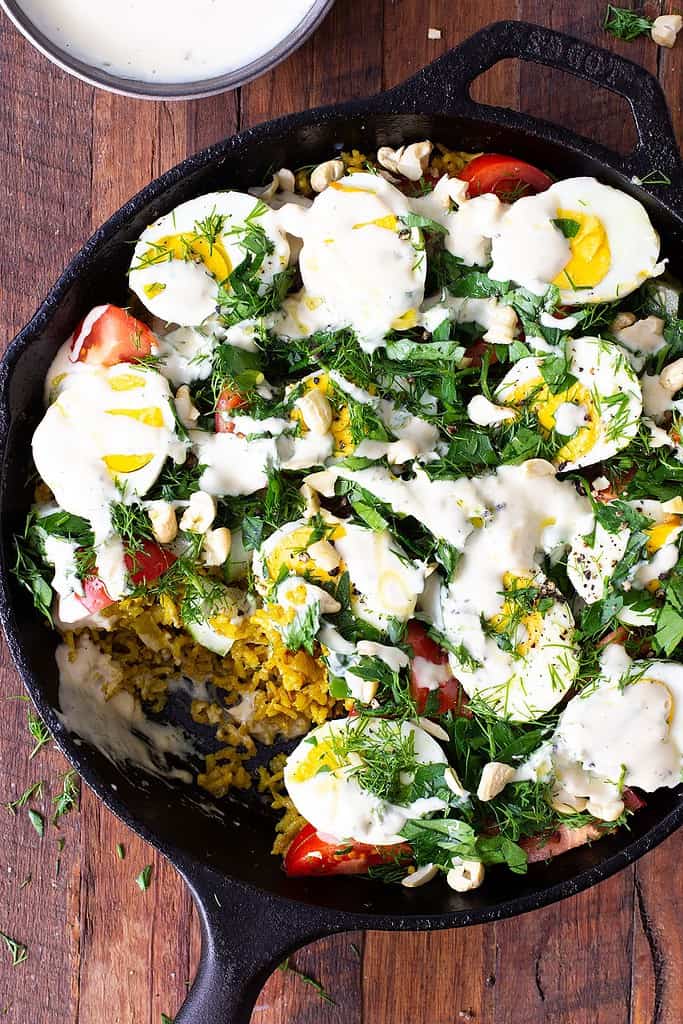 So as requested I've stepped sideways from my own over the top desire to bake every minute (believe me, it was hard) and have created this Middle Eastern Rice Pilaf to hopefully spark some dinner joy in your household. It's one of those recipes that you can dial up and down with heat of spices (more chilli flakes for the bold), change up easy for dietary requirements and push into the vegetarian space with a simple stock choice. If you wanted to go full vegan you could swap the eggs for some extra nuts or some fried tofu cubes. Conversely, I think you could also swap the eggs for slow cooked lamb pieces. Oh god, drooling at the thought.
Please as always if you have questions or comments leave them below here on the recipe. Your questions help out others often wondering the same thing and also help me pick up mistakes that I might make a bit too regulary (i.e. leaving out ingredients from the ingredients list etc – forgive me, I get a bit side tracked with pretty pictures).
Take care everyone, stay healthy and remember to get some fresh air and sunshine everyday too. xo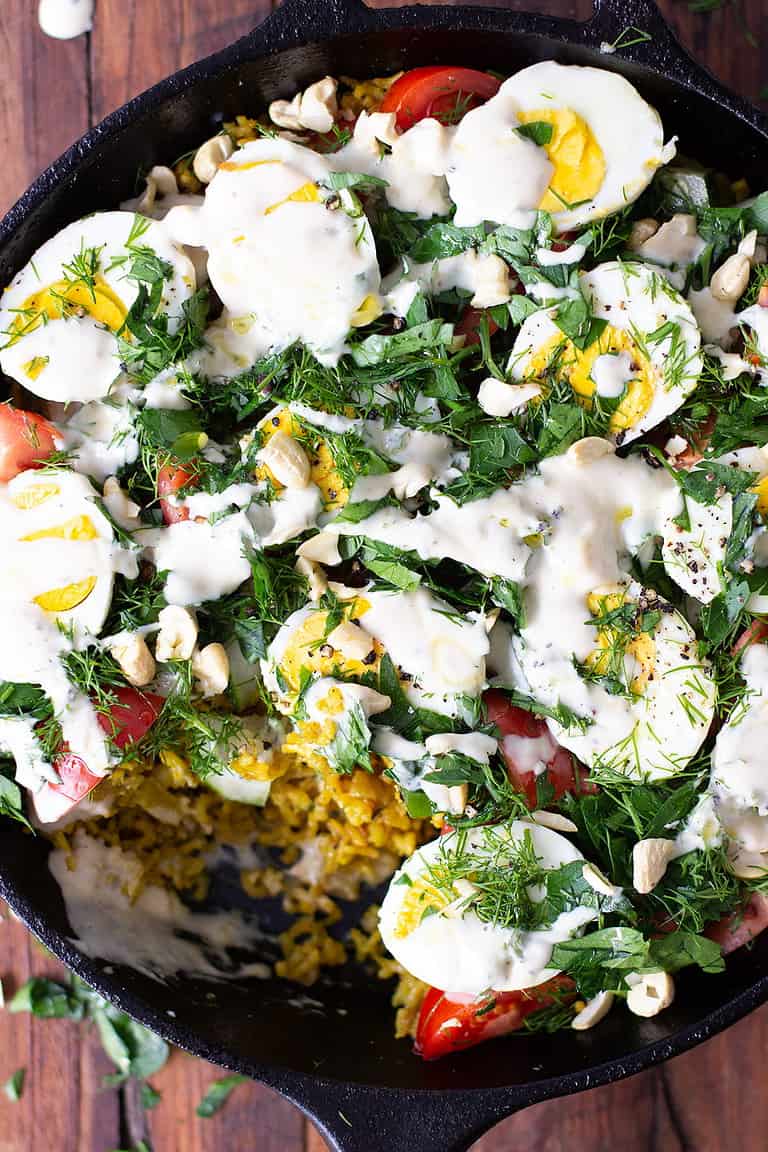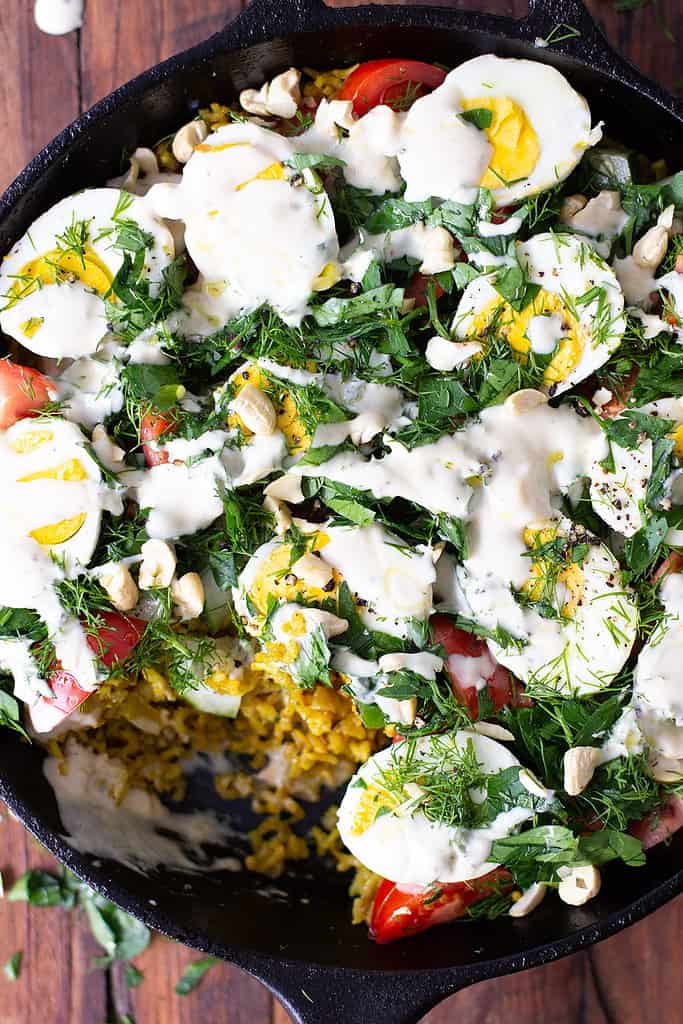 middle eastern rice pilaf
serves

4

preparation time

20 min

cooking time

15 – 20 min
ingredients
2 tablespoons extra virgin olive oil
1 small onion, finely sliced *
1 cup brown basmati rice
3 teaspoons ground cumin
3 teaspoons ground coriander
1/2 teaspoon chilli flakes
1/2 teaspoon ground turmeric
1/2 teaspoon salt
1/2 teaspoon pepper
1 clove garlic, crushed *
2 cups beef or chicken or vegetable stock (or 4 teaspoons quality stock concentrate mixed into 2 cups water)
6 free range eggs
3/4 cup tightly packed fresh dill, chopped
3/4 cup tightly packed fresh parsley, chopped
1 cup roughly diced cucumber
1 cup roughly diced tomatoes
1 serve of creamy tahini sauce
2 tablespoons roughly chopped cashews
method
* This recipe for One Pan Middle Eastern Rice Pilaf can be made low fodmap by using garlic infused extra virgin olive oil instead of the clove of garlic and diced fennel instead of onion.
Bring a large, wide, heavy based saucepan to a low heat. Add the extra virgin olive oil and then the sliced onions. Sauté until soft and caramelised, roughly for around 5 minutes.
Add the ground cumin, coriander, chilli and turmeric to the onions and stir with a wooden spoon. Allow the spices to heat through and become aromatic for around 1 minute. Now stir in the brown basmati rice coating with the spices and onion along with the crushed garlic.
Add the stock and stir through. Season with salt and pepper and then allow the rice mix to come to a boil, then cover the saucepan with a lid and turn to a very low simmer. Leave to simmer for 15 minutes, checking around 10 minutes to ensure it is not simmering too high or burning on the bottom. Stir if required. After 15 minutes if the rice is still not cooked give it another 4 – 5 minutes.
In the interium while the rice cooks, add a pot of water to stove and bring to the boil. Add in your eggs and allow them to hard boil to your liking. Once the eggs are ready drain the water and then run the eggs under fresh cold water so you can peel them. Set peeled eggs aside.
Make the tahini sauce using the method here. Set aside.
Once the rice is ready (it should be nice and tender), remove the saucepan from the heat and then dress the top with half of the chopped dill and parsley. Follow this with scattering on the diced cucumber and tomato. Now chop the boiled eggs in half and nestle yolk side up into the toppings. Finish off with adding the remaining dill and parsley over the eggs.
Take the tahini dressing and drizzle generously over the top. Place remaining tahini dressing in a serving dish and place on the table for everyone to add more sauce to their plate after serving.
To serve, ideally place the Middle Eastern Rice Pilaf in the middle of the table and allow everyone to scoop out their serves. If you have left over cucumber, tomato or herbs you can also put these on the table for everyone to add extra if they like. Drizzle served portions with extra tahini sauce and ideally some more extra virgin olive oil.
Enjoy warm or cold. Lasts for 4 days in the fridge.
Like what you're seeing? Subscribe for new recipes and nutrition tips every week!
nutritional information for middle eastern rice pilaf
This Middle Eastern Rice Pilaf is generously drowned in a luscious tahini sauce. Tahini is high in polyunsaturated and monounsaturated fats accounting for around 50-60% of the macronutrient intake and provides moderate amounts of protein and carbohydrates. For instance, 1 tablespoon of hulled tahini provides 8gms fat, and 2.5 grams each of protein and carbs. Tahini is also a good source of amino acids tryptophan (boosts serotonin levels) and methionine (beneficial for liver health)
Sesame seeds are also the only source of phytochemicals sesamol, sesamin and sesamolin that belong to the lignan family. These antioxidants have been shown to reduce oxidative stress and therefore reduce risk of cardiovascular disease and potentially malignant growth (especially oestrogen dependent malignancy). Sesame seeds are also high in y-tochopherol (a form of vitamin E), which keeps the oils in the sesame quite stable, therefore inhibiting easy oxidation. The sesamin in the sesame seed actually increases the retention of vitamin E meaning it has a longer shelf life in the body.
Jessica Cox is a qualified practicing Nutritionist with a Bachelor Health Science (Nutrition) and over 15 years of clinical experience. She is the founder and director JCN Clinic, published author and established recipe developer. Jessica is well respected within health and wellness space for her no fad approach and use of evidence-based nutrition.