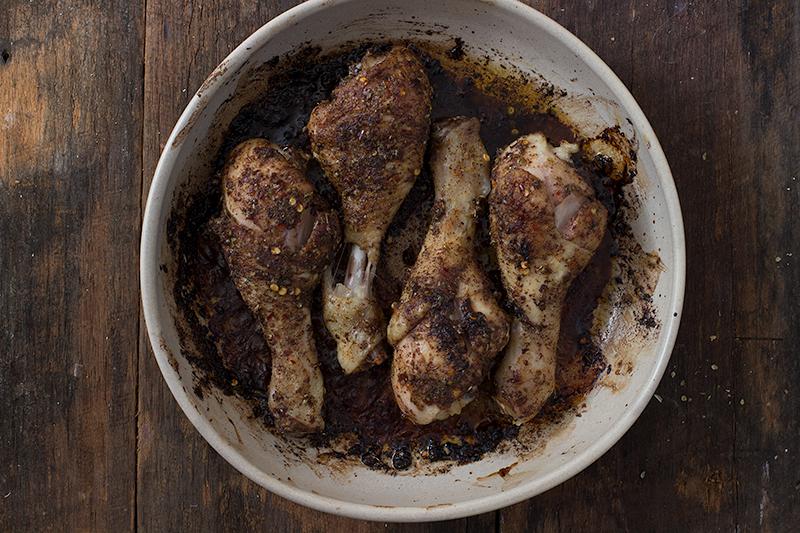 There is something so wonderfully tactile about chicken drumsticks. Perhaps that goes for any sticky sweet meat cooked on the bone, inviting you to pick it up and devour it 'cave man/woman like'. Once you commit with a bite its hard to put the meat down, as I find you are lost in a trance of juicy chicken glory.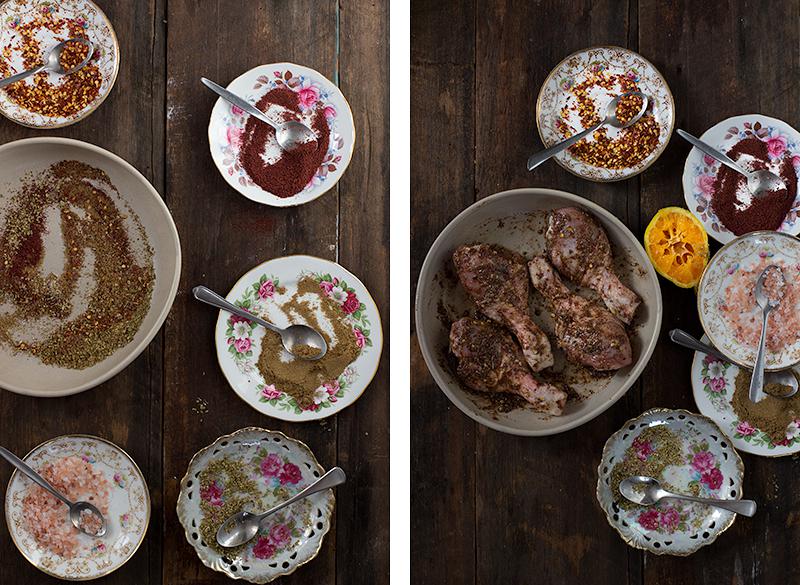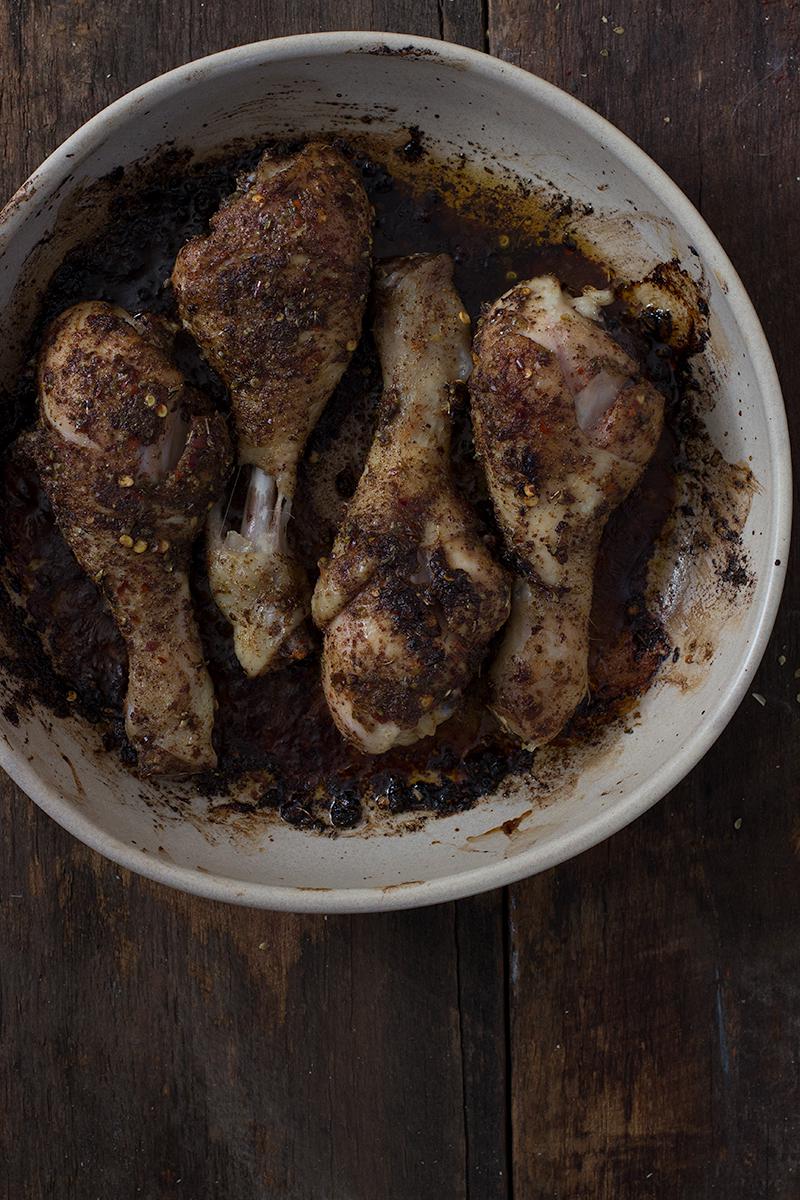 These spicy sticky chicken drumsticks are the ultimate comfort food. Eaten warm from the oven they fill a place in your belly that I swear is especially saved for the wonders of roasted chicken. The spices mixed with the sweetness of the orange juice create a mouth watering sultry glaze that clings to the chicken skin creating that delightful layer of sticky sweet goodness.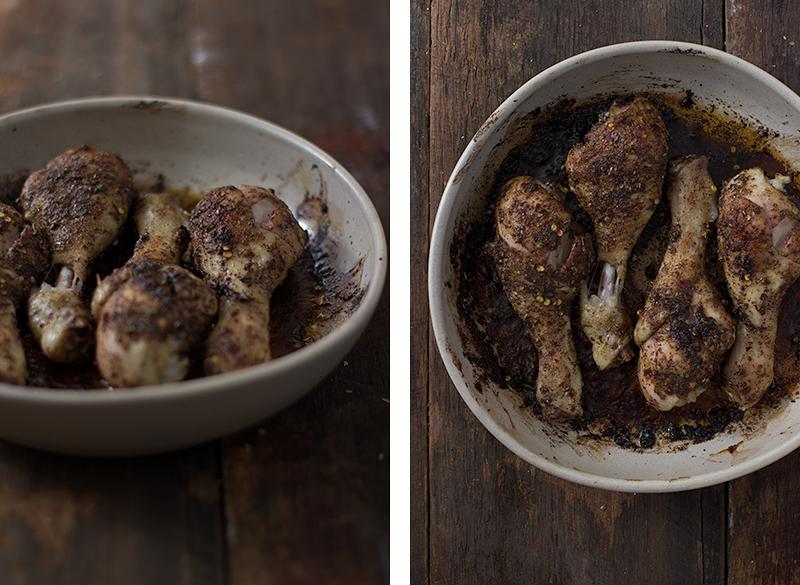 When making these drumsticks its important to use drumsticks with the skin still on. This keeps the chicken meat moist (yes there is that word) while cooking, yet also creates a delicious crackle to the skin. We are so scared of animal fat (still) to this day, yet quality animal fat is a great source of saturated fat. Yes, I did say saturated fat. You didn't read that wrong.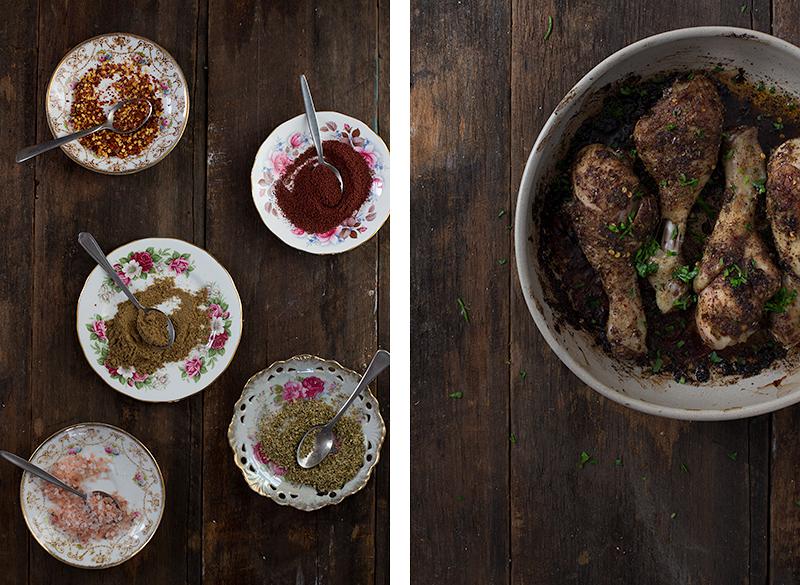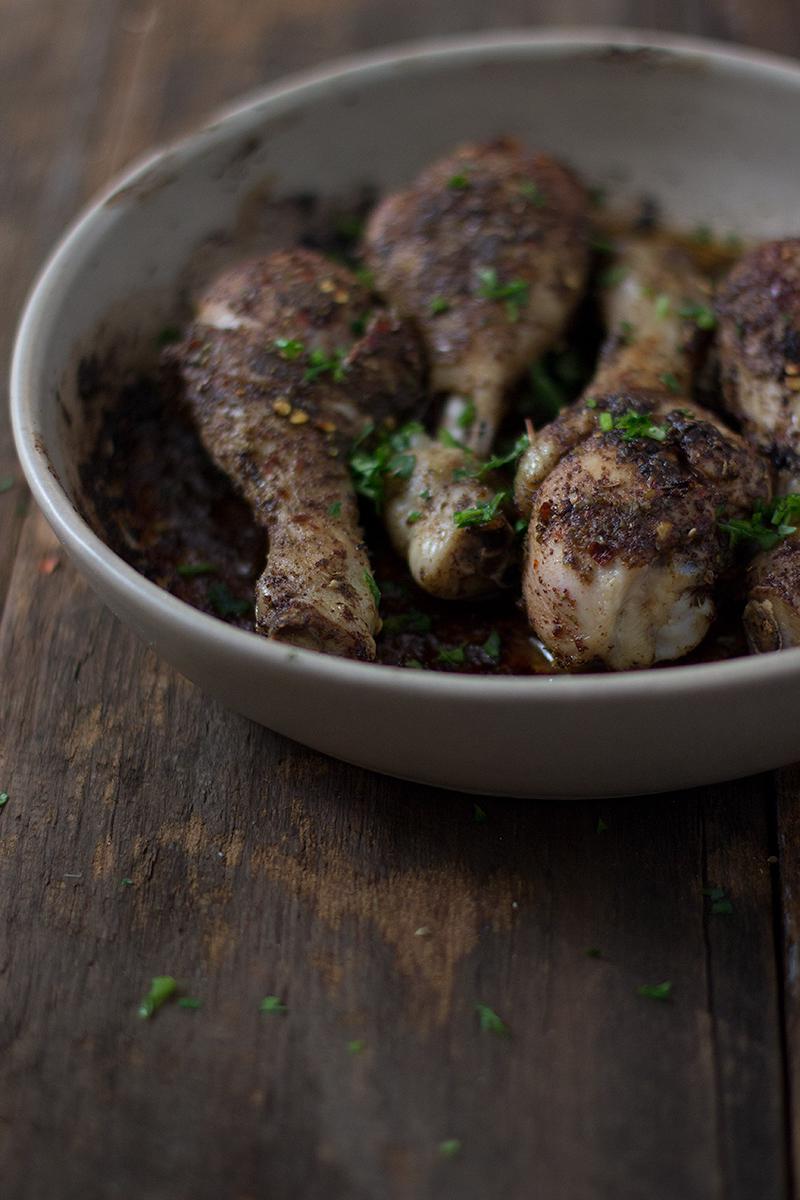 Saturated fat is vital for our cell membrane walls, allowing fluidity and movement of intra and extra cellular nutrients. Saturated fats are also integral for cholesterol production, which provides the core backbone for our hormones and neurotransmitters. Of course like everything there is a balance involved. Saturated fat needs to be enjoyed with the addition of polyunsaturated and mono-unsaturated fats to ensure we are getting the full spectrum of fatty acids in our diet. You can find out more about these fats here.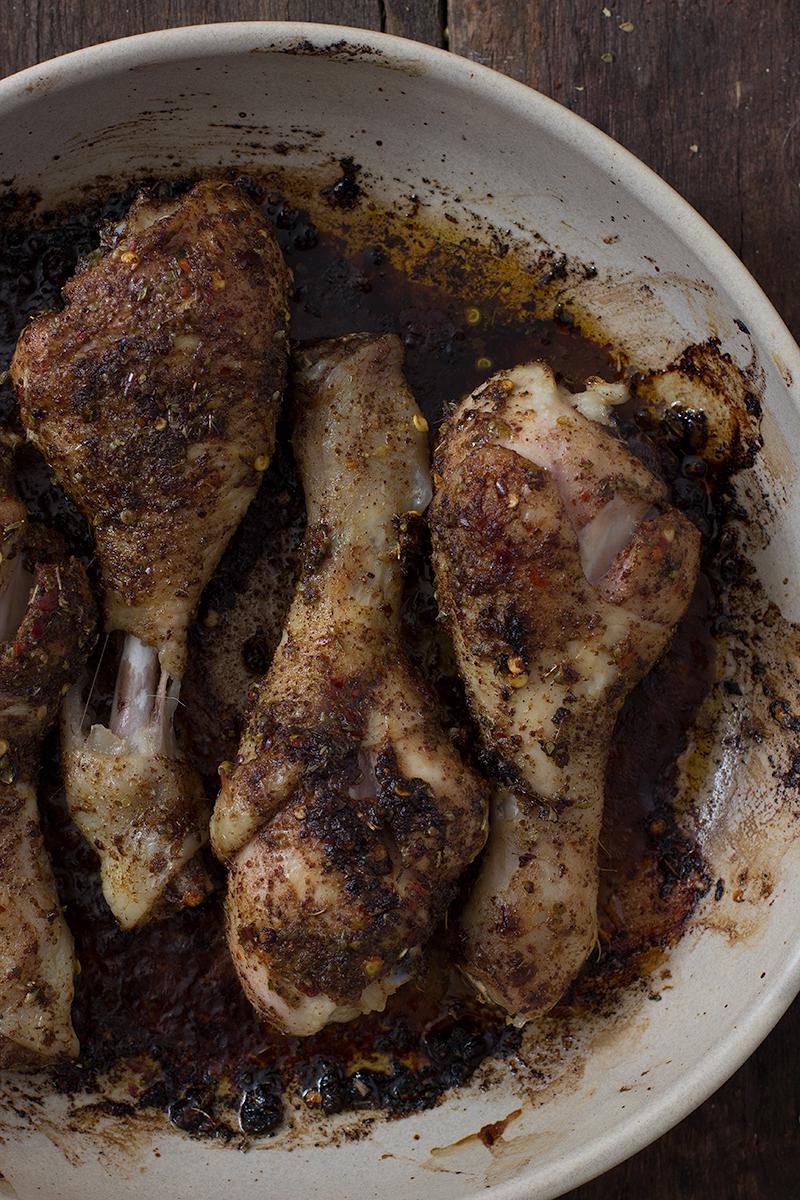 When buying your chicken for this dish, please buy free range organic meat. Any unruly by products fed to chicken that are not organic will most commonly be stored in the fat of the meat, hence the importance of an organic source. Free range can be a grey area these days. I suggest finding a local butcher and grilling them (ha-ha butcher pun!) on where it is sourced. The title 'free range' can be used too easy by companies, so its important to delve a little deeper to ensure you are getting a true free range product.
When serving these spicy sticky chicken drumsticks I suggest enjoying them with a generous dollop of mayonnaise or aioli on the side. They really go with just about any side dish, but are particularly delicious with my creamy polenta and a side of sautéed kale. Delish!
spicy sticky chicken drumsticks
serves

2 people

preparation time

10 minutes

cooking time

30 minutes
ingredients
1 tablespoon sumac
1 tablespoon dried oregano
1 tablespoon cumin powder
1/2 teaspoon sea salt
1/2 tablespoon chilli flakes
2 tablespoons extra virgin olive oil
juice half an orange
4 large free range organic drumsticks
method
This recipe can be easily doubled or tripled for more people.
Preheat your oven to 200c. Take a small mixing bowl and combine all of the spices, salt, orange juice and olive oil. Place the chicken drumsticks on a baking tray and pour over the marinade, scraping every last drop out of the bowl. Rub the marinade all over the chicken till it is coated well. Either cook straight away or cover and place in the fridge for 3 hours or overnight.
Place the chicken in the oven to roast. After 15 – 20 minutes, turn the drumsticks over and baste them with any of the marinade that has fallen off. The chicken is cooked when the meat starts to naturally pull away from the bone at the base of the leg, generally around 30 minutes depending on the size of the drumsticks.
Remove from the oven and allow to sit for 5 minutes, then serve with your favourite sides. Lovely with creamy polenta mash and sautéed kale.
Jessica Cox is a qualified practicing Nutritionist with a Bachelor Health Science (Nutrition) and over 15 years of clinical experience. She is the founder and director JCN Clinic, published author and established recipe developer. Jessica is well respected within health and wellness space for her no fad approach and use of evidence-based nutrition.