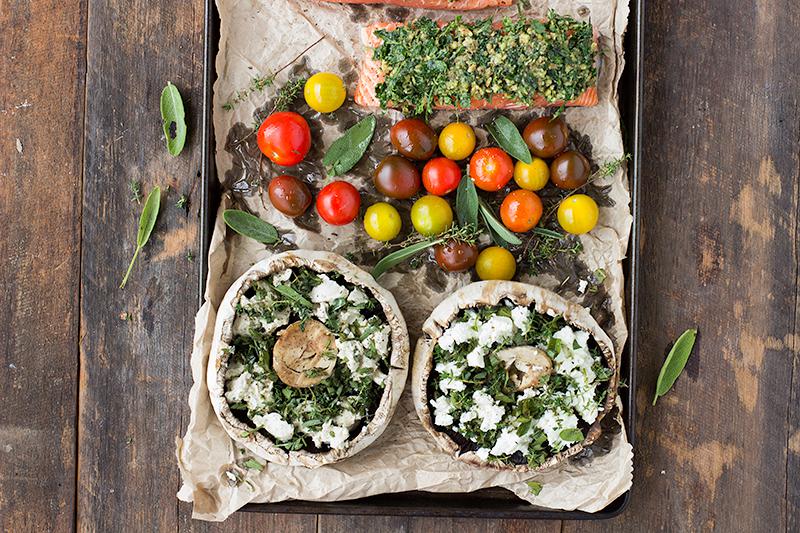 Sometimes when pondering less tenacious life issues, it crosses my mind as to what I would do without a good tray bake to get us through the week. Honestly, they are lifesavers. You can literally put everything on a tray, put it in the oven and walk away. Protein, veg and all – presto! Once that alarm goes off 30 minutes or so later it's just a matter of dishing up, adding a few fresh leafy greens or herbs and you're done. What's more, a tray bake is a marvellous step towards creating leftovers for lunch meals, which makes a busy week a lot more achievable.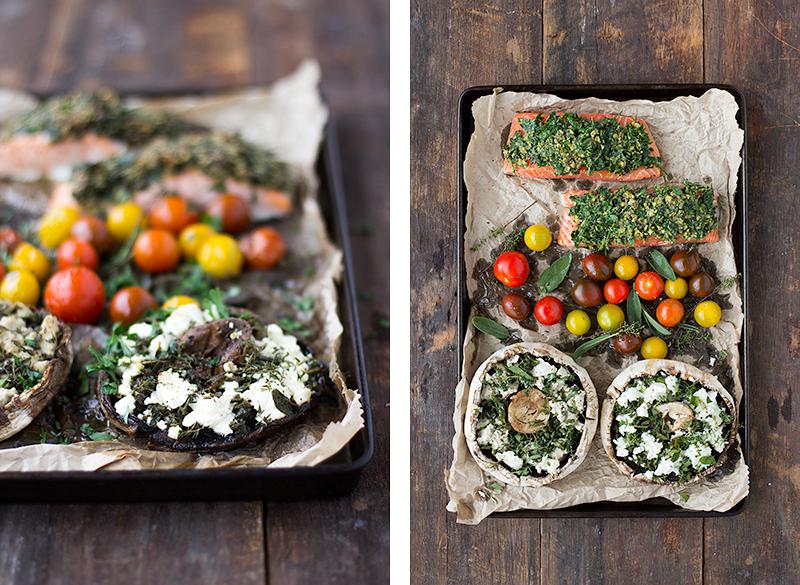 Tray bakes also very forgiving. All those flavours meshing together caramelising in each other's juices create their own festivity of flavours. As long as there are some generous lugs of extra virgin olive oil and seasoning added it is hard to go wrong. My husband has now got a tray bake pretty well covered. I just text him in the afternoon and give him instructions on what to put into the oven. I strongly suggest doing this with your partner or kids, basically whoever gets home first can do this and it saves so much dicking around too late in the evening when you could be watching re-runs of Grand Design.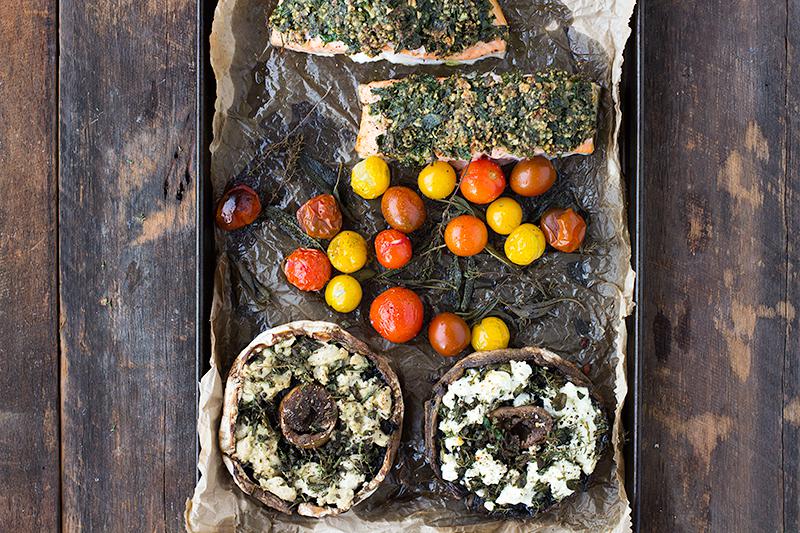 The idea of this tray bake is to also show how you can incorporate different dietary requirements to suit everyone. No one wants to be making a separate meal; that is just a one-way ticket to frustration and often defeat. I've had different dietary requirements from my hubby from the start of our relationship and we have always made meals that can be adapted for both of us. I don't want him to miss out on cheese or butter just because I can't eat it without feeling glued to the toilet the next day.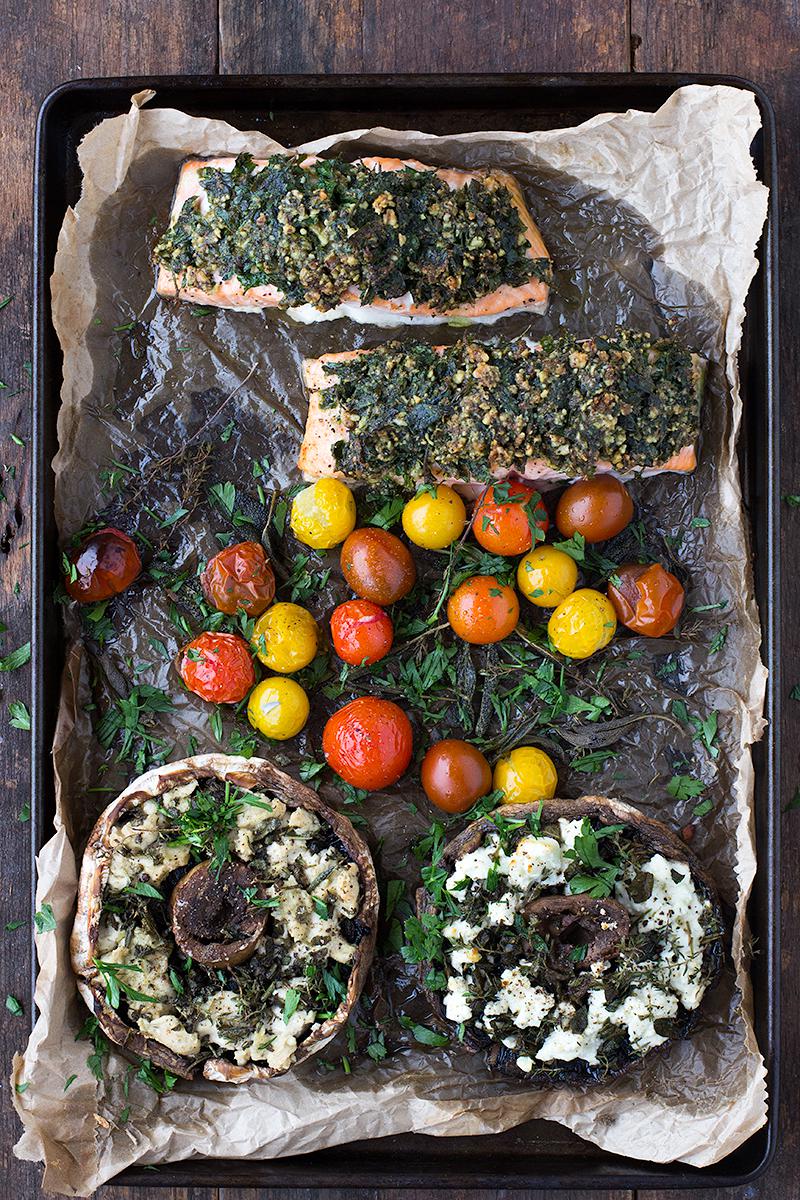 The best way to approach meals for varied dietary necessities is to use easy substitutions for meals that you usually both like. There are an abundance of alternatives out there now when it comes to the big players like dairy, gluten and eggs. It's easier to just swap away and generally it's a walk in the park. For instance, here I've done stuffed mushrooms, one done traditionally with goat cheese and the other with a cashew cheese that can be bought from most health food stores these days. Other dairy free options could be silken tofu blended with garlic, nutritional yeast and dill as a stuffing choice.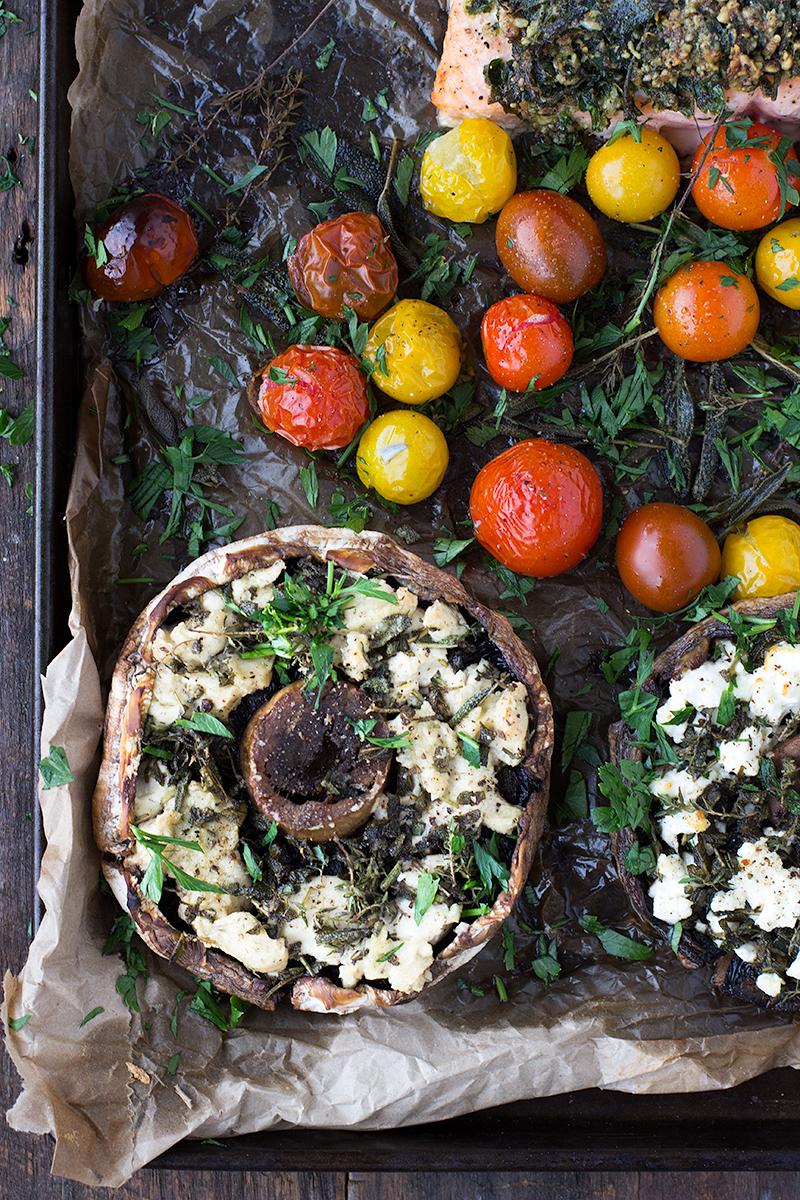 Tray bakes are also a fab way to get a variety of vegetable options to suit the whole family. You might be after less starchy options, where as your teenage sons are burning up carbs like there is no tomorrow and need to keep those starches abundant. With a tray bake (or two) you can get your starchy root vegetables happening like potato, sweet potato, turnip, swede and so on then also get a great mix of your less starchy veg like broccoli, cauliflower, eggplant, capsicum, fennel and more. This way you can divide it all up and give everyone what they need dependent on their requirements. Again, who wants to make three meals a night to suit you, your partner and your kids? I know my clients don't.Of course I have taken this tray bake a little further with adding a marvellous herb nut crumble to the salmon steaks. It's an extra step you can leave off, but honestly it takes 5 minutes extra and makes the meal pop. I'd also recommend using this savoury crumble on a lamb rack, which goes exceptionally well on a tray bake too.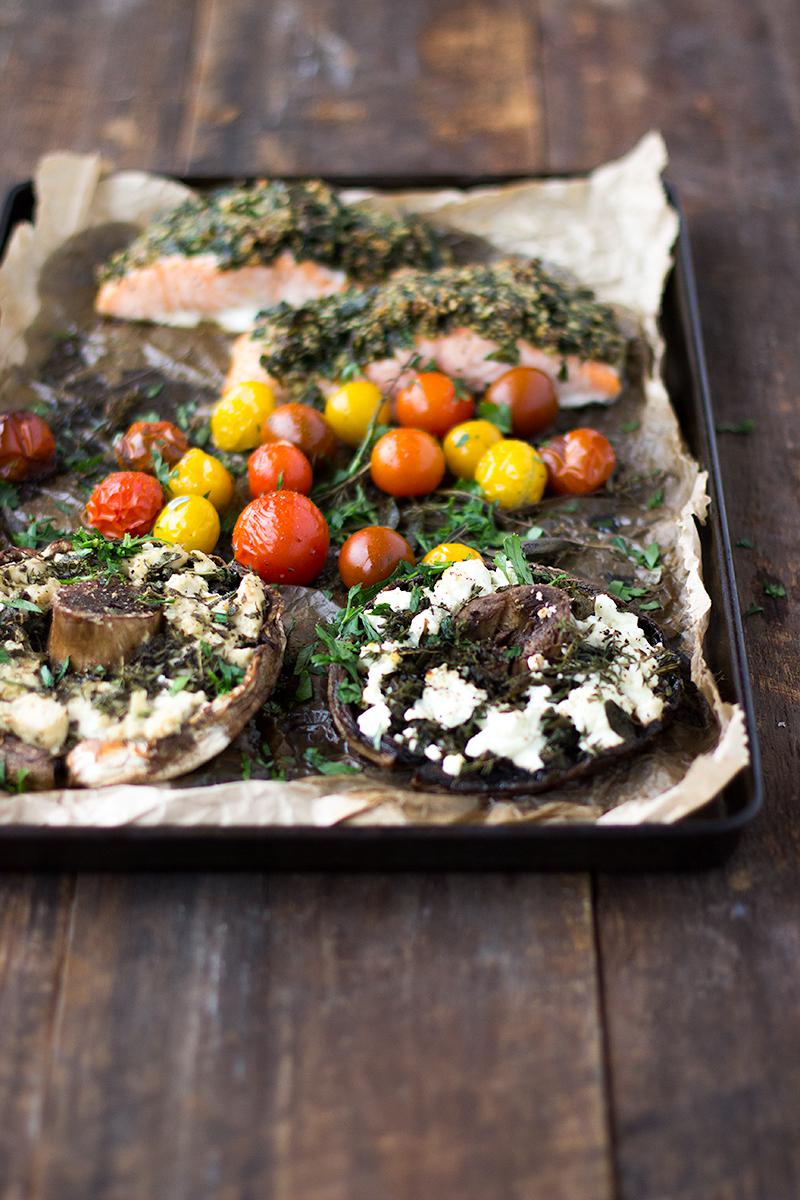 My final recommendation is to do a tray bake like this at the start of the week and think about doubling the contents for more left overs. Personally I often make extra salmon and have it the next day as leftovers or even freeze some portions for later in the week. I know some people wig out about left over fish, but as long as you are not leaving it sitting in your hot gym bag all morning and are transporting it with an ice brick, I am sure you are not going to end up with salmonella. Happy tray baking! Xx
herb crusted salmon tray bake with stuffed mushrooms (2 ways)
serves

serves 2

preparation time

20 minutes

cooking time

15 – 20 minutes
ingredients
2 salmon fillets
2 large field mushrooms
1/2 cup goat's feta or cashew cheese (alternatively, use half of each as I have here)
I bunch fresh sage (2 tablespoons of this roughly chopped)
6 sprigs fresh thyme + extra for tossing with tomatoes
200 grams baby tomatoes
1/2 cup walnuts
1 cup fresh parsley, tightly packed + extra for serving
1 tablespoon freshly chopped tarragon
zest of 1/2 large lemon
3 tablespoons extra virgin olive oil + extra for drizzling
salt and pepper to season
method
Preheat your oven to 200c, fan forced. Line a large baking tray with baking paper or recycle a paper bag as I have here. Place the field mushrooms on the tray. Break off some of the fresh sage and roughly chop up enough for 2 tablespoons. Fill each mushroom with half of the cheese of choice, and then scatter with the thyme leaves and half of the roughly chopped sage leaves. Crumble over the remaining cheese then finish with more sage and a little more thyme.
Now make your salmon crumble by either placing the parsley, walnuts, tarragon, lemon zest, olive oil, salt and pepper in a food processor or in a mortar and pestle (I like to use a mortar and pestle to keep it chunky and for an excuse to smash stuff). Once you have a chunky crumble consistency, place the salmon fillets on the tray with the mushrooms and spoon onto salmon fillets with a teaspoon and roughly press out over the skin.
Finely, place the tomatoes on the tray with the salmon and mushrooms and tear over any remaining sage and thyme leaves.
Before placing in the oven, drizzle everything on the tray with olive oil; especially the mushrooms as they will soak this all up, then season with salt and pepper (especially the tomatoes). Give the tomatoes a toss with the oil and herbs then place the whole tray in the oven for 15 – 20 minutes, depending on your liking regarding the fish. Note you can take the fish out early and then finish off the mushrooms if you would like them done a little more. Basically everything is done when the mushrooms have softened and the cheese has browned, tomatoes blistered and the salmon cooked through to your liking.
To serve, place a portion of salmon and a mushroom on each plate and then divide the tomatoes with all the crispy herbs between them. Finish with another drizzle of olive and freshly chopped parsley.
Jessica Cox is a qualified practicing Nutritionist with a Bachelor Health Science (Nutrition) and over 15 years of clinical experience. She is the founder and director JCN Clinic, published author and established recipe developer. Jessica is well respected within health and wellness space for her no fad approach and use of evidence-based nutrition.