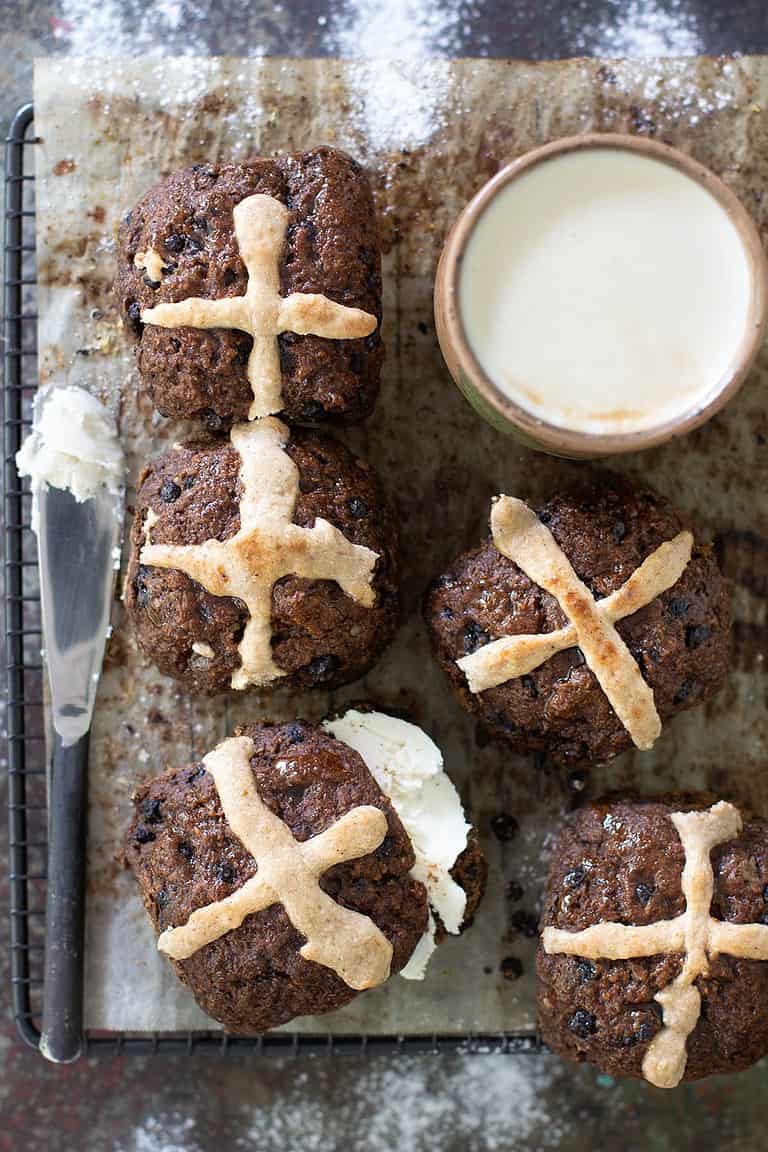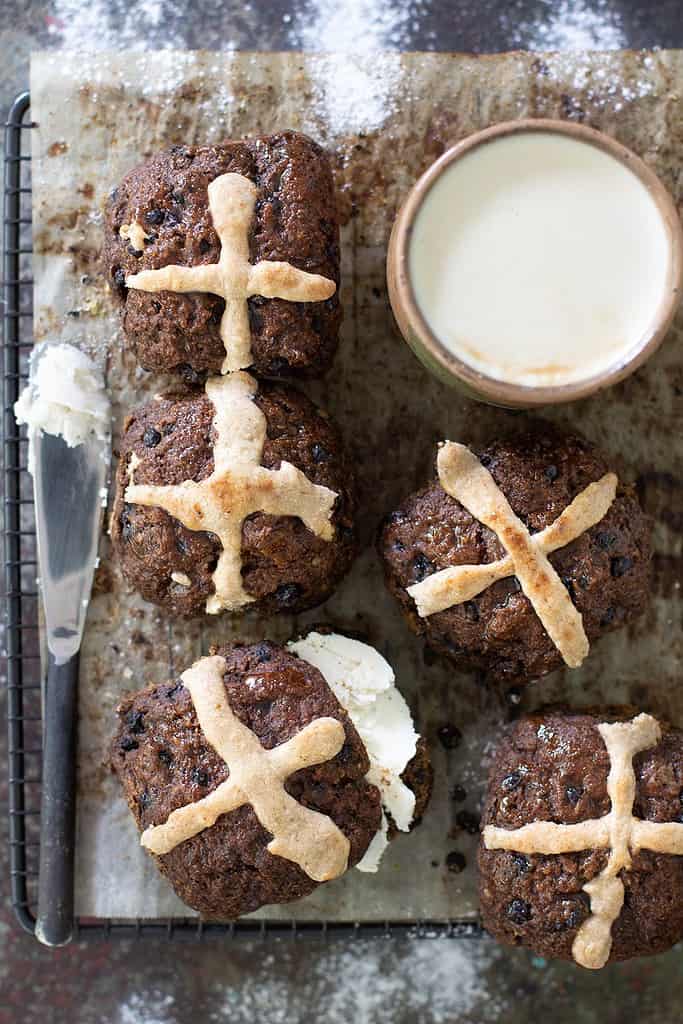 As another Easter is upon us it's only natural that the requests for Hot Cross Bun recipes start up. Every supermarket, health food store and bakery is filled with the smell of these delicious sweet and spice studded traditional buns, begging to be toasted and spread with butter. With each Easter brings the challenge of making you an alternative Hot Cross Bun recipe. You see, Hot Cross Buns are traditionally all about the yeast rising and stretching the glorious gluten in the regular flours used. When you take away the gluten you create a challenge. Especially when yeast is involved. On top of this, if you take away dairy and eggs you are also taking away some of the other stand in ingredients that you can rely on with gluten free baking alone. Over the past weeks I have been relentlessly making Gluten Free Vegan Hot Cross Buns in my kitchen determined to come up with the perfect recipe.
So, did I succeed? Well it depends on what you consider success. If its about flavour, well that box is 100% ticked. I've no qualms there. If the question is regarding texture, I am very happy with the texture of these Hot Cross Buns. Over the years of experimenting (and there have been many) with GF VG Hot Cross Buns, one of the challenges has been creating a soft texture. Often the end result is like an old scone that's been left to go stale. Not good people, not good. This recipe however results in a glorious spongy texture that is divine toasted. They also don't crumble when cut with the bread knife which is another win in this area.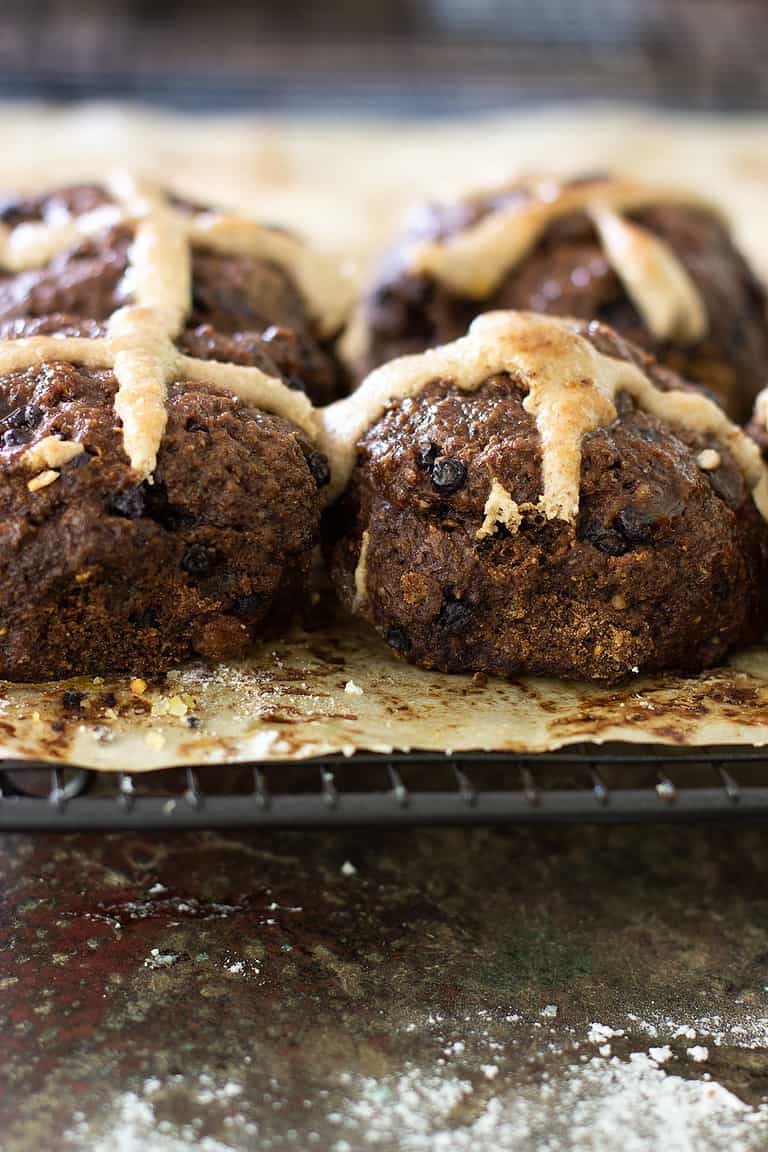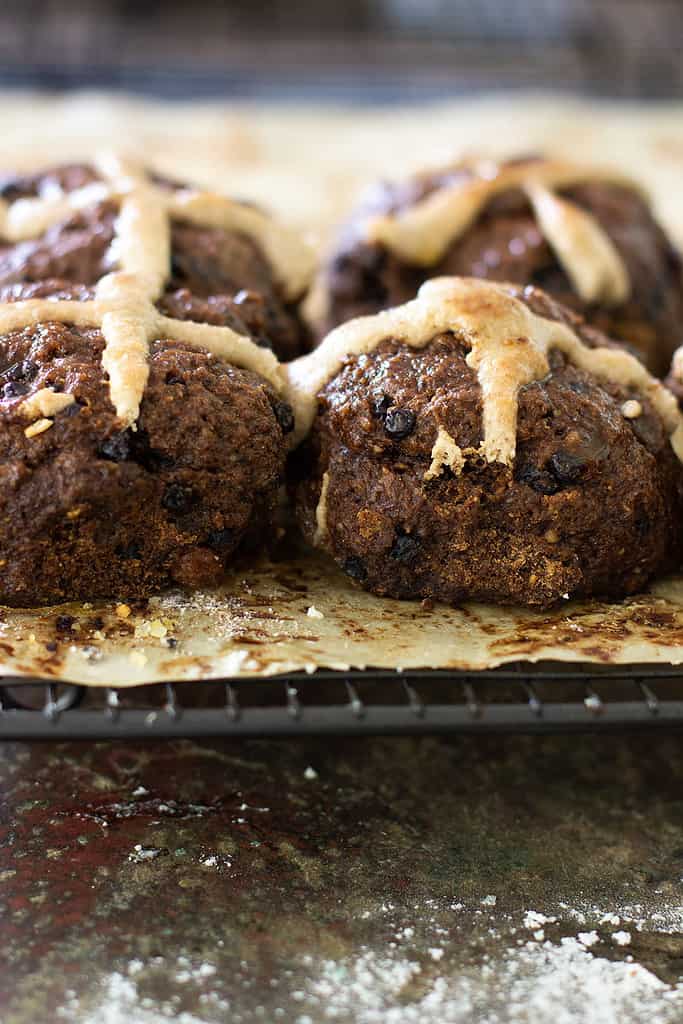 What about that 'dirty word' rise. Ok, so they don't rise like gluten containing Hot Cross Buns. They do rise for sure, but it's not in the way yeast traditionally rises dough double its size. This is a rise kinda like a puffer fish getting all agro and letting you know its there. These Hot Cross Buns puff up in the pan but they will not double in size. So if that is what you after at this stage I am unable to deliver. I say at this stage because this is an ongoing battle. Each year I take on this battle and each year I get a step closer to cracking the perfect recipe. My sister sent me a link a few days ago to Woolworths GF VG Hot Cross Buns saying "time to quit trying" with a laughing face. I say, to you Woolworths, do your HCB have zucchini in them? No they don't. I win.
Yeah, about the zucchini. These Gluten Free Hot Cross Buns obviously have some outside the box ingredients. The zucchini helps create the lightness to the bun batter and works a treat. Please don't skip the zucchini or you will be in for a rude shock. Then there is the beer. Technically these HCB don't have traditional yeast added. The yeast here is in the beer. The beer adds the flavour of yeast and also some yeast in the beer itself (depending on your brand) that reacts with the carbohydrates in the batter. The carbonate bubbles also activate the raising agents helping give the "puffer fish" response when you mix everything together. If you don't want to use beer you could try using soda water or kombucha. I am yet to try this so I cannot say whether it will work as well. I know it will not result in the same flavour, as the beer really does help provide that unique yeast like taste.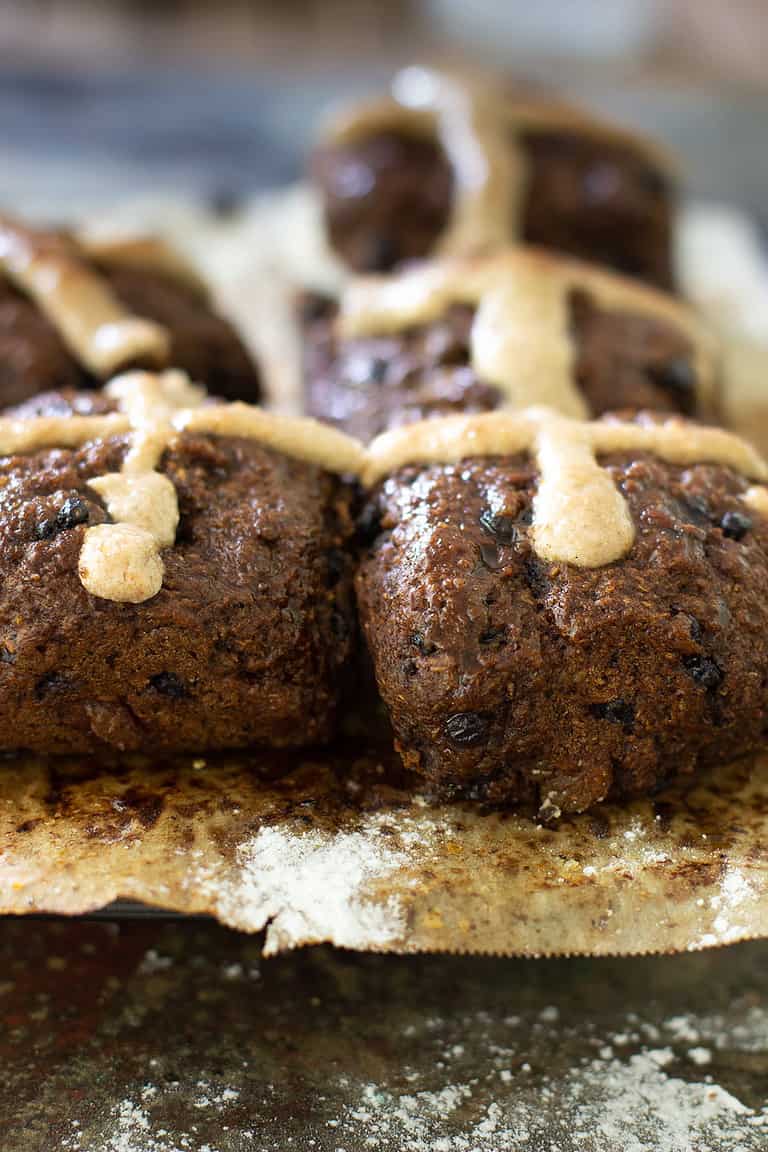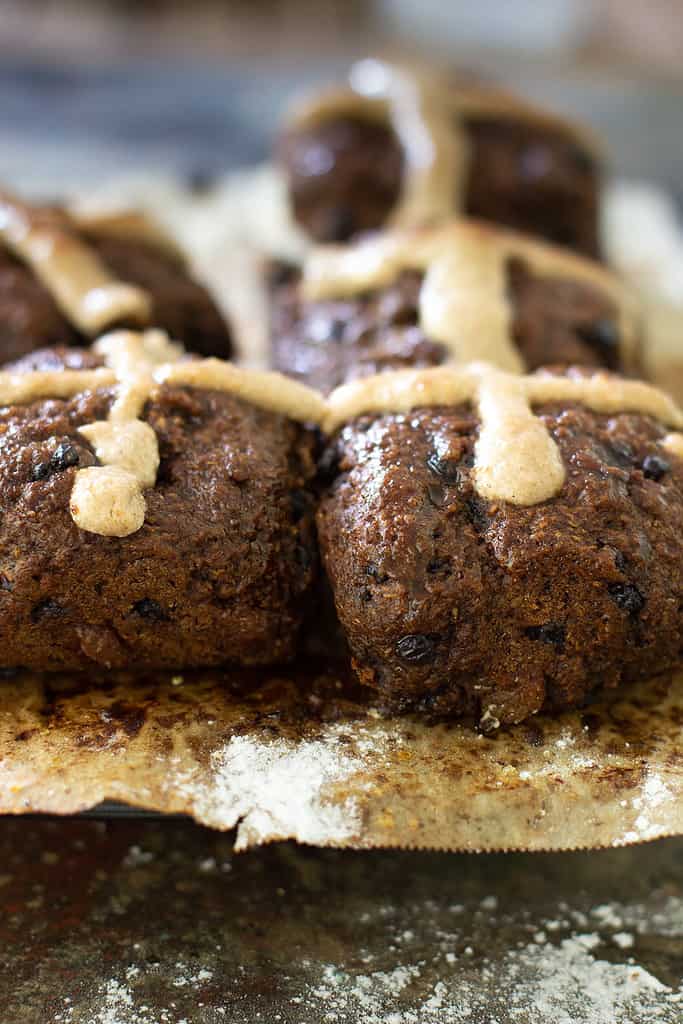 Overall, I am happy with these Gluten Free Vegan Hot Cross Buns. I did consider (three batches later and a freezer full of buns) not sharing them because they still lacked that glorious rise I am after, but realistically they are just so damn tasty and enjoyable it seems crazy not to share them. I will continue each year though to update the recipe and experiment with other ways to create the best Gluten Free Vegan Hot Cross Buns out there! I mean the pickings are slim already, a quick google shows you this and I am confident these beauties will become a favourite with those of you looking for alternative recipes for HCBs.
I also am proud of how much I held my cool this year. Generally as Easter gets closer and Hubbard knows I am going to start making Hot Cross Buns again he knows to slink away. There tends to be a lot of swearing and anger in the kitchen when HCB season is upon us. The only happy ones at Easter in the past have been the birds eating the scraps of the lawn or the roof (yep, they were thrown on the roof one Easter).
I hope you truly love these Gluten Free Vegan Hot Cross Buns. I've really enjoyed this recipe and I know I am onto a winner here. Yes, there are alternatives out there you can buy but come on, how amazing is it to fill the house with the smell of these spicy sweet buns at Easter? To cut them open fresh out of the oven and spread them with your favourite toppings? I know many of my clients and the team at The JCN Clinic will be straight into these. I can't wait to see your posts on socials, so make sure you tag me in! xo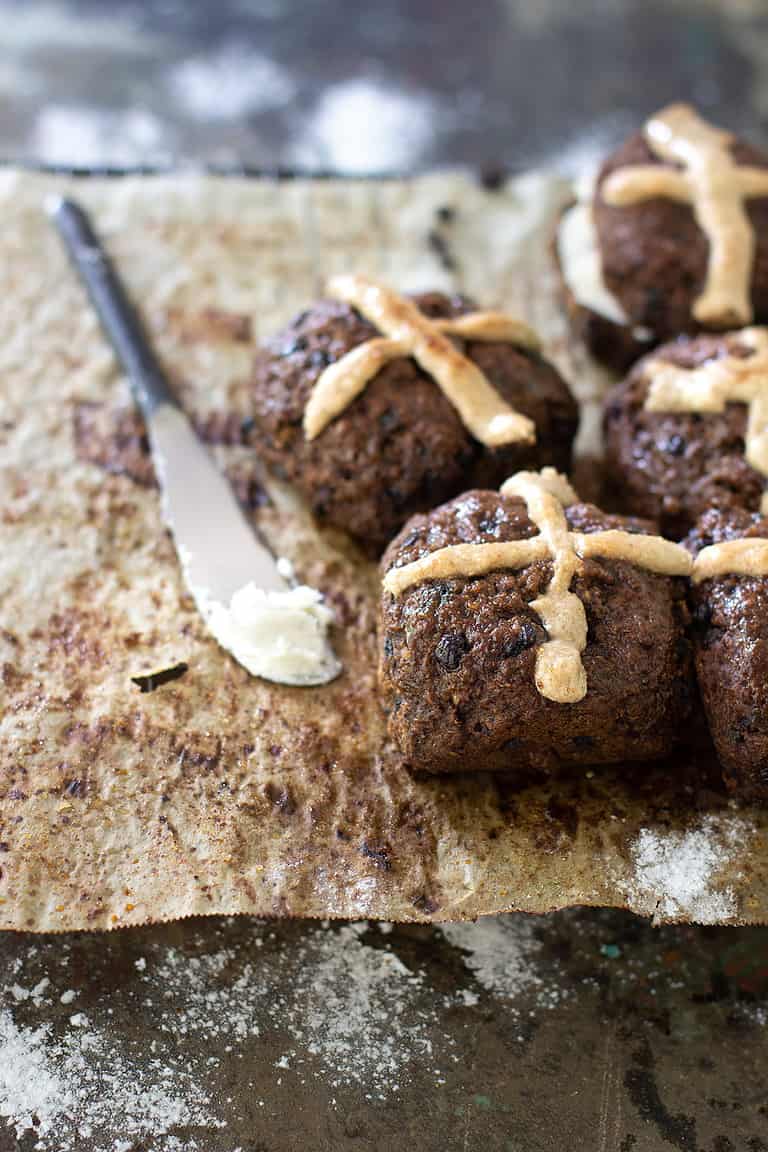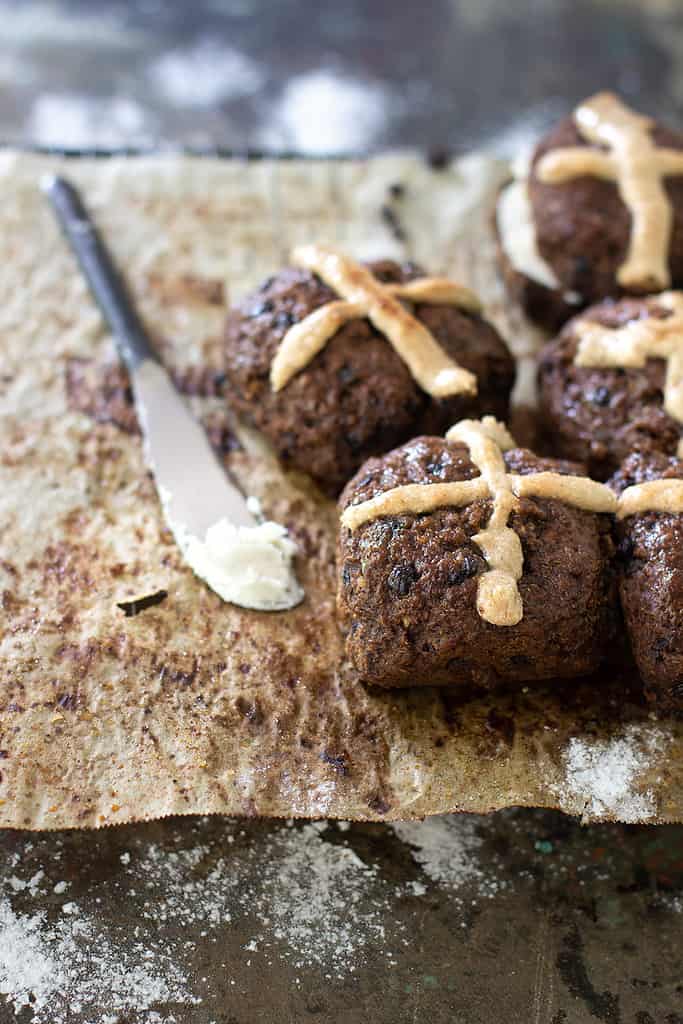 Like what you're seeing? Subscribe for new recipes and nutrition tips every week!
Need personalised nutrition advice catered to your needs?
If you are after personalised nutrition advice and dietary planning individualised to your health and dietary needs then contact us at The JCN Clinic with your enquiry. We are always happy to answer any questions you have!
gluten free vegan hot cross buns
serves

makes 6 large or 8 small

preparation time

30 min

cooking time

20 – 25 min
ingredients
1 cup potato starch
1/2 cup brown rice flour
1/4 cup tapioca flour
4 teaspoons baking powder
2 teaspoons bicarb soda
1 teaspoon cream of tartar
3 tablespoons psyllium husks
4 teaspoon cinnamon
2 teaspoon ground cloves
2 teaspoons mixed spice
1/4 teaspoon salt
1/2 cup sultanas
1/2 cup currents (or 1/4 cup currents with 1/4 cup roughly chopped dark chocolate for chocolate hot cross buns)
4 tablespoons chia seeds
1/3 cup gluten free beer
1 teaspoon apple cider vinegar
2 tablespoons black strap molasses
2 tablespoons honey
1/4 cup extra virgin olive oil
220g zucchini
// crosses //
6 teaspoons buckwheat flour
6 teaspoons water
1/2 teaspoon psyllium husks
1 teaspoon honey
// glaze //
2 tablespoons water
2 teaspoons honey
method
The beer in this recipe helps provide the yeast flavour that is intrinsic with hot cross buns. You can choose to leave it out but these hot cross buns will loose the yeast like flavour.
Preheat the oven to 180c. Line a deep square baking dish with baking paper and set aside.
In a large mixing bowl combine the potato starch, tapioca flour, brown rice flour, baking powder, bicarb soda, cream of tartar and spices and mix well. Add the sultana's and raisons (or a mix of these and chocolate if using) and mix through with a wooden spoon. Set aside.
Prepare the cross mixture so its ready to go. In a small bowl combine the buckwheat flour, water, honey and psyllium husks to a batter. Spoon into a piping bag and set aside.
Add the chia, beer, vinegar, molasses, honey, olive oil and zucchini to an upright blender and blend till smooth and creamy. Make a well in the centre of the dry ingredients and pour in the wet ingredients, scraping out everything from the bottom of the blender. Mix into the dry ingredients combining well. The mix will thicken up a little as you stir it but it will still be quite wet. It will also bubble up a lot as the ingredients activate each other. Leave the mix for 3 -4 minutes to allow the psyllium to soak up all the liquid.
Take cupped sized handfuls of the hot cross bun batter and form into balls carefully (the dough will be quite sticky but you should be able to use your hands to form it still). Place the balls into the lined baking dish nestled up against each other. Continue with remaining mixture aiming to keep all the buns around the same size. If you do not have enough for 8 buns (or 6 large) to fill your baking dish, simple place a cup in the baking dish to stop the buns expanding sideways as they bake. The buns will continue to puff up and rise in the baking dish which is exactly what you want them to do.
Now the buns are in the baking dish, use your piping bag to pipe on crosses.
Place the baking dish into the oven and bake for 20 – 25 minutes, or until golden brown. Check them at the 15 minute mark to ensure they are not cooking too fast, if so, remove early or cover the tops with baking paper to stop them over browning. Remember, they will not double in size, only puff up a little from their original pre-oven shape.
Remove the hot cross buns from the oven. Mix up the honey and hot water into a liquid and then use a pastry brush to brush the honey glaze over the top of the buns. Leave the buns to cool for 10 minutes then carefully remove them from the baking tray and place on a wire wrack to cool.
Enjoy the buns as they are or slice open and toast, then spread with your favourite toppings.
These hot cross buns are best eaten within 48 hours or frozen to keep them super fresh.
nutritional information for gluten free vegan hot cross buns
These gluten free vegan hot cross buns are great for sneaking in 'hidden vegetables' thanks to the addition of the zucchini. The gluten free flours used are more refined gluten free flours, which help with the texture of the buns. If you swap these flours for more fibre rich options then just keep in mind the buns will not be as light.
Molasses is a wonderfully rich source of B Vitamins. Molasses also provides good amounts of iron, which makes it a great source of vegetarian or vegan based iron. If you have never molasses I suggest tasting a little before using as it may not be to your liking. You could substitute the molasses for honey if you like to reduce the intensity of the flavour.
Jessica Cox is a qualified practicing Nutritionist with a Bachelor Health Science (Nutrition) and over 15 years of clinical experience. She is the founder and director JCN Clinic, published author and established recipe developer. Jessica is well respected within health and wellness space for her no fad approach and use of evidence-based nutrition.