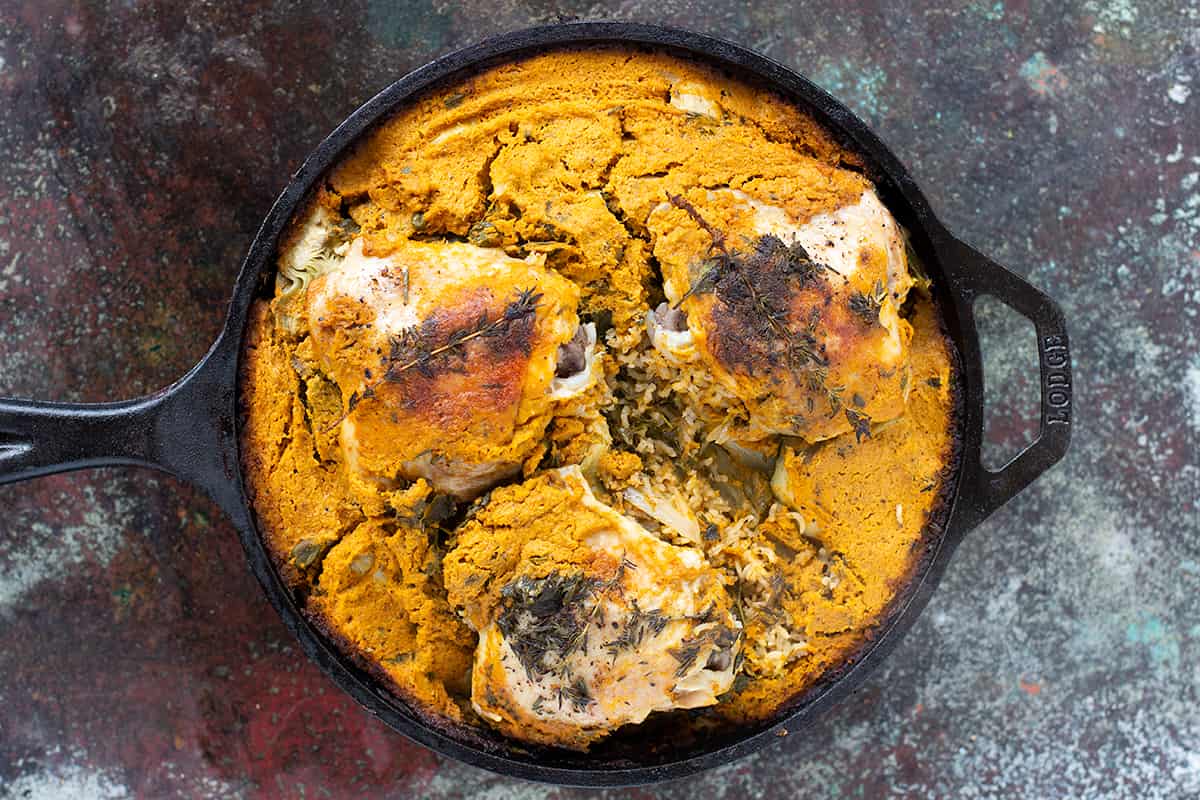 There couldn't be a more appropriate time to cook this dish. I'm literally writing this as it bakes in the oven, heater roaring, laying on the lounge room floor with my ugg boots on drinking hot tea. It might be a Brisbane winter but it's still bloody cold.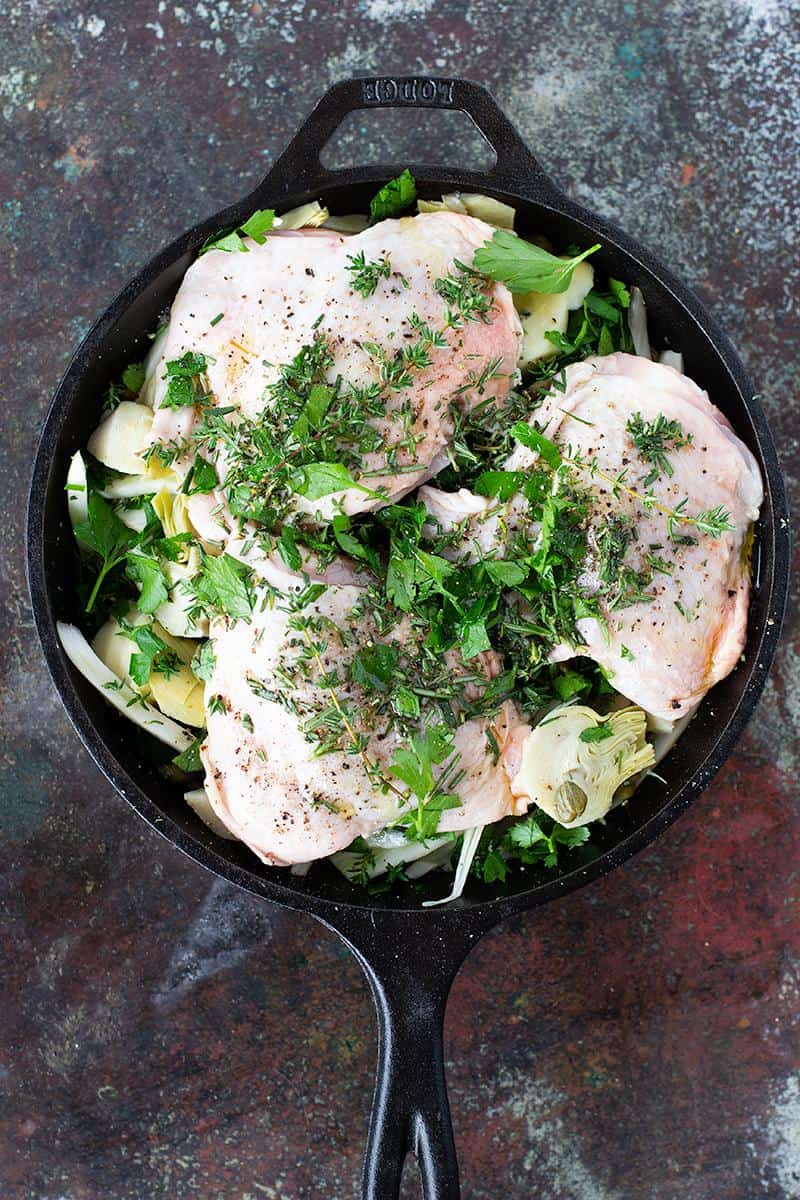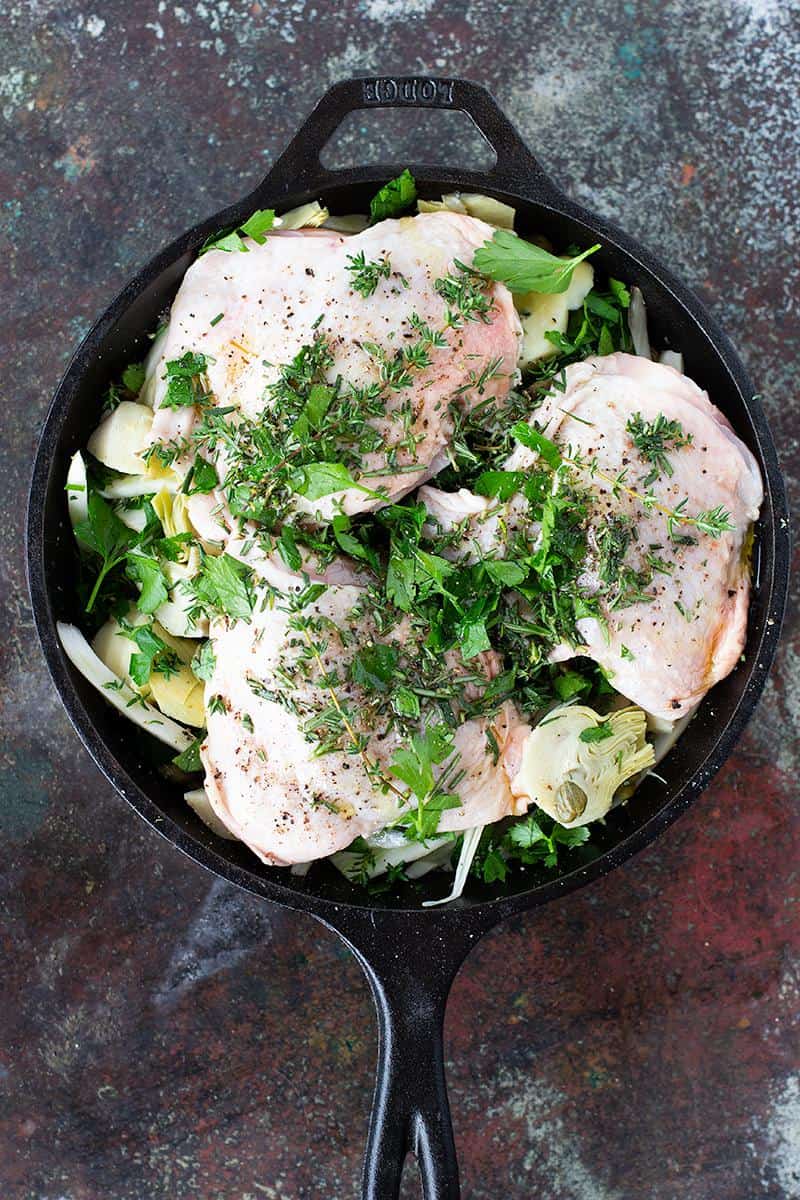 With not much to pull from in the fridge today I decided to do a one pot winter dinner that can be made with a lot of kitchen staples (well my kitchen staples, I'm quite aware that not everyone has tinned artichokes sitting around). The vegetables I have used are favourites that I tend to have in my fridge a lot, but you could easily use other vegetables needing some immediate use. I also wanted a dinner meal that you can pop in the oven and generally forget about, the way you can with a slow cooker or a roast. All you need to do is nurture the liquid level a little as it goes.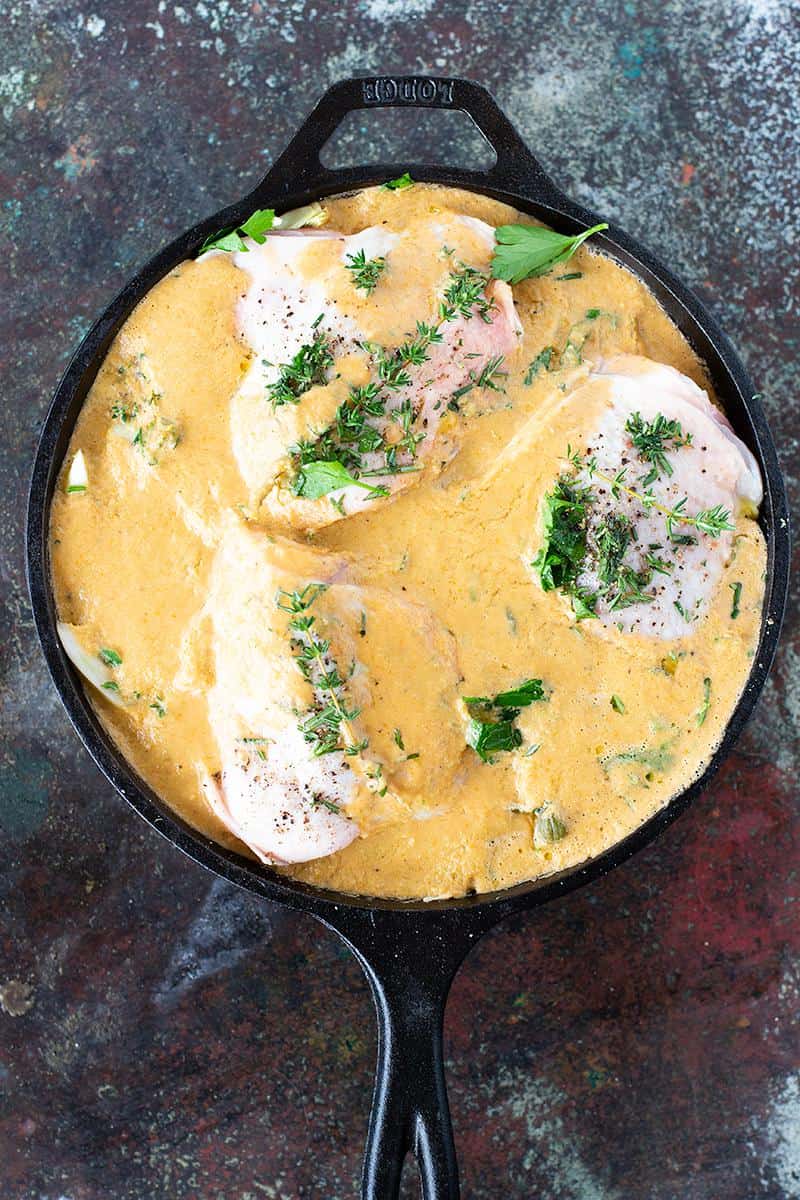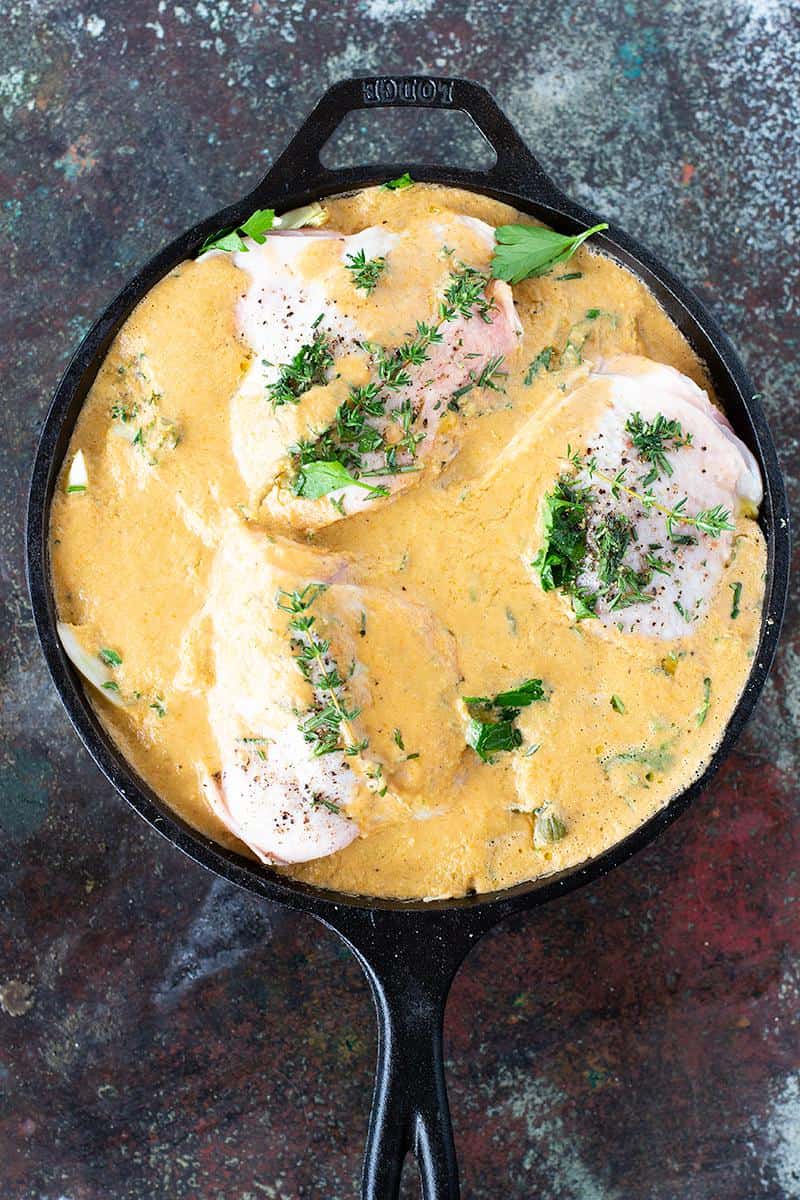 One of the stars in this dish is fennel. I've always loved fennel, but its a vegetables that many are not familiar with. I've included recipes before with fennel like my One Pan Pesto Roast Chicken w Roast Fennel + Potato , Fennel, Pear and Smoked Trout Salad with Horseradish Mayo and Warm Caramelised Fennel, Orange and Tomato Salad to name a few, so this is definitely not that new to some of you following the blog for some time. For others though, it can be an 'outside the box' ingredient that needs some introductions.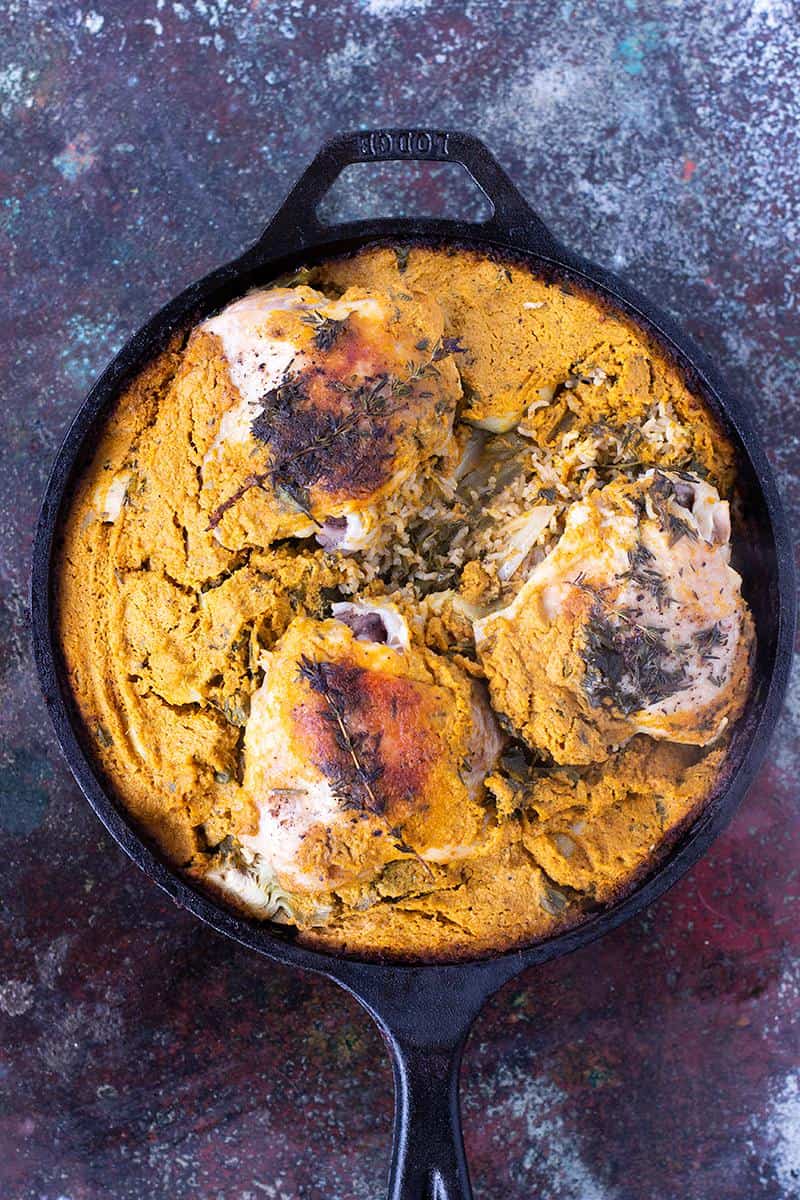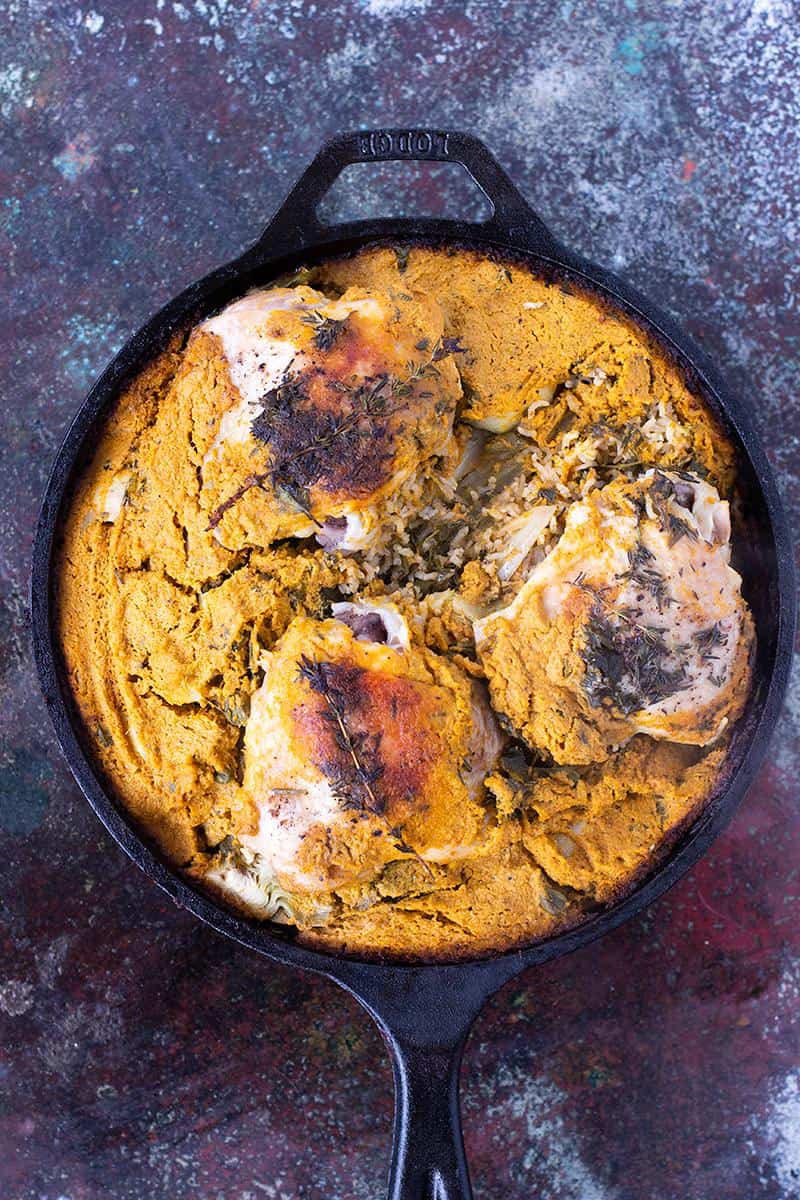 Fennel when raw is quite crisp with an aniseed flavour. Cut thinly it works wonders in salads and brings that real summery edge when used in its uncooked form. The trick is to cut it quite thin so it tosses through salads lightly, as large pieces are too over powering and can be a bit fibrous.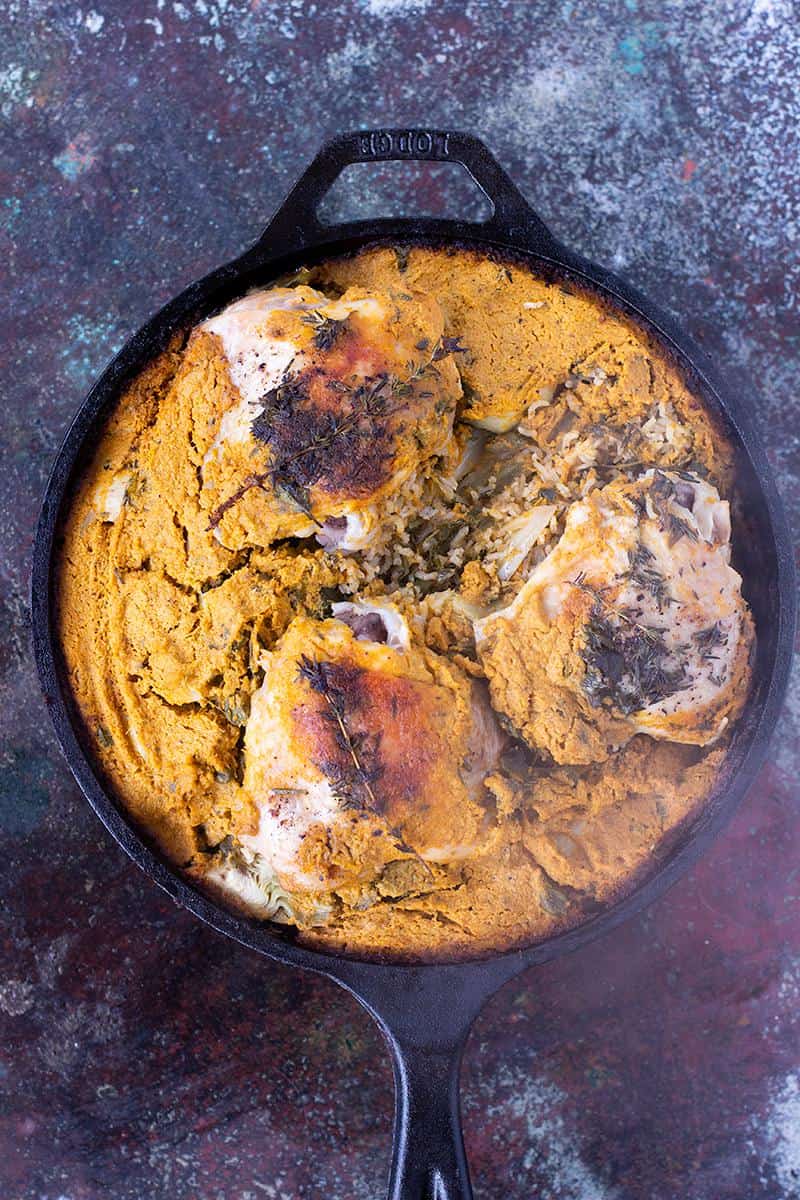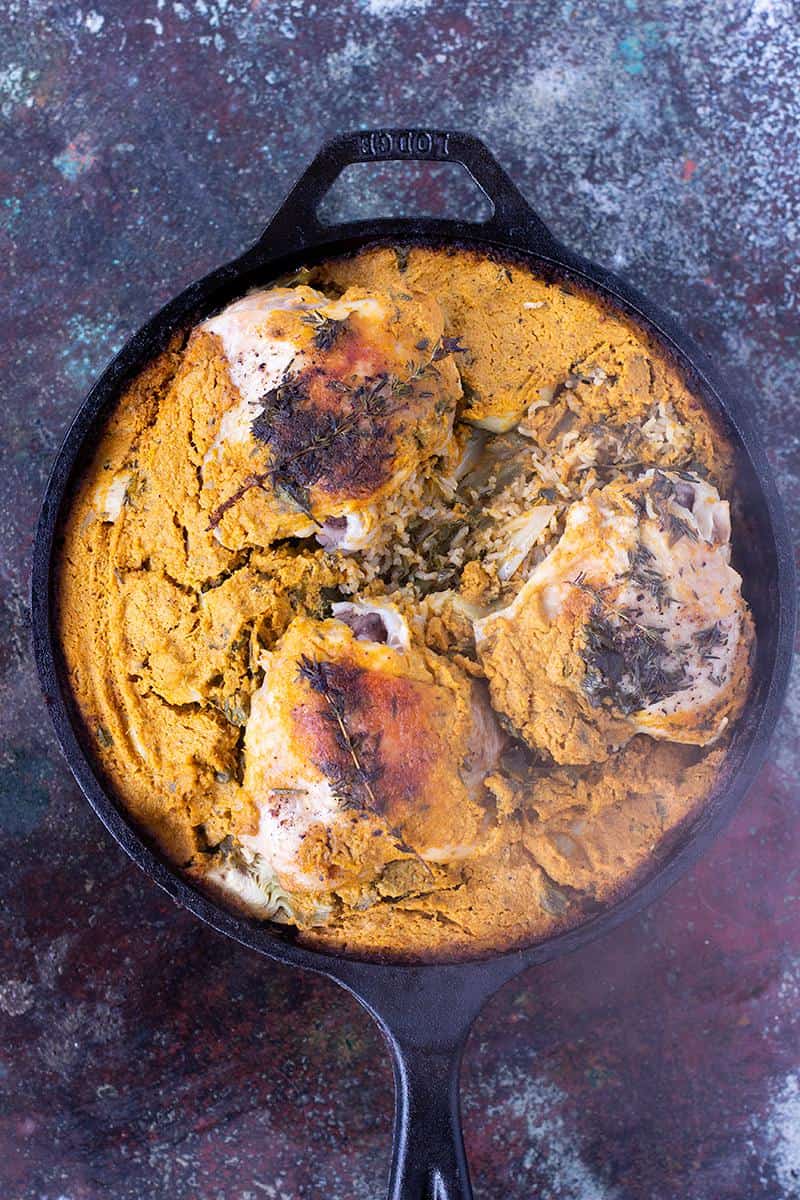 When cooked, fennel really changes. It looses the aniseed flavour and becomes sweet and caramelised reminiscent of onion. In fact it's a great substitute in baking and cooking for onion for those following low FODMAP or SIBO protocols. I often advise clients at the start of their gut treatment to use fennel instead of onion in recipes like my dairy free pate. To get the best out of cooking you want to make sure you break the fennel down well so its nice and soft. That means a slow cook as done here with this braise, or a roast variation. Roasting is by far my favourite as you can get the edges to really go golden and crunchy.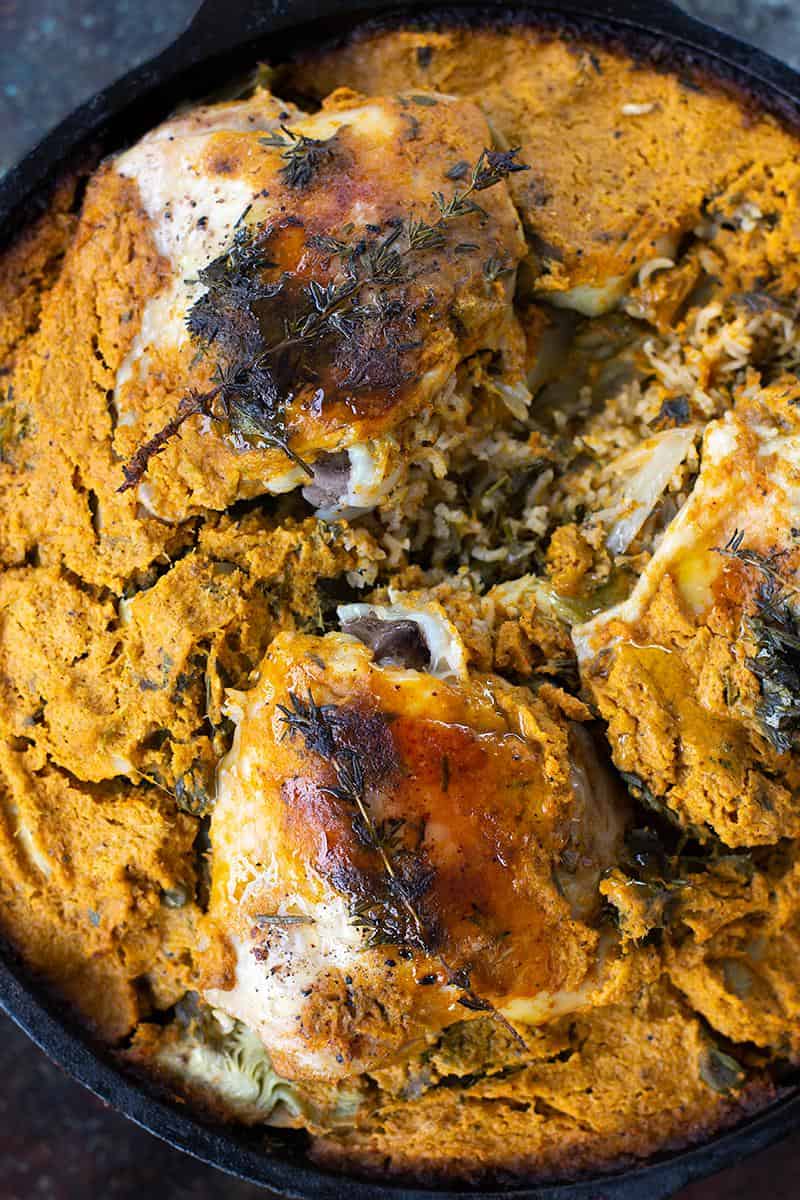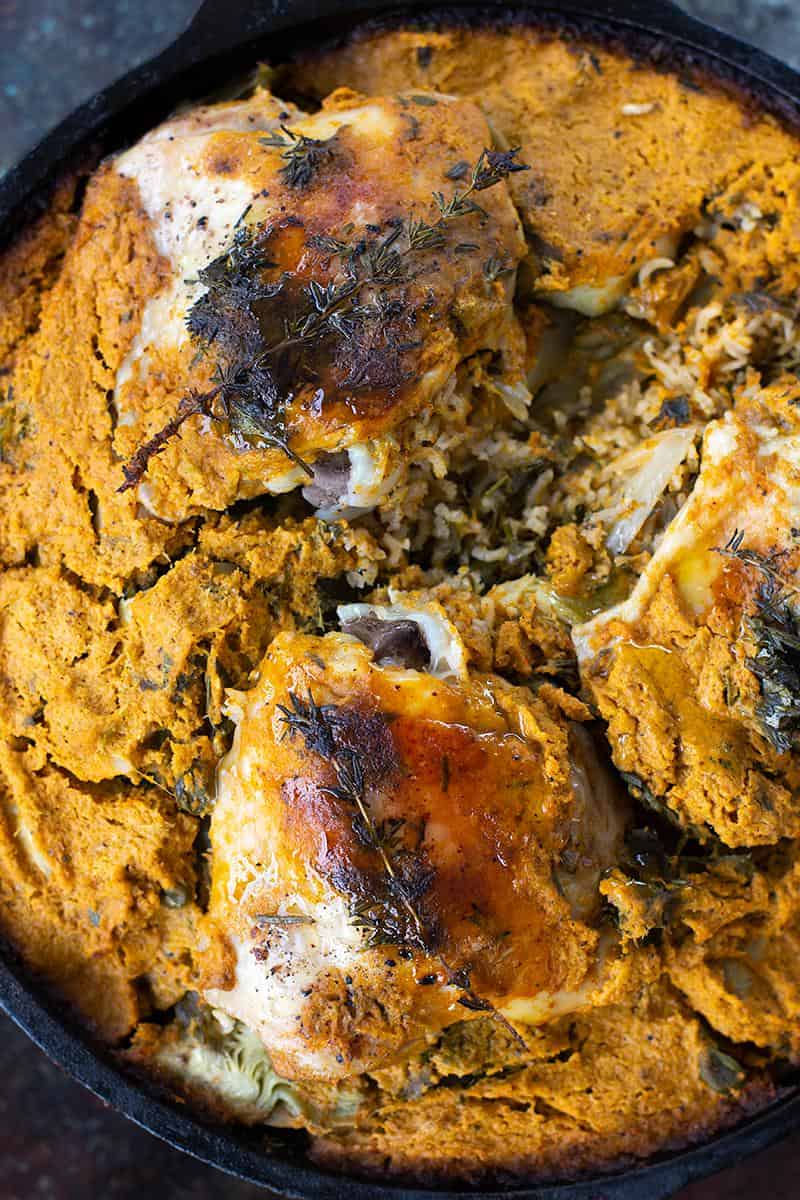 Nutritionally, fennel is very high in quercetin, a phytochemical with powerful anti-inflammatory and anti-histamine activities. In fact fennel is rich in flavonoids quercetin, apigenin and rutin and phenolic compounds such as chlorogenic, caffeic and 1,5-dicaffeoylquinic acid. The phenolic compounds in fennel have also been shown to elicit a strong antibacterial effect. (1) In fact even the fennel leaves (a favourite part of the fennel to toss through salads) has been shown to exert powerful anti-inflammatory effects by inhibiting COX-2 expression by 40 percent! (#nerdfact) (2)
The wonderful thing about food is that these beautiful nutritional benefits of the fennel alone are paired with the benefits of the other wholefood ingredients, creating a dish that provides an abundance of bio-active compounds that no pill or powder will every be able to master. Here fennel is accompanied by the natural broth that is created as the chicken cooks in the juices leaching out the beneficial compounds from the bones. The thyme, rosemary and parsley have a multitude of antioxidant functions that are way too long to list here.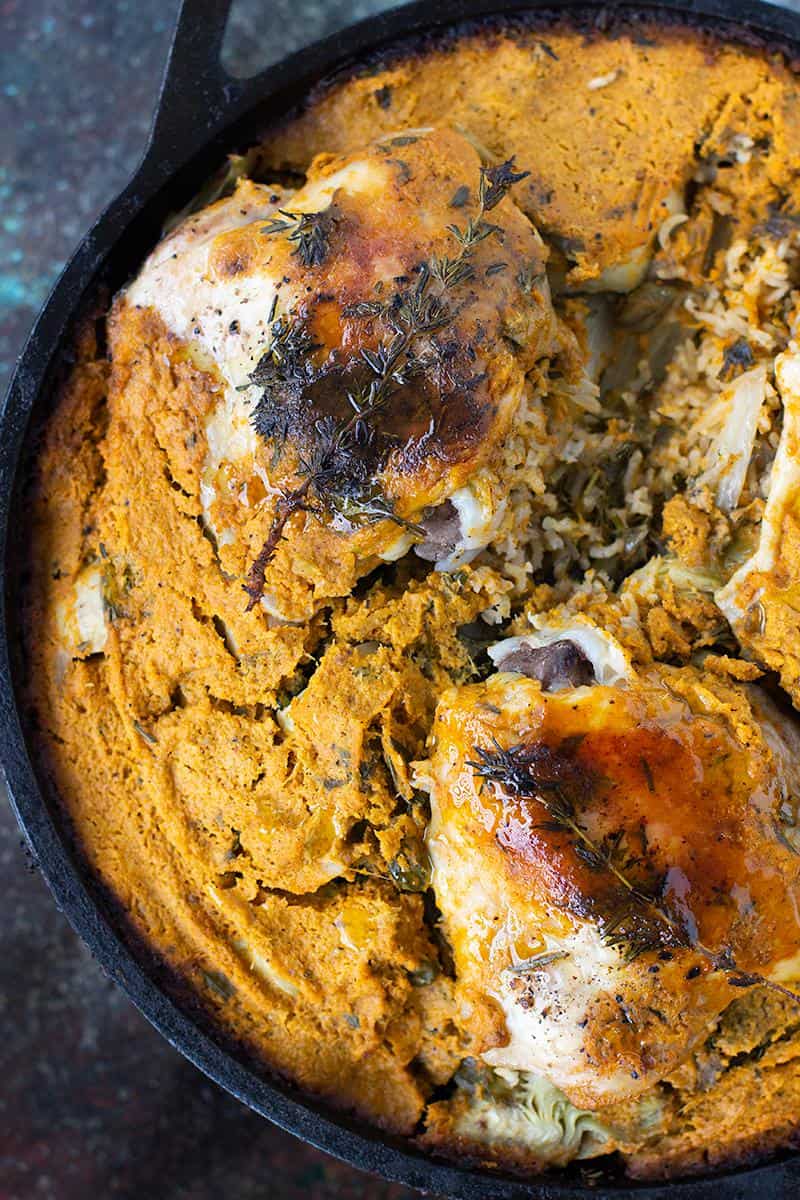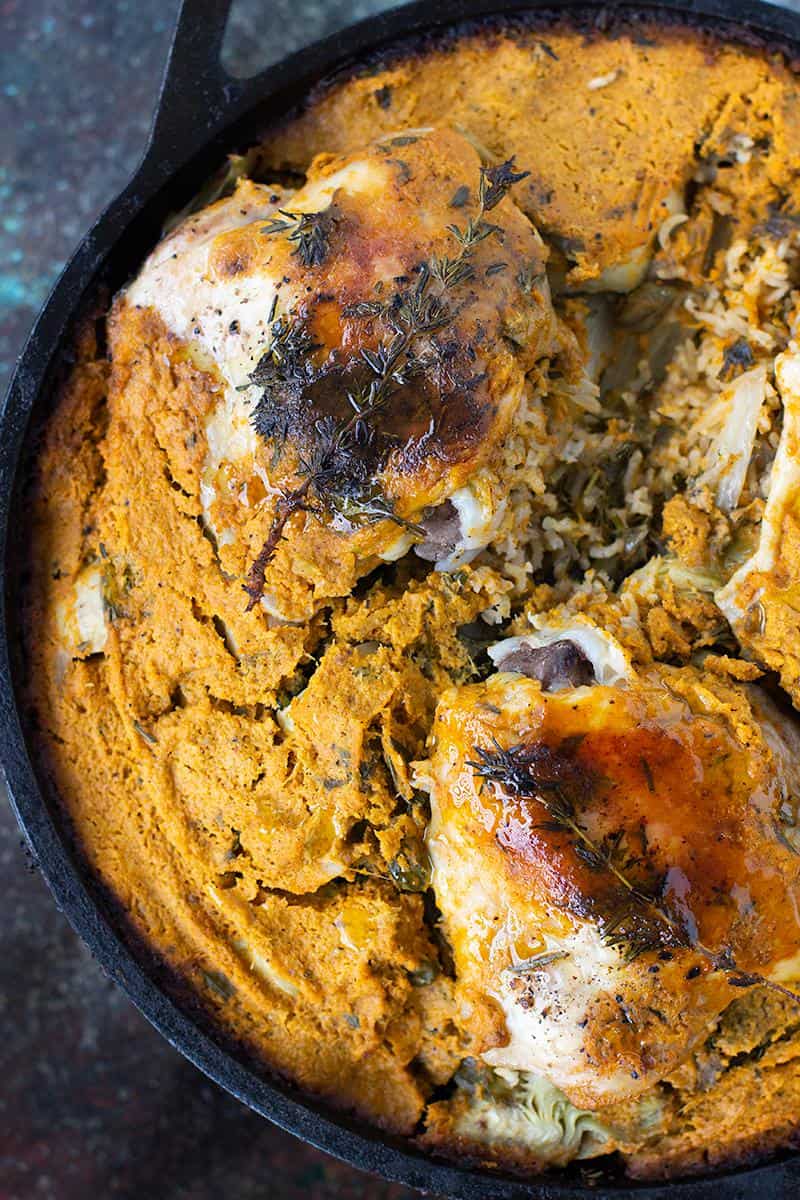 Wholefood recipes like this included in your diet on a daily basis are how good health is achieved, not with express juice detoxes or other too good to be promises sold in a package. No one food has the power to provide everything that we need so how can one packaged product, no matter how pretty it looks on Instagram held by the lady with the washboard abs?
Use this recipe and everyday recipes made from wholefood to fill the majority of your food intake with an abundance of nutritional benefits. In the cold weather take advantageous of going inwards a little more and cozing up with a slow cooked meal, a warm porridge, a chai tea. Listen to your soul and feed it all the good stuff that comes from everyday nourishing food. xx
one pot baked chicken & brown rice w fennel, artichokes + sun-dried tomatoes
serves

serves6

preparation time

30 minutes

cooking time

1 hour & 45 minutes
ingredients
2 cups basmati brown rice
4 cups water
1/2 cup sun-dried tomatoes, tightly packed
1 clove garlic (or 2 teaspoons garlic infused olive oil for FODMAP/SIBO friendly)
1 medium green chilli
600g fennel
1/4 cup capers
3 tablespoons roughly chopped fresh thyme
3 tablespoons roughly chopped fresh rosemary
1 cup tightly packed roughly chopped parsley (stalks reserved)
1 cup tinned or jarred artichokes, in brine (omit for FODMAP/SIBO friendly)
1 tablespoon extra virgin olive oil
6 free range chicken thigh cutlets, skin on and bone in
method
Pre heat your oven to 180c.
Take a large deep baking dish (I used a cast iron pot) with a lid and add half of the rice to the bottom of the pan.
Take the fennel and remove the core with a knife. Chop off the stalk ends and set them aside. Now slice the fennel lengthways finely. Scatter half of the sliced fennel over the top of the rice in the baking dish.
Scatter over the top of the fennel half of the chopped rosemary, thyme and parsley along with half of the capers and half of the artichokes. Place three of the chicken thigh cutlets on top of the herbs and capers and season the top of the chicken well.
Repeat the layers again using up the remaining ingredients – brown rice, fennel, then the herbs, capers, artichokes finishing with the last of the chicken. Top the chicken with any left over herbs laying around and season well with salt and pepper. Drizzle the extra virgin olive oil over the chicken. Set aside.
Place the sun-dried tomatoes, water, garlic, chilli, left over fennel stems and parsley stems in a blender. Season really well with salt and pepper and blend till all homogenised. Taste for seasoning and adjust.
Pour around 2/3 of the liquid carefully over the layered rice, fennel and chicken. Basically add in as much liquid as the dish will take at this time. Any left over liquid set aside, as you will be adding it in as the dish cooks.
Cover the baking dish with a lid and place in the oven for … You will need to take the baking dish out at the 30 minute mark and add a bit more liquid, then again another 20 minute later until all the liquid has been added.
After 75 – 80 minutes (1 hour & 15 minutes) remove the baking dish from the oven and have a peek with a spoon in the centre to ensure the rice is cooking. If you feel it's a little dry then just add a little water into the centre area and place back in the oven.
After 1 hour & 45 minutes, remove from the oven and have a quick check of the centre to ensure all the rice is cooked through. Pop the lid back on and leave to rest for 5 – 10 minutes, then serve.
Lovely served with fresh rocket dressed with apple cider vinegar and evoo.
nutrional information
Make this recipe FODMAP and SIBO friendly by using garlic infused oil instead of the garlic clove. Omit the artichokes if sensitive, but often they are fine for those sensitive to fodmaps using the jarred/canned versions. Cant do brown rice? Make this dish with millet instead for an easy swap.
Like what you're seeing? Subscribe for new recipes and nutrition tips every week!
Jessica Cox is a qualified practicing Nutritionist with a Bachelor Health Science (Nutrition) and over 15 years of clinical experience. She is the founder and director JCN Clinic, published author and established recipe developer. Jessica is well respected within health and wellness space for her no fad approach and use of evidence-based nutrition.