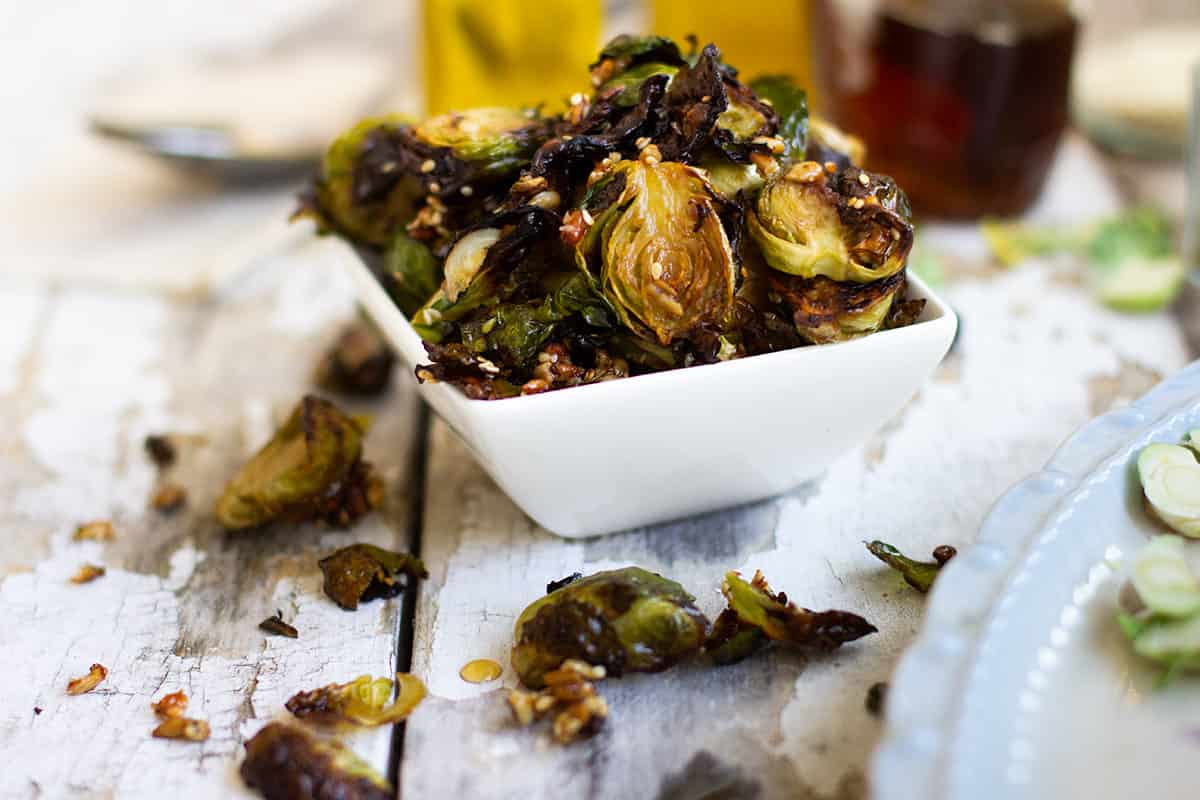 I never much cared for brussel sprouts until I created the recipe for these Candy Brussel Sprouts. Boiled or steamed to a soggy mess. Hardly appealing. My fiancé was the same. 'Yuck', was I think the response when I suggested them. So I can understand why I am met with displeasing glances and 'not in this lifetime' responses when I broach their consumption with my clients.
However, if you can put aside those traumatic sprout experiences and consider something new, and  dare I say delicious, these candy brussel sprouts may just change your mind.
Making brussel sprouts amazing is all about the roasting. Roasting them brings out their sweetness which is lost when they are boiled within an inch of their lives. When I say roasting, I mean roasting. Not a slightly warmed tender roasting, but a robust roasting resulting in crisp brown edges with a gooey melted centre.
Roasting with the addition of maple creates an added layer of sweetness and also caramelises the outer leaves giving the brussel sprouts wafer like 'chips'…oh god these are good. Adding in seeds gives layers of textural crunch that keep you going back for more and more.
Still hesitant? Well I am a big believer in try before you dismiss it, so next time your in the vegetable section pick up some of these green gems and pop them in your shopping trolley. Just don't forget the maple!
After-all, If these candy brussel sprouts can turn my fiancé to a lover of brussels which are now deemed "willy wonka sprouts" they can turn anyone.
candy brussel sprouts recipe
serves

2 people as side dish

preparation time

5 minutes

cooking time

25 minutes
ingredients
300 grams brussel sprouts
2 tablespoons extra virgin olive oil
1 1/2 tablespoons 100% maple syrup
pinch sea salt
1 heaped tablespoon sunflower seeds
1/2 tablespoon sesame seeds
method
Preheat your oven to 220c fan forced. Give the sprouts a good wash, remove the woody end with a knife then slice them into thirds, lengthways.
Place the sprouts on a roasting tray and drizzle with half of the oil and half of the maple. Add the sesame seeds and the sunflower seeds and a pinch of sea salt. Mix well with your hands or a spoon till all the sprouts look covered in the sticky glaze.
Put the tray into the oven to roast. At the half way mark, take out the tray and add the remaining oil and syrup giving everything a good mix around again. (You don't have to do this in stages, you could add all the oil and maple at the beginning. However, doing this half way makes sure everything is nicely coated. Plus, moving the sprouts and the seeds around gets the centers more oozy whilst breaking apart the sprouts a little more to create more wafer like pieces).
Roast the sprouts for around 25 minutes, or until a very dark golden. Don't be afraid to push it till almost looking burnt! The leaves that fall off whilst roasting should be crispy to the bite.
Remove sprouts from the oven and serve with a protein side such as salmon or chicken.
nutritional information for candy brussel sprouts
Brussel sprouts are rich in indoles, a phytochemical shown to down regulate the production of detrimental oestrogen (OH16) whilst unregulated beneficial oestrogen. This makes brussel sprouts an optimum vegetable choice for woman with oestrogen driven health concerns such as endometriosis, PCOS, cervical dysplasia and breast cancer.
When choosing a maple syrup, buy 100% maple to ensure no added sugars. You could also use rice malt or honey if you prefer.
I also like to add a more savoury twist to these sprouts. Drop the maple and add some crushed garlic along with some thinly sliced ham off the bone. Follow the same method to result in crunchy brussels with 'bacon' like bites.
Jessica Cox is a qualified practicing Nutritionist with a Bachelor Health Science (Nutrition) and over 15 years of clinical experience. She is the founder and director JCN Clinic, published author and established recipe developer. Jessica is well respected within health and wellness space for her no fad approach and use of evidence-based nutrition.