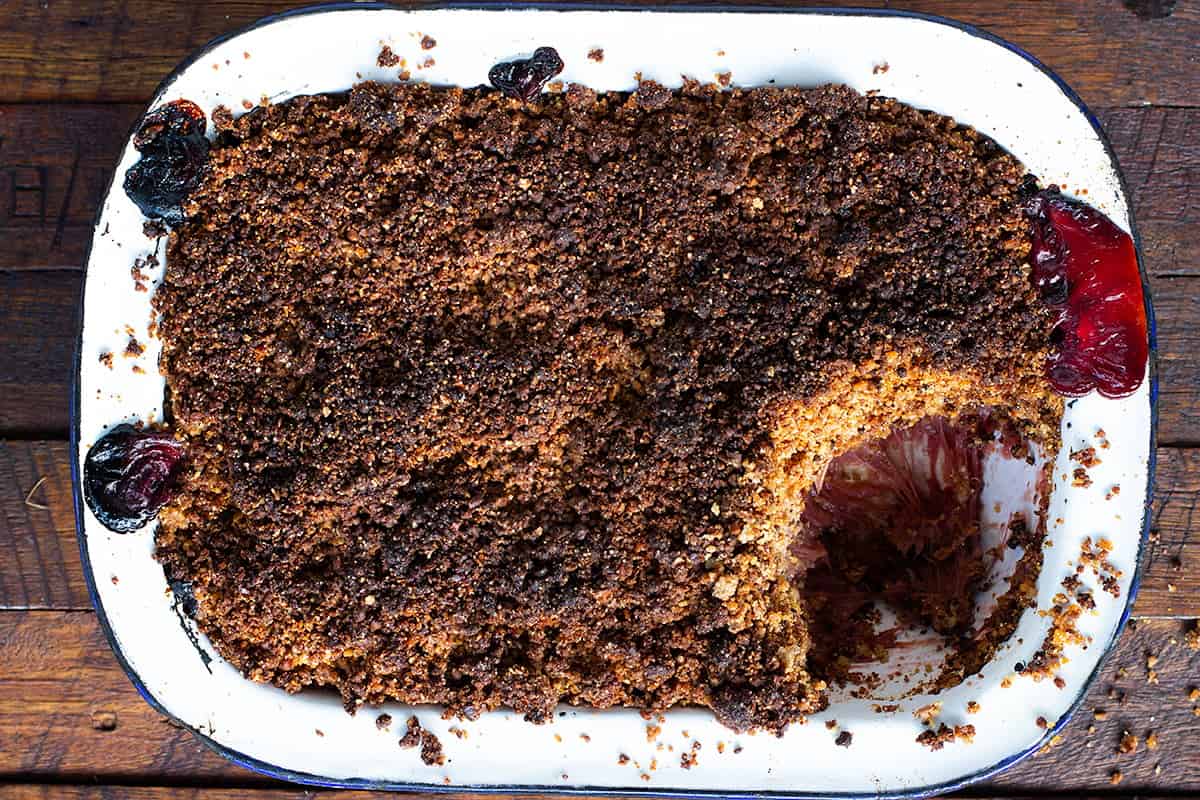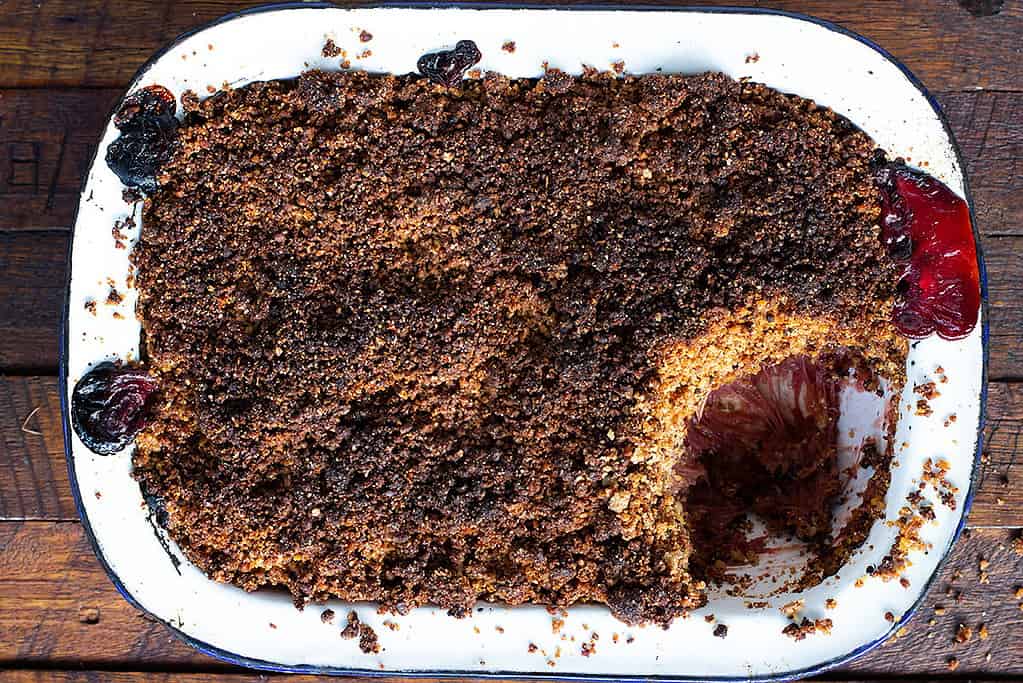 a healthy spin to a classic rhubarb crumple recipe
I've been stewing fruit like its been going out of fashion since we moved to the Yarra Valley. Apples, quinces, pears and rhubarb have been on high rotation. Dameon's been hanging for me to make a crumble instead of just using the stewed fruit to spoon on top of my 3 ingredient pancakes and porridge. So, this week I decided to visit an old favourite and make this gluten free rhubarb, apple & ginger crumble recipe – just as he goes away for the long weekend. 😉
The rhubarb for this recipe was picked fresh from my parents neighbours garden where it was growing in glorious quantities. Hubbard (Dameon for any new readers) has felt other peoples gardens are insulting of late, as ours has come to a screaming halt with the lack of sunshine and the never ending rain (did we move to Ireland Michelle?) When Mum showed us her out of control rocket with leaves as big and wide as your face (no exaggeration) I think Hubbard almost blew physical steam out his ears. Mum then goes on to say as always, 'I just threw those seeds in there and now I can't bloody get rid of it' – it's like fuel to Hubbard's internal fire and I seriously love watching it.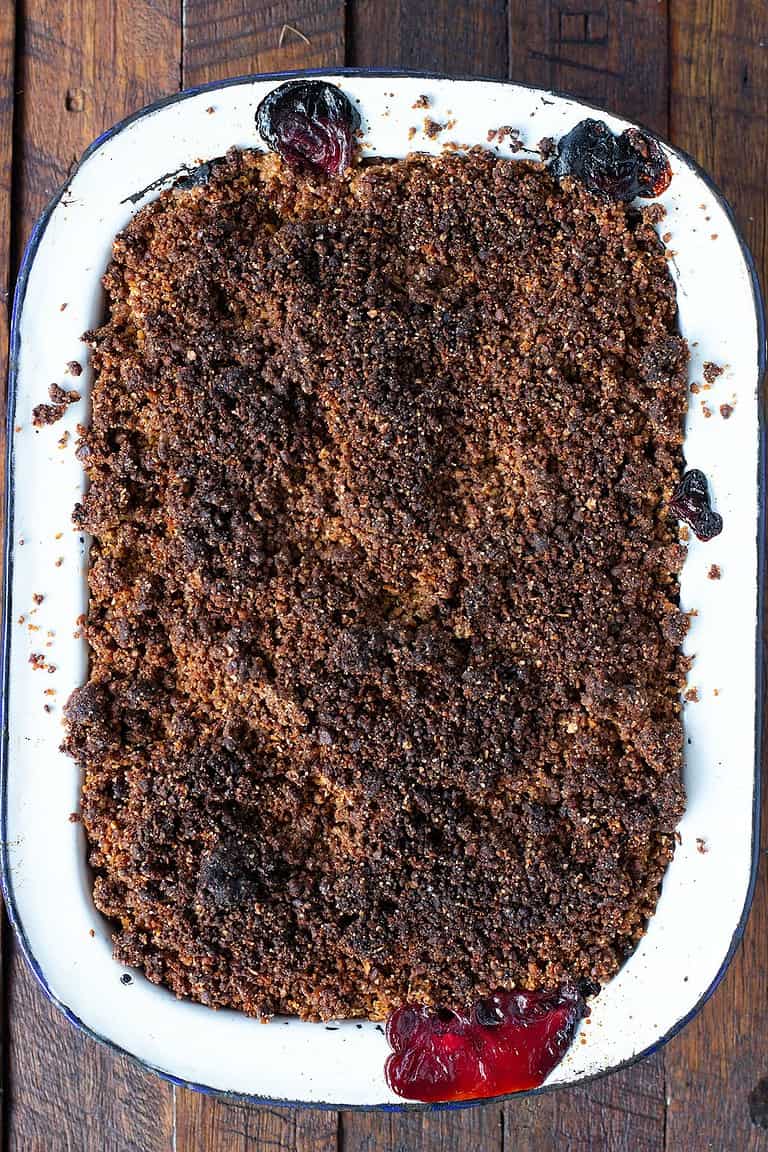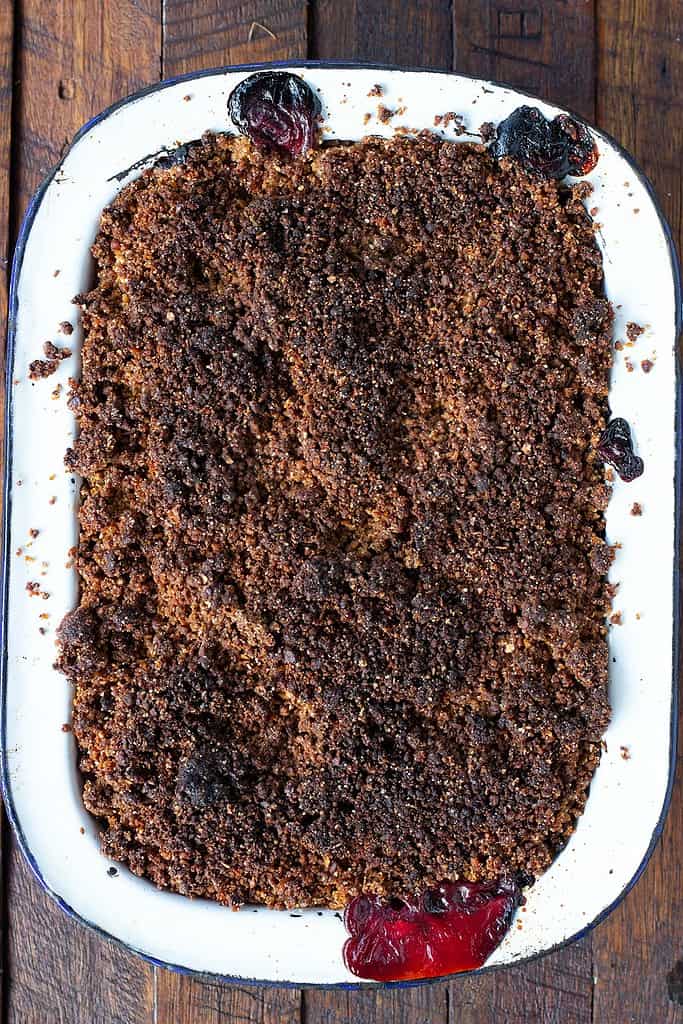 Back to the crumble. There are so many crumble recipes about that another to add to the mix might seem superfluous. However (as usual) I believe that this recipe has more to offer than the standard crumble recipe. Many crumbles are made with a singular fruit, or perhaps a classic combination like apple and rhubarb, yet there are less that go that extra mile and include additional flavour bombs to really make the fruit sing.
The fruit compote base to this crumble includes the perfect pairing of rhubarb and apple, spiced generously with warming ginger and cinnamon. The freshly squeezed orange juice and zest add extra sweetness, as rhubarb is quite bitter alone, often calling for people to add sugar to its stewed form. I've gotten around this with the addition of the apples but also the orange juice to really bring the flavours together without added sweeteners.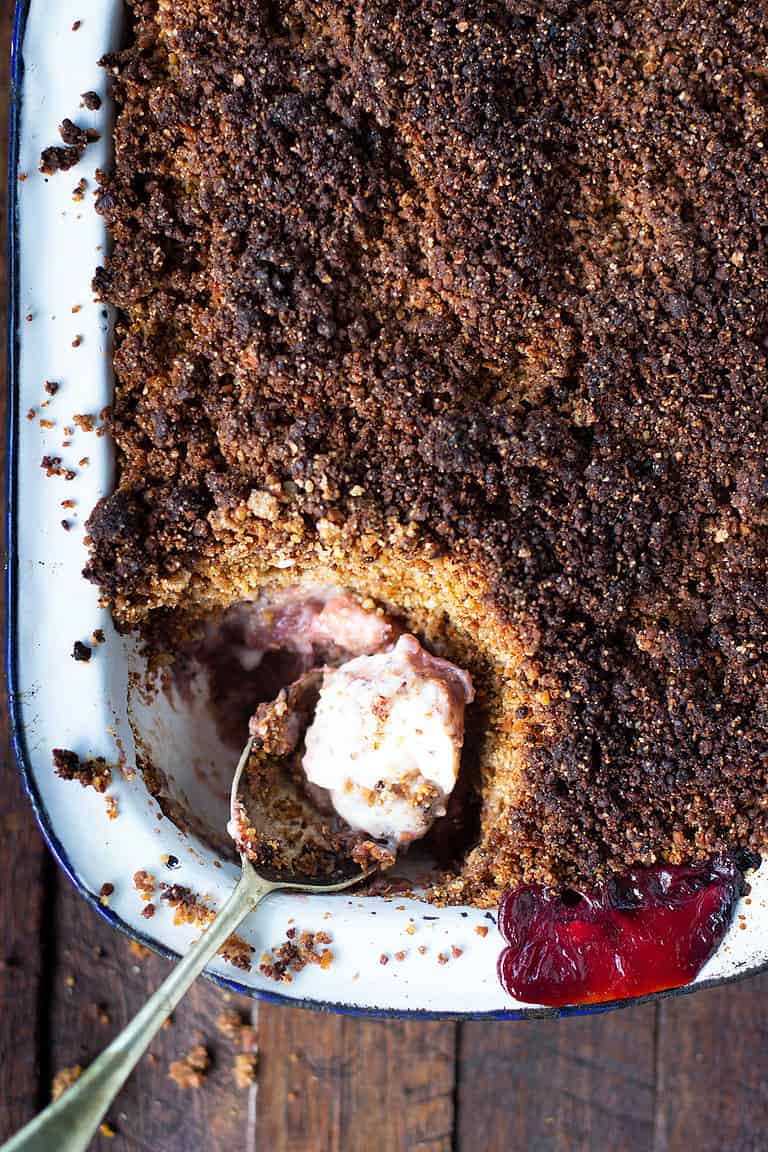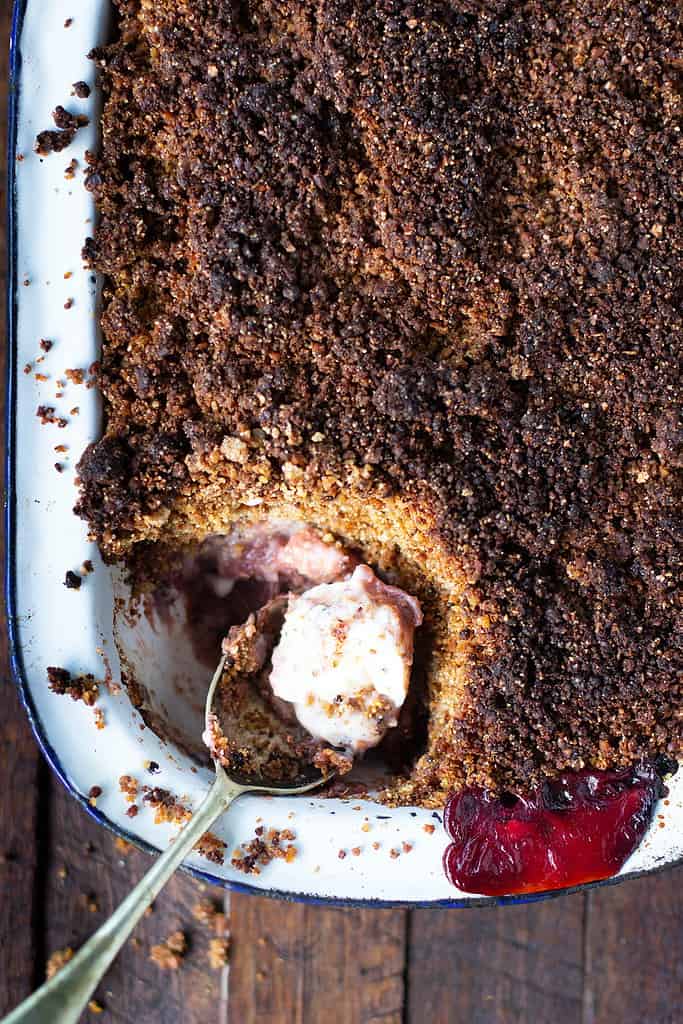 how to make a gluten free, dairy free crumble topping
When making a crumble topping gluten free, you want to think about how you are still going to create crunch and texture. Using gluten free flours alone will generally be too doughy and stodgy. Therefore, you need to 'cut' the flours with nut meals and add texture with flakes and even more so with roughly chopped nuts. Adding desiccated coconut also works, but I wanted to keep the crumble flavours more about the fruit than an over powering coconut flavour.
You then need to add fat, sweetness and moisture with the lack of butter and the regular influx of sugar usually used at this point. For this, I like to swap butter for coconut oil to get a little of the coconut flavour (not too much though as noted above) and to also have that hard set to the crumble when it cools. You could also use extra virgin olive oil or other oils but a saturated fat will really hold together more.
For sweetness, I like to also use a liquid that helps pull all the ingredients together and add more moisture. This can be an easy mix up between rice malt/syrup, honey, maple syrup or the like. You can still use sugars like rapadura, brown sugar, raw sugar, coconut sugar and so forth but you will need to add more oil to compensate for the lack of moisture.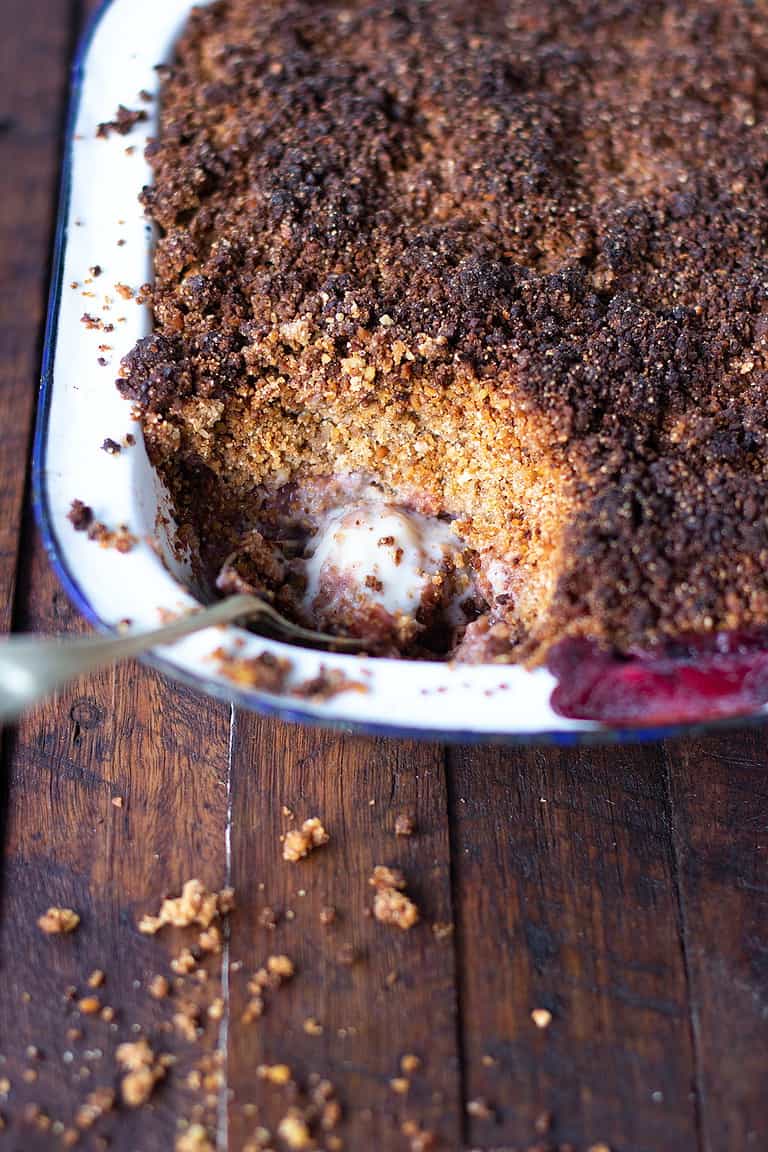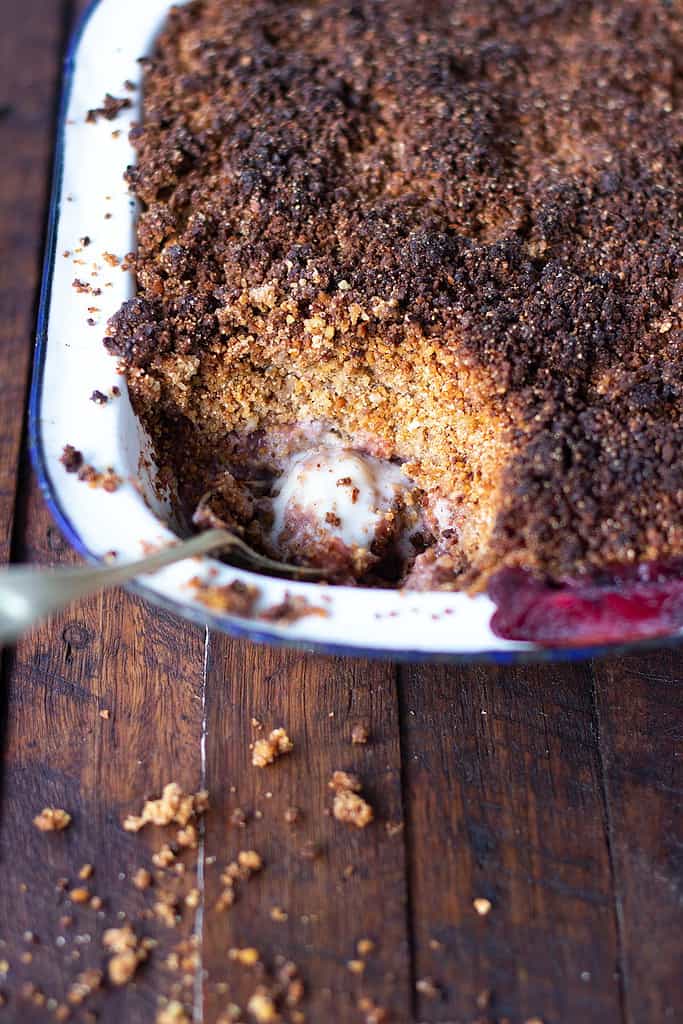 So folks, that outlines my tips for creating a good gluten free, dairy free crumble topping. A gluten and dairy free crumble can work brilliantly and still be enjoyed by all. You just need to ensure that you have the right balance to provide the best texture and avoid the pitfalls of a dry and stodgy topping that is often associated with alternative crumble recipes.
Like what you're seeing? Subscribe for new recipes and nutrition tips every week!
dessert for breakfast
The bonus of a really healthy wholefood dessert is that it can often be enjoyed for breakfast. If you follow my recipes you would have seen many breakfast cakes like my Apple & Almond Breakfast Cake, Blueberry Almond Tea Cake and my Apricot Campari & Honey Cake. If you think about it, a whole food cake is just like a pancake. A mix of wholegrain flours, nut meals and plus/minus eggs. There is the addition of fruits baked into the dessert instead of added to the finished meal, as you might with a pancake or porridge.
Therefore, I definitely implore you to try this crumble as a breakfast option, besides as a nice warming winter dessert. Heat up a lovely generous scoop in the oven for 20 minutes on low then enjoy it with your favourite topping. I love it with almond butter or with my dairy free yoghurt. I mean, who doesn't love the idea of dessert for breakfast?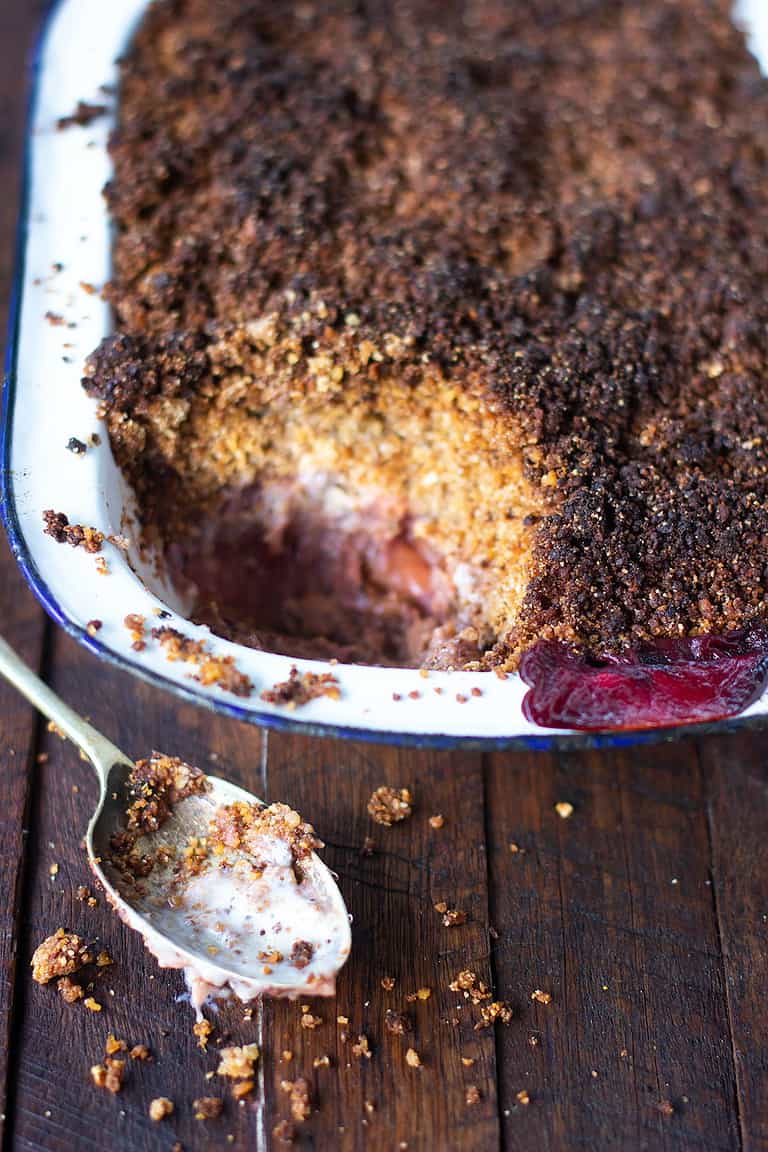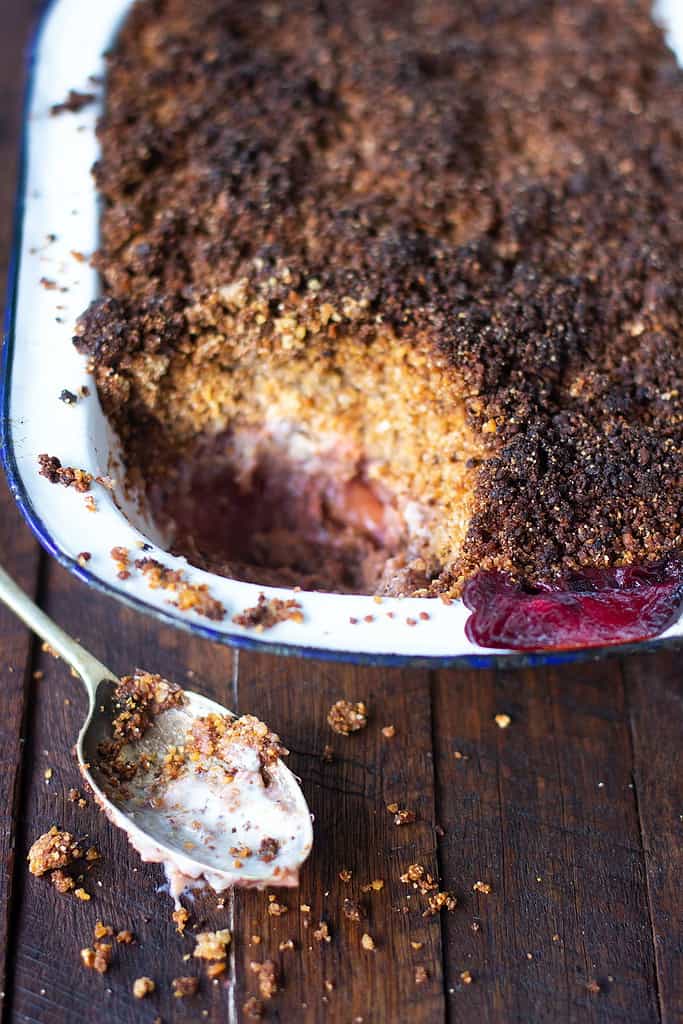 Need personalised nutrition advice catered to your needs?
If you are after personalised nutrition advice and dietary planning individualised to your health and dietary needs then contact us at The JCN Clinic with your enquiry. We are always happy to answer any questions you have!
gluten free rhubarb, apple & ginger crumble recipe
serves

6

preparation time

30 min

cooking time

60 min
ingredients
10 stems (800g) rhubarb
3 apples (300g)
zest 1 orange
juice 1 orange (1/3 cup)
thumb sized piece ginger (20g)
1/2 cup water
1 cup brown rice flour
1/2 cup almond meal
1/2 cup buckwheat or quinoa flakes
1 1/4 cups walnuts
1 teaspoon cinnamon
1/2 teaspoon sea salt
1 tablespoon psyllium husks
1/4 cup rice malt
1/3 cup melted coconut oil
method
Pre heat your oven to 170c, fan-forced.
Cut the rhubarb stems into approximately 5cm lengths and place in a large saucepan. Cut the apples into quarters and remove the core. Cut into large diced pieces and add to the saucepan with the rhubarb. Grate the ginger into the saucepan with the rhubarb and apple and add in the orange zest, orange juice and water.
Turn the saucepan onto a medium heat and allow the liquid in the bottom to start to boil. Turn down to a low simmer and place the lid on the saucepan. Leave to simmer for 15 – 20 minutes, stirring frequently to ensure that the rhubarb is not sticking. If you feel its getting a bit dry or sticky then just add a little more water.
While the rhubarb, apple and ginger compote is cooking start on the crumble topping.
Place the brown rice flour, almond meal, quinoa or buckwheat flakes, walnuts, cinnamon, salt and psyllium into a food processor. Pulse till well combined but aim to leave some chunks of walnuts.
Add the rice syrup and the coconut oil to the food processor. Pulse a few times again brining to a crumbly mixture. You should be able to press some of the crumble topping between your fingers and it should stick together. If it's a bit dry, add a little more oil.
Once the rhubarb, apple and ginger compote is done spoon into a baking dish with nice high sides. Level out the topping and then spoon on the crumble topping ensuring the compote is evenly covered.
Place the crumble into the oven to cook for 60 minutes, checking at the 30 minute mark. If the top is cooking quickly and looking golden already, place a sheet of baking paper over the top to protect if for the rest of the cooking time.
Once the crumble is ready remove from the oven and enjoy warm with a drizzle of honey or with cashew cream, whipped coconut cream or dairy free yoghurt. Also divine with cashew caramel cream from e.a.t cookbook.
nutritional information for gluten free rhubarb, apple & ginger crumble recipe
Rhubarb is certainly an underrated and under used fruit (technically a vegetable related to sorrel). Chinese medicine has utilised rhubarb extracts for many years to reduce cancer proliferation. Excitingly (from a nutritional nerd perspective) phenol extracts from rhubarb such as anthraquinone, specifically emodin, have been shown in studies to inhibit cellular proliferation, induce apoptosis (programmed cell death) and prevent metastasis. (2006, Q. Huang, G. Lu, H. Shen, M. Chung, C, 2001, Shi YQ et al)
It's true what they say, an apple a day keeps the doctor away! Apples are also extremely rich in polyphenols and research suggest that some of these potent antioxidants found in apples can protect against oxidative stress – a major contributor to ill health. (Carrasco-Pozo et al, 2010) Polyphenols act as potent anti-inflammatory agents, antioxidants and help modulation gut bacteria species, all highly beneficial for gut restoration and building of mucosal integrity. More specifically (and thanks to the work of Dr Michael Ash) stewed apples have been hypothesised to increased regulatory T cell promotion in the digestive tract consequently changing dendritic cell regulatory function, thereby increasing oral tolerance. Think of dendritic cells like cells with long arms that reach through the intestinal wall to taste what is passing by inside the intestinal tract in the mucosal tissue. This increased 'oral tolerance' means these dendritic cells are more likely to provide a tolerance to food proteins instead of an over reactivity.
Jessica Cox is a qualified practicing Nutritionist with a Bachelor Health Science (Nutrition) and over 15 years of clinical experience. She is the founder and director JCN Clinic, published author and established recipe developer. Jessica is well respected within health and wellness space for her no fad approach and use of evidence-based nutrition.