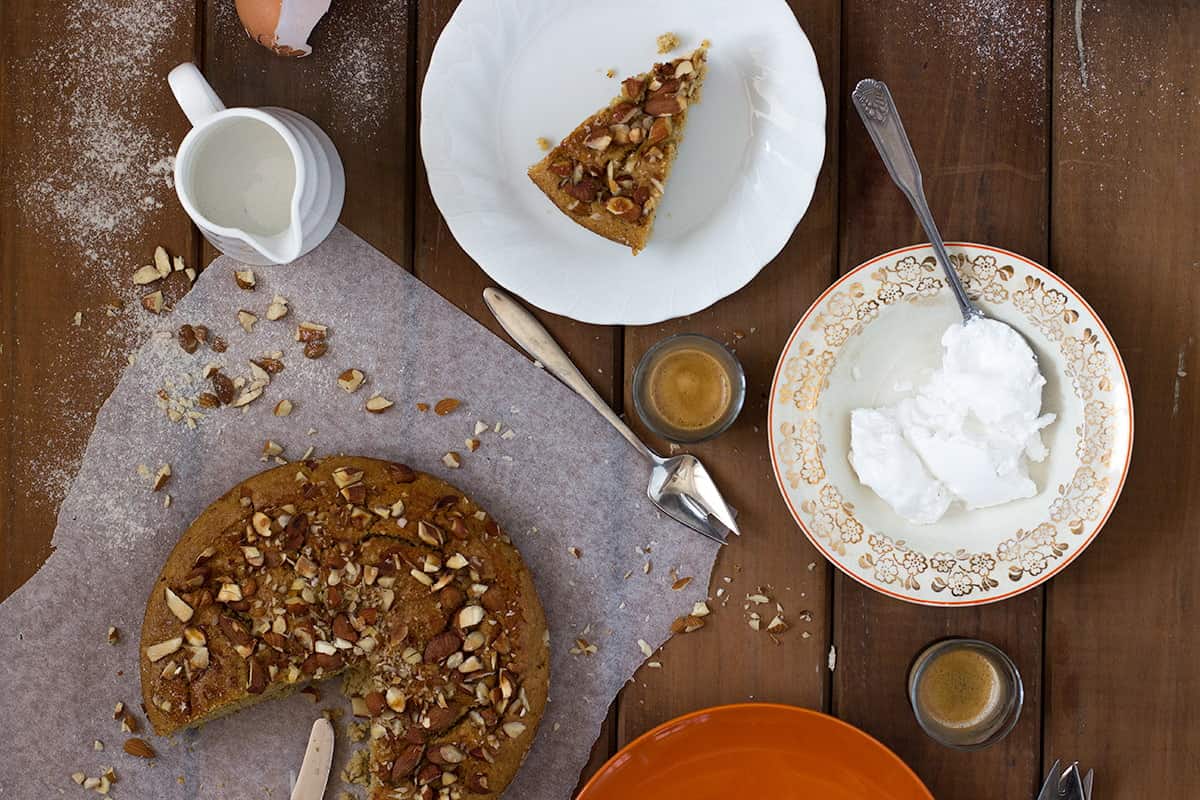 This recipe post is well overdue. Apologies, but I have been on Italy time. Usually I would have been bending over backwards to get this post out as soon as my feet hit the ground in Brisbane, but Italy seems to have rubbed off on me. When one already has a full plate why load it up any further? So a good two weeks after landing back in Australia I am now pleased as punch to share this Italian inspired Apple & Almond Breakfast Cake.
Anyone who has been to Italy would know that traditional breakfasts involve cakes and pastries. While we travelled I navigated around these breakfasts at various B&B's to suit my own dietary requirements, generally with relative ease. However, believe me, there where times that I drooled in envy at my husband as he devoured certain pastries, such as a croissant in Cinque Terre freshly stuffed with chocolate ricotta.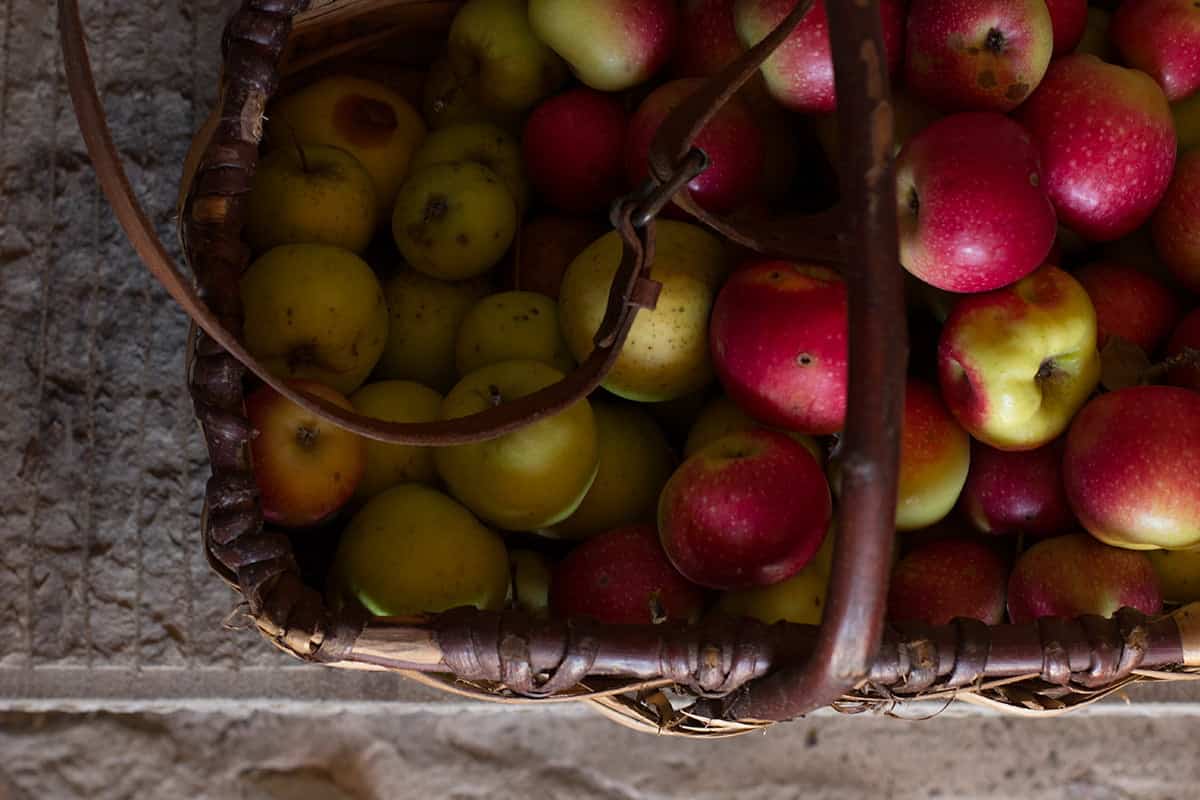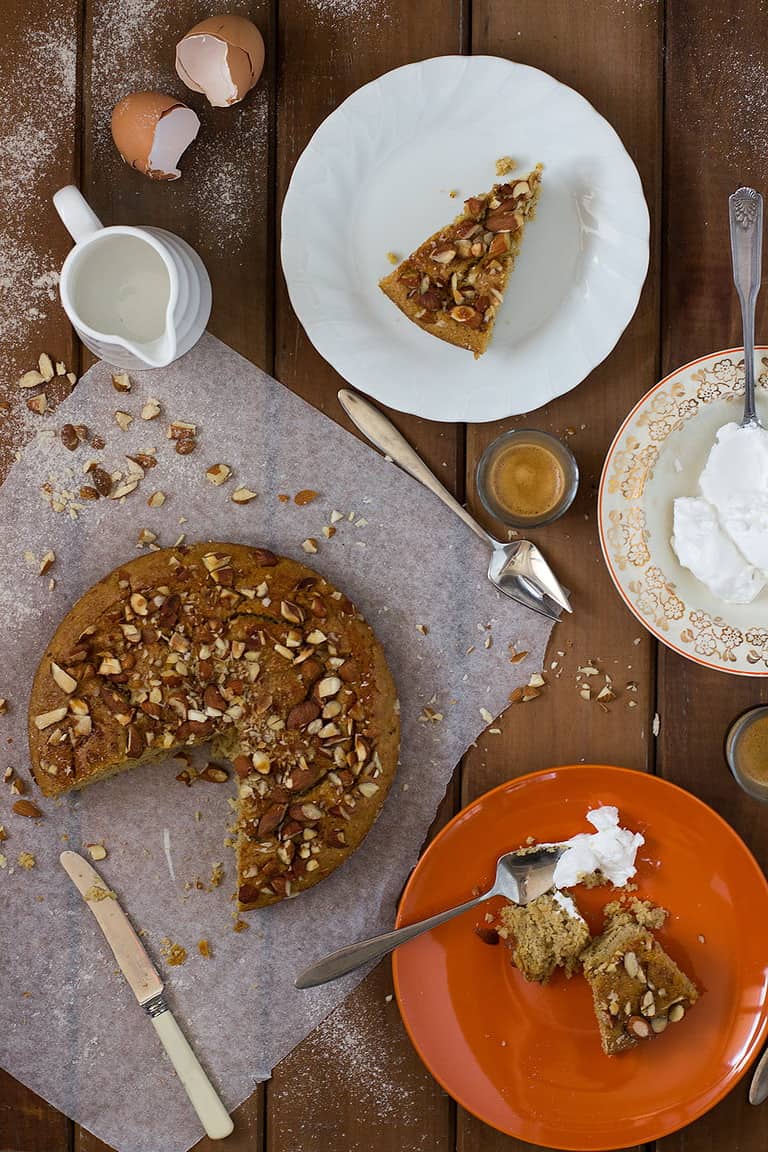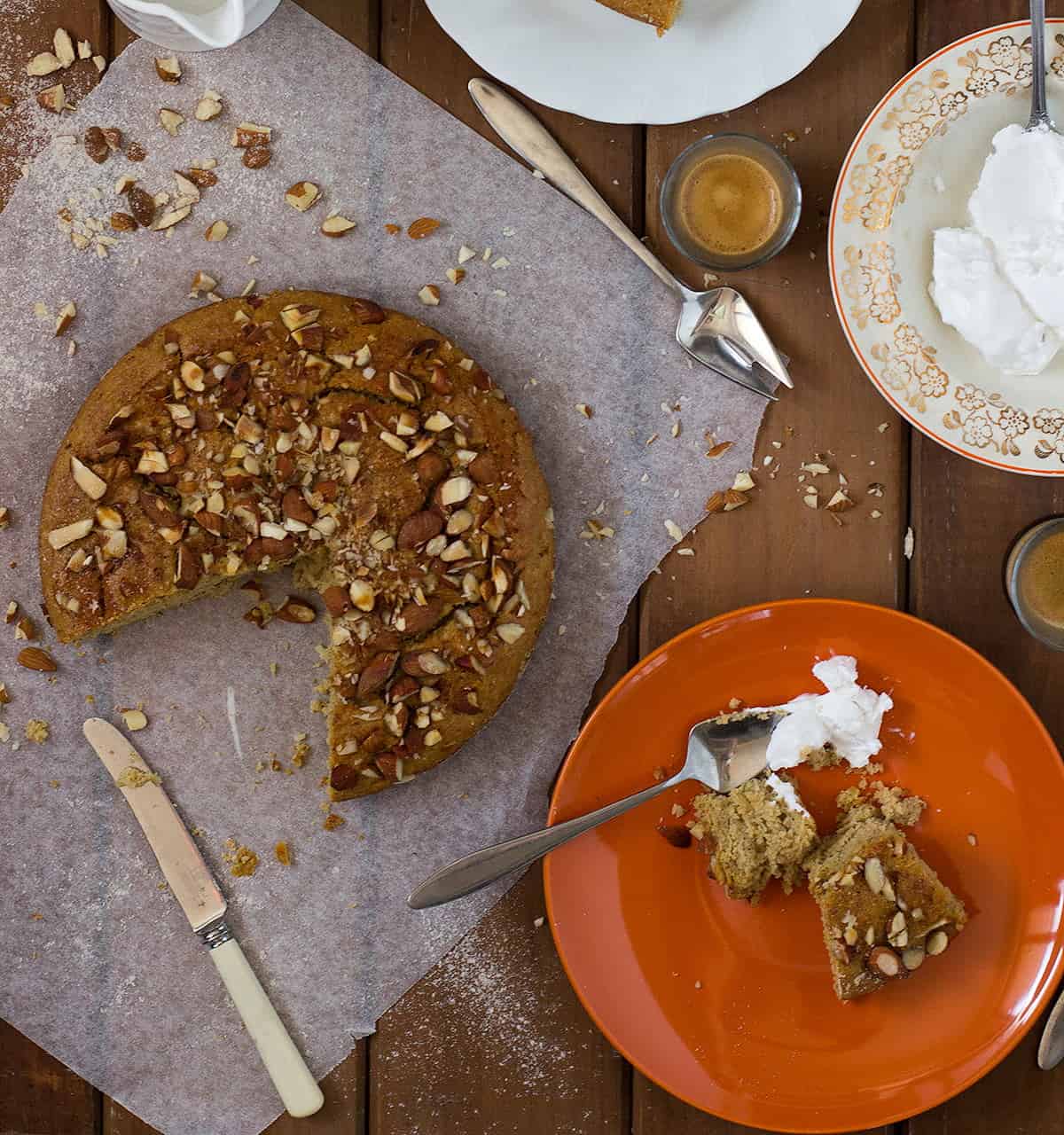 During our time away we had the absolute pleasure of staying at a farm stay type of B&B in Tuscany called Podere La Casellina, close to the Chianti region in Brollo with Silvia and Michelangelo. It was here that I found my food experience really elevated, and as a result, found my approach to food was influenced dramatically. I have always adored wholefoods with 'real' flavour used in recipes to create wonderful true flavours. However, at our time in Tuscany, Silvia inspired me beyond comprehension with her simplistic union of ingredients that came together to create such wonderful dishes.
Think slow braised cabbage straight from the garden that sits on the stove all afternoon with nothing but a generous pinch of salt, pepper and olive oil. Or eggplant sliced and grilled over the open fireplace inside the kitchen, then brushed with homemade olive oil. Or sunny side up eggs from the chickens and ducks served in the pan drizzled with more olive oil, then seasoned with salt and pepper. Each time I would ask Silvia, 'what is in this?!', and each time her answer would leave me in admiration and wonder at the simplicity of the ingredients.
Silvia also took on board with vigour and enthusiasm my own dietary requirements. Instead of omitting the cake and biscuits from my side of the table, she baked oat flour based spiced cakes topped with nuts, batches of crunchy oat cookies along with flans made with besan flour. As you can imagine, I never wanted to leave! Each morning I would sit down to a slice of homemade cake, my own bread with homemade jams, pecorino cheese and a fresh brewed café d'orzo with a blood orange juice. You can envision the pleasure this brings to a foodie such as myself.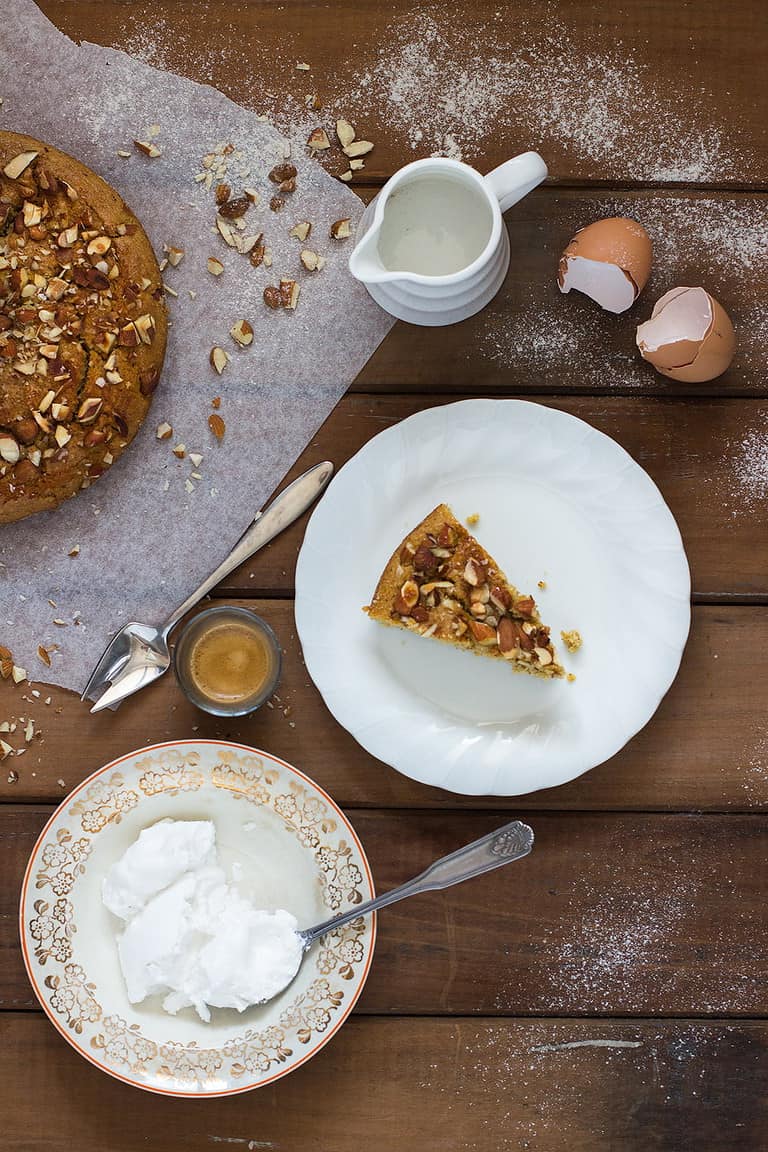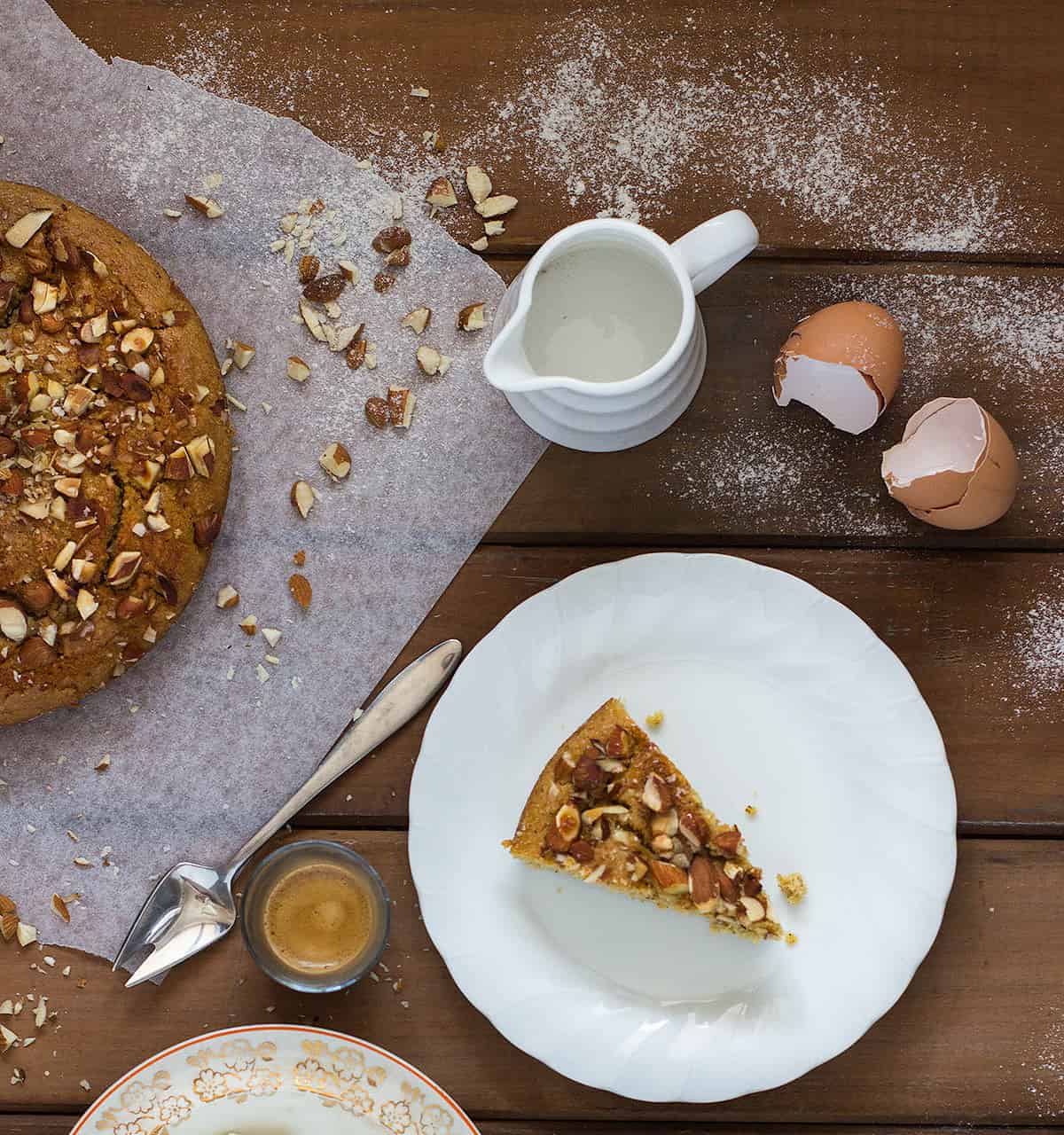 With so many food experiences to take in over six weeks of travel, this experience has really stood the test of time. Therefore, it was only natural that my first recipe post back be an expression of our time in Tuscany. This Apple & Almond Breakfast Cake is based on the ingredients that Silvia used, however I have adapted it to reduce the sugars, which has created a denser style of cake than the original. I have also stayed true to the Italian way of paring back the ingredients to let the chosen ingredients speak for themselves.
Just before I finish let me share a story with you that embodies this Italian food philosophy. Mid way through our stay in Tuscany with Michelangelo and Silvia we helped pick the last of the grapes from the vineyard. After the morning of picking we wandered back up to the house for a lunch put on by Silvia outside under the trees in the garden. In the traditional Italian way there were many different dishes bought to the table.  I started to take spoonful's from one dish, then dipped my spoon into another dish to add to more my plate when Michelangelo stopped me and said 'Jessica, no no, don't mix them. You must eat them separately. Each dish is made perfect just as it is '.
I love you Italy!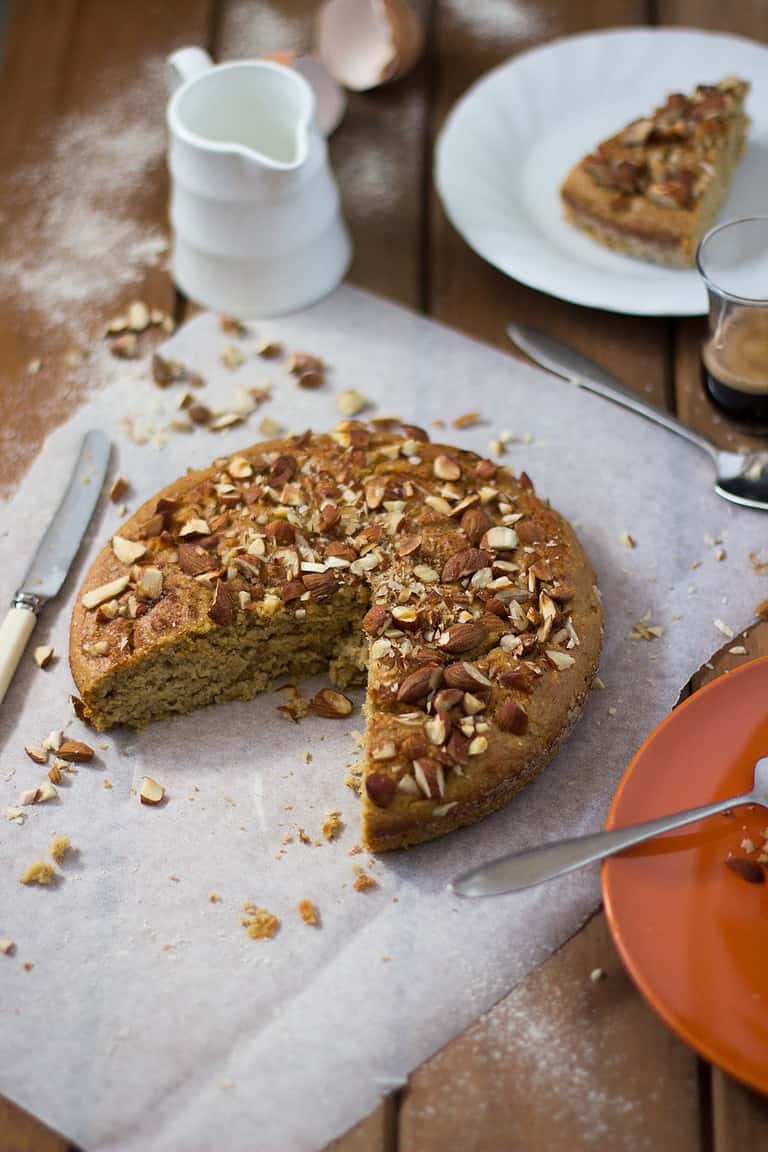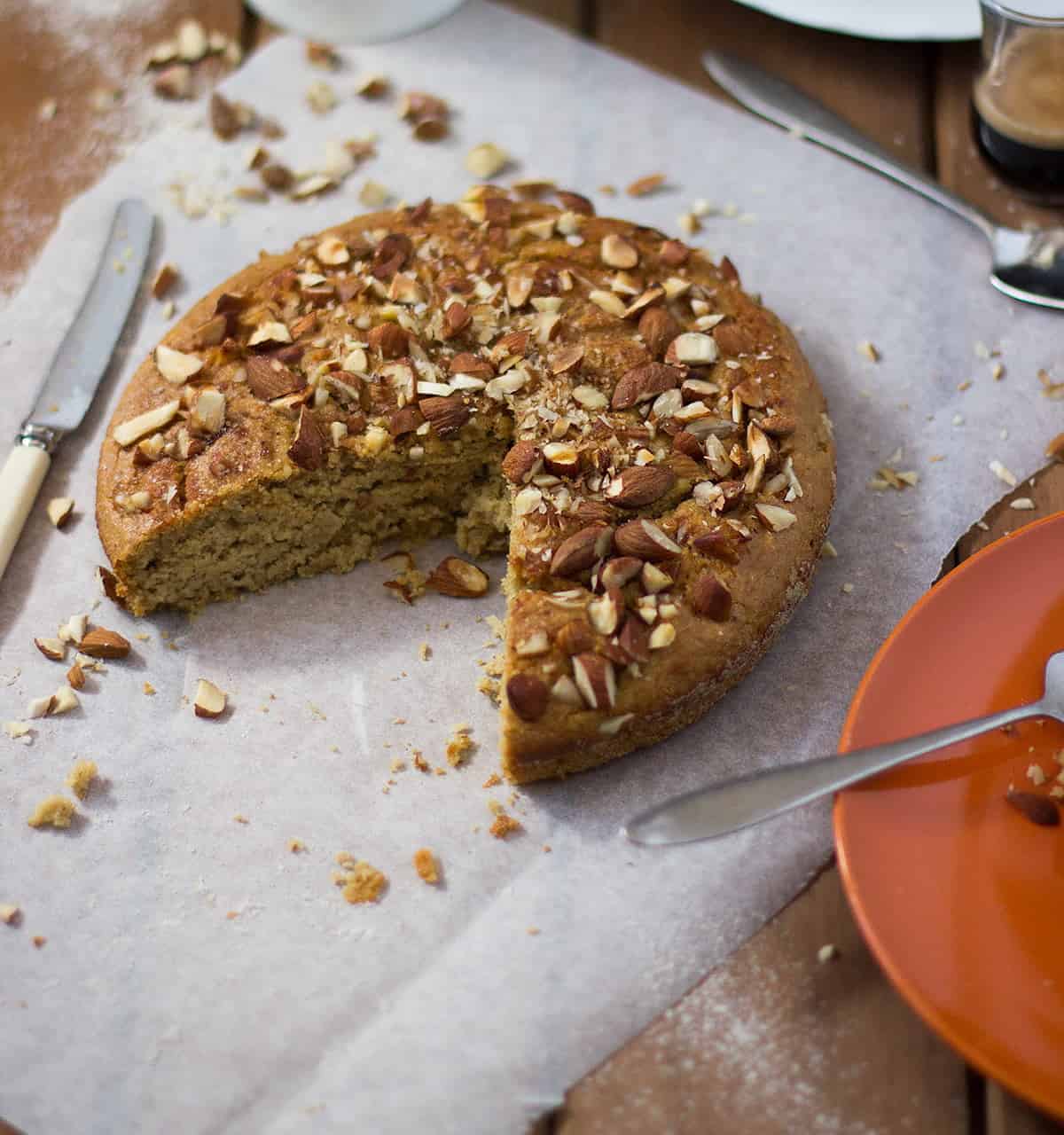 apple & almond breakfast cake
serves

8 slices

preparation time

15 – 20 minutes

cooking time

45 minutes
ingredients
2 cups oat flour (ground oats in a blender works fine)
1/2 cup almond meal (ideally fresh)
3 teaspoons baking powder
1/2 teaspoon freshly grated nutmeg (or ground)
2 free range eggs
1/3 cup good quality extra virgin olive oil
1 cup 100% apple puree
2 tablespoons honey (or maple syrup)
1 teaspoon almond essence
1 teaspoon vanilla extract
1/3 cup chopped almonds
method
Preheat the oven to 185c. In a large mixing bowl place the oat flour, almond meal, baking powder and nutmeg and mix till well combined.  Make a well in the centre and add in the eggs, apple puree, olive oil, honey, vanilla extract and almond extract. Using a wooden spoon mix the liquids into each other and then start to combine the outer edges of the flour mix until everything is well combined.
Pour the cake batter into a regular sized prepared baking tin lined with baking paper. Take the handful of chopped almonds and scatter them over the top of the batter. Finish with a little more nutmeg if you desire.
Place the cake in the oven and bake for 45 minutes, or until the cake springs back when touched in the middle. Leave the cake to cool in the tin for approximately ten minutes and then turn it out onto a wire wrack to cool.
Serve this Apple & Almond Breakfast Cake alone or with a dollop of your favourite yoghurt or ricotta.
This cake is best kept in the fridge after one day. If you have any left after 4 days then move it to the freezer.
nutritional information
This apple & almond breakfast cake combines all three essential macronutrients protein, quality fats and carbohydrates. The protein is found in the eggs and almonds, the fats are supplied by the lovely olive oil and again the almonds, while the complex carbohydrates are abundant in the oats. The oats also provide soluble fibre which attracting water and creates a gel in the intestinal tract that is integral for digestive health and satiety. The apple puree adds additional low sugar carbohydrates and insoluble fibre to the cake. Insoluble fibre creates bulk in the intestinal tract and keeps everything moving along nice and healthily, thus preventing constipation.
If you would like to make this cake gluten free, you could omit the oats and use quinoa flakes ground into flour instead or buckwheat flour. This would make a denser cake, so keep this in mind.
If you require an egg free cake, you could use a chia egg or flax egg in replacement of the eggs. This is simply 1 tablespoon of chia seeds/flaxseeds to 3 tablespoons warm water per egg. The cake will be denser as a result, so you may want to add a little more raising agent or some additional bicarb soda to the batter.
Jessica Cox is a qualified practicing Nutritionist with a Bachelor Health Science (Nutrition) and over 15 years of clinical experience. She is the founder and director JCN Clinic, published author and established recipe developer. Jessica is well respected within health and wellness space for her no fad approach and use of evidence-based nutrition.