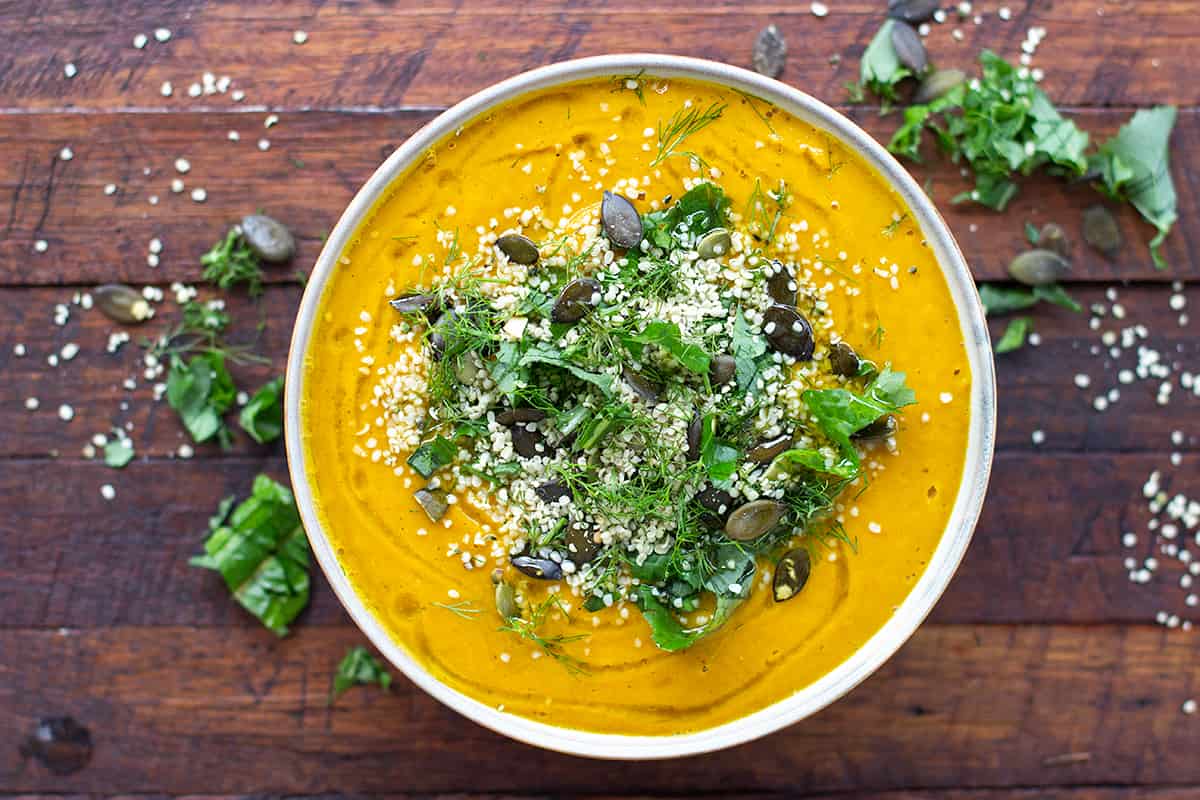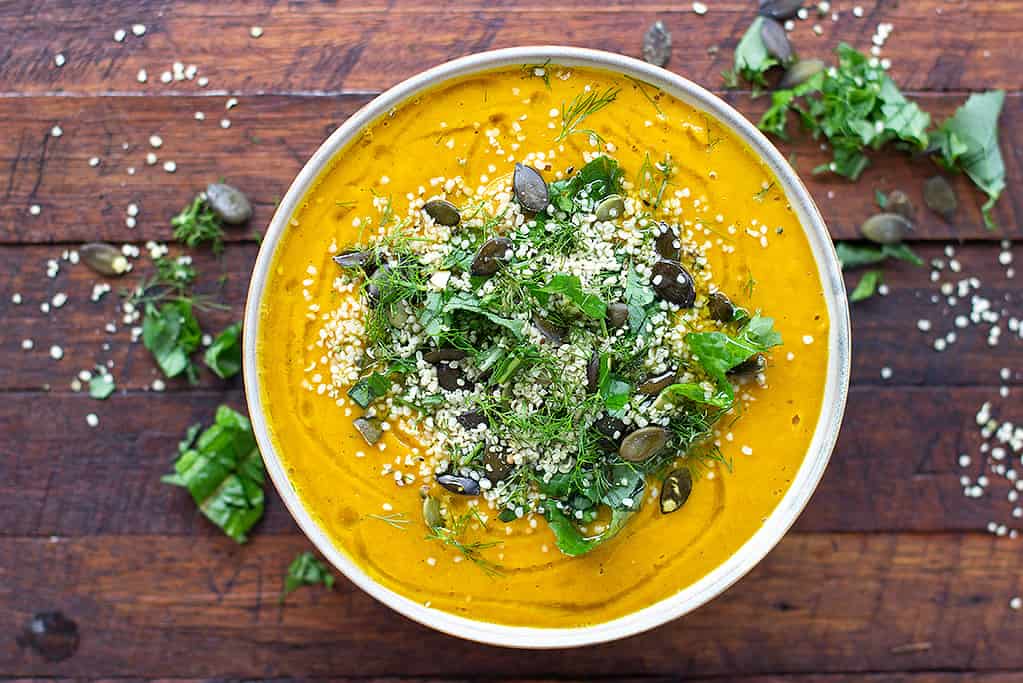 a healthy winter warming vegan friendly soup
There is no denying that we have moved to a space where we are all dusting off the slow cookers and getting out the big stewing pots. As part of these winter warming favourite recipes we all love, I know that hearty soups are going to play a large role in keeping us all content through these cooler months. Therefore, I've decided to set the tone with this Sweet Potato, Pumpkin & Turmeric Soup.
There are a few soups already here on the website like Hubbard's Roast Pumpkin, Zucchini & Cauliflower Soup and this Leek, Cauliflower & Parsnip Soup. What you will notice is that they all have two things in common.
They are macronutrient balanced when served as suggested, providing complex carbs, protein and quality fats with an ample serve of vegetables.
They provide texture. You will not find soups here that are just a blended mass alone in a bowl. Nothing makes me sadder than a meal that is all one taste and texture. #sadsoup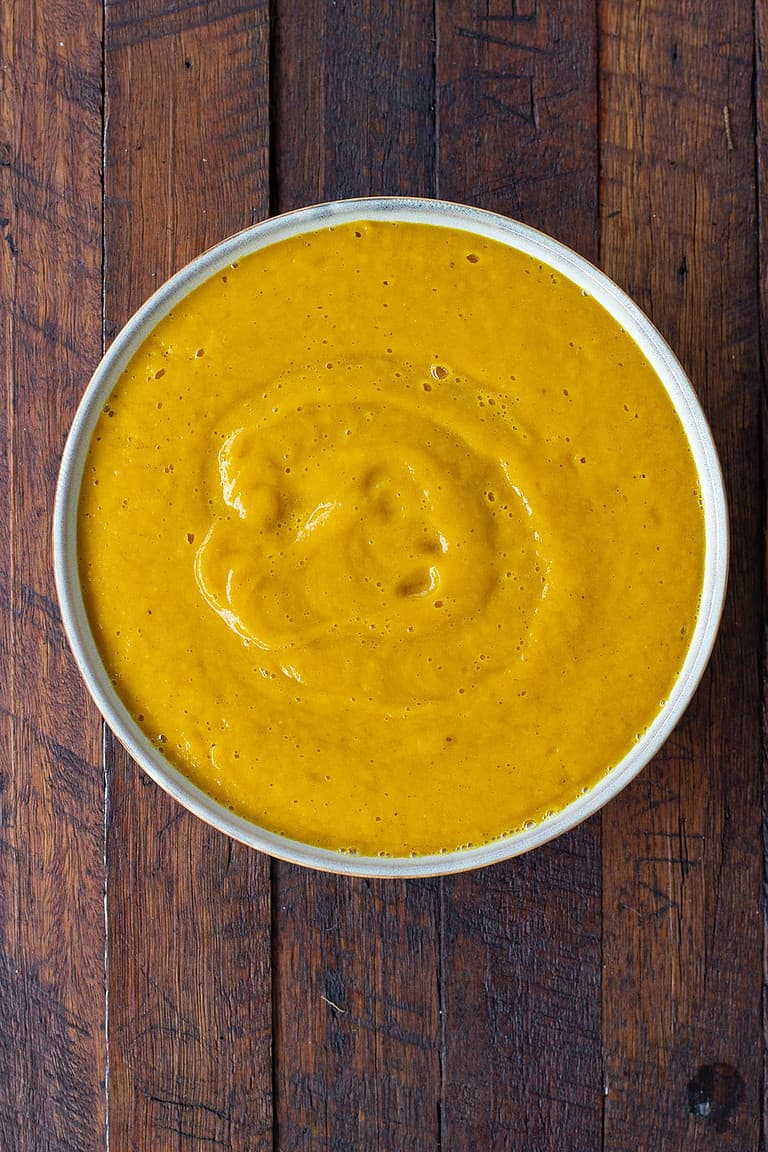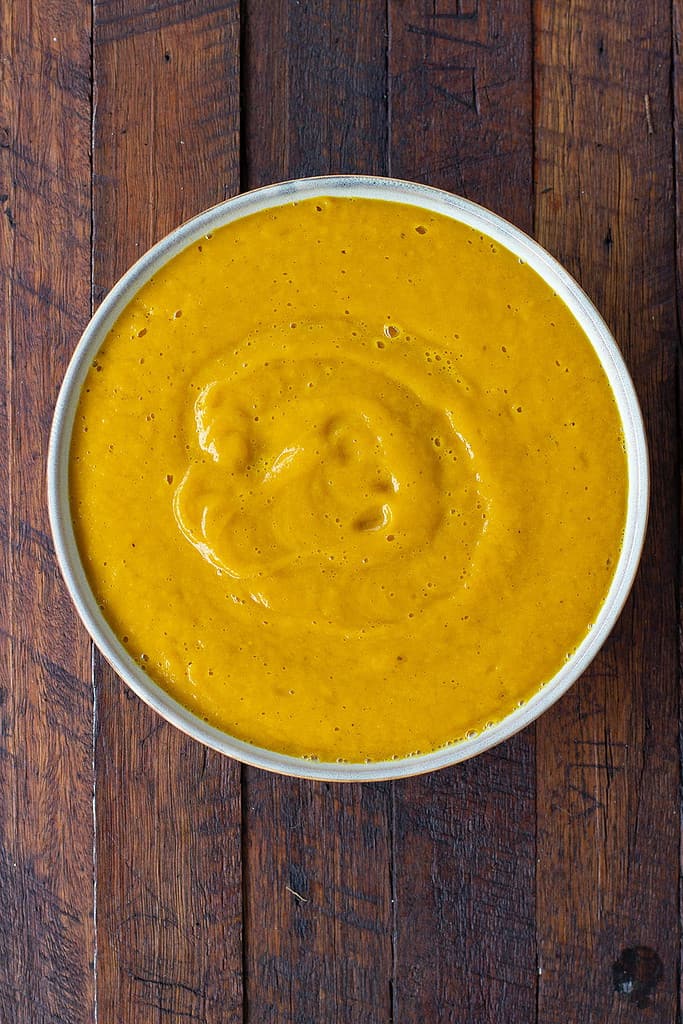 how to create a macronutrient balanced soup
In the majority soups tend to be heavily vegetable based alone. Now this is great for providing an abundance of nutrients and plant based phytochemical. Hooray hooray! However, what these types of soups tend to lack is providing a sustaining macronutrient balanced meal. They often lack protein and complex carbohydrates – hell even fats! Therefore, to help steer you in the right direction when if comes to creating a macronutrient balanced soup, here are some common macronutrient pitfalls that people make when making soup, alongside some simple suggestions on how to rectify them.
how do I include complex carbohydrates in soups
Unless a soup has blended into it some root vegetables such as potato or sweet potato, or an ample amount of legumes per serve then it is not going to provide enough sustaining starchy carbs to hold you throughout the day. At night, this is not so much of an issue when you are sitting on the couch watching Netflix (or Stan – let's not be biased). Therefore, a good rule of thumb to make sure you are getting enough complex carbohydrates in your soup is to ensure about 1/4 – 1/3 of the soups ingredients are complex carbohydrates. This can be the aforementioned root veg or legumes or even some grains. For a more detailed list of what is included in the complex carbohydrate family see here (or buy yourself a copy of e.a.t cookbook).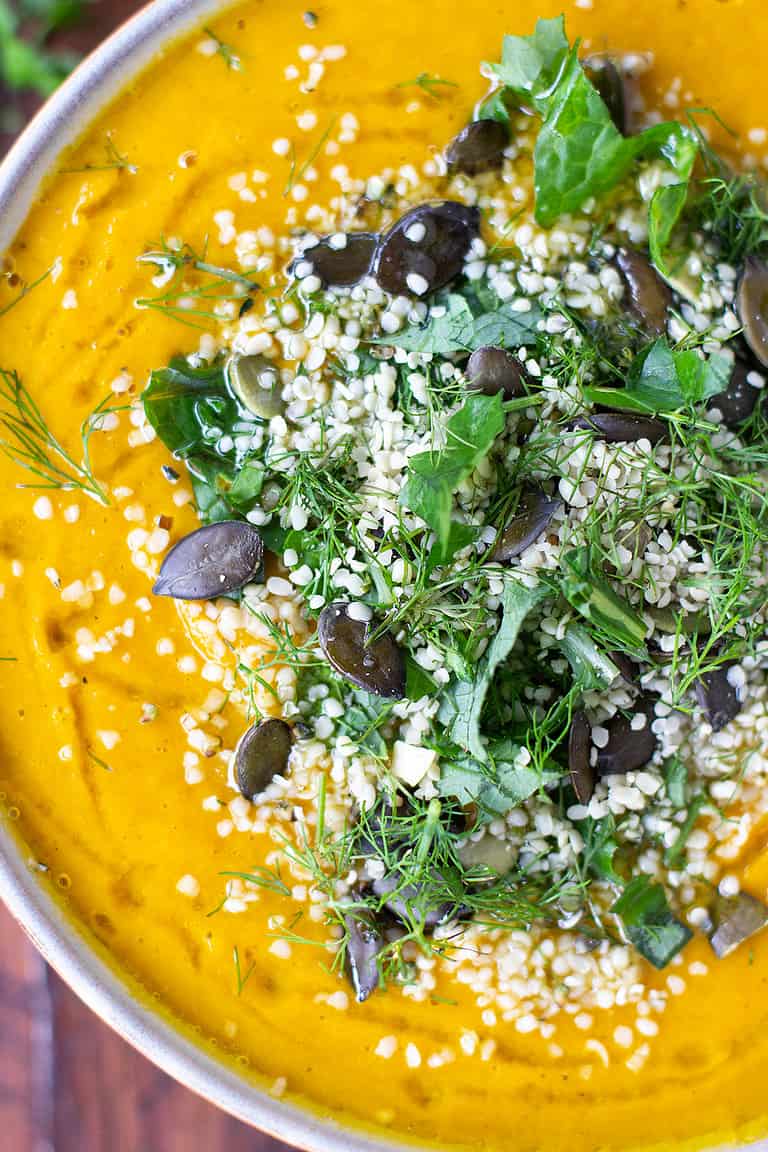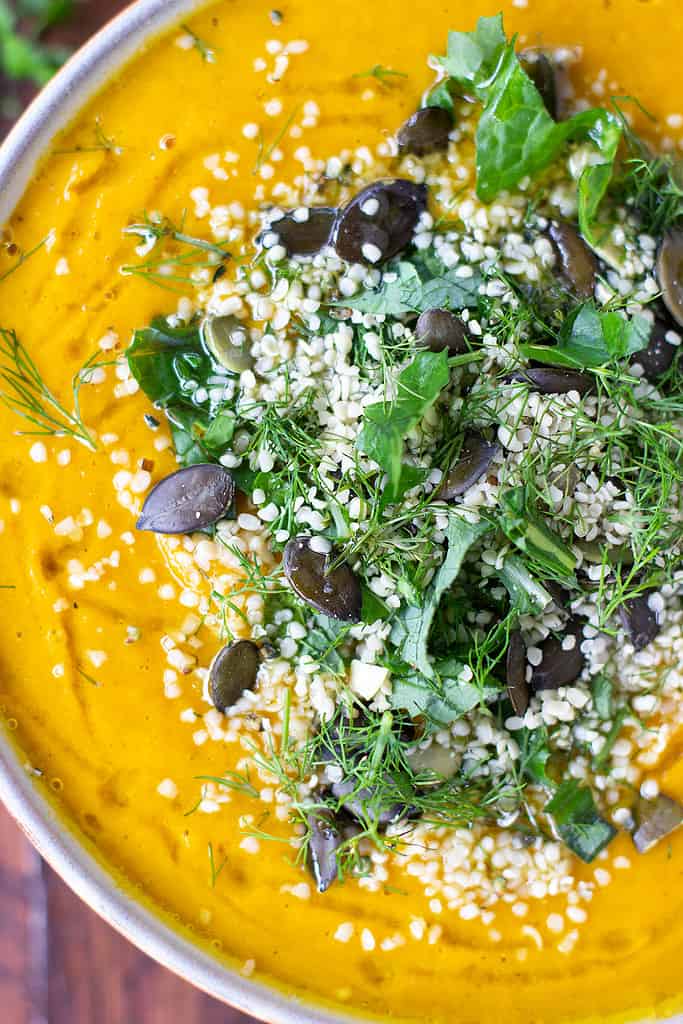 how do I include protein in soups
The most common element missed in standard winter soups is protein. Again, not knocking the fact that you have just whizzed up some delicious vegetable and stock based ingredients – but we need to think about where the protein is coming from. To get enough protein in your winter warming soups you want to include around a palm size portion of protein per serve. This can be easily done with including legumes (yep, they provide protein as well as complex carbs), meats, eggs and some high protein seeds like hemp seeds. These can either be blended or stirred into the soups or used as toppings (see below) or even on the side. For example, a slice of Gut Friendly Bread with a mashed boiled egg and evoo drizzled over.
how do I include healthy fat in soups
This one is probably the easiest. Ideally you are already using a nice extra virgin olive oil in the base of your soup, either for roasting the vegetables or sautéing the base ingredients. However, this is quite a small amount unless you are heavy handed like yours truly. To get enough healthy fats in your winter warming soups I would suggest a generous drizzle of extra virgin olive oil at the finish (flavoured ones can be nice like garlic infused evoo), or a drizzle of tahini or some natural yoghurt if dairy is your thing. You can also have a slice of Gut Friendly Bread on the side spread with avocado or nut butter. Another way of adding fats is adding chopped nuts and seeds to the finished soup, which I have more on under creating texture for soups….so keep reading!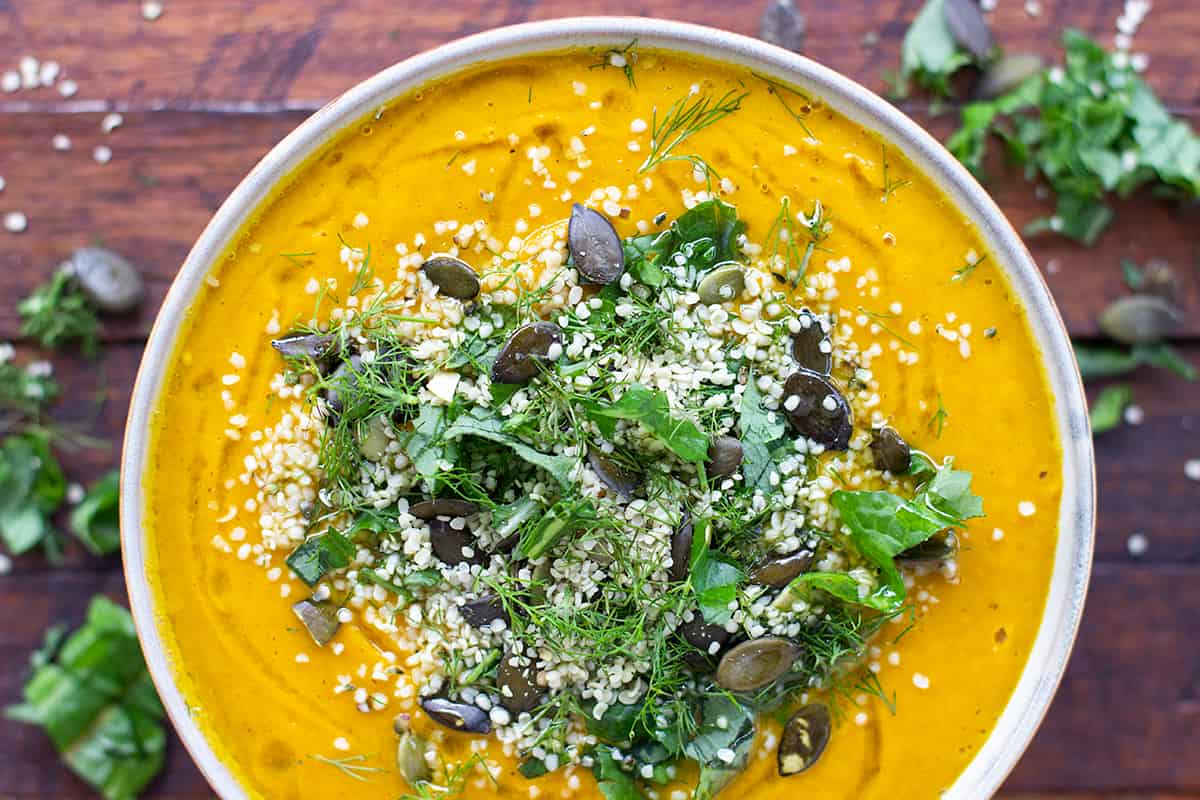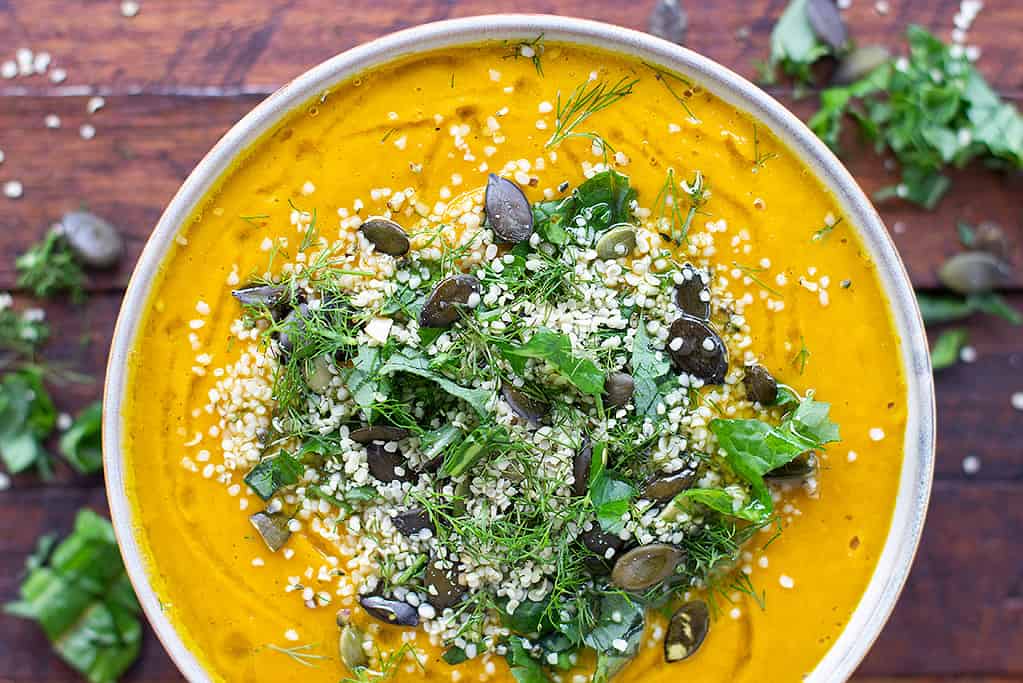 how do I add texture to soups
As I said above, for me there is nothing as sad as the same mouthful of taste and texture the entire way through a meal. Of course there are soups that are not blended and have texture of their own naturally like my Immune Boosting Soup. However for todays deep dive into soups we are talking about the blended variety.
Like what you're seeing? Subscribe for new recipes and nutrition tips every week!
A blended soup will give you loads of base flavour. Usually, if its been created well it will have lots of naturally sweetness for the vegetables and some good seasoning already. What it can lack is that umami flavour and a good savoury punch to cut through the sweet vegetables. It can also lack something 'fresh' to liven the palate. To do this I encourage you to use ingredients that create texture so that as you enjoy your soup you have a variety of flavours and textures from start to finish. Here are just some ways you can add texture to soups whilst providing savoury notes and freshness:
toasted chopped nuts and seeds (with a generous amount of hemp seeds) with roughly chopped herbs like parsley, dill and coriander
pan fried left over meats till super crispy with roughly chopped rocket and seeds
a poached egg with toasted sesame seeds and kimchi
crumbled and pan toasted bread in evoo with hemp seeds and squeeze of fresh lemon
massaged kale with orange segment, hemp seeds and walnuts
These are just some ways you can add texture, flavour and freshness to soups – honestly the combinations are endless! Just use your imagination. Let it go wild! There are so many wonderful fresh herbs that are lovely added to soups, loads of lively soft greens – even using watercress or mustard greens if you have access to them. If you can tolerate dairy then that also opens up adding ingredients like natural yoghurt, pan-fried haloumi or crumbled feta.
Use this post as a guide throughout the winter months as a reference. Keep it flagged in your phone or pinned in Pinterest (whatever is your thing) to ensure you can flip back to it and check that you are getting the building blocks to a macronutrient balanced meal. It's not the end of the world as we always say at The JCN Clinic if you are not hitting it every time, but aim to get there in the majority and your body and overall well-being will thank you for it.
Need personalised nutrition advice catered to your needs?
If you are after personalised nutrition advice and dietary planning individualised to your health and dietary needs then contact us at The JCN Clinic with your enquiry. We are always happy to answer any questions you have!
sweet potato, pumpkin & turmeric soup recipe
serves

4

preparation time

30 min

cooking time

60 – 70 min
ingredients
600 grams sweet potato, skin on
600 grams butternut pumpkin, skin on
20 grams turmeric root (or 1 tablespoon ground turmeric)
115 grams celery (2 stems)
900 mls quality bone broth or stock
1 teaspoon sea salt
1 teaspoon pepper
method
Pre heat your oven to 200c, fan-forced.
Cut sweet potato and pumpkin into roasting pieces approximately the same size. Place on a baking tray with the whole turmeric root and celery stems. (If using turmeric powder you can add this later instead).
Season vegetables and then drizzle the vegetables with a generous amount of extra virgin olive oil to coat them liberally. Toss till well covered and then place the baking tray in the oven to roast for 60 – 70 minutes until cooked through and golden.
Once the vegetables are roasted, scrap them into a large saucepan with all the juices off the pan. Add the bone broth or stock to the saucepan with the vegetables and bring to a low simmer with the lid on. Let the soup contents simmer away for 10 minutes ensuring it does not boil over.
Turn the heat off and let the soup cool a little before adding to an upright blender. You could also use a stick blender directly into the saucepan if you like. If using an upright blender please be careful with the hot soup as it can build pressure and blow the lid off!
Blend soup till well combined and creamy. To serve, ladle into serving bowls and top with your favourite fresh herbs and protein toppings (see blog post for suggestions). Here I have used pumpkin seeds, hemp seeds, fresh dill, chicory, dock and dandelion greens from the garden.
The soup will keep in the fridge for 5 days, after this freeze for later use.
This Sweet Potato, Pumpkin & Turmeric Soup is also delicious served with toasted Cheesy Bread Rolls or Vegan Scones.
nutritional information for sweet potato, pumpkin & turmeric soup recipe
This Sweet Potato, Pumpkin & Turmeric Soup is well tolerated for most dietary protocols. To lower the starch element you could use all pumpkin and in place of the sweet potato if required. Across the board it is generally low FODMAP and low histamine.
This soup is super high in turmeric content! Turmeric has been well studied for its anti inflammatory, antiviral and antibacterial activity. It has also been studied in regards to its ability to fight cancer. I personally use turmeric extensively in clinic due to these reasons. When taking turmeric as a supplement it must be in a bioavailable form to maximise absorption of its active compounds. Interestingly, when turmeric is traditionally used in curries and so forth it is often with oils and spices that naturally activate these processes.
Jessica Cox is a qualified practicing Nutritionist with a Bachelor Health Science (Nutrition) and over 15 years of clinical experience. She is the founder and director JCN Clinic, published author and established recipe developer. Jessica is well respected within health and wellness space for her no fad approach and use of evidence-based nutrition.