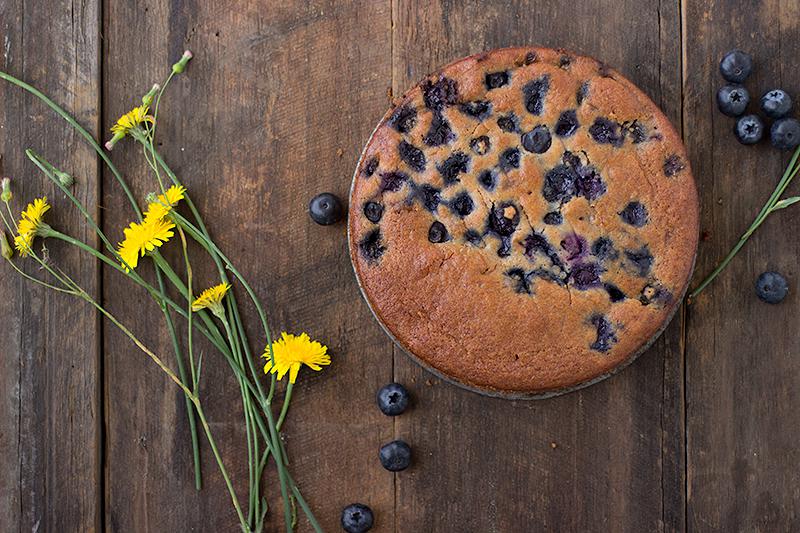 I always know I am onto a winner when people who (can) eat cakes loaded with gluten, dairy and sugar love my creations. I took this Blueberry & Almond Teacake with my to visit family, and unless they were just keeping me happy with appeasing comments (I hope not), it was a huge success. After a meal out we wondered home and all enjoyed a slice with a nice glass of rosé. Definitely a reasonable way to end the evening!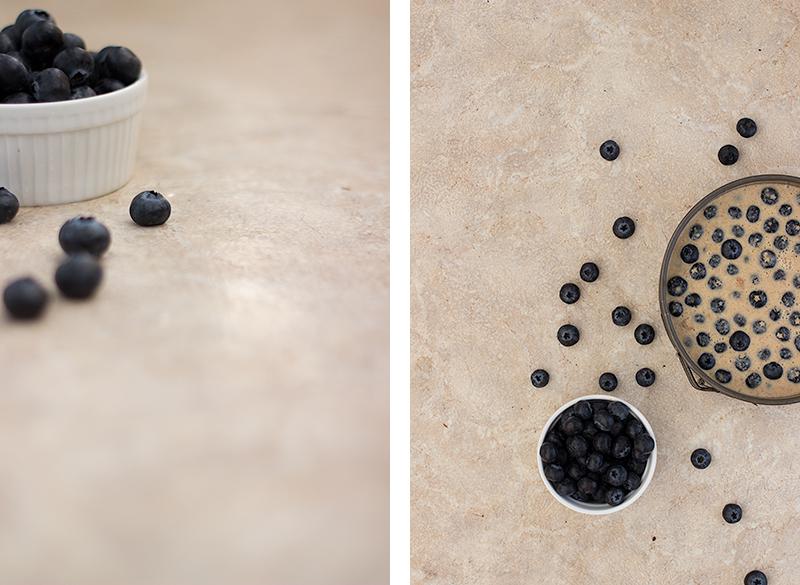 Finding the time to bake these days has become rather hard. We are in full swing of renovations, our house is realistically a shell with a few stud walls separating the remaining old rooms from the sparseness of the internal demolitions. We sleep in the lounge room with a blue tarp as a curtain, adjacent to the new bathroom currently being installed. Half the ceiling is missing, so when you lay in bed you stare up into the rafters perhaps catching a glimpse of the cat running around up there. It's all very glamorous.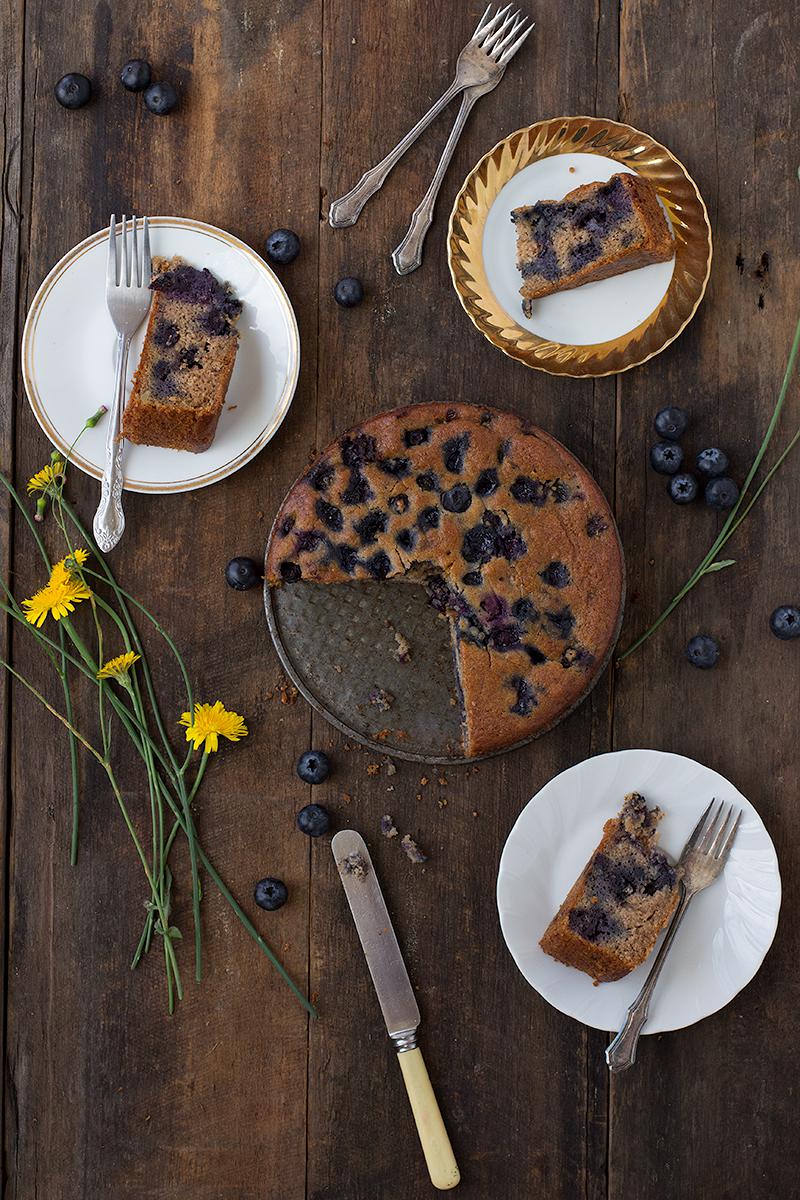 Weekends and home time are therefore a hectic mix of demolition and building, visiting Bunnings (again….and again) with a few choc chilli chai's thrown in on the way. When some down time comes along I am usually more likely to curl up on the couch and watch a movie than feel like hitting the kitchen up.
Therefore, I recently decided something had to change. My entire ethos is built on balance, and me not baking is undoubtedly the universe out of kilt. Action had to be taken. Hence, you will unlikely find me in the clinic on Thursday mornings anymore. Carissa will be holding down the fort and I'll be making a huge mess at home in a passionate intoxicated baking/cooking trance, followed by the pure bliss of food styling and photographing.
Paradise.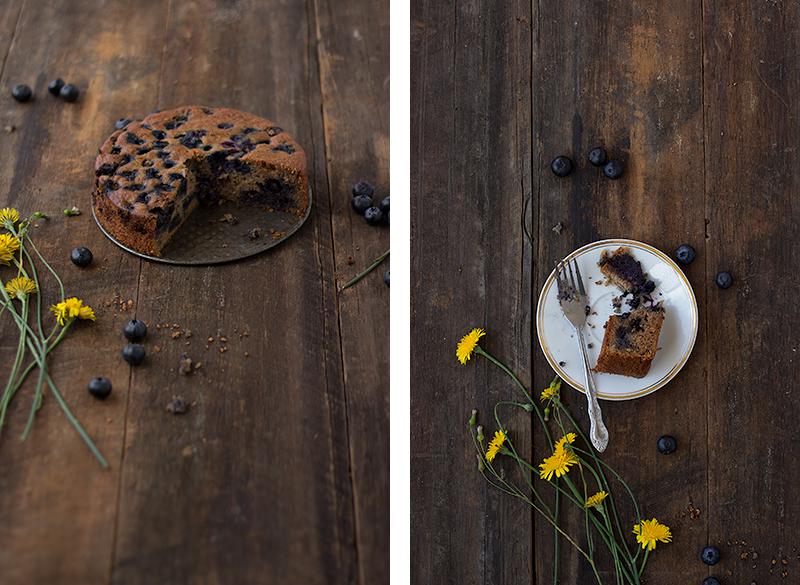 This Blueberry and Almond Teacake is actually an adaption of my wheatgrass doughnuts with chocolate ganache. The base recipe is pretty much the same, just a few tweaks and add ons here and there. I came up with this recipe after being gifted with some ridiculously delicious fresh blueberries. What does one do when in surplus of blueberries? Bake of course!
What I adore most about this cake is that it retains lovely lightness and moisture, a quality that can be quite elusive when faced with intolerance friendly baking. The almond meal combined with the olive oil keeps everything soft and super juicy. Each bite is filled with vanilla scented almonds, accompanied with bursts of softened blueberries. I like this cake simply as it is, however it would be equally delicious with a dollop of coconut cream or yoghurt.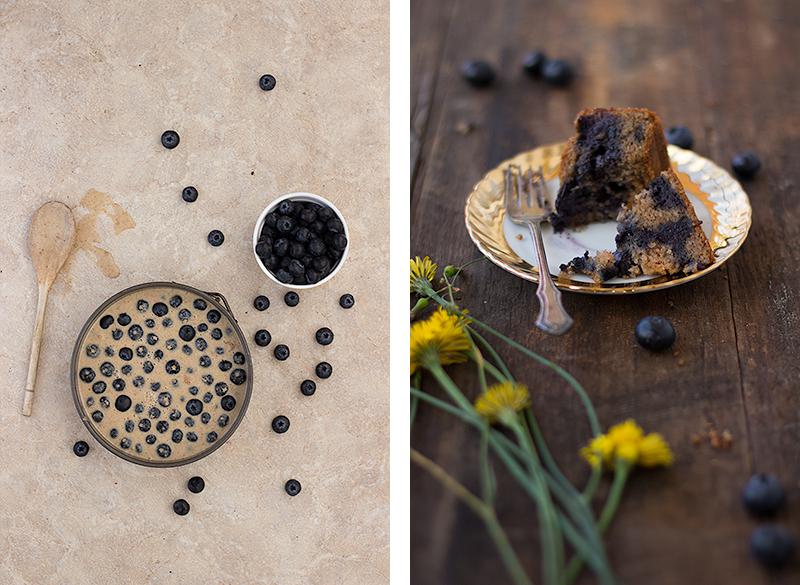 blueberry & almond teacake
serves

8 – 10 slices

preparation time

20 minutes

cooking time

60 – 65 minutes
ingredients
1 and 1/3 cups almond meal
1 cup buckwheat flour
3 teaspoons baking powder
1 teaspoon cream of tartar
1 teaspoon baking soda
2 cups ideally fresh blueberries (frozen is fine though)
1 and 1/4 cups almond milk
1 teaspoon apple cider vinegar
2 teaspoons vanilla extract
1/2 cup maple syrup or rice malt
1/2 cup extra virgin olive oil
1 free range egg OR 2 tablespoons ground chia seeds + 1/4 cup warm water mixed well
method
Heat oven to 180c (170c fan forced) . In a medium sized mixing bowl combine wet ingredients inclusive of olive oil, apple cider vinegar, maple syrup, almond milk, egg (or chia egg) and vanilla extract. Set aside.
In a large mixing bowl combine remaining dry ingredients, excluding the blueberries. Make a well in the centre and add the wet mixture. Combine with a large wooden spoon (the mixture will be quite wet). Now fold through your blueberries.
Spoon the mixture into a greased standard sized round baking dish and bake for 60 – 70 minutes, being sure to check the cake as it gets close to the hour. The cake is done when the top springs back and a skewer can be inserted into the cake and comes out clean.
Once the cake is cooked let it cool for 5 minutes in the tin then carefully remove and place the cake on a wire rack to cool.
This Blueberry and Almond Tea Cake is best eaten within a few days of baking, otherwise I recommend freezing the cake in cut portions. Let the cake come to room temperature again, or warm briefly to soften.
nutritional information
Blueberries are rich sources of flavonoids, anthocyanins and resveratrol, phytochemicals shown to exhibit strong potential for quenching free radical activity. Blueberries are also high in vitamin C and the mineral manganese. This high vitamin C content along with the phytochemicals makes blueberries a wonderful choice for those looking to enhance their immunity and support free radical damage.
This blueberries and almond teacake is rich in complex carbohydrates and fibre found in the buckwheat flour along with providing ample amounts of plant based protein and essential fats thanks to the almond meal. Using an egg will of course push the protein content up a little further. Overall the sugar load of the cake is quite low, with only half a cup of maple syrup dispersed through the entire cake. Therefore this cake can not only be eaten as a snack, yet also as a warmed breakfast on the weekend with a generous dollop of yoghurt. Who doesn't like cake for breakfast!
Blueberries are also rich in pterostilbene, a compound shown to have numerous preventive and therapeutic properties in a vast range of human diseases that include neurological, cardiovascular, metabolic, and hematologic (blood) disorders. "The multiple benefits of pterostilbene in the treatment and prevention of human disease have been attributed to its antioxidant, anti-inflammatory, and anticarcinogenic properties (especially breast based cancers) leading to improved function of normal cells and inhibition of malignant cells ". This diverse activity is due to its ability to reduce oxidative stress along with the production of detrimental free radicals within the body. (2013, D. McCormack, McFadden, Oxidative Medicine and Cellular Longevity)
Jessica Cox is a qualified practicing Nutritionist with a Bachelor Health Science (Nutrition) and over 15 years of clinical experience. She is the founder and director JCN Clinic, published author and established recipe developer. Jessica is well respected within health and wellness space for her no fad approach and use of evidence-based nutrition.