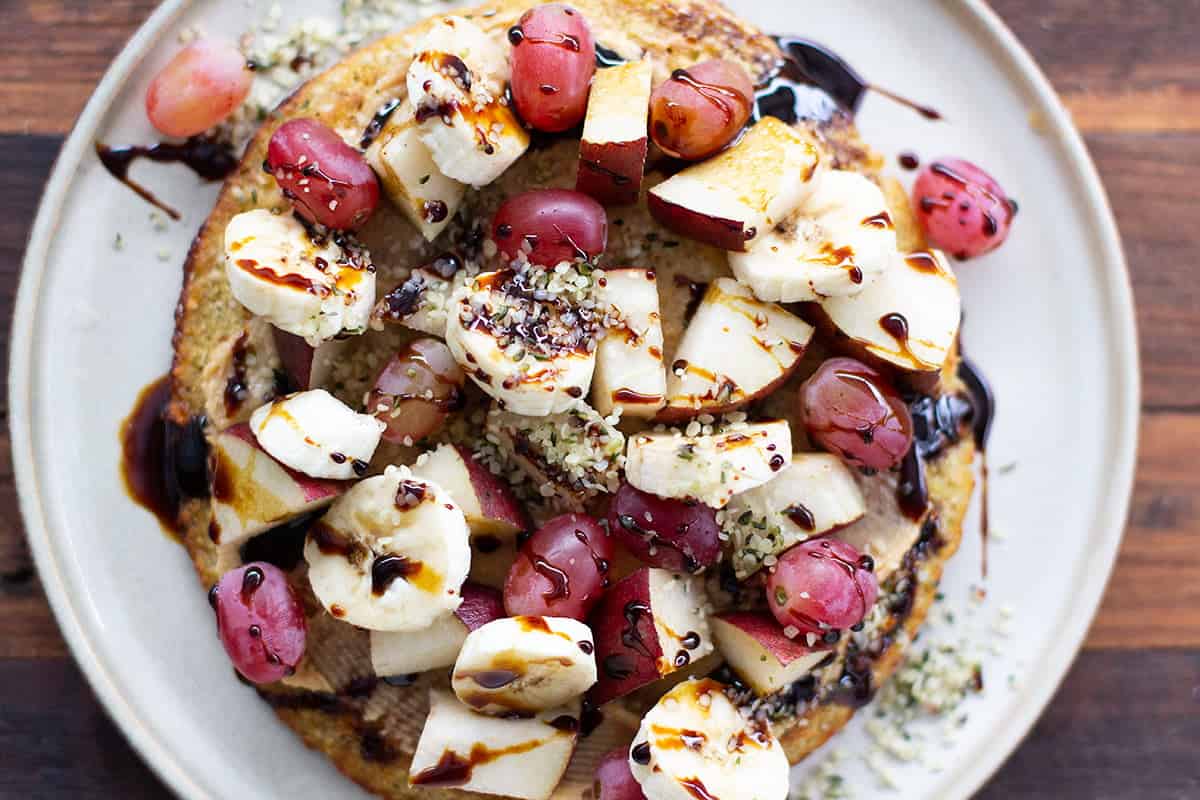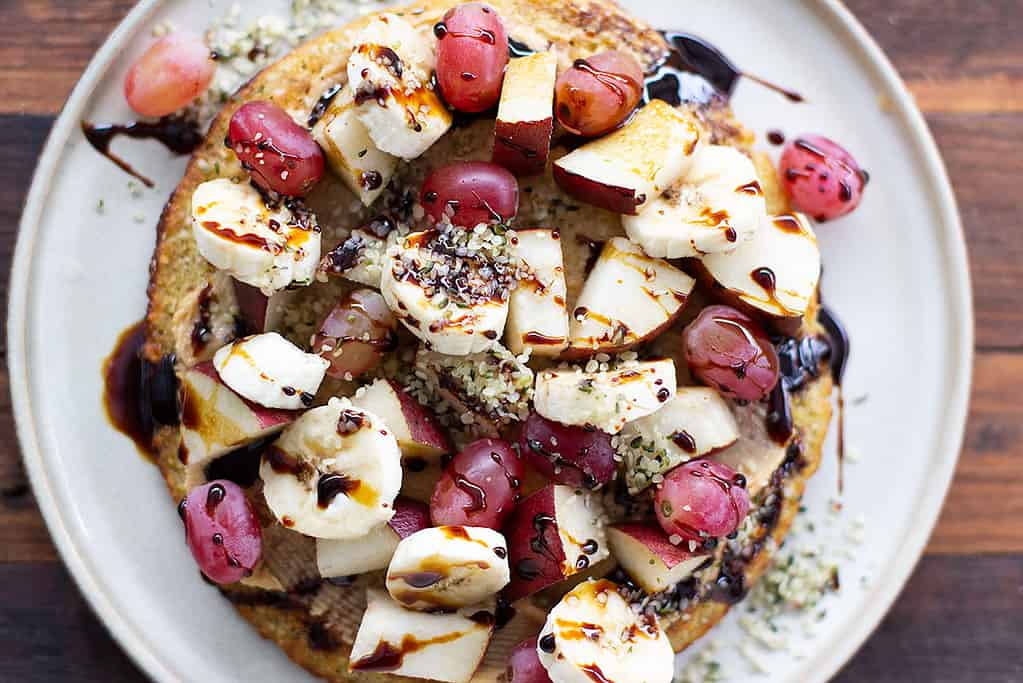 the best 3 ingredient gluten free pancake recipe ever
This recipe for my 3 Ingredient Gluten Free Pancake is a tried and true breakfast for me. I've been using it for years and for some reason have not shared it. Probably because it's just so easy and simple, causing one to question whether a recipe is even required. However, I know many of you like a recipe no matter how simple something may appear, and I've received too many questions about this 3 ingredient gluten free pancake not to allow it to make its official debut here on the website.
The base of this recipe is just simply banana, quinoa flakes or buckwheat flakes and egg. There are many recipes on the internet for 3 ingredient pancakes but I believe the use of quinoa flakes or buckwheat flakes really makes this the best recipe! It keeps the pancake nice and light and fluffy.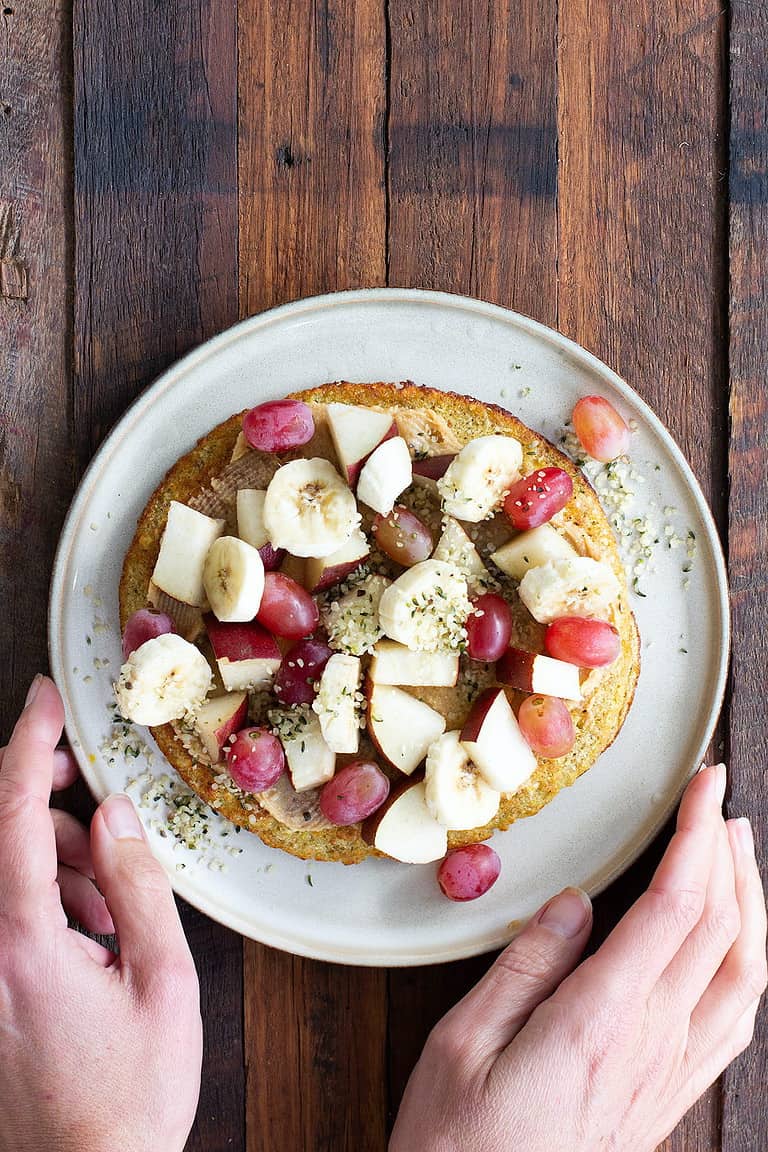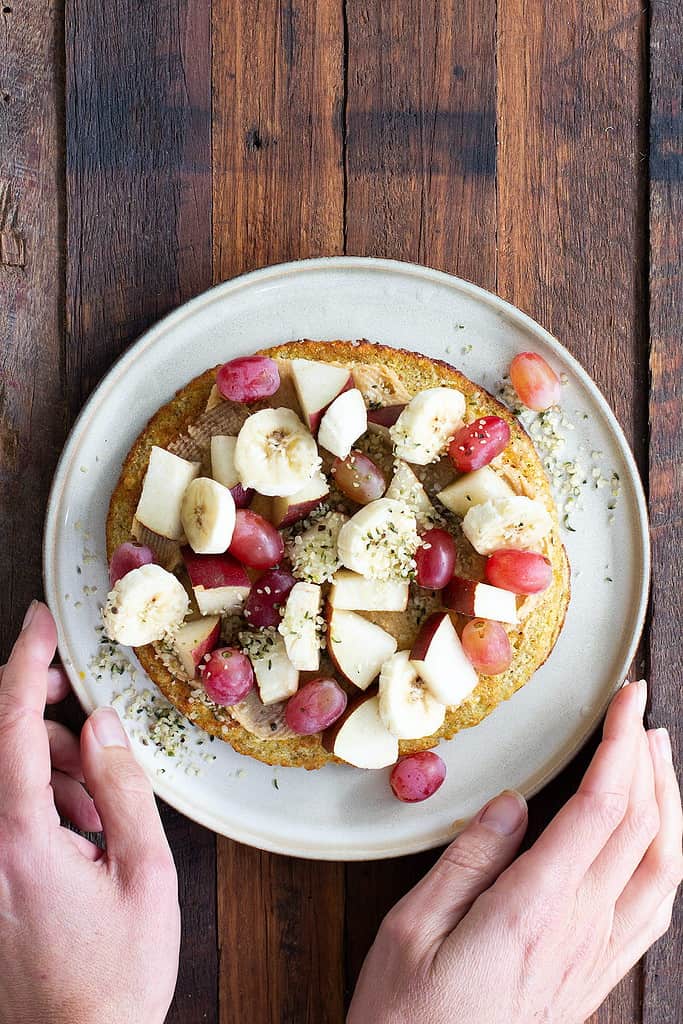 To stay true to the name of 3 ingredient gluten free pancake I have not deviated and added a little pinch of this or a little drizzle of that into the batter. However, this base recipe can be adapted in multiple ways to add a variety of flavour options.
Some of my favourite adaptions to this 3 ingredient gluten free pancake are:
add 1/2 tsp cinnamon
add pinch salt and 1tsp maca powder
add 2 tbsp grated carrot or zucchini or beetroot
add 1 tbsp nutritional yeast, pinch of salt and 1/2 tsp dried oregano
add 1/2 tsp turmeric powder and 1 tbsp nutritional yeast
swap the banana for the same portion of stewed apple
3 ingredient gluten free pancake with vegan option
Then of course there is turning this into a 3 ingredient gluten free vegan pancake. To do this, simply use an egg equivalent ingredient swap such as:
1 tbsp ground flaxseed with 3 tbsp warm water – soaked for 2 minutes
1 tbsp chia seeds with 3 tbsp warm water – soaked for 5 minutes
You can throw the ground flaxseed or chia seeds straight into the batter too with the water and then just let the pancake batter sit for 5 minutes before cooking.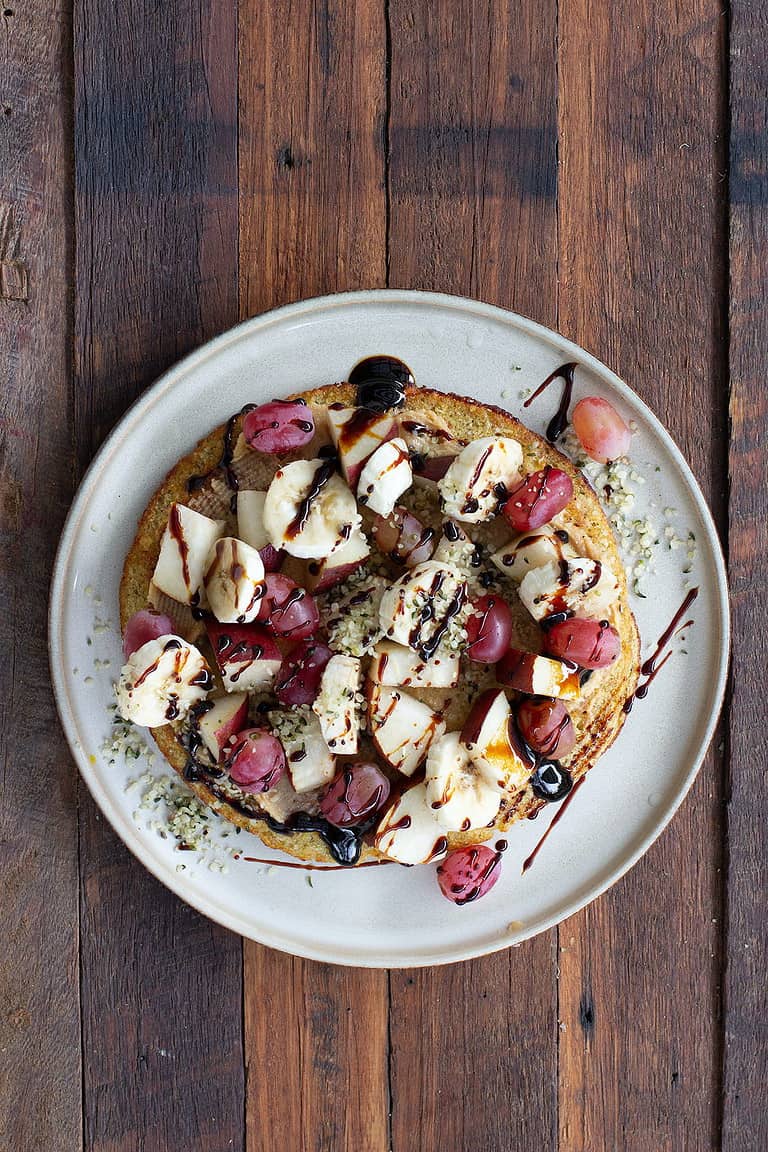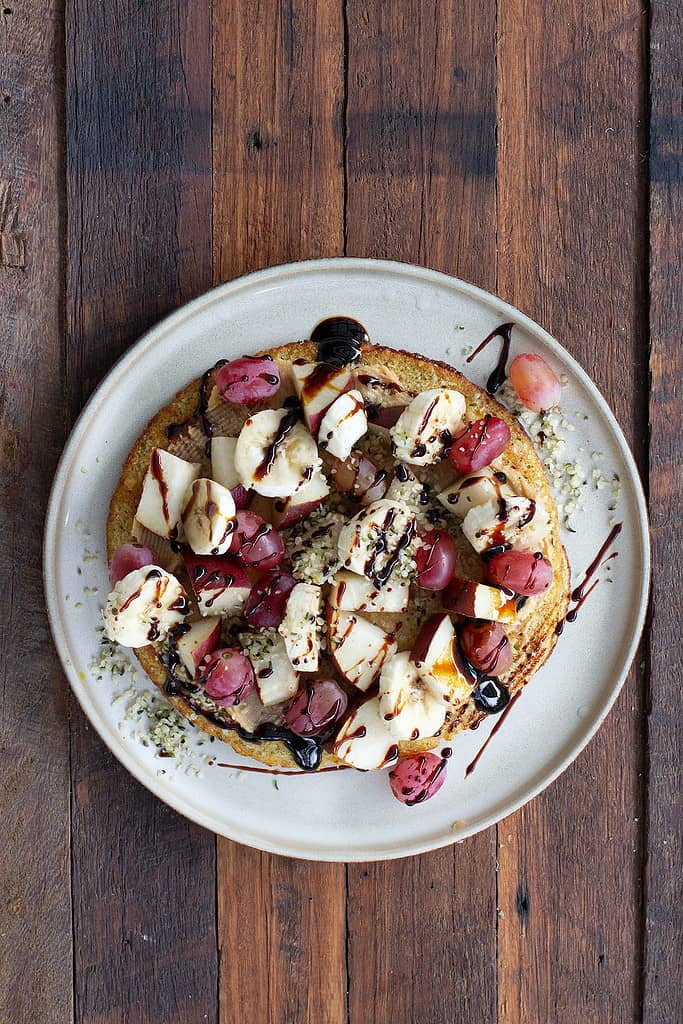 Another addition to this recipe is to press some fresh sliced fruit into the top of the pancake as it cooks. You can see an example of this in my Peanut Butter & Banana Pancakes. This is such a lovely way to add texture and more flavour into this pancake. I love using fresh figs to do this when in season.
Like what you're seeing? Subscribe for new recipes and nutrition tips every week!
If you are looking for more easy breakfast ideas while we are all in lock down then I would also suggest checking out our NEW Online Workshops. These workshops can be enjoyed from the comfort of your own home and you can cook along with us, which is loads of fun. For instance, there is the Lockdown Breakfast Workshop with Carissa or the Gut Friendly Bread Workshop with myself. You can also learn to make Immune Boosting Jar Dressings with Carissa, super handy in this current climate.
If you have any questions regarding the making of this pancake then please leave them for me below in the comments section. It's a great way to open a discussion with other pancake lovers out there and for me to share my tips and tricks surrounding this delicious pancake recipe.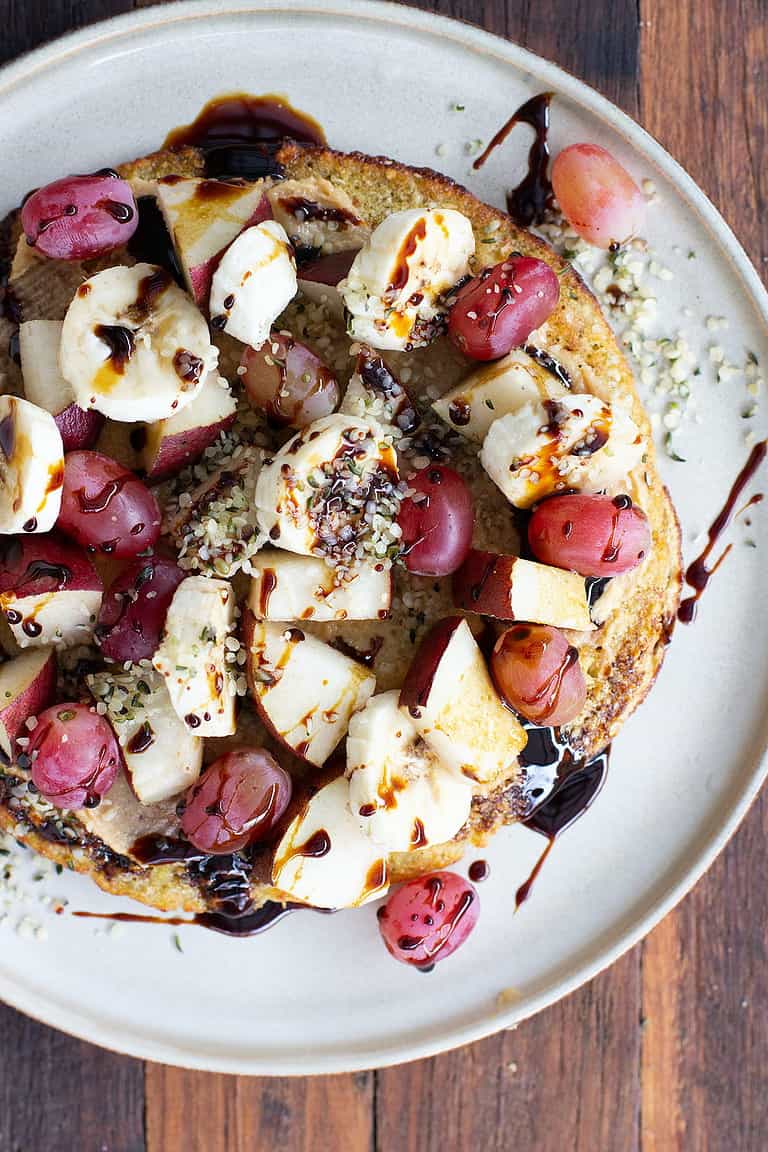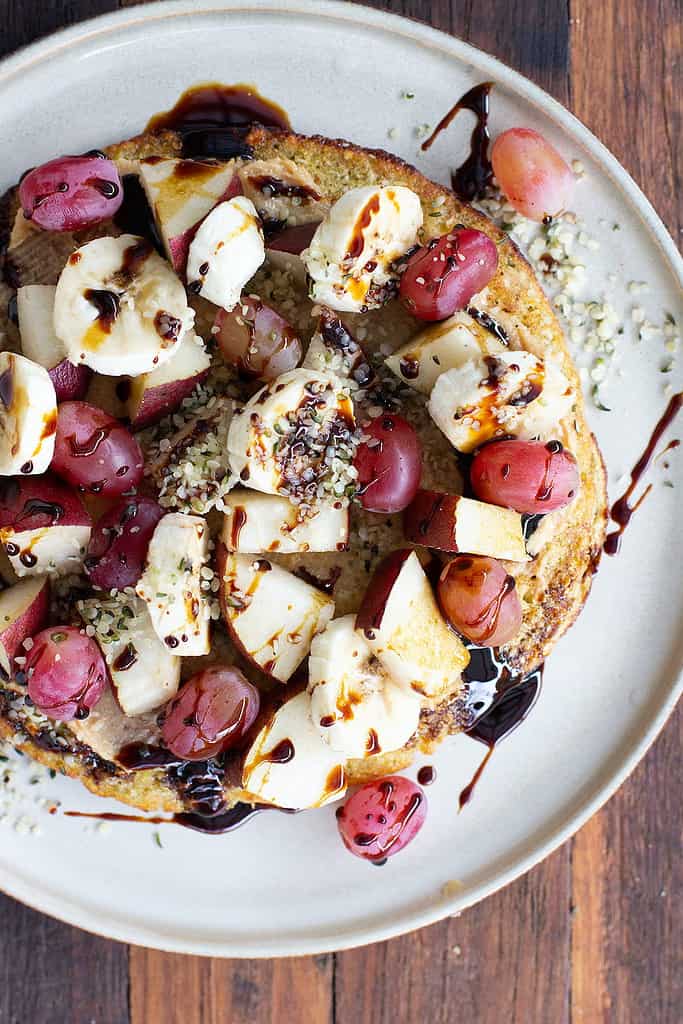 Need personalised nutrition advice catered to your needs?
If you are after personalised nutrition advice and dietary planning individualised to your health and dietary needs then contact us at The JCN Clinic with your enquiry. We are always happy to answer any questions you have!
best ever 3 ingredient gluten free pancake recipe
serves

1

preparation time

2 min

cooking time

5 min
ingredients
1/4 cup quinoa flakes or buckwheat flakes
1/2 banana (approx 50g)
1 medium sized egg
method
This recipe for my 3 Ingredient Gluten Free Pancake can be made egg free by using 1 tbsp flaxseed meal or chia seeds with 3 tbsp water pre soaked for 5 minutes.
Place quinoa flakes or buckwheat flakes in a small bowl with the banana. Mash the banana into the flakes till its nicely broken down.
Add in the egg and beat in with a spoon incorporating the egg into the flakes and the mashed up banana until you have a batter.
Heat a saucepan to a medium heat and add a little extra virgin olive oil. Pour the pancake batter into the saucepan to make one large pancake.
Allow to cook for approximately 2 – 3 minutes until bubbles appear on the surface. Once there are lots of bubbles use a spatula to flip the pancake over gentle. Cook again on the underside for another 2 minutes.
Once the pancake is ready remove it from the pan and top with your favourite toppings.
nutritional information for 3 ingredient gluten free pancake
This pancake is an easy macronutrient balanced start to the day with protein provided by the egg, complex carbs by the quinoa or buckwheat flakes and fat from the egg yolk and extra virgin olive oil it is cooked in. Fibre is also plentiful thanks to the quinoa or buckwheat flakes and the banana. Furthermore, the combination of the banana and the quinoa or buckwheat flakes provide fuel for the beneficial microbiota of the gut. To increase the resistant starch in this meal (shown in studies to fuel, and therefore increase numbers of beneficial bacteria like ruminococcus bromii) use just ripe bananas, as bananas in this form are naturally high in this plentiful gut fuel for this firmicutes strain.
Jessica Cox is a qualified practicing Nutritionist with a Bachelor Health Science (Nutrition) and over 15 years of clinical experience. She is the founder and director JCN Clinic, published author and established recipe developer. Jessica is well respected within health and wellness space for her no fad approach and use of evidence-based nutrition.