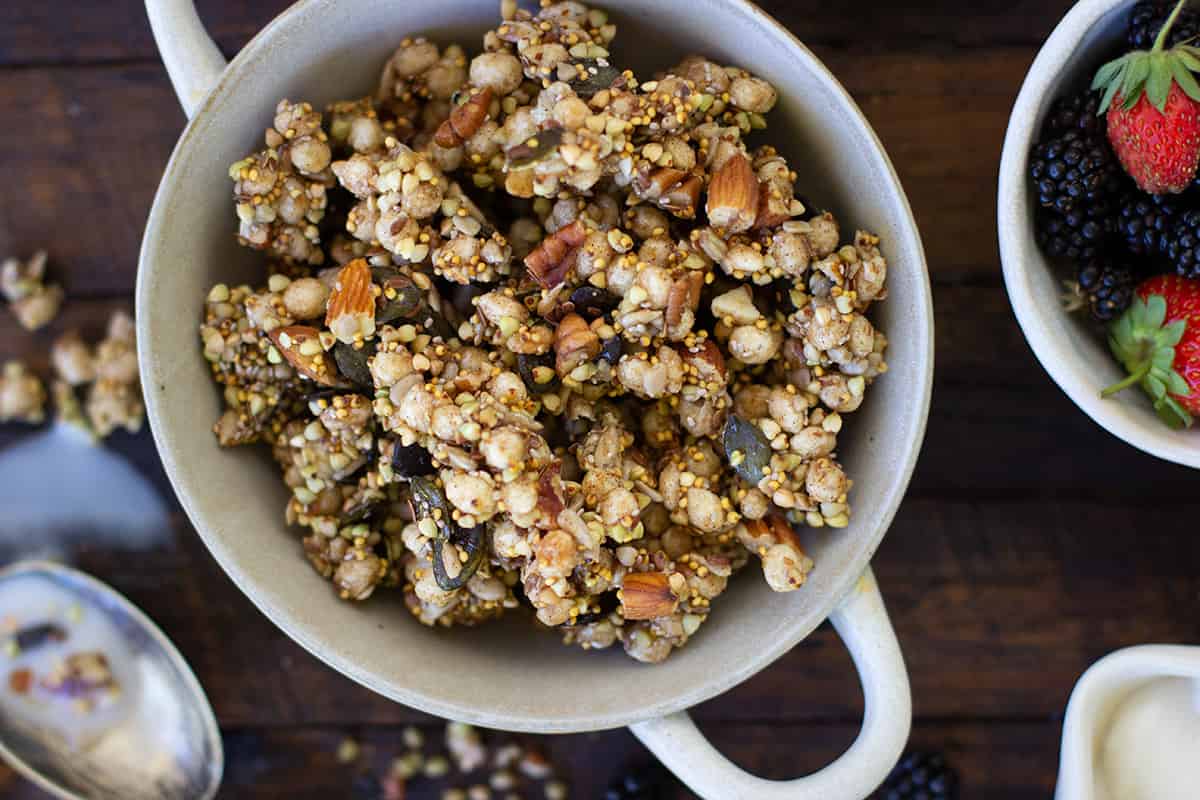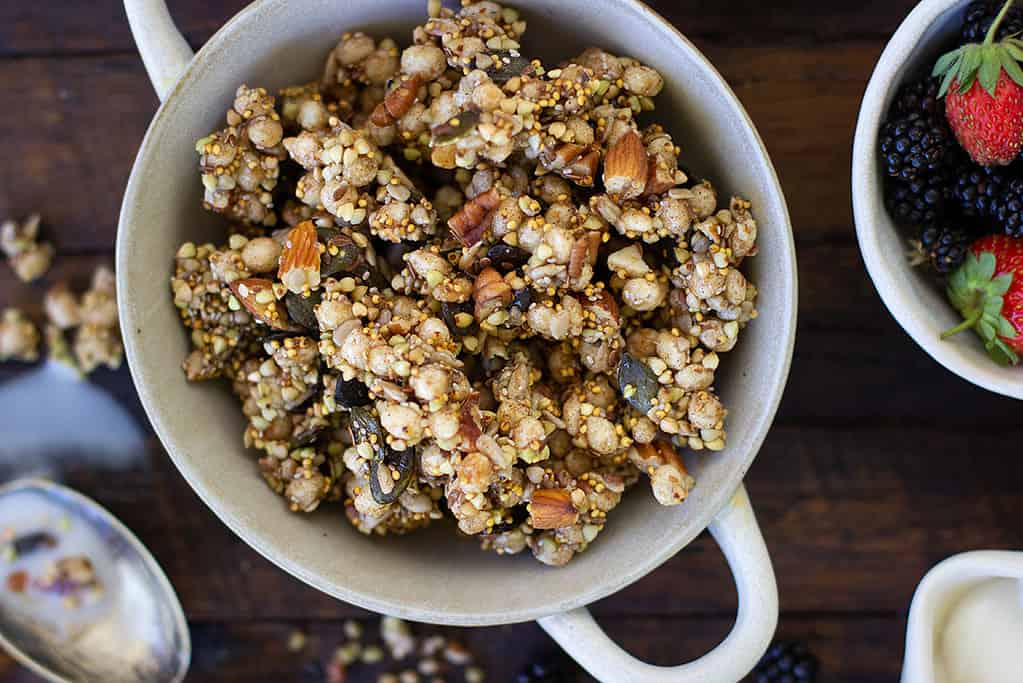 These Gluten Free Vanilla Cinnamon Granola Clusters were created after a weekend getaway for my birthday last year. We needed something simple for breakfast in our AirBnB and with the warmer weather we decided to get some granola we could share with our different yoghurt choices and some seasonal fruits. Since this was a share situation Hubbard agreed on my gluten free choice and I was pretty surprised at how much he loved it pre-claiming granola was now absolutely on the breakfast cards. Therefore, instead of (a) buying shitty sugar jacked granola from the supermarket and (b) buying one I would most likely not be able to eat and finally (c) not using all the ingredients already in the pantry to make this happen I decided to dust off the dehydrator and make this homemade version.
Now for full transparency, I literally googled the packet of granola we bought and tried my best to mirror the ingredients. I have wavered somewhat to the original, including more of the 'expensive' ingredients like quantities of nuts and seeds, but overall I think it tastes similar to the bought version. I'd be super curious to see if you can guess the brand by taste (or even from how it visually looks here) and let me know in the comments below. 😉
gluten free granola & low fodmap adaptions
It's actually really hard to buy quality gluten free granola that is not loaded with sugars or conversely more paleo driven, meaning the granola is often way too low in complex carbs for most as a macro-balanced start to the day. Here I've used a combination of buckwheat, brown rice and millet to form the base of the granola and therefore provide a wonderful nutritions backbone of complex carbohydrates and fibre.
You can also make this recipe for Gluten Free Vanilla Cinnamon Granola Clusters low fodmap by swapping the almonds for hazelnuts. In saying this, the almonds are not a large component of the recipe overall, so make these amendment based on your needs. For those of you who feel like your gut is not quite ready for this recipe, you might like to try this SIBO friendly Pumpkin Pie Granola.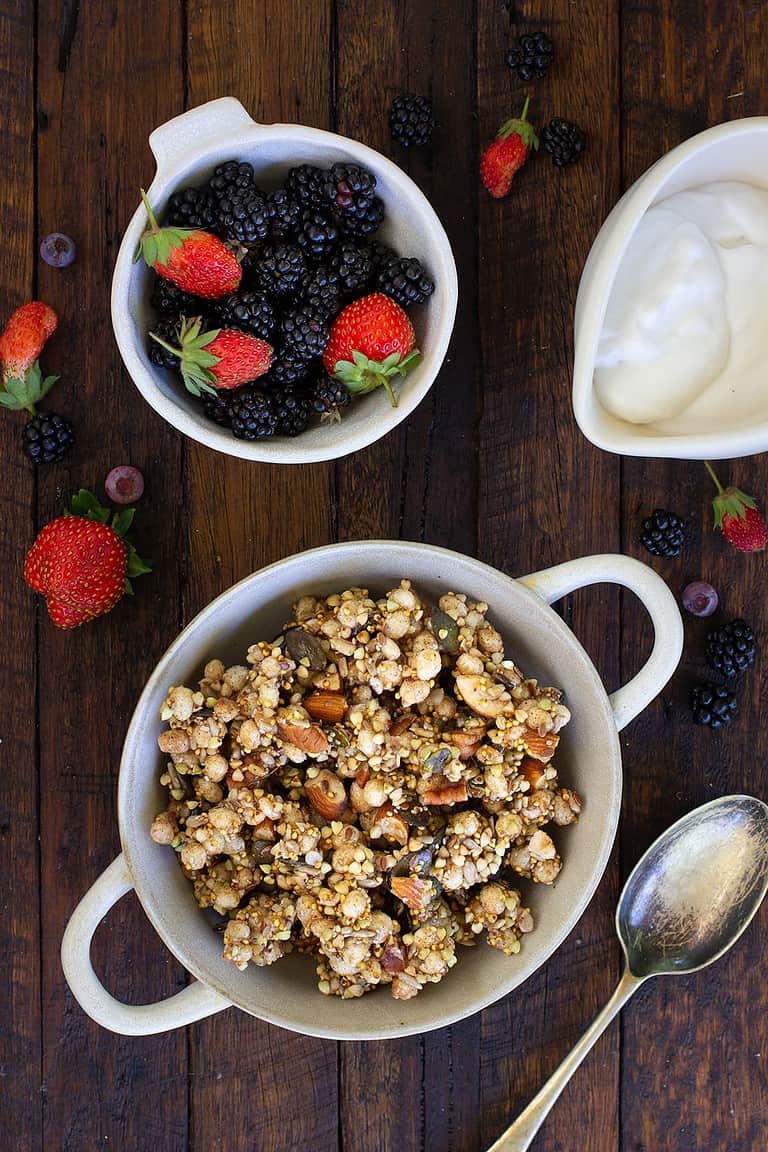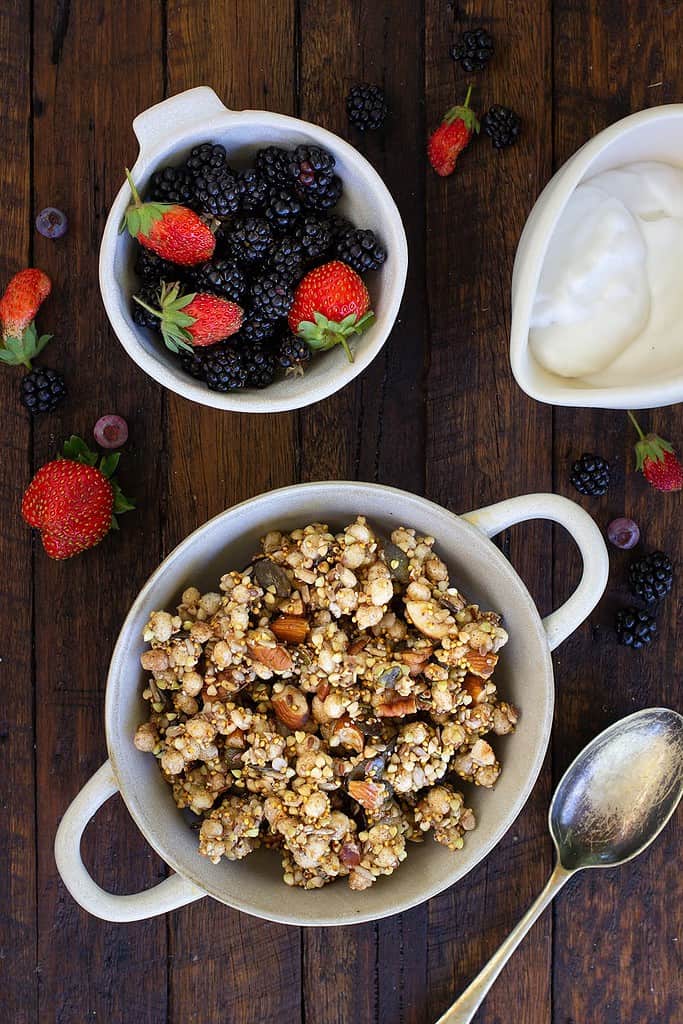 how to enjoy granola
Traditionally granola has been served in a bowl with milk. You can still do this if you like, but to me you are missing out on sooooo much more that granola has to give! I think granola is best served with a really creamy yoghurt (dairy free as needed) and just a splash of milk to serve so that the granola maintains its wonderful textural bite. I then think it is made perfect by accompanying it with seasonal fruit – ideally a mix like berries, chopped stone fruit and mango in the warmer months.
However, granola is also fabulous as a topping. I adore it on top of pancakes for some wonderful crunch. I often add it to the top of my 3 Ingredient Pancake or my Protein Pancake. It's also great as a snack mixed with dairy free yoghurt or even on top of a Chia Pudding.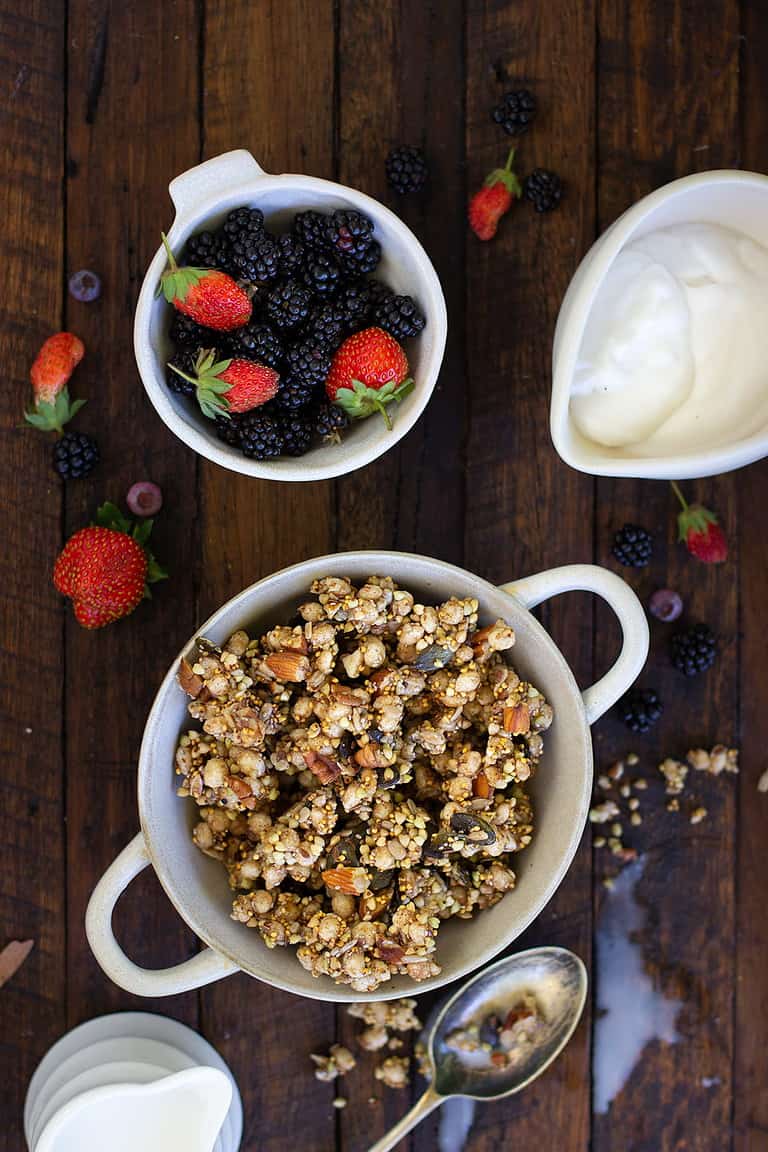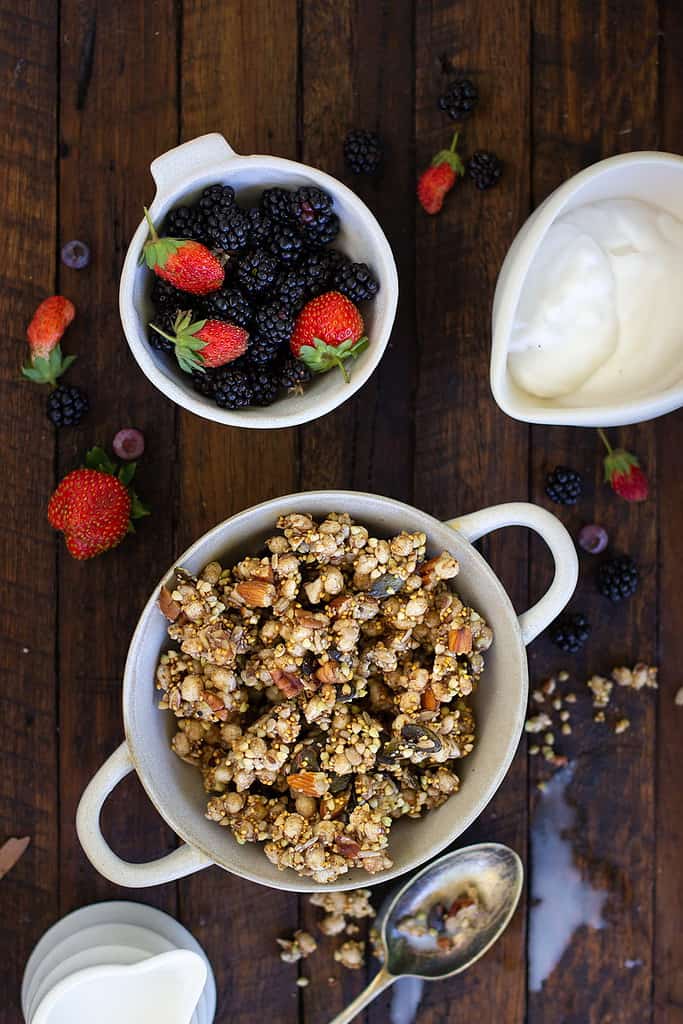 Like what you're seeing? Subscribe for new recipes and nutrition tips every week!
Another favourite granola of mine is my Strawberry and Vanilla Granola in my cookbook e.a.t in which the strawberries and scrunched into the grains and then toasted into the granola for natural sweetness. This is actually a savvy trick for lowering the sugar content of a granola. If you don't want to use rice syrup just use a fruit like berries or stewed apple or even banana mashed up and scrunched into the granola. This will of course also impart its own fruit flavour too.
As always, please let me know how you find this recipe for my Gluten Free Vanilla Cinnamon Granola Clusters, I love hearing from you and your feedback always helps others find these recipes! xo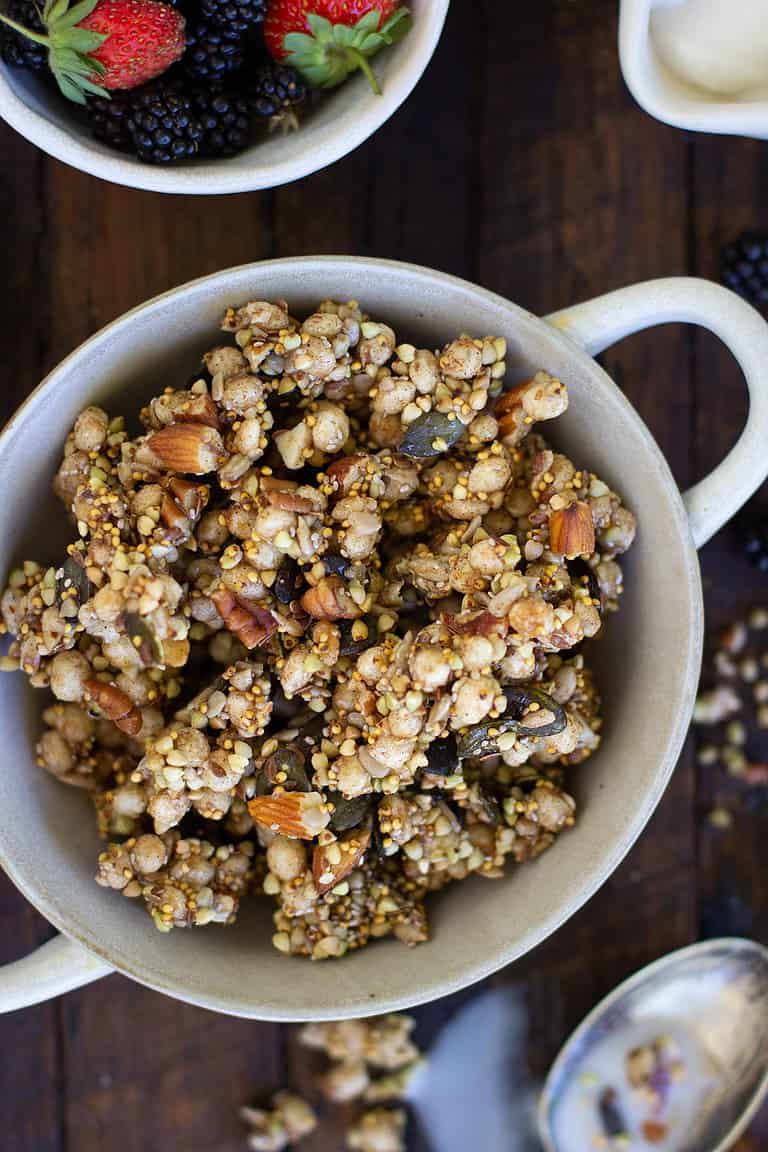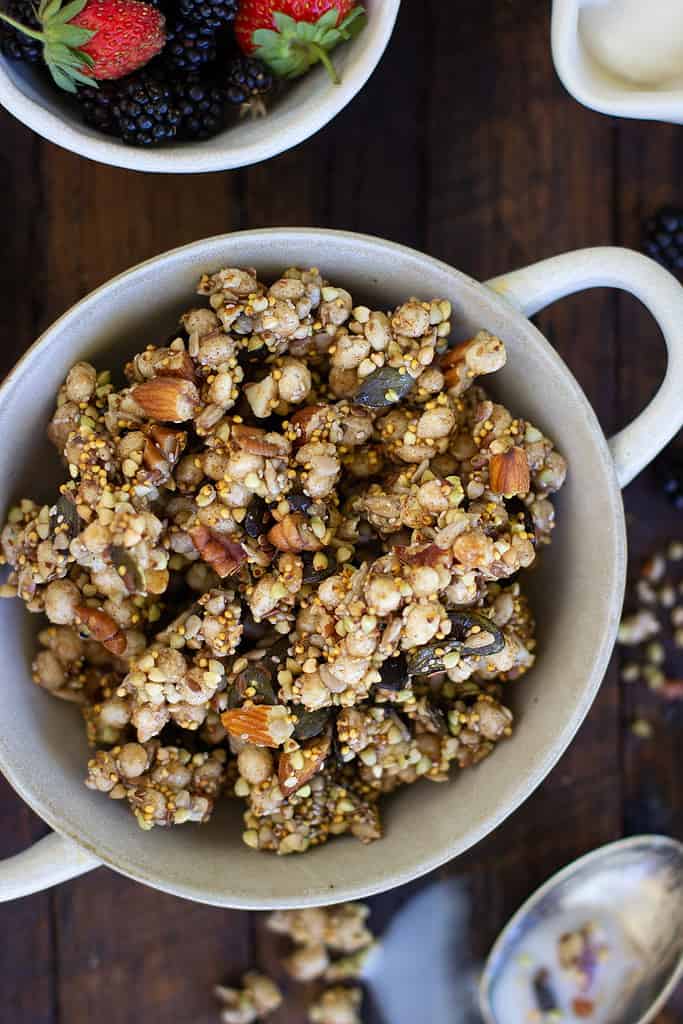 Need personalised nutrition advice catered to your needs?
If you are after personalised nutrition advice and dietary planning individualised to your health and dietary needs then contact us at The JCN Clinic with your enquiry. We are always happy to answer any questions you have!
gluten free vanilla cinnamon granola clusters
serves

makes 5 cups

preparation time

15 min

cooking time

60 min oven time or 12 hours dehydrator
ingredients
1 cup buckwheat groats
1 & 1/2 cups puffed brown rice
1 cup puffed millet
1/3 cup sunflower seeds
1/4 cup pumpkin seeds
1/4 cup almond, roughly chopped (hazelnuts for low FODMAP option)
2 tablespoons pecans roughly chopped
2 tablespoons flaxseeds
2 tablespoons chia seeds
1 teaspoon psyllium husks
1 teaspoon tapioca flour
1 teaspoon ground cinnamon
1/3 cup extra virgin olive oil
1 teaspoon vanilla extract
1/3 cup rice syrup *
method
Preheat your oven to 160c, fan forced.
*The rice syrup can be swapped for honey or maple syrup, however please note this will make this granola sweeter overall.
This recipe was originally made using a dehydrator, so I have included the option for this in the method. However, I have also converted for oven cooking so please use the method that suits you best.
Preheat oven to 160c, fan forced if using the oven method.
In a large mixing bowl combine the buckwheat groats, puffed rice, puffed millet, sunflower seeds, pumpkin seeds, chopped almonds, chopped pecans, flaxseeds, chia seeds, psyllium husks, tapioca flour and cinnamon. Mix well.
Create a well in the centre with a wooden spoon and add in the rice syrup, vanilla extract and the extra virgin olive oil. Mix well bringing to a very sticky mixture. After a little, it will be easier to use your hands to do this. If the mix seems a little dry, you can add a touch more rice syrup.
For oven method, take a large baking tray and cover with baking paper. Spread the granola mix out onto the tray allowing chunky pieces to still form. Place in the oven to cook for approximately 60 minutes, however set the timer to go off every 15 minutes so you can stir the granola to ensure even cooking. The granola is cooked when it is all golden and toasted and importantly dry to touch. Oven temperatures will vary with this so please be guided by the texture and dryness of the granola.
Conversely, if you are using a dehydrator place the granola mixture onto the trays of your dehydrator and leave overnight to completely dry and crisp off (mine was left for 12 hours on 63c/145f).
Remove granola from the oven and allow to cool on the tray (or from dehydrator if using this method). It its come straight from the oven, as it cools down the granola will become drier and crunchier in texture. Use your hands to roughly break up the granola into clusters.
Enjoy your granola your favourite milk of choice or yoghurt, or even as a snack on its own. I also love this on top of pancakes for some textural crunch.
Store your Cinnamon Vanilla Granola Clusters in an airtight container for up to 4 days, then place in the fridge. Freeze any left over after 1 week.
nutritional information for gluten free vanilla cinnamon granola clusters
A 1/2 cup portion of this granola provides approx. 10 grams protein, 40g carbohydrates and 7 grams fibre. If you would like to increase the protein I'd suggest serving with a high protein yoghurt like my dairy free yoghurt or adding some collagen or protein powder into the milk of choice on serving.
The high fibre content in this recipe is provided by the buckwheat, millet and brown rice. These grains and pseudograins are generally well tolerated by most with sensitive digestive systems and often help feed beneficial bacteria within the microbiome. Studies show that a diet "rich in complex carbohydrates may favour the proliferation of less pathogenic bacteria when compared to diets rich in fat or protein". (2020, T.G Achufusi et al)
Jessica Cox is a qualified practicing Nutritionist with a Bachelor Health Science (Nutrition) and over 15 years of clinical experience. She is the founder and director JCN Clinic, published author and established recipe developer. Jessica is well respected within health and wellness space for her no fad approach and use of evidence-based nutrition.