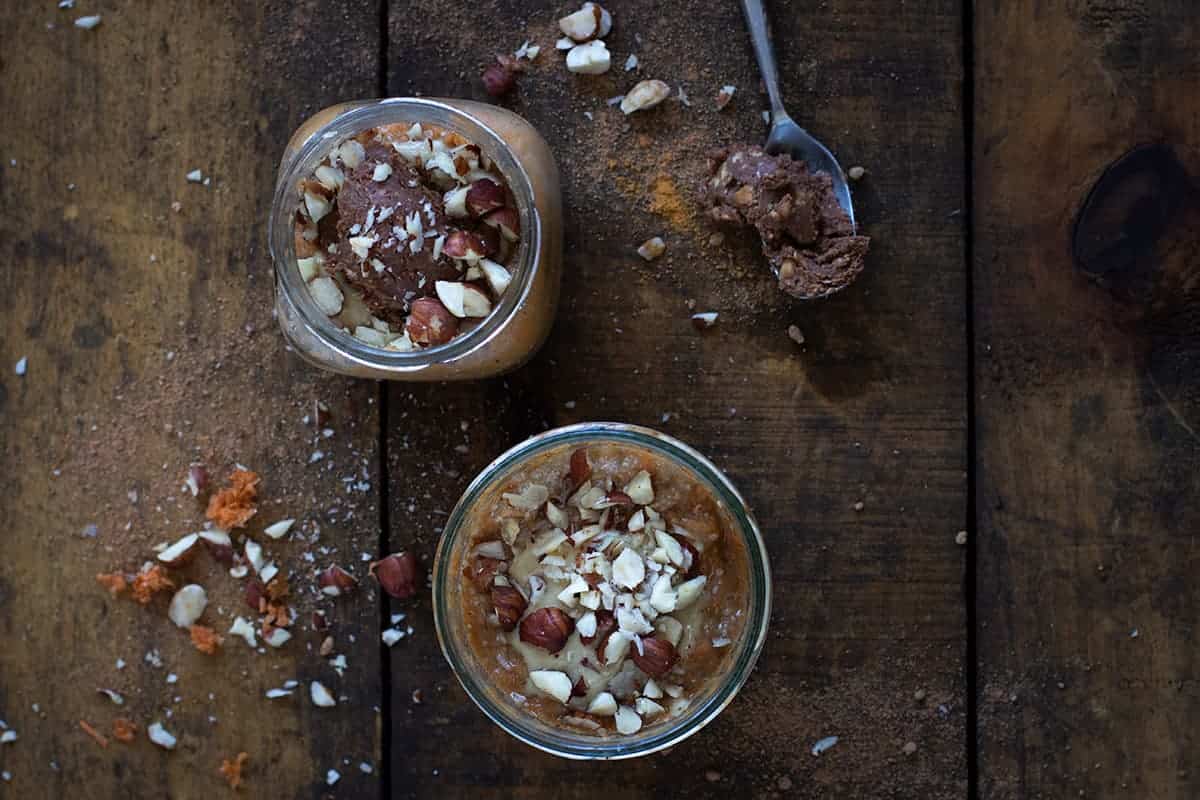 Chia puddings are about as fashionable as Nina Proudmans wardrobe (Oz based joke sorry international readers). There are plenty of them on the web, so I was hesitant to add another one to the mix. But then I thought, I have a favourite Carrot Cake Chia Pudding that I think is pretty stellar and deserves a mention. I also wanted to use it as a chance to discuss having chia puddings as a snack verses a breakfast.
Chia puddings as a snack as featured here are spot-on for filling that snacky space in the afternoon when you are hankering for something with a little sweetness. They fill you up with their protein and healthy fat content, whilst putting a spring in your step with their sweetened kick. However, if you are doing a chia pudding for breakfast it is important to add some complex carbs to the dish, otherwise you will find yourself hungry (and hangry) not long after, along with feeling a little low in steam, energy wise. Unless you are following a ketogenic diet for health reasons or under the guidance of a practitioner eliminating grains, you should be adding some complex carbs to this if you desire it as a breakfast dish.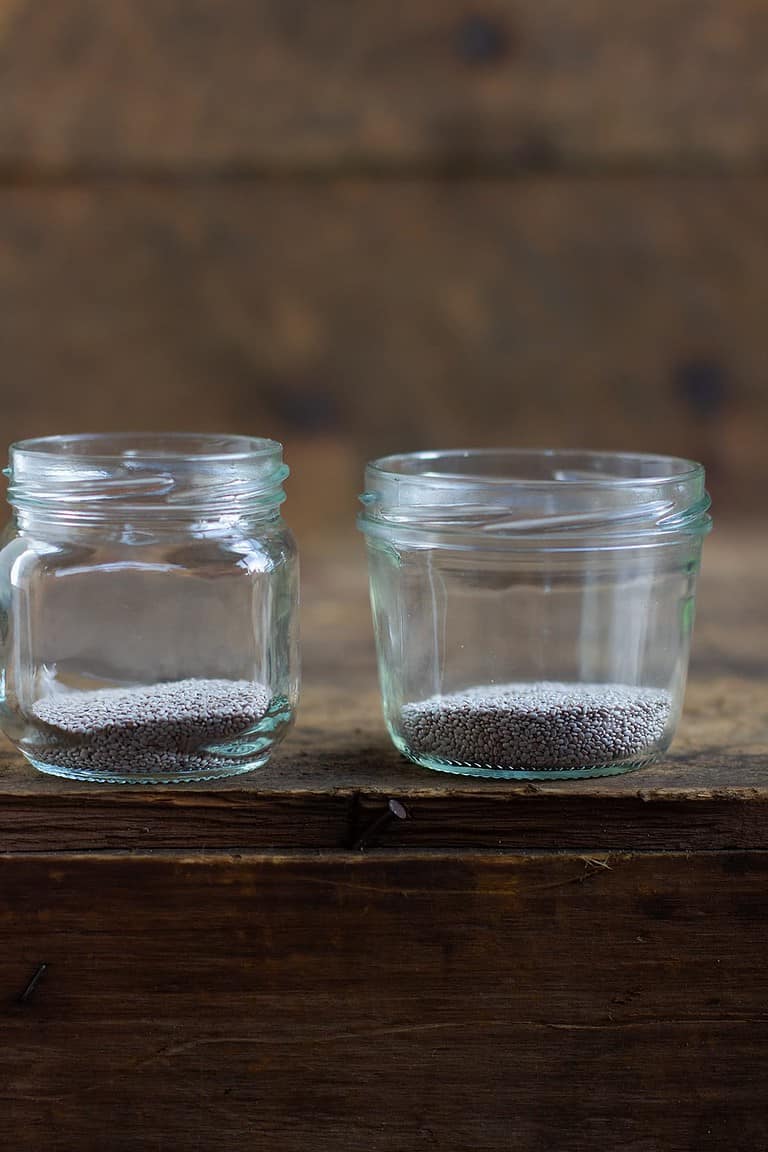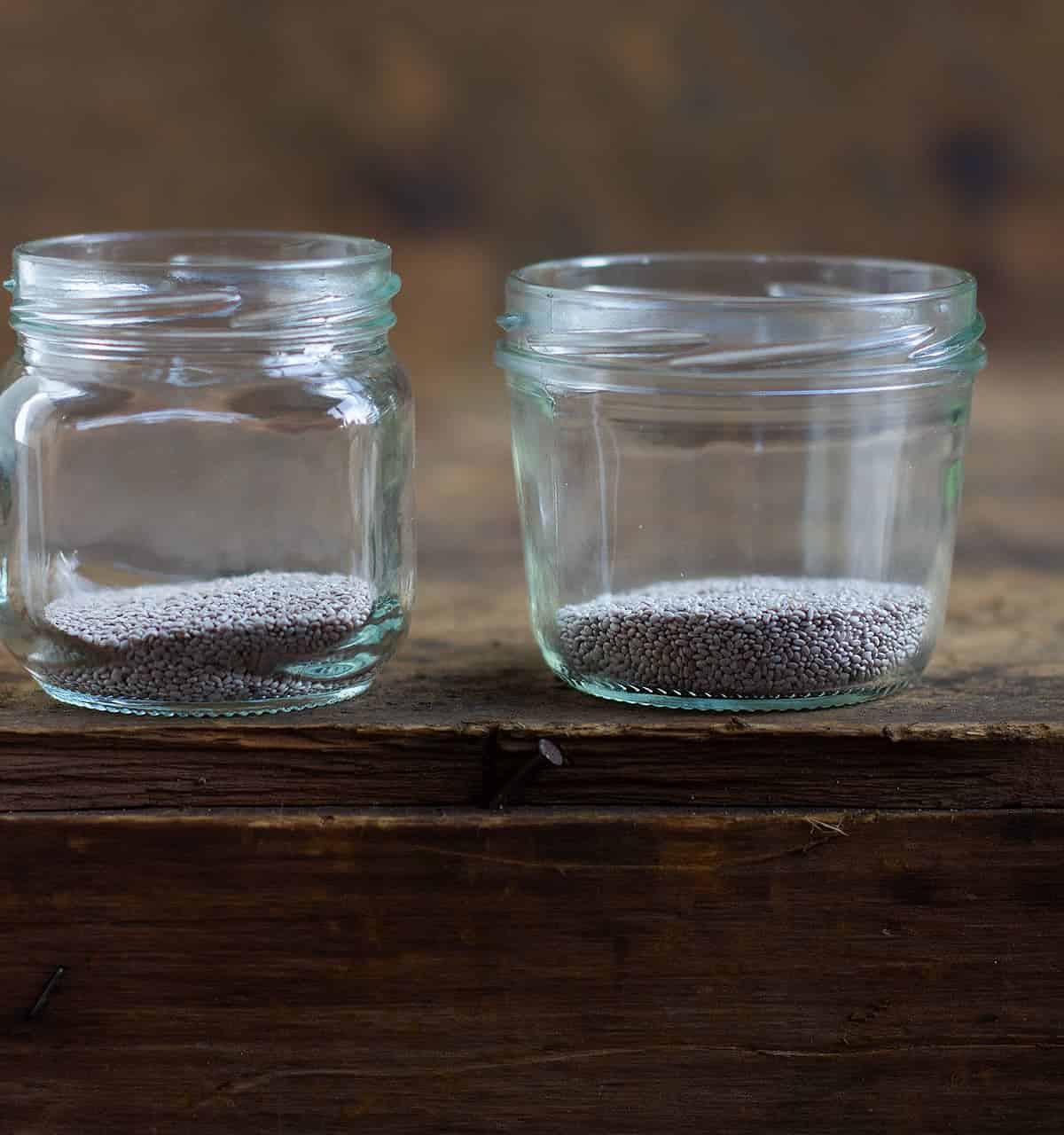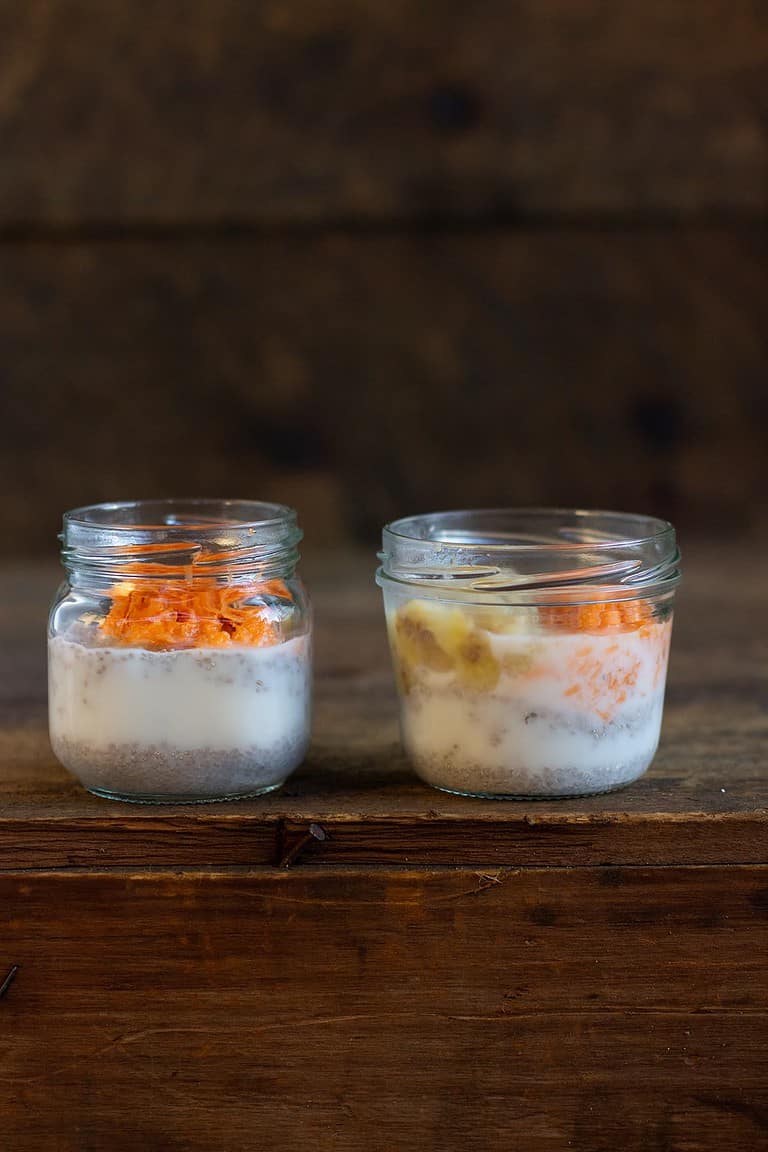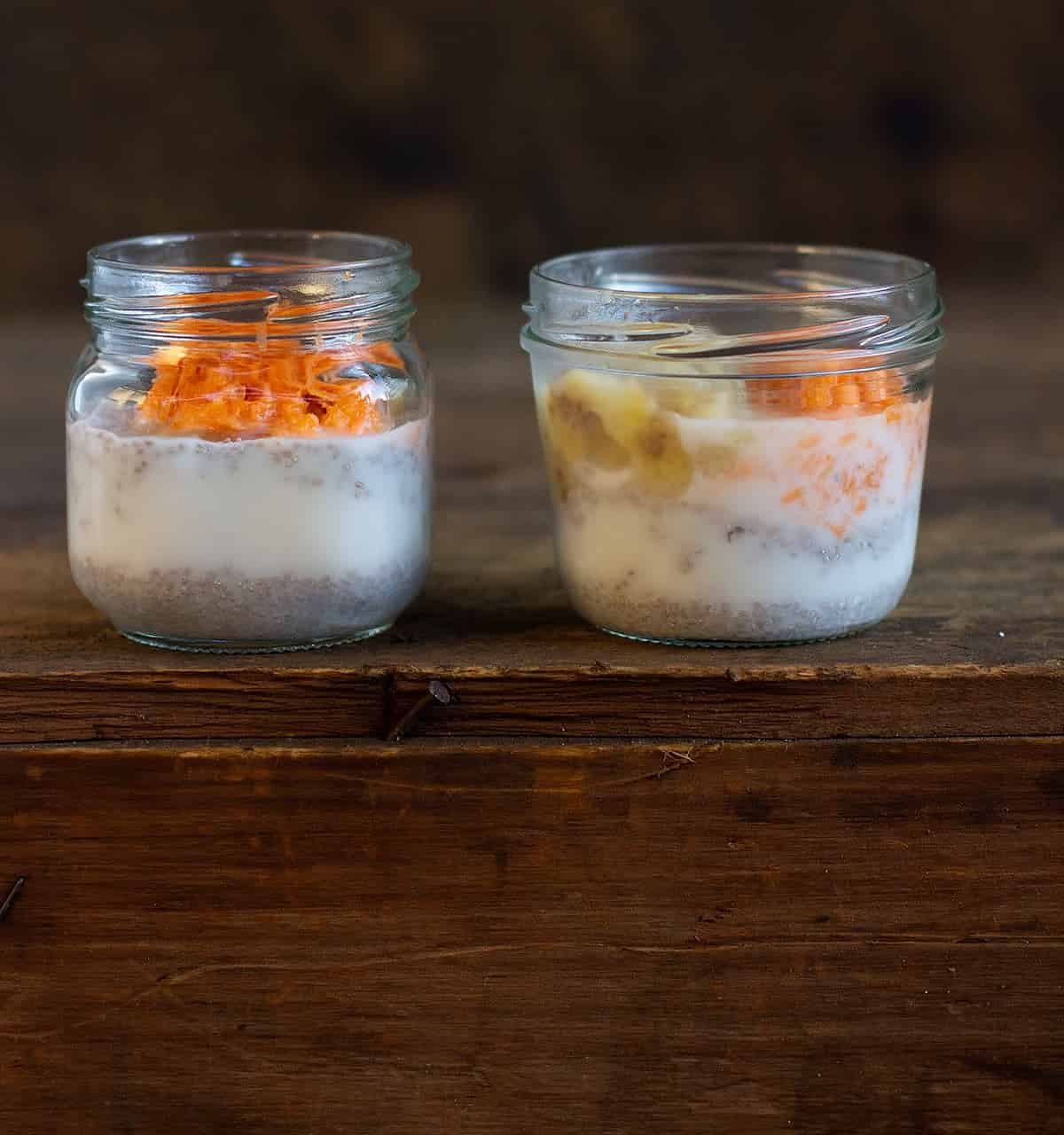 Adding some rolled oats, quinoa flakes, buckwheat or even some rye flakes to this pudding will amp up the complex carbs providing a well balanced and sustaining meal. Generally I like the softness of the quinoa flakes and the oats, yet sometimes the crunch of the buckwheat can be quite nice too as seen in this chia & buckwheat pudding.
My sister in law also inspired this post, as I was umming and arring about what to put up this week. I am in awe of my sis in laws transformation of late. She has done a complete 180 and embraced a healthier lifestyle with full reigns. She is making chia puddings for afternoon tea instead of hitting the vending machine and I am so damn proud of her drive and determination. I told her about my carrot cake chia pudding and promised her I'd give her the recipe. So here it is gorgeous lady.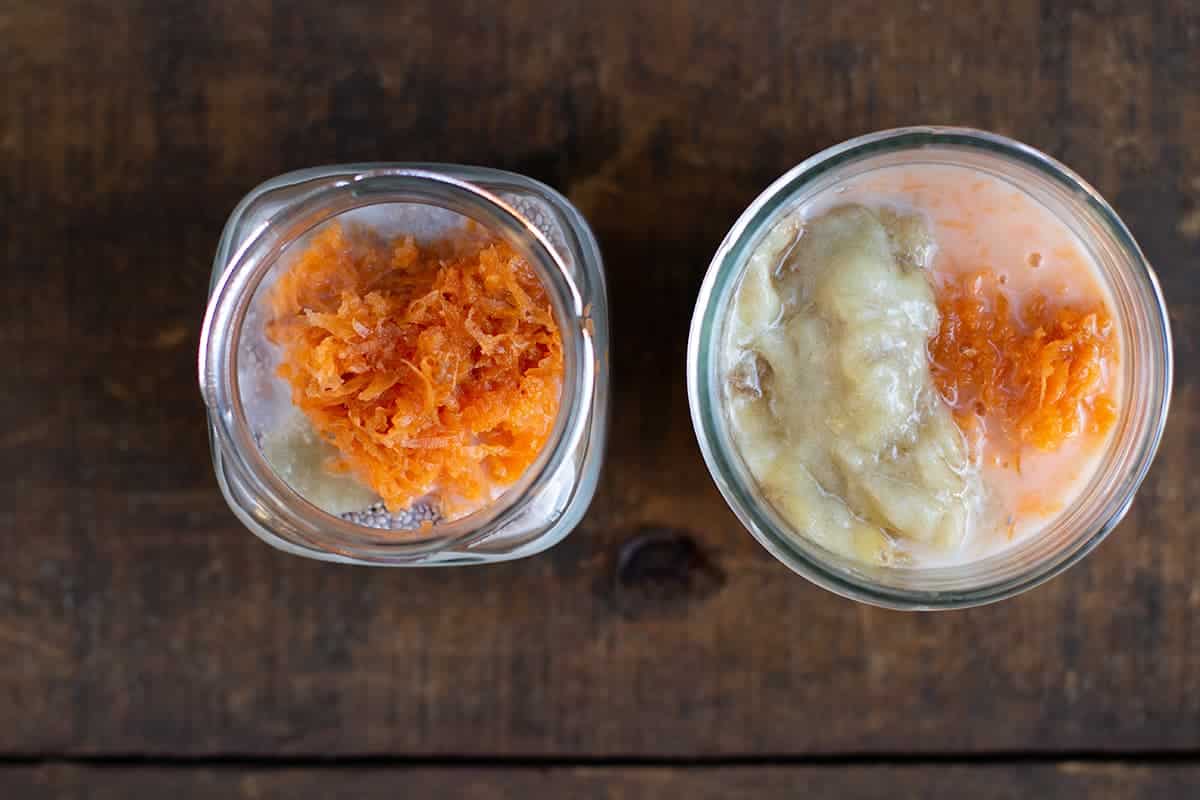 Like most of my recipes I encourage you to play around with this Carrot Cake Chia Pudding. Try different liquids to soak the chia in like coconut milk, almond milk or tea bases like chai or dandelion tea. Use different fruits to sweeten your pudding along with different spices. If you're game try other vegetables like grated zucchini or beetroot. These work well when mixed with some raw cacao and it is also a sneaky way of getting vegetables into kids.
Let me know your favourite chia pudding combinations below. I'd love to hear some unusual ones!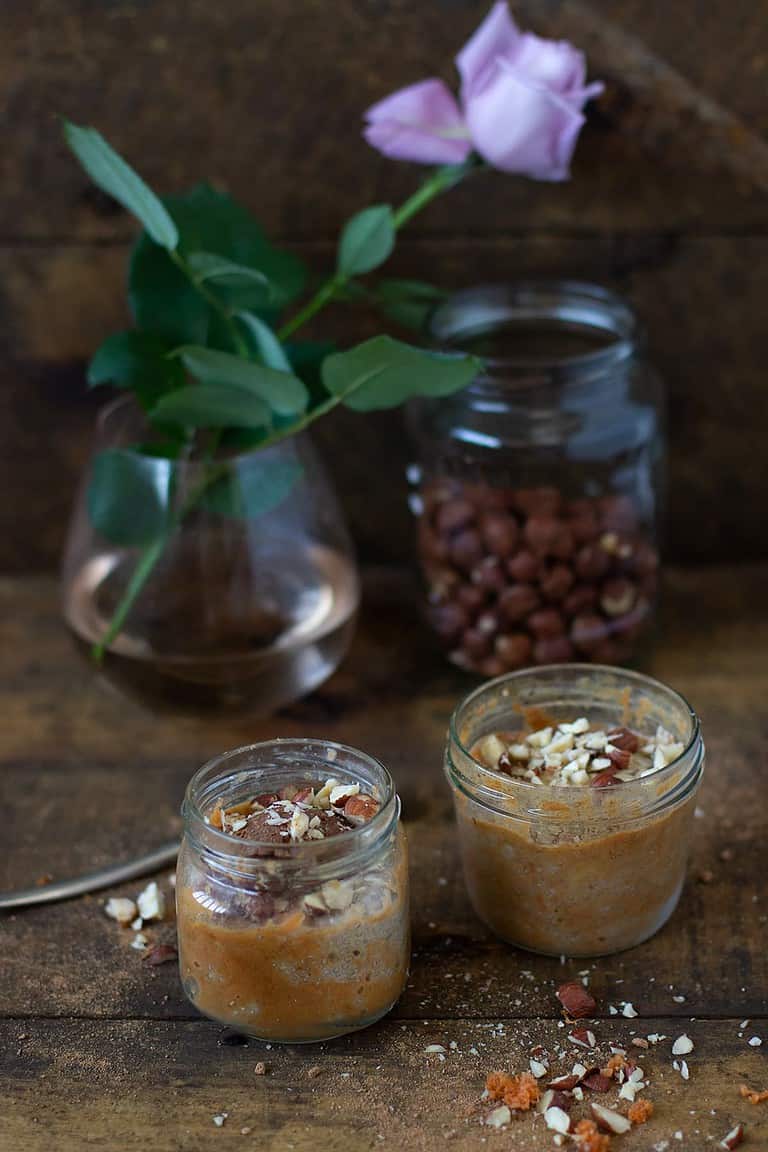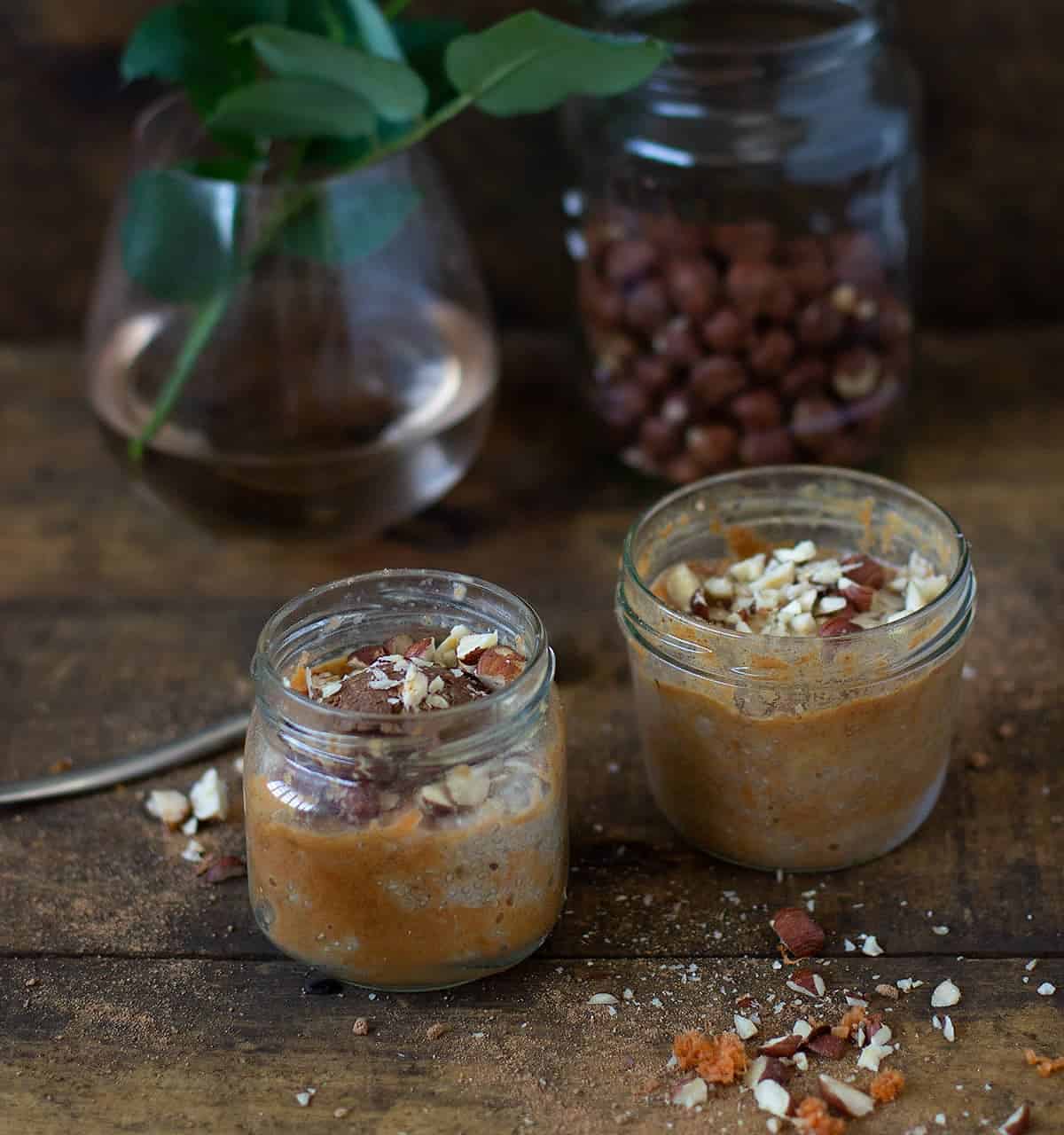 carrot cake chia pudding
serves

2 snack sized servings, or 1 meal with added grains

preparation time

2 -3 minutes + 10 minutes minimum soaking

cooking time

nil
ingredients
4 tablespoons chia seeds
1/2 cup non dairy milk ( I used unsweetened rice milk)
2 tablespoons mashed fruit of choice (banana/pureed apple or pear work well)
2 tablespoons finely grated carrot
1 teaspoon cinnamon
1 teaspoon vanilla extract
1/2 teaspoon ground nutmeg
2 teaspoons mesquite powder (optional)
2 heaped teaspoons nut or seed butter of choice ( I used tahini and chocolate nut butter)
1 tablespoon roughly chopped hazelnuts
method
These carrot cake chia puddings can be made individually as seen here, or as one serve for a breakfast. Please note that if you are making this for a breakfast you will need to add around 1/3 cup of oats or quinoa flakes, rye flakes or buckwheat dependent on your individual needs. 
If you would like to make this for a single serve, simply halve the ingredients. 
Take two small jars or containers and fill each with equal amounts of chia seeds. Top chia seeds with 1/4 cup each of rice milk and give this a stir to incorporate. Now top the chia and rice milk with equal portions of your carrot, mashed or pureed fruit of choice, spices, mesquite if using and vanilla extract. Stir again and leave to soak for at least 10 minutes covered with the lids. You can also at this point leave them to soak overnight or till the afternoon if you like, as long as you keep them refrigerated.
On serving, add a equal portion each of the nut or seed butter and the chopped hazelnuts. You can also just add the nut or seed butter and nuts before popping them in the fridge if you like, as this is easier for an on the go portable option.
nutritional information for carrot cake chia pudding
Chia seeds are a wonderful alternative source of plant based calcium. Just 30 grams of chia seeds has 180g calcium, close to 20% of our daily recommended intake. Chia seeds are also high in fibre (10grams per 30 grams of chia) and provide around 4.5 grams of protein. The filling nature of chia is due to this combination of fibre and protein.
As mentioned above, when using chia pudding as a main meal for breakfast it is important to add some complex carbohydrates to enhance the satiety, and therefore energy sustainability of this meal. Generally adding oats or quinoa flakes is the easiest, however you can play around with all sorts of combination from spelt flakes to barley flakes. Let your imagination run wild!
Carrots are more than well known for their high vitamin A (beta carotene) content. Carrots however are also high in polyacetylenes, phyotochemicals shown to have anti inflammatory and anitaggregatory properties. Theses phyotochemicals are also thought to reduce oxidative stress. Such abilities make carrots a fantastic choice for those with cardiovascular disease or a family history of cardiovascular health concerns.
Jessica Cox is a qualified practicing Nutritionist with a Bachelor Health Science (Nutrition) and over 15 years of clinical experience. She is the founder and director JCN Clinic, published author and established recipe developer. Jessica is well respected within health and wellness space for her no fad approach and use of evidence-based nutrition.