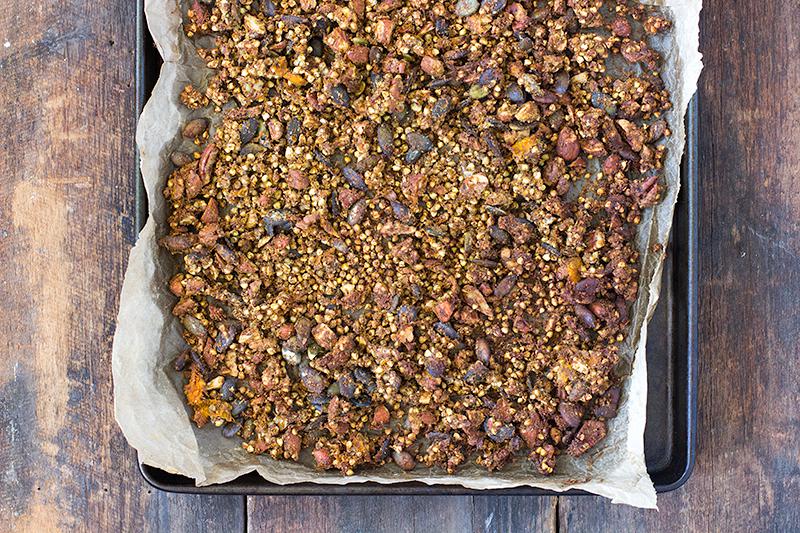 I've been going a little baking mad these last few weeks. I know I am well overdue to provide you guys with a lunch or dinner recipe that is not centred around flours and nut meals, but I seem to be possessed by the baking bug of late, hence this Pumpkin Pie Granola. I blame the weather, as when its rainy there is nothing more comforting than the oven humming away and the smell of baking bread/cakes/slices etc.
As it generally continues to warm up though despite all this delicious rain, I have found myself craving a good granola. I've been fantasising about the perfect granola (yes, sad that I fantasise about food) providing a base that I can splash some icy cold milk on old school style, then crunch away on in the mornings Brisbane heat.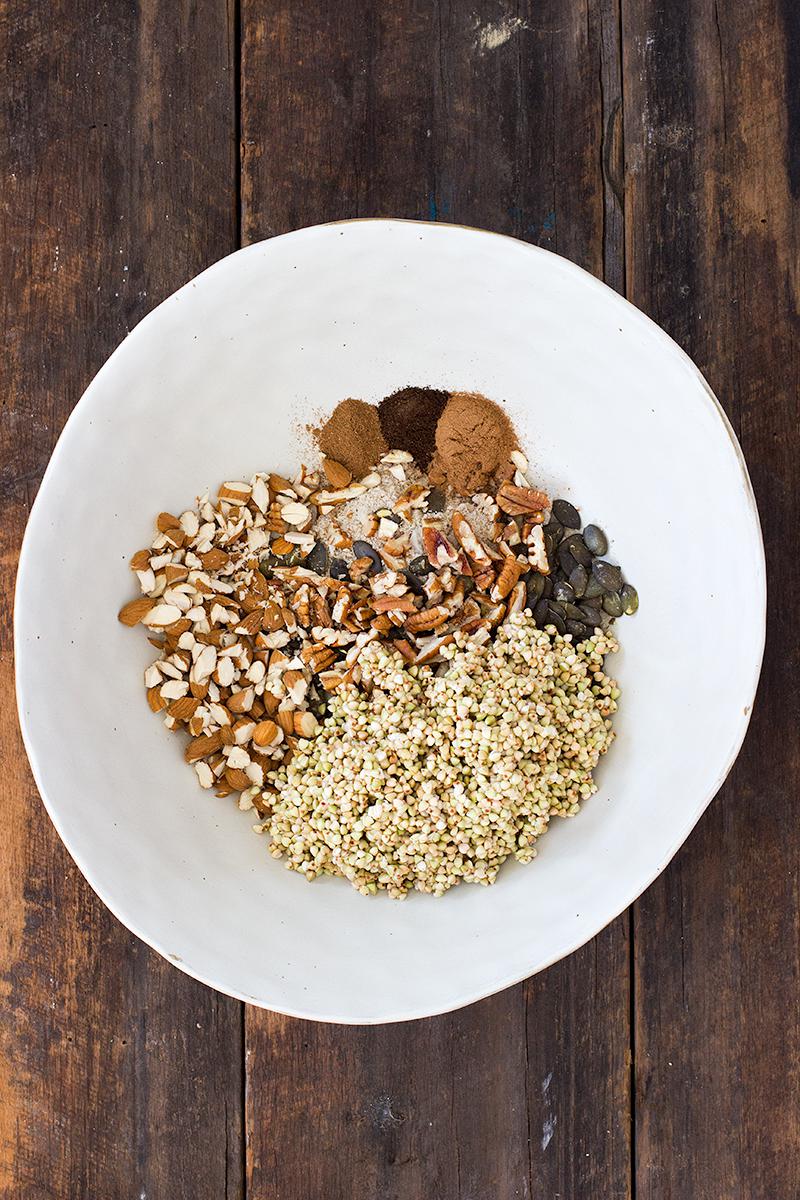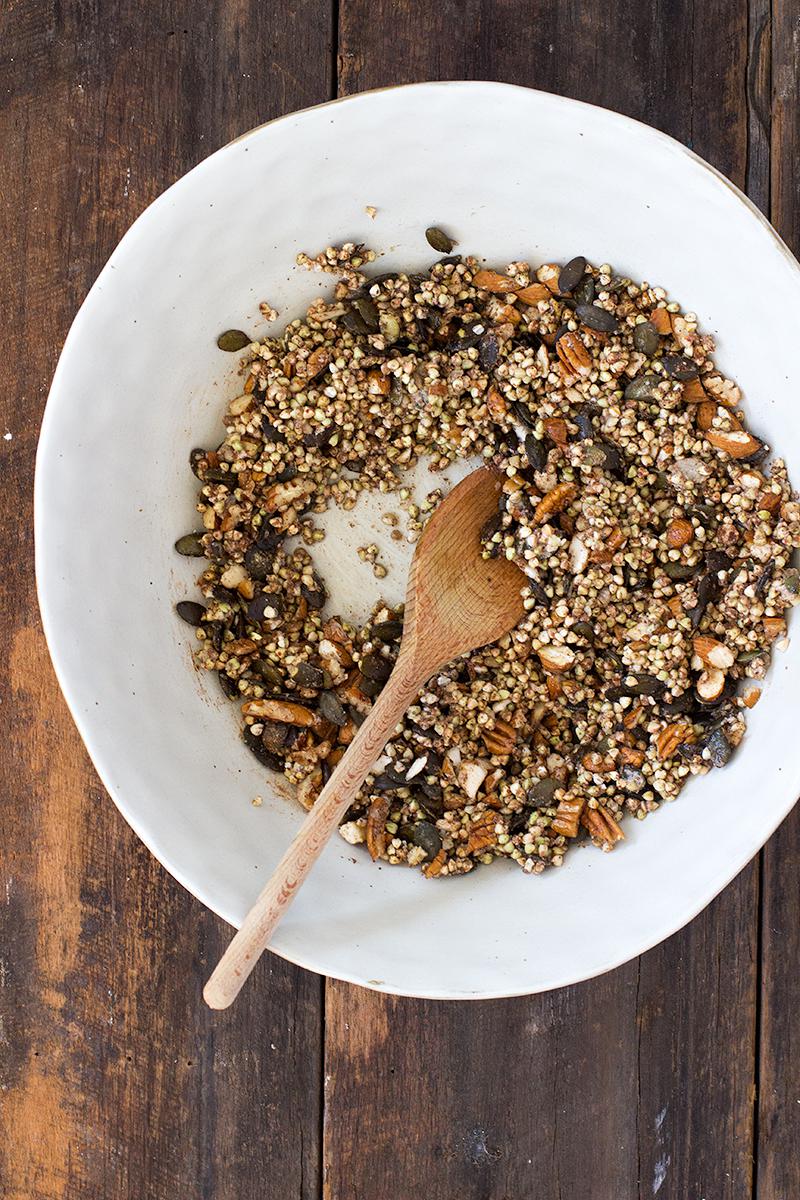 I thought about buying one for a fleeting moment, but there are so many packaged granolas out there on supermarket shelves that are just plain inadequate to be frank. As soon as most mainstream companies go gluten free they jack up the 'natural sugars' to compensate with loads of dried fruit, honey, rice malt and so on. Often to keep them cheaper they use refined gluten free grains too like white rice flakes or puffed rice. I know there are some alternatives to this stereotype on the market in health food stores and online, but they are certainly far and few between don't you think?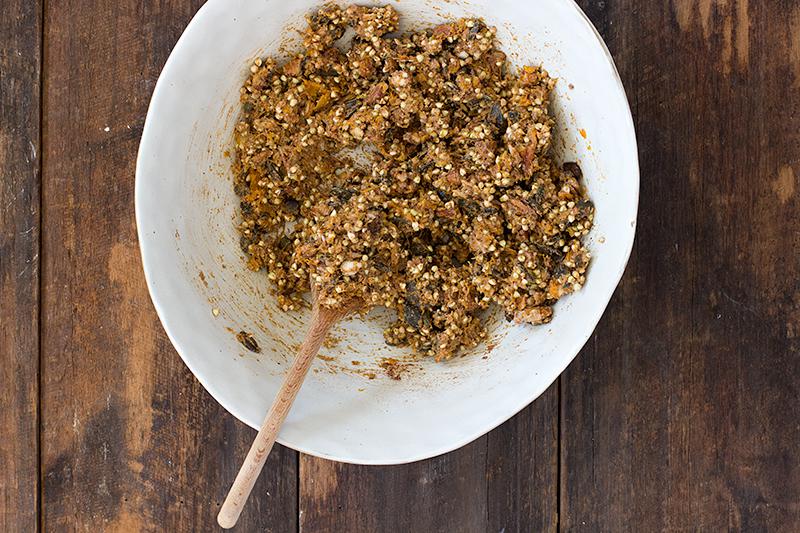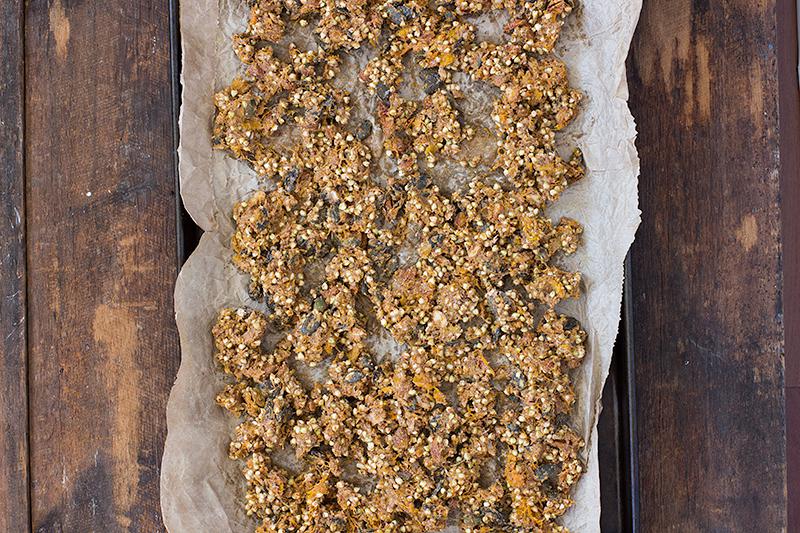 I also decided (still in fantasising food land) that I wanted to create a granola for all of our clients who are in the beginnings of their gut health treatment. At the JCN Clinic we are constantly creating food plans for clients around dietary restrictions pertaining to food intolerances and/or gut health. Our goal is to always diversify as much as (and as quickly as) possible. However the early stages of treatment often do require some restrictions. In our eyes there is nothing worse than being told you have a gut problem that requires a list of foods to avoid and then consequently being given no plan to follow. This is frustrating for the client and even dangerous as people can follow protocols in a very limited and nutritionally depleted way for months (even years on end).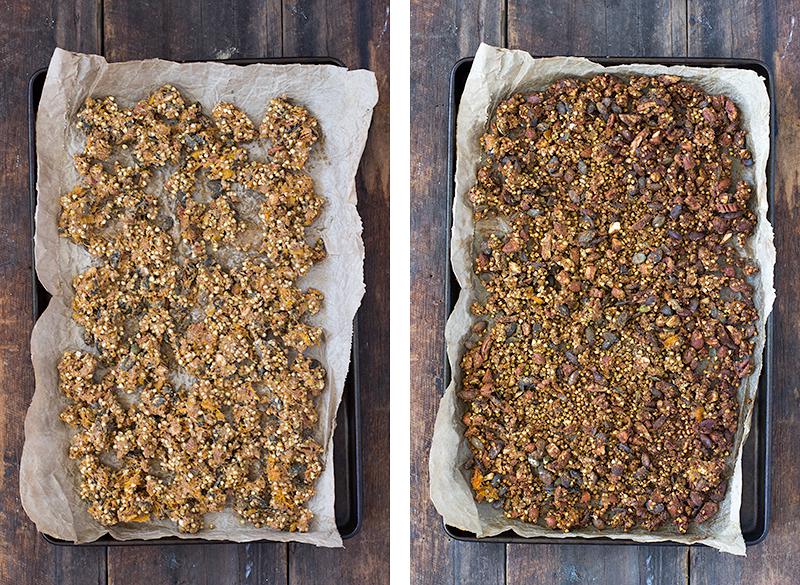 Obviously at the JCN Clinic we sit on the other end of the spectrum with an obsession for great food and recipe creation. Therefore, this Pumpkin Pie Granola is all about providing a recipe that is FODMAP friendly, SIBO friendly and free from common reactants such as gluten, dairy, egg, soy and even coconut, whilst being crazy delicious! The granola is entirely sugar free and relies on the sweetness of the pre-roasted pumpkin and the added spices. Of course if you are at a more diverse part of your treatment protocol you can go to town with adding in a dash of maple or even some chopped up prunes, which I think would be delicious in this!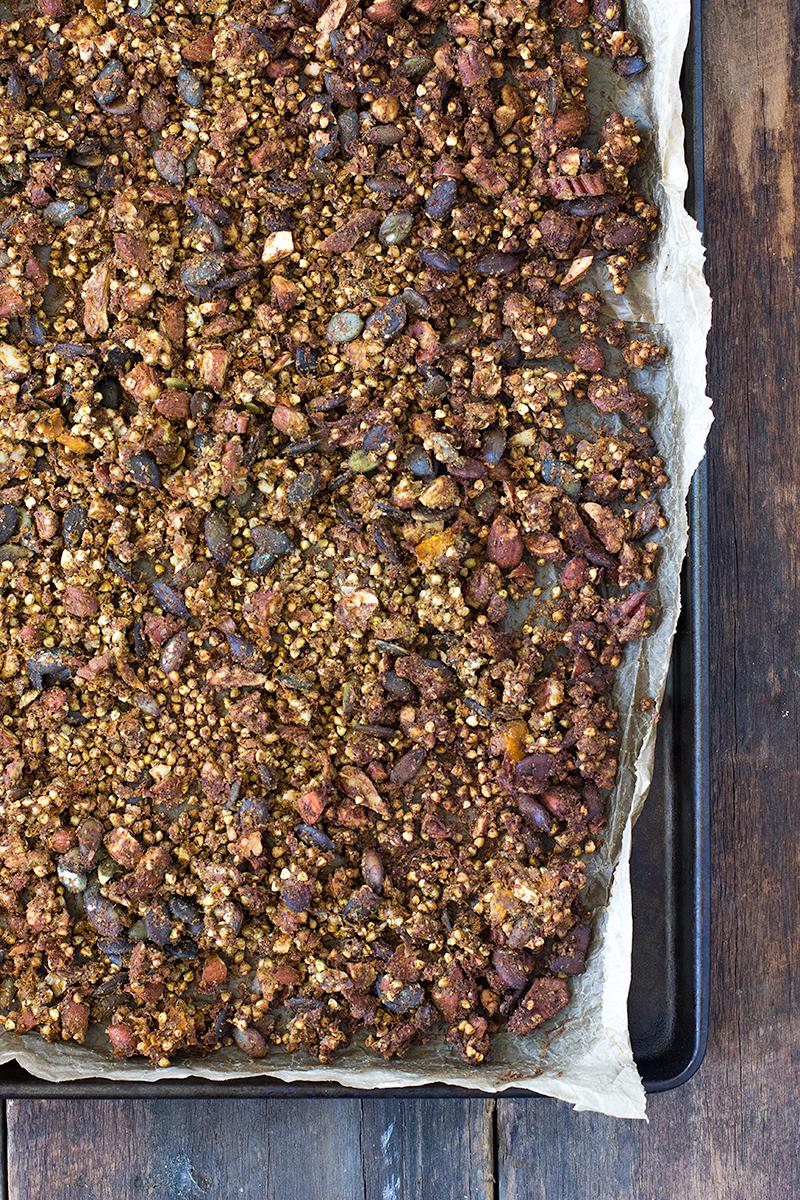 For those however needing to rein it in, this granola will provide a tasty start to the day or even a crunch-tastic snack option. It screams to be enjoyed with something creamy like good quality yoghurt, nut mylk or even some avocado mousse! Oooooo! I hadn't thought of that last one till just now, so I think that will be on my to-do-list, stat. Enjoy as always and let me know your thoughts below. Xx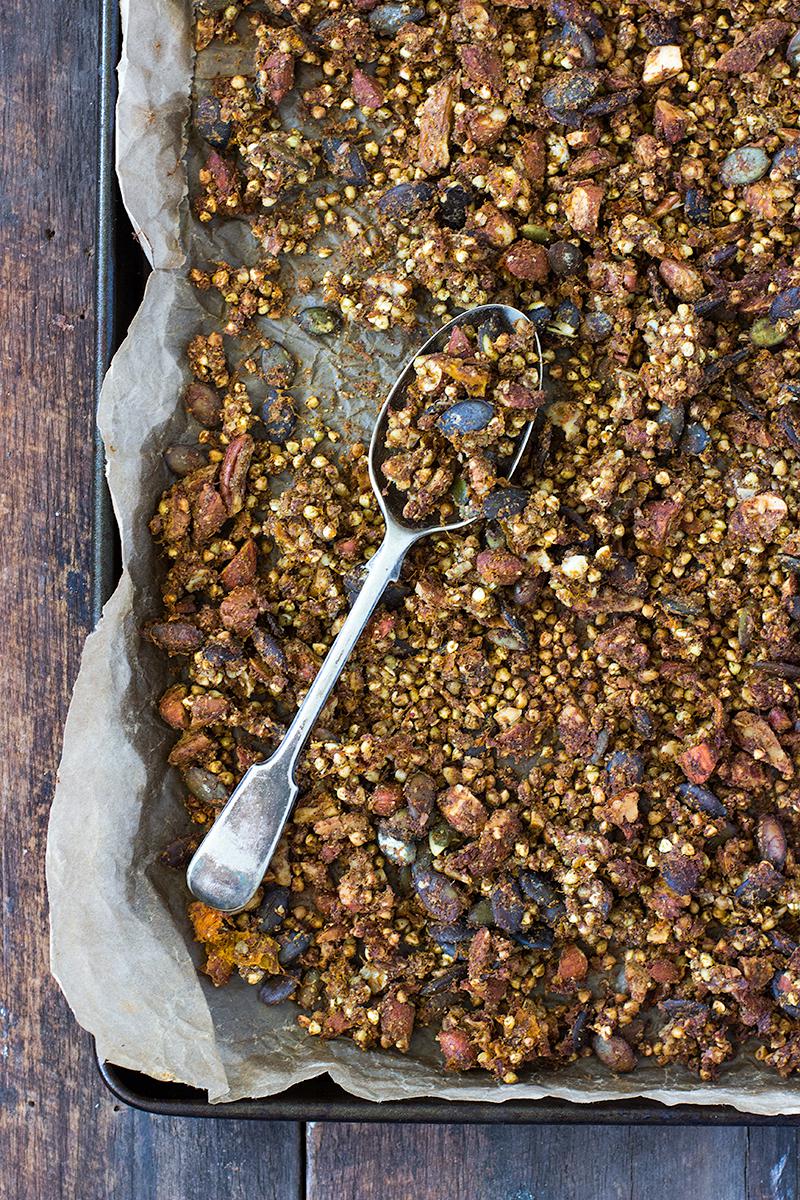 pumpkin pie granola
serves

makes 5 cups of granola

preparation time

20 minutes

cooking time

40 minutes + 1 hour for baking
ingredients
1 cup buckwheat groats
440g pumpkin (enough to make 1 cup mashed pumpkin)
2 teaspoons extra virgin olive oil
1/3 cup chopped almonds (swap for alternative nut for lower FODMAP)
1/3 cup chopped pecans
1/3 cup pumpkin seeds
1/2 cup sunflower seed meal (or almond meal)
1 teaspoon five spice powder
2 tablespoons macadamia nut oil
2 teaspoons cinnamon (plus an extra 1 tsp for roasting pumpkin)
1 teaspoon vanilla
method
Place the buckwheat groats in a bowl and cover with hot water and leave to soak for 5 – 10 minutes whilst preparing the pumpkin and dry ingredients.
Preheat your oven to 200c. Cut pumpkin into chunks and toss pumpkin in 1 teaspoon of cinnamon and extra virgin olive oil with a pinch of salt. Place on a roasting tray and roast till tender, around 40 minutes. Set aside and turn the oven down to 160c, fan forced.
In a large mixing bowl combine all the dry ingredients inclusive of the spices and nuts.  Now drain the buckwheat groats off through a fine sieve and rinse well with cold water. Leave to drain for 5 minutes.
Take the pumpkin and remove any remaining skin and either mash really well with a fork or place in the blender to blend to a puree. Add the macadamia nut oil to the pumpkin blend.
Add the buckwheat groats now to the dry ingredients and mix though. Follow with spooning the pumpkin mix into the bowl with the granola and mix well. The mixture will be quite wet and stodgy. Spoon out onto a lined baking tray and spread out evenly. Place into the oven for 1 hour, taking out every 15 minutes to toss with a fork to encourage even cooking. If it looks done earlier then simply take it out when you feel its ready.
Allow to cool completely then store in an airtight container in the fridge. Serve with mylk of choice, yoghurt or with avocado chocolate mousse.
nutritional information for pumpkin pie granola
This pumpkin pie granola is very low in naturally occurring sugars. The underlying sweetness comes from the combination of the spices and the roasted pumpkin. As such, this granola can be used for those on dietary protocols for low FODMAP, SIBO (dependent on your own reactivity levels), candida and Dysbiosis. The carbohydrates are provided by the buckwheat, along with the pumpkin. This granola is fundamentally lower in starchy based carbs than usual granola, so feel welcome to sub in some oats or quinoa flakes if desired.
Please feel free to change up this recipe as needed. You can use seeds in place of nuts for a nut free version and also swap out some nuts for some shredded coconut if thats your jam.
Pumpkin is a rich source of vitamin A while also suppling a good amount of vitamin C, vitamin E, B2, potassium copper and manganese. Pumpkin is low in starch but does provide around 3grams of fibre per cup of mashed pumpkin. Vitamin A has many roles in the body, well known for its role in eyesight. However, Vitamin A is also integral for gut health in relation to supporting optimal gut lining though immune/mucosal tolerance. Think of Vitamin A like a policeman that keeps your gut immunity in check ensuring the right immune cells react where needed, without getting over excited (and causing excessive inflammation).
Jessica Cox is a qualified practicing Nutritionist with a Bachelor Health Science (Nutrition) and over 15 years of clinical experience. She is the founder and director JCN Clinic, published author and established recipe developer. Jessica is well respected within health and wellness space for her no fad approach and use of evidence-based nutrition.