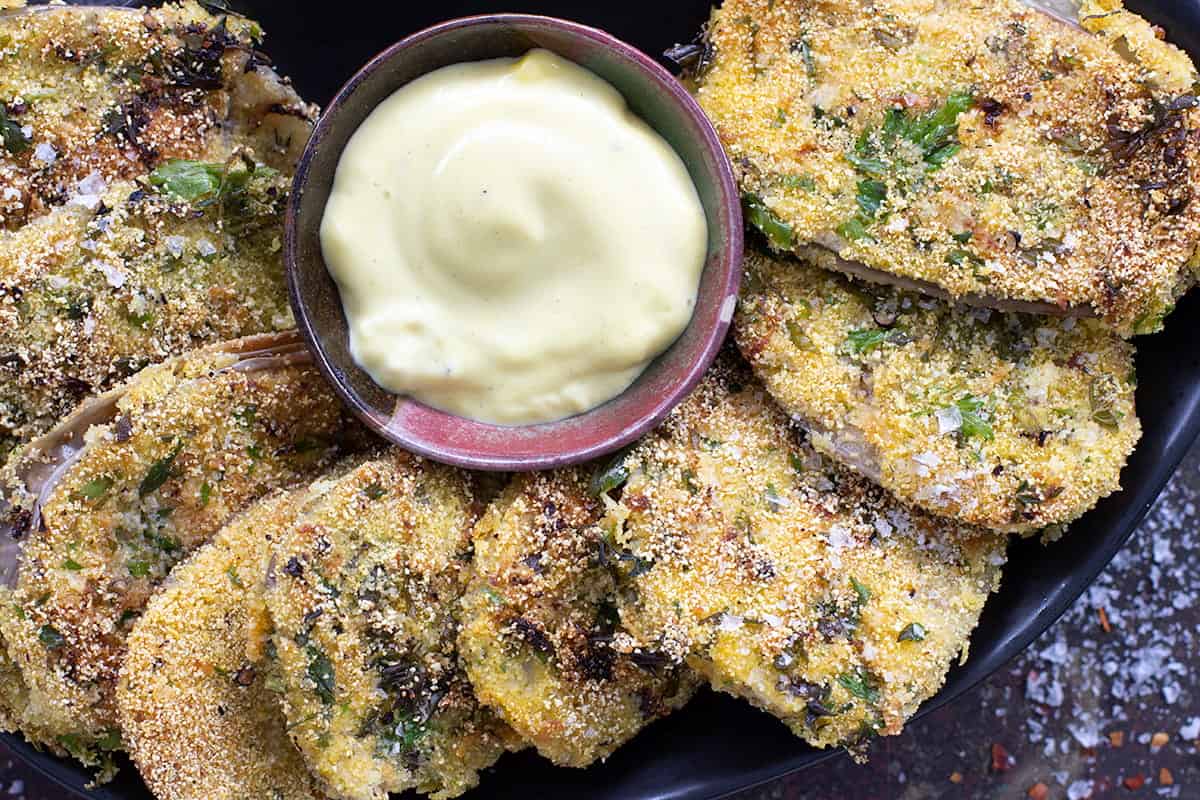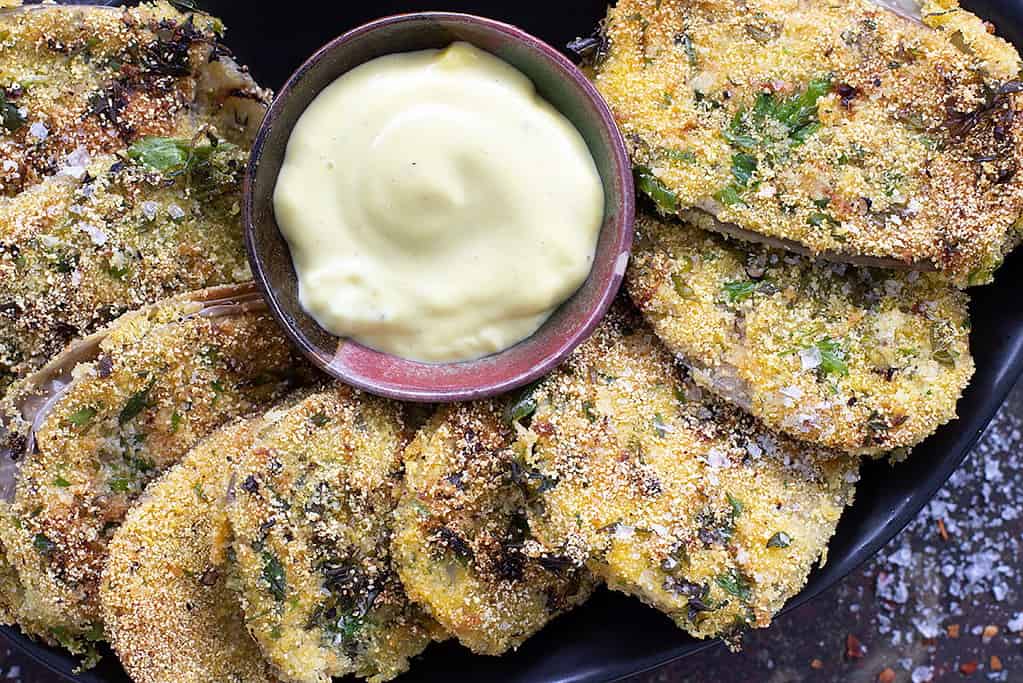 the best gluten free recipe for crumbed eggplant
Eggplant is by far my favourite non starchy vegetable. I like to say 'non starchy' because that then leaves me room to pick a favourite 'starchy' vegetable – that being sweet potato. If you ask me what my favourite vegetable is overall, ultimately making me choose between them, I'll most likely start to sweat nervously – don't make me decide! For todays recipe, I've chosen to celebrate my passion for eggplants with this Crumbed Eggplant recipe, infused with chilli, herbs and lemon zest.
Eggplant really comes into its glory when it is baked or fried. You need plenty of quality extra virgin olive oil and the eggplant must be cooked through. Rubbery eggplant is sacrilege. It needs to be creamy and almost gooey. The skin is best when blistered and charred. When these elements are done correctly then you are in for a great experience.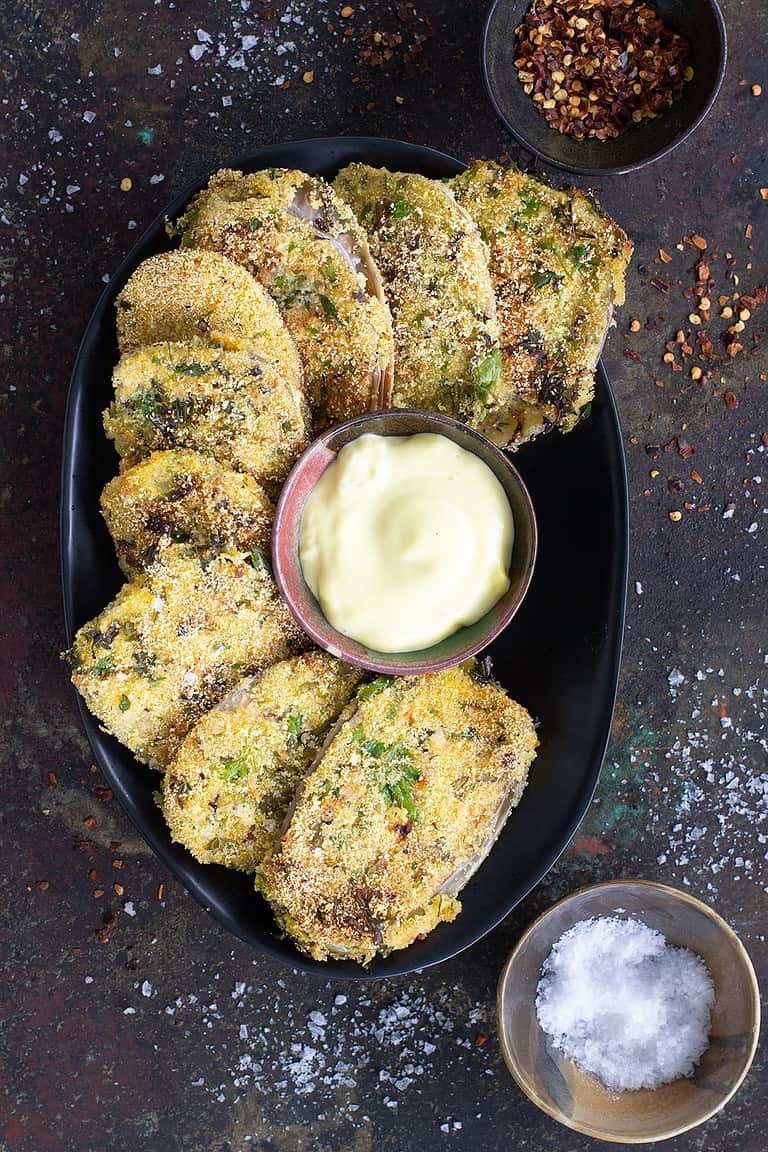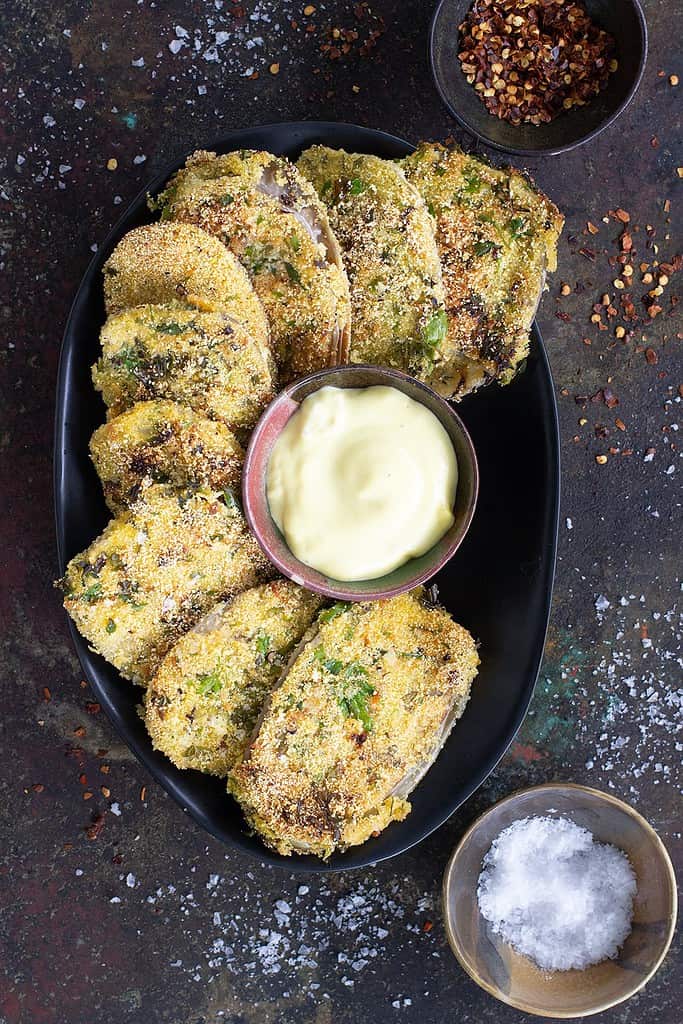 the health benefits of eggplant
Eggplants are classically a low starch vegetable and generally low in FODMAP (unless you are reactive to sorbitol and even then you'd need to eat a lot). The fibre in eggplant is the insoluble form, helping to keep things moving along as they should through the gastrointestinal tract.
Some of you may avoid eggplant as part of the night shade family, as classically seen in some autoimmune protocols. Generally we find at The JCN Clinic that when you work on creating a more robust and stronger gut microbiome that those with night shade sensitivities tend to be able to eat these delicious vegetables once again. In general, the nightshade family (know as Solanaceae) includes plants that contain types of naturally occurring alkaloids (tropane alkaloids and glycoalkaloids). These plants produce these compounds as defence mechanism against insects and other predators. Like other plant compounds, it takes a healthy gut to deal with these compounds and in most cases these plant compounds provide a good level of healthy stress for the microbiome similar to polyphenols. These alkaloids compounds have also been shown in in vitro and in vivo tests to have cardio-protective effects. (E Ventrella et al 2014)
Nutritionally, eggplants are a great source of Vitamin B1, copper, potassium, folate, vitamin K, & beta carotene. Studies have shown that raw and cooked eggplant contained potent cardio protective compounds due to their impressive antioxidant status of vitamin A, vitamin C and beta-carotene (Das et al, 2011).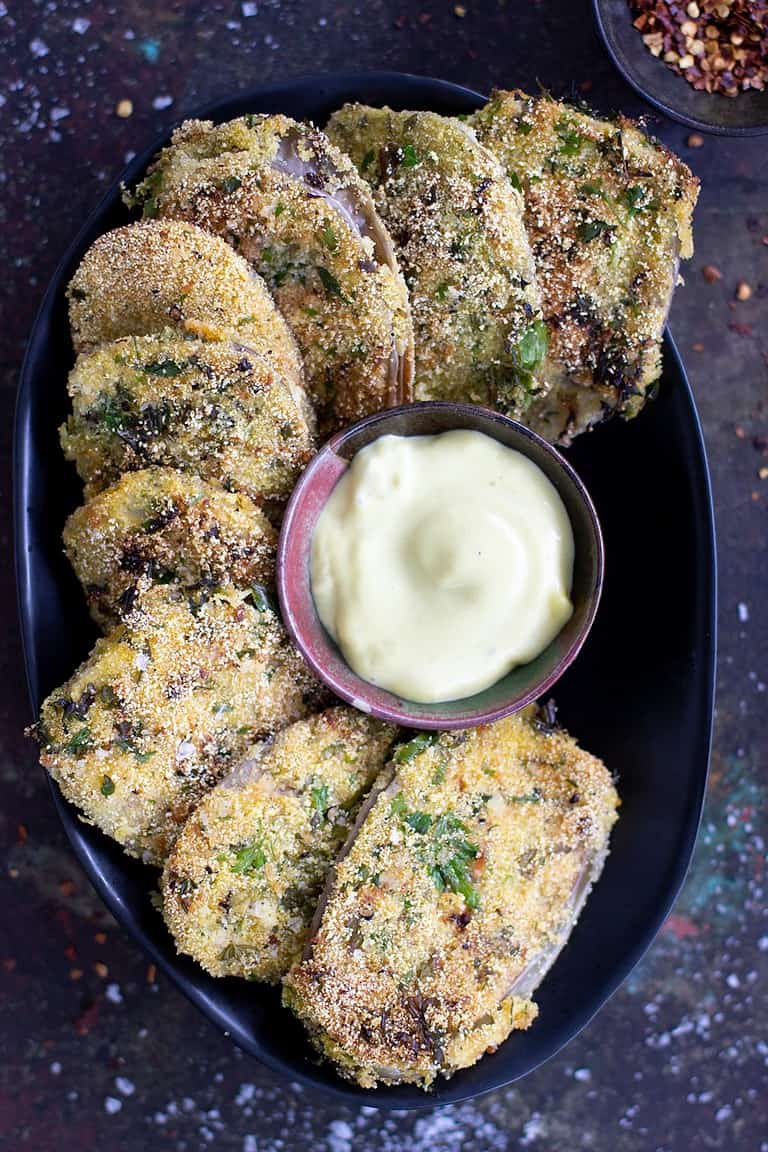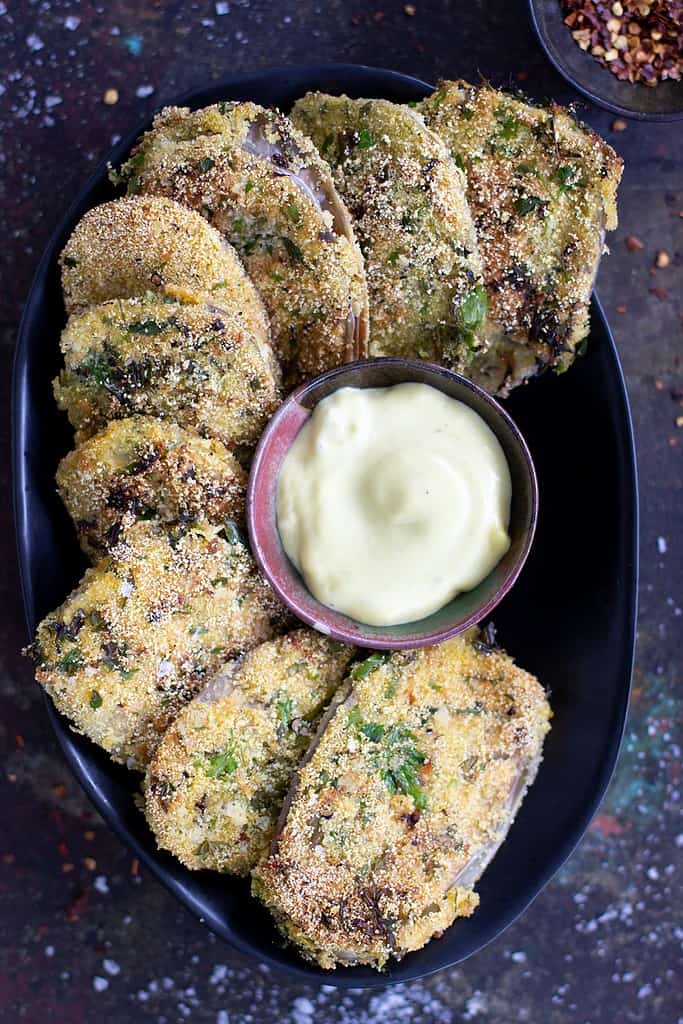 Moving on from the eggplant itself, this recipe then has the added benefits of the fresh herbs, chilli and lemon zest. I am repeatedly asking my clients to include more of these ingredients in their daily diets due to the wondrous medicinal benefits of fresh herbs and citrus peels. In fact, you can read more about just how amazing citrus peel is here in this super addictive Homemade Mandarin Jam.
As far as flavours go, adding the fresh herbs, chilli and lemon zest really brings these Crumbed Eggplants alive. The lemon cuts through the creaminess of the eggplant and the hearty herbs add an umami flavour. Combined with the crunch of the polenta crumbing it is hard to go wrong.
When it comes to enjoying eating these Crumbed Eggplants, I'd suggest serving them with homemade mayo (I have a recipe for this here). Otherwise you could crumble over some goat's cheese and another grating of fresh lemon zest. I think they would also be amazing with a chipotle mayo or something with a real kick. It's up to you! Just get making them and enjoy! xo
Like what you're seeing? Subscribe for new recipes and nutrition tips every week!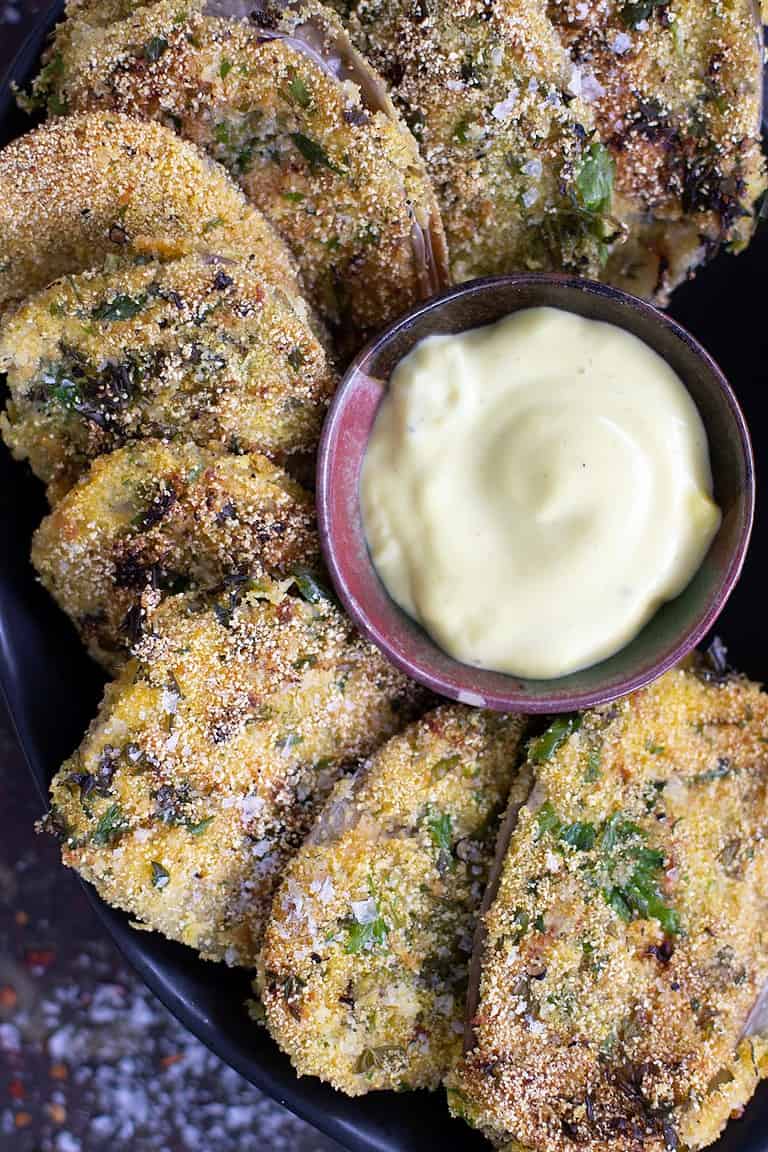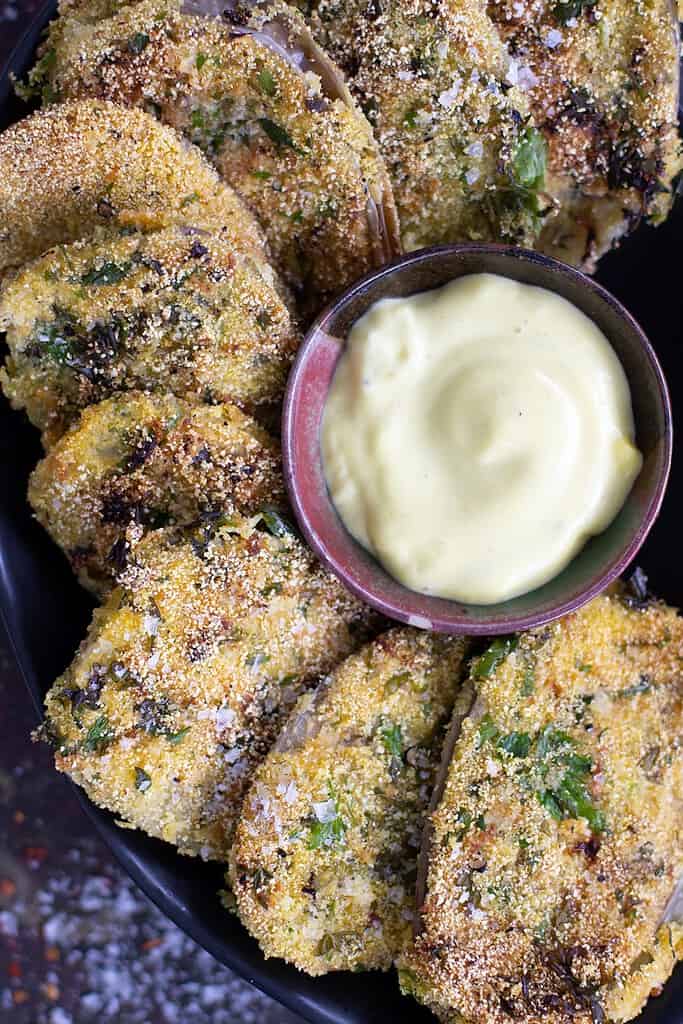 Need personalised nutrition advice catered to your needs?
If you are after personalised nutrition advice and dietary planning individualised to your health and dietary needs then contact us at The JCN Clinic with your enquiry. We are always happy to answer any questions you have!
crumbed eggplant recipe
serves

4 as nibbles or 2 as a side dish

preparation time

20 min

cooking time

15 min
ingredients
450g eggplant
¼ cup brown rice flour
1 teaspoon salt
1 teaspoon pepper
1 egg
1 tablespoon plant based milk
½ cup polenta
pinch chilli flakes
½ tablespoon lemon zest
1 tablespoon chopped oregano
1 tablespoon chopped parsley
1 tablespoon chopped thyme
1/3 cup extra virgin olive oil
method
Pre-heat your oven to 180c.
Start by removing the eggplant stalks. Now slice the eggplants lengthways into 1/2cm slices. Set aside.
Take three shallow wide bottom bowls. In one place the rice flour, 1/2 teaspoon salt and 1/2 teaspoon pepper and mix well.
In the second bowl crack in the egg and add the plant based milk. Whisk together well.
In the last bowl add the polenta, chilli, lemon zest, chopped herbs and the remaining salt and pepper and mix well.
Now take the eggplant slices one by one and first roll them in the flour mix to coat (the end pieces of the eggplant will not hold much flour but that is ok). Then dip the flour coated slice into the egg wash and again coat well, then allow the excess to drip off. Finally roll the egg washed slice in the polenta mix and press well to get all the polenta crumbs to stick. Place the slice on a plate and continue until all the slices are coated.
Heat a wide based shallow saucepan to a medium – high heat. Add half of the extra virgin olive oil. Add as many crumbed eggplant slices as will fit comfortably and cook for no more than 2 – 3 minutes until golden brown. Flip the slices over and cook on the other side till golden. Remove slices and place on a baking tray.
Add the remaining oil and continue frying the crumbed eggplant till all slices are done. Pop all the crumbed eggplant slices on the baking tray then place in the oven for 10 minutes. You want the insides of the crumbed eggplant to be nice and soft and the outside crumbing toasted and golden.
Remove from the oven and serve hot with homemade mayo or as is, ideally with a sprinkling of quality salt.
nutritional information for crumbed eggplant
As mentioned above, eggplants are a great source of Vitamin B1, copper, potassium, folate, vitamin K, & beta carotene. Studies have show that raw and cooked eggplant contained potent cardio protective compounds due to their impressive antioxidant status of vitamin A, vitamin C and beta-carotene (Das et al, 2011).
Polenta (cornmeal) provides a rich source of carbohydrates with around 8 to 10 grams fibre per cup. Polenta is high in B vitamins, in particular B1 and B3. It is also a wonderful source of iron, magnesium, manganese, phosphorus and selenium. 1 cup of polenta also provides around 4-6 grams protein. Corn is also a rich source of antioxidants known as carotenoids, specifically lutein and zeaxanthin from yellow corn, which are know to be beneficial for eye health.
Jessica Cox is a qualified practicing Nutritionist with a Bachelor Health Science (Nutrition) and over 15 years of clinical experience. She is the founder and director JCN Clinic, published author and established recipe developer. Jessica is well respected within health and wellness space for her no fad approach and use of evidence-based nutrition.