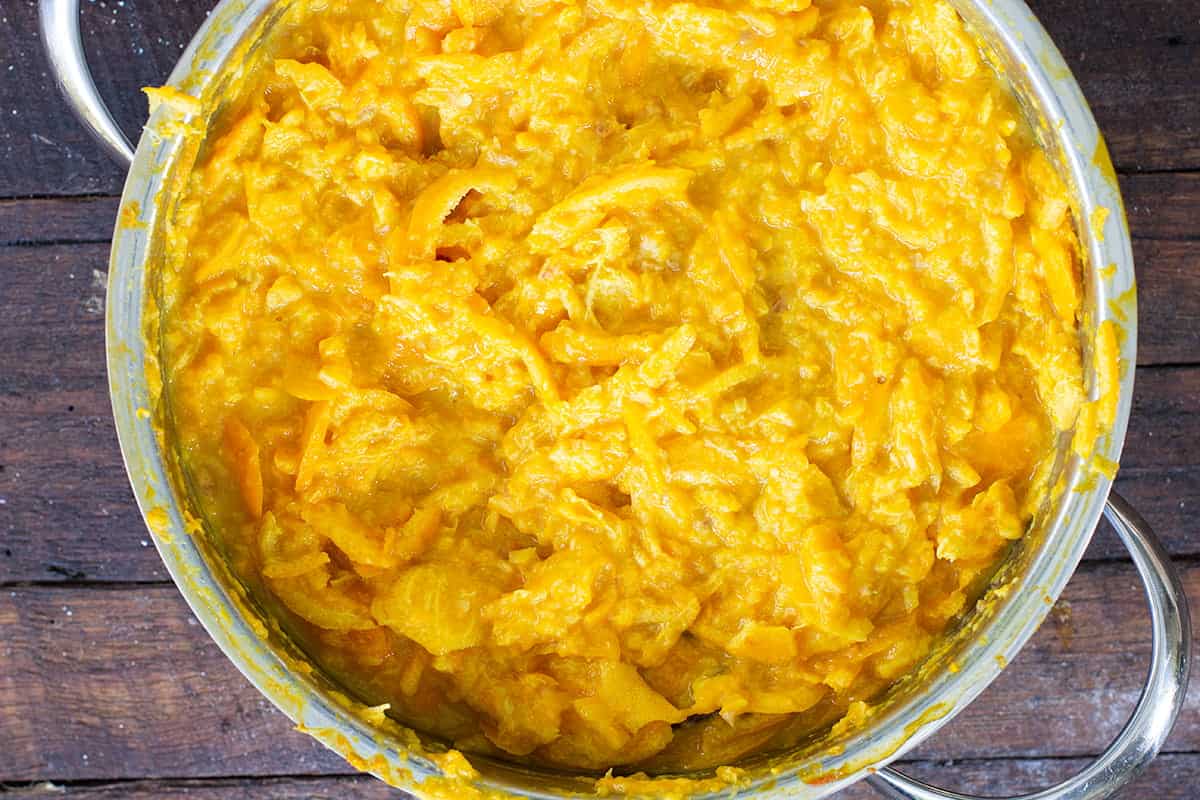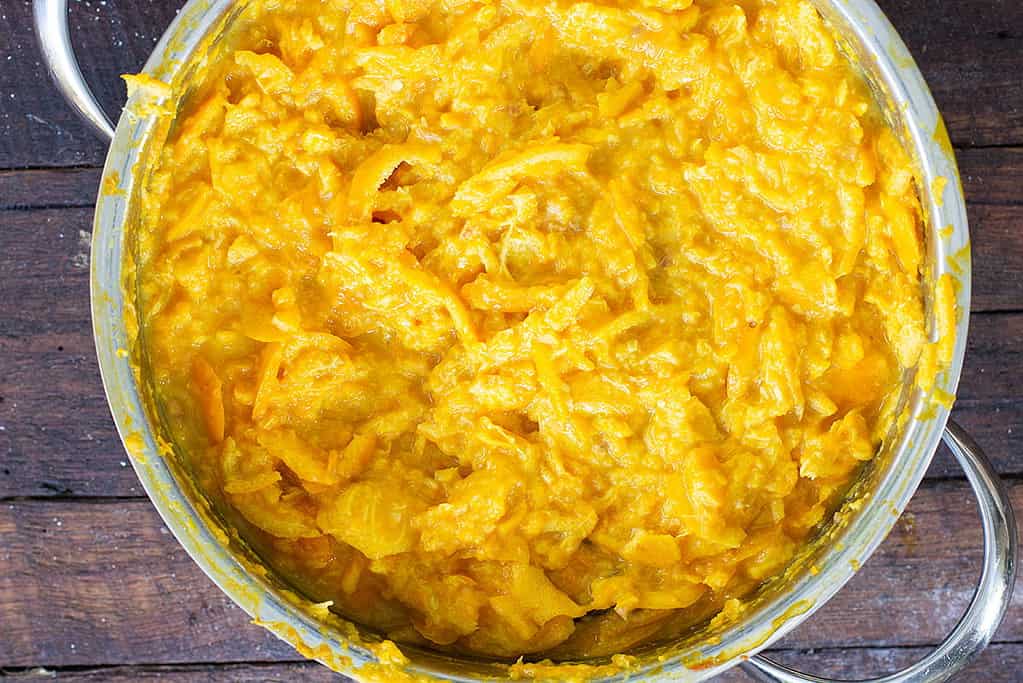 how to make homemade marmalade
This is one of those recipes that will divide people. There is the excited 'like to spend time in the kitchen' camp, then there is the 'get, real, I've got better things to do with my time' camp. That can always be tricky when deciding on recipes to bring you, but ultimately I feel like a lot of you know I am a mad cook, so you have to expect some recipes that ask a little bit more of your time and energy. At the end of the day, if you are as excited about homemade mandarin marmalade as I am, well then dear reader you have come to the right place.
Let me tell you a story about making this homemade mandarin marmalade. Prior to diving into this recipe, I stood in my kitchen this week looking at the ridiculous amount of mandarins that Hubbard had stolen off the tree next door (you can read about why here, inclusive of why the theft was justified). I knew making a cake would be easier, probably more popular and have me back on the laptop quicker. However a little voice with a growing tone told me, Jessica, if you don't use those mandarins all up now they are going to sit there and rot. Unless you are making 20 cakes then you are not going to use all of those ripe mandarins. So stop procrastinating and make the bloody marmalade.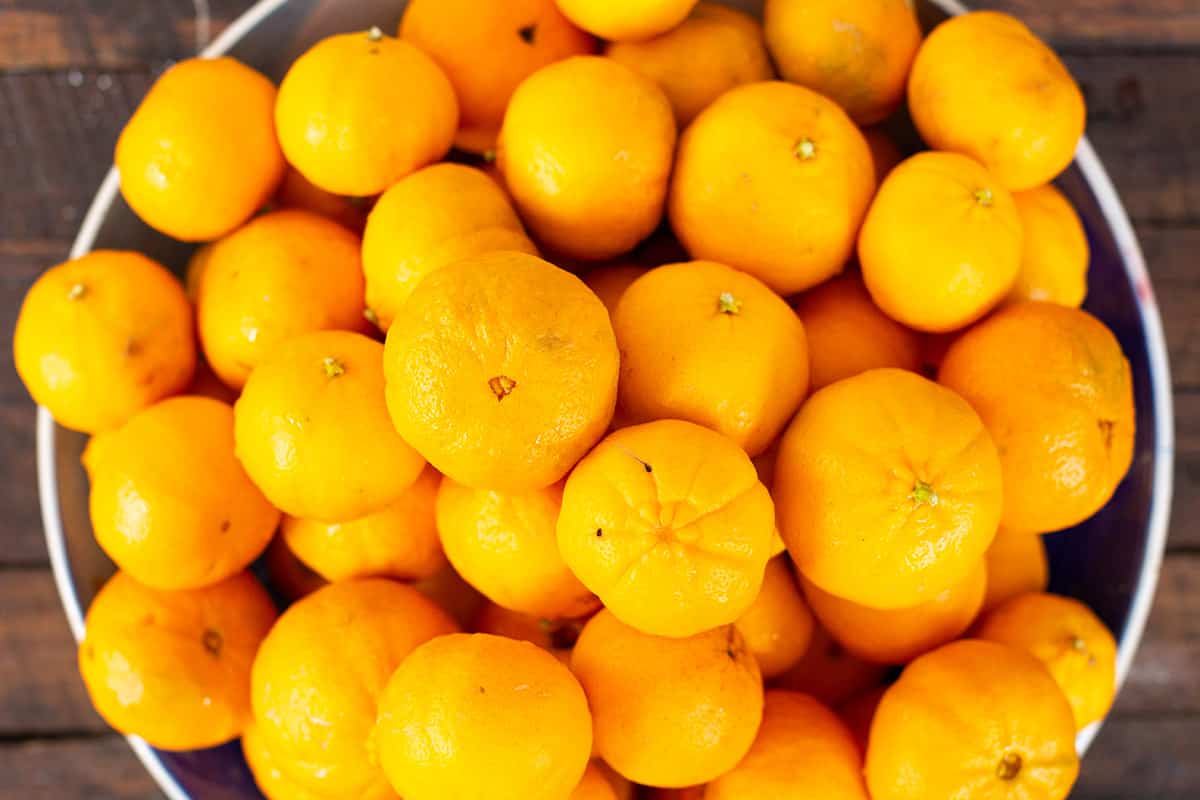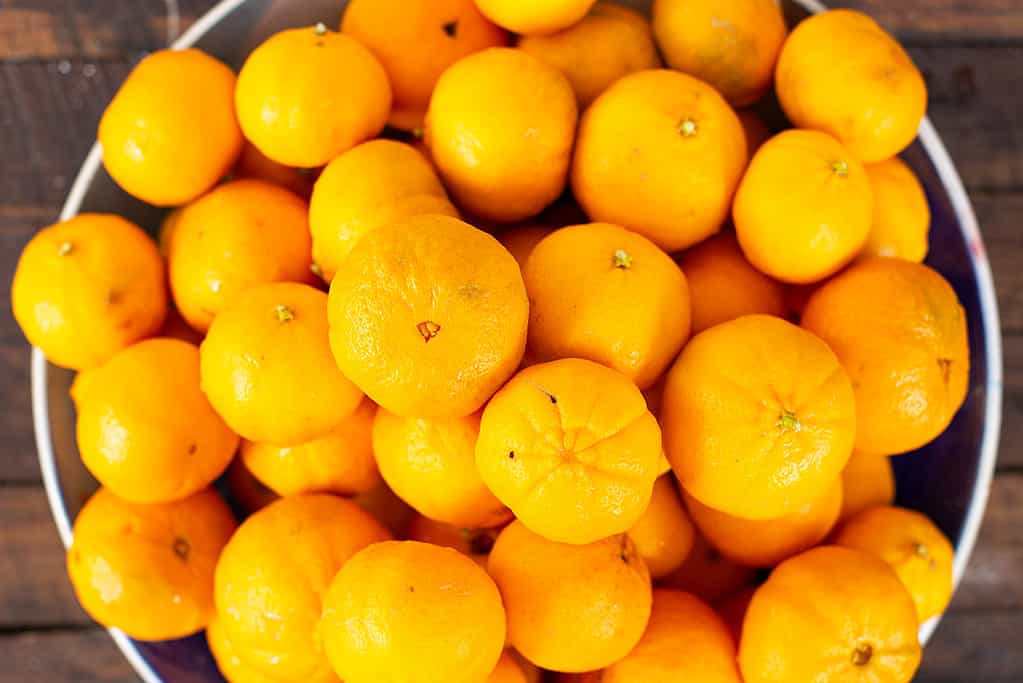 Well off I went, starting with weighing them all out to make sure I recorded the measurements to share with you. I'd only put under half of the mandarins on my kitchen scales before it blew the weight highlighting the enormity of the task ahead. I measured in batches instead coming to a total of 4kg before I pulled up shop. 4kg – thats a lot of f-ing mandarins.
Undeterred (well kind-of), I set about halving and de-pipping them. Actually, let me explain that my version of de-pipping is popping out the pips I could see when the mandarins are cut in half. The rest stayed put because I can't think of anything I have less patience for than removing every pip out of citrus fruit. If you wan't to do that then be my guest. I'd rather spit out the pips in the final product and deal with my sisters wrath (she is an avid 'pip' hater).
All the mandarins then went into my food processor in batches for slicing. There was no way I was doing that by hand (again, 'patience'). Three loads later I looked at the amount and then the comparative volume of my saucepans and realised I was in trouble. With no option, I split the mandarins between two big saucepans and got them going with the added mandarin juice.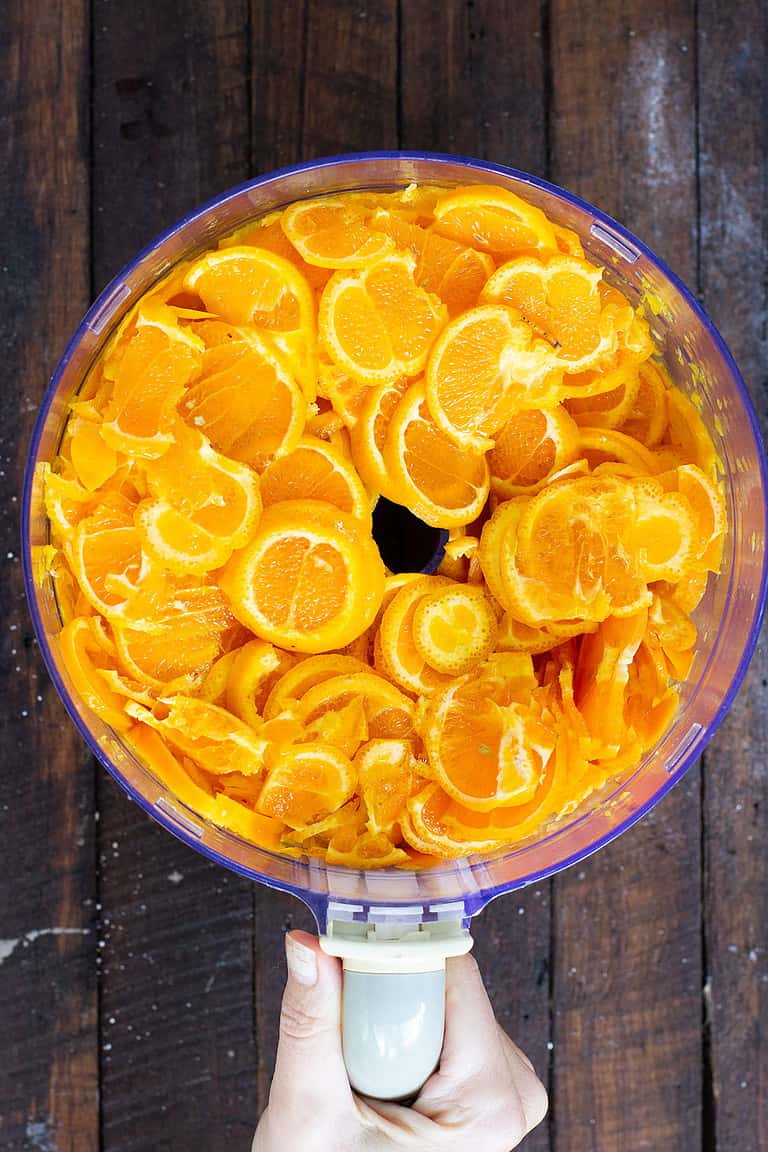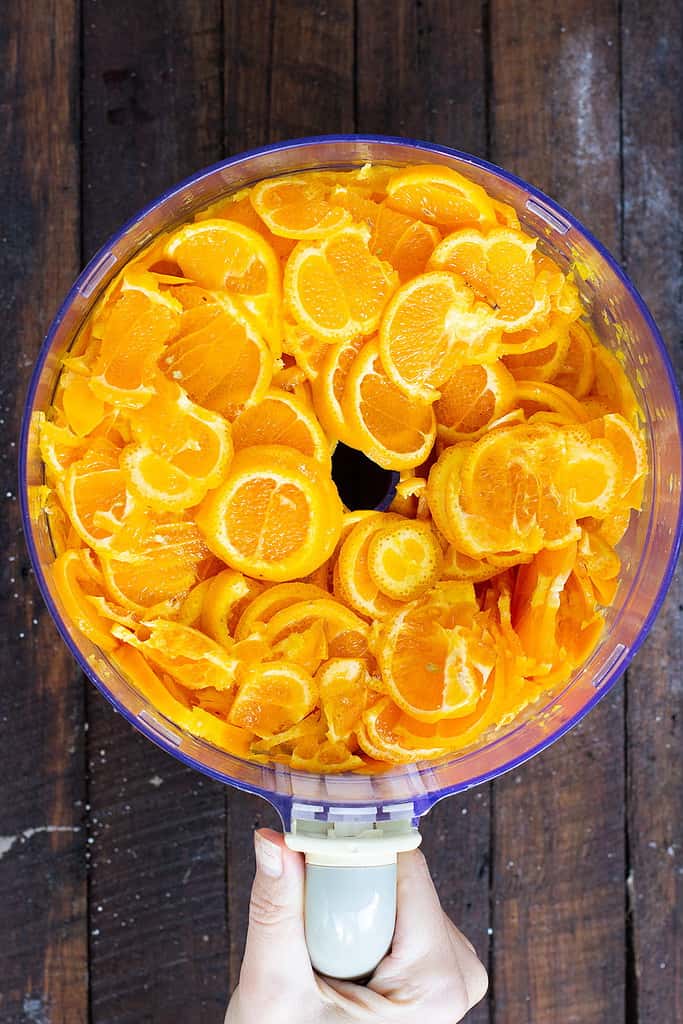 Oh yes, the mandarin juice. Have you seen the size of these mandarins here? They are tiny! Try juicing those f**kers. At this point I was getting my kitchen rage on. Despite my frustrations and struggle with my dodgy wrist from the break a few years back, I got through it. I then set about getting the heat on the saucepans to bring the mandarins to the boil, then to a rolling simmer.
Now it's still cold down here, so we have the fire going. However our little house is just that. Little. So when you have the fire on and two big saucepans on the go with regular stirring required then things get really hot. Sweat starts to build and ugg boots must come off. There is no turning back at this point. You've got two hours ahead and you are in deep. Just keep on stirring and sweat it out.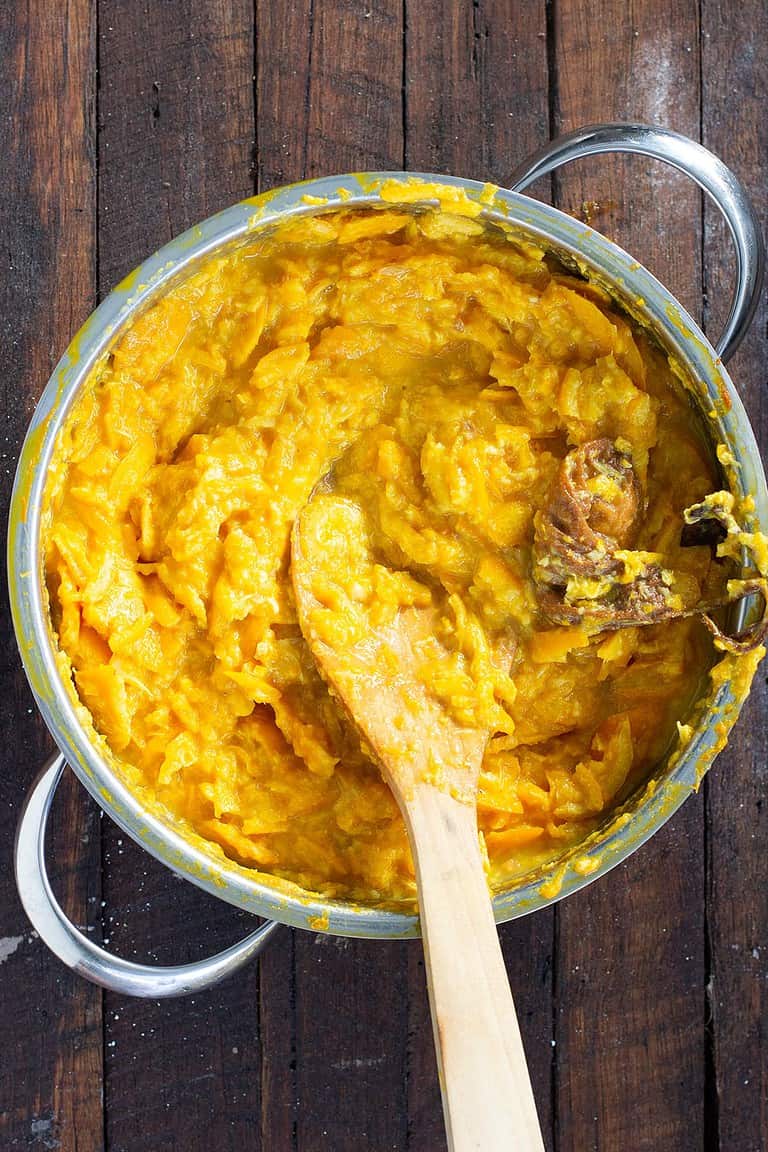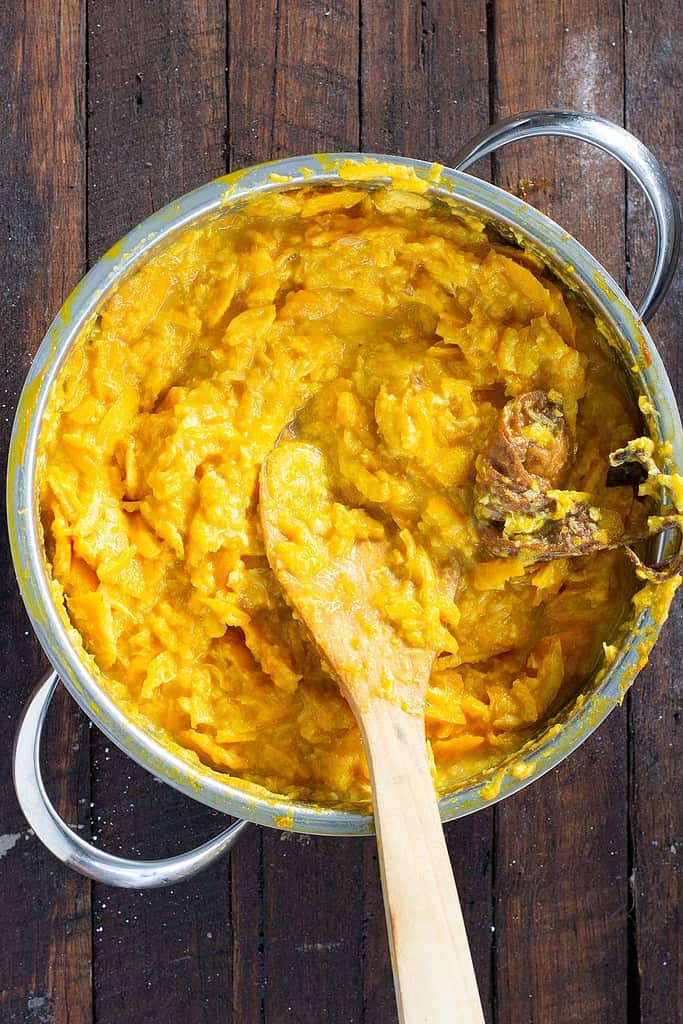 With some escapes outside into the cool air I made it through, dishevelled and with mandarin peel stuck to my face, but I did it. I then realised that with all this homemade mandarin marmalade in front of me that I didn't have any sterilised jars. Awesome. On with the oven.
A load of hot soapy jars later in the oven to heat and I was sliding into the end. I tell you, when I finally was able to scoop out large spoonfuls of my homemade marmalade into those jars it was all worth it. The reward was real in the form of a shit tonne of marmalade.
Even more rewarding was the following morning when I had my first meal with my mandarin marmalade. I toasted a piece of my Gut Friendly Bread and slathered it with my Vegan Browed Butter and then with the marmalade. Not only was it frick'n delicious, it was also a moment of realising I had made everything I was eating! Even the plate that I was eating it on was mums homemade ceramics. Self sufficient lifestyle eat your heart out. #winning #perksoflockdown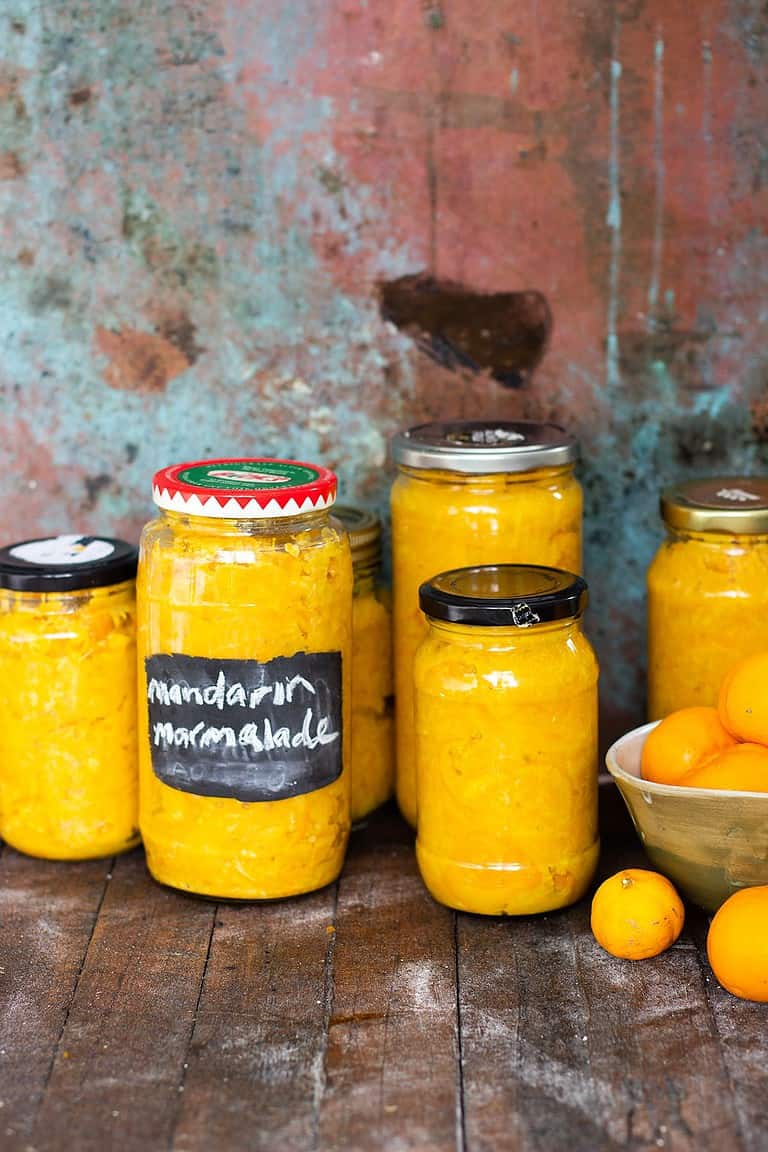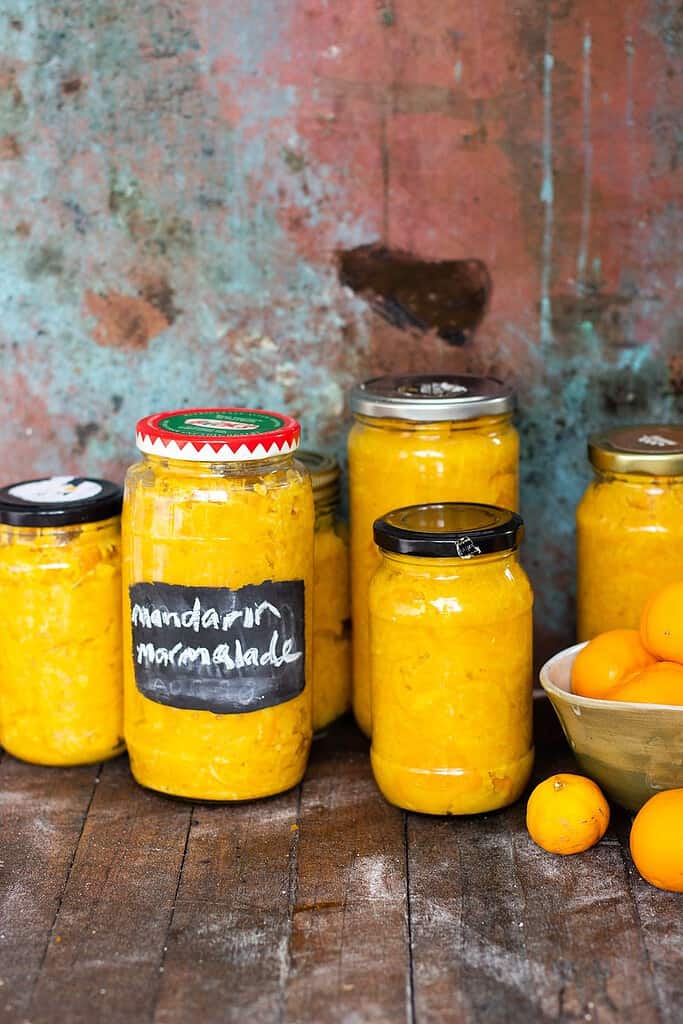 Like what you're seeing? Subscribe for new recipes and nutrition tips every week!
So yes, I am as happy as can be with my homemade mandarin marmalade and I feel like all the craziness of making it was worth it. If I'd had a recipe to follow (like you folks do now here), then it would have been plain sailing. But that is the challenges that I sadistically enjoy with recipe development. There is always a risk that something may not work or go sideways. Language can get colourful quickly with a hot blooded Scorpio, but the pay off when you win is worth it.
Living with a cancerian, that tourettes nature can be quite clashing. I'm not one for star signs, but I swear there are some similarities that are too hard to ignore. I used to live with another cancerian in my group house days and she was super placid and never quick to anger. When I would fly off the handle she would look like I had mortally wounded her. Let me clarify, I'm flying off the handle at the food, or the thing I just dropped, or the 'something' I just tripped over. It's just a passionate expression of my emotions. Maybe it's the innate Italian in me. With a dash of my Dad's temper.
Anyway, I am unapologetically embracing of it even though Hubbard says that I kill angels. I've seen no proof of any angel deaths till now, so until the proof of said dead angels in presented, my homemade marmalade jam with come infused with passionate, colourful language. Enjoy!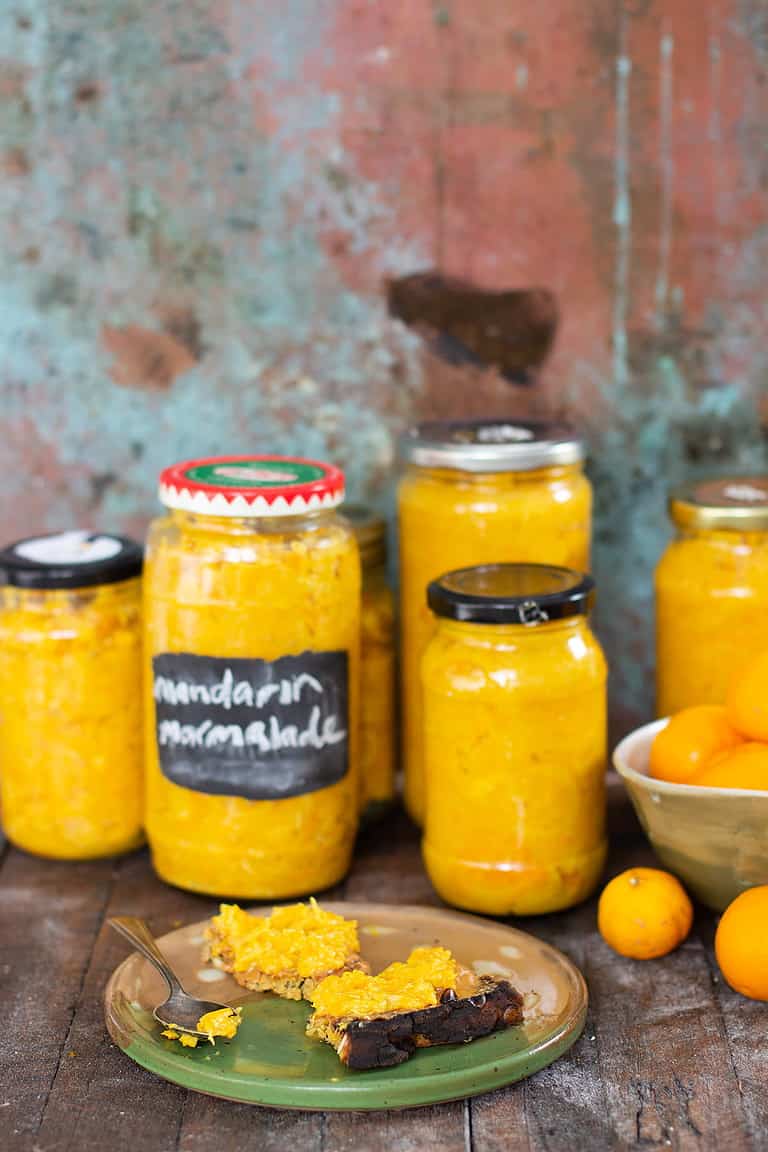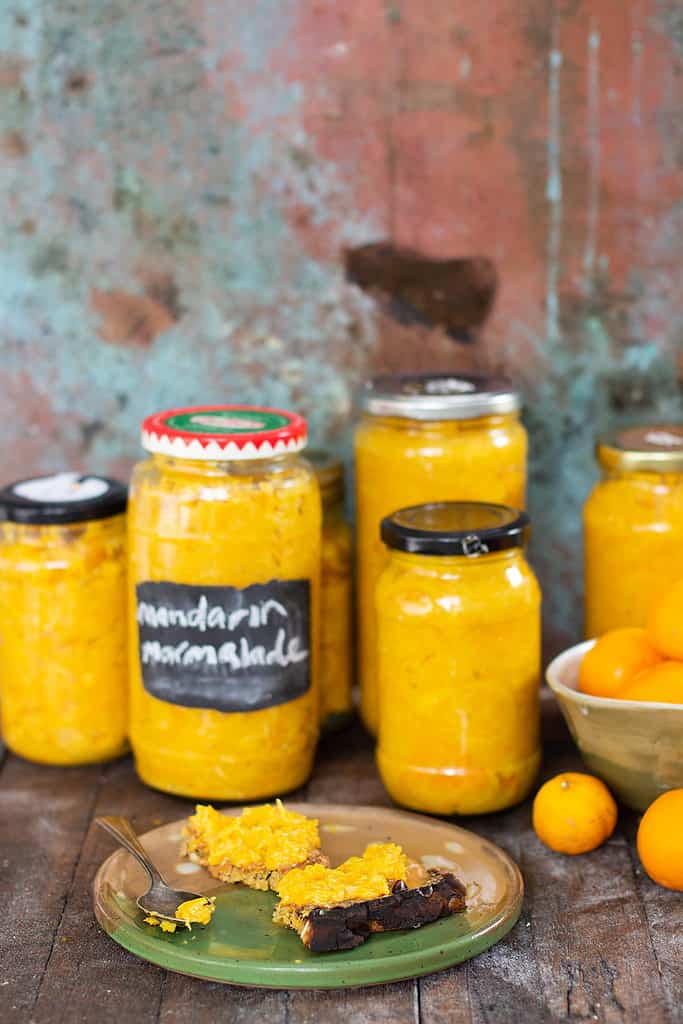 Need personalised nutrition advice catered to your needs?
If you are after personalised nutrition advice and dietary planning individualised to your health and dietary needs then contact us at The JCN Clinic with your enquiry. We are always happy to answer any questions you have!
homemade mandarin marmalade recipe
serves

makes 3.5 litres

preparation time

60 min

cooking time

2 hours
ingredients
4 kg organic mandarins
2 cups freshly squeezed mandarin juice (or freshly squeezed orange juice)
1 cup raw sugar
sterilised jars & lids for marmalade
method
Halve or quarter the recipe if you prefer to make less. Making a lot in one sitting means you can put it away to use throughout the year and also give it to loved ones as gifts.
To make sugar free, substitute raw sugar for monk fruit or stevia. You can also use other citrus fruit like oranges and grapefruit.
Start by washing the mandarins well. Put on a podcast or some music too because you are going to be here for a while, so enjoy it.
Start by cutting off the stem ends of the mandarins, then cut them in half and remove any exposed pips you can see and set aside (It's up to you if you want to get obsessive about removing all the pips, but I couldn't be bothered so I left a lot of them in knowing it would help as a setting agent – plus mandarin pips are tiny).
Once you have prepared all of the mandarins, run them through a food processor using the slicing blade. Essentially you want this to work similar to cutting them up into 2 – 3ml thick slices. If you do not have a food processor that does this then use a knife to cut up the mandarins (see images above for what they look like sliced in the food processor).
Once all of your mandarins are cut up, place them in a super large saucepan with the freshly squeezed juice.
Take the set aside pips and put about 2 tablespoons of pips into a little muslin cloth bag and tie it off, then drop this into the saucepan too (you can see mine in the image above).
Bring the saucepan to the boil, then turn down to a very low simmer and leave to simmer with the lid on for 2 hours, stirring every 20 minutes. In the last 1/2 hour make sure you check regularly to ensure the marmalade is not sticking.
The mandarin marmalade is done when the skins are soft and the liquid has reduced leaving the marmalade nice and thick and sticky.
Stir in the raw sugar and leave it to simmer again for another 3 – 4 minutes to completely dissolve. Taste to see if the sweetness is to your liking and add a little more sugar if you prefer.
Spoon the mandarin marmalade into sterilised jars filling right to the top and screw the lids on tight. Leave jars to cool at room temperature then place in the fridge.
This marmalade is best kept in the fridge due to the low sugar content. It will not last indefinitely as regular marmalades do due to the lower sugar levels. I'd love to tell you how long exactly but I am in about to find out myself!
nutritional information for homemade mandarin marmalade
Mandarins, inclusive of their skin, seeds and pith are extremely rich in polyphenols. Polyphenols exert positive effects on the microbiome. They are actually perceived my our microbiome as perceived as xenobiotics, meaning they are a foreign 'body'. When reaching the microbes within our gut they can produce prebiotic effects and antimicrobial activity against pathogenic flora. The bacteria within the microbiome also play a role in transforming the polyphenols into bioactive compounds, which have the ability to positively influence the the local gut environment. (1)
The skin of mandarins (an in fact other citrus fruit) is the area of highest concentration of polyphenols. For this reason, using the whole mandarin inclusive of the skin really does provide the most abundant nutritional benefits. (2)
Jessica Cox is a qualified practicing Nutritionist with a Bachelor Health Science (Nutrition) and over 15 years of clinical experience. She is the founder and director JCN Clinic, published author and established recipe developer. Jessica is well respected within health and wellness space for her no fad approach and use of evidence-based nutrition.