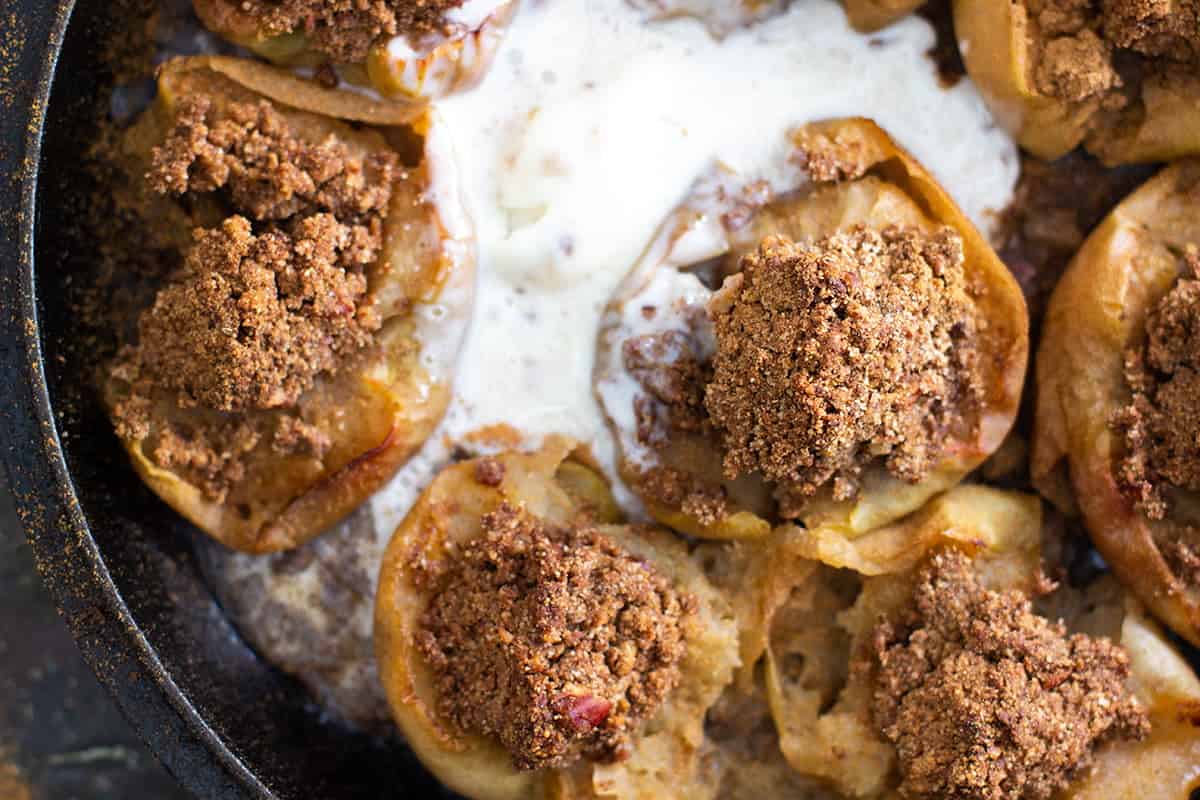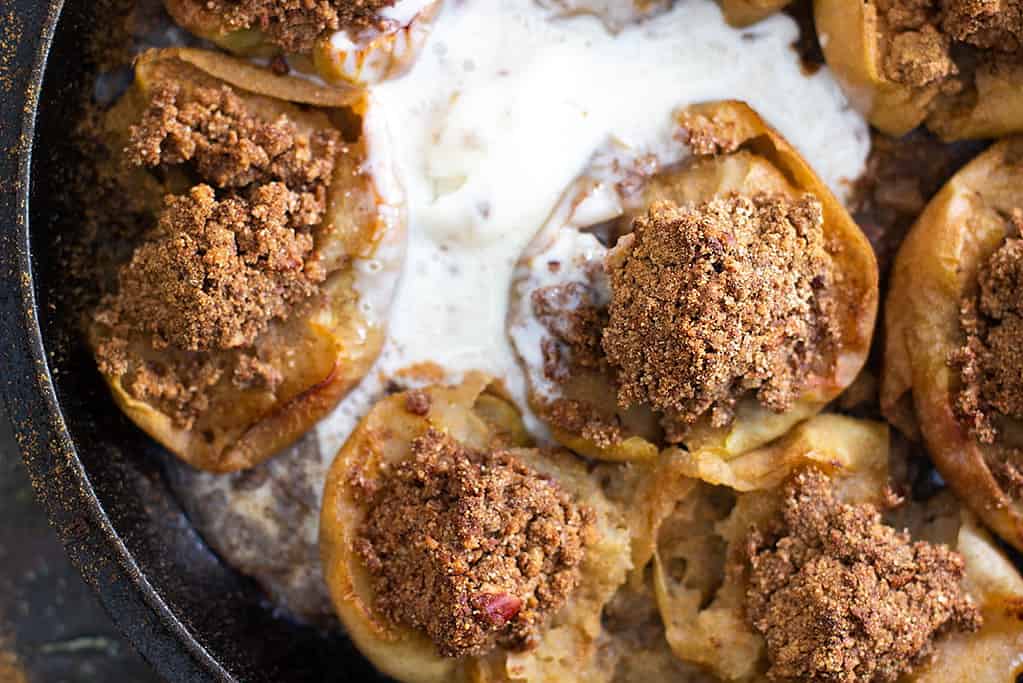 gluten free recipe for stuffed baked apples
Baked stuffed apples is nothing new on the recipe front, if fact fruit stuffed with a filling and baked in the oven has been a winning combination for as long as recipes have been literally recorded. Most commonly, fruits are stuffed with some combination of flours, spices, grains and sugars to give a crumble like texture that works against the soft sweet fruit. Therefore, todays recipe for Spiced Pecan Stuffed Apples is about giving a simplistic well-loved recipe a makeover.
Last year when we were in Italy (which feels like another lifetime these days) I made a lot of stuffed & baked stone fruit, as it was so plentiful with the seasons. I would mix up whichever flour I had on hand with some grain flakes and local honey, then spoon this into the centre of the peaches and bake them in the oven. They were a huge hit with friends when shared or just between Hubbard and I. So simple, and a celebration of seasonal ingredients.
Even with our travels it was easy to keep this recipe gluten free with so many alternative flours and grains around now all over the world. The added benefits of local honey was a dream, but honestly the sweet juices that flow from baked fruit are more than enough. This is also what makes this dish so wonderful for people who need to be mindful of their sugar intake.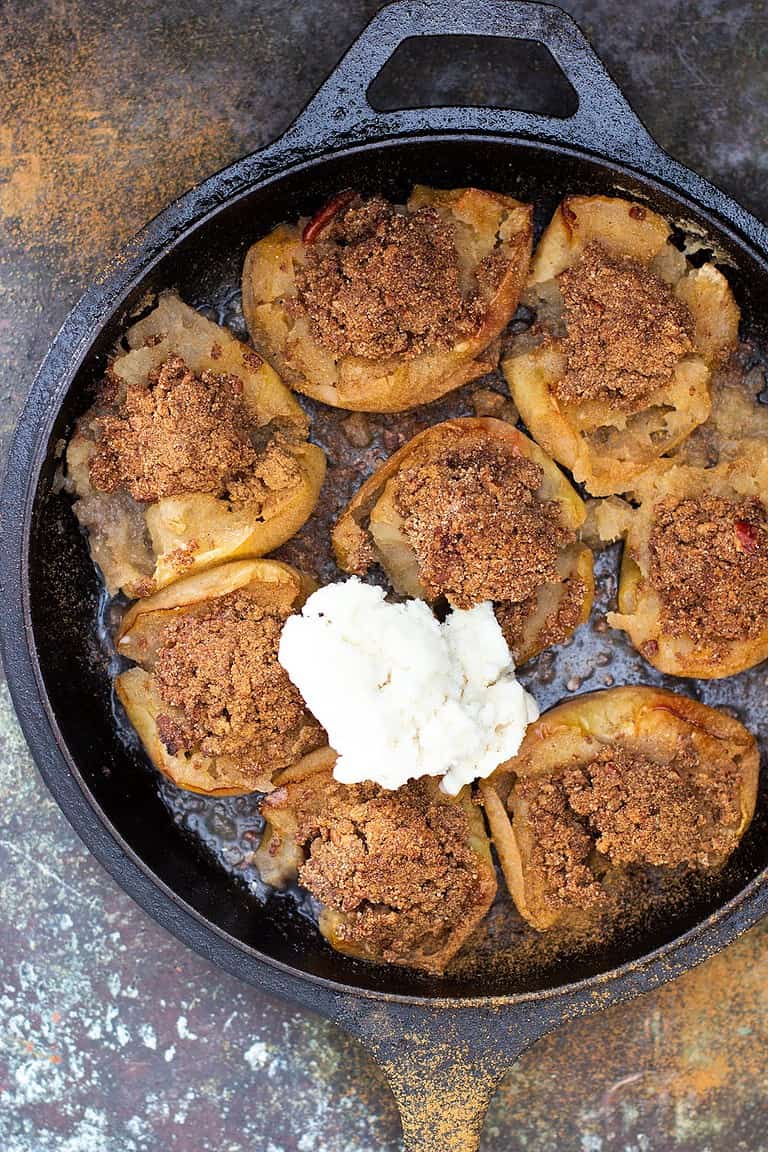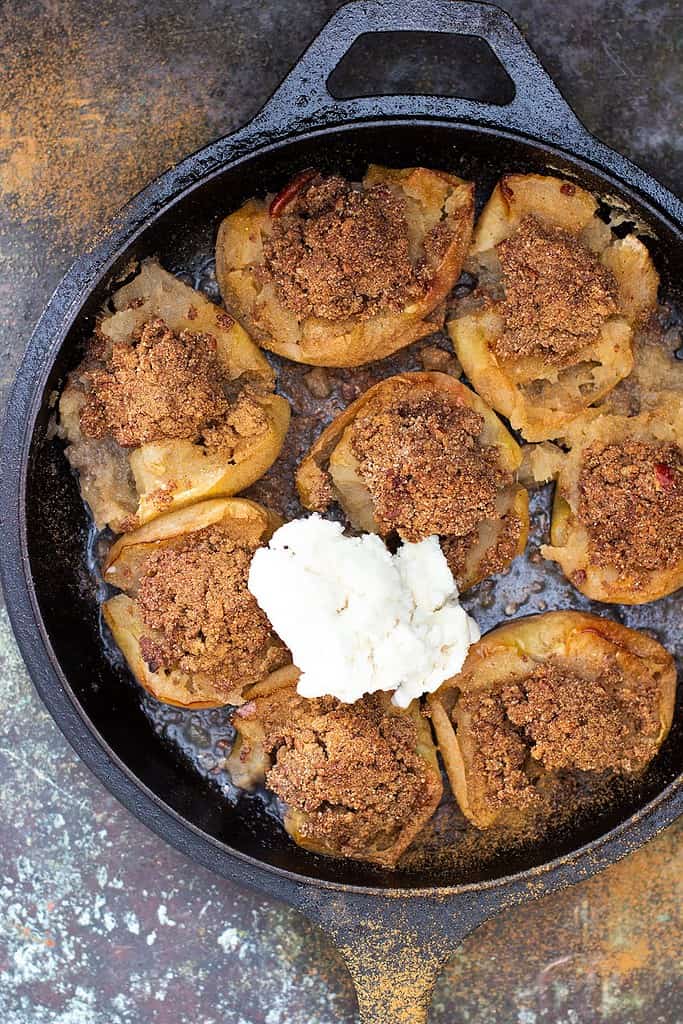 the benefits of stewed apple
Cooking the apples in this way is pretty much on par with stewed apple. If you have had anything to do with The JCN Clinic you will know that we are big on our stewed apples. The reason for this is that apples (especially the red delicious variety) are a rich source of plant tannins. In fact apples are extremely rich in polyphenols and research suggest that some of these potent antioxidants found in apples can protect against oxidative stress – a major contributor to ill health. (Carrasco-Pozo et al, 2010)
Polyphenols act as potent anti-inflammatory agents, antioxidants and help modulation gut bacteria species, all highly beneficial for gut restoration and building of mucosal integrity. More specifically (and thanks to the work of Dr Michael Ash) stewed apples have been hypothesised to increased regulatory T cell promotion in the digestive tract consequently changing dendritic cell regulatory function, thereby increasing oral tolerance. Think of dendritic cells like cells with long arms that reach through the intestinal wall to taste what is passing by inside the intestinal tract in the mucosal tissue (like the monsters in the 'upside down world' in Stranger Things). This increased 'oral tolerance' means these dendritic cells are more likely to provide a tolerance to food proteins instead of an over reactivity.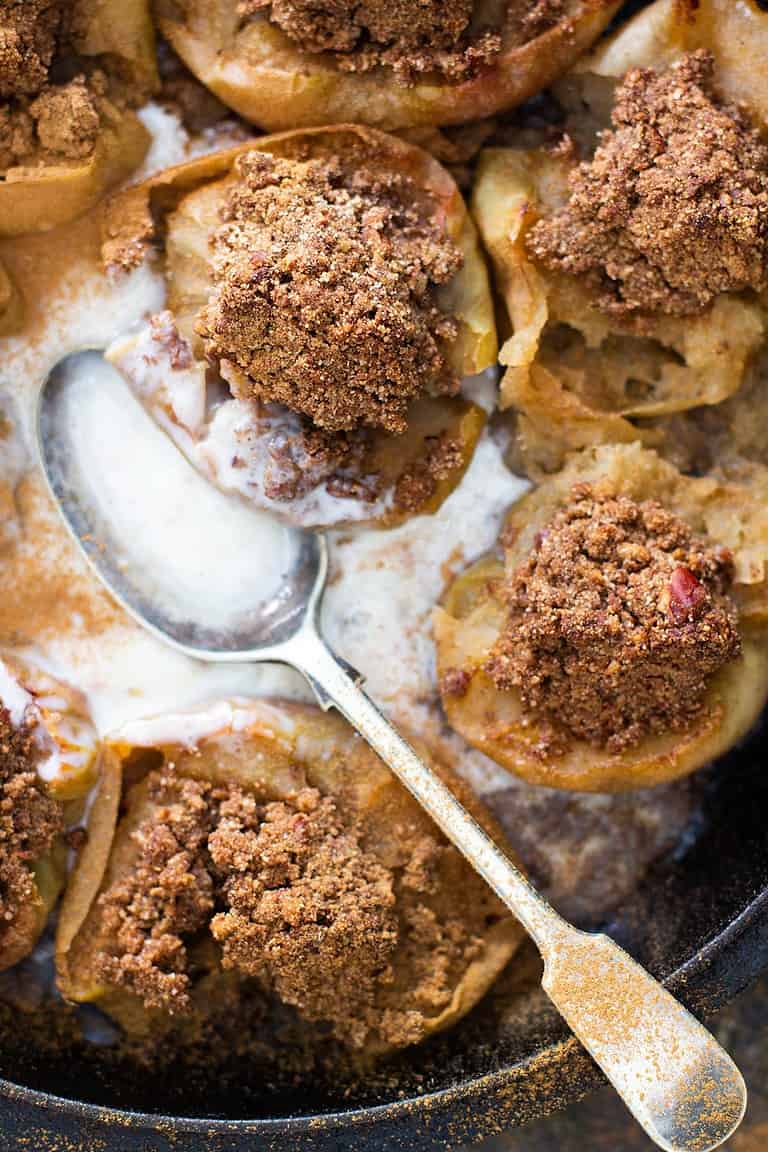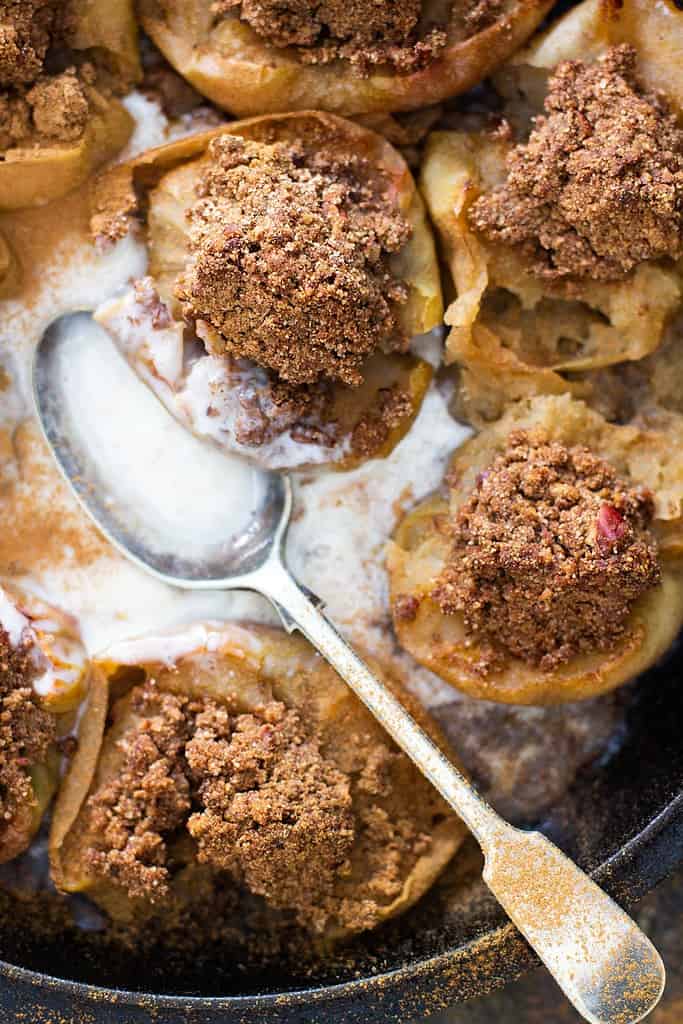 All the science aside, at the end of the day baked apples are just really delicious right? I mean its hard to go wrong when you take something that nature created that is already sweet and incased in its own packaging, then slowly bake it to break down the fibres and allow the sweet juices to release and caramelise. I mean come on!
Personally, I love these Spiced Pecan Stuffed Apples as is, but you can get creative and serve them with with loads of different toppings or accompaniments. Here I have simply added some dairy free ice cream and allowed it to melt into the apple juices, but as always let's look at some other options that may take your fancy.
what to serve stuffed baked apples with?
These are some of my favourite options:
Lastly, I'd like to offer your taste buds the idea of taking this recipe savoury. Imagine replacing the spices with freshly chopped sage and oregano with some salt. Then imagine this sweet & savoury flavoured baked apple served with pork or baked chicken.
So many options as always, but overall I hope that this spiced pecan stuffed apples recipe at its core provides an extra pizazz to your kitchen repertoire and some lovely sweetness to those of you needing recipes with minimal added sugars. Enjoy!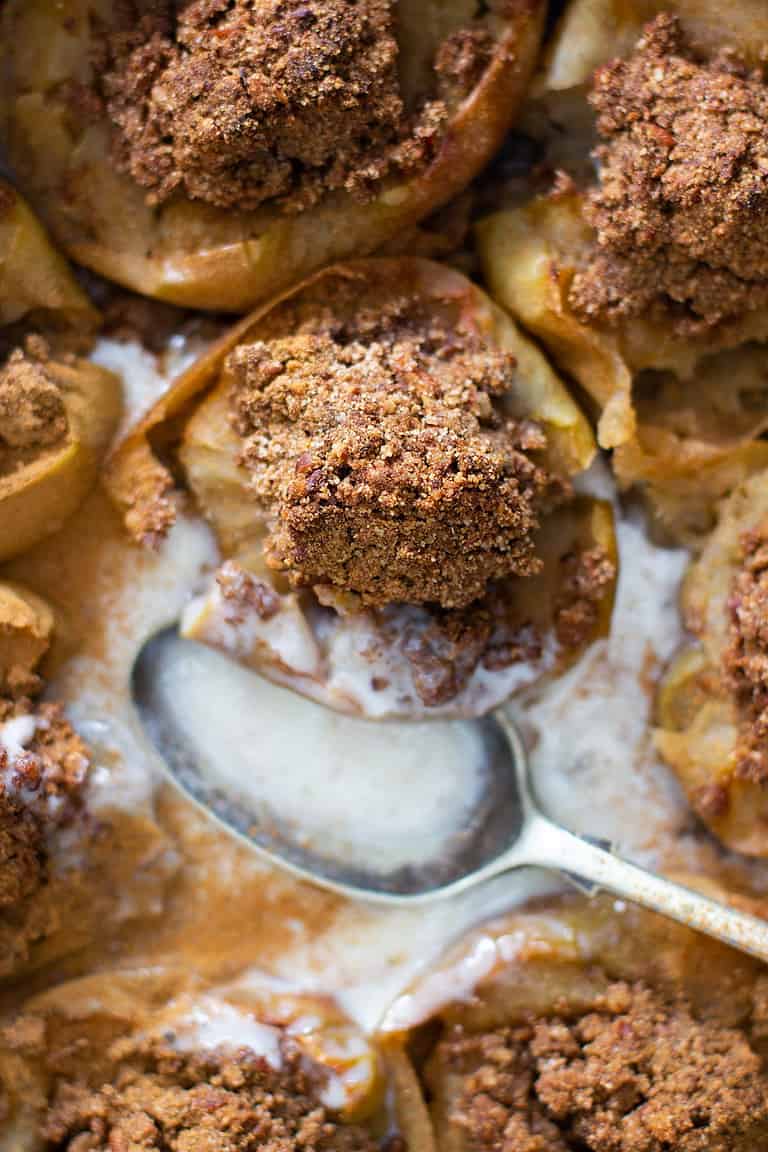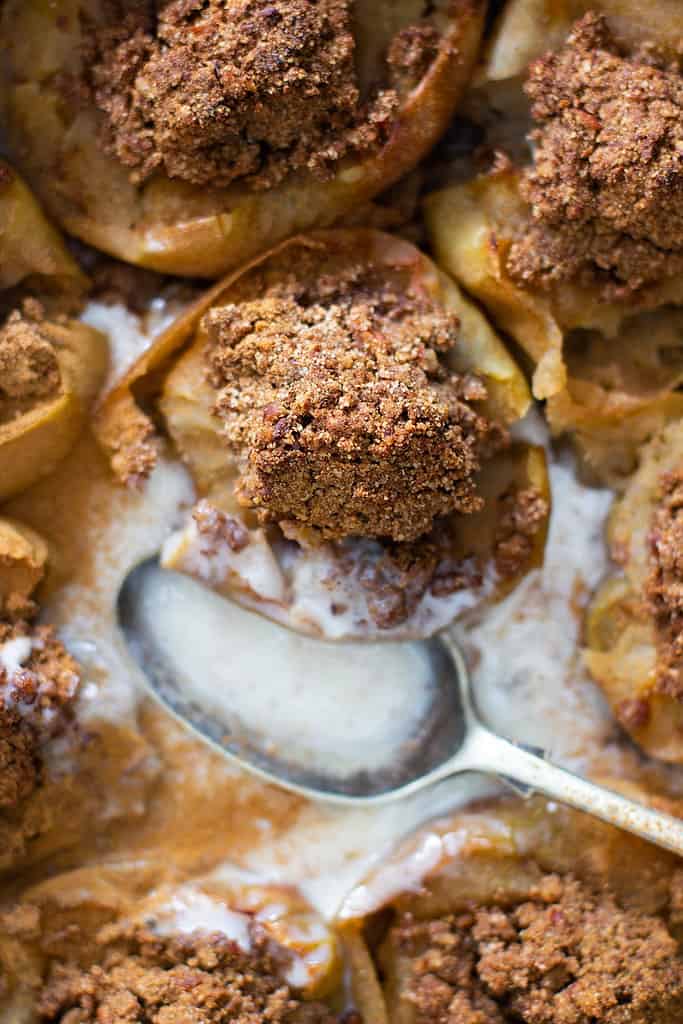 Need personalised nutrition advice catered to your needs?
If you are after personalised nutrition advice and dietary planning individualised to your health and dietary needs then contact us at The JCN Clinic with your enquiry. We are always happy to answer any questions you have!
spiced pecan stuffed apples recipe
serves

4

preparation time

15 min

cooking time

30-45 minutes depending on your oven
ingredients
4 apples
70g of apple
1/2 cup pecan nuts
1/4 cup brown rice flour
1/2 teaspoon cinnamon
1/4 teaspoon ground cloves
3/4 cup water
extra virgin olive oil for drizzling
(optional) 2 tablespoons maple syrup or honey
method
These stuffed baked apples are sweetened with the natural juices of the cooked apple. If you prefer sweeter, drizzle them with maple syrup or honey before popping in the oven or after baking to taste.
Pre-heat your oven to 180c.
Start by washing the apples and then cut in half. Remove the core of the apples, ensuring you leave as much apple flesh as you can.
Now use a small sharp knife to remove the centre of the apple, moving the knife around in a circular fashion to remove a rough disc shaped piece. It doesn't matter if it falls apart. You want to aim for close to 70grams of apple flesh, so remove a little more if needed. Place the cored out apples flesh side up in a baking dish or cast iron pan (you want them to fit nice and snug).
Place the scooped out apple in a blender with the pecans, brown rice flour, cinnamon and spices. Blend to a rough meal. The mixture should be sticky and hold together between your fingers when pressed.
Scoop out the apple, pecan, brown rice and spice mix and place heaped tablespoons into the apple centres, pressing gently down to compact the mix together.
Continue to add the mix to all the cored apples until it is all used up. Now add the water to the bottom of the baking dish and drizzle the apples and the stuffing tops with some extra virgin olive oil.
Place in the oven to cook for 15 minutes to allow the stuffing to turn golden, then cover the baking dish or cast pan with baking paper, foil or a lid and continue cooking for another 30 minutes, checking again after 15 minutes incase they are already close. The apples are done when they are completely collapsed (don't worry if the sides burst a little).
When cooked, remove from the oven and serve either straight away with the juices or allow to cool and store in the fridge for later. These Spiced Pecan Stuffed Apples will last for 5 days in the fridge or can be frozen. Delicious served with dairy free ice cream or whipped coconut cream or dairy free yoghurt.
nutritional information for spiced pecan stuffed apples
You can read in the blog post above about the benefits of polyphenols found in apples. However, it is also worth noting that an apple with the skin provides around 20% of your daily fibre needs and contain a high amount of Vitamin C. Apples also provide a moderate amount of our other vitamins and minerals but their true stand out really does come to the forefront with the phytochemical constituents mentioned in the blog.
Pecan nuts are an abundant source of quality fats (highest in monounsaturated fats) while also providing some plant based protein. Nutrient wise, pecans are rich in Vitamin B1, B6, magnesium, zinc, copper, phosphorus and manganese.
Jessica Cox is a qualified practicing Nutritionist with a Bachelor Health Science (Nutrition) and over 15 years of clinical experience. She is the founder and director JCN Clinic, published author and established recipe developer. Jessica is well respected within health and wellness space for her no fad approach and use of evidence-based nutrition.