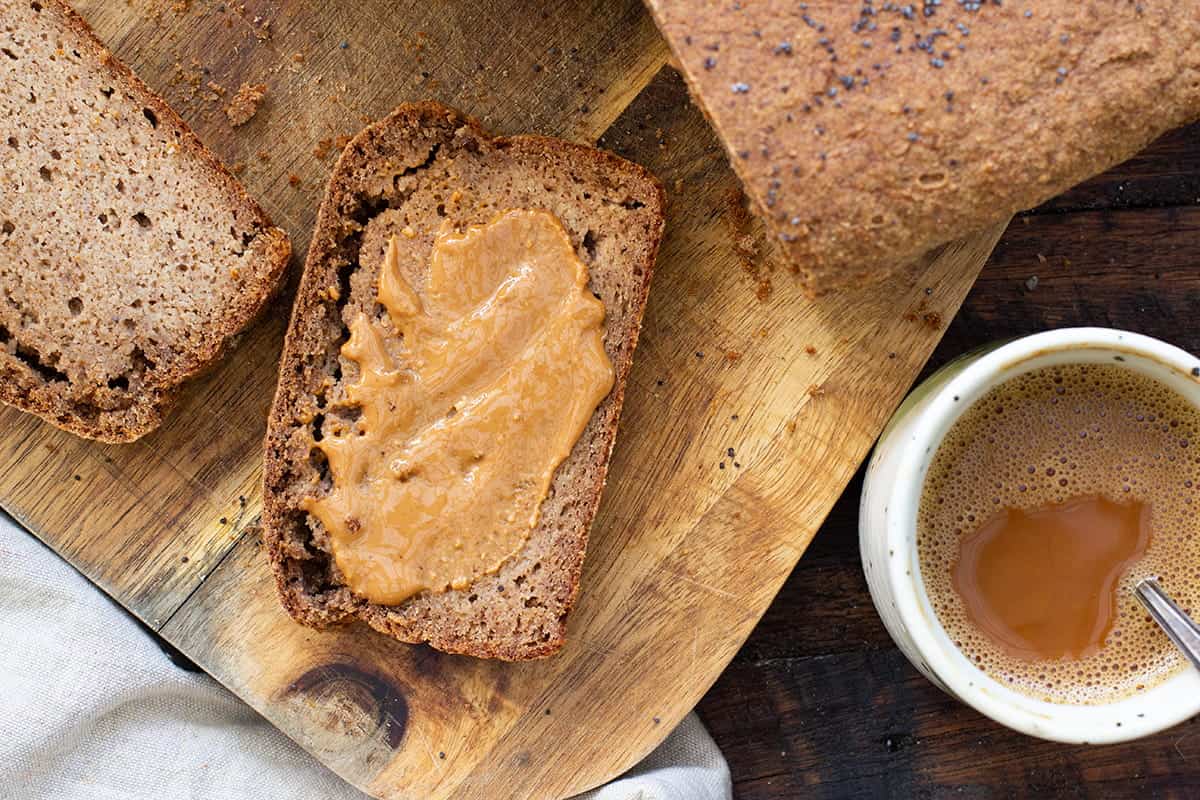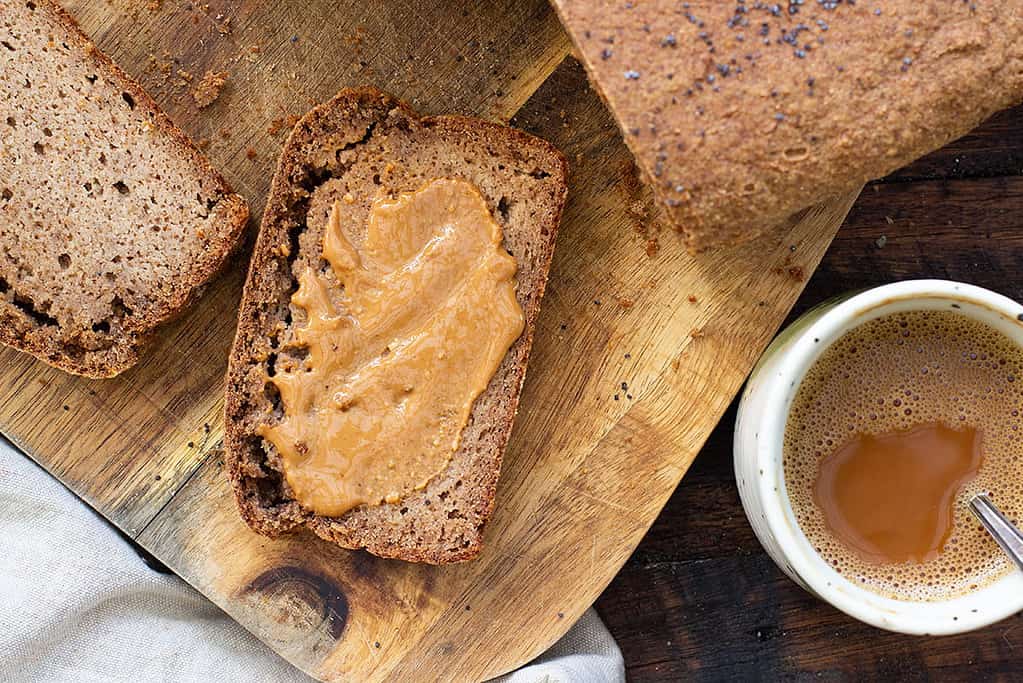 the best gluten, nut & seed free bread
Yes, I have bought you another bread recipe! Considering the popularity of the Gut Friendly Bread and SIBO Friendly Bread it might seem odd to go down the bread pathway once again, however I've found that the need for a bread free from nuts and seeds has been growing. Therefore, this Gluten Free Potato Bread is going to work fabulously for those of you who need to keep your nut & seed intake down, while still enjoying a wholesome and nutritious homemade bread.
In reality, every day bread is usually made from flour bases more so than the high amount of nut and seed meals we now see dominating the wholefood space. The addition of nut meals has enabled gluten free bread recipes to expand beyond the use of gluten free refined flours. I love these types of nutty flavoured breads, but sometimes you just want something a little lighter to go with your eggs on toast.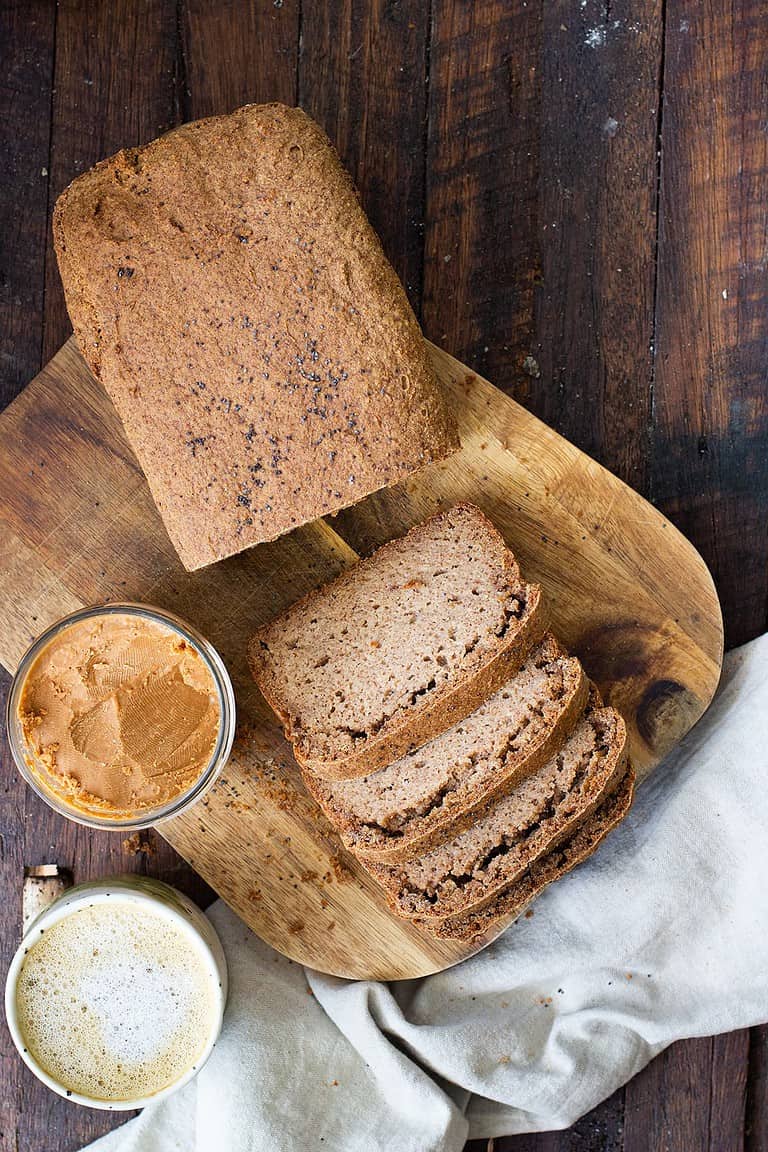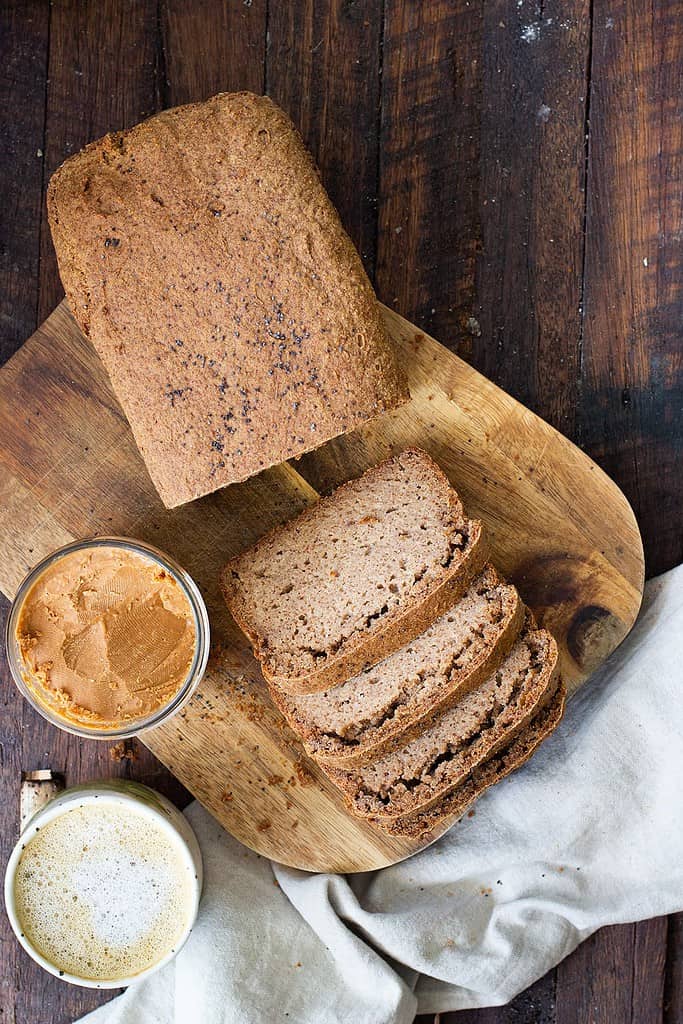 high resistant starch bread
This Gluten Free Potato bread was also designed to pack a punch in the realm of resistant starch. At The JCN Clinic we are always looking at ways to increase resistance starch in our clients diets as we work on building a more robust microbiome. Resistant starch is known for being a well used fuel for our gut bacteria (aka a prebiotic), in particular the phylum called Actinobacteria and specific species such as Bifidobacterium adolescentis, Eubacterium rectale, and Ruminococcus bromii (1). Consuming foods high in resistant starch helps feed these bacteria and provide a valuable energy source for them to produce vital organic acids for our health called Short Chain Fatty Acids (SCFA). You can read more about SCFA here.
Resistant starch foods sources are also more tolerable for those with SIBO due to their 'resistant' to fermentation in the small intestinal tract. Now this is not always the case, but more often than not when aiming to expand a dietary intake in the SIBO world, adding in some resistant starch foods can be quite successful.
This Gluten Free Potato Bread is a high source of resistant starch in the majority due to the potatoes. Potatoes provide their best amount of resistant starch in their cold form, so when cooked up fresh then baked into a bread like this with other grain based flours we are really increasing the amount of microbiome fuel.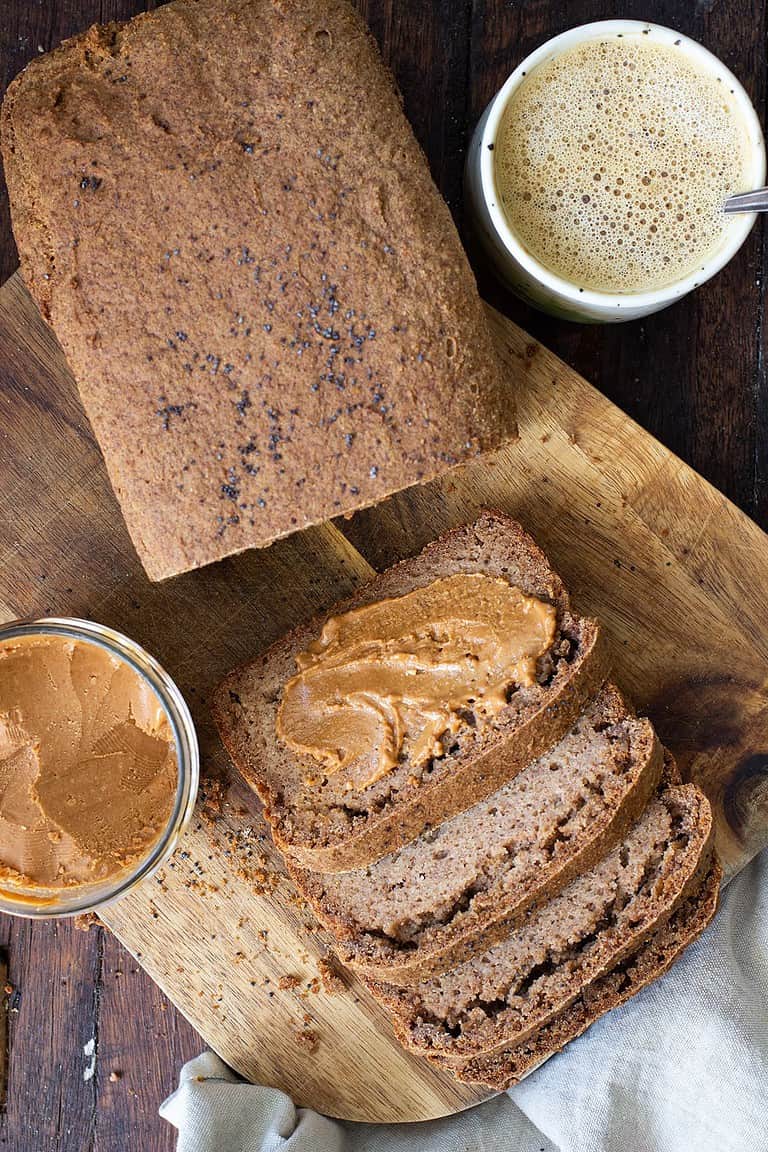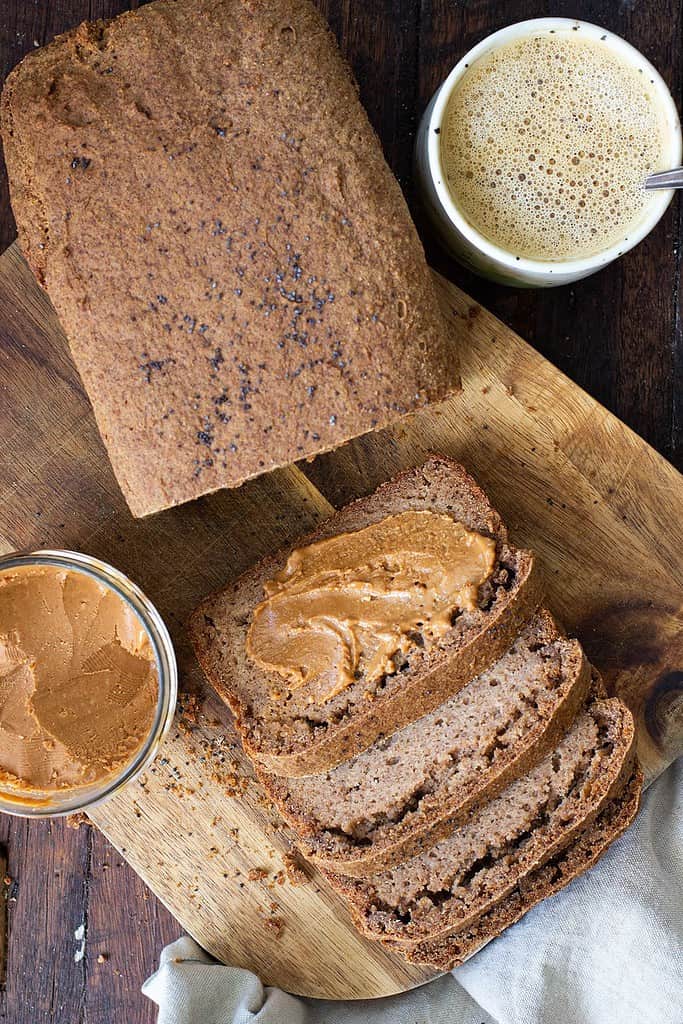 Of course with the addition of more wholegrain flours like sorghum flour, millet flour and brown rice flour this Gluten Free Potato Bread is definitely no spongy white bread situation. This bread is still going to be seriously filling. Top it with your favourite sweet or savoury toppers and you are without question getting a sustaining amount of complex carbohydrates to keep you going between meals.
You will also find that this bread takes a lot longer to cook than the other breads you may have made here on the website to date. This is due to the high potato content in the bread. The finished result is still a moist centre (sorry!), so don't think that it's undercooked when you cut into it.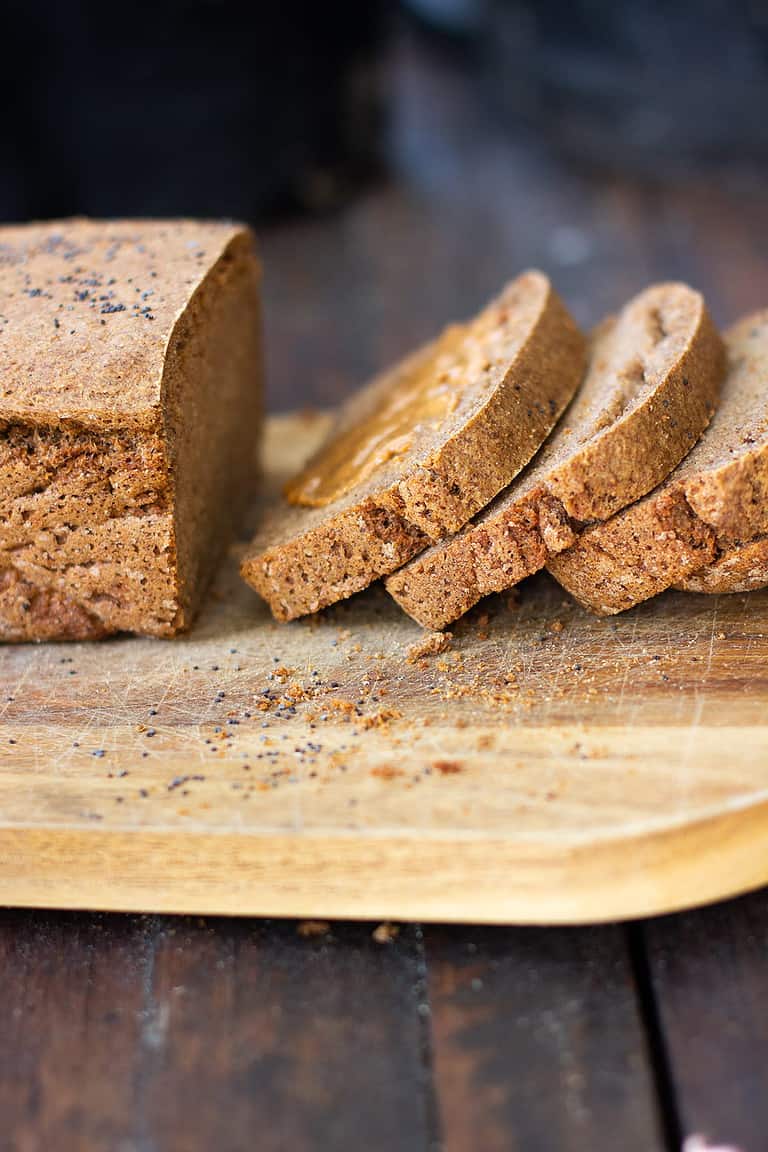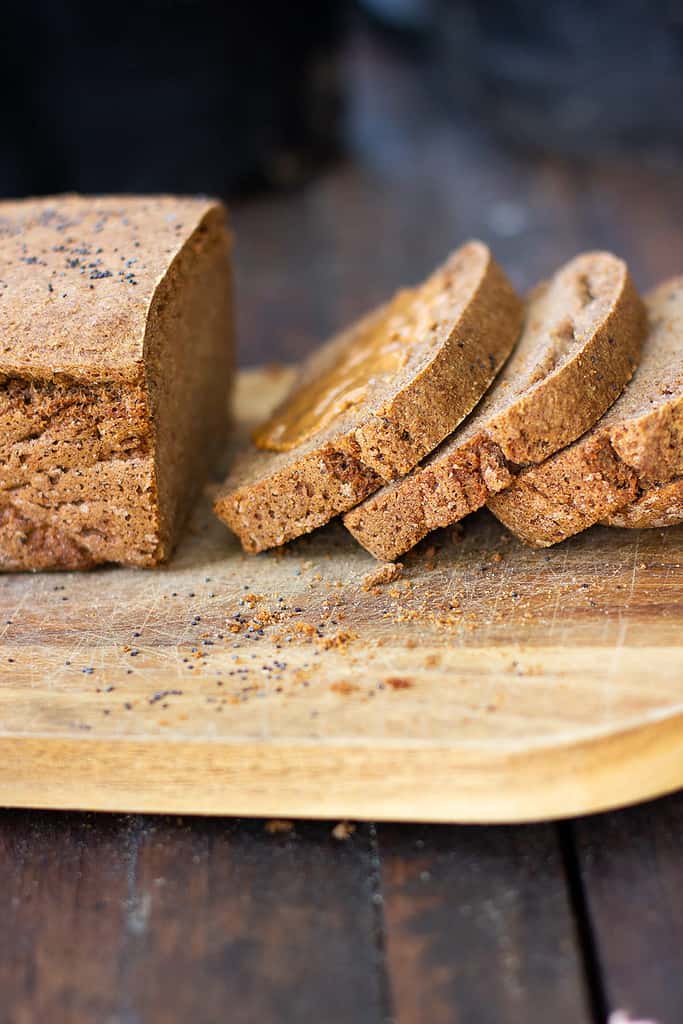 The best toast topping ideas
Lets talk about some delicious options for topping your Gluten Free Potato Bread with. I feel like there are so many options, and of course its an endless list really – but I'd like to share some of my favourite with you:
The best sweet toast toppers
peanut butter, papaya, lime juice, hemp seeds
vegan brown butter, stewed apple, cinnamon
tahini, banana, cacao nibs
avocado, strawberries, honey
goat's cheese, fig, honey
The best savoury toast toppers:
olive oil, grilled eggplant, tahini, sumac
avocado, pesto, hemp seeds
avocado, scrambled eggs, chilli oil
peanut butter, cucumber, fried egg, coriander
tahini, smoked salmon, rocket, lemon
These are just some of my favourites from over the years that I encourage you to try We all love the classics – banana, peanut butter, honey – but its so fabulous to explore outside the box and diversify your intake of foods. I encourage you to try a new savoury and sweet topping each week and see what floats your boat. Enjoy!
Like what you're seeing? Subscribe for new recipes and nutrition tips every week!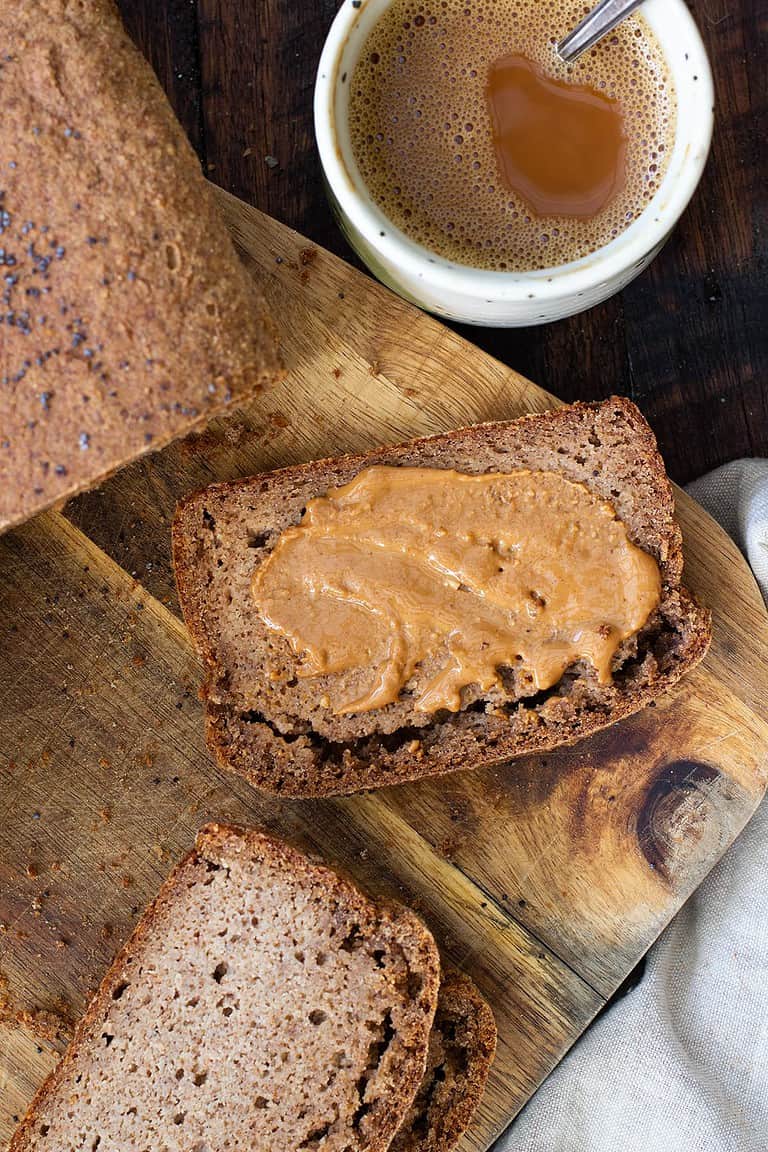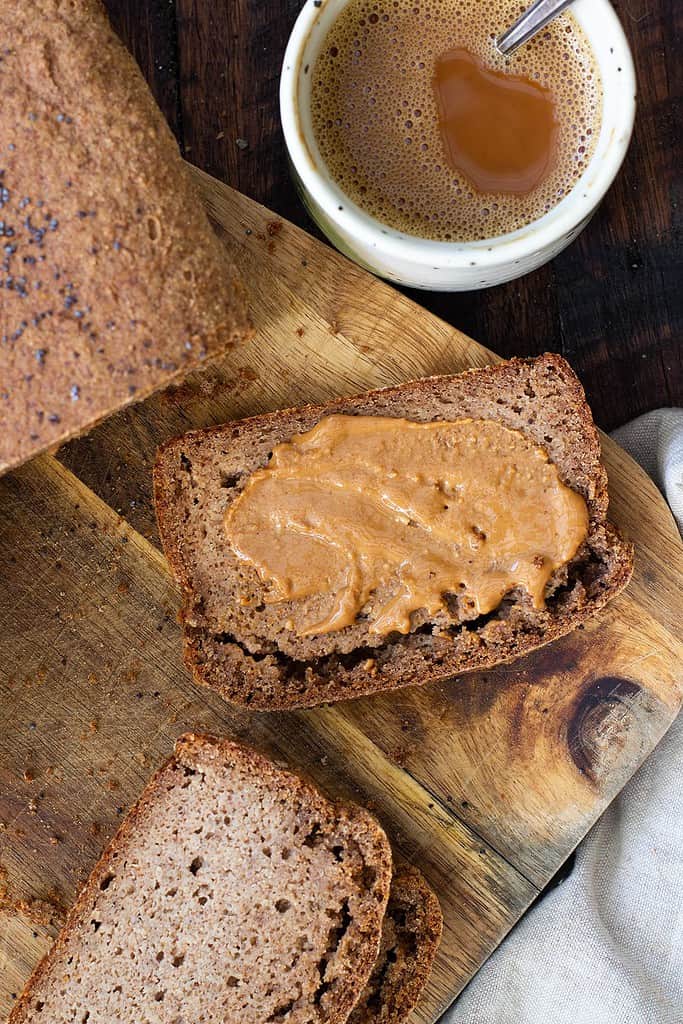 Need personalised nutrition advice catered to your needs?
If you are after personalised nutrition advice and dietary planning individualised to your health and dietary needs then contact us at The JCN Clinic with your enquiry. We are always happy to answer any questions you have!
homemade gluten free potato bread recipe
serves

makes 1 loaf

preparation time

30 min

cooking time

1 hour & 30-40 minutes
ingredients
500g potatoes, skin off
1 cup sorghum flour
1 cup millet flour
1/4 cup brown rice flour
1/2 teaspoon salt
3 tablespoons psyllium husks
3 teaspoons baking powder
1/2 teaspoon bicarb soda
1.5 cups water (ideally the water from the boiled potatoes)
1/4 cup extra virgin olive oil
method
Double the mixture for a larger loaf. This bread has a long cooking time so you will need to keep this in mind when baking.
Pre-heat your oven to 180c. Grease and line a standard sized bread tin.
Start by washing the potatoes well and cutting into quarters. Place a medium sized saucepan filled with water on to boil and add the potatoes. Bring to the boil and cook potatoes until soft. You should be able to easily pierce through them with a knife.
In the interim, combine in a large mixing bowl the sorghum flour, millet flour, brown rice, salt, psyllium husks, baking powder and bicarb soda. Mix well.
Once the potatoes are ready, remove them from the water and place them in a blender (set the potato water aside). Add to the blender the water (ideally measured from the boiled potato water – don't stress if you threw it out, just use normal water) and the extra virgin olive oil. Blend till well combined.
Make a well in the middle of the dry ingredients and pour in the liquid from the blender. Mix well with a wooden spoon. At first the mixture will be quite loose, but it will thicken up after a few minutes as the psyllium soaks up liquid. The mixture will still be wetter than a standard bread dough, similar to a thick cake batter.
Spoon the batter into your loaf tin and even out the top. Decorate with and seeds if desired. Place in the oven to bake for 1 hour & 30 – 40 minutes, covering at 30 minutes with foil or baking paper to stop the top burning.
Once the bread is ready remove it from the oven and leave in the tin to cool for 10 minutes. After the bread has cooled, use a butter knife to run around the edges of the tin then tip the bread tin carefully upside down on a wire wrack. Carefully turn the bread now up the right way and leave to cool completely.
Once cooled, slice bread and then store in the freezer to keep it nice and fresh.
nutritional information for gluten free potato bread
This Gluten Free Potato Bread is rich in prebiotics, especially resistance starch which is a substantial fuel for Short Chain Fatty Acids. SCFA are organic acids produced by bacteria within the gut. They are a by-product of fermentation of the food we eaten on a daily basis, in particular undigested carbohydrates and resistant starch. SCFA have a variety of functions that are unique to them, whilst also exhibiting collective functions as a group. Research has shown a multitude of benefits, with a major highlight on Butyrate in particular.
Once produced, SCFA are transported into systemic circulation and have the ability to effect our metabolic processes by binding to protein receptors (called G-protein coupled receptors). These receptors are found in a multitude of metabolically active tissue within our body and play an integral role in the regulation of many daily processes. (2)
Jessica Cox is a qualified practicing Nutritionist with a Bachelor Health Science (Nutrition) and over 15 years of clinical experience. She is the founder and director JCN Clinic, published author and established recipe developer. Jessica is well respected within health and wellness space for her no fad approach and use of evidence-based nutrition.