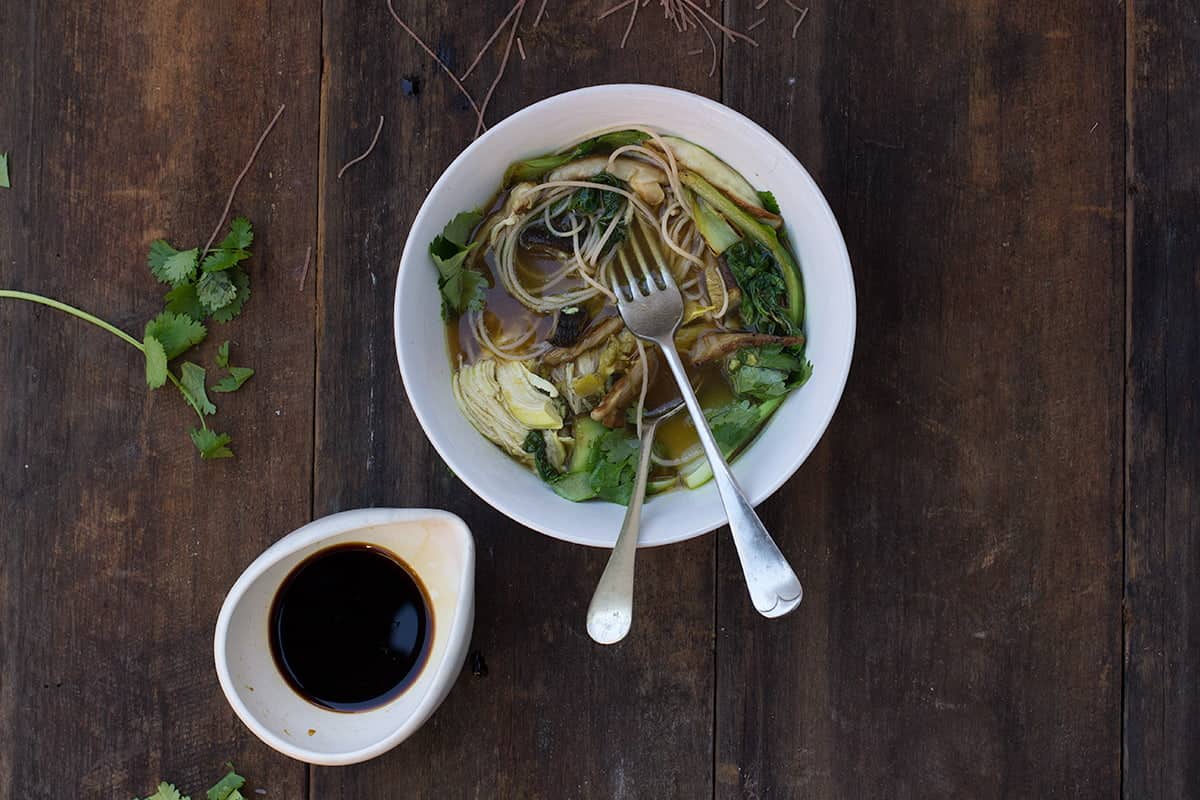 This mushroom, chicken & ginger immune boosting soup has been a favourite of mine in clinic for years. I've lost count of the amount of clients I have handed this out to for a therapeutic boost of nutrients through the cooler months. I have also used it countless times to help reduce inflammation and for it's antibacterial properties. I guess technically it's a 'bone broth' if you make your own stock, however a bone broth to me is just a fancy stock dressed up in the latest runway outfit.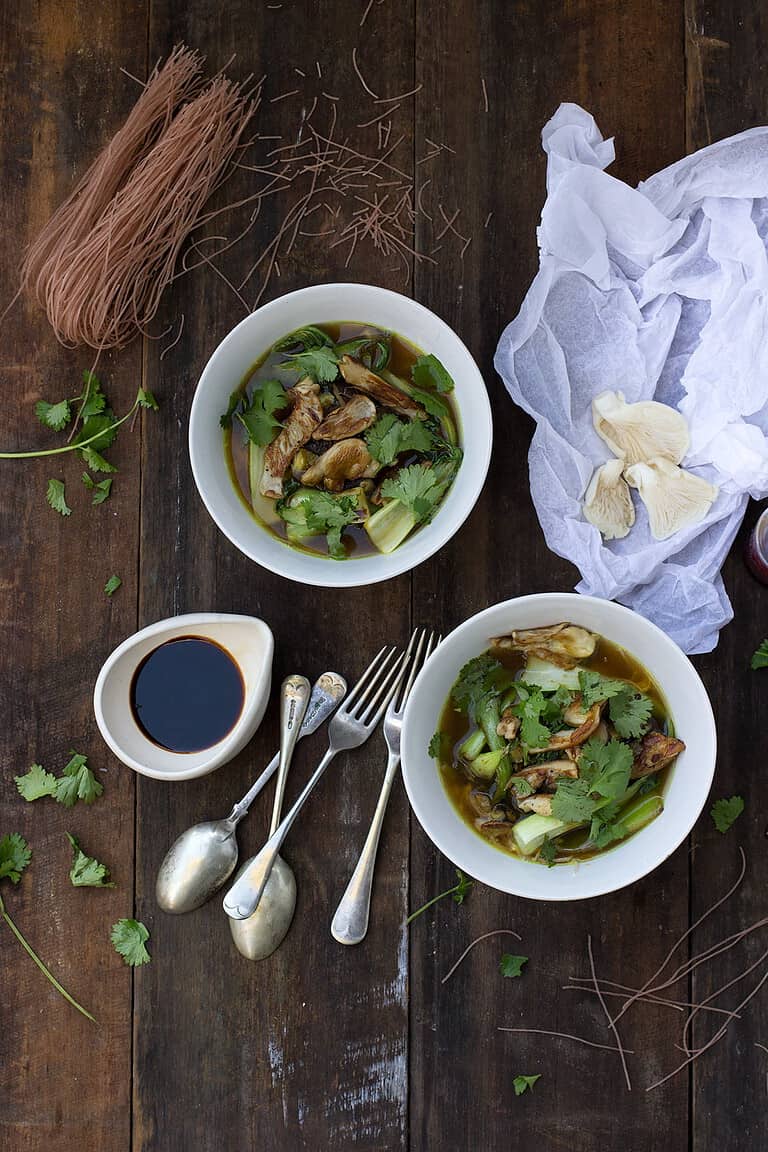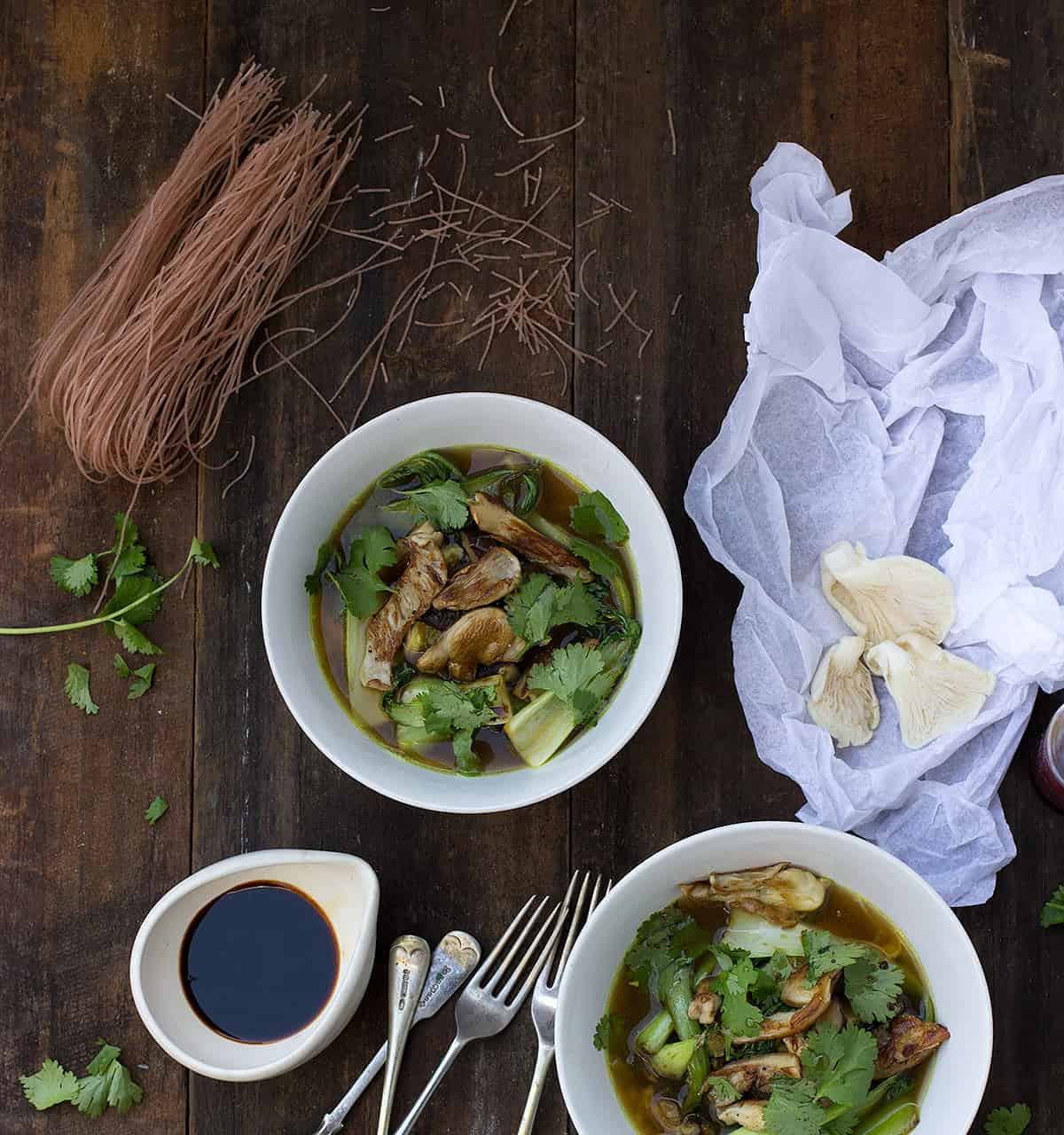 There is no star ingredient here. Everything that makes up this wonderful soup provides it's own nutritional boost. Ginger brings antibacterial and anti inflammatory fighting compounds, turmeric is well known there's days for it's powerful antioxidant status and ability to quell inflammation, whilst chicken is rich in amino acids. You can read more about the nutritional content of this soup in the notes below.
As it turns cold we naturally turn to warming dishes like soups. Soups provide loads of vegetables, which is fabulous, however many recipes are low in protein and complex carbohydrates. In turn this leads to meals that are not correctly balanced with our key macronutrients, which creates cravings for carbs  (especially sweet carbs in the form of chocolate!) later in the day.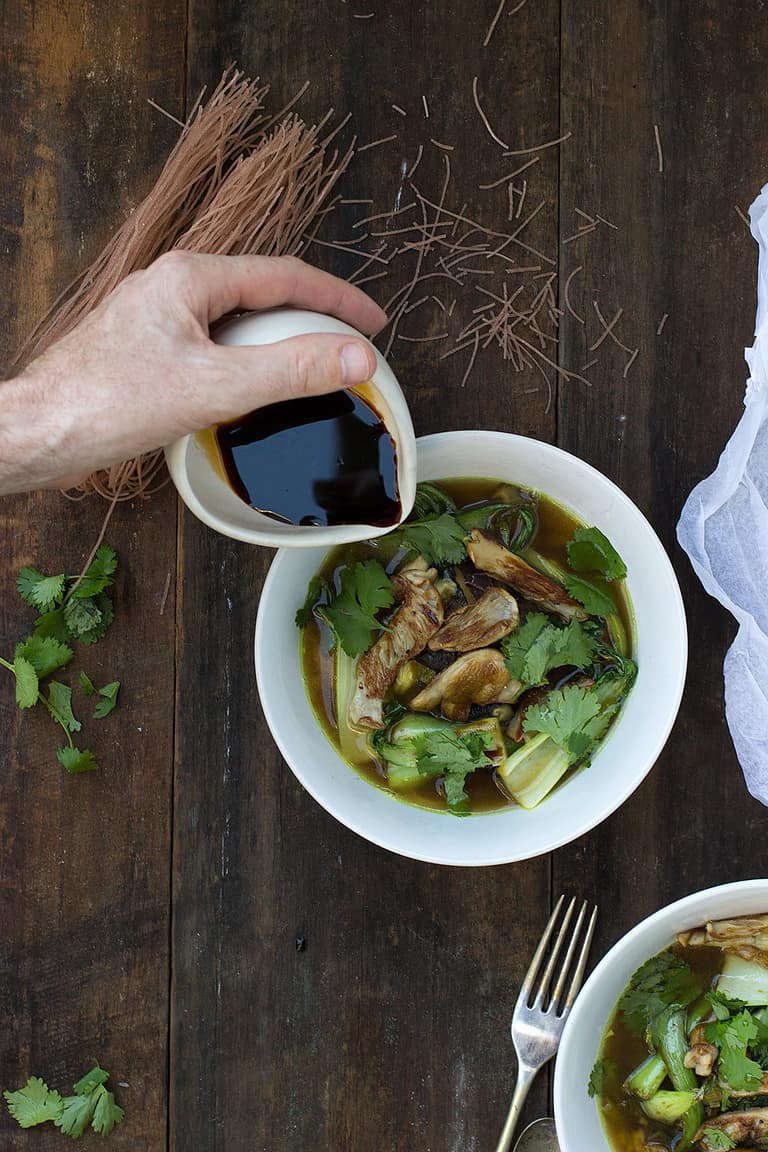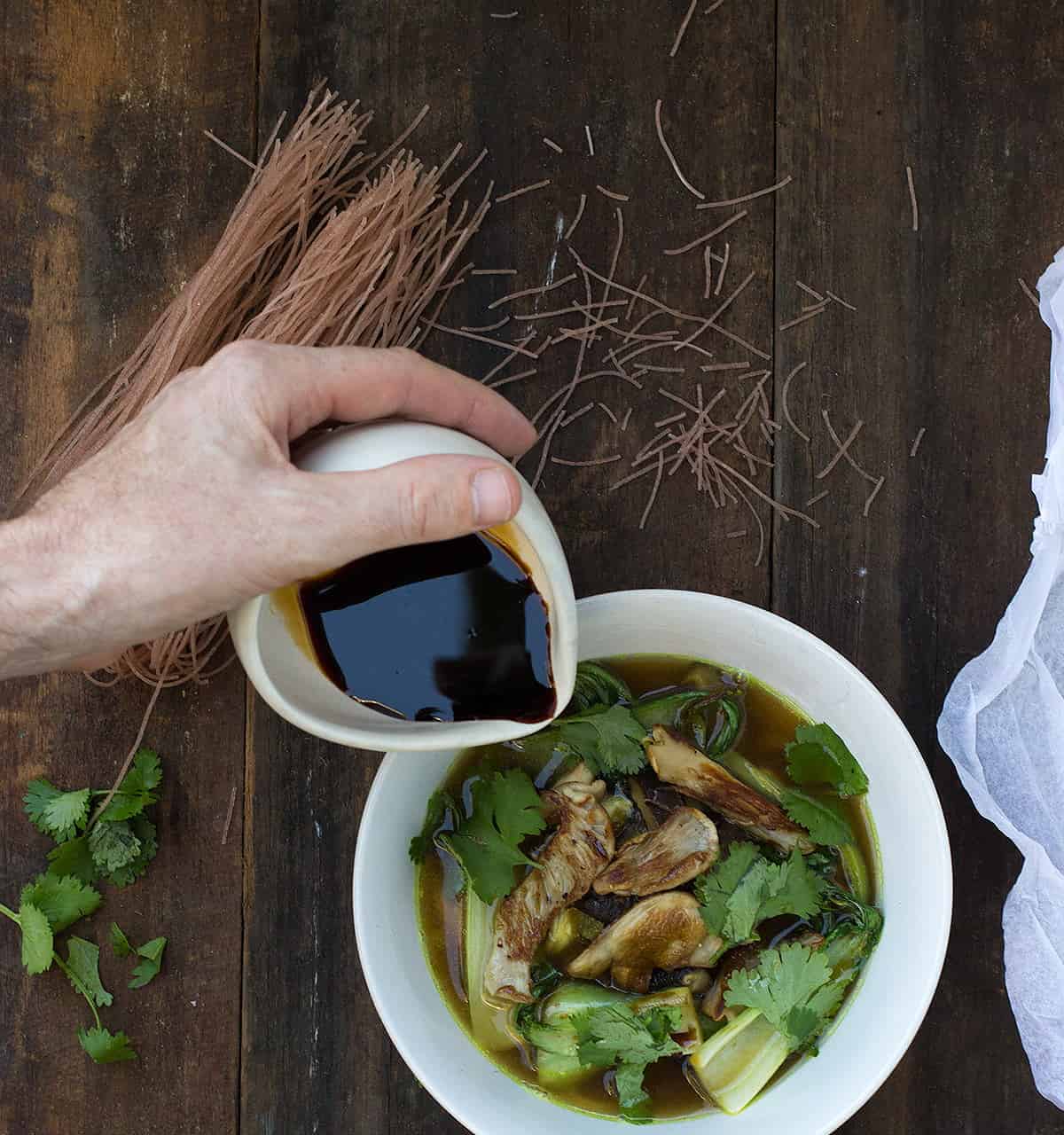 Therefore, when we make lovely vegetable soups in winter, we need to be mindful about adding in complex carbs and protein. This will ensure our macronutrient intake is met and those cravings are kept at bay. It will also create a soup that gives satiety and holds you for a good three hours, instead of feeling hungry just an hour after eating.
So how do we get this balance? Adding protein and fiber dense legumes can rectify the problem with many common soup favourites, such as good old pumpkin soup. This recipe for my pumpkin and lentil soup is a good example of this. We can also add fiber rich wholegrains such as barley or quinoa into our soups for complex carbs. Another option for amping up the protein of a regular vegetable based soup is to top the warmed soup with some tuna, salmon or some shredded chicken. Vegetarians or vegans may choose to crumble over some falafels or some crispy tofu.
Let's look at how this delicious mushroom, chicken & ginger immune boosting soup gets it macronutrient balance on. The brown rice vermicelli (how awesome is it that we can get this now!) provides the grain element giving us starchy complex carbs, the vegetables provide further carbs rich in fiber, the chicken brings ample protein to the soup while the fats are provided by the sesame oil and the natural fats in the homemade chicken stock (if using).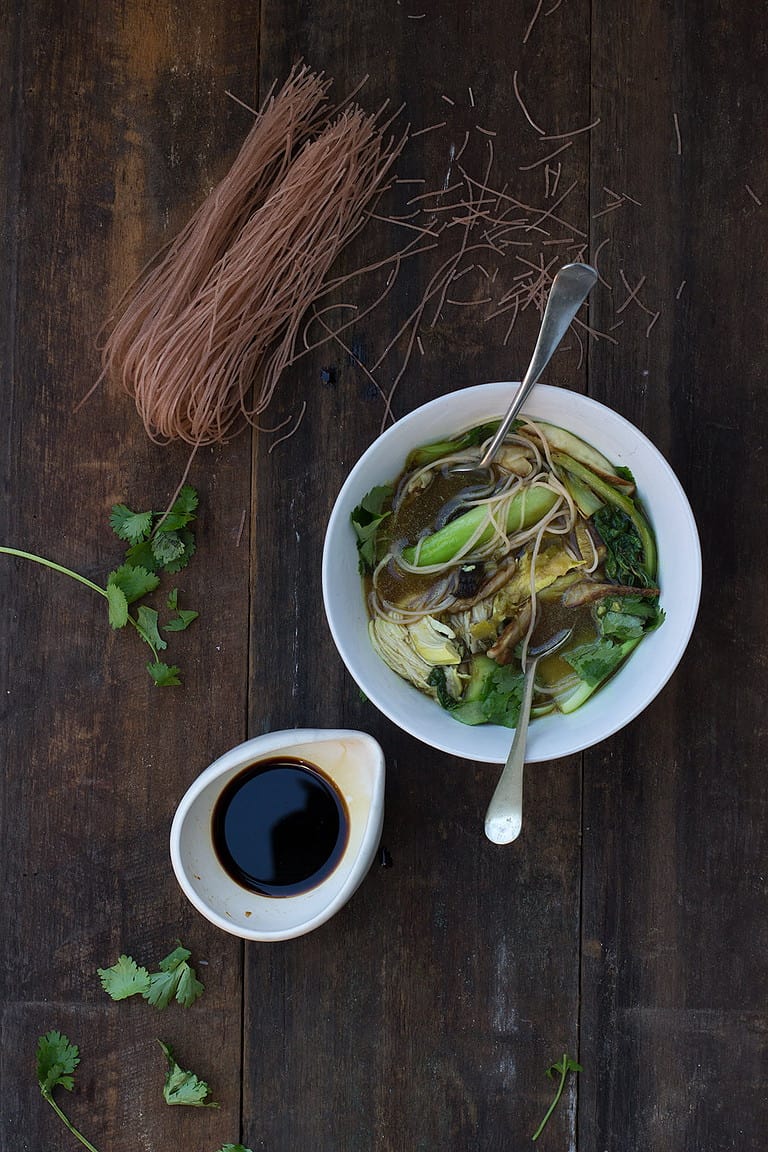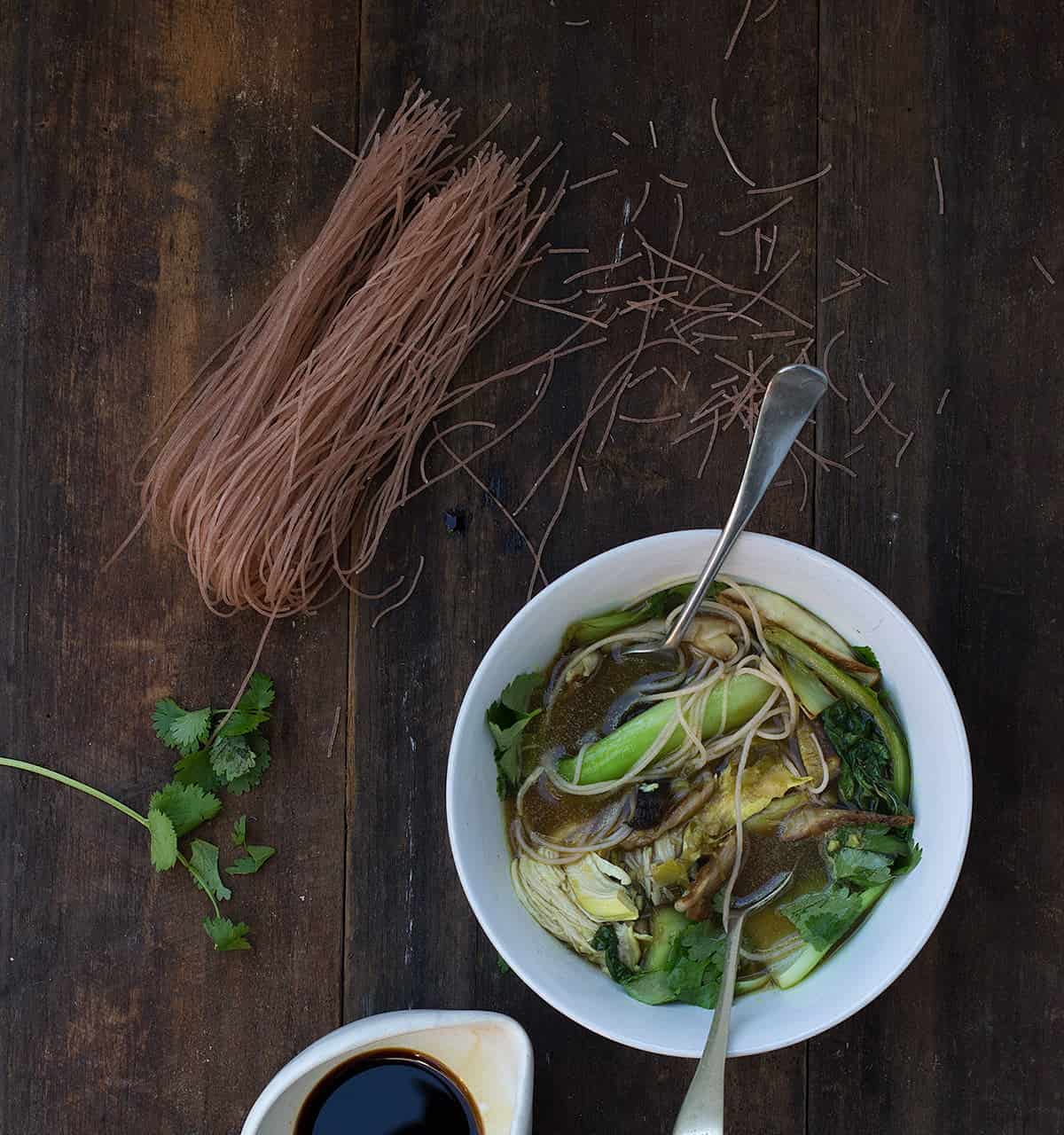 When making this soup, (especially from scratch) it's nice to set aside an afternoon to do so at your leisure. When it's already cold outside it's just wonderful to crank up the stereo (Billy Holiday was my choice) and enjoy it at a snails pace. While your stock is bubbling away take the time to lay down on the couch with a magazine, (or pinterest for those as obsessed as me) and take in the aromas. Bliss.
mushroom, chicken & ginger immune boosting soup
serves

serves 4 people

preparation time

30 minutes

cooking time

2 hours for stock, 1 hour for the soup
ingredients
// chicken stock //
2 litres of water
1 free range whole chicken
1 large onion, chopped
1 leek, roughly chopped
3 celery sticks, roughly chopped
4 tablespoons lemon juice
1 bunch parsley
4 bay leaves
1 dessertspoon peppercorns
2cm knob of fresh turmeric, sliced
2cm knob ginger, sliced
3 cloves garlic
1 tablespoon peppercorns
1 teaspoon salt
// soup //
10 dried shitake mushrooms + 1 cup boiling water
6 cups chicken stock (premade or a good quality bought option if needed)
4 cloves garlic, chopped
2 tablespoons ginger, grated
1 tablespoon turmeric, grated (or 4 teaspoons powdered turmeric)
1 tablespoon or tamari sauce (or regular soy sauce) + extra for serving
1-2 teaspoons sesame oil
1 cup spring onion, sliced
1 cup roughly sliced oyster mushrooms
2 bunches bok choy
chicken meat from stock (or 6 pre cooked chicken thighs, shredded if using bought stock)
1 packet brown rice vermicelli noodles
1 red chilli (optional)
1 cup fresh coriander leaves
method
For the stock (if making), otherwise please source a quality premade stock without sugar, msg and artificial flavourings. 
Place chicken in a large pot with water, lemon juice, vegetables, ginger, turmeric, bay leaves, parsley, peppercorns and salt. Bring to the boil, then reduce to a very low simmer and leave covered for 2 hours. After 2 hours, take out the chicken and pull the meat from the bones (careful as it will be very hot!). Sit the chicken meat aside and return the bones back to the pot. Leave this to continue simmering for another hour, however you can also leave it all day in a slow cooker for maximum flavour.
Once the stock is ready, pour it carefully through a strainer into a large bowl, pressing firmly on the bones and vegetables to release all those juicy flavours. Your stock is now ready to use. Either continue on with the recipe, or place in a container in the fridge. Note that after cooling the fat will rise to the top of the stock. You can remove this if you like, personally, I think it adds more flavour.
For the soup
Soak the shitake mushrooms in the boiling water for approximately 10 minutes, or until softened through completely. Slice the mushrooms up when soft.
In a large saucepan place your stock, garlic, ginger and spring onion. Bring to boil and add your shitake mushrooms with the soaking liquid. Turn to a low simmer and leave for around 30 minutes.
While the soups is simmering away, prepare your oyster mushrooms, brown rice vermicelli and bok choy. For the oyster mushrooms, pop them in a hot pan with a lug of olive oil and season with salt and pepper. Cook them until they are nice and brown on both sides, then set aside. (If you are using chicken thighs instead of chicken from fresh stock, then use this same pan to cook your chicken till tender).
Prepare the brown rice vermicelli noodles by placing them in a bowl and covering with boiling water from the kettle. Allow to soak for around 10 minutes (they will take longer than regular vermicelli noodles).
Add the bok choy to the pan with a little olive oil and stir-fry for 2-3 minutes until it wilts. Add in a generous dash of tamari sauce and mix through. Finish with a dash of sesame oil, toss through then remove from the pan and set aside.
Once you are ready to serve the soup place around 1/3 cup of brown rice vermicelli noodles in the bottom of each soup bowl, then top with the shredded chicken (set aside from your stock or pre cooked chicken thighs). Ladle over the hot soup ensuring you get plenty of the mushrooms, then finish by topping with the bok choy, oyster mushrooms, chili if using and coriander.
nutritional information
The base of this soup is rich in garlic and onion. Onions are high in the phytochemicals quercetin, which has antiviral, antihistamine and anti-inflammatory properties. Garlic has potent anti bacterial and anti viral actions. It also helps break down mucus and eliminate fungal infections.
Shitake mushroom and oyster mushrooms have potent anti viral actions along with anti mutagenic potential. Studies show immune modulating potential by regulation of white blood cells (machrophages) along with T cell production. The same study also showed a regulation in colonic injury with the ingestion of mushrooms. (2009, The effects of whole mushrooms during inflammation, BMC Immunology S, Yu et al)
Coriander is high amounts of phytochemicals lutein and zeaxanthin, important for free radical protection. Lutein is also significantly beneficial for supporting eye health/vision. (2010, Department of Biochemistry and Nutrition, Comparative study on the levels of carotenoids lutein, zeaxanthin and β-carotene in Indian spices of nutritional and medicinal importance, G, Aruna, V, Baskaran )
Ginger is well known for its potent anti-bacterial potential due to its gingerol content, along with anti inflammatory properties. It is also used as a digestive stimulant and natural digestive aid within the parameters of nutritional medicine. Studies have also shown that ginger is effective against Streptococcus mutans, Candida albicans, and Enterococcus faecalis (2013, Giriaju, A, Yunus, GY)
Jessica Cox is a qualified practicing Nutritionist with a Bachelor Health Science (Nutrition) and over 15 years of clinical experience. She is the founder and director JCN Clinic, published author and established recipe developer. Jessica is well respected within health and wellness space for her no fad approach and use of evidence-based nutrition.