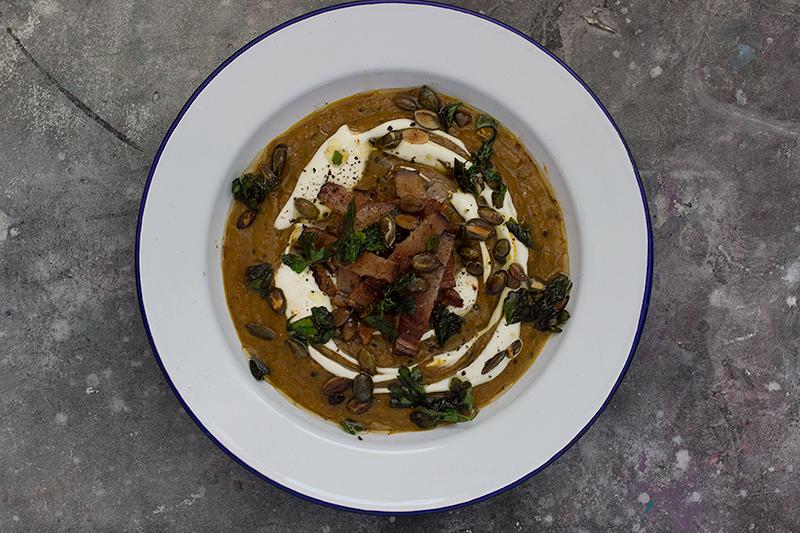 This isn't my recipe at all. I had nothing to do with it in anyway, so consider it plagiarism. It's my husbands.
Recently we have both had our fair share of a hefty flu going around Brisbane. I managed to go down for a week after he was struck with it, then just as I was getting better he went down again (you sprinted too soon Hubbard!). I was away for the first round of his flu, and when I came home I came back to this soup packed in a container for my lunch the next day. Score!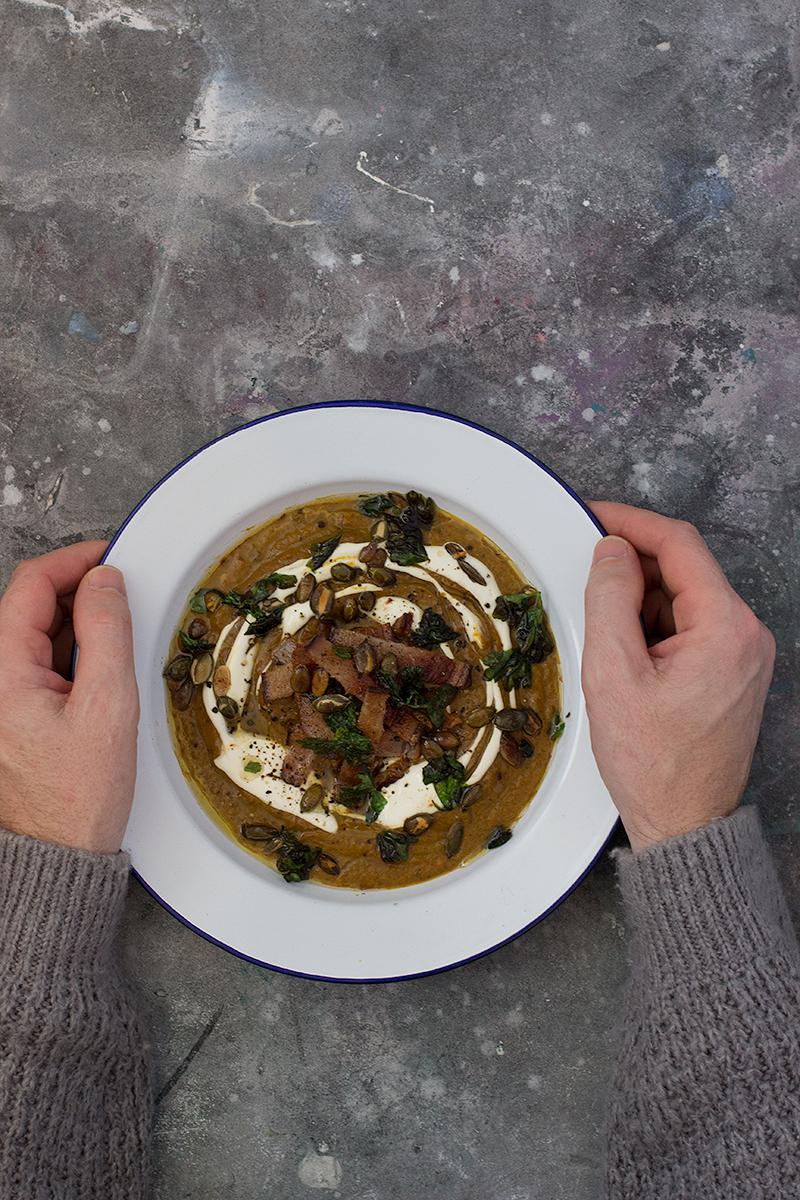 I was even more impressed when I heated it up and ate it for lunch the next day. This roast pumpkin, zucchini & cauliflower soup is seriously packed with flavour. Because he has learnt from the kitchen master, he knows that roasting vegetables first will always make them more sweet and intense in flavour. Basically this soup is just a whole lot of roasted vegetables blended with really good quality stock.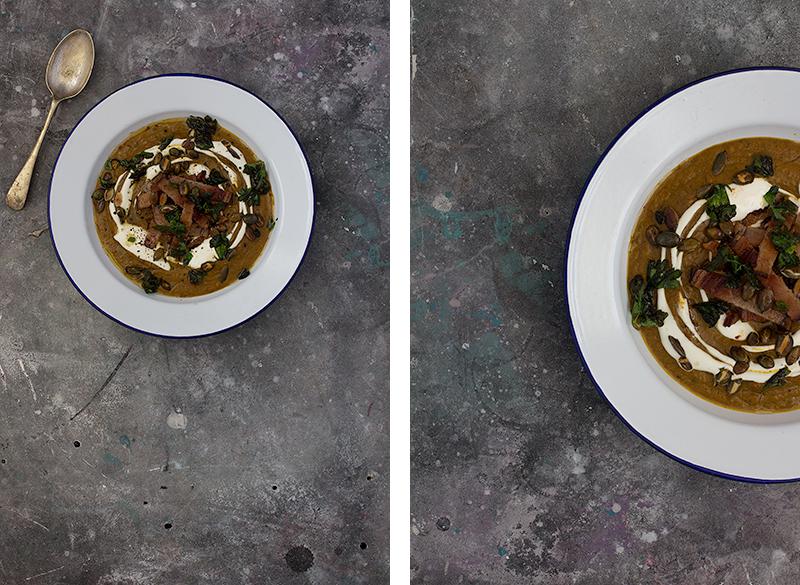 Now I need to point out here (and I will do so in the nutritional notes as a reminder) that this soup is not a balanced meal on its own. It requires added protein. What I like to do is add our protein to the top of the soup. I call this a 'soup topper'. One, this gives those extra amino acids we want for nutritional purposes, but two it adds texture to the dish, which I feel, is really important with soup. Personally I get bored with the same old, same old texture of soup when it is blended.
For us, we like a hefty amount of free range, nitrate free bacon pan fried with parsley and pumpkin seeds (as pictured here). Other options could be:
A generous dollop of natural yoghurt or cottage cheese (dairy based, coconut will not have enough protein)
A generous dollop of tahini and a good 1/4 cup of mixed seeds and nuts – generally yummier toasted
Left over shredded chicken
Tinned tuna or salmon
Pre cooked strips of tempeh or tofu
Generous dollop of hummus with mixed seeds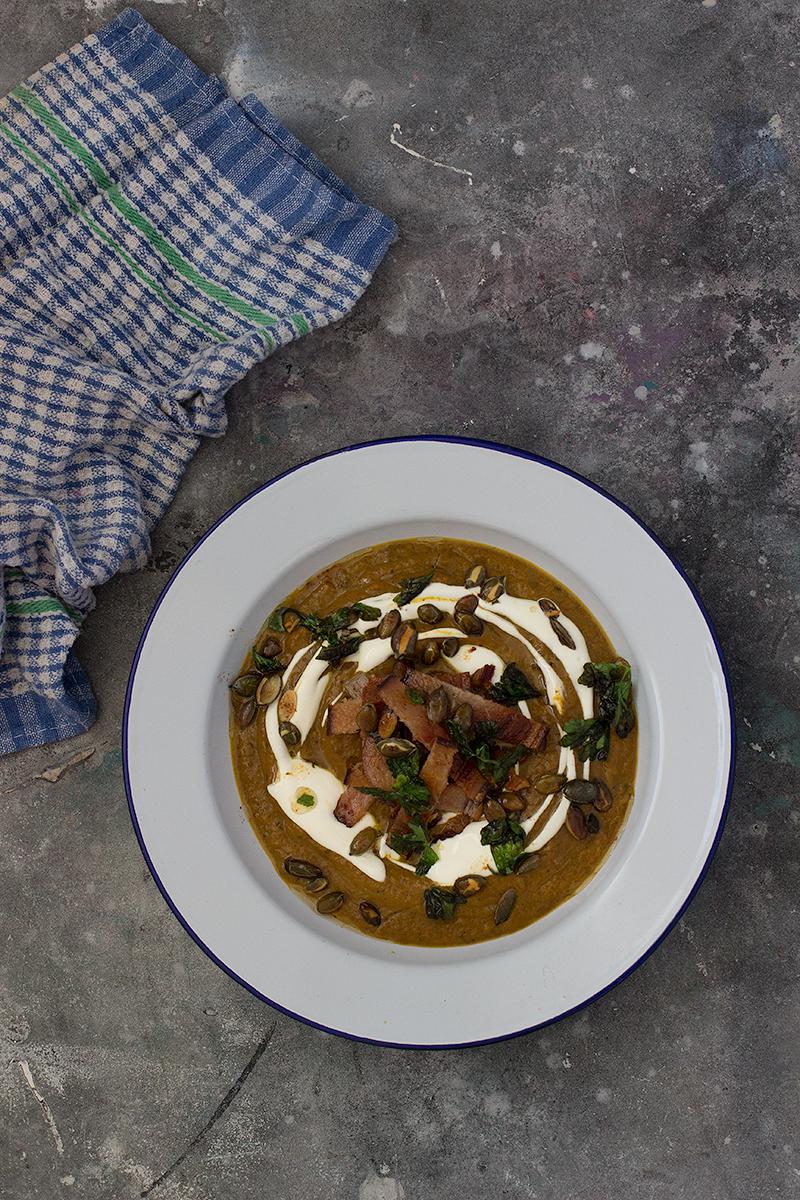 I could go on, but these are certainly the most common soup toppers that I recommend in clinic. If you don't include the added protein and rely on this soup as a meal, you will be hungry again in about an hour due to the lack of macronutrient balance – that's your protein, carbohydrates and fats. For more on this see here.
So my friends please go forth whilst this weather is so chilly and make this heart-warming soup. Make it for yourself or make it for a loved one, as there is nothing quite like having someone you love make you soup when you are under the weather. xx
hubbard's roast pumpkin, zucchini & cauliflower soup
serves

makes 4 serves

preparation time

10 minutes

cooking time

30 – 40 minutes
ingredients
half a kent pumpkin, skin on
half a cauliflower
2 large zucchini's
500mls quality stock
3 – 4 tablespoons extra virgin olive oil (don't be shy)
1 teaspoon each of salt and pepper
3 cloves garlic, skin on (my addition)
method
My husband wrote the below method. I have edited it slightly in italics to be more PG and potentially less offensive!
Remove the 30 layers of cling wrap from the veges the supermarket insists on sticking on to piss you off annoy you. Cut the veges up into perfect 3cm cubes (use a ruler) – honesty just cut them up into rough chunks, they will roast fine without being OCD about it. Toss vegetables and garlic cloves in the olive oil and place on either one large baking tray, or even two trays if needed.
Roast them to within an inch of their little vege lives on rusty trays non stick baking trays (make sure your oven is perfectly clean and has tin foil on the spill trays – yeah, yeah -this is a dig at me because I am a messy cook living with an OCD husband) at 220c for 30-40 mins.
In the mean time, warm up the packet of stock from wollies (the one that your wife has taught you to buy that has no added sugar or other nasties) – not the shit stuff (don't be tight)
Remove baking trays from oven when done and squeeze the garlic out of its papery like case. It should be nice and gooey. Curse like an irish sailor when you try to pry the roasted veges off the non stick (yeah right!, rusty) roasting tray. Admit defeat and scrape the veges off in a big sticky messy lump. Obviously if you have a nice non stick roasting tray you will not have this problem. Fight with husband over the sticky golden crusty bits (hand whacks!)
Throw it all, including the warm stock in the screamer blender with the salt and pepper (heavy on the heart attack(soldiers bolt)).
Blitz till it looks like hot baby poop thick and creamy. Serve with toast dripping in butter spread with avocado or tahini or drizzled with extra virgin olive oil and topped with your favourite soup toppers as mentioned above in the full blog post.
Clean up all the dishes before you eat it as its sucks doing the dishes later – even if you food goes cold. Eat cold dinner. Enjoy your soup whilst hot, dishes can wait.
Fall to sleep on the sofa watching antiques Road Show Nashville.
nutritional information
You will need to add protein to this soup as a soup topper to ensure that your protein requirements are met. For ideas on how to do this read the points above in the full blog. Otherwise, you could use this soup on its own as a warming snack between meals.
This soup is rich in nutrients such s beta carotene, vitamin C, potassium, quercetin, allicin and indoles, a wonderful mix of vitamins, minerals and antioxidants that will help boost the immune system due to their antiviral, antibacterial and antioxidant effects. Furthermore, antioxidants such as carotenes, lutein and zea-xanthin found in the zucchinis can also help scavenge harmful oxygen-derived free radicals and reactive oxygen species.
Jessica Cox is a qualified practicing Nutritionist with a Bachelor Health Science (Nutrition) and over 15 years of clinical experience. She is the founder and director JCN Clinic, published author and established recipe developer. Jessica is well respected within health and wellness space for her no fad approach and use of evidence-based nutrition.