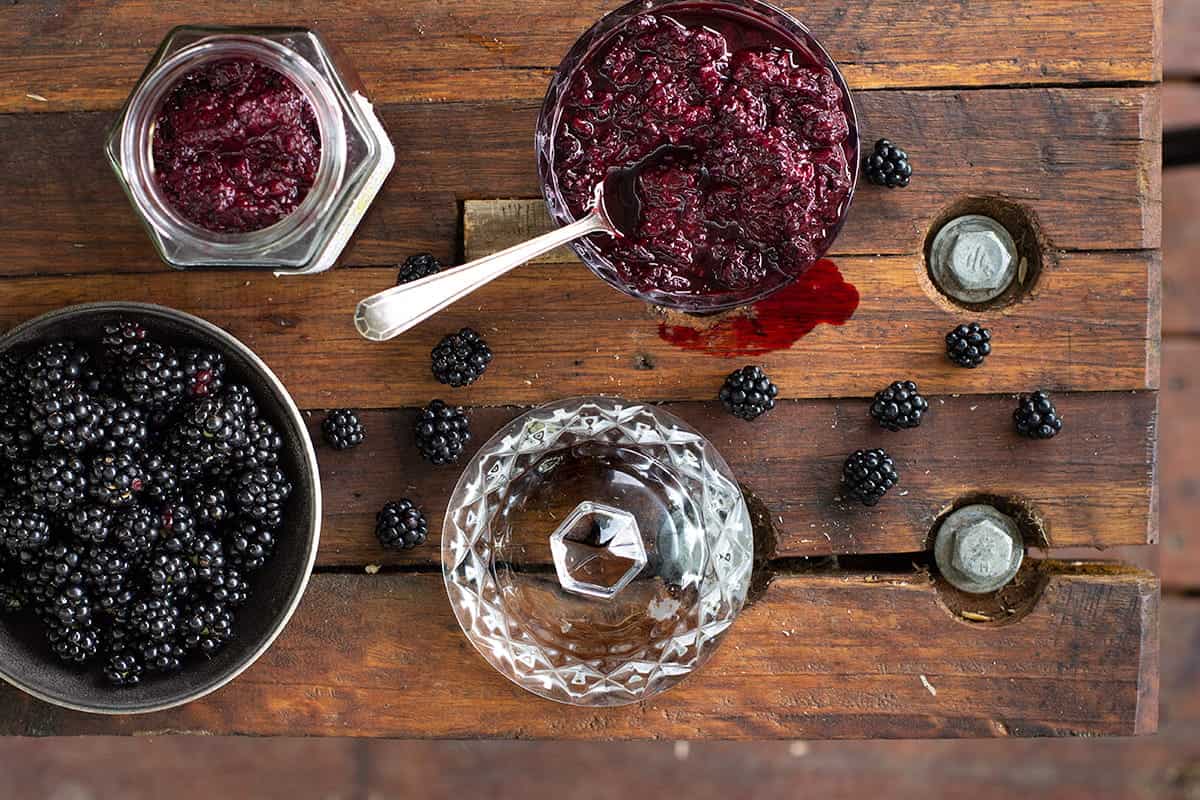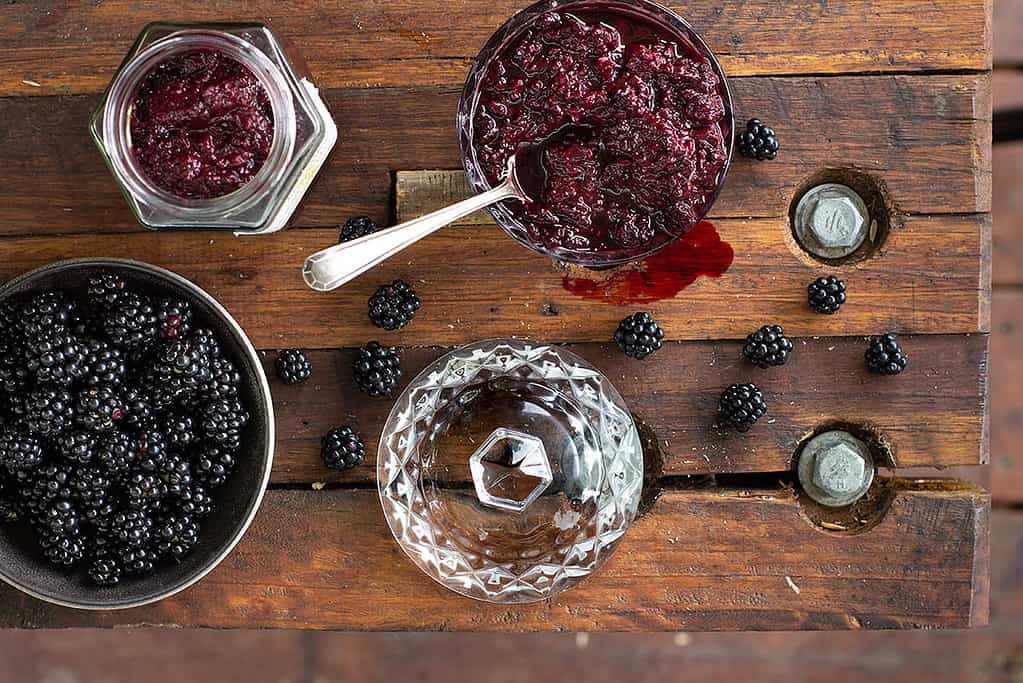 It's blackberry season! One of my favourite things about summer in country Victoria is blackberries. I can hear my Dad chiming in here about how they are a 'bloody pest' and 'destructive', yet even though I grew up knowing this I can't let go of my love for the fruit they bare. At a time when blackberries are at their juiciest and in such abundance here, the foodie in me is overcome with the thought of making recipes like this Sugar Free Blackberry Compote more so than worrying about blackberries taking over the vegetable garden.
The farm I grew up on in country Victoria was riddled with blackberries. The way our parents dealt with this was with (1) spraying them and (2) goats. Out of the two options goats by far where the best as far as effect on the blackberries. Goats are like chickens in a vegetable garden. They destroy everything in their path. Goats don't seem to be bothered by the spikes on blackberries as they chomp away on the leaves, stems and berries. In fact the only time they seem bothered is when they get into the blackberry bush so deep that they realise they are literally bound up and caught in the bush itself. Angora goat hair and blackberry bushes are not a good mix.
In fact, I can recall many times hearing Mum or Dad proclaim 'one of the goats is stuck' and off we would head up the back of the property with clippers in hand to cut the goat free of some precarious situation it had got itself into. Usually on some cliff face where it had stubbornly wandered to get the best blackberries and then been caught up consequently like a fluffy jumper wrapped in barbwire.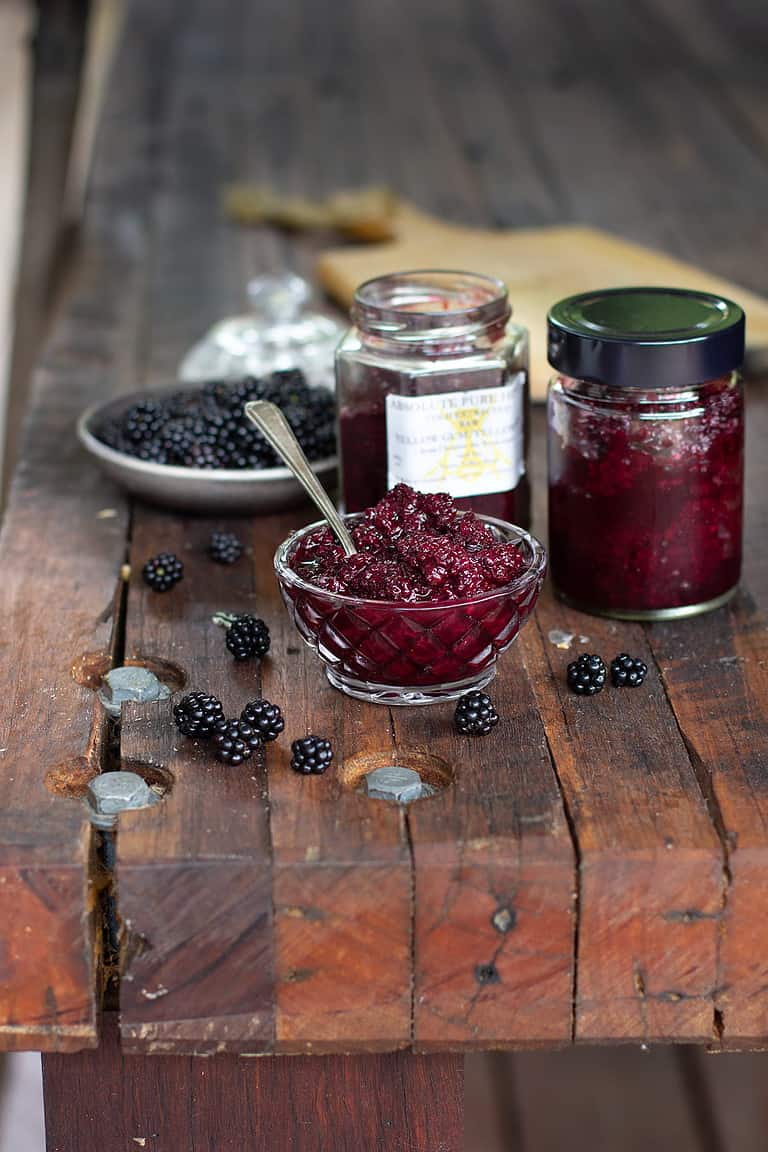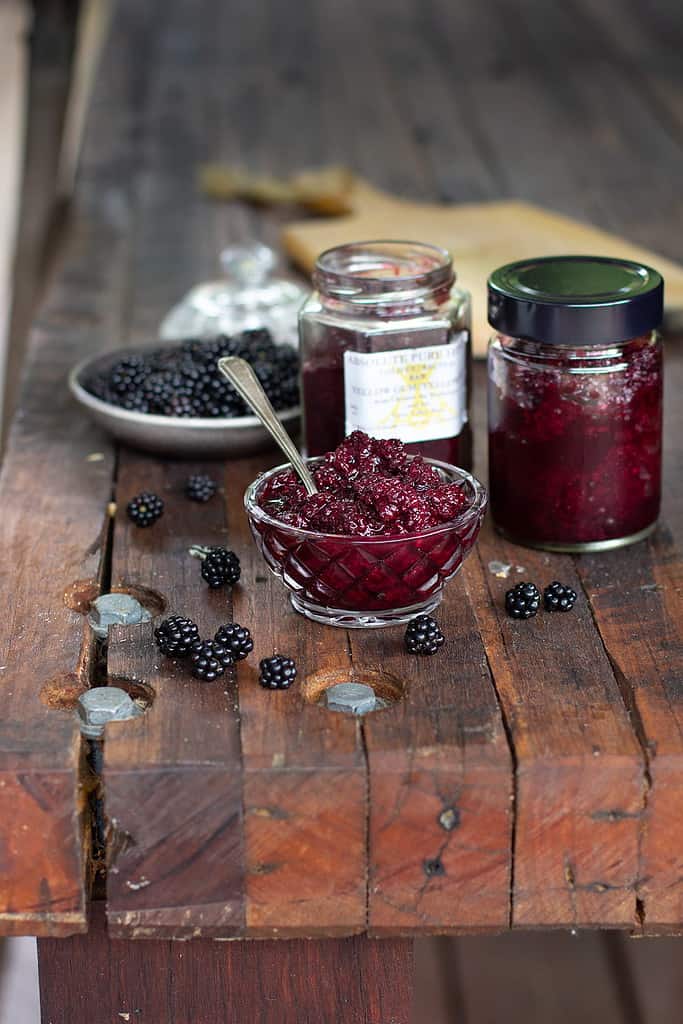 My other memory of blackberries is camping on the Murray River in Bright, well before it was the tourist haven it is today. We had a pact with Mum that if we went off to collect blackberries then she would make pancakes on the camp fire that we would stack high with freshly picked blackberries and a lathering of cream.
These days I am still left dreamy eyed and belly rumbling at the thought of pancakes and blackberries. Although today you'd find me adding nut butter instead of cream or maybe some whipped coconut cream instead for a dairy free option. I'm also obsessed with using as much of what nature has to give in the most sustainable way, so preserving and bottling really excites me when it comes to getting the most out of blackberries. Therefore, with this recipe for Sugar Free Blackberry Compote I wanted to create an easy way to get the most out of the current glut of blackberries and also concentrate the wonderful flavours down to give the most intense finish without the need for sugar.
FODMAP & SIBO Friendly Sugar Free Blackberry Compote
At The JCN Clinic we have a lot of clients that need to think twice about what type of sugars and fruits they are consuming due to chronic gut issues. One of the ways we like to educate our clients on how to create 'sweetness' without adding sugar is with the techniques of roasting and reducing. When you take a fruit or vegetable and roast them you are naturally caramelise the sugars within creating a more pronounced sweetness. Think of the way this happens when roasting pumpkin. Likewise, when reducing down with simmering, the water is reduced leaving a more concentrated and intense flavour. This is a wonderful way to bring out the sweetness of a dish without needing to add sugars.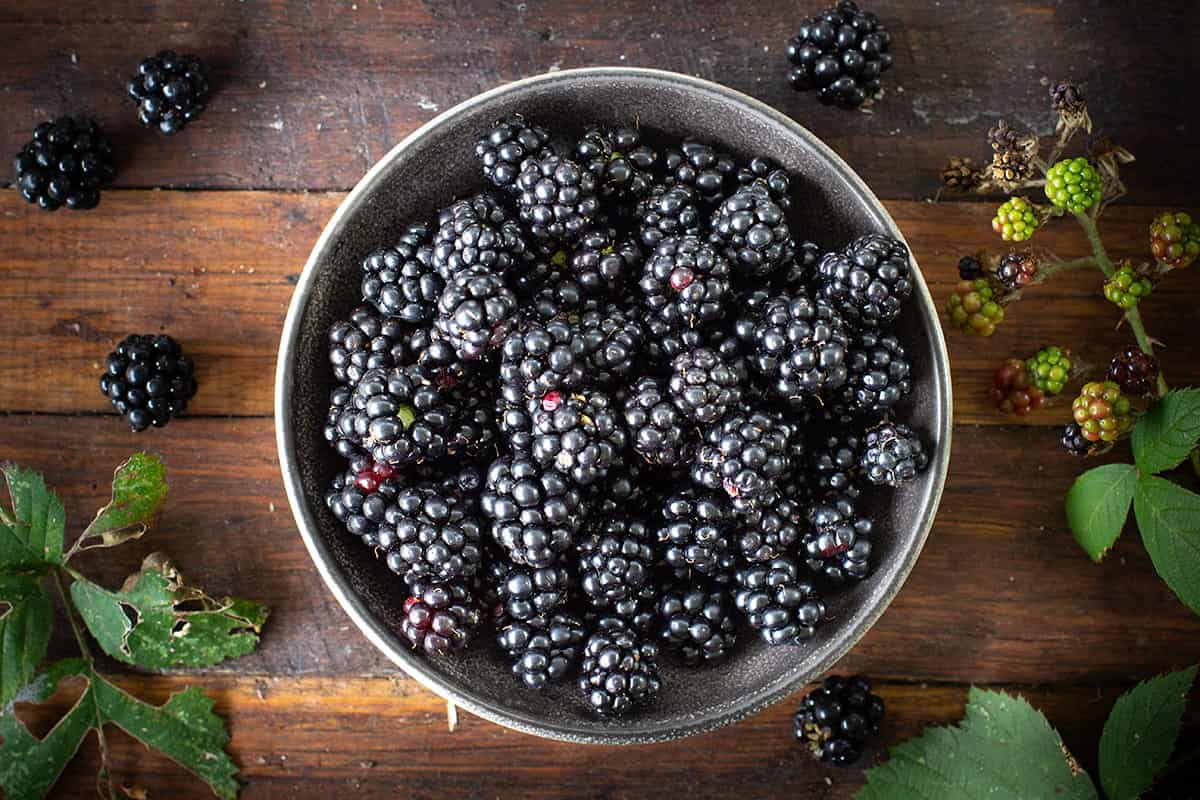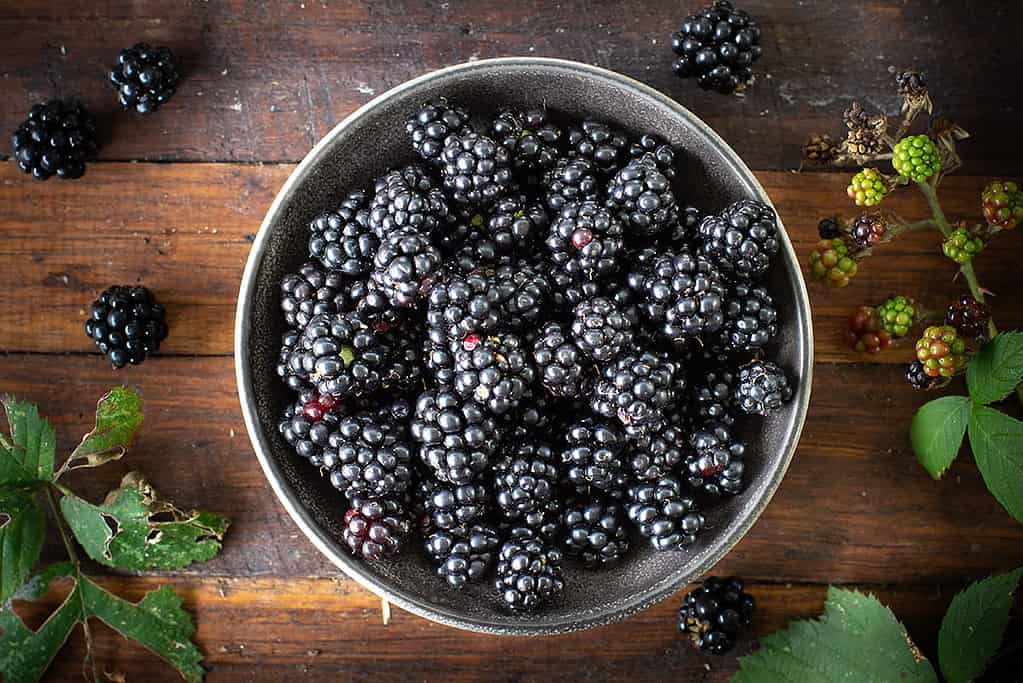 Reducing takes time, so I think that is why some people shy away from it. Adding in a quick thickening agent and some sweetener is a shorter way to get to the end point. Now there is nothing wrong with this, but if you are someone who can't eat the common thickeners in jams and compotes or other sauces while also not tolerating sugar well, then this method makes way more sense.
Blackberries are a moderate – low FODMAP food depending on how much you have. The Monash FODMAP app gives them a green light at 4g – 7g, but then puts them in the high FODMAP group at 160g. As usual, it will come down to your own tolerance. You may very well find that your gut can handle a heaped teaspoon of this Sugar Free Blackberry Jam spread on your pancakes with no worries, but if you are unsure just check with your health care professional or JCN Clinic Nutritionist.
You can also use different berry options in making this recipe. Any seasonal berry will work fine. Some Low FODMAP options would be strawberries and boysenberry. Blueberries are also often well tolerated depending on your level of sensitivities. If you do make this recipe using different berry options I'd love to hear from you in the comments below!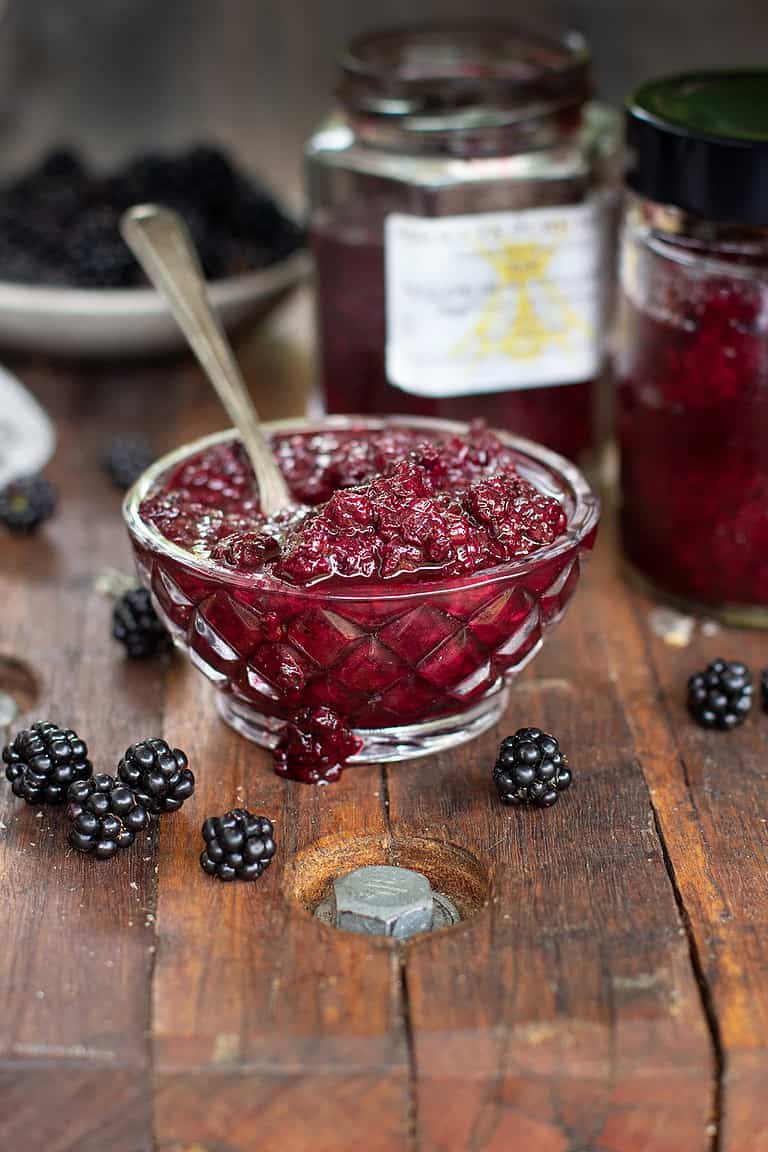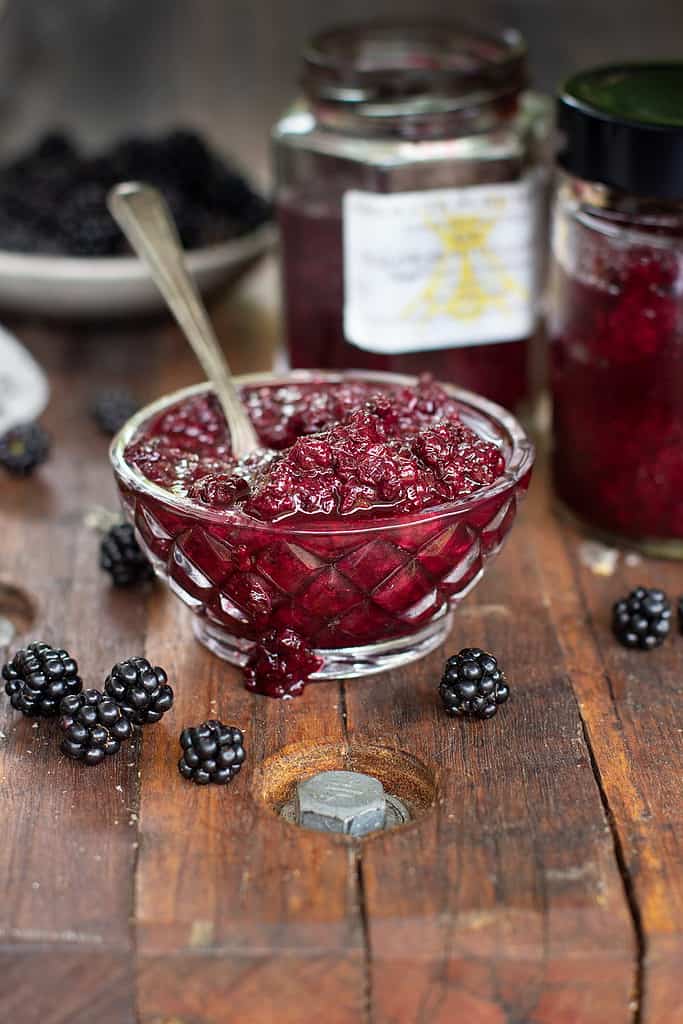 Like what you're seeing? Subscribe for new recipes and nutrition tips every week!
Need personalised nutrition advice catered to your needs?
If you are after personalised nutrition advice and dietary planning individualised to your health and dietary needs then contact us at The JCN Clinic with your enquiry. We are always happy to answer any questions you have!
sugar free blackberry compote
serves

makes approx 4 cups

preparation time

10 min

cooking time

40 – 50 min
ingredients
7 cups blackberries (or berries of choice)
1/4 cup water
1 tablespoon lemon juice
1 small pinch salt
method
I recommend using fresh berries if available as the flavour will be sweeter. If using frozen berries you may need a longer time for cooking due to more liquid that will naturally develop in frozen berries.
Wash the blackberries well in a fine sieve and ensure all the stems are removed.
Place the blackberries in a large saucepan with the water, lemon juice and salt and mix well. Bring the saucepan to the boil and then turn to a low simmer.
Allow the blackberries to simmer away for 40 – 50 minutes, stirring every 10 minutes to ensure they are not sticking to the bottom. You want to reduce the liquid slowly which will concentrate the flavour of the berries and bring out their natural sweetness.
The Blackberry Compote is ready once the liquid has reduced down and the blackberries are starting to stick a little to the bottom with the reduction of liquid left, allowing the compote to naturally thicken.
Turn the heat off and place the lid on the saucepan and allow the compote to cool a little, then store in the fridge or decant into jars and refrigerate. Will keep for 5 days in the fridge, otherwise will freeze well for later use.
This Sugar Free Blackberry Compote is delicious with 3 Ingredient Pancakes, Protein Pancakes, Gut Friendly Pancakes, rolled up in Buckwheat Crepes or on top of Gut Friendly Bread or Pumpkin, Millet & Brown Rice Bread (from e.a.t) with nut butter.
nutritional information for sugar free blackberry compote
Blackberries are a rich source of Vitamin C, Vitamin K and Manganese. Blackberries also contain a good amount of fibre. They are also a rich source of polyphenol compounds called flavanoids and anthocyanins which have potent anti-inflammatory effects and have been shown to help reduce LDL cholesterol. (2019).Anthocyanins also create the pigment in blackberries giving them their dark colouring.
Interestingly, phenolic compounds are actually xenobiotics, which are metabolised in the gut to sulfated and methylated compounds, then absorbed and metabolised further in the liver through glucoronidation. An important metabolite formed from phenolic compounds from this process is hippuric acid (2018, B, Olas),
Jessica Cox is a qualified practicing Nutritionist with a Bachelor Health Science (Nutrition) and over 15 years of clinical experience. She is the founder and director JCN Clinic, published author and established recipe developer. Jessica is well respected within health and wellness space for her no fad approach and use of evidence-based nutrition.