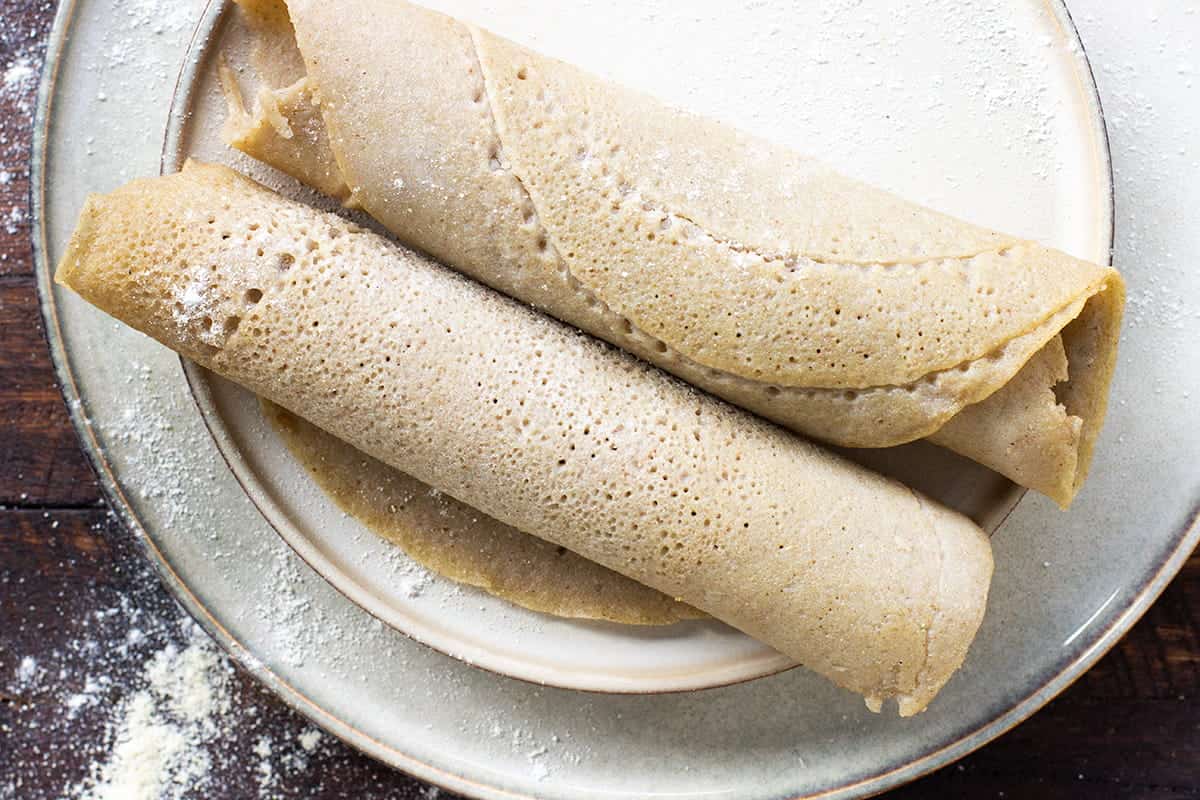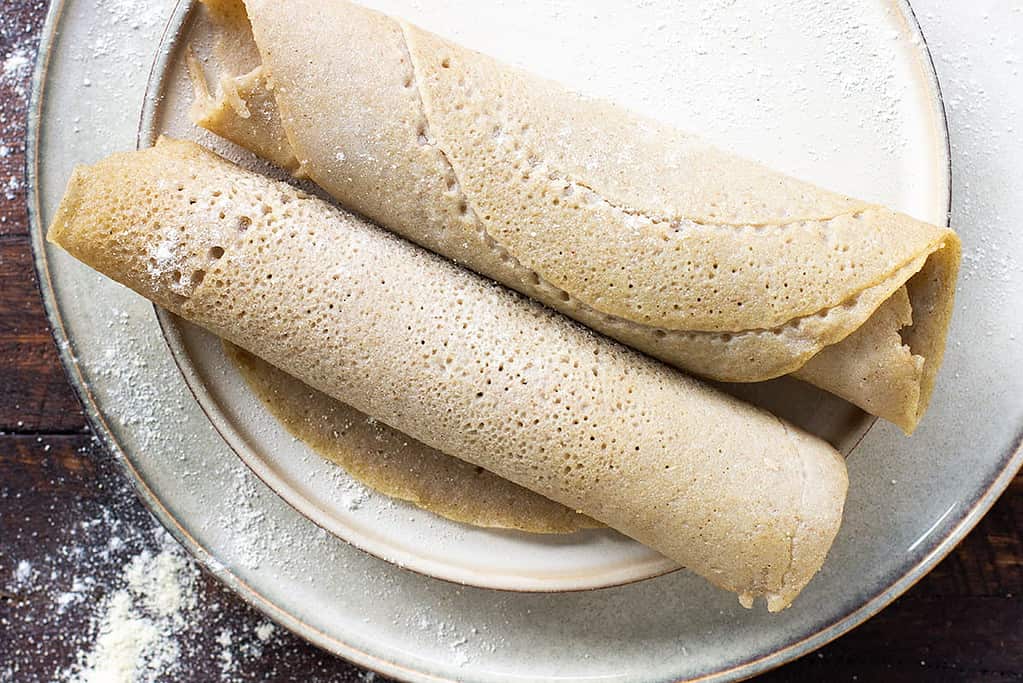 a super easy recipe for gluten free, vegan buckwheat crepes
This recipe for Easy Buckwheat Crepes is an absolute staple in many of my clients food plans and in fact, in my own personal dietary intake. For years I have personally been using it, whether as a substitute for a bought wrap for my Kofta Wraps or Tempeh, Crispy Onion & Roast Capsicum Wraps w Homemade Mayo, or to just use as an alternative to bread when I feel like a break from toast. With such simple and easy ingredients its a breeze to make and ready in minutes.
The recipe for these Easy Buckwheat Crepes has also been a game changer for many clients at The JCN Clinic needing alternatives to bought bread and wrap options. When clients are dealing with super reactive guts and the multiple intolerances that can accompany this, they often need something that is free from the usual gluten free flours and natural binders present in the average bought options. Using something as simple as buckwheat flour combined with some basic ingredients means that we can easily navigate the hassle of trying to find the bought varieties, while creating something quickly at home without multiple ingredients.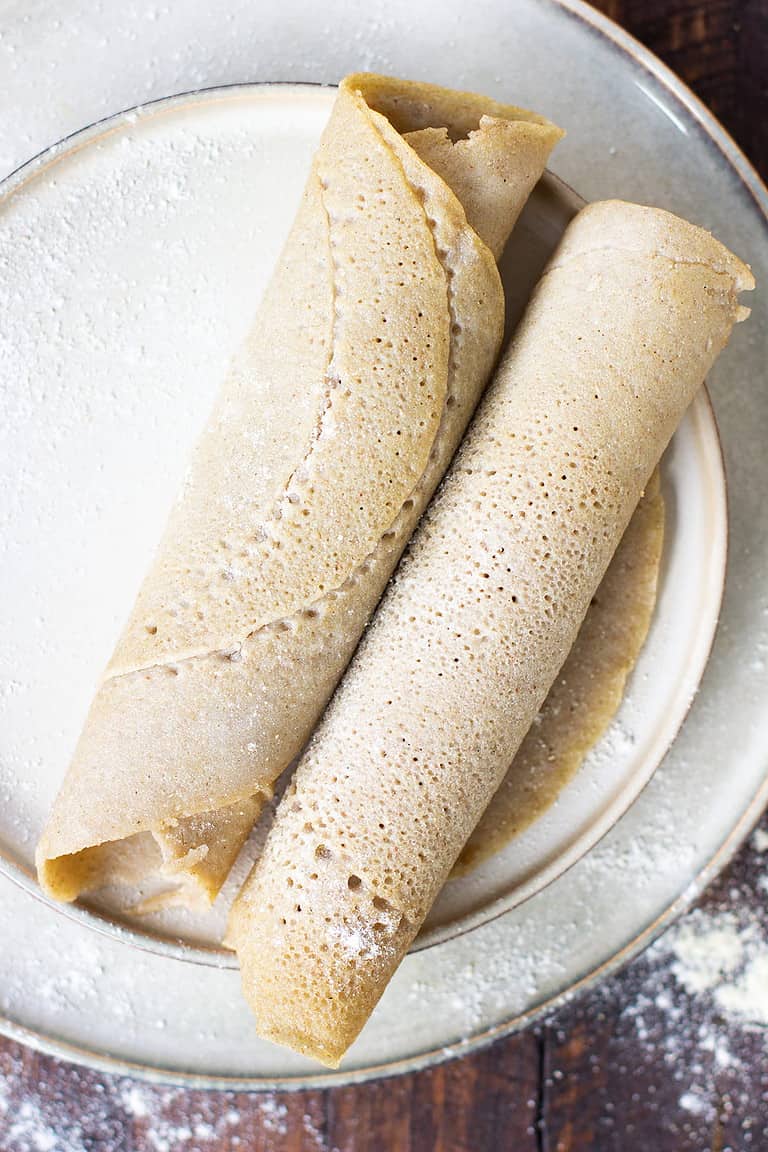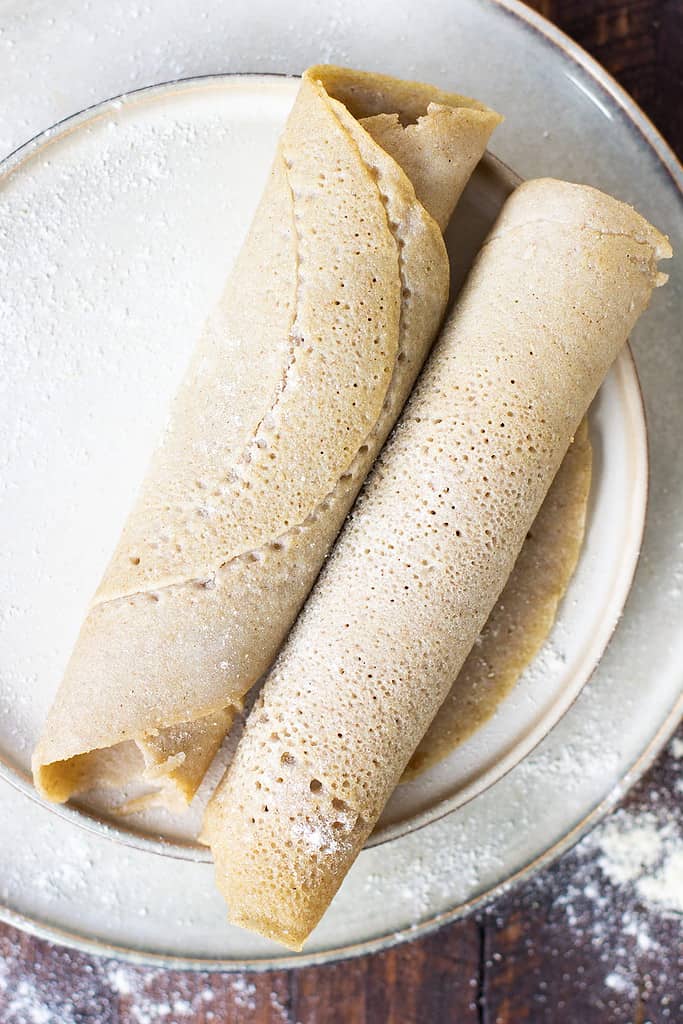 When making these Easy Buckwheat Crepes you can use the base recipe here or you can go to town with adding in additional flavours, pushing the batter to a sweet or savoury finish. Personally I do this a lot, so let's have a look at some common ways you can flavour this batter up.
how to make sweet or savoury buckwheat crepes
Let's talk Savoury Buckwheat Crepes first. Here are my favourite ways to adapt the base batter to add savoury flavours that you might like to try:
Cheesy Turmeric Crepes – add 1/2 tsp powdered turmeric and 2 tbsp nutritional yeast.
Light Herb Crepes – add 2 tbsp roughly chopped fresh herbs like parsley, coriander and basil.
Strong Herb Crepes – add 1 tbsp of finely chopped rosemary, thyme or sage (or a mix of all).
Turmeric Mustard Crepes – add 1/2 tsp powdered turmeric and 1 tbsp seeded mustard.
Note, you may need a little splash of extra water to accommodate for the added dry ingredients.
Now, let's look at some ways you can create a Sweet Buckwheat Crepes. Here are some of my favourite additions you may like to try:
Vanilla, Orange & Poppy Seed Crepes – add 2 tsp pure vanilla extract, zest half an orange and 2 tsp poppy seeds
Caramel Crepes – add 2 tsp pure vanilla extract, 2 tsp maca powder and 1 tbsp mesquite powder.
Chai Spice Crepes – add 1 tsp cinnamon, 1/2 tsp each of ground cloves, cardamon and star anise.
Chocolate Crepes – add 2 heaped tsp raw cacao powder
Note, you may need a little splash of extra water to accommodate for the added dry ingredients.
Obviously the list can go on and on with how you can adapt these Easy Buckwheat Crepes, so please don't be limited to just the above!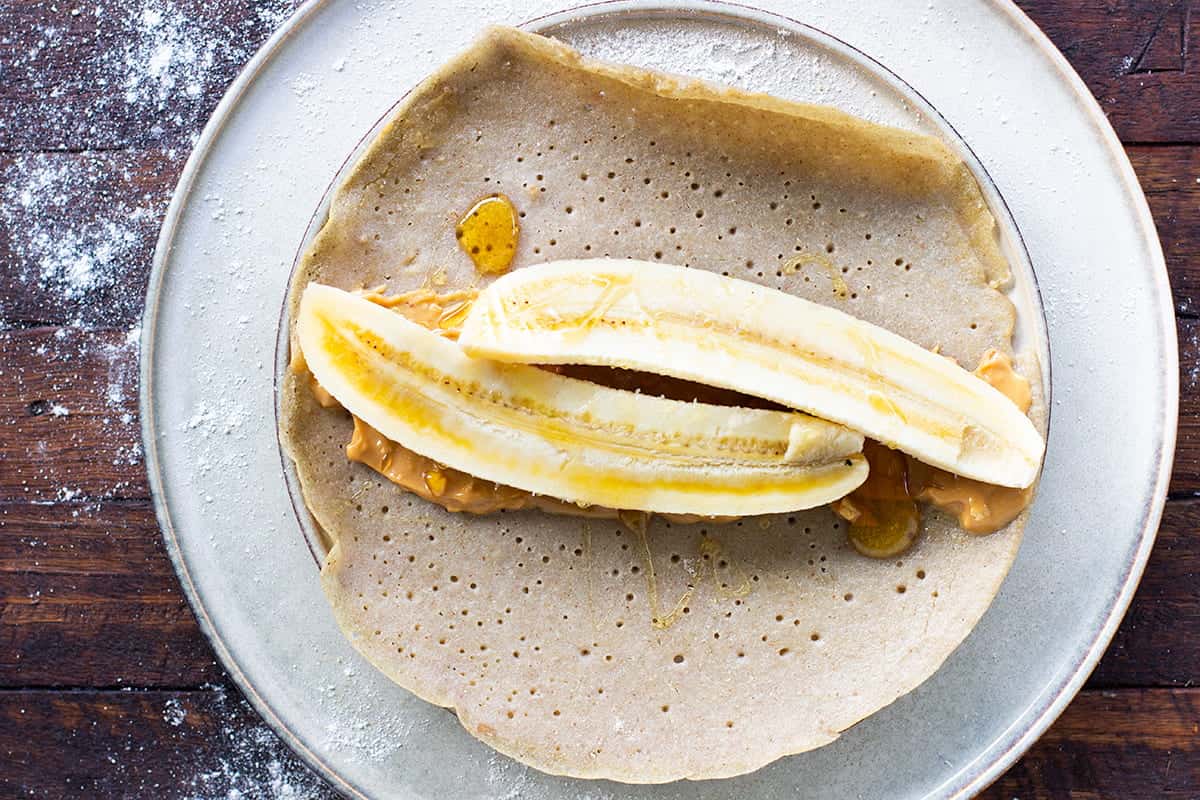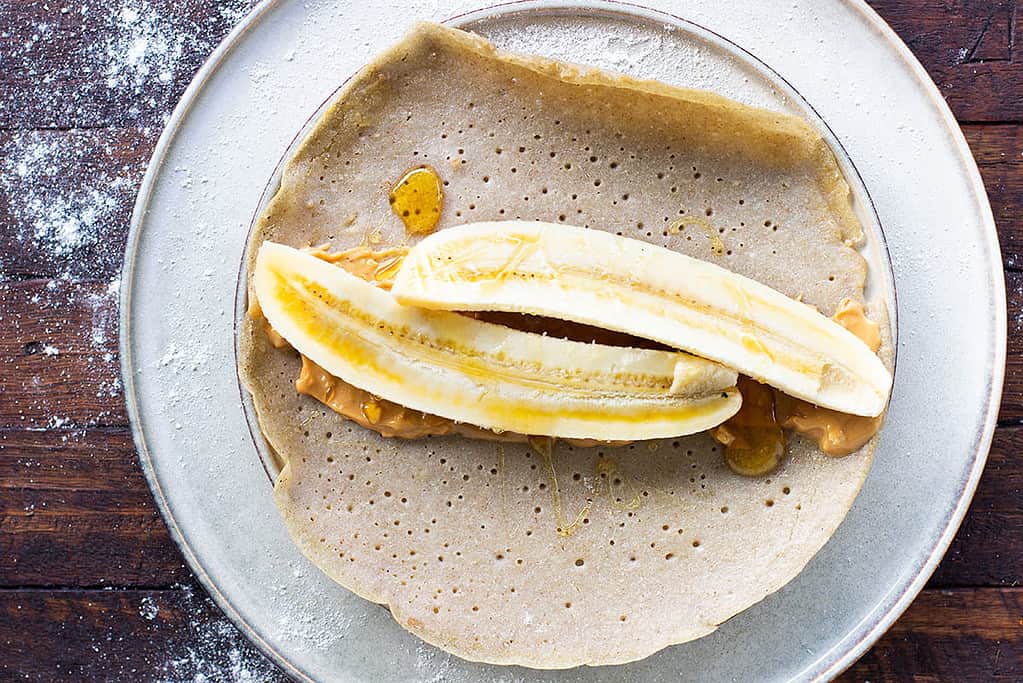 adapations for millet flour crepes and teff flour crepes
Not everyone loves buckwheat as much as I do. In fact I often get feedback about the flavour of buckwheat being too strong. Even my Mum doesn't really like it that much. Also, some specific dietary intervention such as low oxalate require a lower buckwheat load. In these cases, I recommend using millet flour or teff flour as an alternative.
Now, the thing is, you can't just swap these flours for buckwheat in the recipe and expect the same result. Buckwheat flour naturally is a lot more 'elastic' and tends to hold together particularly well on its own, unlike most other gluten free flours. This is most probably due to its resistant starch level and specific types of proteins that provide more stretch to the flour. Millet flour on the other hand is lower in resistant starch and is made up of different types of protein structures, meaning it will behave differently to buckwheat flour.
Buckwheat flour also is more porous and tends to soak up more liquid, so you will not need as much water when making a millet or teff crepe. In fact, you will need to add something else to a teff or millet flour crepes to help them hold together – my favourites are adding some psyllium or slippery elm or even some neutral vegetables like or zucchini if you make the batter in the blender.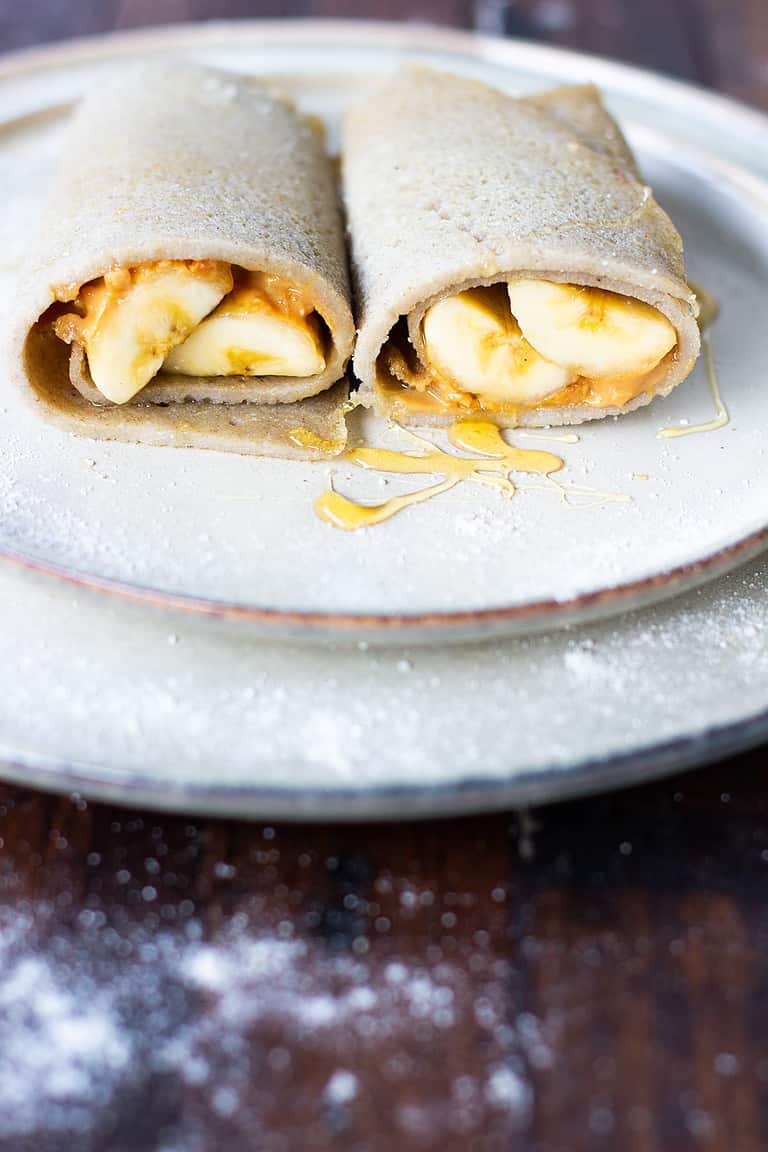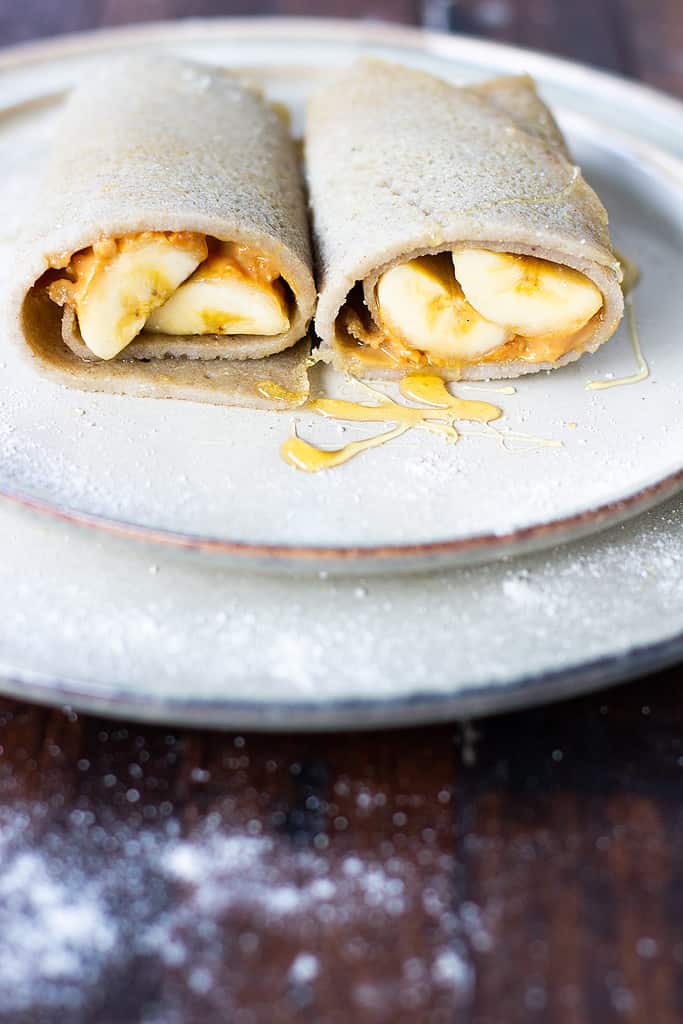 You may have seen me this week creating this recipe in my Instagram stories where I had a millet crepe batter. I wanted to make one for you that was similar in its limited ingredients. The truth of the matter is that it's never going to behave in the same way. It will create more of a pancake finish that you can still top ingredients onto and eat with a knife and fork (or hands if you choose), but don't think about rolling that baby up without throwing a 'my crepe is breaking' tantrum. #whome
Keeping this in mind, if you want to make a Millet Pancake as opposed to a Millet Crepe, this is my recommendations for ingredients:
¾ cup millet flour
½ cup water
1 tablespoon extra virgin olive oil
¼ tsp salt
1/2 teaspoon psyllium husk
This is actually one of my favourites and is delicious topped with sautéed crispy kale and fried eggs.
You can follow the above recipe with teff flour to create a teff crepe or teff pancake (whatever you want to call it). It's a little harder to find teff flour but it does work well too.
Like what you're seeing? Subscribe for new recipes and nutrition tips every week!
best fillings for buckwheat crepes
Once you have your Easy Buckwheat Crepes you need to think about what you are going to fill them with. So many choices! I suggest always a spread of some sort to create moisture and creaminess, as without this crepes can be a little dry. Here are some of my favourite buckwheat crepe fillings:
peanut butter, banana & honey #classic
cashew butter, stewed apple, cinnamon and hemp seeds
stewed rhubarb & dairy free yoghurt
almond butter, orange segments & cacao nibs
avocado, tomato, basil & hemp seeds
avocado, fried crispy kale & egg
tahini, rocket, fried tempeh & kimchi
avocado, tomato, spinach, nitrate free bacon & mayo
Again, I could go on and on. The point is you can stuff these Easy Buckwheat Crepes with whatever you want. That is the point of them. Just make them and get them in your face whichever way you want. ?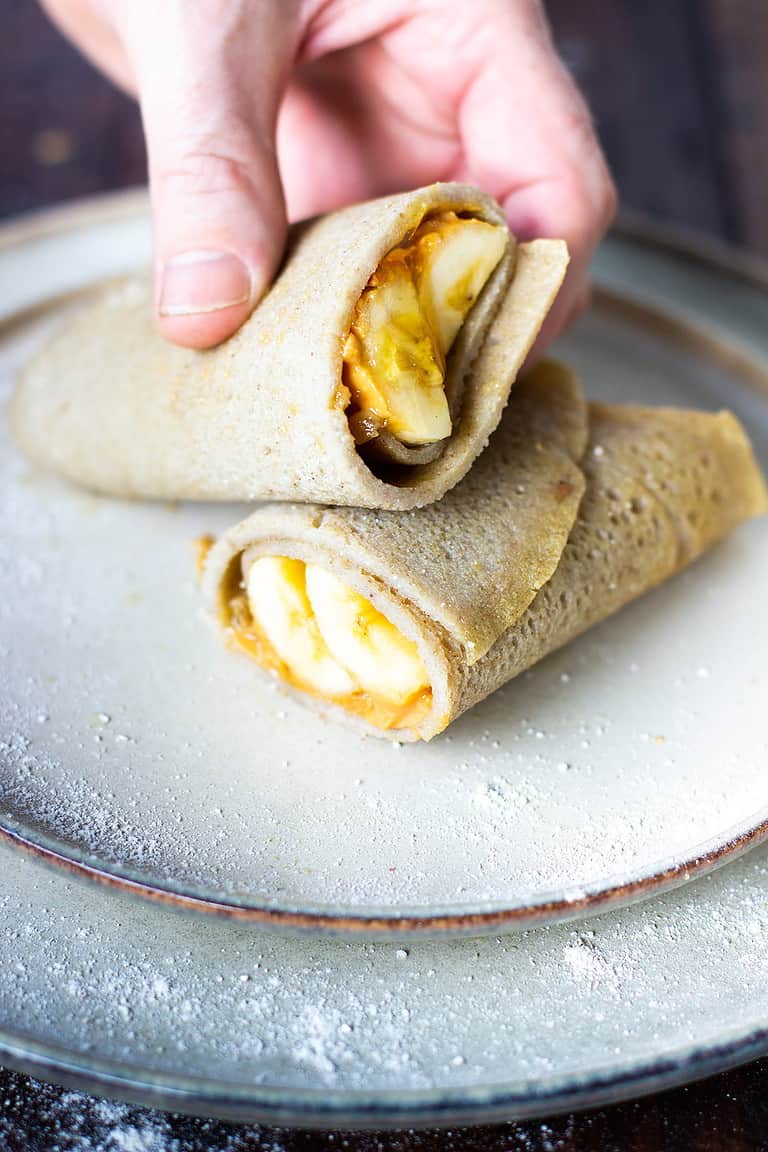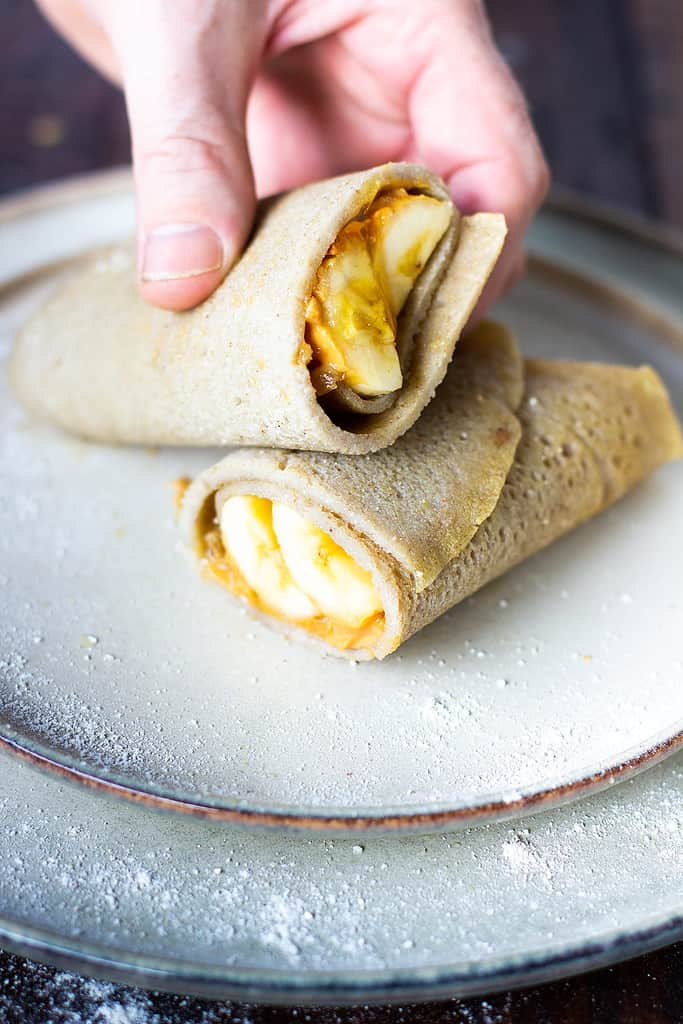 Need personalised nutrition advice catered to your needs?
If you are after personalised nutrition advice and dietary planning individualised to your health and dietary needs then contact us at The JCN Clinic with your enquiry. We are always happy to answer any questions you have!
easy buckwheat wrap recipe
serves

makes 2

preparation time

5 min

cooking time

3 min
ingredients
½ cup buckwheat flour
½ cup water
1 tablespoon extra virgin olive oil
¼ teaspoon salt
method
Please note, you will need a good quality non stick pan or cast iron pan for these easy buckwheat wraps.
Halve the recipe to make 1 buckwheat crepe.
In a medium sized bowl combine all ingredients and mix well till there are no lumps. You may want to use a small whisk. (You can also complete this step the night before and leave the mixture in the fridge overnight).
Bring a wide non stick saucepan or cast iron pan to a low to moderate heat. Add in a liberal amount of extra virgin olive oil to coat the entire base of the pan. Use a spatula to spread it around to ensure all of the base of the pan is coated.
Pour in half of the buckwheat crepe batter and then quickly pick up the pan by the handle and swirl the mixture around to encourage it to spread out to a wider circle.
Place the pan back on the heat and leave it to cook on the underside for 2 minutes. Little bubbles will appear all through the top of the crepe as its getting close to ready to flip.
Use a spatula to carefully lift the edge of the crepe and gently get under it to flip the wrap over. Flip and then cook for another 1 – 2 minutes on the other side.
Place the cooked crepe on a plate and pop in the oven to keep warm if you like while you cook the remaining wrap.
Once both crepes are cooked, serve immediately filled with your favourite sweet or savoury toppings (see above blog post for suggestions).
These Easy Buckwheat Crepes are best eaten fresh, but they can be stored in the fridge or freezer in a sealed bag with some paper between them. When ready to eat again, reheat in the pan with a little extra virgin olive oil again.
nutritional information for easy buckwheat crepes recipe
Buckwheat is a rich source of flavonoids, biological active phytochemicals with a multitude of health benefits such as aiding the reduction of cholesterol and hypertension (it's high rutin content playing a large role in this), alongside buckwheats anti-inflammatory benefits. (1)
Buckwheat is high in the amino acid lysine, tryptophan, threonine and the sulphur-containing amino acids. Buckwheat is abundant in complex carbohydrates, especially starch in a variety of forms. Buckwheat also provides adequate protein, the seed or 'pseudo grain' providing around 12% of its macronutrient content, varied between different types of buckwheat (between 11-15%). Buckwheat is rich in the proteins albumins and globulins.
Jessica Cox is a qualified practicing Nutritionist with a Bachelor Health Science (Nutrition) and over 15 years of clinical experience. She is the founder and director JCN Clinic, published author and established recipe developer. Jessica is well respected within health and wellness space for her no fad approach and use of evidence-based nutrition.