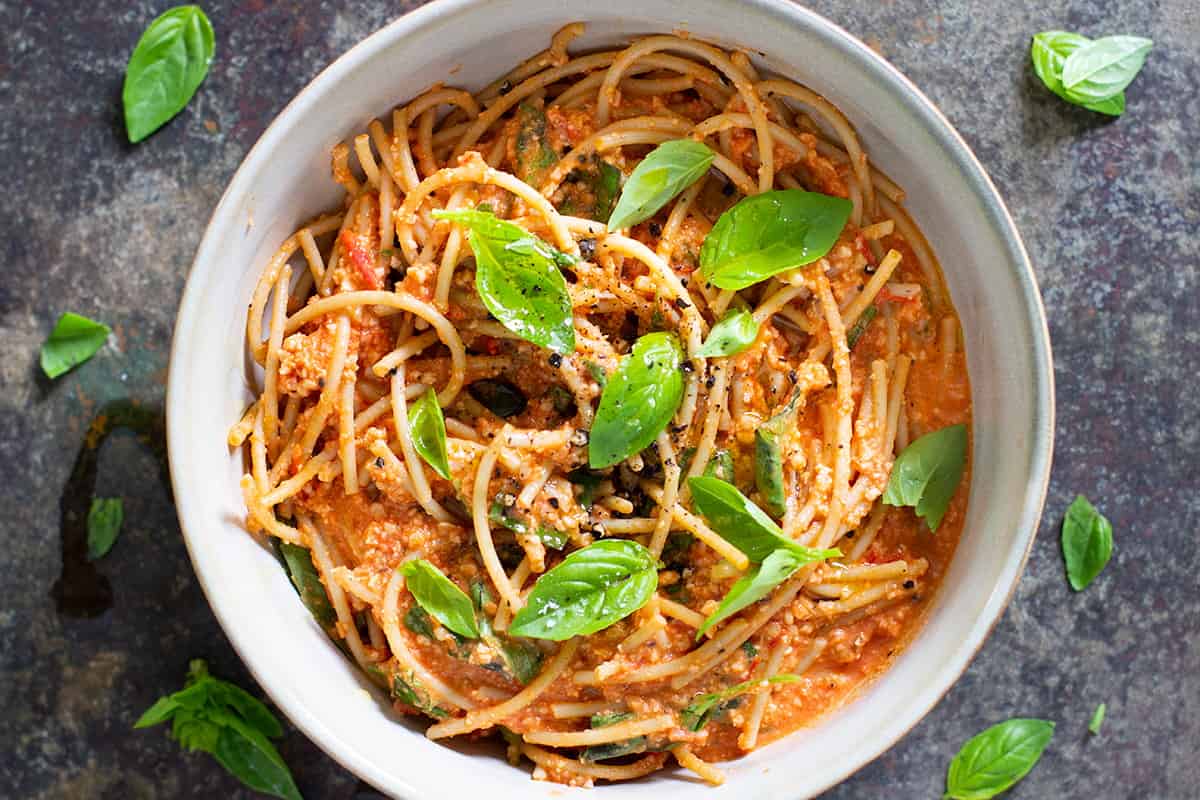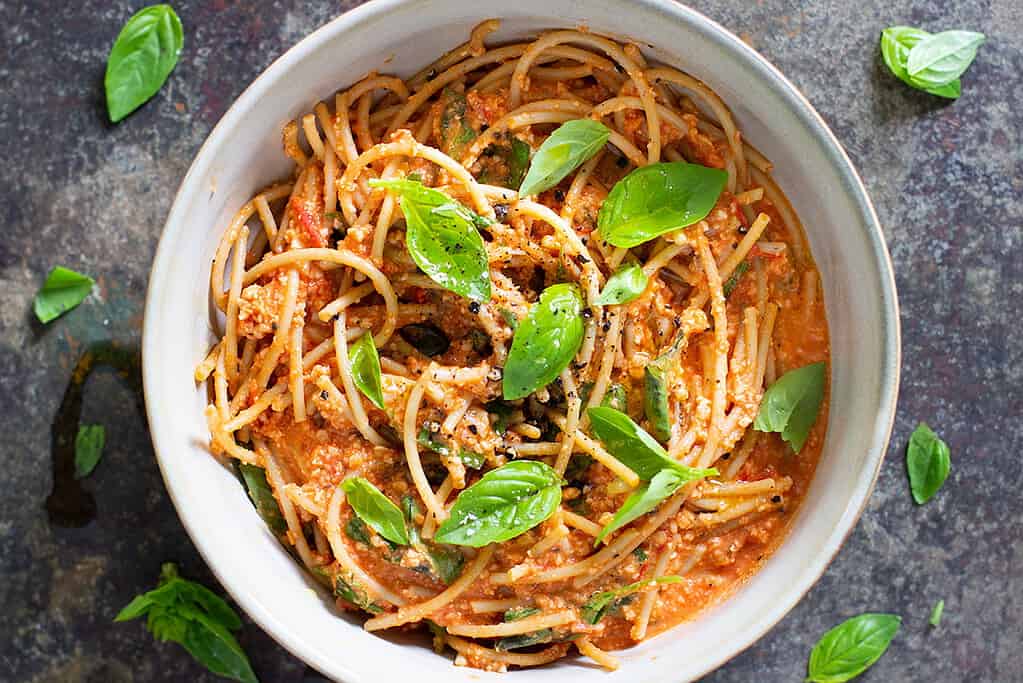 When it comes to new recipe requests, you guys typically request more than anything low fodmap recipes, with a strong push for snack and dinner based options. When my brother in law turned up with with a box of fruit and vegetables from my parents house (after visiting them) filled with Mum's homegrown beefsteak tomatoes, I just had to use them to make this recipe for Vegan Low FODMAP Roast Tomato & Basil Pasta. Between the smell of those tomatoes and the abundance of basil in the garden right now it was a no brainer.
We also just recorded a new podcast today on serial overeating and portion control (which might seem left of centre, but stay with me). One of the points Carissa and I discussed was how to portion out a macro balanced meal onto your plate. Something else we talked about was also not being too rigid. We want to ensure you are not constantly bombarding your digestive system with too much food for it to handle, but we also get that sometimes a few extra bites or an extra serve happens. The macronutrient balance isn't always going to be spot on and that is fine!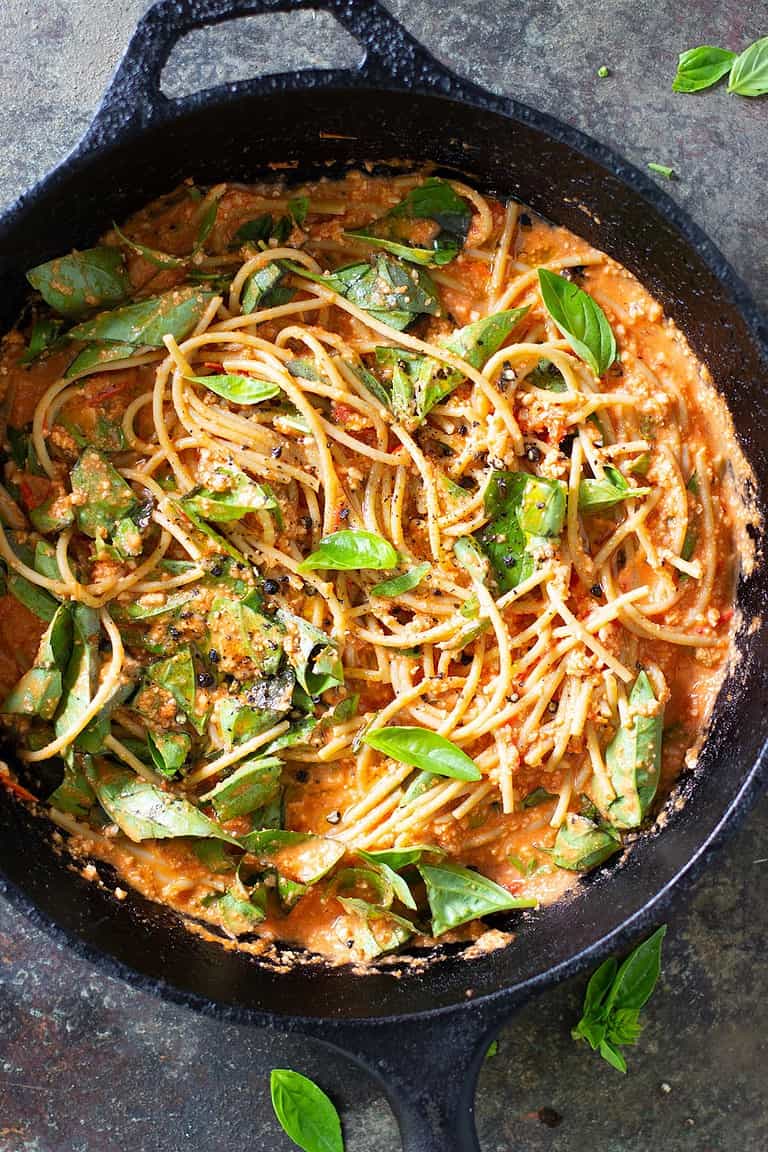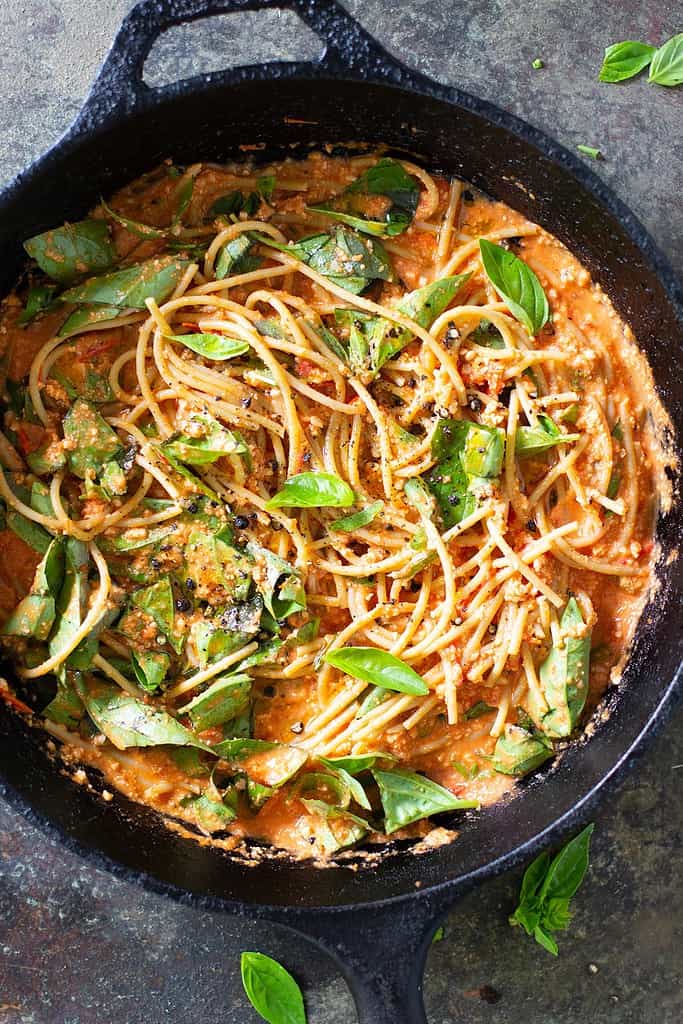 This pasta is a primo example. Its not a perfectly portioned out macro-balanced meal. However it is made with quality wholefood ingredients and when it is made with buckwheat pasta as suggested, it really does sustain you as a meal should. The pine nuts and macadamia nuts add fat and a little protein – but not much. A legume pasta (not a low fodmap option) instead of a buckwheat pasta will help you out on the protein front, but again, if you don't have legume pasta and your macro's are out a bit then don't sweat it.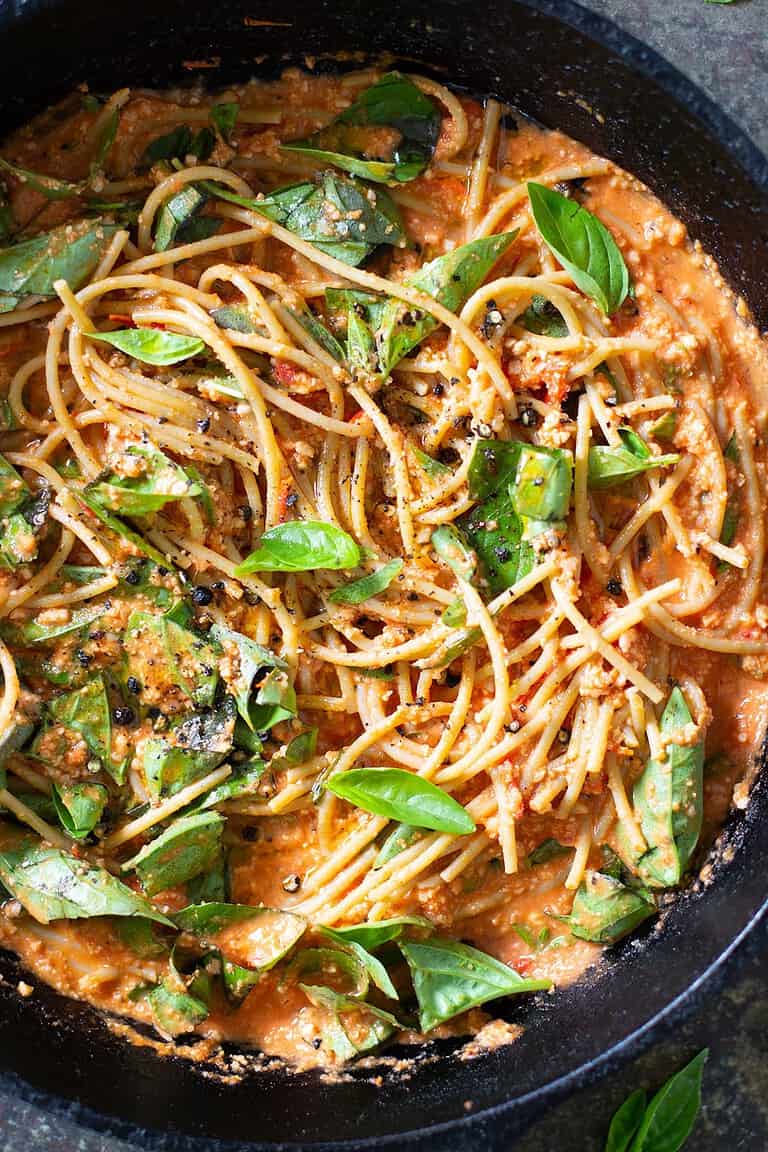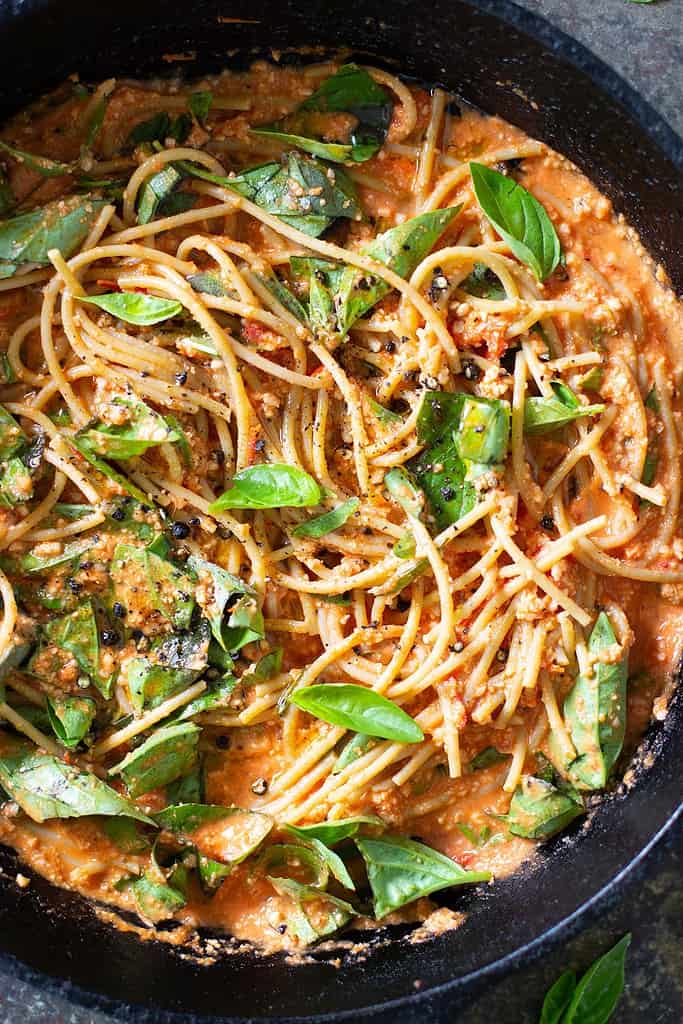 In fact, with so many years in the nutrition and wellness space I don't think I have ever seen a time when there is so much self imposed pressure on what we should be eating. The irony is there is a huge subset of the population who do need foundational education on how to eat healthy, what basic healthy choices look like and how to make these work for you on a daily basis. The thing is that less of these people are seeking help from the wellness space as it becomes more elite and seemingly unattainable for the average Joe or Jill.
The space between those that need solid education, whether that be school based education or adults without any foundational knowledge at all (which is the norm) and the over saturated wellness junkie grows more and more. What frustrates me as someone that is so passionate about education is that eating healthy doesn't have to be complex, expensive or confusing. Learning how to eat & prepare basic fruits, vegetables, grains, proteins, oils, nuts, seeds, herbs and legumes should not be something married with unattainability.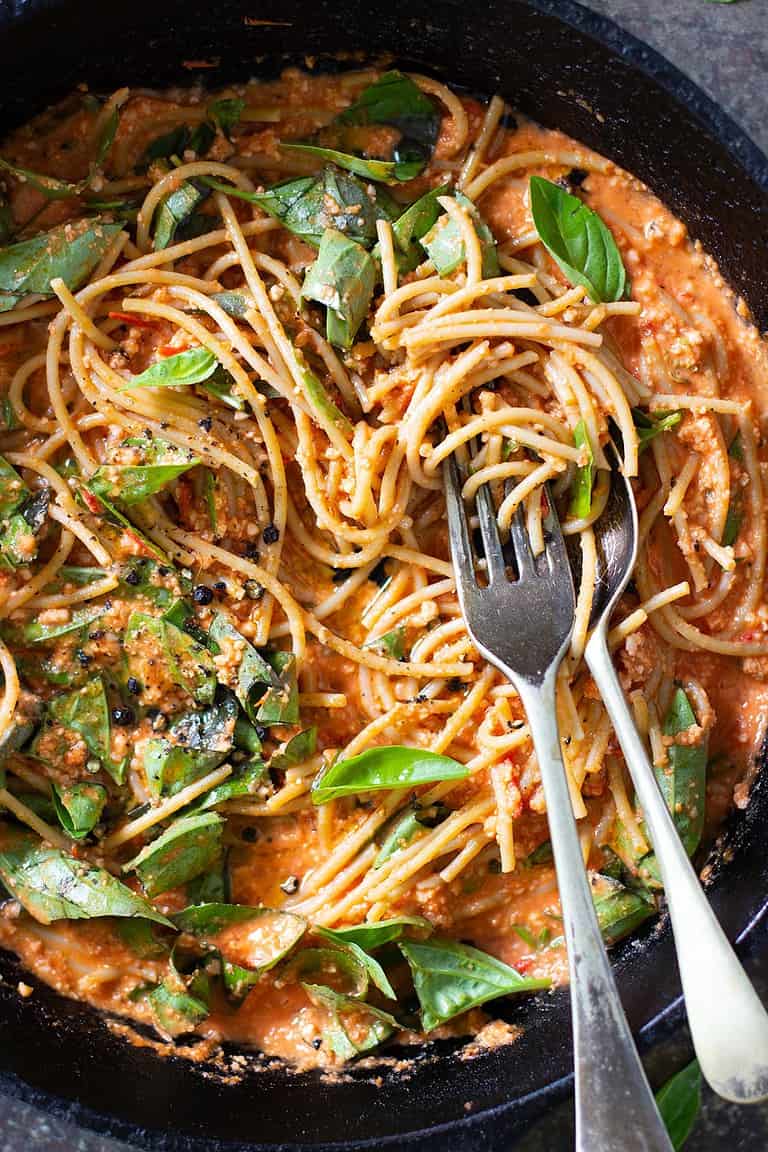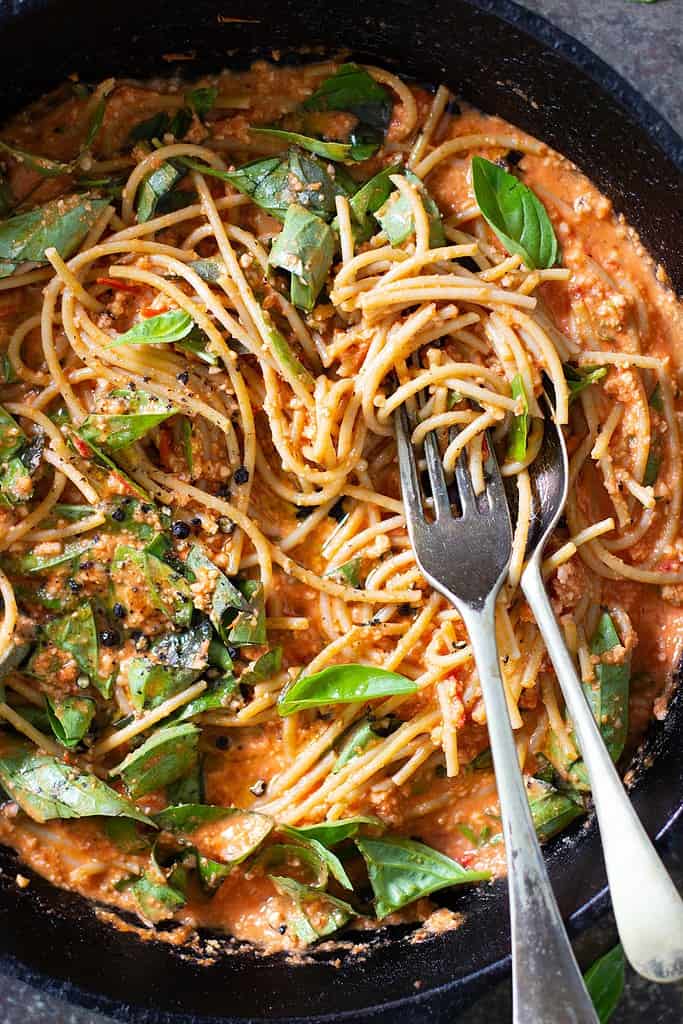 Roast Tomato Basil Pasta Recipe adaptions
At The JCN Clinic we are always adapting recipes to individualise them for each persons needs, and this Roast Tomato Basil Pasta recipe is no exception. Here are some ways you might like to adapt the recipe depending on your requirements:
Add a small clove of garlic into the tomato sauce mix before blending or some garlic infused olive oil
Swap the macadamia nuts for extra pine nuts if you require a nut free version (pine nuts are not nuts – they are kernels off a pine cone, so if anything a seed)
Use legume pasta for an increase of plant based protein (not a low fodmap option)
Add grated parmesan or nutritional yeast for a more intense cheesy finish
Top with crumbed goats cheese
Stir through left over slow cooked lamb or beef for a ragu like sauce.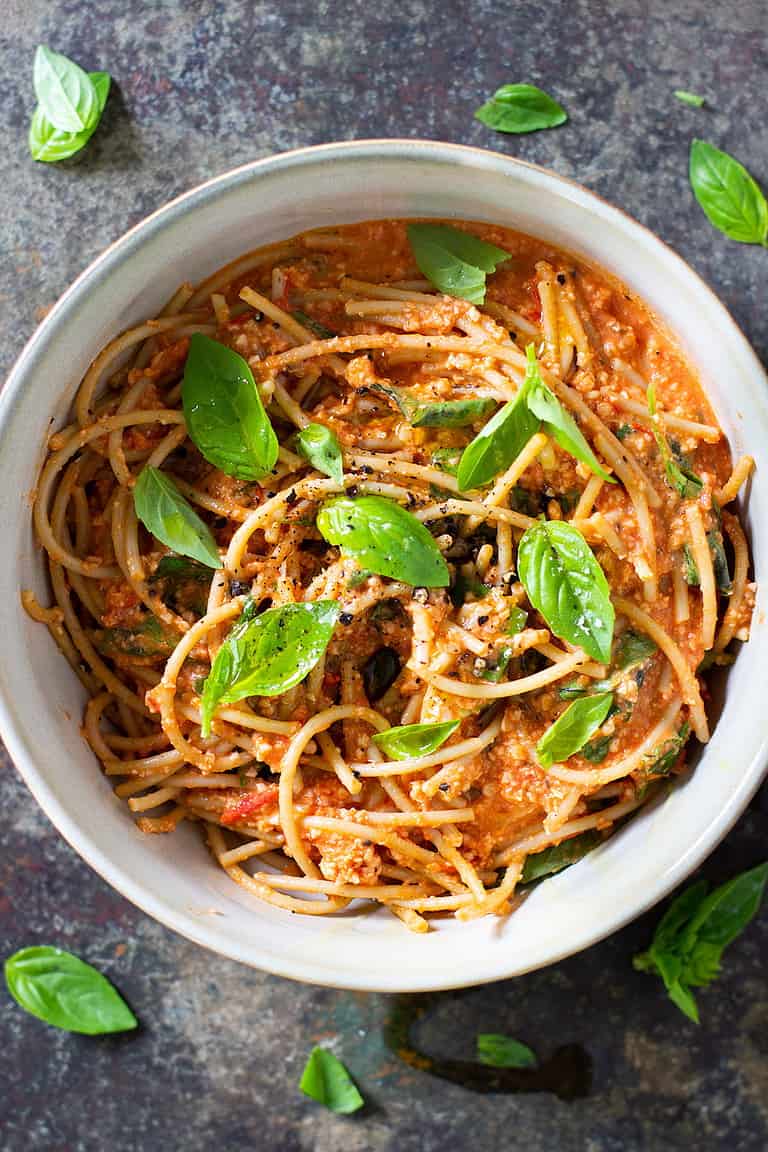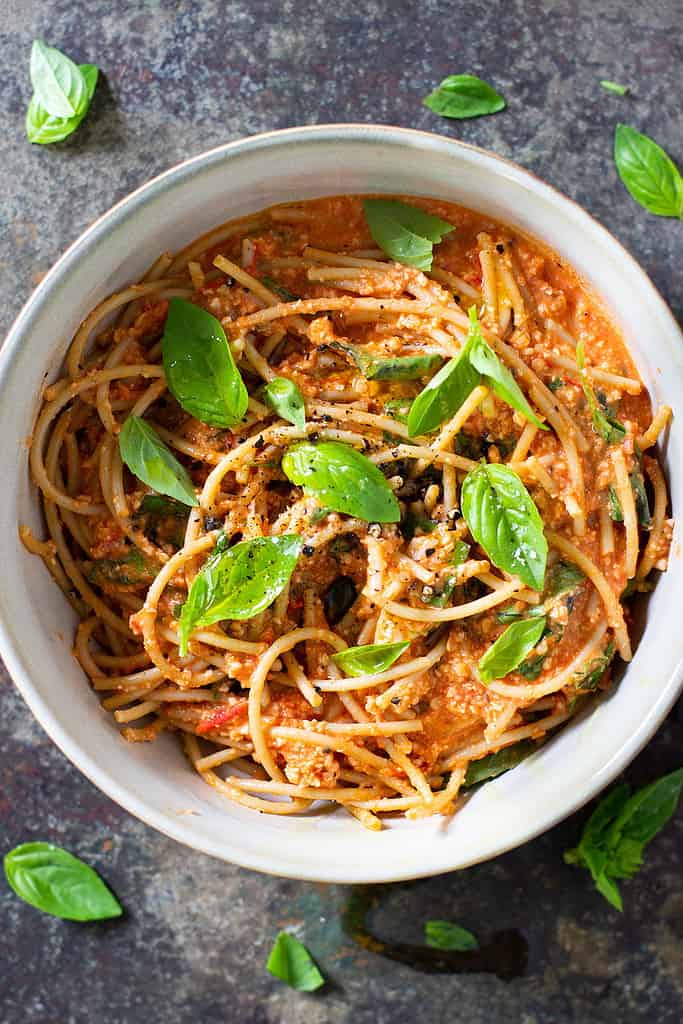 How to serve pasta
Pasta meals are generally served as part of a course of meals. They are carbohydrate heavy but generally you would eat a salad or vegetables either before or after depending on how the meal is traditionally being served up. I like that this also highlights how portions are again important. We don't need to eat a ridiculous huge bowl of pasta. We can enjoy a reasonable portion and accompany it with some leafy greens tossed in a simple dressing, maybe even a small piece of grilled fish or lamb as often done with meals like this.
Pasta is a wonderful ingredient and often thought of as 'unhealthy'. What a shame to see such a joyful food avoided due to fear and misinformation. Pasta comes in all shapes, sizes and forms. From regular wholewheat, to gluten free options like buckwheat, brown rice and legume pastas for fibre rich options. Pleassssssse enjoy what pasta has to offer and if you are keen to nail portions of macronutrients, then think about how you can simply add some side dishes to complete your meal from beginning to end. xo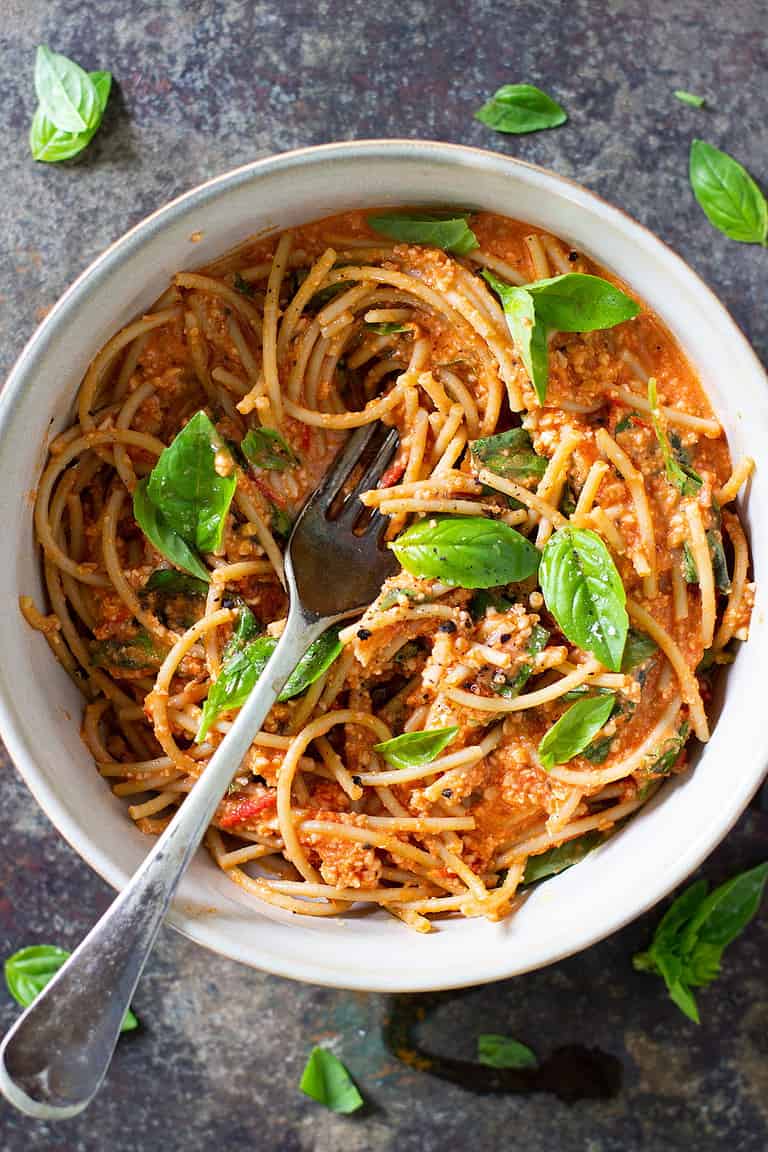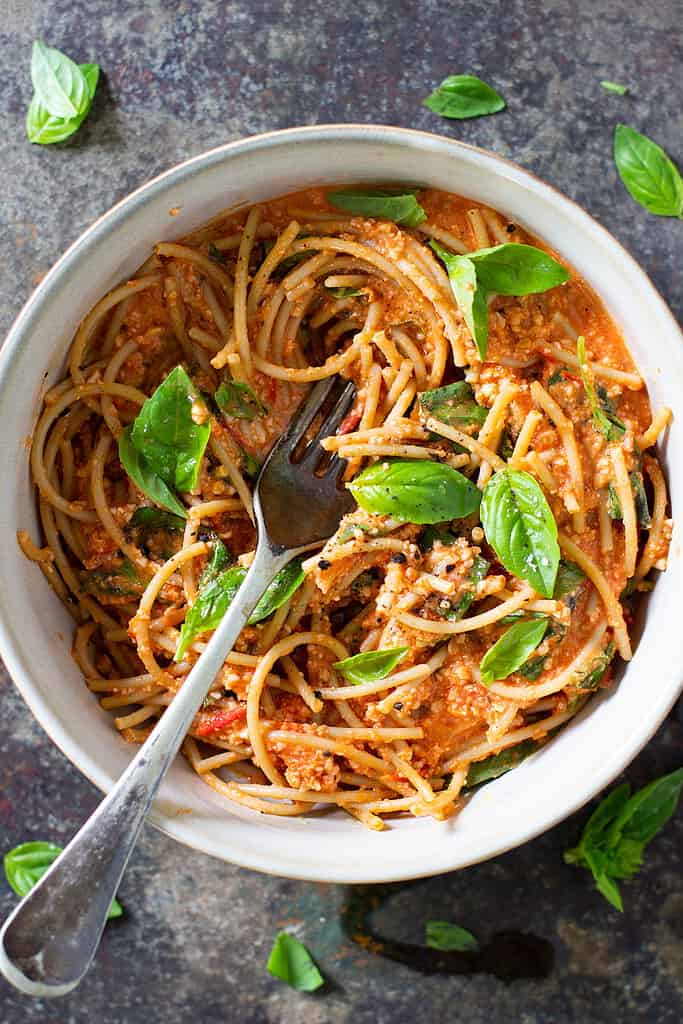 Like what you're seeing? Subscribe for new recipes and nutrition tips every week!
Need personalised nutrition advice catered to your needs?
If you are after personalised nutrition advice and dietary planning individualised to your health and dietary needs then contact us at The JCN Clinic with your enquiry. We are always happy to answer any questions you have!
vegan low fodmap roast tomato & basil pasta
serves

2

preparation time

15 min

cooking time

40 min
ingredients
3 (450g) large beefsteak tomatoes (or seasonal tomatoes available)
1/3 cup (60g) macadamia nuts
1/4 cup (45g) pine nuts
1.5 teaspoons salt
1 teaspoon cracked pepper
1.5 tablespoons lemon juice
2 tablespoons extra virgin olive oil (plus extra for serving)
100g buckwheat pasta
2 cups roughly chopped basil
method
I recommend using the best tomatoes you can find for this recipe. The flavour relies on quality ingredients for the best flavour. A food processor for the sauce will also create more texture whereas a high speed blender will create a more smooth finish to the sauce.
Preheat the oven to 200c. Place the tomatoes on a baking tray and drizzle the tops with a little extra virgin olive oil. Sprinkle with some salt and place in the oven for 20 minutes to roast until the skin starts to split and the juices run out.
While the tomatoes are cooking heat a small fry pan to medium heat. Add the pine nuts and lightly toast them for 3 – 4 minutes constantly stirring them until golden. Set aside.
Remove the tomatoes from the oven and take off their stems. Place the tomatoes in a food processor with the pine nuts, macadamia nuts, lemon juice, extra virgin olive oil, salt and pepper. Blend till well combined still leaving some nice broken up macadamia nuts and pine nuts for texture.
Bring a saucepan of water to a rapid boil and add the pasta. Cook the pasta to the packet instructions, but ideally till just al dente. Drain the pasta but keep 1/2 cup of the pasta water aside.
Reheat the fry pan to a low heat and add the roast tomato sauce. Heat through till warmed and then add the cooked pasta stirring through the sauce. Add a little of the pasta water as needed to loosen and season to taste. Lastly, stir through the chopped basil leaves.
To serve, spoon into bowls and finish with a drizzle of extra virgin olive oil and season well. Serve alone or with a simple green salad.
nutritional information for vegan low fodmap roast tomato & basil pasta
Tomatoes are rich in the phytochemical lycopene, member of the carotene family. Lycopene is an essential nutrient for prostate health alongside cardiovascular health. Cooking the tomatoes helps make lycopene more bioavailable, especially when combined with fat like the extra virgin olive oil. Additionally, lycopene has been studied for its prebiotic effects on the microbiome. (1)
This pasta recipe is rich in complex carbohydrates and great fats, though a little low on protein for those needing a little more sustaining meal. I find its a great light dinner for some with the plant based protein in the nuts, seeds and buckwheat pasta, otherwise its best served or topped with chicken or fish or some feta. Its ideal to use a more fibre dense pasta such as buckwheat to make this meal super sustaining, otherwise it will leave you hungry and you'll be inclined to overeat the more fibre lacking white pastas so commonly used with gluten free pasta options.
Jessica Cox is a qualified practicing Nutritionist with a Bachelor Health Science (Nutrition) and over 15 years of clinical experience. She is the founder and director JCN Clinic, published author and established recipe developer. Jessica is well respected within health and wellness space for her no fad approach and use of evidence-based nutrition.