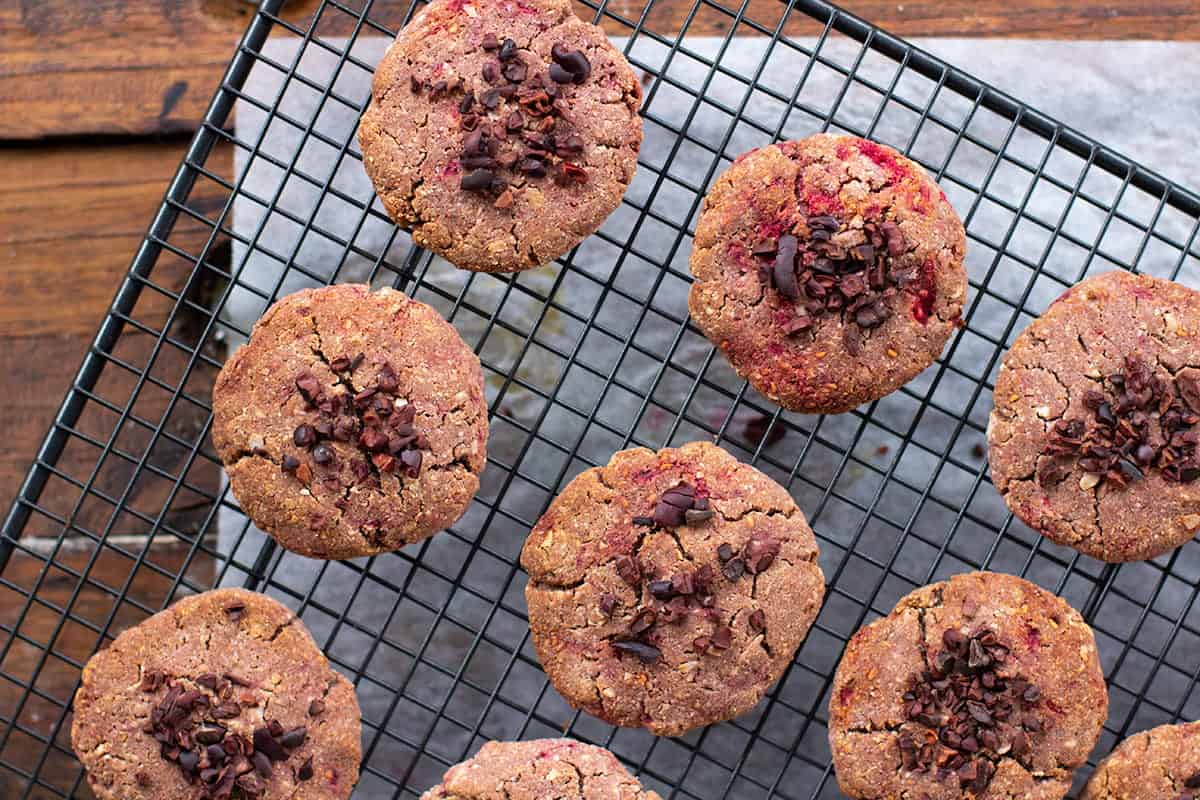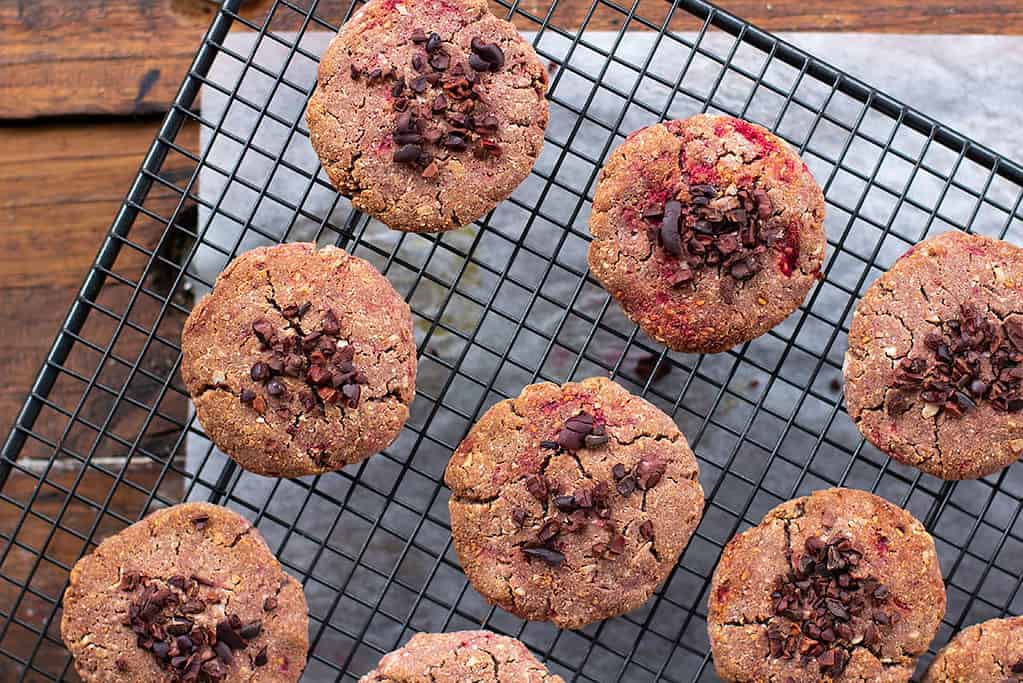 I realise I have been on a bit of a cookie recipe bender lately, but even with the amount of cookies I've been creating and sharing, I still felt that there was a lack of recipes ultimately catering for my clients with dietary restrictions. The idea of these Raspberry Coconut Cookies is to provide an enjoyable snack that still fits inside the parameters of gut treatment protocols that we use extensively at The JCN Clinic for improving our clients gastrointestinal health.
My Healthy Jam Drop Cookies and Gluten Free Anzac Cookies have proven to be super popular, however they are an unfair tease to our JCN clients who need to avoid the sweeteners used in these cookies. Therefore, the sweetness in these Raspberry Coconut Cookies actually comes from the raspberries blended into the wet ingredients and then mashed into the dough to provide the lovely pops of pink you can see in the pictures here.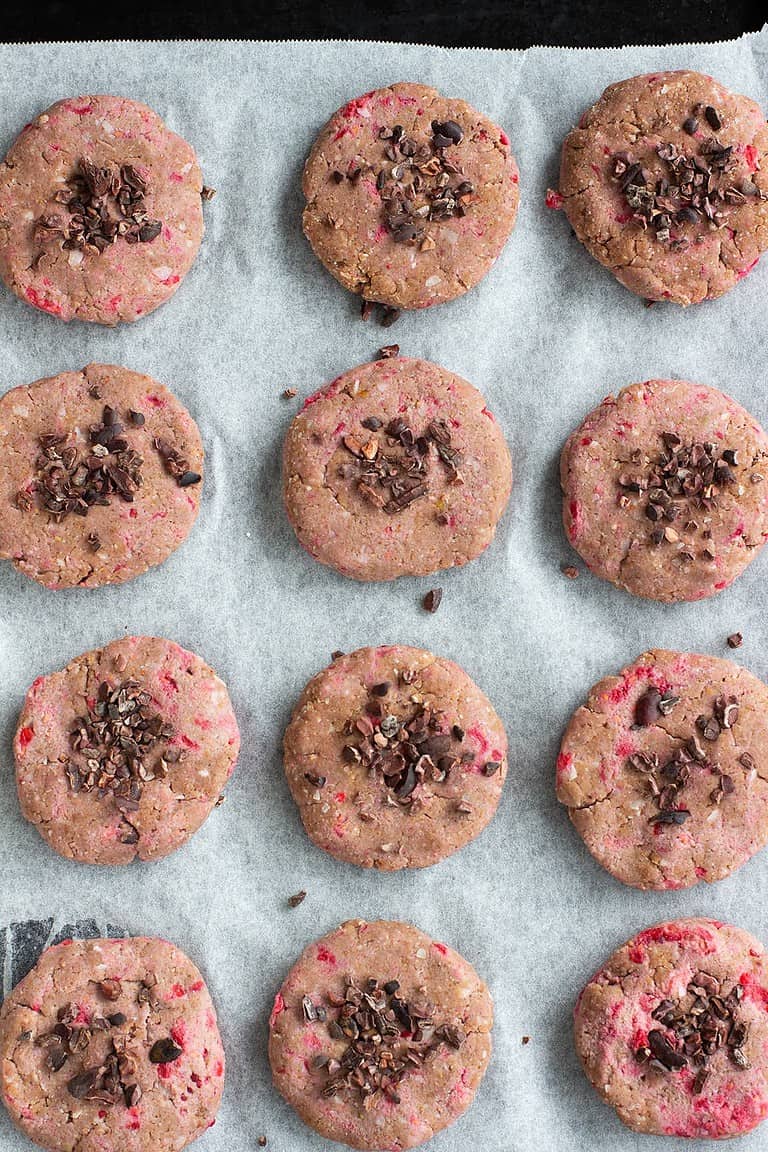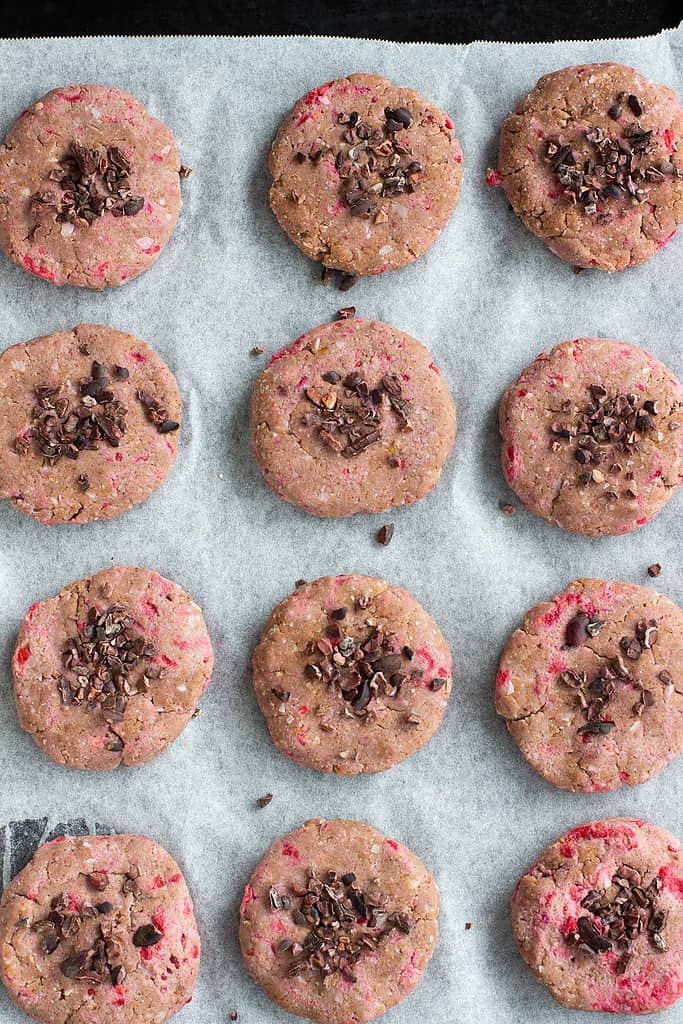 how to make low fodmap cookies
As usual, even though these Raspberry Coconut Cookies provide an alternative to suit stricter dietary needs, they are also going to need tweaks to suit the individual. I often find myself standing in the kitchen when recipe creating thinking of certain clients, knowing that if I use this particular nut meal, or that particular creamy add in that I am taking a road that they cannot go down. Each time I have this internal dialogue about how client X will have to adapt the recipe if I use coconut, or client Y will need to use a different fruit option if I use the strawberries. Honestly, its an endless chatter in my head that would result in cookies made of thin air if I didn't give in at some point and just make the damn cookies.
To make these Raspberry Coconut Cookies low FODMAP:
swap the almond meal for macadamia nut meal
keep the raspberries but don't overeat the cookies! 60g raspberries is still considered low per serve, so if you don't go eating half of the cookies in one sitting you will be fine.
otherwise, swap raspberries for strawberries
swap cashew butter for macadamia nut butter or coconut oil
These simple adaptions will ensure you have cookies that tick the boxes for increased sensitivities. If you are still unsure on how you might adapt these Raspberry Coconut Cookies further then leave a message for me in the comments section below.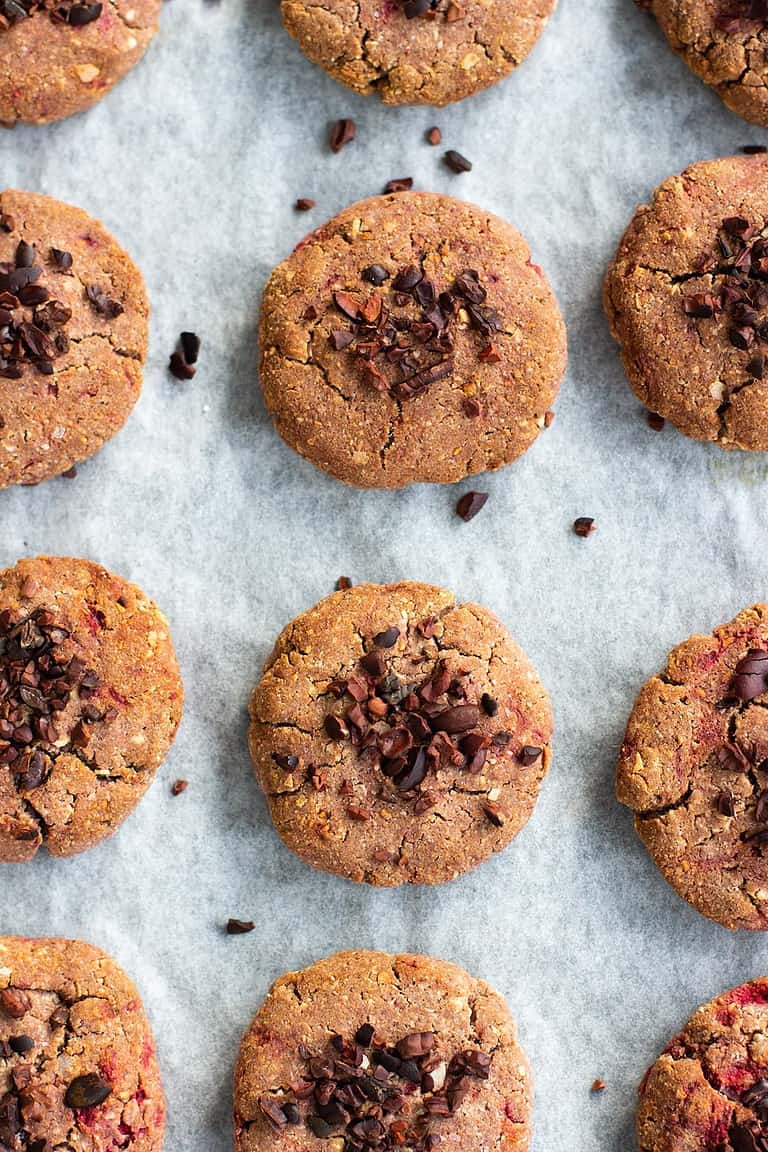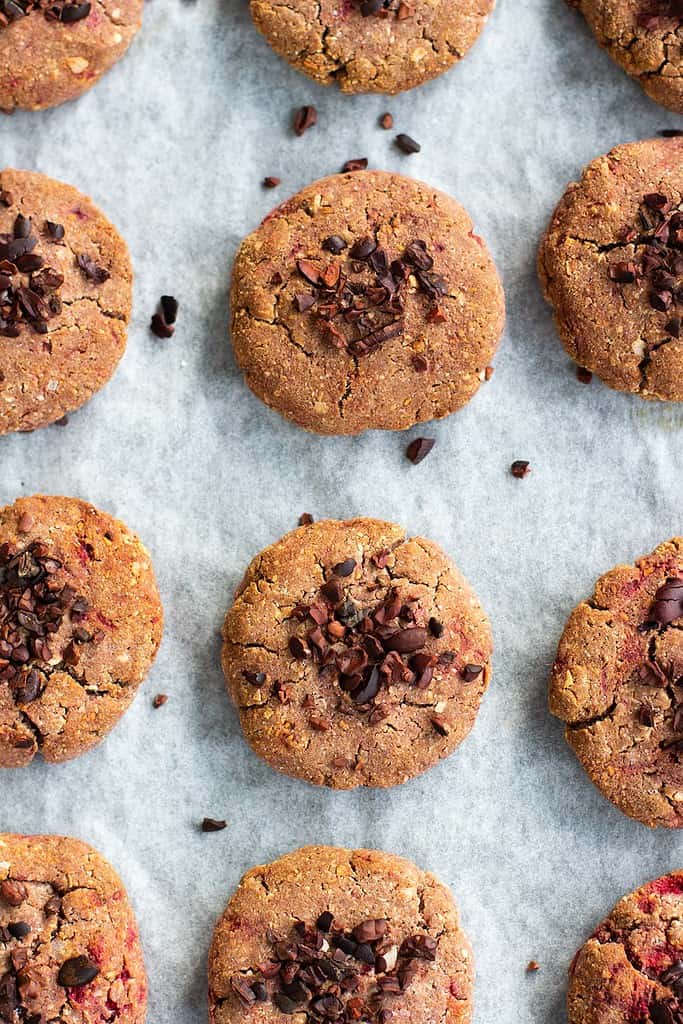 I actually put up a poll on Instagram asking whether I should make cookies or balls with these raspberries. To be transparent, about 10 minutes after posting this, the cold weather won me over and the idea of the oven cranking and warm snacks to bite into – well the cookies won hands down.
Since our move to the Yarra and the unforeseen homebound lifestyle that is 2020, my baking and homemade produce has really been dialled up significantly. I mean I always loved to bake and have made my weekly Gut Friendly Bread for years. However the combination of a solid three months of breakfast cakes in Italy combined with a cooler climate and iso cabin fever has the homemade produce dialled up a notch.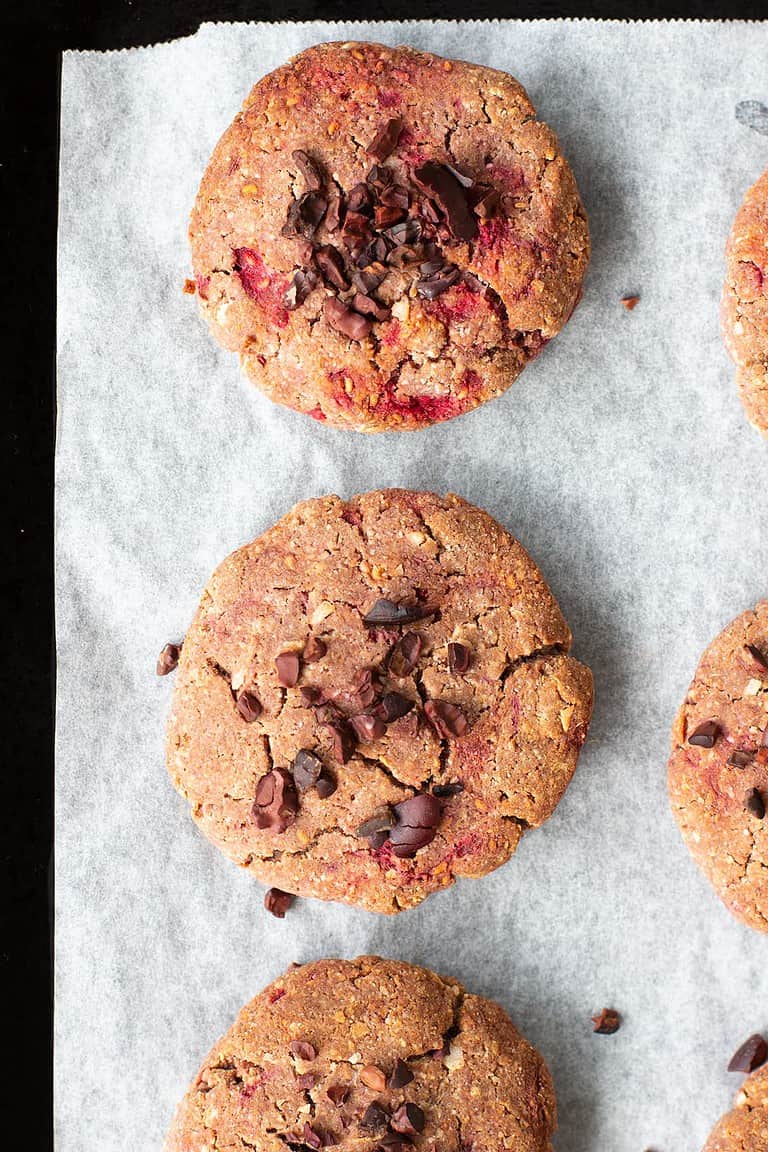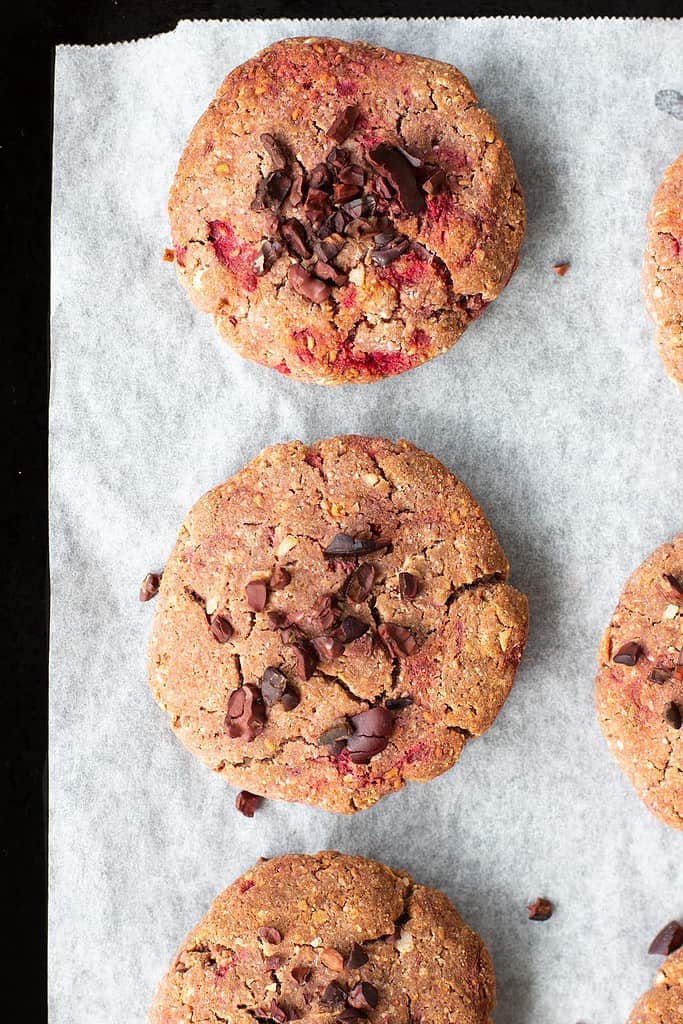 For instance, I am now baking cakes and cookies or muffins weekly. Hubbard generally has a breakfast cake on rotation from Vanilla Choc Chip Cake to Lemon Cake to Banana Cake. I'm constantly baking up my Healthy Jam Drop Cookies and Gluten Free Anzac Cookies, breads and savoury biscuits using up the almond pulp from almond milk.
This year has also seen us dive into preserving lemons, making sauerkraut, weekly almond milk, using the almond milk pulp from the milk to make almond meal…it's literally a produce factory around here! We definitely have a sense of pride with what we are producing from our own garden and from even our neighbours (those generously giving and those stolen from – the stolen produce was comeuppance for our neighbours torturous bogan antics, there is no remorse there).
Next on the agenda is a serious amount of mandarins (from the bogans) which I am leaning towards marmalade for their usage. I want a marmalade though with minimal (if any) added sweetness to really let the mandarins speak for themselves. This will be my coming weekends activities sprinkled with my mental health saving 'get me out of this godforsaken house for a while' walks.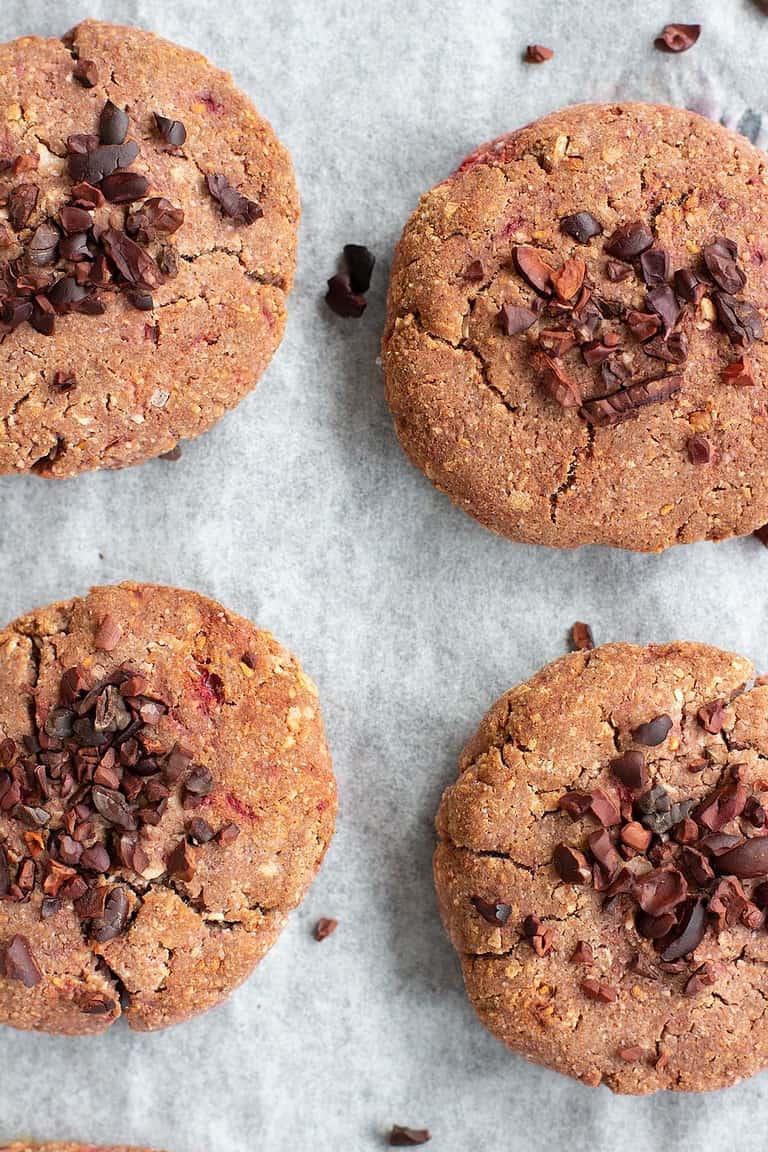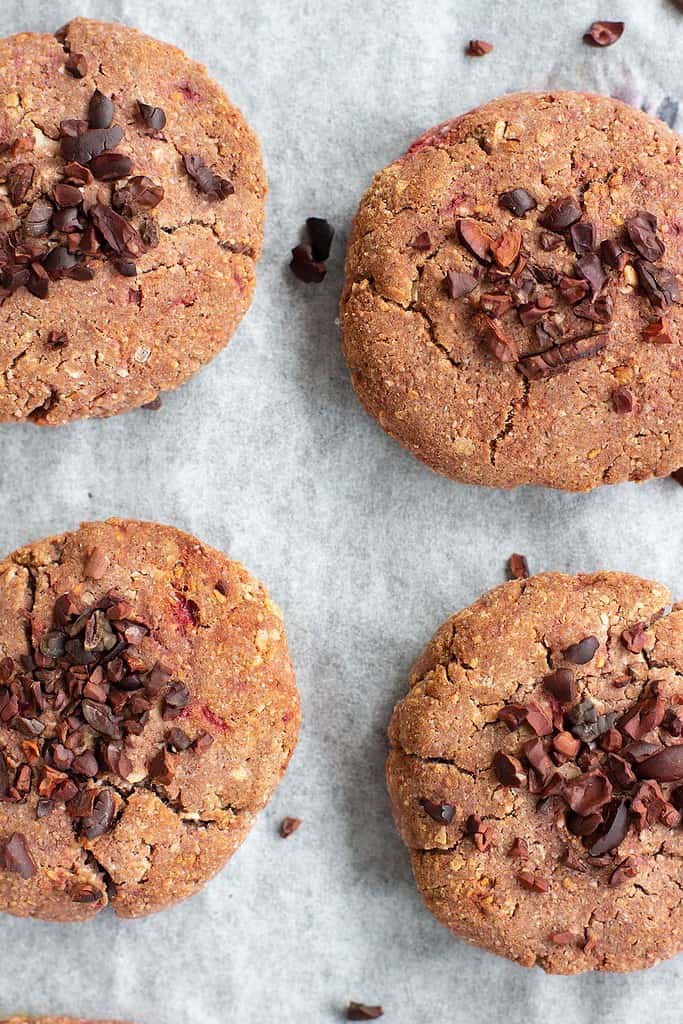 Like what you're seeing? Subscribe for new recipes and nutrition tips every week!
alternative flours to millet flour
So apparently there is a millet shortage. My clients and a lot of you dear readers keep asking me about what you can use instead of millet in my recipes. From the grain to the flour, millet seems to be a bit of an enigma.
I've been sourcing mine from a local supplier, but I buy millet as a grain and then grind it up in the vitamix to a flour. If you have the option to do this then this would be my first recommendation. Otherwise, if you can't get millet at all then you can use buckwheat flour or sorghum flour for gluten free, but keep in mind the buckwheat flour will give a stronger flavour. My pick out of the two would be sorghum flour.
Brown rice flour may work – it could be a bit crumbly though so maybe add 1 tsp of psyllium husk. Ground oats would also work for this if you who can eat oats with no worries. Again, if you have questions on how to adapt based on what is in your pantry let me know below. Happy baking! 🙂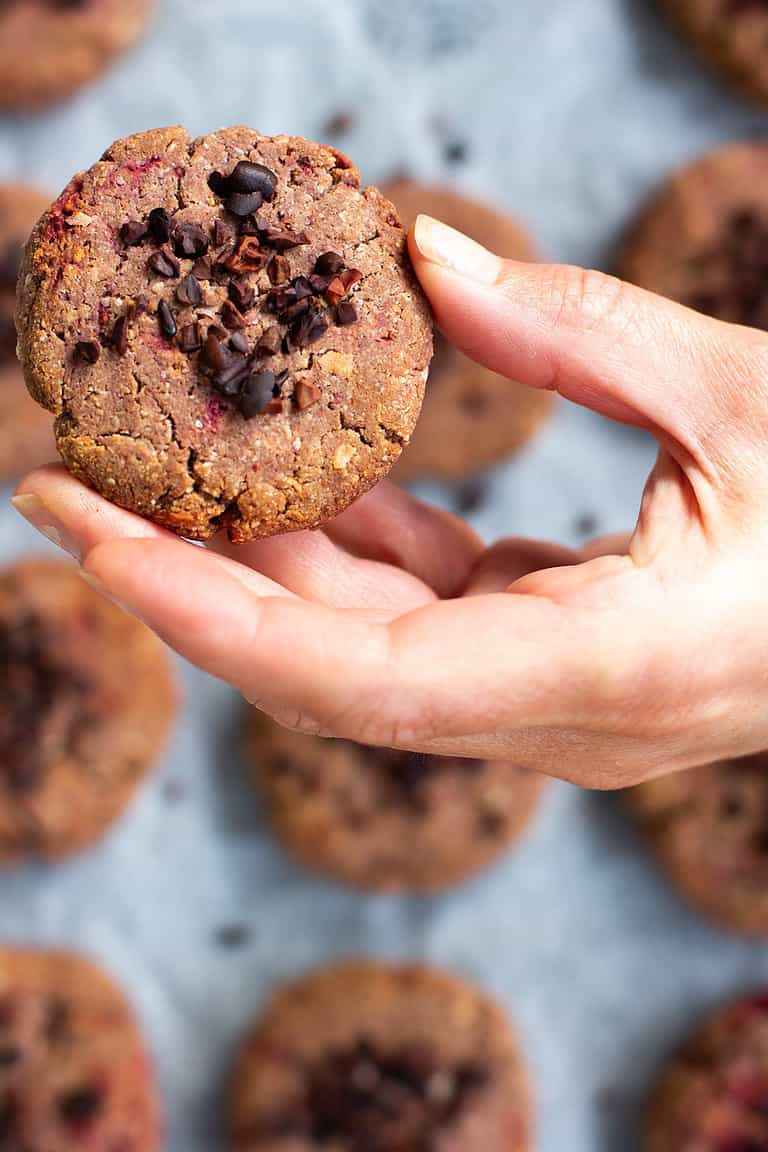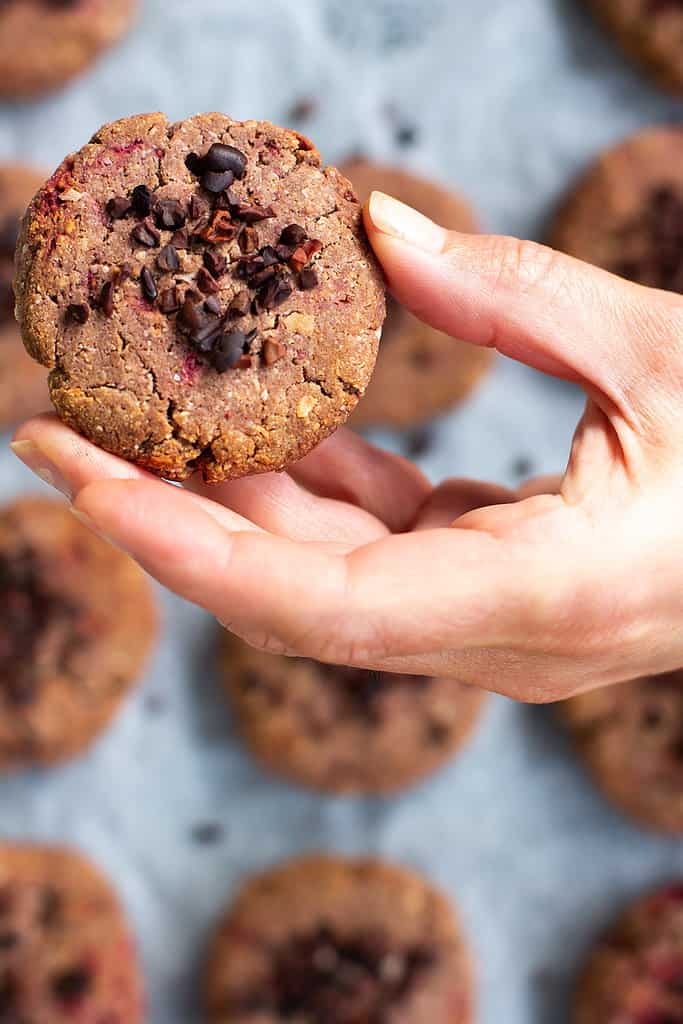 Need personalised nutrition advice catered to your needs?
If you are after personalised nutrition advice and dietary planning individualised to your health and dietary needs then contact us at The JCN Clinic with your enquiry. We are always happy to answer any questions you have!
raspberry coconut cookies recipe
serves

12 – 14 cookies

preparation time

20 min

cooking time

25 – 30 minutes
ingredients
1 cup millet flour
¾ cup desiccated coconut
1 cup almond meal
pinch of salt
2 cup raspberries
¼ cup water
1 tsp vanilla
¼ cup cashew butter
2 tablespoons extra virgin olive oil
½ teaspoon bicarb soda
1/4 cup cacao nibs (optional)
method
These cookies are not that sweet, so if you would like to amp up the sweetness then add in 2 tablespoons maple syrup and reduce water to 2 tablespoons of water.
To make low FODMAP adaptions see above notes in the blog post.
Preheat oven to 175c
In a medium sized bowl combine the millet flour, almond meal, desiccated coconut and salt. Mix well. Take 1 cup of the raspberries and roughly tear up into the dry mix and then mix through. Set aside.
Take 1 cup of the raspberries and place them in a blender with the water. Blend till well combined and then pour out raspberry puree into a medium sized saucepan.
Add to the saucepan the vanilla, cashew butter and extra virgin olive oil. Turn the heat on to a low to medium heat and bring heat up to allow the cashew butter to melt, as you continuously mix everything.
When the raspberry mix is well combined with the other ingredients, add in the bicarb soda and mix vigourously. The bicarb soda will make the raspberry mix froth up and turn a greyish-purple. Mix quickly for 30 seconds and then remove from the heat.
Create a well in the centre of the dry ingredients with a wooden spoon and add in the wet mix from the saucepan. Mix well bringing to a dough. Best to get your hands in there to help it along.
Take pieces of the dough and roll into balls (similar in size to a large protein ball) and then gently press out to a thin disc shape. Use your hands to mould the edges too (you can see a similar recipe here for Savoury Rosemary & Mustard Cookies with some photos showing how this is done).
Place the raspberry coconut cookies on a large baking tray. If you are using the cacao nibs, take pinch size amounts and push them gently into the top of the cookies. Once finished, place the baking tray into the oven for 25-30 minutes, checking at the 15-minute mark to ensure they are not cooking too fast (oven temperature variations will effect this). Once the cookies are lovely and golden they are ready.
Remove the tray from the oven and allow the cookies to cool on the tray for at least 10 minutes. They will be soft at first and then they will start to harden. After 10 minutes remove them from the baking tray and place on a wire wrack to cool completely. The longer the raspberry coconut cookies are left the crunchier the outsides will become.
Store in an airtight container for up to 4 days, then place in the fridge. Freeze any left over after 1 week.
nutritional information for raspberry coconut cookies
Raspberries are extremely rich in flavanoids with significant antioxidant activities. They are also rich in other polyphenolic compounds such as ellagitannins and anthocyanins (anthocyanins provide the lovely rich colour of raspberries). In fact anthocyanins in red raspberries contribute 25% of their antioxidant levels. Studies have highlighted these the importance of these phytochemicals in down regulating inflammation, reducing oxidative stress and supporting cardiovascular health. (1)
Polyphenols also exert positive effects on the microbiome. They are actually perceived my our microbiome as perceived as xenobiotics, meaning they are a foreign 'body'. When reaching the microbes within our gut they can produce prebiotic effects and antimicrobial activity against pathogenic flora. The bacteria within the microbiome also play a role in transforming the polyphenols into bioactive compounds, which have the ability to positively influence the the local gut environment. (2)
Jessica Cox is a qualified practicing Nutritionist with a Bachelor Health Science (Nutrition) and over 15 years of clinical experience. She is the founder and director JCN Clinic, published author and established recipe developer. Jessica is well respected within health and wellness space for her no fad approach and use of evidence-based nutrition.