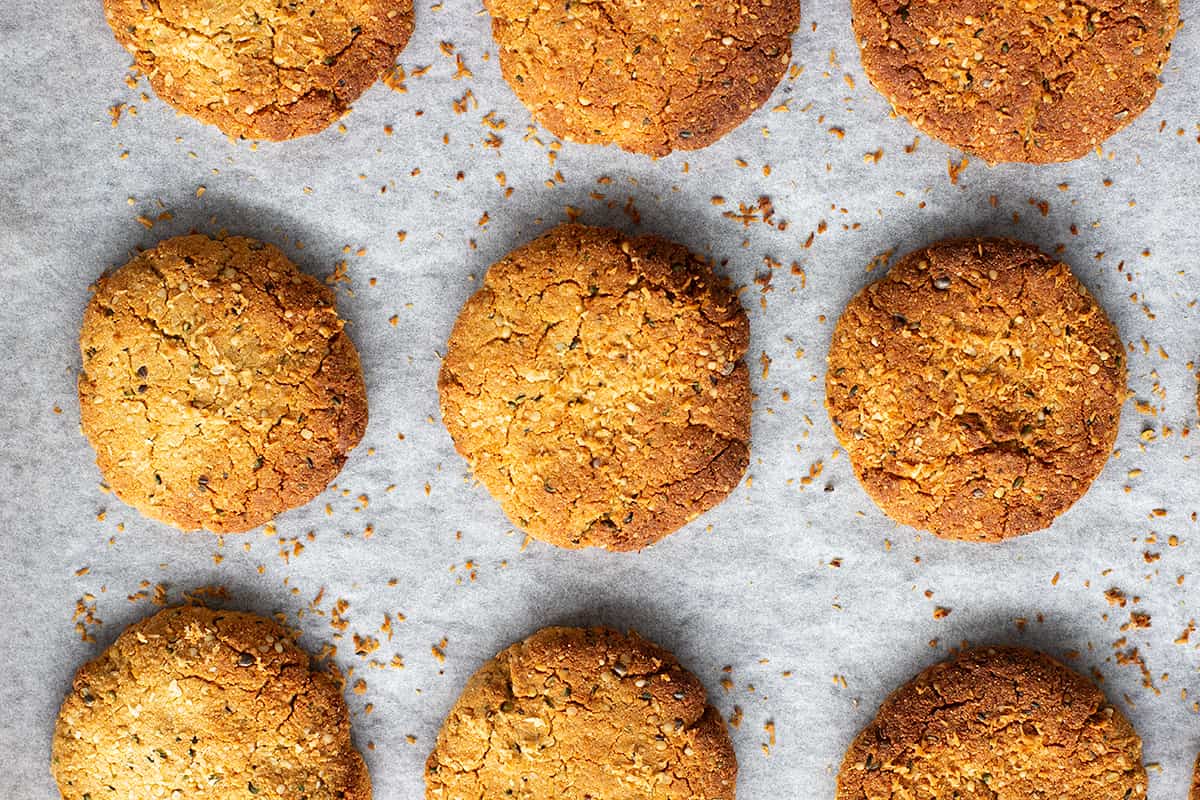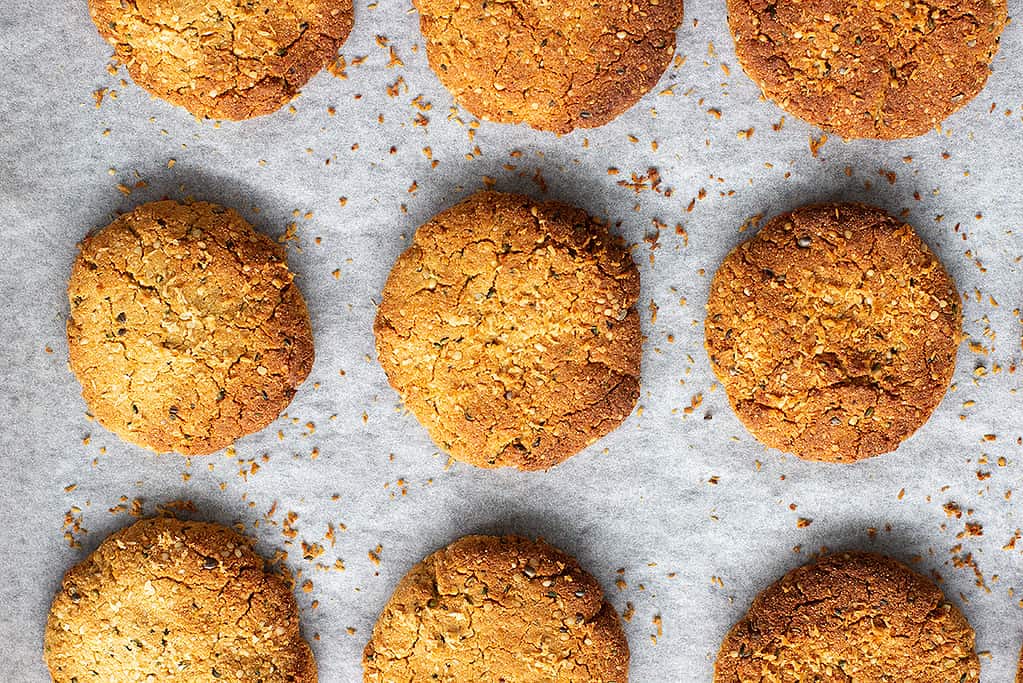 So yeah, Anzac Biscuits aside, I just realised my cookbook.
Like what?!
Seriously, the last 24 hours have been a 'pinch myself moment'. Even though this project has been going on solidly in the background for years – like a rollercoaster ride with serious ups and downs – in this current moment the ride just got extra wild and I'm excited to see where it lands (if it does).
As a self publisher I have learned more in the past 12 months than I ever knew I could in the space of what's involved in releasing a book. Not only have I created the book, but I (well we, there has been lot's of me and Dameon, me and Amy, me and Ellie) have nursed it through the printing stages, the website development stages and now the sales stages. As the beautiful purchases role in and my heart fills with joy regarding sharing e.a.t with you, I'm also thinking about the next step when the books arrive in a bit over a week and our home turns into a packing shed. I'm anticipating the need of many marker pens, the last reserves of red wine from Italy and a hand cramp from writing (note to self, ensure Magnesium stores are taken care of).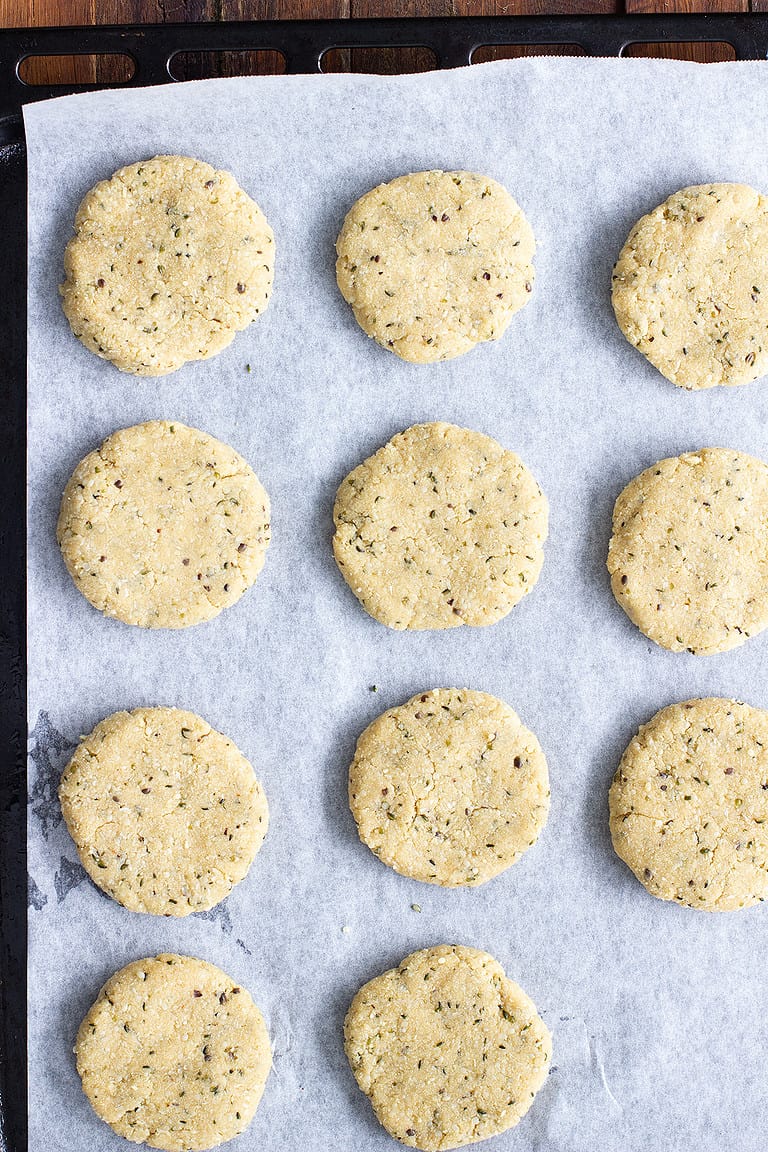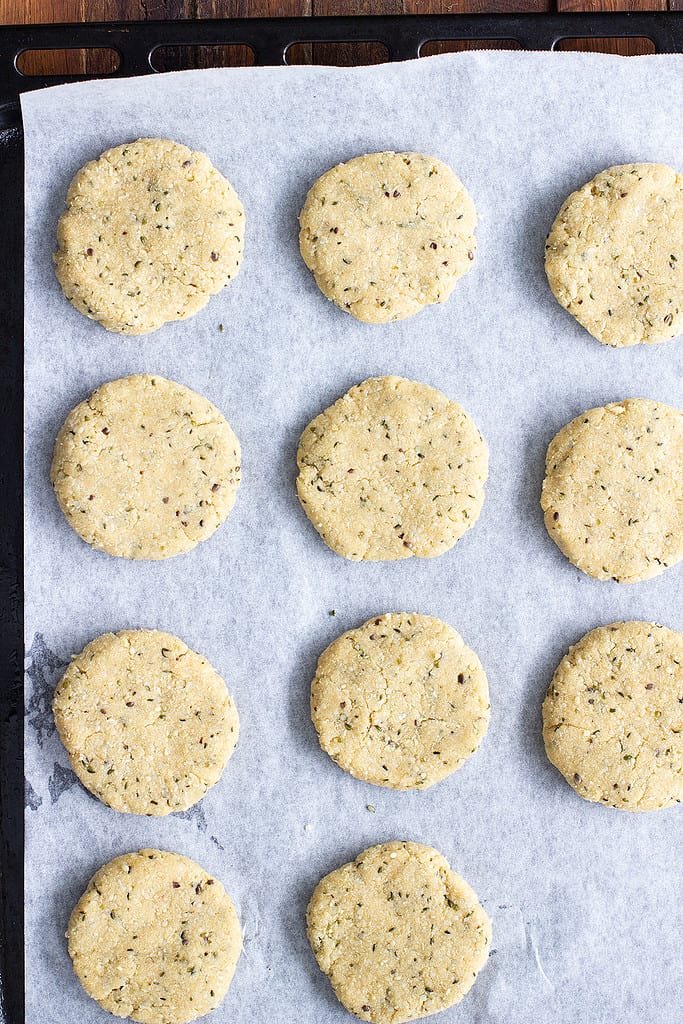 But of course, one cannot release a cookbook without creating a new recipe for the much starved blog in the same week. I promised myself now we are settled in Badger Creek (a hop skip and a jump from Healesville) that I would get back into the weekly recipe posts for you. Up until now it's been quite impossible with moving around so much since we landed back in Australia. I think ironically we were more stable in Italy than back 'home'!
Baking in this new little kitchen feels like the wheels are back on. There has been dinner meals and so forth from day one, but a true bake up to me is the real homely pleasure. Many of you will understand this (Em, you will! Carissa, we are working on 😉 ). Therefore creating these Anzac Biscuits this week was actually calming and soul charging for me, as crazy as it might seem at a time like this when juggling all the balls.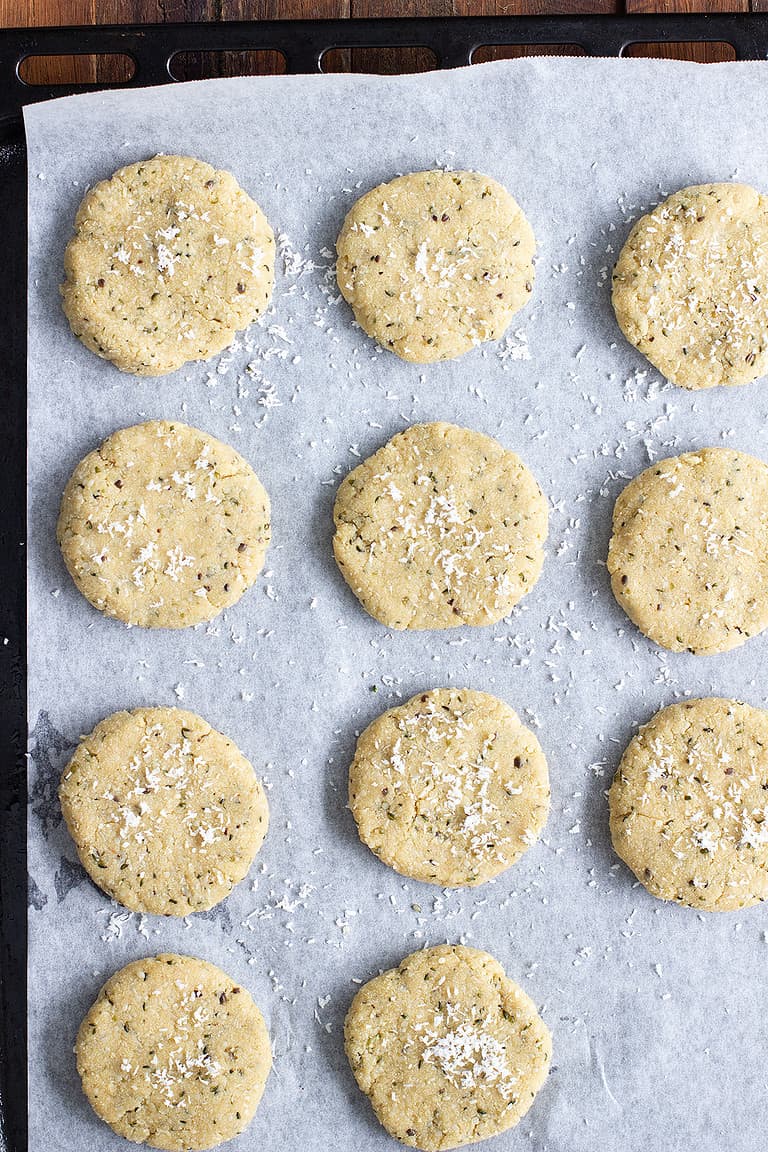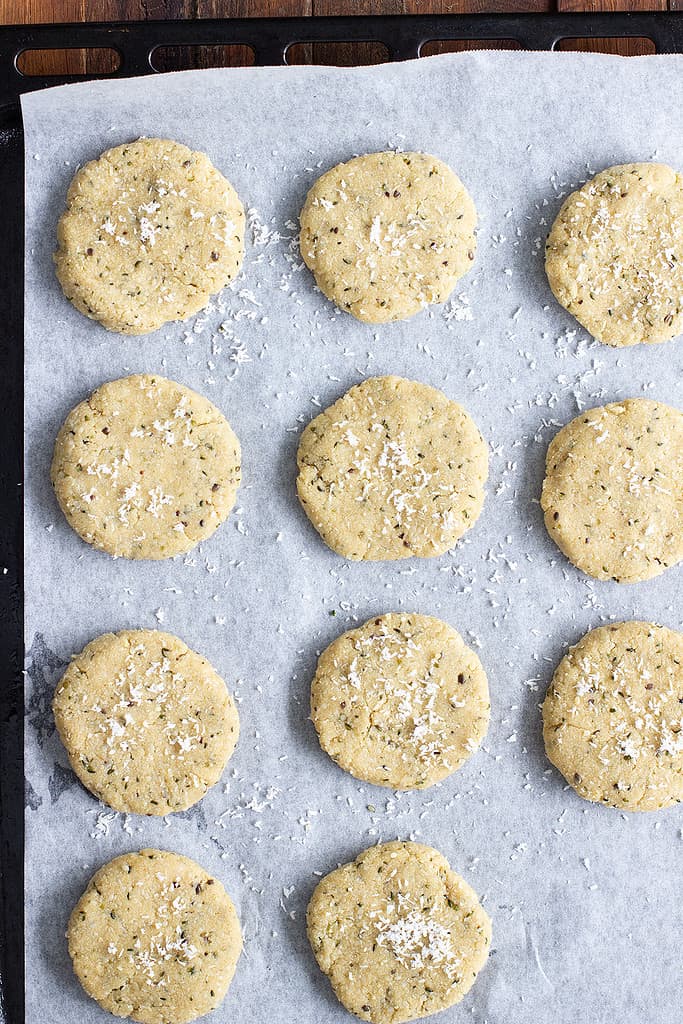 Now just incase you guys are thinking these are traditional Anzac Biscuits (I mean seriously, you know I'm not going to go there right?), these are not the normal run of the mill adaptation. You know I'm not just going to use gluten free flour, gluten free oats and coconut oil and Bobs your uncle, done. When I makeover a recipe, I do it with flair. I can't help making it a 'little more this' and a 'little more that'.
I have stayed true to the foundations of the Anzac Biscuit. The dry mix is a simple blend of flour and coconut, but instead of oats I've used nut meals. I've also added a pinch of salt which many traditional recipes don't use (probably because of the bi-carb), but salt is life so in it goes.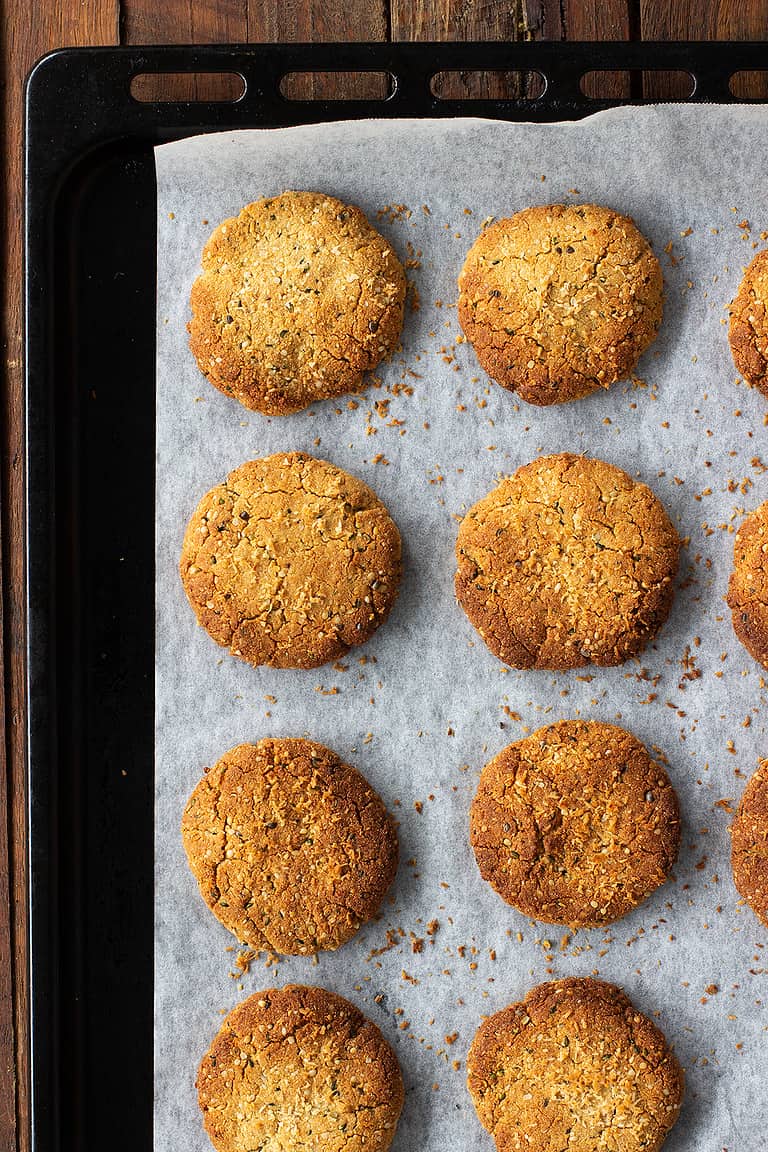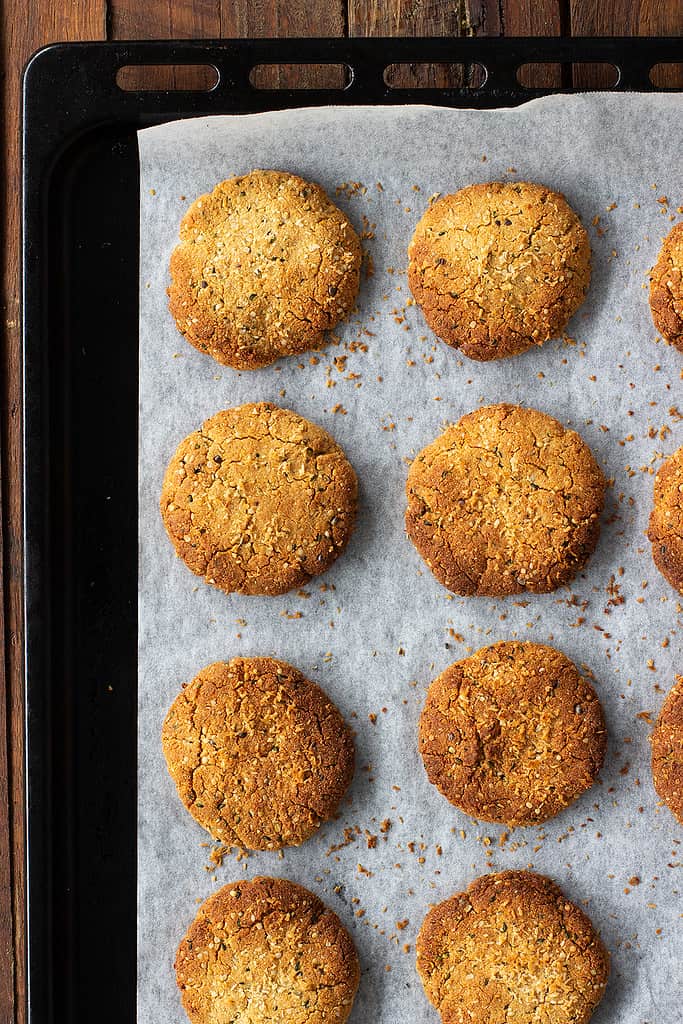 For the wet mixture I've kept this true to its tradition to a point. You can't call them Anzacs if you don't do the foaming bi-carb thing. Therefore the wet mix still relies on the melted ingredients partying hard with the bicarb in a frothy hot mess. Even as a kid this was my favourite part. It's a joy every time. Seriously, how do people not like to bake!
Before I sign off and let you get your bake on, I should let you know that these Anzac Biscuits are obviously cooked in a new oven (well an old crappy Ikea oven in our little rental – but new to me), so I'm hoping the cooking times given here are going to be on par still with your oven. I've baked a loaf of Gut Friendly Bread and it seemed to cook quicker than usual, so if your Anzacs look like they need a little longer than the 10 minutes stipulated, then give them an extra little nudge.
Like what you're seeing? Subscribe for new recipes and nutrition tips every week!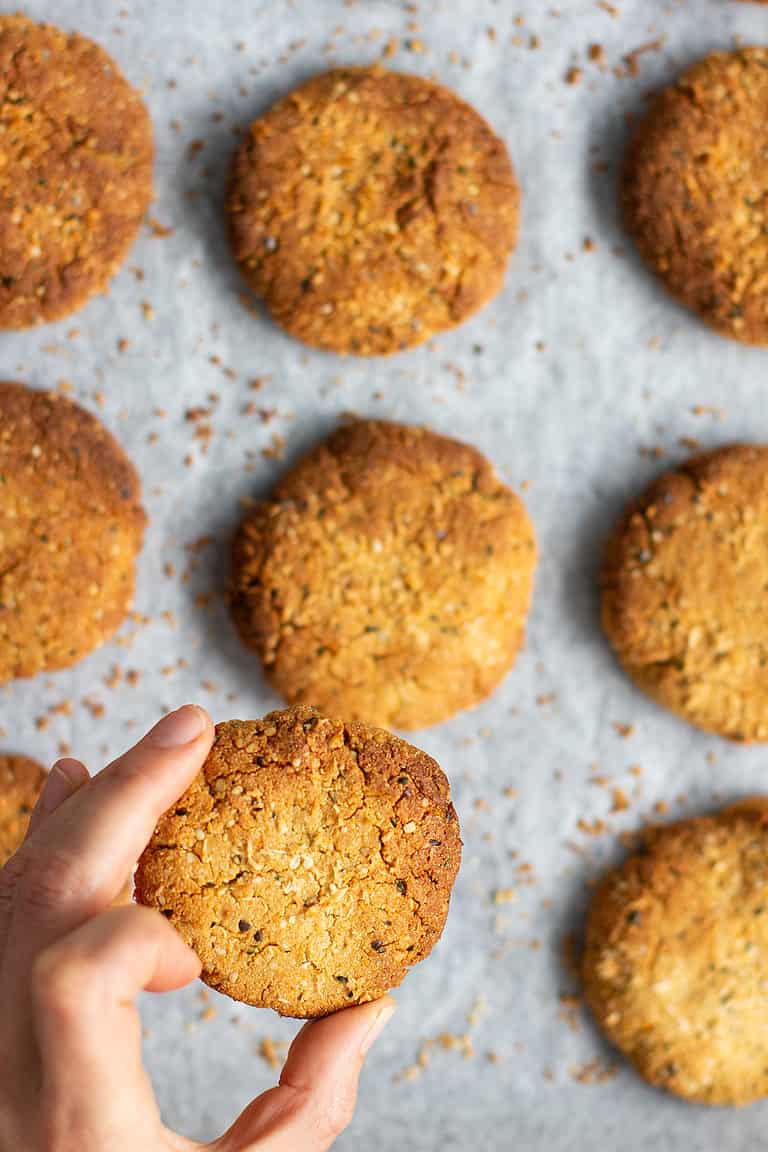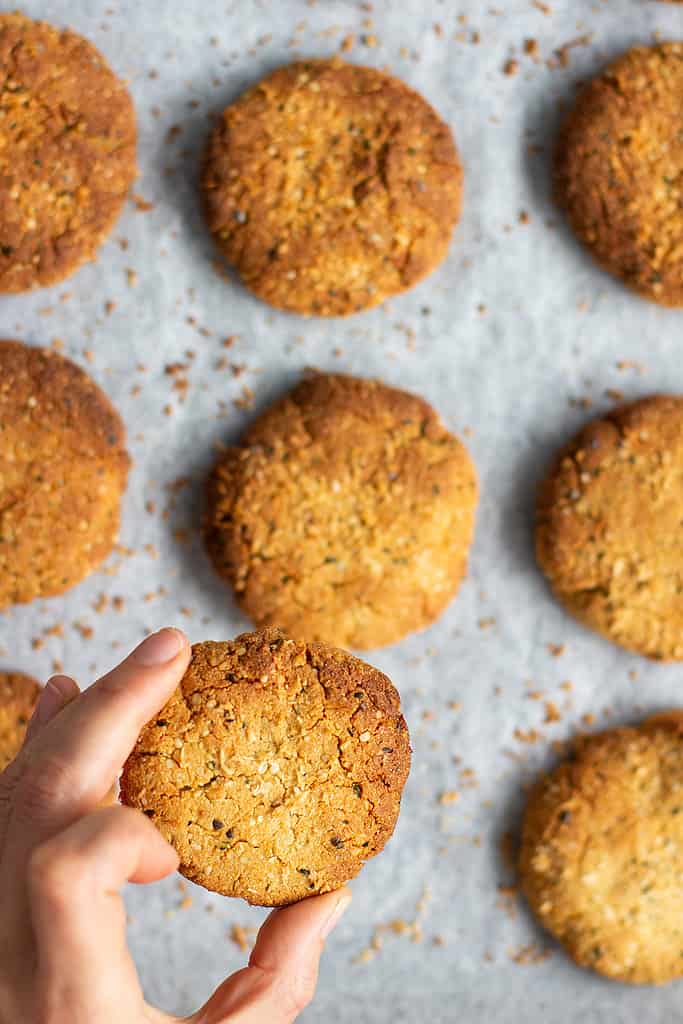 gluten free anzac cookies w hemp seeds
serves

makes 10 large cookies

preparation time

20 min

cooking time

10 min
ingredients
1 cup millet flour
1 cup blanched almond meal
1/2 cup desiccated coconut
1/2 cup hemp seeds
pinch of salt
1/4 cup honey
1/4 cup cashew butter
2 tablespoons extra virgin olive oil
1/4 cup water
1/2 teaspoon bicarb soda
method
Preheat your oven to 160c, fan forced.
In a large mixing bowl combine the millet flour, blanched almond meal, desiccated coconut, hemp seeds and salt. Mix well.
Place a small saucepan on the stove at a very low heat and add to it the honey, cashew butter, extra virgin olive oil and water. Continue to stir as they melt. Once all of the ingredients in the saucepan have melted together add the bicarb soda stirring with vigour. The mixture will froth up quickly so be careful! Once it has frothed up remove the saucepan from the heat.
Create a well in the centre of the dry ingredients with a wooden spoon and add in the wet mix from the saucepan. Mix well bringing to a sticky batter. Best to get your hands in there to help it along.
Take pieces of the batter and roll into balls (similar in size to a large protein ball) and then gently press out to a thin disc shape. Use your hands to mould the edges too (you can see a similar recipe here for Savoury Rosemary & Mustard Cookies with some photos showing how this is done).
Place the Anzac Biscuits on a large baking tray then place the baking tray into the oven for 10 minutes, checking at the 5-minute mark to ensure they are not cooking too fast (oven temperature variations will effect this). Once the cookies are lovely and golden they are ready.
Remove the tray from the oven and allow the cookies to cool on the tray for at least 10 minutes. They will be soft at first and then they will start to harden. After 10 minutes remove them from the baking tray and place on a wire wrack to cool completely. The longer the Anzac Biscuits are left the crunchier the outsides will become.
Store in an airtight container for up to 4 days, then place in the fridge. Freeze any left over after 1 week.
nutritional information
These Anzac Biscuits are naturally gluten, dairy and egg free making them wonderful for those with intolerances or a sensitive gut. The sweetness in these cookies is provided by the honey, usually enough for most palates though you can increase it slightly if needed to 1/3 cup and a tad less water to compensate.
These cookies are very rich in fibre thanks to the combination of the millet flour and hemp seeds. Hemp seeds are naturally high in protein and contain good amounts of the essential fatty acids. Just 30 grams of hemp seeds (about 2 tablespoons) contains around 10 grams of protein (similar to eating an egg). The same amount of hemp seeds also contains 14 grams of fats, with a large amount of this coming from omega 3 and omega 6.
The millet provides a wonderful mix of carbohydrates and protein in a grain base. Just 1 cup of millet (approximately 50 grams) contains 5 grams protein and 23 grams complex carbohydrates. Millet is also quite abundant in magnesium and phosphorus and manganese.
Jessica Cox is a qualified practicing Nutritionist with a Bachelor Health Science (Nutrition) and over 15 years of clinical experience. She is the founder and director JCN Clinic, published author and established recipe developer. Jessica is well respected within health and wellness space for her no fad approach and use of evidence-based nutrition.