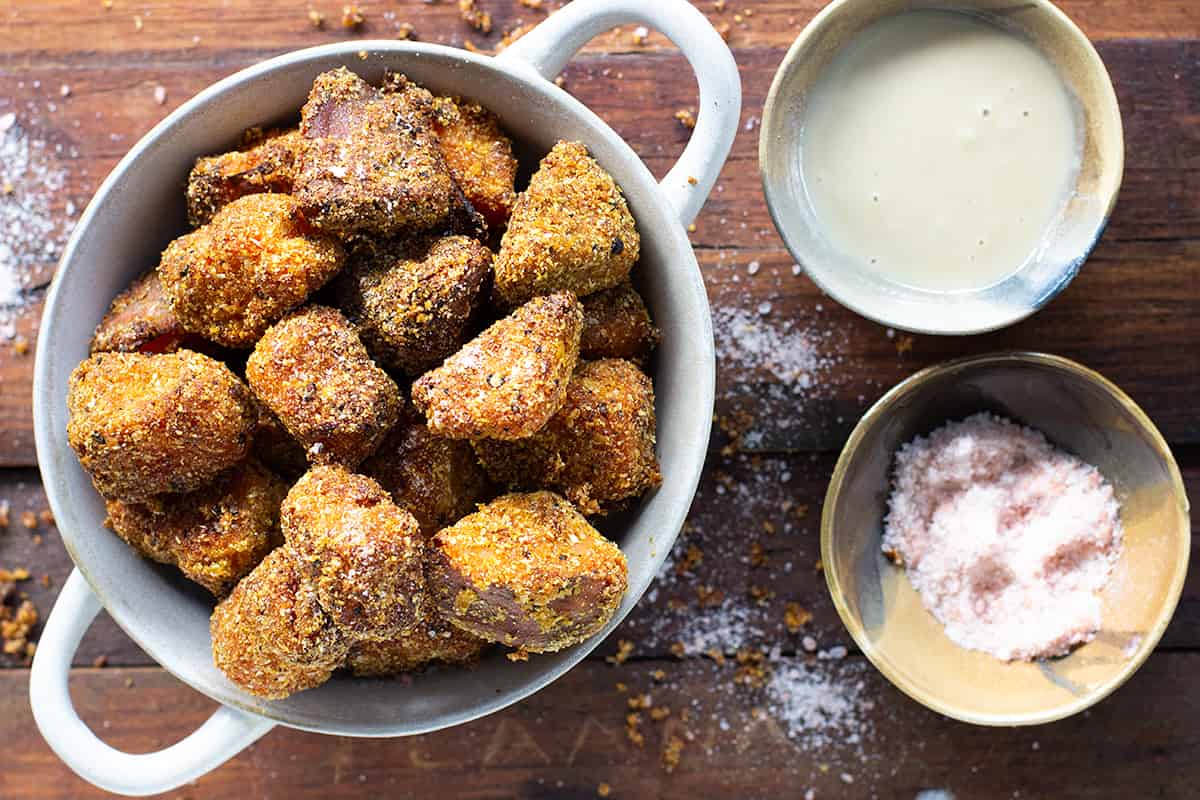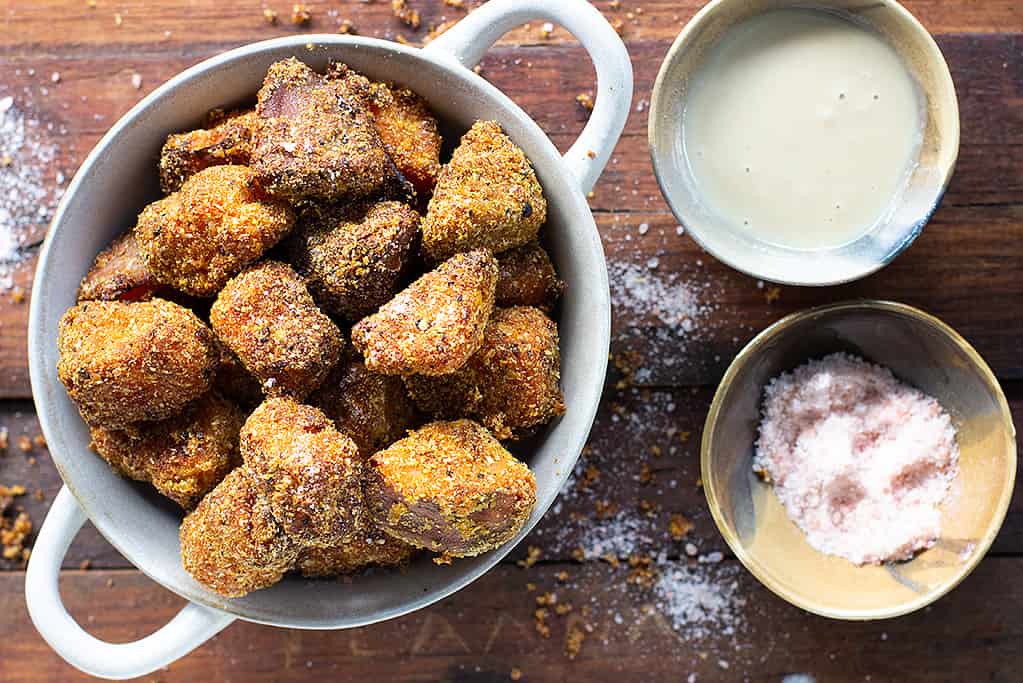 the best crumbed sweet potato nuggets recipe ever
Last weekend I was creating my Sunday feels (which is a little hard at the moment given we are all perpetually living in groundhog day) by hopping back into bed with my Pimped Up Matcha and a cookbook. Cozied in deep under the blankets I was quickly taken away into a world of foodie inspiration. With promises made to myself of finally making this dish and that dish, I stumbled across an old recipe for baked potatoes with parmesan that sparked an idea for these crumbed sweet potato nuggets. I would akin the thought pattern to how I imagine someone feels who is good at maths (i.e not me), finally figuring out an equation that consequently switches on a lightbulb. In my case I had bolts of lightening going off regarding the perfect union of flavours and textures for this recipe in my head. Thoughts like that for me are so strong that I don't need to worry about writing them down. They are eternally etched in my brain from that moment forward.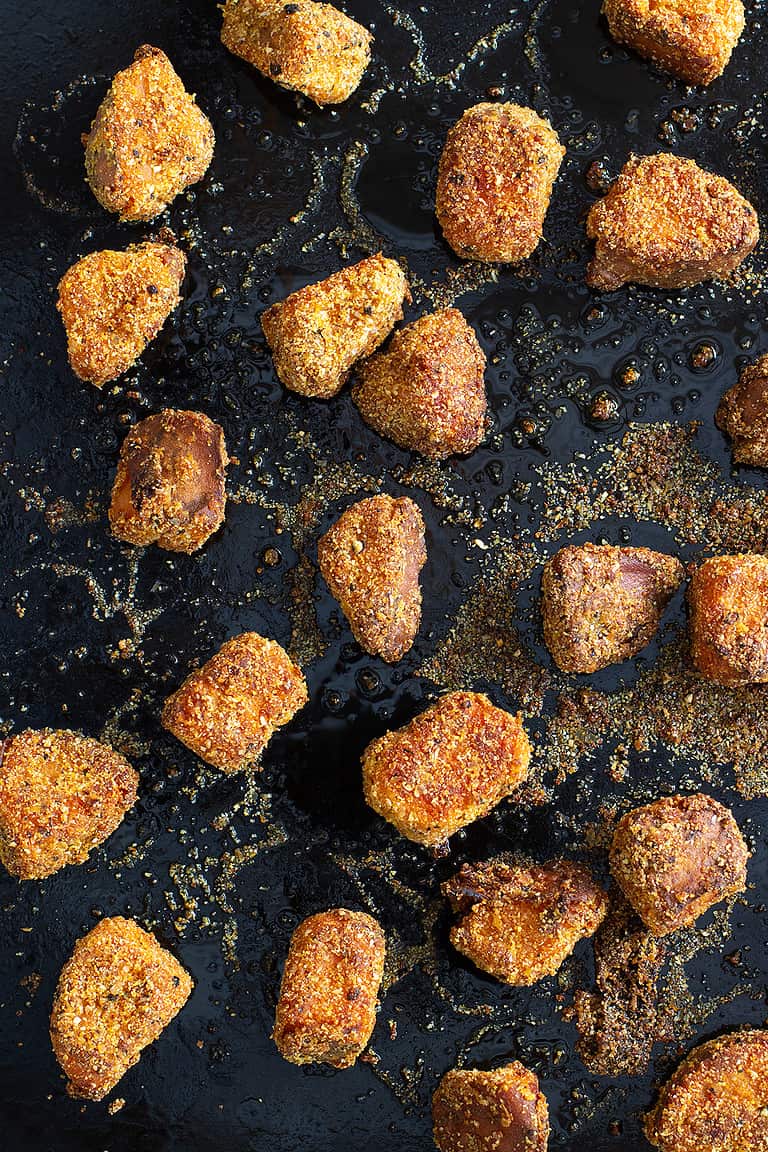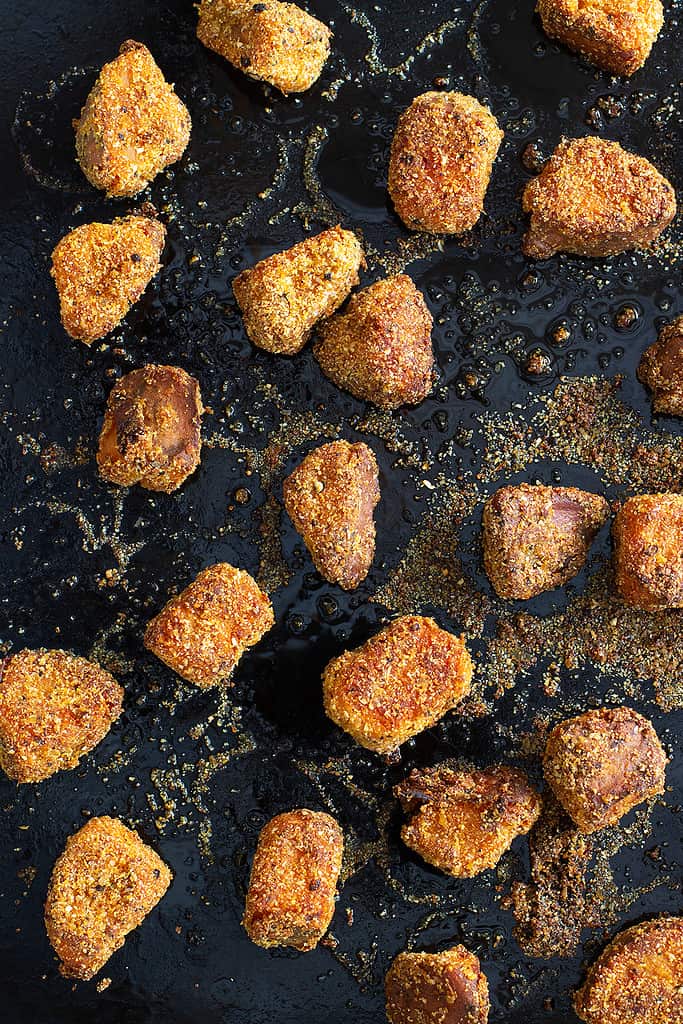 Also curled up in bed that morning I thought a lot about the weather. Since none of us have a lot to talk about currently in response to the common question of 'what's been going on?' besides 'the same as yesterday', and the day before that, and the week before that, I feel that we are lapsing more into serious talk about the weather. The weather has always been an ice breaker and something we all like to discuss to a point, but of late it's like weather talk has got some serious fuel in it's belly. I can't help to fall prey to this with creating this recipe and its weather like appeal given the current temperature here in the Yarra Valley.
What's the temperature? Cold. Or minus cold. Ok it's not that bad (yet) but when I talk to the JCN team back in Queensland who are sporting singlets throughout the day and talking about 30c days I am a little gobsmacked. Currently I sit here in ugg boots and a jumper desperately trying to grab some rays of sun on the deck to warm some parts of my goosebumped body. At 4:30pm when the sun goes down (yes that's early – we live in a deep valley) there is no debate about the fact that one needs to move inside and take up residence near the heater.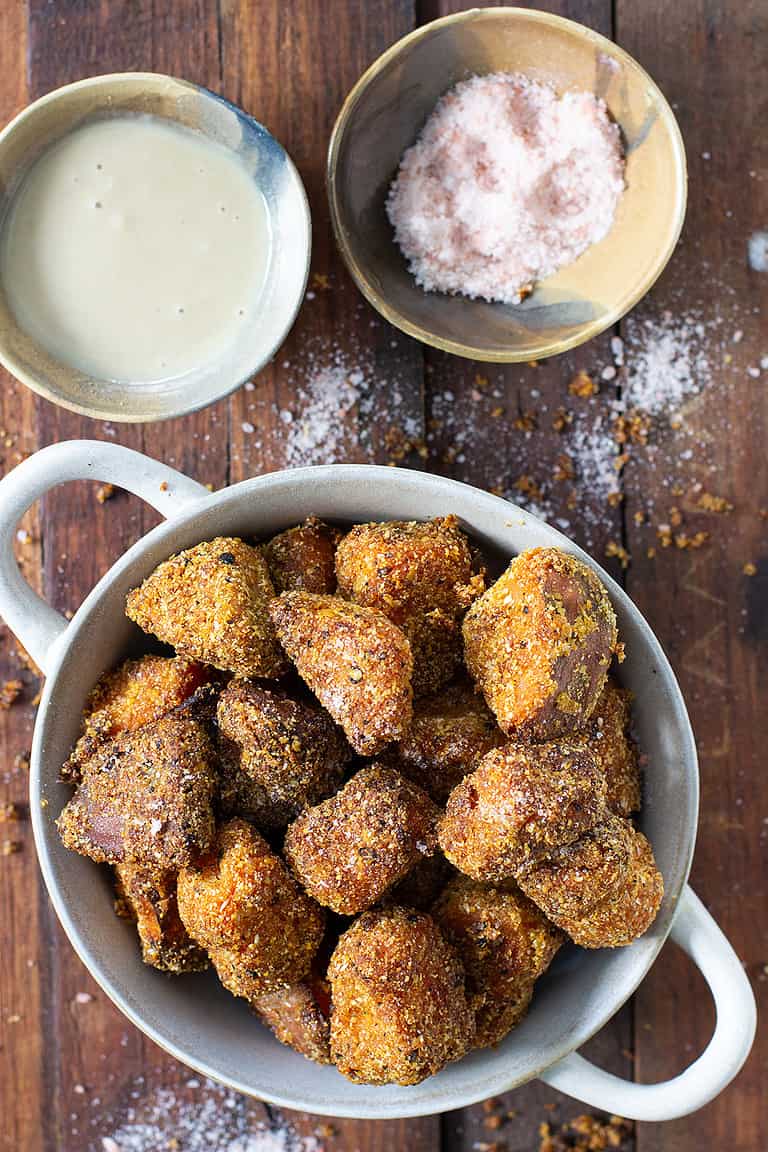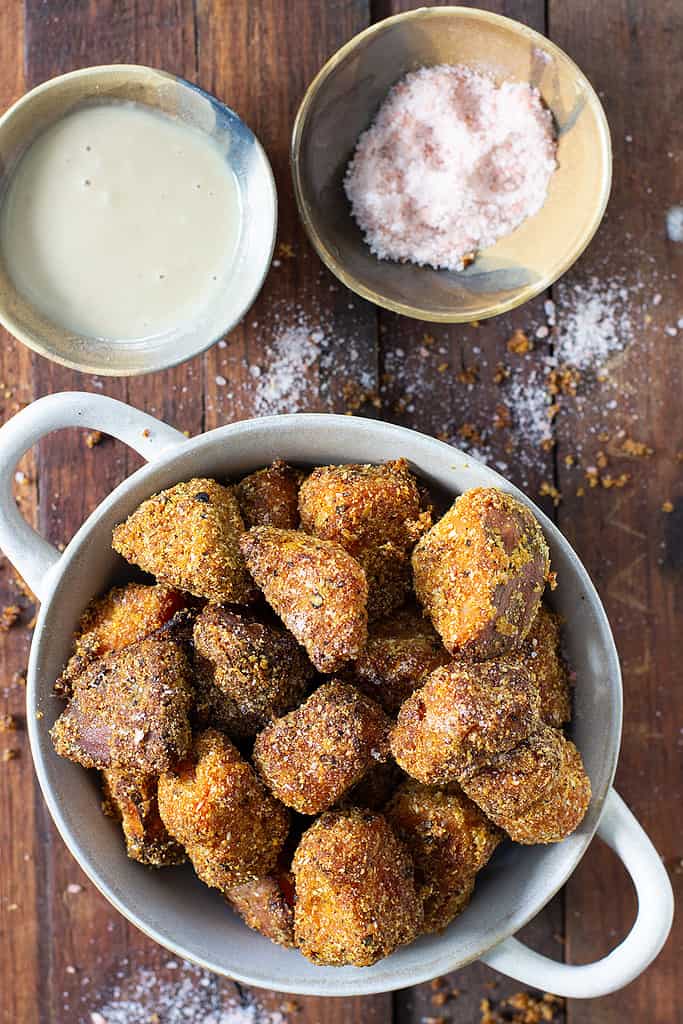 What does this have to do with crumbed sweet potato nuggets? Comfort food dear friend. Comfort food. I'm not talking about emotional eating style comfort food (I'll leave that up to Paige with her Intuitive Eating Workshop) but more the deep need for warm carbs. Dameon and I are consuming potatoes and sweet potatoes like they are going out of fashion. Mashed potato, potato and sweet potato wedges, potato hash browns, left over mashed potato in an omelette – the list goes on.
So put yourself in my shoes uggboots for a moment and imagine the chill and then think about the warm carby crunch of these crumbed sweet potato wedges in your mouth. Imagine dipping them into homemade mayo and how they warm your stomach and that warmth filters out into your limbs. Good right?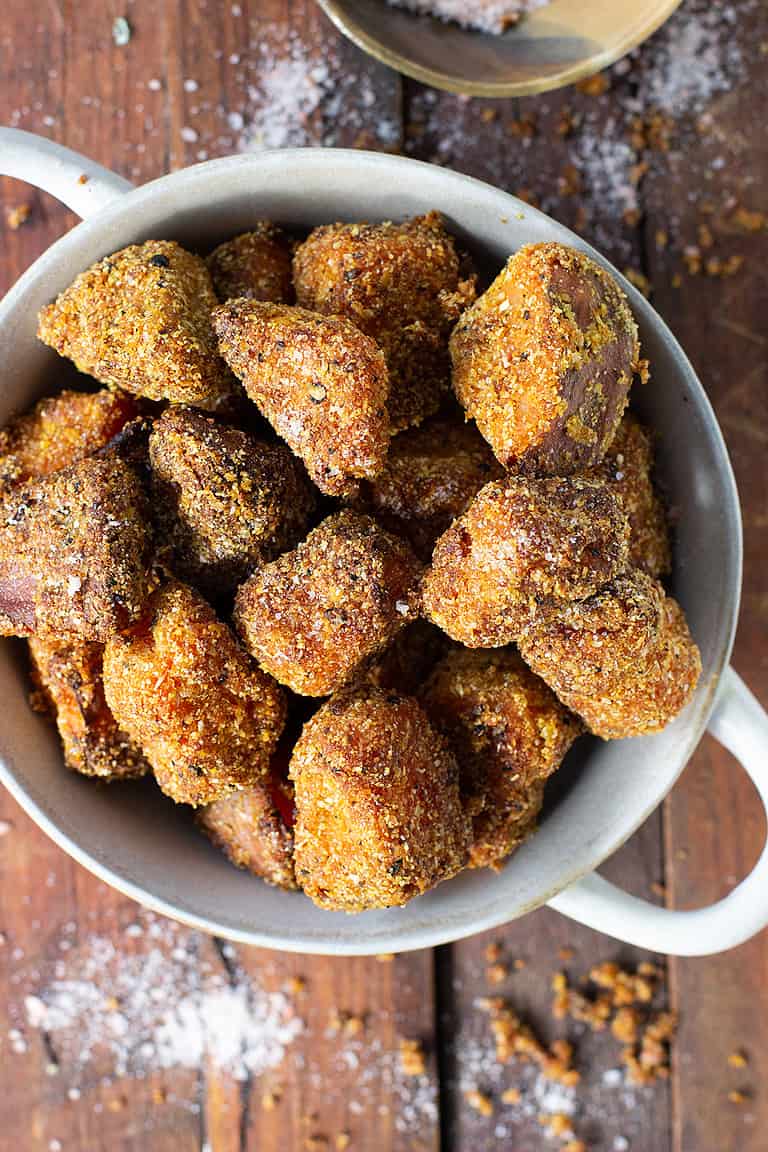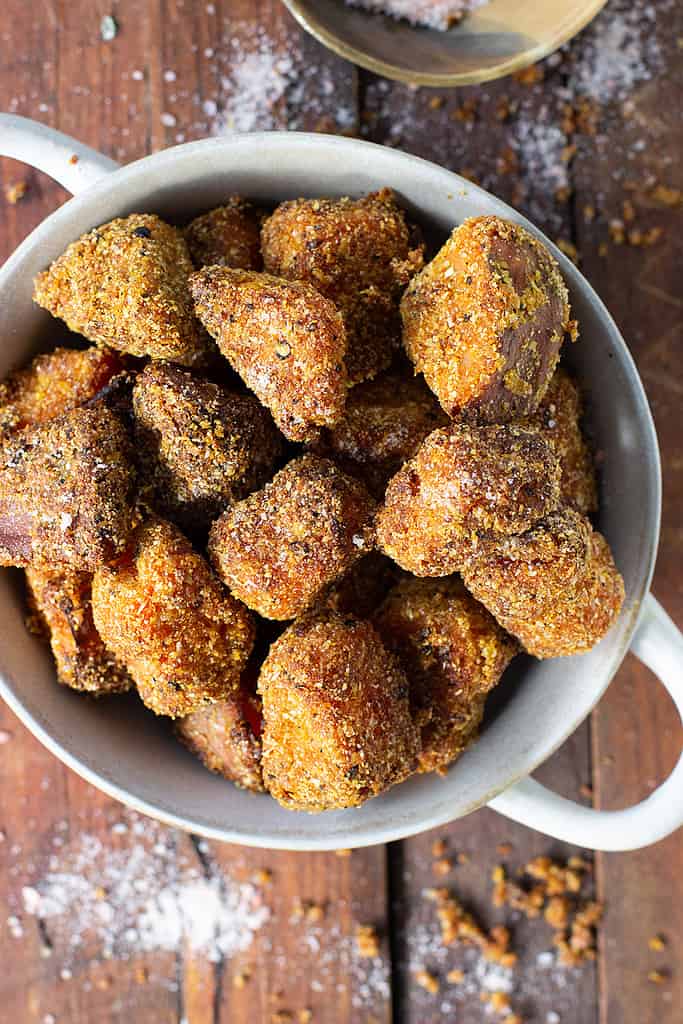 crumbed sweet potato nuggets verses sweet potato wedges
Let's get one thing straight. Crumbed sweet potato nuggets are not the same as sweet potato wedges. It's not just some trickery of cutting sweet potato into a different size and then calling them nuggets. There is food science people. And it's important.
Firstly, for the perfect sweet potato nuggets you have to pre boil the sweet potato to get that super soft centre. Wedges are baked fresh, still giving a little bit of softness depending on how thickly they are cut, but essentially they are just a big crunch party if you ask me. Sweet potato nuggets are about the crunchy outside and that soft textural centre. And that's only achieved by pre-cooking.
Secondly, it's the way you crumb the sweet potato that differentiates it from say my Turmeric & Sesame Seed Sweet Potato Wedges (also in e.a.t). Instead of tossing wedges in the coating directly on a baking tray, sweet potato nuggets are all about the shake. Adding the coating to the steaming hot pre-baked sweet potato in a saucepan and shaking the shit out of it means that the outside of the sweet potato gets all roughed up creating grooves for the coating ingredients to stick to and create crunchier pockets. It also means that bits fall off and create pieces that when baked turn into sweet potato gold.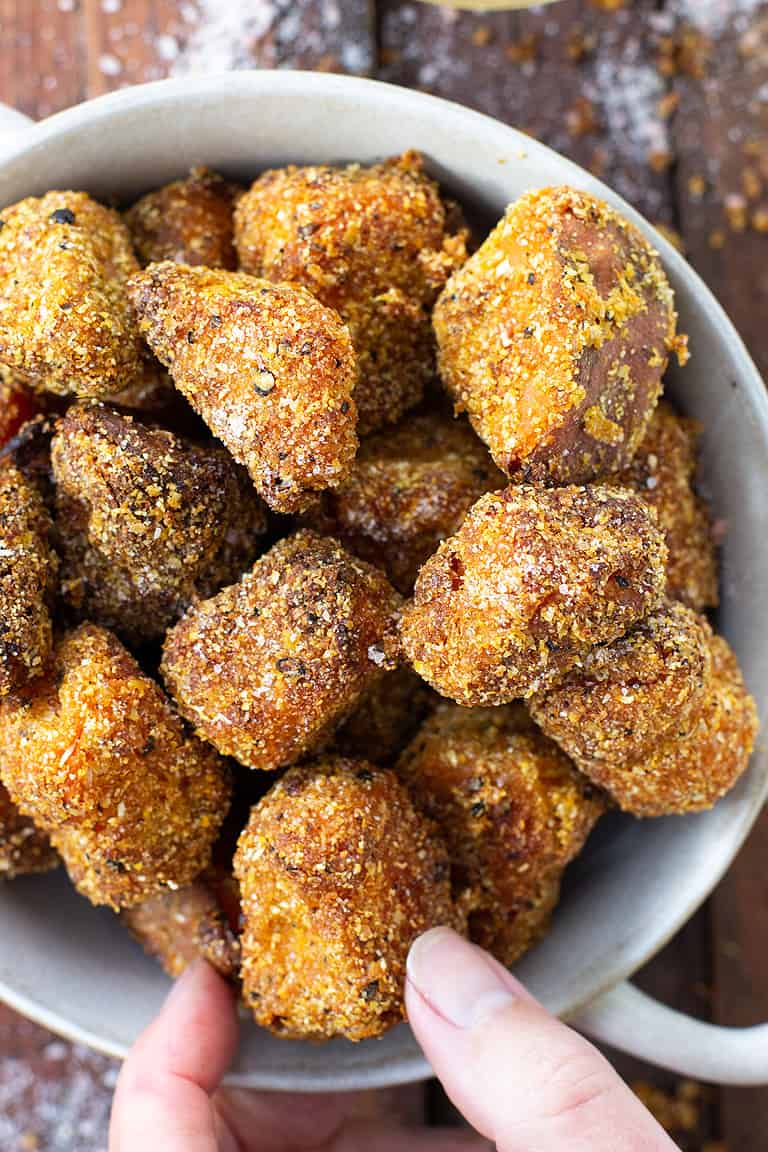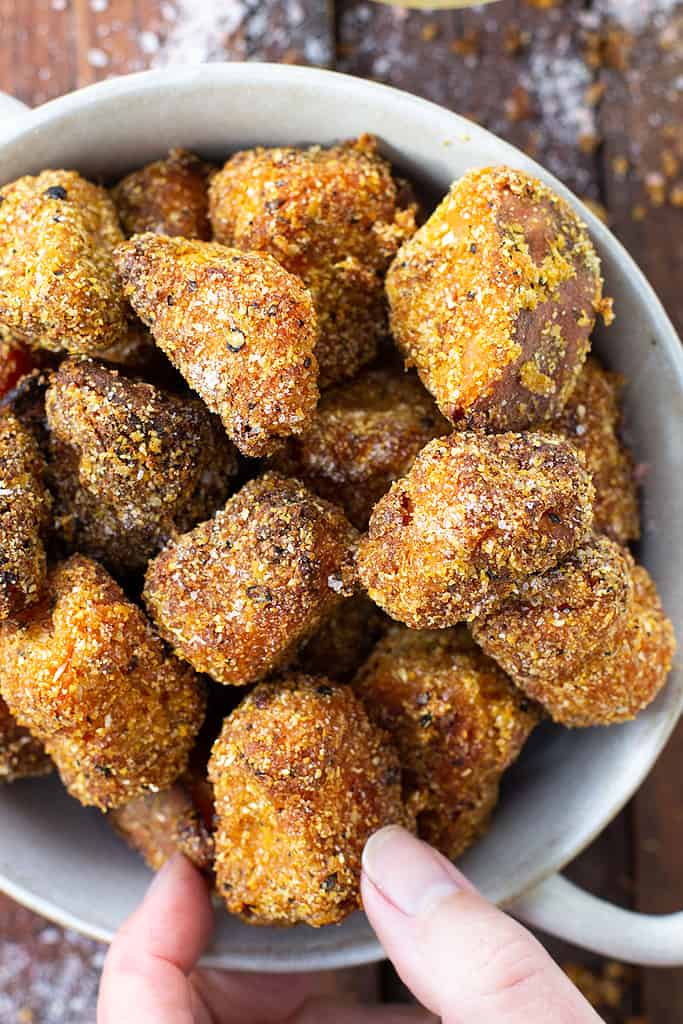 Like what you're seeing? Subscribe for new recipes and nutrition tips every week!
So I hope this distinction gives you as much excitement for these crumbed sweet potato nuggets as it does me. By no means am I dissing a good wedge (haha!), but I do need to state the difference for the record. And since I can't converse with you about my latest outing or cafe meal or catch up with family and friends then for todays it's going to be about the difference between wedges and nuggets and the bloody weather.
Happy Iso Friday. xo
Need personalised nutrition advice catered to your needs?
If you are after personalised nutrition advice and dietary planning individualised to your health and dietary needs then contact us at The JCN Clinic with your enquiry. We are always happy to answer any questions you have!
best ever crumbed sweet potato nuggets recipe
serves

2 as a side dish

preparation time

10 min

cooking time

50 – 60 min
ingredients
560g sweet potato, skin on
3 tablespoons polenta
3 tablespoons nutritional yeast
1 teaspoon sea salt
1/2 teaspoon pepper
1/4 cup extra virgin olive oil
method
Please keep in mind that oven temperatures vary and you may not need the exact same time as outlined below. Keep an eye on your crumbed sweet potato nuggets as they cook.
Pre heat your oven to 200c.
Fill a large saucepan with water and place the lid on to allow it to come to the boil. While the water is heating prep the sweet potato.
Cut the sweet potato into rough cubes around 2cm in diameter (this is a rough guide, it's not an issue if some are a little smaller or bigger). Once the water has come to the boil add the chopped sweet potato to the saucepan. Place the lid on and boil gentle till just tender, around 10 – 12 minutes. You should be able to pierce right through the sweet potato with the tip of a knife.
About 5 minutes before the sweet potato is ready, take a large baking tray and pour on the extra virgin olive oil. Place the tray carefully into the oven to allow the oil to heat.
When the sweet potato is ready drain them thoroughly of all the water. Place them back in the saucepan and then add in with the sweet potato the polenta, nutritional yeast, salt and pepper. Place the saucepan lid back on and give it a really vigorous shake, coating the sweet potato well. Don't worry if some bits of the sweet potato come apart and likewise that not all the polenta mixture sticks, that's even better for creating really crispy bits. Let the sweet potato now coated in all the lovely crumbs sit for 2-3 minutes with the lid off, then once again place the lid back on and give it a final shake around.
Remove the tray with the extra virgin olive oil very carefully from the oven. Now (again, super carefully) pour the coated sweet potato and all the left over crumbs onto the baking tray into the oil. Use a spoon to carefully move the around and spread them out so they are not touching each other. You can gently roll them in the hot oil as you do this too to coat them all over.
Place the baking tray into the oven again and bake for approximately 35 – 45 minutes, depending on your oven. It is important to check every 15 minutes and give the crumbed sweet potato nuggets a turn over and ensure they are not burnt. They are done when they are golden brown and crisp to touch.
To serve, remove from the oven and enjoy with a sprinkle of salt and any of your favourite dipping sauces. My favourite is homemade mayo in this recipe.
nutritional information for crumbed sweet potato nuggets
Sweet potato is rich in fibre, vitamin A, vitamin C, vitamin B6, manganese, potassium and magnesium. An interesting 2014 study conducted on the difference between orange sweet potato and white sweet potato found that orange sweet potato is slightly higher in total protein, flavonoids, anthocyanins, and carotenoids. Now let's not rush out and only buy orange sweet potato however as for one, white sweet potato is deliciously sweeter and crispier when cooked due to their higher content of sugars and starch. Two, white sweet potato is higher in phenolic compounds than its sister orange sweet potato. Overall this highlights as always the importance for dietary variety when it comes to a healthy whole food dietary intake.
Jessica Cox is a qualified practicing Nutritionist with a Bachelor Health Science (Nutrition) and over 15 years of clinical experience. She is the founder and director JCN Clinic, published author and established recipe developer. Jessica is well respected within health and wellness space for her no fad approach and use of evidence-based nutrition.