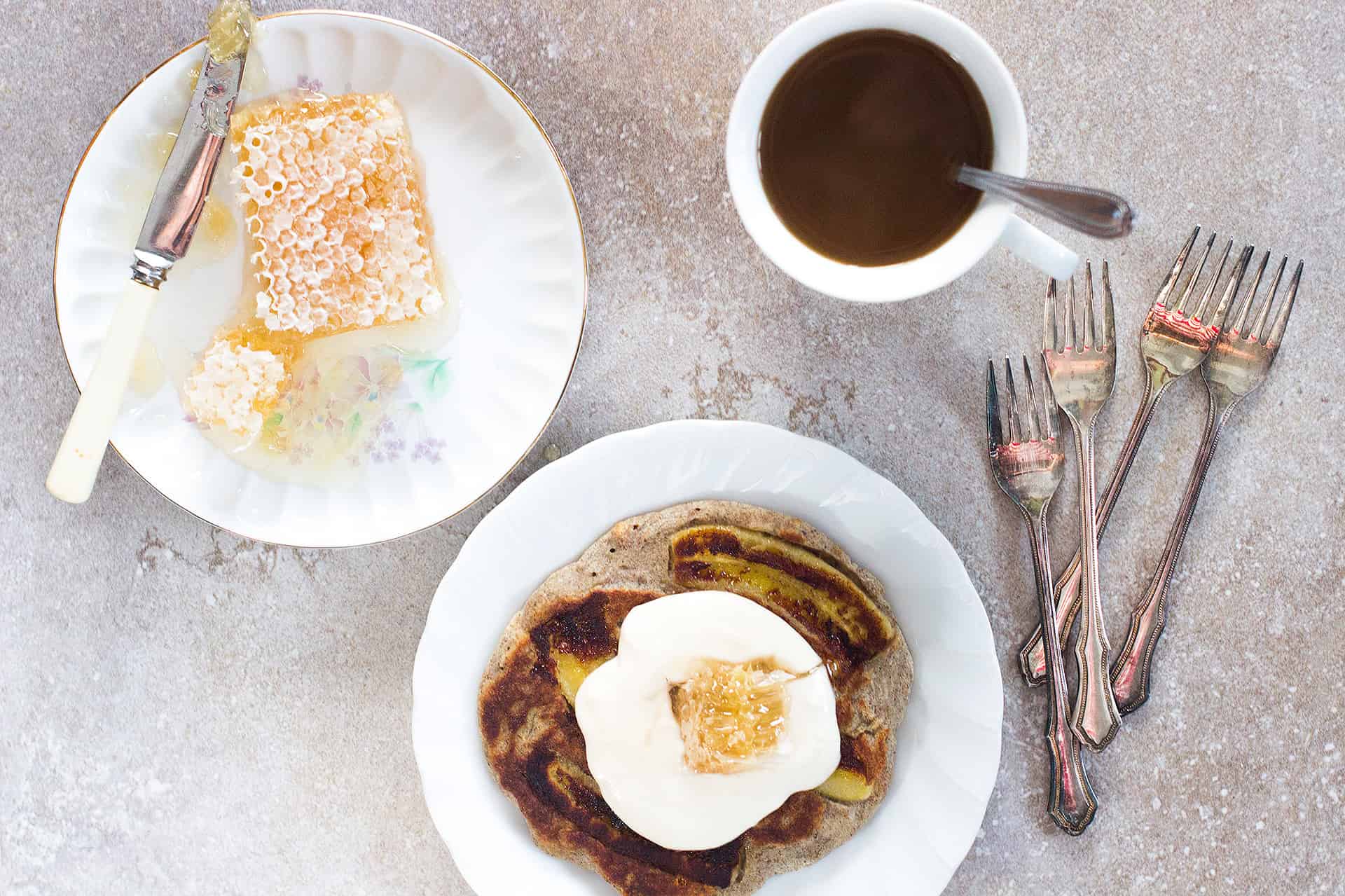 I'm a pancake fan from way back. As a matter of fact, pancakes were the first recipe I managed to successfully create in the kitchen as a wee sprout. As a young girl with spatula in hand I was often given the task on weekends of 'pancake duties' for my family, and especially for my sister and her friends when we played 'cafes' (for some reason that game was always popular with me as the chef…hmm). I was borderline obsessed with making sure the pancake batter combined with the heat of the pan was spot on to ensure the perfect rise.
These days, and particularly on a weekday morning, I'm a bit more forgiving due to adult life time restraints. However, I still want a pancake that tastes fantastic and gives me the textures and mouth feel I'm after. This buckwheat pancake has become my go to every time to give me this pancake satisfaction.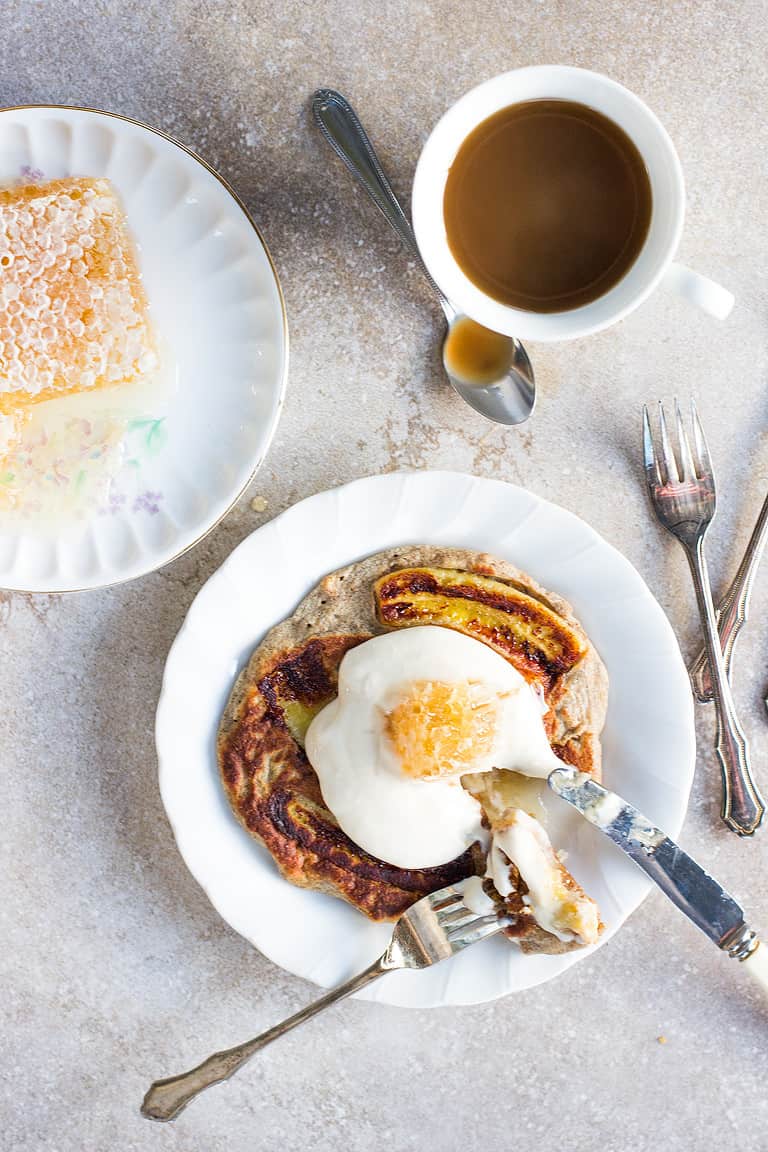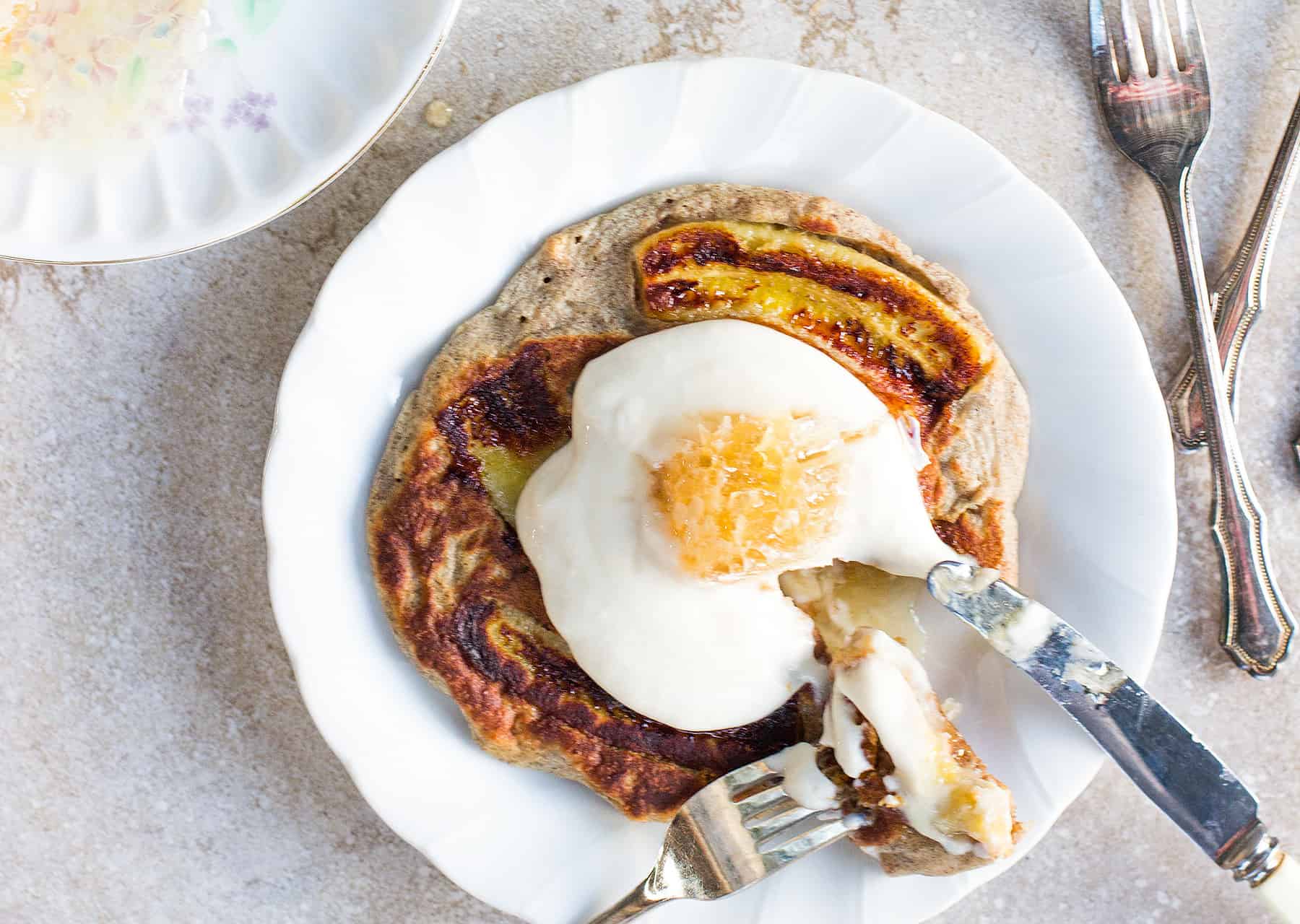 When making alternative pancakes I find buckwheat flour binds really well opposed to its gluten free relatives. It also gives a lovely nuttiness to the final flavour. This peanut butter & banana pancake is a version of my buckwheat pancake recipe dressed up a little more fancy. It's still a mid week option of course, it just has a little more finesse.
Feel free to alternate your toppings and try fruits such as sliced pear or figs. I've topped this one with fresh honeycomb because…well I just wanted an excuse to buy it and eat it!  This pancake is all about using what you have and making a delicious balanced wholefood breakfast just for one.
These pancakes are dedicated to my beautiful sister, Kirsty and her gorgeous 13 weeks old  'peanut' growing bigger every day ready to bless my life with the role of the happiest aunty ever.
xoxo
peanut butter & banana pancake
serves

1 person

preparation time

2-3 minutes

cooking time

3-4 minutes
ingredients
3 heaped dessertspoons buckwheat flour
1 tablespoon fruit puree (custard apple/pear/apple/banana)
1 heaped dessertspoon 100% peanut butter
1/4 teaspoon baking powder
1/2 teaspoon vanilla extract
soda water or water to bring to batter
1/2 banana sliced thinly lengthways
// toppings //
natural yoghurt or silken tofu yoghurt
raw honey or honeycomb (optional)
method
Combine flour, baking powder and mix in a bowl.
Add fruit purée, peanut butter and vanilla extract and mash through. Slowly add soda water or water to bring to a thick pancake batter consistency.
Spoon batter into a medium heat frying pan. While the pancake is cooking on the underside, top the exposed side with sliced banana and press into batter.
Flip the pancake and cook on the banana embedded side till cooked through and the banana has caramelised.
Place on a plate and serve with yoghurt and a drizzle of honey.
nutritional information
Soda water helps give the pancake extra rise due to the carbon dioxide. If you want a sweeter batter you could use rice milk instead of the soda water or water.
Peanuts are higher in protein than most nuts. They also provide polyunsaturated fats and are rich in magnesium and vitamin E.
To make these pancakes nut free simply use a seed based paste such as tahini or even coconut cream.
The toppings on this pancake contain soy and are high in fructose due to the honey. If you need a soy free version obviously you can use a different yoghurt. Low fructose syrups such as rice malt or even passionfruit pulp would be lovely too.
Jessica Cox is a qualified practicing Nutritionist with a Bachelor Health Science (Nutrition) and over 15 years of clinical experience. She is the founder and director JCN Clinic, published author and established recipe developer. Jessica is well respected within health and wellness space for her no fad approach and use of evidence-based nutrition.