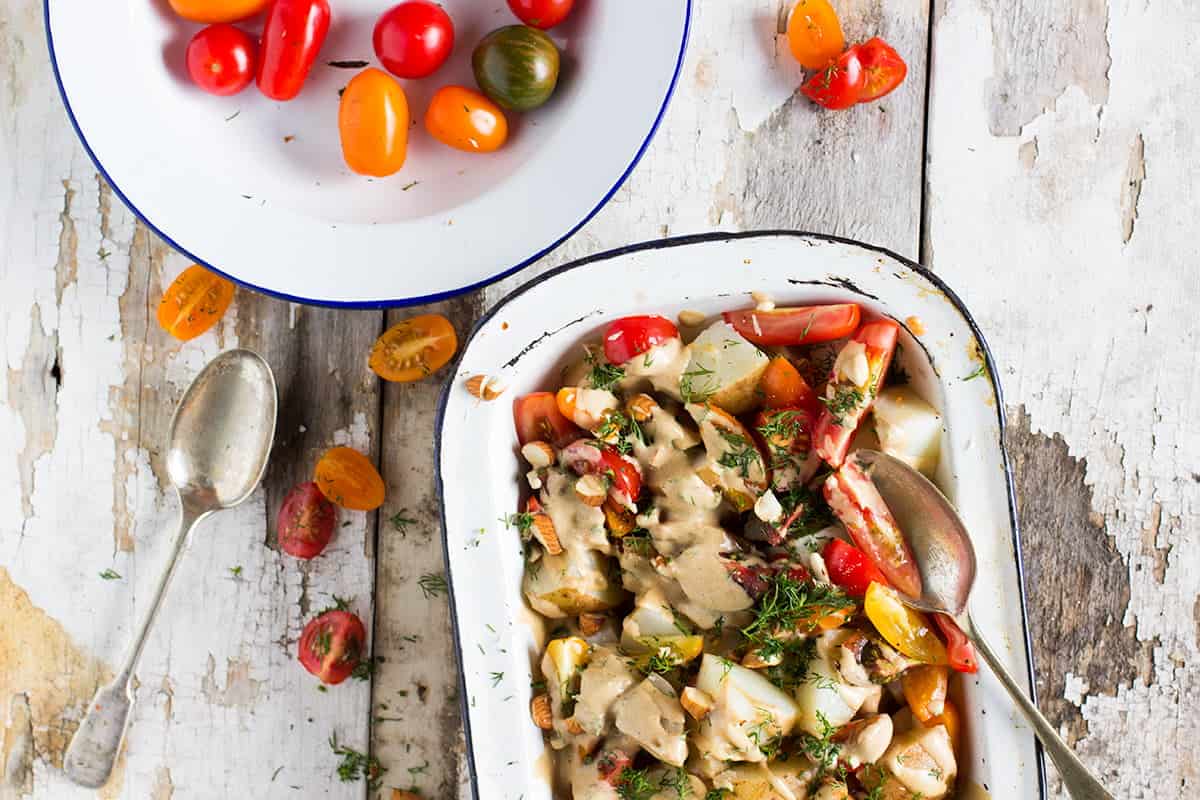 This recipe for tomato, almond & potato salad w creamy dressing was meant to be slow cooked carrots with a creamy dressing. The thing is, I have a bad habit of deciding on a dish, then heading to the supermarket or fruit and vegetable store and being influenced by the fresh produce I see in front of me. Whether it's a recipe post or a dinner party I repeat the same pattern over and over. For dinner parties I spend weeks thinking about a meal plan and crafting the perfect flow of dishes. Then I go to the shops on the day and flip it all on its head. My husband thinks I'm a right lunatic.
This time it was the tomatoes that got me. A gorgeous display of all the seasonal summer fair. Different colours, different shapes and sizes. Whats a girl to do? Surely I'm not alone in this habit? (come on, fess up!).
When it comes to salads, I usually like to include a carbohydrate base to such a dish. It means that you almost have a well balanced meal in one bowl. Just adding protein to serve often completes the meal, and it also gives you an easy base for left overs to take to work. There is nothing worse than a salad that isn't balanced well and leaves you hungry an hour later. I know most of my clients feel the same way. One does not fill up on lettuce leaves alone.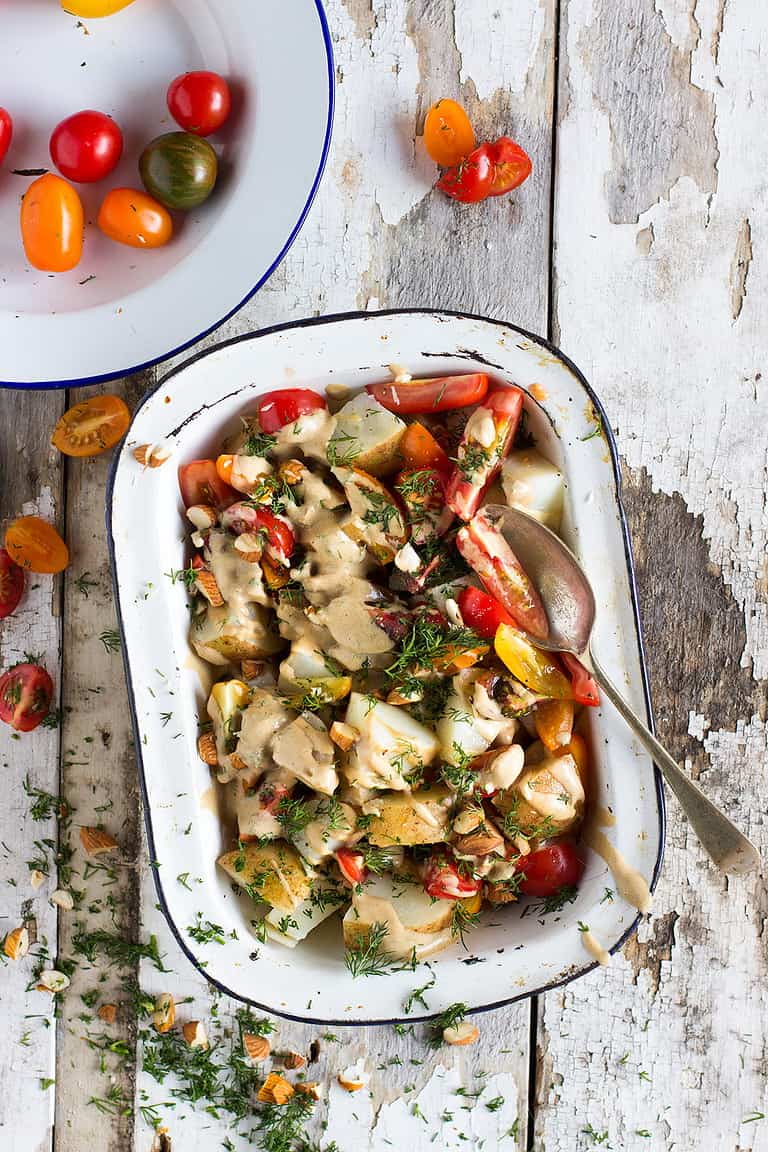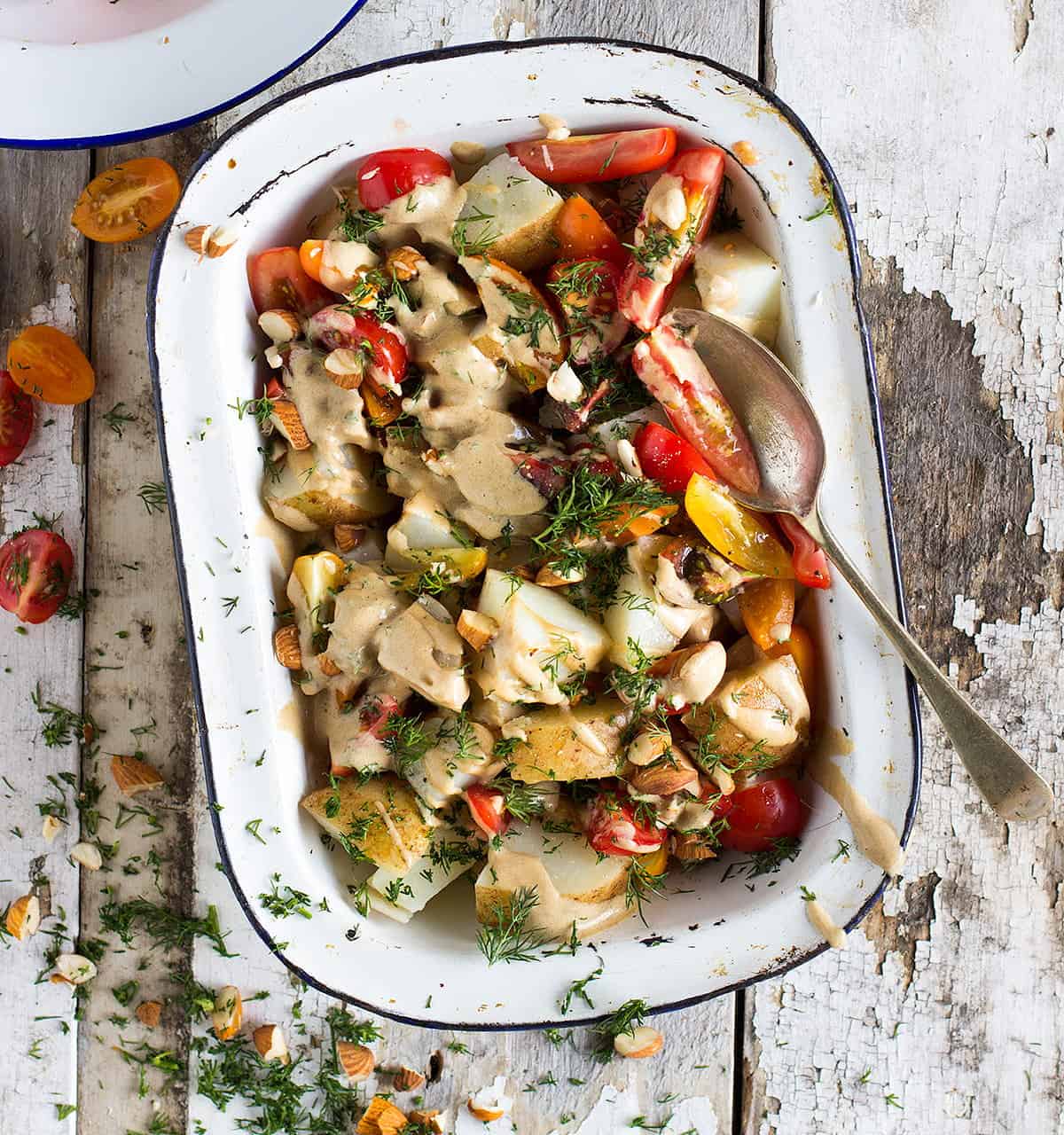 For todays salad, potatoes are the carb of choic. Potatoes!, I hear you exclaim. Surely not.
Potatoes get a bad wrap. They exist in the (unjust) category of  'avoid!..this food causes instant weight gain!', along with other carb based foods such as pasta. The truth is these foods are not bad for you. They do contain a higher amount of starchy carbs than their other carbohydrate family members, but they also bring a lot of their own qualities to the table (see nutritional information for more details). The reason they are seen to be so 'evil' is due to their reputation for appearing in buttery mash potato, potato bake, hot chips and so on. Such iconic dishes have given the spud a nasty rep. These types of popular potato meals are also frequently served as the largest portions of the meal, dominanting the plate.
Getting carbs right, inclusive of potatoes, comes down to quantity and quality of the dish. A steamy jacket potato served alongside wok tossed chilli and almond brocolli with a piece of grilled trout is a little different to wedges with sour cream at the pub. Or how about a homemade potato mash with parsely and olive oil, bok choy and lamb cutlets in comparison to a mountainous yellow mash filled with cream and butter taking front runnings above any greens in sight. Catch my drift?
Creating good and bad food catagories creates unhealthy relationships with food in general, and that in turn leads to places that no one really wants to go. Allowing yourself to enjoy all whole foods in a balanced way through the day will leave you happy, satiated and well nourished. Sounds good to me!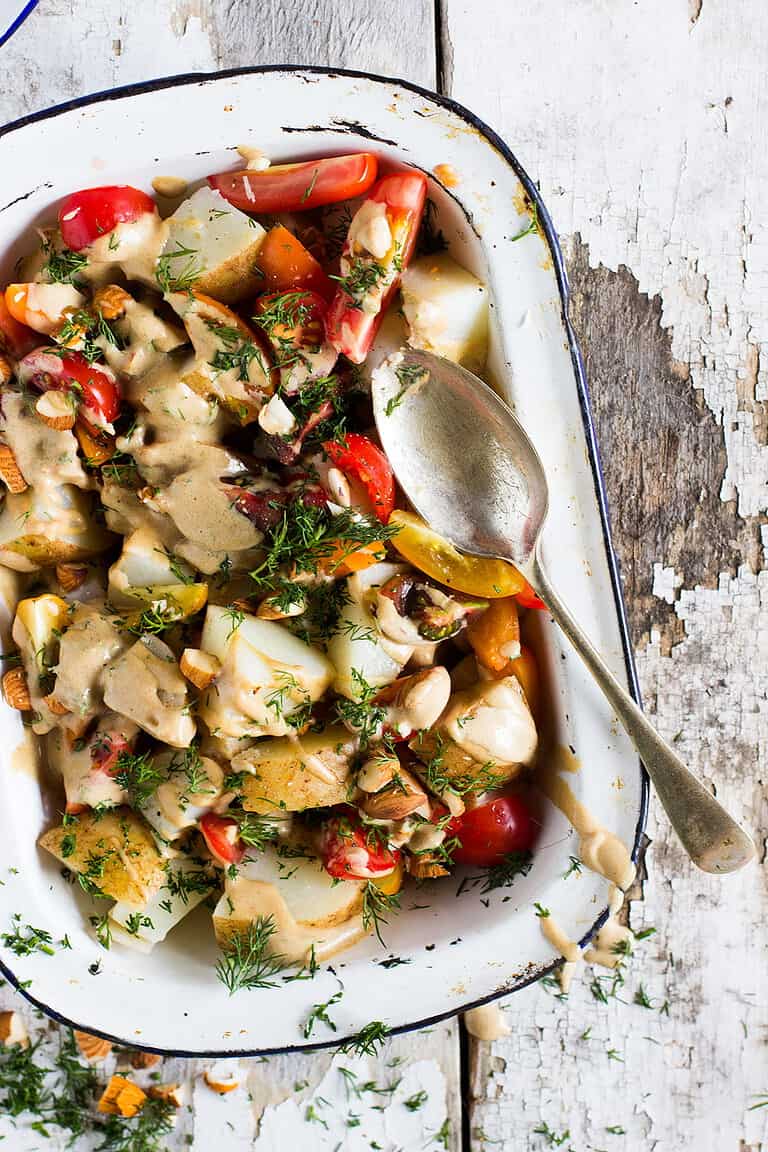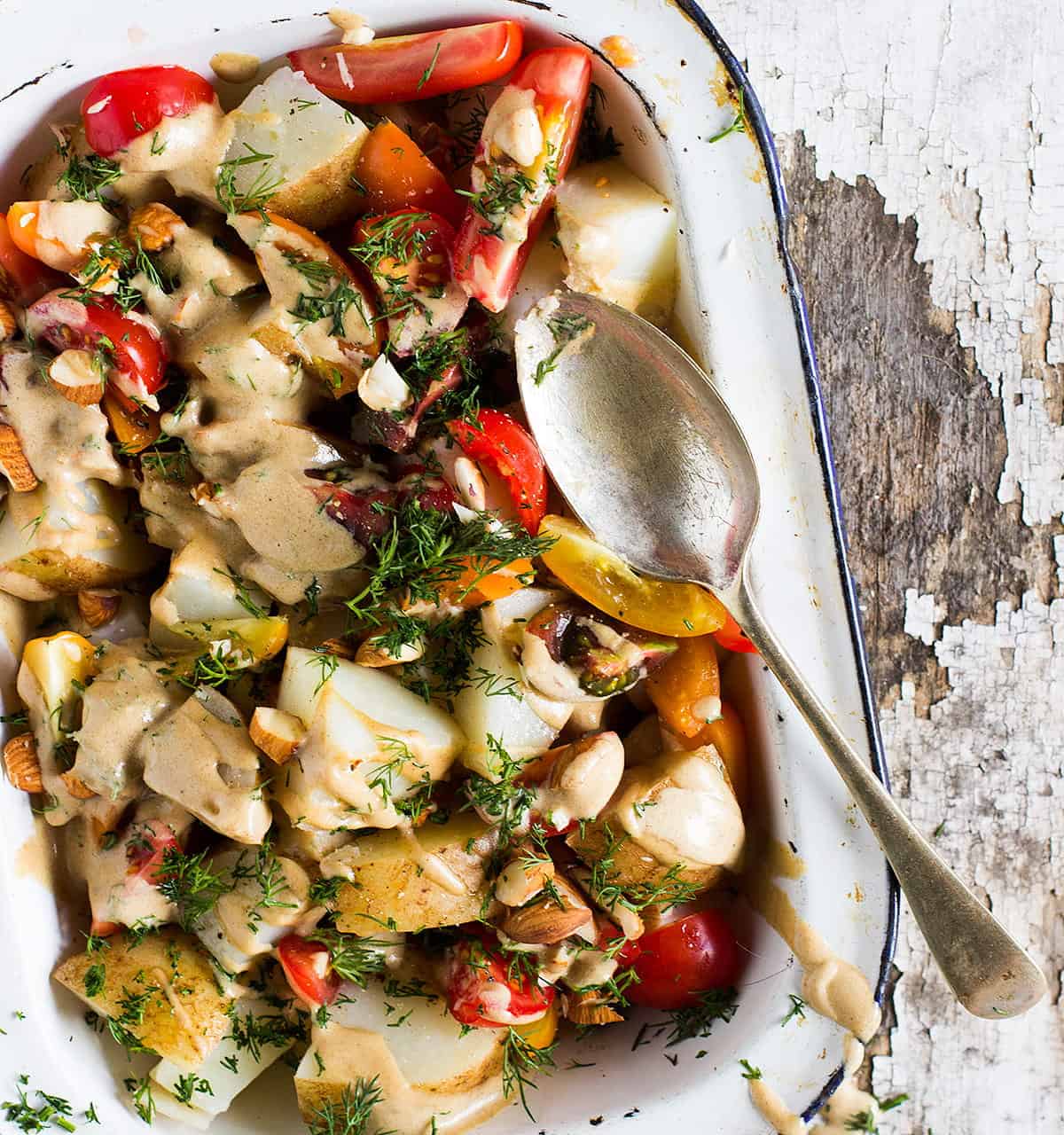 tomato, almond & potato salad w creamy dressing
serves

2-3 as a side

preparation time

15 minutes

cooking time

15 minutes
ingredients
3 medium unwashed potatoes, skin on
1 1/2 cups mixed small tomatoes, quartered
1 handful almonds, roughly chopped
3 tablespoons finely chopped dill
extra virgin olive oil and s&p to dress
// creamy dressing //
scant 1/4 cup unhulled tahini
scant 1/4 cup lemon juice
1/8 cup extra virgin olive oil
1/8 cup warm water
s&p to season
method
Wash the potatoes well then cut them into rough bite sized pieces, rough cubes work well. Place them in a pot of water, cover and bring to the boil. Remove the lid if needed (so it doesn't boil over) and boil until potatoes are tender, around 15 minutes.
In the interim, make the creamy dressing by combining all ingredients in a bowl and mixing well. If it seems too thick add a little more water. Taste and season as needed. Set aside.
Once the potatoes are ready drain well then pour into a large bowl or serving dish. Drizzle with some olive oil and give them a light toss. Now top the potatoes with the sliced tomatoes, almonds and dill. Finish dressing the salad by spooning over the creamy dressing. There will be plenty of dressing so you may not need it all. The salad is nice to serve like this if you would like it to look pretty for the table, otherwise toss everything through and add more creamy dressing as desired.
Serve either warm or cold as a side dish with some simple leafy greens and some fish such as barramundi or mackerel.
nutritional information
To create a well balanced meal, serve this tomato, almond and potato salad with creamy dressing with some lovely fresh leafy greens such as peppery rocket and some protein such as fish or legume patties. You could also add boiled eggs and baby spinach to the salad for a one bowl meal.
Potatoes don't need to be on the no go list. If used as part of a well structured meal they can provide adequate carbohydrates that reduce cravings later on after dinner. Often cravings for sugars late at night are due to a lack of well balanced macronutrients through the day.
Potatoes contain a surprising amount of nutrients for the humble looking white spud. Just one jacket potato contains half of our daily levels of vitamin c and vitamin B6. One potato also provides close to 50% of our potassium needs and 20% of our iron and magnesium intake. These nutrients are fundamental cellular support and general enzyme functions within the body. They are also high in choline and lipoic acid making them a 'food as medicine' choice for nervous system support. Potatoes are best with their skin attached to provide more sustaining fibre.
Jessica Cox is a qualified practicing Nutritionist with a Bachelor Health Science (Nutrition) and over 15 years of clinical experience. She is the founder and director JCN Clinic, published author and established recipe developer. Jessica is well respected within health and wellness space for her no fad approach and use of evidence-based nutrition.