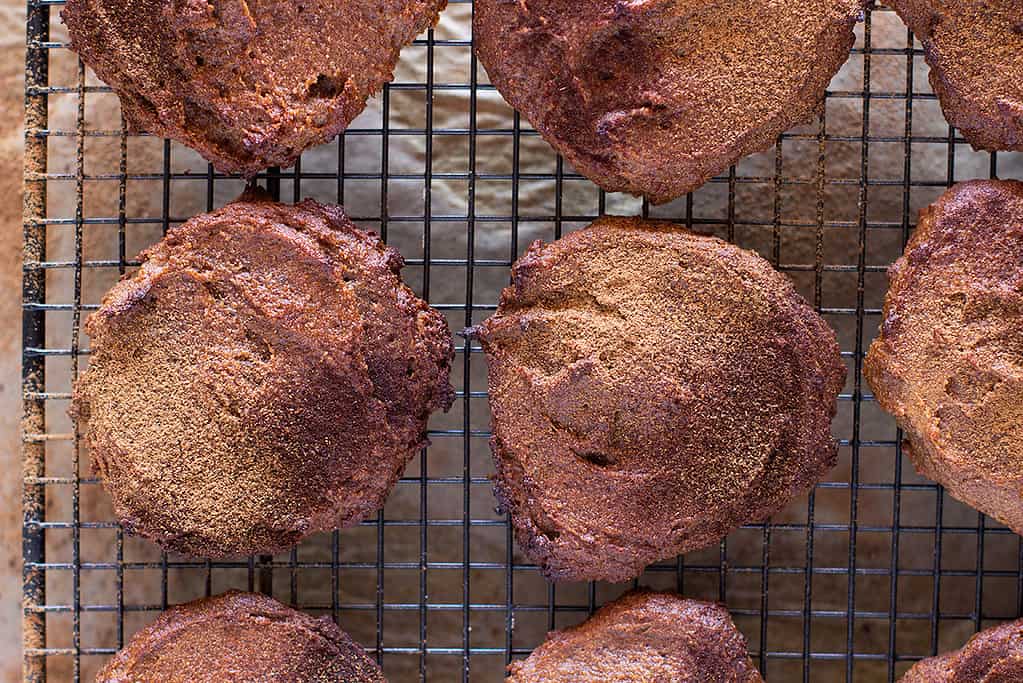 These cookies actually saved me last week. I made them on the usually Wednesday 'recipe creation day' and then literally the next day came down with food poisoning or gastro. I don't know with hindsight which of the aforementioned was in the driving seat, but I do know that I spent all of Thursday feeling green and running to the work toilet in between clients. It was a shit Thursday, pun intended.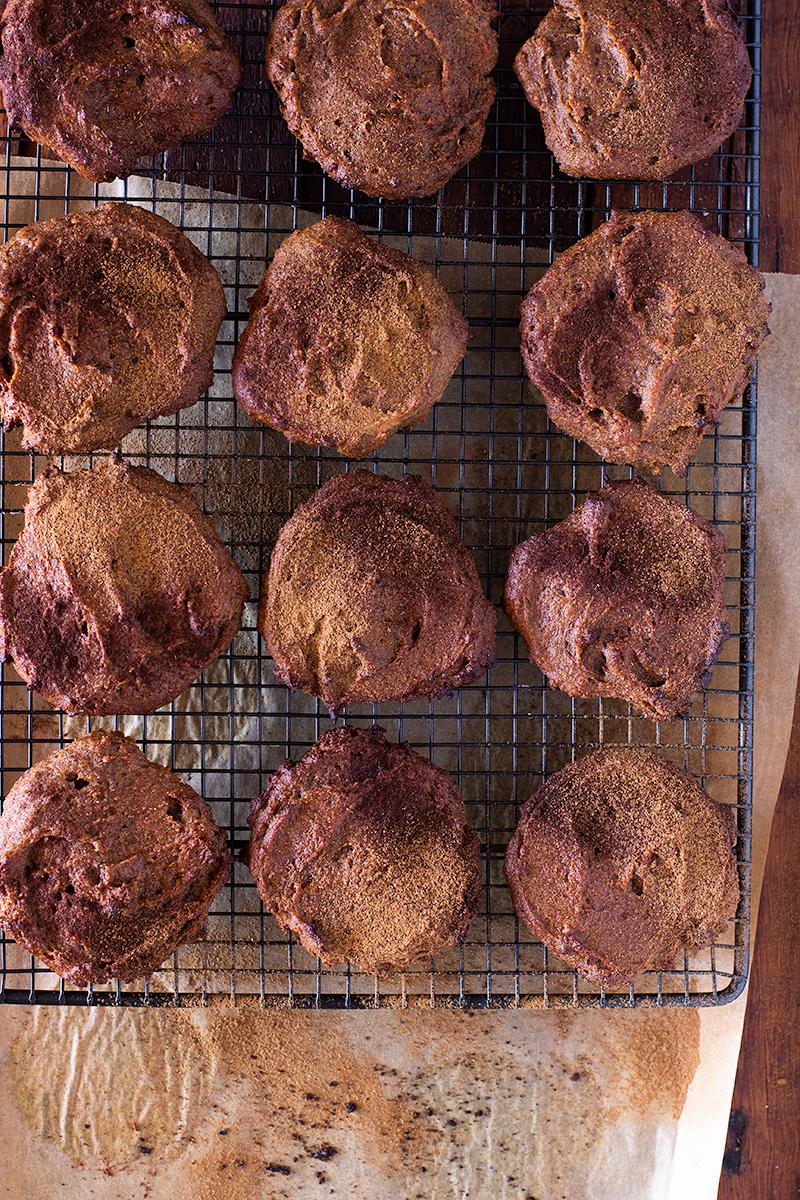 As anyone knows who's had a serious upset stomach, food is the last thing you want to put (back) into it. You don't really feel hungry, just an empty feeling. When you try to eat all you want to consume is plain, bland foods. Carby foods. Nothing super fatty or rich. The thought of that turns your stomach more so (and still mine now a week later). 
Lucky (?) for me I had a fresh batch of these cookies baked. Not overly sweet or rich, just comforting warm flavours of cinnamon and vanilla. That first night I struggled home after a traumatic day of too much time on the toilet and literally had cookies for dinner, warmed on top of the toaster and then spread with vegan butter and a little sliced banana. I've never been so happy to eat cookies as I was in that moment.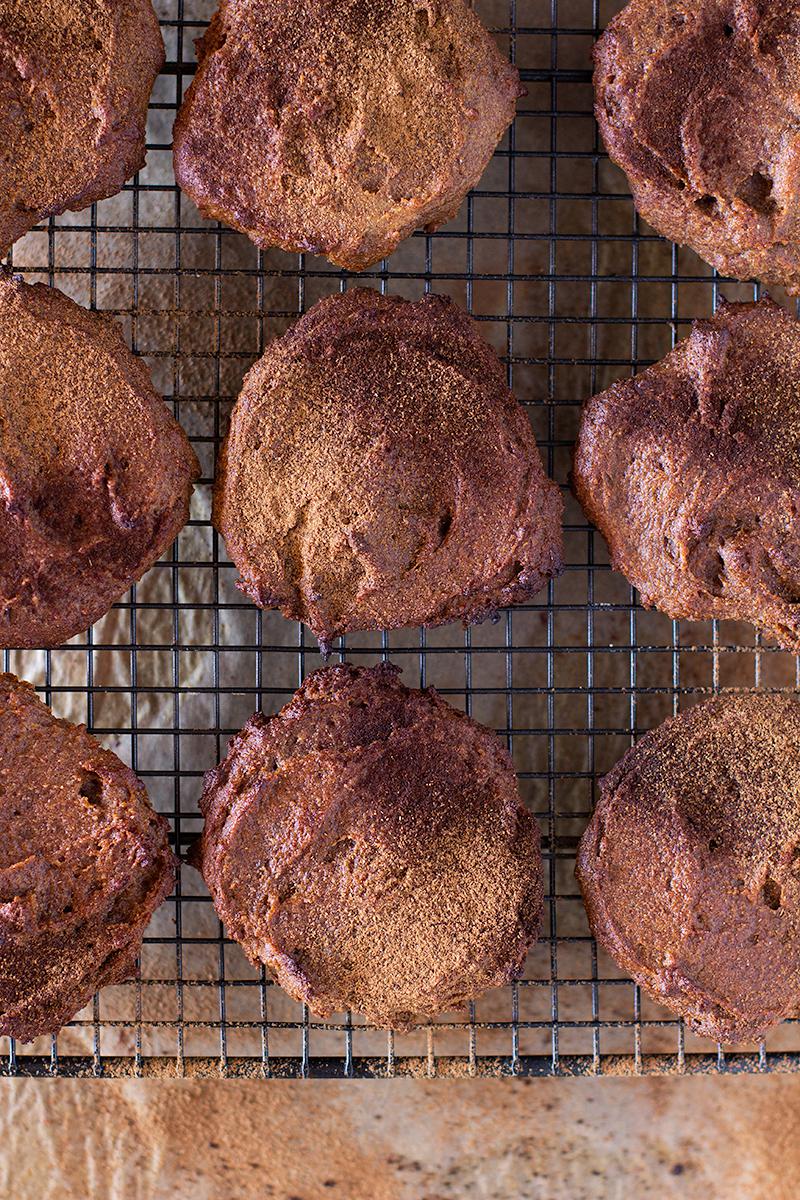 Why are they called 'cake' cookies? Well the truth of the matter is that I started out with the intension of making crunchy cookies with a soft inside, but in reality when these cookies came out of the oven they had more of a cake texture. I knew it spooning them out to bake but I was too stubborn to budge and go back to the drawing board. I just assumed some sort of miracle would occur in the oven to transform them to the texture I was after. It didn't.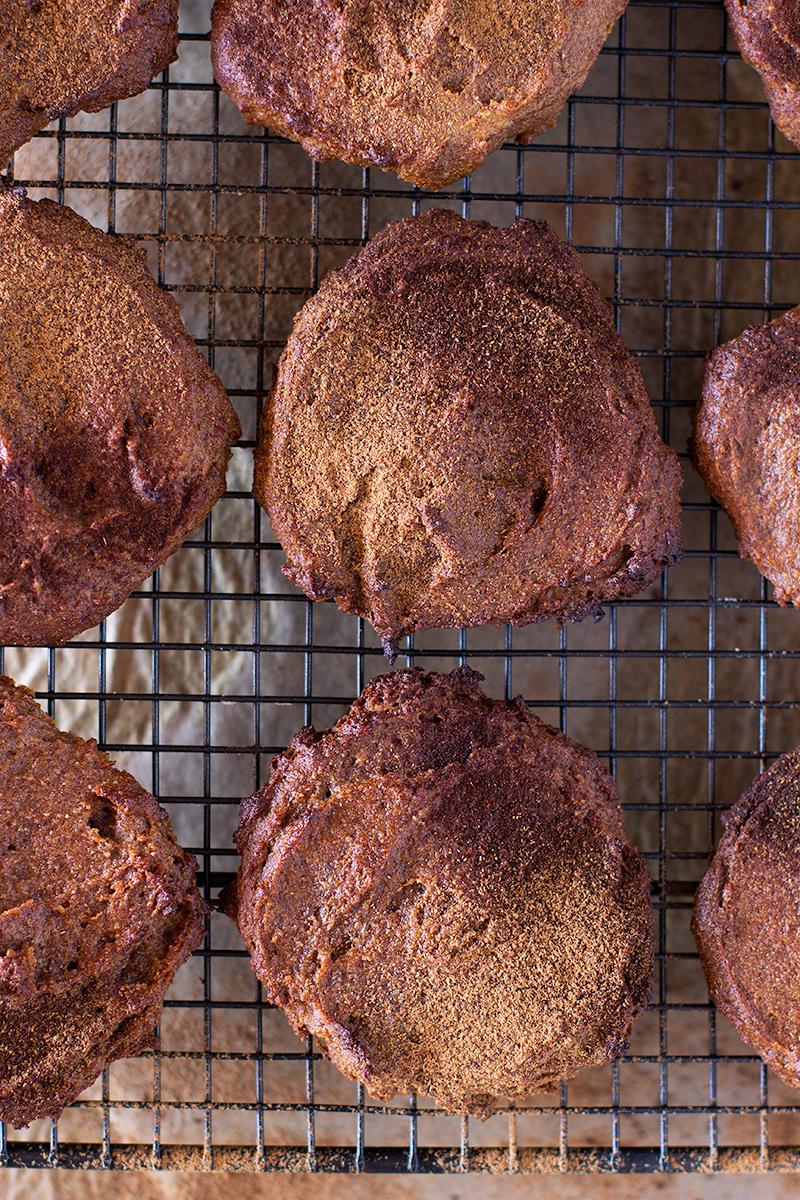 So when they came out I was a little psycho about it, and then decided with a little more maturity to walk away and leave them. Walk away from the cookies Jessica. With some fresh clarity and some important tasting I decided they were bloody yummy and I was okay (just) with having them on the website for you. I think realistically, this cookie batter would make a brilliant sweet loaf or muffins, so if you are game to do so, spoon the batter into a loaf tin and bake it like that. I can just imagine slices of it toasted and lathered with some buttery spread.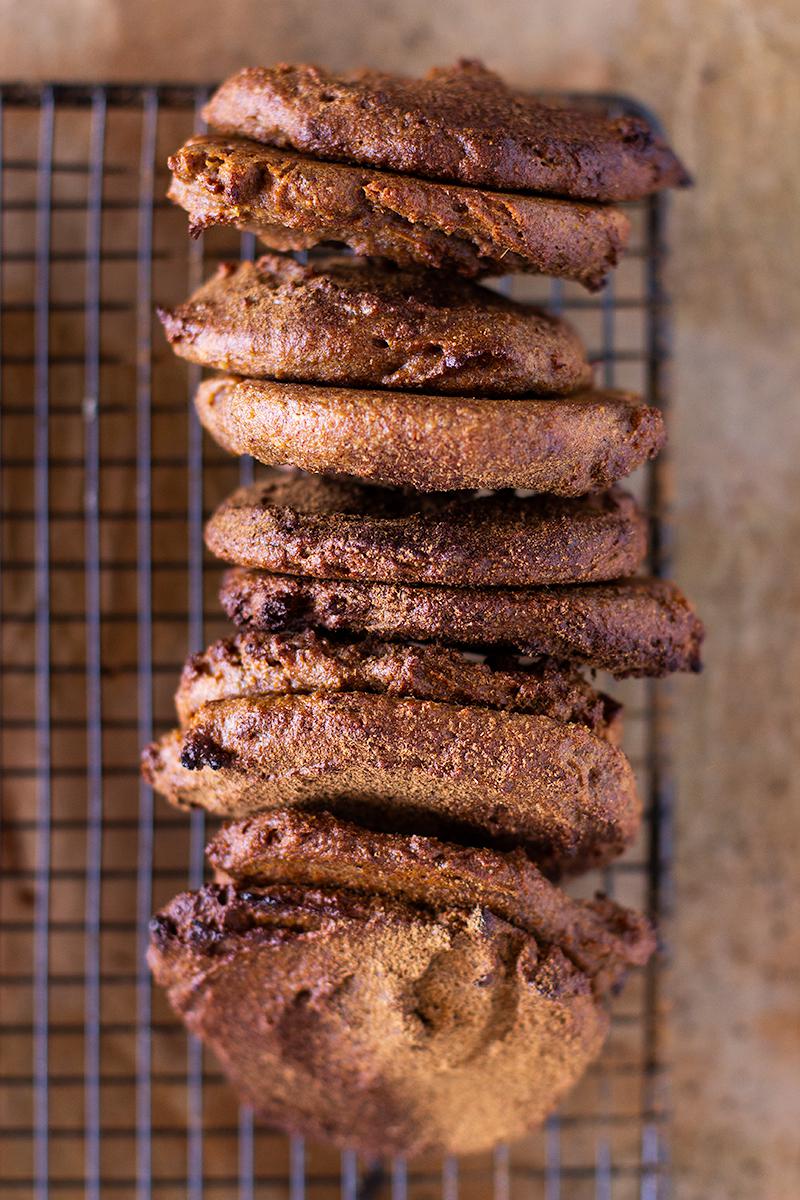 Luckily I didn't loose my cool and dump them because in the end they got me through a really rough end to the week. All I wanted last week was these cookies and they were gone within 72 hours max. Now I'm ironically out and want more of the cookies I was so filled with hatred for  (can you hate on a cookie?) literally a week ago.  
In hindsight my vanilla macadamia 'cake' cookies were meant to be. They taught me that not everything needs to be perfect and as Hubbard always says to me when I loose it over something not looking 100% right in the kitchen that 'it all tastes the same going down'. 
Ps. I hate it when he says that. It makes me madder. Probably because he is right. 
vanilla macadamia 'cake' cookies
serves

makes 12 cookies

preparation time

10 minutes

cooking time

15 – 20 minutes
ingredients
1 cup raw macadamia nuts
1 cup brown rice flour
2 teaspoons baking powder
1/2 teaspoon bicarb soda
2 teaspoons cinnamon
2 teaspoons chia seeds
1 & 1/2 tablespoons psyllium
2 tablespoons extra virgin olive oil
1/3 cup almond milk
1 teaspoon pure vanilla extract
8 medjool dates + 1/2 cup water for soaking
method
Disclaimer: If you are expecting crunchy cookies then my friend, you will be sadly let down. These cookies are called 'cake' cookies for a reason. I suggest reading the blog post for more background. 
Please note this recipe is made in a high speed blender. If you are just mixing in a bowl instead it will still work, just keep in mind that you may need a little more liquid as the Vitamix turns the nuts to butter very quickly bringing out additional moisture. 
Pre heat your oven to 180c. Line two baking trays with baking paper or grease them with oil.
Start by placing the medjool dates in a bowl and covering with 1/2 cup boiling water. Allow to sit and soften for at least 5 minutes while you prepare the dry ingredients. 
Place the macadamia nuts in your blender and blend on a low setting to a course meal. Keep in mind macadamia nuts will turn quickly to butter so try not to over process them. Add into the blender with the macadamia nut meal the brown rice flour, baking powder, bicarb soda, cinnamon and chia seeds. Blend to bring together, using the pokey thing on the vitamix if you are using one.
Remove the pips from the medjool dates and now add them to the dry mix with the extra virgin olive oil, vanilla, almond milk and 1/4 cup of the soaked date water. Blend again to bring to a batter. You may need to stop and use a spoon to scrape down the sides a little.
Now take generous heaped tablespoons of the cookie mix and spoon out onto the trays, evenly distributing the dough to end up with 12 cookies. Use the back of a teaspoon to then press down and spread out the dough till nice and thin, about 1/2 cm thick at most. 
Dust the cookies with extra cinnamon and then pop in the oven for 15 – 20 minutes, checking at the 10 minute mark and turning the trays around if your oven has a hot spot. 
The cookies are done when really golden and toasted. Remove them from the oven and allow to cool on the tray for 10 minutes, then place on a wire wrack to cool completely. The cookies will be soft to start and then will get a little firmer as they cool.
Eat cookies as they are dusted in more cinnamon or ideally sandwich together with vegan butter (or dairy butter if tolerated) or almond butter. I like to toast them on the top of the toaster to get them really nice and hot again before eating. 
nutritional information
The high macadamia nut content of these cookies supplies a high amount of fat, predominantly monounsaturated fat. Macadamia nuts provide omega 3 and 6 essentially fats and are high in minerals magnesium, manganese and copper. Macadamia nuts are also a rich source of vitamin B1, vital for energy production, carbohydrate metabolism and neural health.
Medjool dates are the natural sweeteners in this recipe. Dates are rich source of fibre and high in the mineral potassium. For those sensitive to FODMAPS, dates can be problematic. You could try substituting the dates with a similar amount of mashed banana (if bananas work for you), but note it will change the taste of the cookies quite dramatically.
Like what you're seeing? Subscribe for new recipes and nutrition tips every week!
Jessica Cox is a qualified practicing Nutritionist with a Bachelor Health Science (Nutrition) and over 15 years of clinical experience. She is the founder and director JCN Clinic, published author and established recipe developer. Jessica is well respected within health and wellness space for her no fad approach and use of evidence-based nutrition.