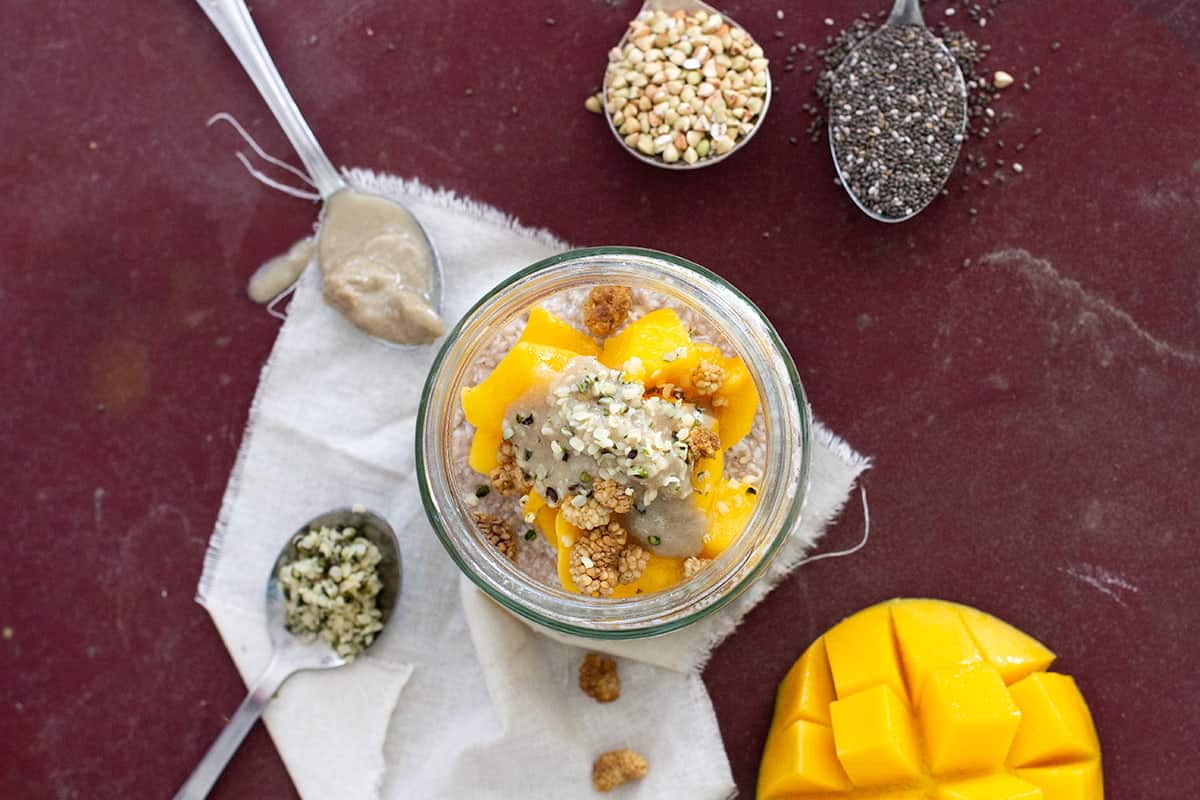 I thought it was about time I put a chia & buckwheat pudding on the website. I eat them quite a lot, I get my clients to eat them, yet I haven't posted one here. I think it's because they seem so easy it's not really a 'recipe' as such. Just a few ingredients thrown in a jar and soaked overnight. However, if you haven't made a chia pudding before it can still be daunting. How much liquid? What ratio to use? Is there anything else that I should be adding in?
This buckwheat and chia pudding is all about a quick, yet a balanced start to the day. Chia puddings have become very popular. Not only are more people making them, but they are also popping up in juice bars and healthy take-way shops as a breakfast on the go. The problem is that as a breakfast these chia puddings are often devoid of a grain. For most, adding a complex carbohydrate to a chia pudding will give us long standing energy to fuel our mornings effectively. Often without the carbohydrate base we find ourselves craving sugars later in the afternoons.
In this pudding I have used buckwheat to add complex carbohydrates, however you could use quinoa flakes or oats. I have also kept it relatively low key as far as ingredients go, but I must admit when I make this at home it has so much more added. I adore adding cinnamon, mesquite powder and raw cacao for a caramel choc version, or orange zest and poppy seeds for a fresh burst. Basically you can go wild with the add ins and use any flavour combinations that you like. As long as you keep the mix of the chia and the buckwheat you are getting that important protein, essential fat and carb base.
chia & buckwheat pudding recipe
serves

1 person

preparation time

5 minutes + overnight soaking

cooking time

nil
ingredients
1/4 cup rinsed raw buckwheat (or pre soaked if needed for sensitive digestive systems)
2 tablespoons chia seeds
1 tablespoon desiccated coconut
1 teaspoon vanilla extract
1/2 teaspoon nutmeg
1/3 cup water
1/4 cup coconut milk (or other milk of choice)
// to serve //
roughly 2 tablespoons chopped mango (or other seasonal fruit)
1 tablespoon seed or nut butter
scattering of dried mulberries (optional)
1 teaspoon hemp seeds (optional)
method
Place rinsed buckwheat with chia seeds, desiccated coconut and nutmeg in a container or sealable jar and mix well. Add water, coconut milk and vanilla extract and combine making sure you get all the chia in the corners. Cover with a lid and leave in the fridge over night.
In the morning, top with mango (or fruit of choice) sunflower seed butter, dried mulberries and hemp seeds.
Will keep in the fridge for 3 days.
This is buckwheat and chia pudding is also divine topped with yoghurt or additional coconut milk for a creamier version.
nutritional information for chia & buckwheat pudding
Buckwheat is by far my favourite grain (or seed realistically). It has a wonderful nutty texture and its high protein content makes it a wonderful viscous flour to work with. Buckwheat as a grain is rich in minerals and very high in lysine. Lysine has anti viral properties and is the go to amino acid of choice for fighting cold sores.
Chia seeds are a plentiful supply of protein and omegas all rolled into one tiny little package. They are also a strong source of non dairy based calcium. Chia seeds swell when soaked in fluid which gives this breakfast its fabulous pudding like consistency.
As mentioned in the introduction, the use of buckwheat and chia together provides a balance of complex carbs and protein. If you wanted to use this chia and buckwheat pudding as a snack in the afternoons however, you could easily leave out the buckwheat. This would reduce the serving size down to more of a snack portion and create more of a protein dense snack.
Jessica Cox is a qualified practicing Nutritionist with a Bachelor Health Science (Nutrition) and over 15 years of clinical experience. She is the founder and director JCN Clinic, published author and established recipe developer. Jessica is well respected within health and wellness space for her no fad approach and use of evidence-based nutrition.