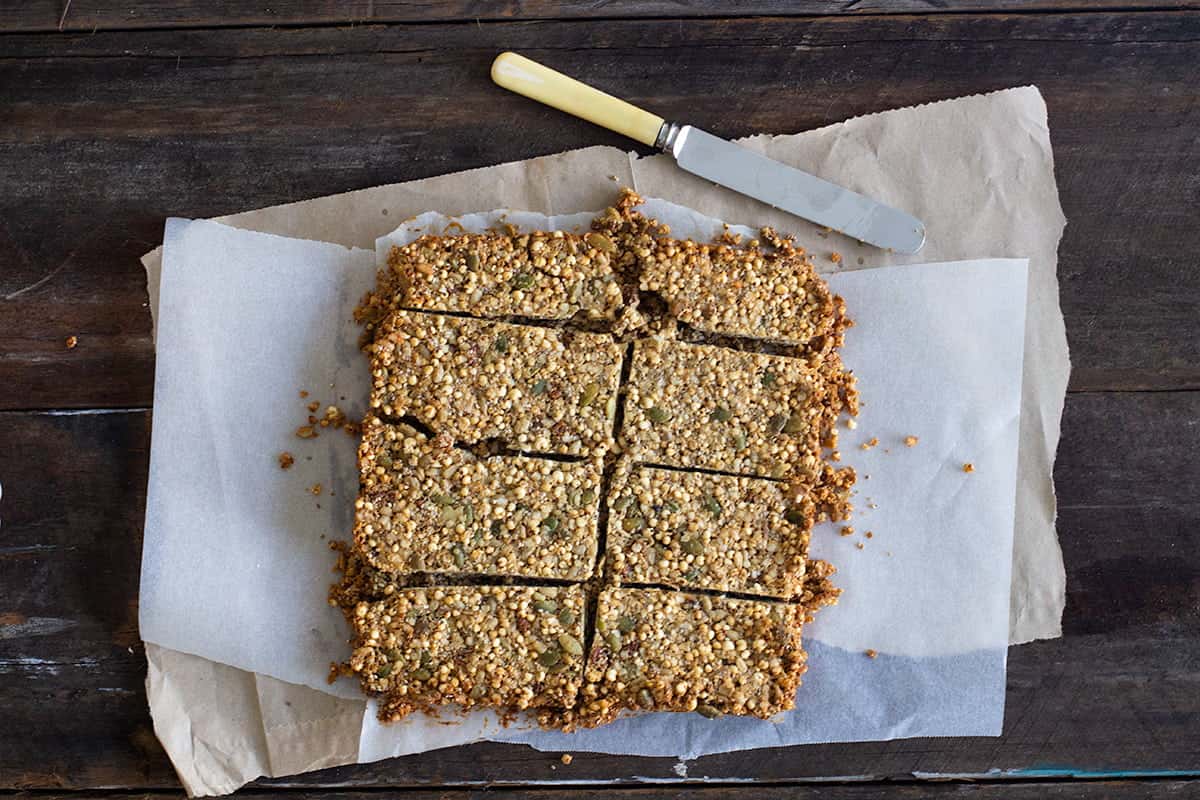 I love a good muesli bar. A muesli bar with some real texture, some nuttiness and some natural sweetness. The problem with most packaged muesli bars is that they are loaded with sugars and often use cheap and refined oils. Making your own like these gluten free muesli bars is super easy and creates a fantastic whole food snack to include in kids lunch boxes as well as your own.
These gluten free muesli bars are super duper intolerance friendly. They are made using a base of seeds instead of nuts and a mix of gluten free grains. However, they are also crazy easy to adapt to suit to what ingredients you may have kicking around in the pantry. Seeds can be easily swapped for nuts, and nut pastes could be used in place of the tahini. Feel free to also use oats intend of quinoa flakes. You could also add an egg to the batter if you wanted to for added binding ability.
These muesli bars are quite crumbly, so any bits that fall off and crumble as you cut them can be stored in a container and used for granola like toppings to yoghurt, cereal and porridges.
gluten free muesli bars recipe
serves

8 – 10 muesli bars

preparation time

10 minutes

cooking time

30 minutes
ingredients
3/4 cup quinoa flakes (or oats)
1 cup quinoa puffs and/or amaranth puffs
1/4 cup chia seeds
1/3 cup sunflower seeds
1/3 cup pumpkin seeds
3 organic figs chopped into small pieces
1 teaspoons cinnamon
2 teaspoons ginger powder
2 tablespoons maple syrup or rice malt
1/2 cup tahini (or nut paste)
1 tsp vanilla extract
1/4 cup coconut oil
method
Preheat your oven to 180c fan forced.
Combine the quinoa flakes, quinoa puffs, amaranth puffs, sunflower seeds, pumpkin seeds, figs, cinnamon and ginger powder in a mixing bowl.
In a saucepan combine the maple syrup or rice malt, tahini, vanilla extract, coconut oil and chia seeds. Place on the stove to heat through until the coconut oil has melted and the chia has softened.
Add the wet mixture to the dry mixture and mix till well combine. Spoon mixture into a square baking dish lined with baking paper. Press down firmly then place in the oven to cook for around 30 minutes, or until golden brown.
Once the tin is removed and while the slice is still warm and soft, take a knife and cut into muesli bar lengths. Leave the muesli bar slab to cool in the tin.
Once it has cooled, place in the fridge to harden over night. Be careful when removing the muesli bars from the tin, as they will be quite crumbly.
Store the muesli bars in the fridge in an air tight container. Use any crumbs as an addition to your porridge as a crunchy topping similar to a granola.
nutritional information for gluten free muesli bars
Amaranth is a gluten free seed used like a grain in cooking that has not received as much notoriety as quinoa. However amaranth is a fabulous alternative grain that contains close to 10g protein per cup and has high levels of manganese and magnesium. It is also high in the amino acid lysine, well known for its beneficial uses in fighting herpes simplex virus.
Commercially bought muesli bars are a mind field of refined sugars and simple carbohydrates. These home made muesli bars are rich in protein due to the high protein content of the mixed seeds, quinoa and amaranth. They are also a fantastic source of essential fatty acids and minerals. Best of all they are low in sugars and provide sustaining energy making them the perfect mid morning or afternoon snack.
Dried figs provide sweetness to these muesli bars along with the small amount of maple syrup (or rice malt). Dried figs are a good source of fibre and calcium. If you do not like figs you could use dried ginger or chopped dates or apricots. Ideally buy organic as they will be free of added sulphurs.
Jessica Cox is a qualified practicing Nutritionist with a Bachelor Health Science (Nutrition) and over 15 years of clinical experience. She is the founder and director JCN Clinic, published author and established recipe developer. Jessica is well respected within health and wellness space for her no fad approach and use of evidence-based nutrition.