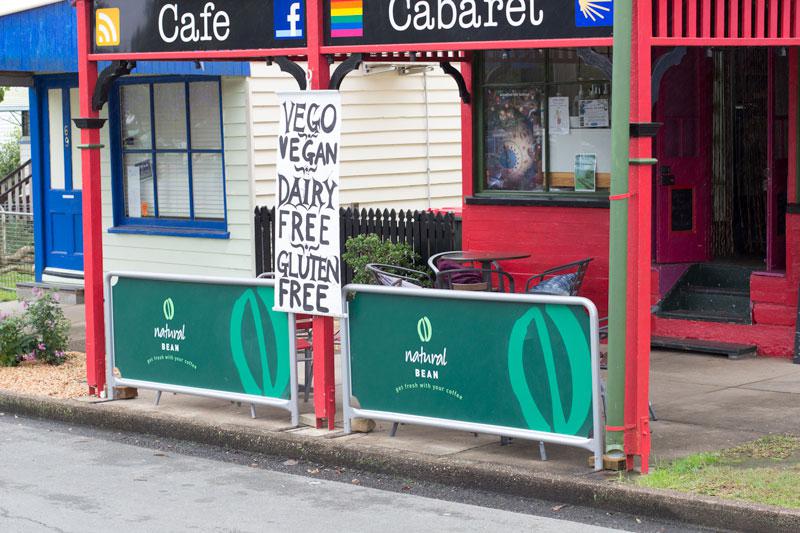 On a brisk and rainy wintery morning my sister my mum and myself set out on a drive to Woodford in seek of a hearty, intolerance friendly breakfast away from the hustle and bustle of Brisbane. With empty stomachs grumbling away, (except for myself who had decided a pre breakfast smoothie was a good idea…not in retrospect), we headed off the highway to Woodford, destination Braisen Hussy Cafe.
Braisen Hussy prides itself on catering for gluten free, dairy free, vegan and vegetarian customers. The menu offers cows milk along with rice, soy and zymil at no extra cost which is quite rare these days. The breakfast is not a huge variation from the typical breakfast fare, however it is the ability to have a 'normal breakfast' catered to suit intolernaces that is appealing.
My sister had visited before and spoke highly of the cafes varied menu for intolerance friendly dining, so I was excited for what we would find. Arriving in Woodford we pulled up outside the bright coloured cafe and scampered out of the wet inside. The decor was warming and earthy with timber walls bright colourful fixtures. A beautiful chandelier set off the ambiance with its light flooding over the food cabinet filled with pre made frittatas, salads, bakes and cakes.
We took a seat on the cosy deck and perused the menu. All of us chai addicts were happy as pigs in mud to see freshly brewed chia with rice milk on the menu. Three cups ordered promptly.
After a quick and excited perusal of the menu, my mum and sister who were quite ready to devour the cutlery by now, opted for the heartier options. My sister chose gluten free french toast served with caramelised bananas and maple syrup. (A note worth a mention is that the staff immediately picked up on the gluten free order and changed the maple to honey due to the gluten in the maple syrup they used. Really attentive and appreciated). My Mum went for the "Vego Hussy" homemade savoury lentils, steamed spinach with a poached egg and toast. My order was more sedate thanks to my full belly. Gluten free fruit toast served with tahini. Simple, yet appealing to my taste buds immensely. Its not often you get gluten free fruit toast on a menu!
The chai arrived not long after ordering at the counter with our main meals. It was perfectly balanced with the sweet spices and already sweetened with honey. With a sweet breakfast it makes for quite a sweet hit, so if you are not partial to overly sweet foods then keep this in mind.
All the meals arrived within a minute or two of each other and were wholesome, yet not ludicrous large serves. My sisters french toast was devoured after drizzling in lashings of honey. My mums braised lentils were declared deliciously smoky and the egg cooked just right (though not as good as her own beans…she makes the BEST beans ever) and my fruit toast, though not as full of fruit as I would have liked, was delicious drowned in tahini which is a rare offering on cafe menus.
Braisen Hussy is definitely worth the drive and a great destination for relaxed casual dining. I'd love to visit again on a warm day and take advantage of their garden seating. I could easily will away the hours drinking chai and enjoying the Woodford fresh air.
Braisen Hussy is open 9am –  5pm daily. For contact details visit Braisen Hussy Cabaret Cafe.
Jessica Cox is a qualified practicing Nutritionist with a Bachelor Health Science (Nutrition) and over 15 years of clinical experience. She is the founder and director JCN Clinic, published author and established recipe developer. Jessica is well respected within health and wellness space for her no fad approach and use of evidence-based nutrition.