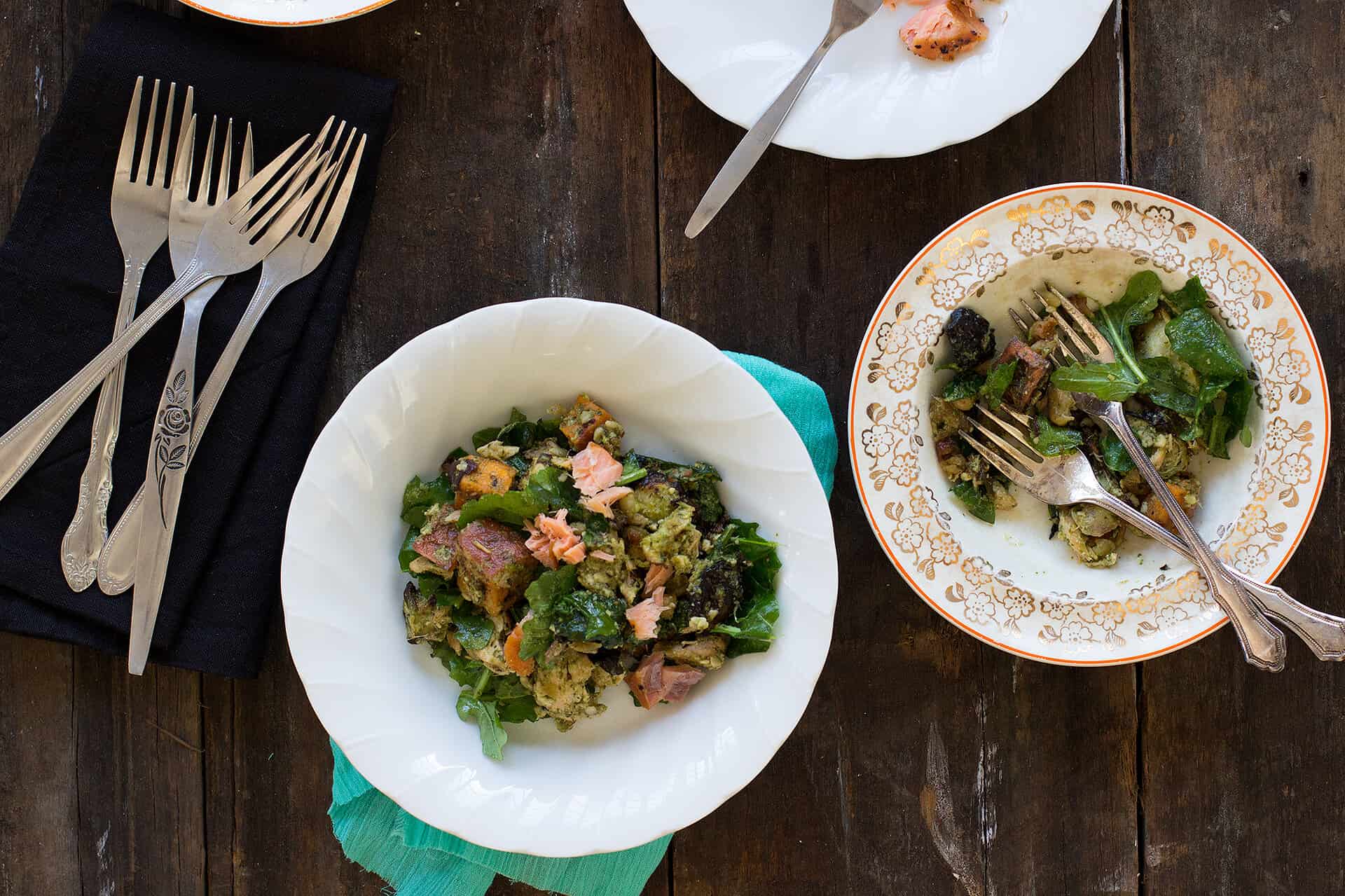 This roast vegetable pesto salad with hot smoked salmon was created from one of those 'what's left in the fridge that I can throw together' moments.
Ironically, often I find this is when some of the tastiest dishes end up being created in my kitchen. I am definitely a fan of roasting vegetables, or anything at all for that matter. Roasting will always bring out the natural sweetness of vegetables and creates those lovely textural variations that we all seem to love. Personally I adore it when roast vegetables are pushed to their limits and quite charred. Delicious.
The great thing about this warm salad is you can substitute the vegetables to suit. Not a fan of broccoli? Use cauliflower instead. Not a fan of brussel sprouts? Use zucchini instead. Easy. You could also make this dish completely vegan or vegetarian by leaving out the salmon and using some baked tempeh or crumbled feta.
This salad can also arrive quicker on your plate once again by using a store bought pesto. Ideally go for a brand that has an olive oil base rather than a vegetable oil base. There are quite a few dairy free options on the market these days that you utilise. At the end of the day it's about making this recipe work for you!
roast veg pesto salad with hot smoked salmon
serves

3 people as a main

preparation time

15 minutes

cooking time

30 – 35 minutes
ingredients
1 cup sweet potato, roughly cubed
1 cup broccoli cut into bite sized pieces (stems and all)
1 can washed cannellini beans
1 cup brussel sprouts, halved
150 gram packet of naturally smoked salmon fillets, roughly flaked ( I used tasmanian salmon)
1 good handful of rocket leaves, roughly torn
// pesto //
juice 1 lemon
1 clove garlic
1/3 cup olive oil
1 tablespoon of nutritional yeast (or 1/4 cup grated pecorino or parmesan)
1 cup tightly packed basil
1/3 cup sunflower seeds
method
Heat your oven to 220c fan forced, as a really good heat gets this dish humming.
In a large baking dish toss the sweet potato, broccoli, cannellini beans and brussel sprouts with a good lug of olive oil until well coated. Season with salt and pepper. Place in the oven to roast for 30 – 35 minutes, removing half way to mix well. The vegetables are done when they are lovely and soft while starting to brown on the edges. The beans will go very starchy and crunchy.
In the meantime, make your pesto by combining all of the pesto ingredients in your blender and blend till a paste is formed. If it seems too thick, then just add some more olive oil. Set aside.
Once the vegetables are cooked, remove from the oven and scrape them into a large salad bowl with the rocket. Add the pesto, flaked hot smoked salmon and mix till well combined with a large serving spoon.
nutritional information
Sweet potato provides a carbohydrate base to this salad making it a complete meal. Sweet potatoes are full of vitamin A and betacarotene, nutrients well known for their beneficial properties in regards to respiratory health.
The olive oil and sunflower seeds in this salad provide good fats that help increase the uptake of fat soluble betacarotene.
Hot smoked salmon is best when naturally smoked. This means there are no nitrates used to give artificial smoked flavours to the fish. Salmon is an abundant source of omega 3 fatty acids providing high levels of EPA and DHA.
Broccoli is high in fibre, vitamin C and vitamin K. It is also well known for its anti cancer fighting properties due to its sulforaphane and indole 3 carbinol content.
Jessica Cox is a qualified practicing Nutritionist with a Bachelor Health Science (Nutrition) and over 15 years of clinical experience. She is the founder and director JCN Clinic, published author and established recipe developer. Jessica is well respected within health and wellness space for her no fad approach and use of evidence-based nutrition.