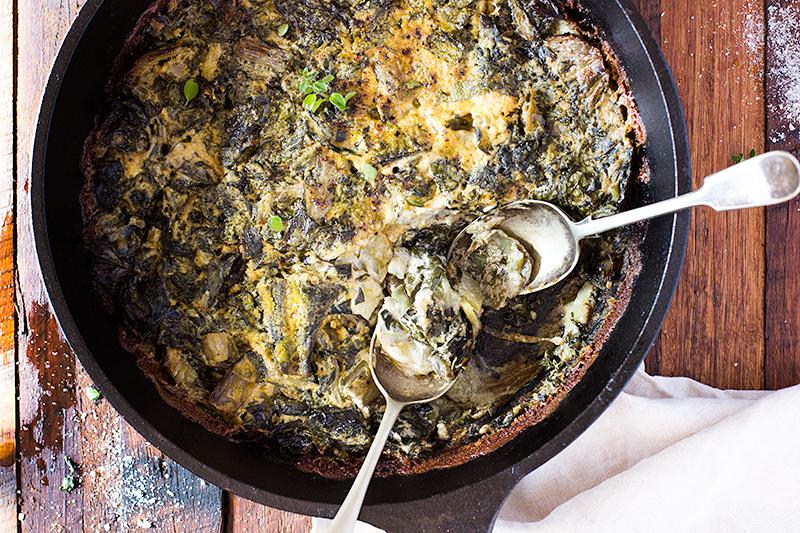 I've promised myself to bring you more winter warming dishes these next few months, delving into curries, braises and soups more. I know I personally tend to go more for meals that are quicker to make for a day prep and shoot, so its going to take being a bit more organised than usual. I can do this right?
First cab of the rank is a bit of a fusion of me wanting to cook a wintery dish, reaching back to my childhood roots and also simply using up way too much silverbeet in our fridge. I've already made a similar dish with my Creamy Satay Sweet Potato Bake, but this variation is more of a play on the classic white sauce with greens that I know many of you also would have eaten growing up.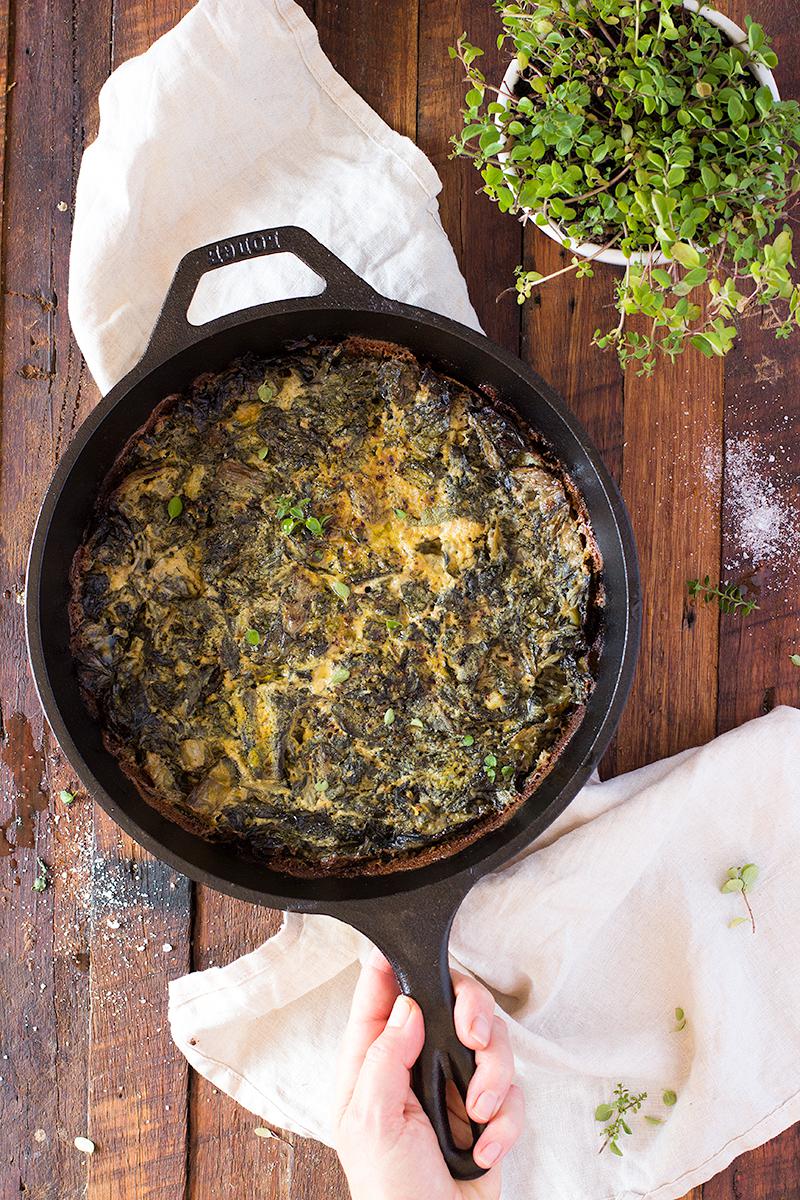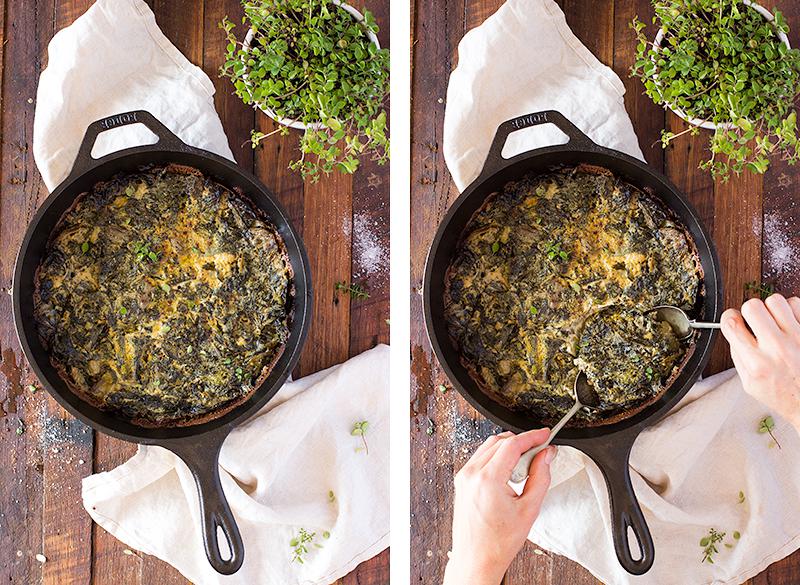 I actually had quite distain for vegetables as a kid. I still had to eat them mind you; there was certainly no pushing food around the plate and refusing to eat. I ate every bite whether I liked it or not. That was how it was in our household (with the exception of tomatoes – it was understood by my mum and dad that I really didn't 'like' tomatoes and that I wasn't just being fussy about vegetables sucking in general. To this day I'm weird with tomato. I'm fine with it sliced on, or in things, but the thought of biting into a tomato like an apple makes my toes curl).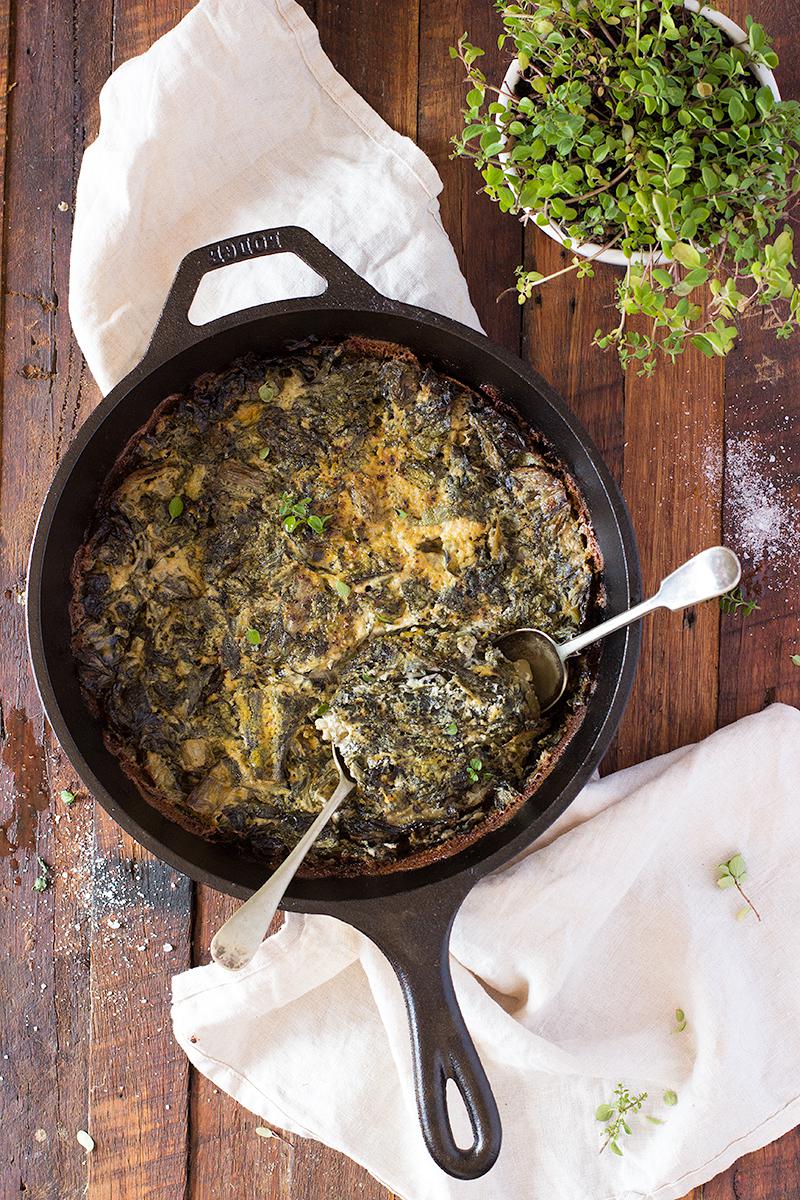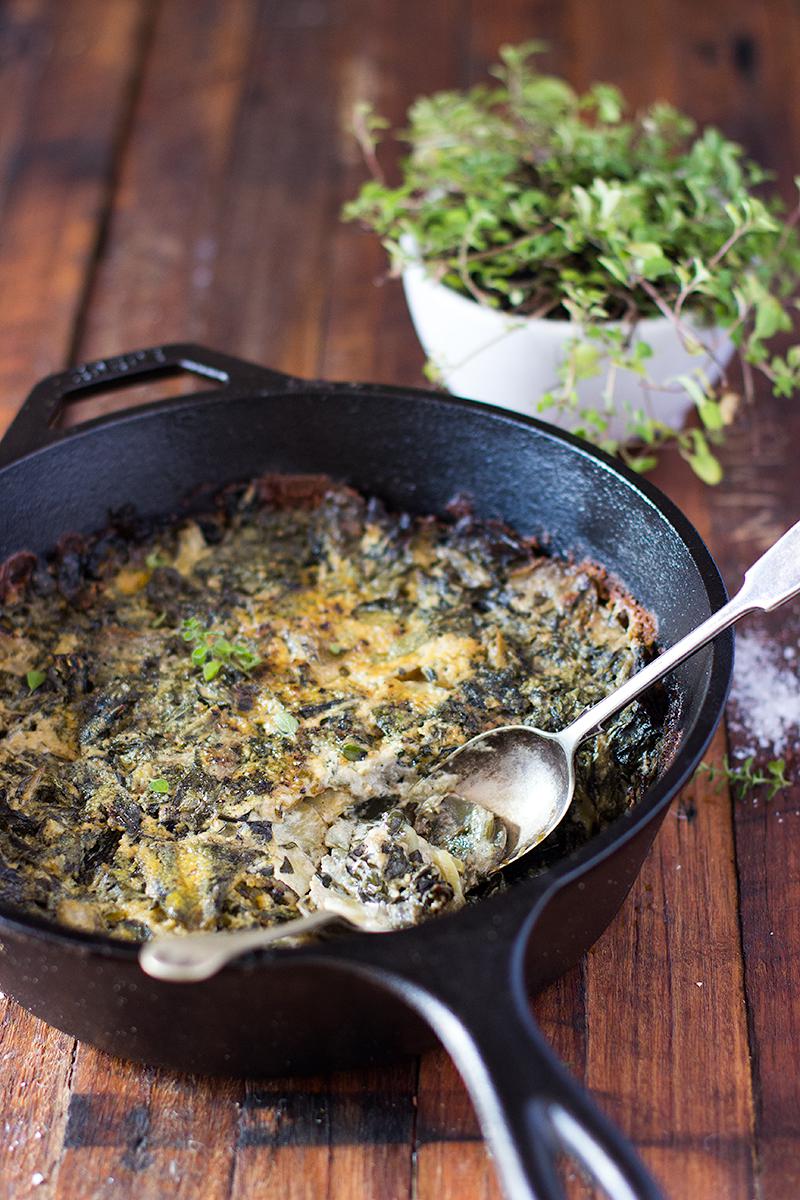 For me (an most probably many of you) vegetables were made tolerable by sauces. Greens like silverbeet and spinach therefore were often a welcome relief when accompanied by drenching's of white cheesy sauce. The bitterness of the greens is lost in the creamy cheesiness and it becomes an enjoyable experience instead of a traumatic one. Vegetables are so traumatic as a kid!
Like most kids I did love potatoes. Mashed, baked, roasted. No worries there at all. Therefore, combining potatoes with silverbeet and drowning them in a white creamy sauce definitely works for me today, as it would all of those years ago.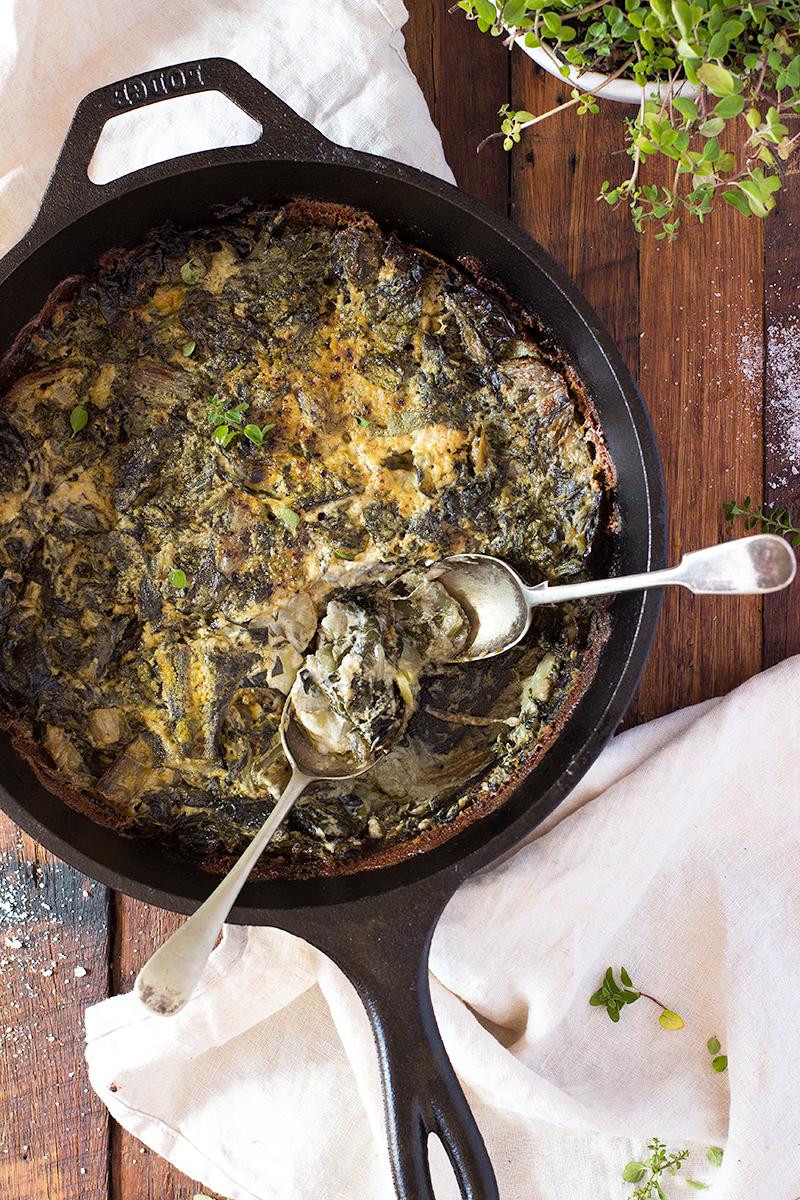 Now, I also promised in my social media this week to discuss resistant starch, a starch that is found in different types of foods and also formed when certain carbohydrate foods (such as potatoes) are cooked and then cooled. Resistant starch has become a bit of a buzz area at the moment with a lot of focus on the microbiome. There has been a shift of mainstream focus from just probiotics to also including prebiotics that fuel and 'feed' our microbes within.
When we cook potatoes we break down the starch molecules (large chains of sugars) to become more digestible. However, when the potatoes are then left to cool the starch biochemistry changes to become resistant starch (this is called retrogradation – for geeks like me out there this is a process where the polysaccharides in the gelatinious environment interact after the heating process, then through cooling form more structured molecules). Resistant starch primarily passes through the small intestinal tract without fermentation (it is 'resistant' to digestion) and is used as a primary source of fuel for bacteria in the large bowel.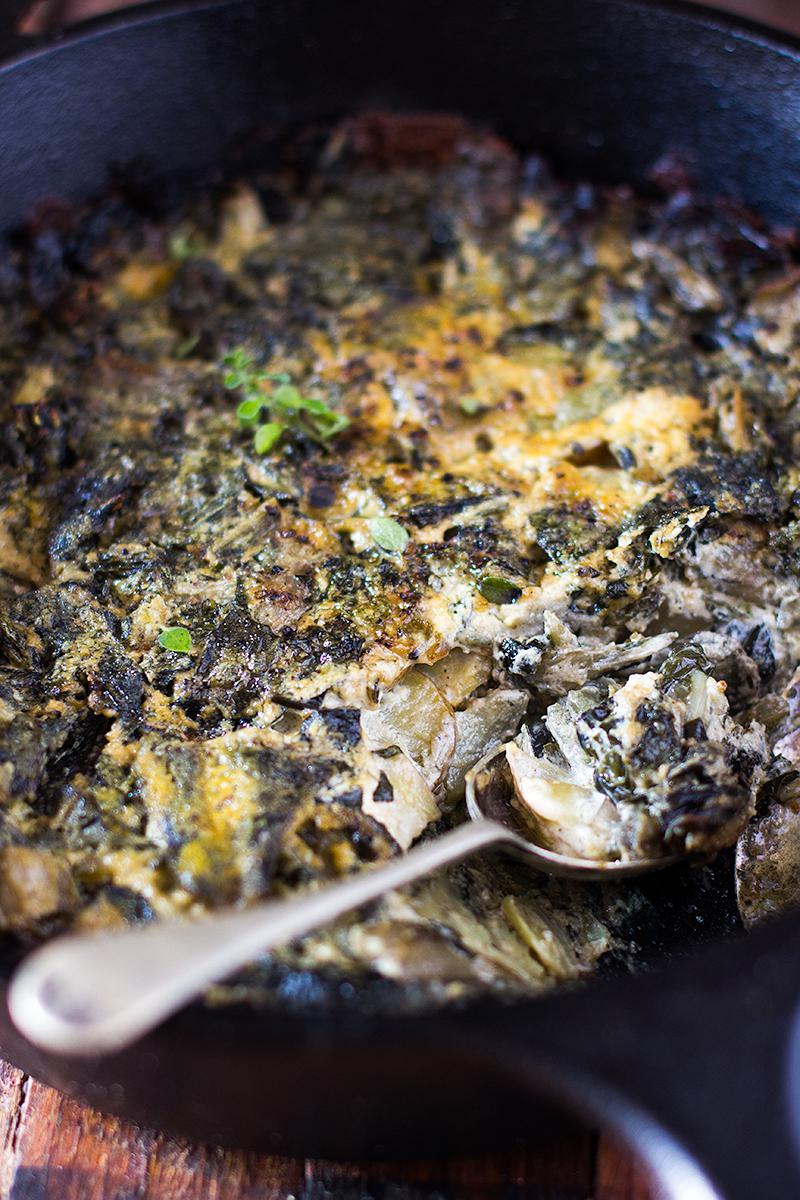 The reason resistant starch has become so popular currently is because digestive conditions like SIBO have become more mainstream. The diets that accompany these health conditions often require short to medium term dietary manipulation that involves the remove of fermentable carbohydrates that can provide fuel for overgrown bacteria in the small intestines. Furthermore, the resistant starch provides nourishing fuel for bacteria in the lower bowel increasing diversity of flora and increasing output of short chain fatty acids, especially butyrate, the preferential fuel used by the cells that line our colon.
Potatoes are not the only food rich in resistant starch. Other foods include green bananas and banana flour (also having a moment in the spot light). Rice also prepared in a similar way to potatoes will provide a high level of resistant starch. Other foods that naturally have high levels of resistant starch includes legumes and certain grains, however these types of foods provide a mix of fibres, therefore when consumed with SIBO and imbalanced bacterial states (dysbiosis) they may still cause symptoms in the early days of treatment. As we always say, this is a sign that your gut needs some theraputic attention, not a sign to remove whole food groups long term. xx
creamy mustard silverbeet & potato bake
serves

serves 6 as a side dish

preparation time

30 minutes

cooking time

75 minutes
ingredients
600g/2 bunches silverbeet (chard), washed and woody stems removed
1 clove garlic
2.5 tablespoons extra virgin olive oil
500g potatoes, skin on
1 tablespoon fresh chopped oregano
salt and pepper to season
// creamy sauce //
80g (1/2 cup) macadamia nuts
1/3 cup nutritional yeast
3 teaspoons mustard seeds
1 small clove garlic
2 tablespoons extra virgin olive oil
1 1/2 cups water
1/2 teaspoon salt
1/4 teaspoon pepper
method
This recipe is adapted from my Creamy Satay Sweet Potato Bake.
Start by preheating your oven to 180c fan forced.
Chop the silverbeet up roughly including the stalks still attached. Bring a large frying pan to a medium heat and add 1.5 tablespoons of extra virgin olive oil. Add the silverbeet and mix well to coat with the oil. Allow the silverbeet to gently wilt and steam releasing a lot of the liquid. This will take about 5 – 7 minutes. About 2 -3 minutes before finished add the garlic and toss through. Once the silverbeet has wilted remove from the heat.
In the interim, use a sharp knife to cut the potato into thin rounds, around 2 – 3 ml thick. Place the sliced potato in a large mixing bowl and toss with remaining tablespoon of extra virgin olive oil, oregano, salt and pepper. Set aside.
In a blender place the macadamia nuts, water, nutritional yeast, extra virgin olive oil, garlic, mustard seeds, salt and pepper. Blend till creamy and smooth.
Now to assemble! Place half of the potato mix into a deep baking dish baking ensuring that the potato is spread out nicely (use your hands to do this), then top with half of the wilted silverbeet. Now pour over half of the creamy mustard. Repeat layers with the remaining potato and silverbeet and finish with the other half of the creamy mustard sauce. Use your fingers to press the potato and silverbeet down into the sauce to ensure everything is coated well.
Sprinkle the top of the creamy mustard potato & silverbeet bake with a liberal amount of nutritional yeast, cracked pepper and drizzle with extra virgin olive oil. Cover with foil or a baking dish lid and place in the oven for 60 minutes, then remove foil or lid and bake for a remaining 15 minutes until the top is golden and the potato is soft when you pop a skewer into the bake.
Remove from the oven and allow to sit for at least 10 minutes before serving. Enjoy with a green salad and protein of choice. This bake can be stored in the fridge for 3 days and then frozen for 3 months.
nutritional information
Overall, this recipe provides a good amount of carbohydrates, fibre and fats. The protein in this dish is mainly provided by the macadamia nuts, however this is quite a minimal amount. Therefore, I would advise having this dish with added protein on the side. For instance, I enjoyed this with salmon or my Chicken Schnitzel here on the blog. To keep in vegetarian or vegan you could add layers of firm tofu through the bake (just make more sauce if you do this to compensate for the extra height of the bake).
Potatoes contain a surprising amount of nutrients for the humble looking white spud. Just one jacket potato contains half of our daily levels of vitamin c and vitamin B6. One potato also provides close to 50% of our potassium needs and 20% of our iron and magnesium intake. These nutrients are fundamental cellular support and general enzyme functions within the body. They are also high in choline and lipoic acid making them a 'food as medicine' choice for nervous system support. Potatoes are best with their skin attached to provide more sustaining fibre.
Silverbeet (swiss chard) is a high source of vitamin A, K and C. Vitamin C is well known for its water soluble antioxidant activities, while Vitamin K plays a role in bone health through supporting bone formation. Vitamin A along with flavonoids beta-carotene supports mucosal membrane health, respiratory health and eye health.
Vitamin K found in silverbeet in abounding quantities is becoming more well known for its pivotal role in neuronal health. Vitamin K is essential for the synthesis of sphingolipids, an important component of brain cells that have cell signaling and communication functions. Many vital proteins are also vitamin K dependent within the central and peripheral nervous system. Vitamin K rich foods would certainly be advantagous in the diet of those prone to, or suffering from neuronal decline (eg. multiple sclerosis, dementia, alzheimers, parkinsons disease). (G. Ferland, 2012 Vitamin K and the Nervous System: An Overview of its Actions, Advances in Nutrition An International Review Journal).
Jessica Cox is a qualified practicing Nutritionist with a Bachelor Health Science (Nutrition) and over 15 years of clinical experience. She is the founder and director JCN Clinic, published author and established recipe developer. Jessica is well respected within health and wellness space for her no fad approach and use of evidence-based nutrition.