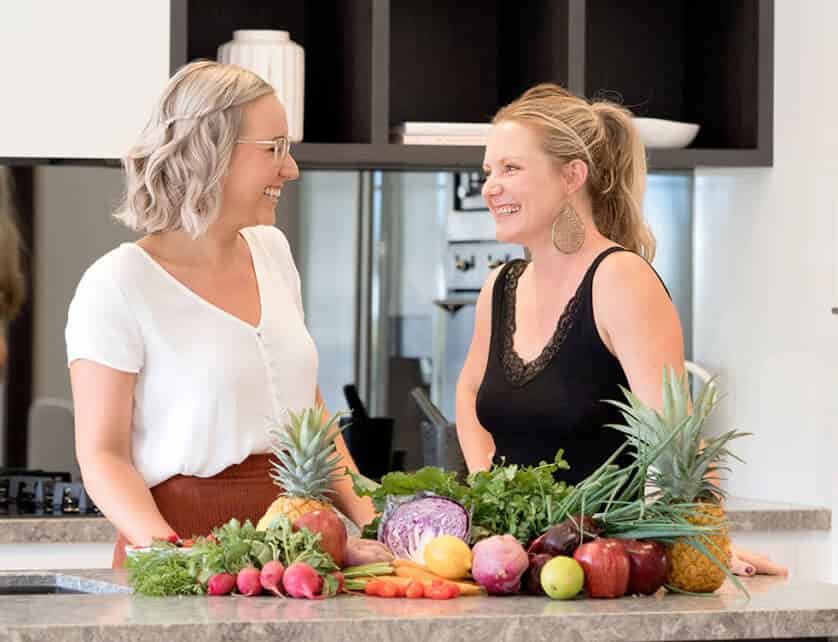 Providing meals ideas for a healthy lunch is something we do on a daily occurrence at The JCN Clinic. The key elements that constitute a healthy lunch are pretty simplistic. Your lunch meal should ideally contain a combination of macronutrients, which includes complex carbohydrates, protein and essential fats at its core. The dominant portion, or the 'star of the meal' as I like to call it should be the vegetable component.
So what foods are what when it comes to the breakdown of our macronutrients? For a more detailed description see here, but for today let's look at a simplified version of the most common types of foods that fall into each category.
Complex carbohydrates
Wholegrains such as brown rice, wholewheat, quinoa, polenta, buckwheat, millet, starchy vegetables such as sweet potato and potato, wholegrain based breads and wraps are the most common options here. Carbohydrates are made up of sugar molecules, however complex carbs are more 'complex' in their biochemical structuring, hence they take longer to break down in our digestive system once digested. This is ideal, as it does not create an instantaneous spike in our blood sugar levels.
Protein
Red and white meats, fish and other seafood, cow, sheep and goat dairy products, legumes, including soy products (aim for GMO free here), eggs, nuts, seeds (especially hemp seeds) and quality protein powders and collagen. All of these foods are high in amino acids, which are the building blocks for muscle tissue, hormones and neurotransmitters in our bodies.
Fats
Avocado, quality unrefined oils such as extra virgin olive oil, nut oils, coconut and coconut oil, nut and seeds and their butters, cheese, dairy creams are common fats. Fats are integral for brain health, skin health and healthy hormone function just to name a few benefits. There are different types of fats, so if you would like more information on this again see here for details.
So where do our vegetables fit? Vegetables (and fruit) are carbohydrates, however on their own most of them do not contain enough starchy complex carbs to keep us full for a good couple of hours, hence the need for utilising the above complex carbs when making up your lunch meal.
Here is an example of how this should all look on your plate. Of course this is a rough guide, at times you may deviate and that is okay!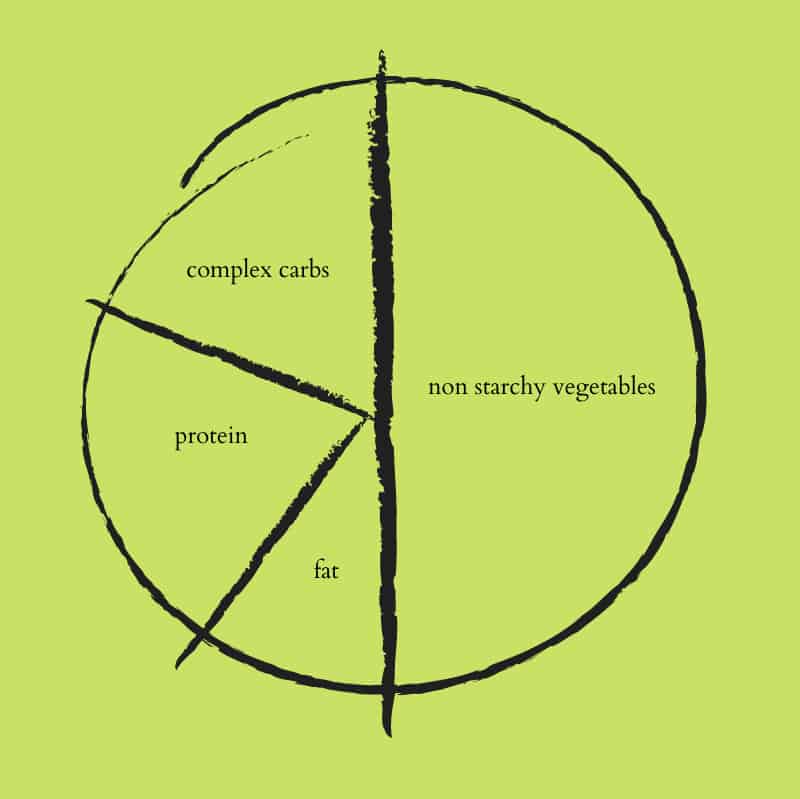 make-ahead, inexpensive tips for a packed lunch  
So lets get practical and look at how we are going to make this work for your busy day! The following ideas are not time consuming; they require no more than 5 -15 minutes tops of your time, either morning or night to prepare. A few options do require cooking time. These cooked meals however can be used to make multiple lunch meals, which can then be frozen.
The best tips I can give you in regard to making your lunches are:
Create a routine that works for you. Either set aside that 15 minutes as you are cleaning up dinner at night to get your lunch organised (along with the families if needed), or make the decision that mornings are your time to do this.
If mornings work better for you, plan your time around this. Give yourself that extra 10 minutes to put something together. We all have time to do this (believe me, over 10 years of practice I have seen just about every type of person get their s**t together to do this), it's just about how we decide to distribute and use our time in the morning.
Use left overs from dinner for you lunches. If your answer is 'we never have any left overs', well its time to just make more! You are already cooking anyway, so why not just double what you are making to ensure you're making extra? When you serve up the dinner meal, simply serve up the extras into some containers, keeping in mind the table above for your portion distribution. Personally this is one that works wonders for me, and most of our clients at JCN.
When making your lunches, aim for three different vegetables to be included in your meal choice. This will ensure you are getting an array of nutrients and just not relying on the same vegetables every day.
At the beginning of the week make up a big batch of roast vegetables that you can use through the week for lunches as a base for salads or wrap options. For instance, roasted sweet potato and beetroot could be used with some baby spinach with a can of tuna for a really quick option.
Keep 'easy greens' like baby spinach and/or rocket in your fridge. They can be an easy 'add ons' for extra greens and will instantly increase your vegetable intake.
Use quick protein options that do not require as much preparation or cooking for when you are time poor. For instance, canned fish, quality ham off the bone, canned legumes, boiled eggs, pre cooked tofu and so forth.
5 quick and easy ideas for lunch meals
Wrap with 'easy tabouli' and smoked salmon  – Spread a wholegrain wrap (gluten free if needed) with hummus then stuffed with a large handful of rocket, cherry tomatoes, roughy torn parsley and smoked salmon (you could use tofu for a vegetarian version).
Rice and bean salad w yoghurt dressing – Mix pre cooked brown rice (instant sachets if you need, just look for brands that contain only rice) with 4 bean mix, chopped celery and green beans, baby spinach, sunflower seeds, de-seeded olives mixed topped with a big spoon of natural yoghurt (or plain coconut yoghurt) and lemon juice.
Roast veg salad – Pre roasted sweet potato and beetroot  tossed with a big handful of baby spinach with a can of tuna, drizzle of extra virgin olive oil and balsamic. Throw in some pumpkin seeds or sunflower seeds for crunch. A little feta is lovely too if tolerated, otherwise some almond feta.
Easy slaw w 100% ham off the bone on crackers –  grate a small handful each of beetroot, carrot and cabbage and stir through juice of half a lemon, teaspoon of dijon mustard and a heaped teaspoon of mayo. Pop in a container with ham off the bone and some wholegrain crackers or cruskits.
Simple frittata – This works well with left over roast starchy vegetables or mash. Slice up and place your left over roast potato or sweet potato (or spoon in your mash) into a baking tray. Top with a couple of handfuls of baby spinach and some cherry tomatoes, olives, basically anything you have needing you be used up! In a bowl combine around 8 eggs with a good dash of plant based milk and season with salt and pepper. Pour into the baking dish and then bake for around 45minutes on 180c. This will make around 4 serves.
What's your favourite macronutrient balanced lunch? I'd love you to leave me a comment below, as I am always keen to hear what others are doing.
Jessica Cox is a qualified practicing Nutritionist with a Bachelor Health Science (Nutrition) and over 15 years of clinical experience. She is the founder and director JCN Clinic, published author and established recipe developer. Jessica is well respected within health and wellness space for her no fad approach and use of evidence-based nutrition.