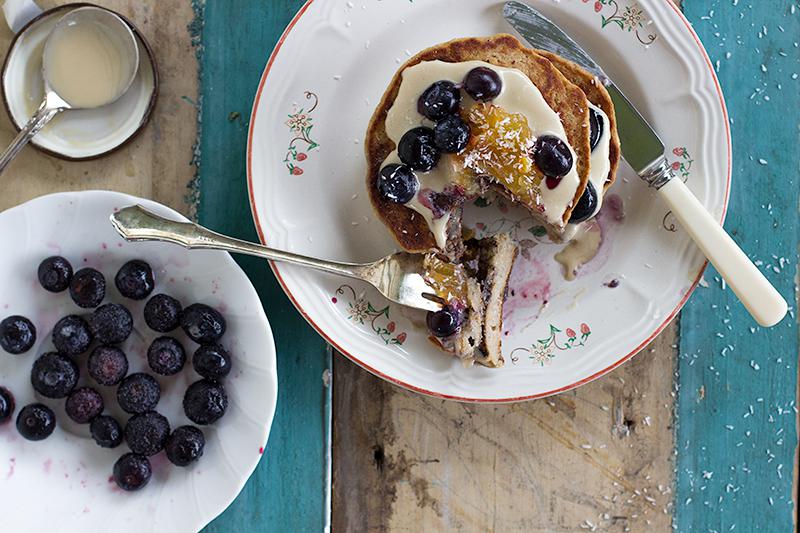 How exciting to share with you a youtube video of my vegan pancakes w chocolate tahini sauce + blueberries! I post so many pictures and recipes of pancakes, and as a result of this receive lots of questions about them. Many of you still struggle with getting the right consistency of batter, pan temperature and so forth. What I love about this video is that I can physically show you how it's done, you can see the texture of the batter and how the pancakes should look as they cook. Invaluable pancake lessons!
Making vegan pancakes doesn't need to result in pancake bricks. The key is to get the lightness and fluffiness from the right amount of raising agents and gooey add-ins that take the place of the egg. When we omit eggs we are taking away lightness and rise that this ingredient gives, so we have to think outside the box as to how to add this back. Otherwise the results are pretty abysmal.
I started making vegan pancakes quite a few years ago, as many of my clients couldn't eat eggs and dairy due to intolerances. I think its imperative as a nutritional practitioner to really have a first hand experience of cooking with alternative ingredients, otherwise I think you are not able to give the best advise.
The first thing I discovered was that without some sort of added fats and gooiness, these pancakes just weren't going to work. They would be flat, tough and pretty much only good for the birds. With the addition of some mashed fruit, or some oil and nut meals I was able to create a pancake worthy texture. If I wanted to make a savoury version or not have the fruit flavour too dominant, I would use some mashed potato or some finely grated zucchini for instance.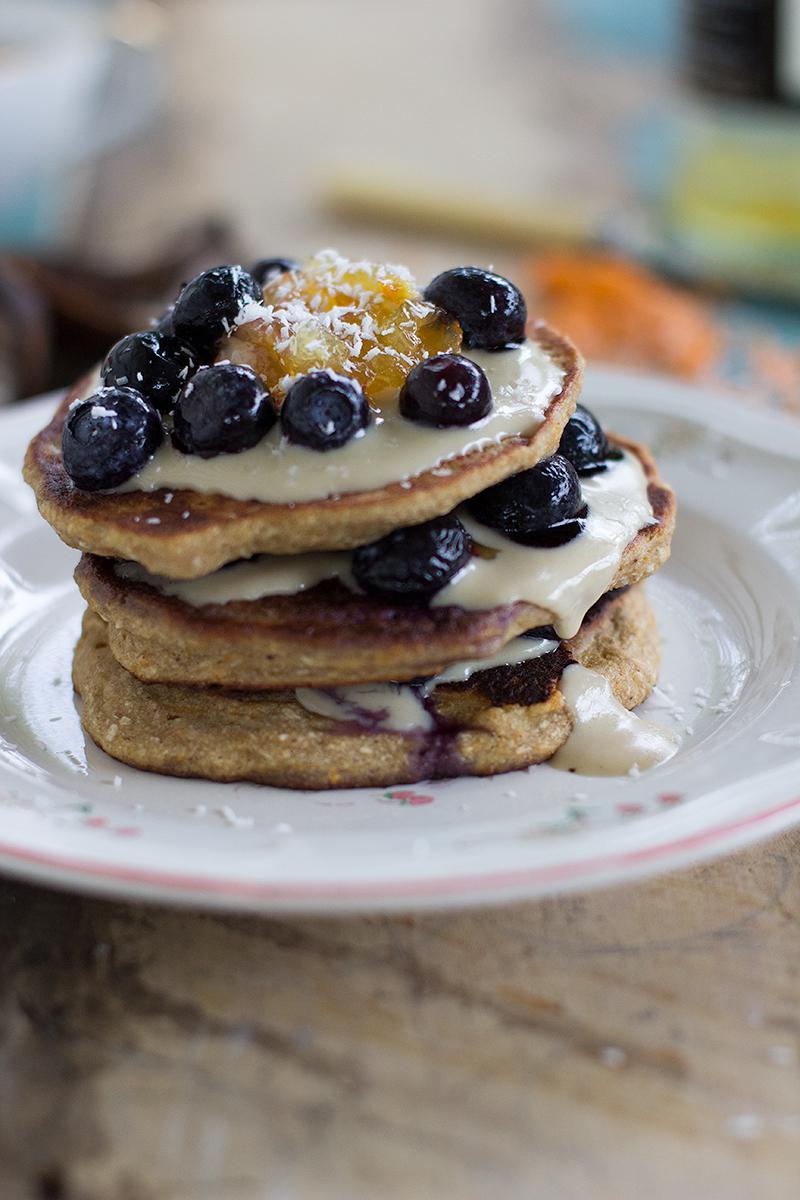 Vegan pancakes will generally be lacking in substantial protein to keep you going for a few hours (unless they have added protein powder in the batter), so its important to top them with some nut or seed butter, some yoghurt or even some quality bacon (yes I know bacon is not vegan, but my egg intolerance clients will appreciate this). With these pancakes I have make a luscious chocolate tahini sauce that oozes over the pancakes, providing protein, essential fats, calcium and a whole lot of flavour.
You can twist this tahini sauce to your liking. Its lovely with added spices such as cinnamon, and of course it can also be made on other nut butters of choice. I have made this sauce ample times with peanut butter for instance. If it's a particularly fancy occasion you can add a nip of port or sherry to the sauce, I know I would!
vegan pancakes w chocolate tahini sauce + blueberries
serves

serves 1

preparation time

5 minutes

cooking time

3 minutes
ingredients
1/4 cup buckwheat flour
1 heaped tablespoon flaxseed meal
1/8th teaspoon baking powder
1/4 cup mashed banana (or mashed ripe pear)
1/3 cup almond milk (or plant milk of choice)
// chocolate tahini sauce //
1 tablespoon tahini
2 1/2 teaspoons raw cacao
2 1/2 tablespoons almond milk (or plant based milk of choice)
1 teaspoon maple syrup
1/3 cup blueberries to serve
method
In a medium sized mixing bowl combine all the dry ingredients, then stir through the mashed banana and almond milk till well combined. You want it to be a bit wetter than a cake batter, but not as runny as crepe batter. If you add all of the milk and need more liquid, simply add a little more.
Heat a frying pan to a medium heat and add a lug of olive oil or oil of choice. Spoon the batter into the frying pan to create two pancakes. Allow them to cook until little bubbles form on the top of the pancakes, then flip over to cook through.
While the pancakes are cooking make your chocolate tahini sauce by combining the tahini, raw cacao and maple syrup to a thick paste then slowly adding in the almond milk and stirring to bring to a glossy sauce.
To serve, layer pancakes then top with blueberries and chocolate tahini sauce.
nutritional information for vegan pancakes w chocolate tahini sauce + blueberries
Blueberries are rich sources of flavonoids, anthocyanins and resveratrol, phytochemicals shown to exhibit strong potential for quenching free radical activity. Blueberries are also high in vitamin C and the mineral manganese. This high vitamin C content along with the phytochemicals makes blueberries a wonderful choice for those looking to enhance their immunity and support free radical damage.
Tahini is high in polyunsaturated and monounsaturated fats accounting for around 50-60% of the macronutrient intake and provides moderate amounts of protein and carbohydrates. For instance, 1 tablespoon of hulled tahini provides 8gms fat, and 2.5 grams each of protein and carbs. Tahini is also a good source of amino acids tryptophan (boosts serotonin levels) and methionine (beneficial for liver health)
Sesame seeds are also the only source of phytochemicals sesamol, sesamin and sesamolin that belong to the lignan family. These antioxidants have been shown to reduce oxidative stress and therefore reduce risk of cardiovascular disease and potentially malignant growth (especially oestrogen dependent malignancy). Sesame seeds are also high in y-tochopherol (a form of vitamin E), which keeps the oils in the sesame quite stable, therefore inhibiting easy oxidation. The sesamin in the sesame seed actually increases the retention of vitamin E meaning it has a longer shelf life in the body.
Jessica Cox is a qualified practicing Nutritionist with a Bachelor Health Science (Nutrition) and over 15 years of clinical experience. She is the founder and director JCN Clinic, published author and established recipe developer. Jessica is well respected within health and wellness space for her no fad approach and use of evidence-based nutrition.