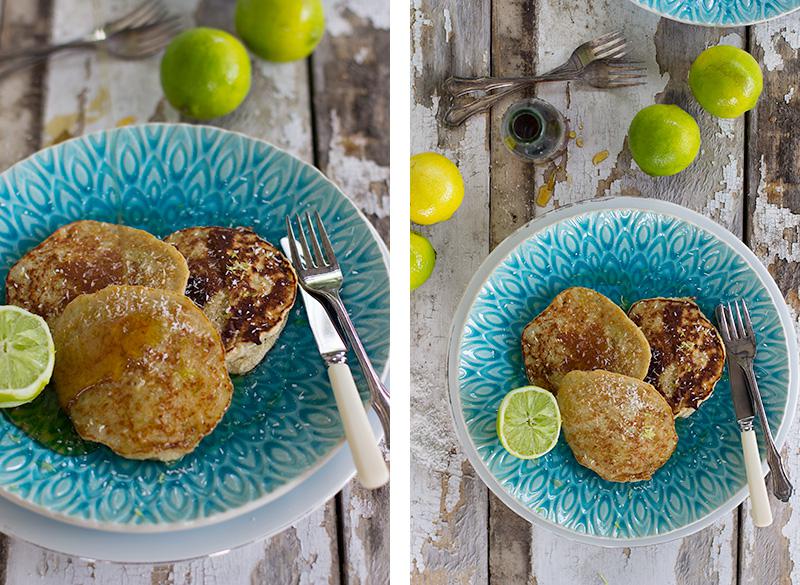 Today is Cancer Council Daffodil Day. Please purchase your daffodil to support the cause. Visit daffodilday.com.au for more information.
It's been a while since I have posted some pancakes on the website. Considering they are one of my dearest loves, its taken some restraint not to turn this website into an 'ode to pancakes' blog. Enough time has passed for me to bring you another of my favourites, filled with the freshness of citrus, so plentiful right now.
I have to admit these pancakes were made and photographed a while back. Since moving we have been in a sea of boxes, and I am still finding my feet in regards to getting set up for photography. There is some gorgeous natural shaded light outside, but there is also two puppy dogs who I think would not be as forgiving as our cat when it comes to putting food on the ground. Luckily I have this obsession with pancakes, as it just took a good ol' browse through my archives to find this delicious tasty number that I had tucked away.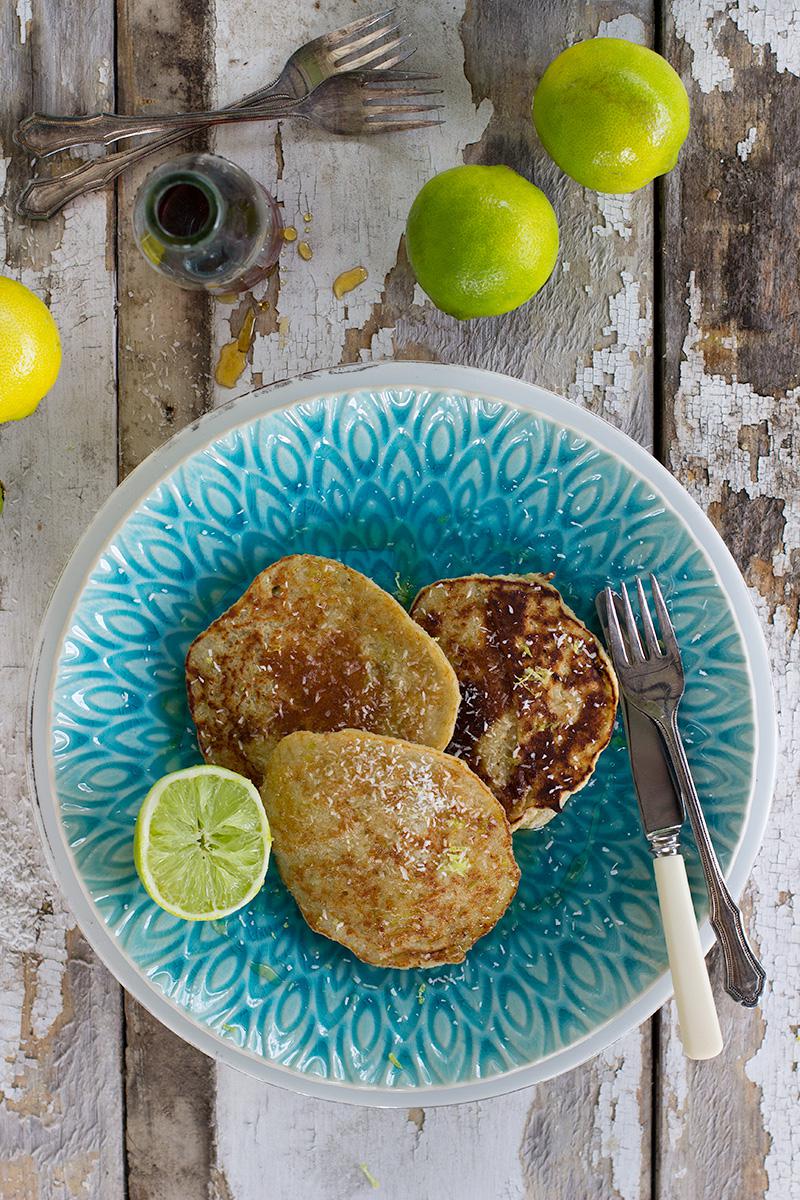 I am aware that mojito cucumber pancakes might sound a little..well odd. It wouldn't be the first time I had been confronted with a raised eyebrow or look of 'are you serious…surely you are having me on'. Each day in clinic I am suggesting new food combinations to clients that might seem normal to some of you reading this, but very foreign to others. There are many people who have never heard of tahini or nut butters or buckwheat. That's why recipes like this need to be approached with a little trepidation.
One of my dearest clients was a classic for this. She always came to see me with a slight glint in her eye of 'what are you going to throw at me here Jess'…'don't fool me with your "It's really yummy" comments'. I often told her my husband liked a certain recipe so that she would really believe me that 'normal people' ate this recipe or meal idea too. When she met my husband late last year she hit him up straight away with questions about the weird food I must make him eat, which he loved because it gave him his favourite platform of exaggeration to tell tall stories from. Oh the laughs.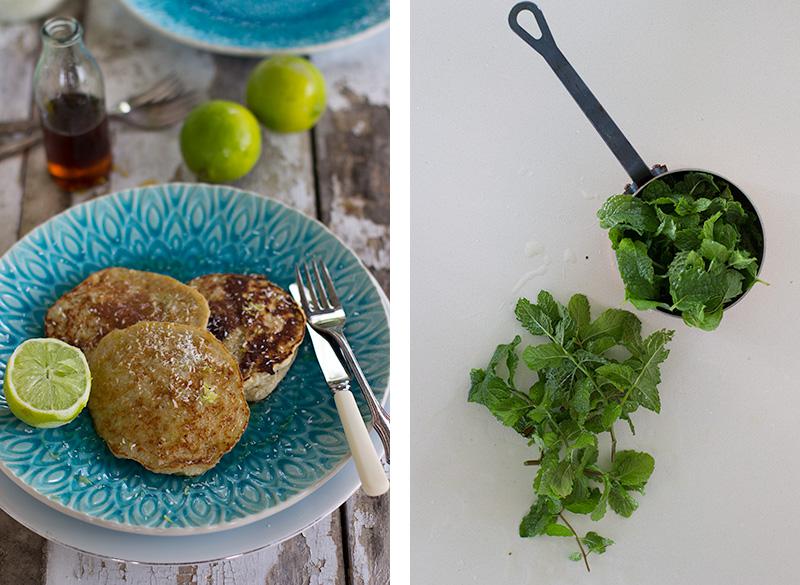 In my job I meet so many wonderful people. So many walks of life and so many personalities and individual journeys. Some people such as this client touch your soul beyond profoundness that you can't even deem imaginable. Some people shine with strength and with such love and compassion that words simple do not capture the wonder of their spirit. I was lucky enough to have such a beautiful soul such as this delightful woman in my life and I will be forever grateful.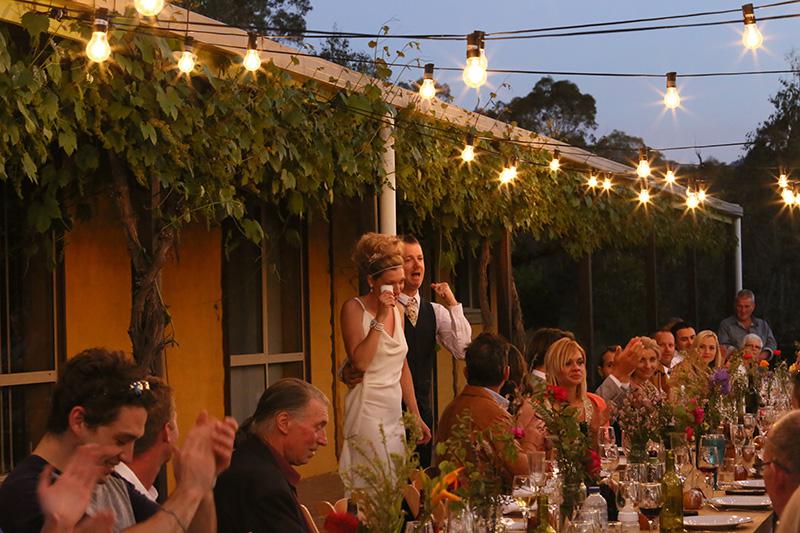 The picture of me included here is from our wedding day last year. My husband had unbeknownst to me, got in contact with my client and asked her if she would like to write a few words to be read out at our wedding. When he stood up to read this letter I had no idea to begin with who had written it. At first I thought it was my husband reading his own letter as a second person. Slowly, the penny dropped with the words that he spoke and I was quickly reduced to tears. The emotions that overcame me in those moments were so overwhelming. She had reached inside me and hugged my heart beyond any way this world can ever understand, and I will never forget that moment as long as I live.
Thank you for being part of my life gorgeous lady, and thank you for all that you given me. xo
mojito cucumber pancakes w lime & maple + daffodil day
serves

serves 1

preparation time

5 minutes

cooking time

4-5 minutes
ingredients
1/4 cup buckwheat flour (or oat, spelt or whole-wheat if gluten tolerant)
2 tablespoons coconut flour
1 tablespoon desiccated coconut (unsweetened)
teaspoon baking powder
teaspoon cream of tartar
cup finely grated cucumber, seeds removed from centre before grating
1 tablespoon maple syrup
zest and juice of half a lime
1 teaspoon finely chopped mint
cup rice milk
// to serve //
lime wedges
100% maple syrup
desiccated coconut
natural yoghurt or dairy free yoghurt
method
In a mixing bowl combine the grated cucumber, maple syrup, lime zest, lime juice and rice milk. In a separate bowl combine the flours, baking powder, desiccated coconut, mint and cream of tartar and mix well. Add the wet ingredients to the dry ingredients and mix till just combined to a thick pancake batter. If you feel the batter needs a little more liquid simple add a dash more milk or lime juice.
Heat a frying pan to a medium heat and add a little coconut oil. Spoon the batter into the pan to make three pancakes. Allow the pancakes to cook underneath till golden and beginning to bubble on the top.
Flip the pancakes and cook on the underside till golden once more. Remove from the pan and enjoy!
To serve, layer pancakes on a plate and top with freshly squeezed lime juice, maple syrup and some more desiccated coconut if desired. Best served with thick natural yoghurt or dairy free yoghurt for a balanced start to the day.
nutritional information
These mojito cucumber pancakes w lime & maple do not contain a lot of protein on their own. To create a more balanced meal it is important to enjoy them with either some protein rich yoghurt or perhaps a protein rich beverage on the side. This will ensure that these pancakes keep you going for a few hours without any quick blood sugar level drops and energy slumps.
As in all herbs, mint has outstanding levels of naturally occurring phytochemicals. Studies have shown that the methanol extract from fresh mint has considerable antibacterial and anti fungal activity. Regular intake of mint leaves may help ward-off the initial colonisation of detrimental microbes.
Limes are bursting with a vitamin C and flavonoids. The naturally occurring antioxidants in limes are useful for supporting the immune system along with boosting the health of our vascular system. The peel and the juice of citrus contains different types of antioxidants, so its good practice to get into using both aspects of your citrus. Both the juice and the citrus have been shown in studies to help reduce the levels of LDL oxidation (more detrimental cholesterol). The peel extract has a stronger effects at lowering LDL oxidation at small dosages, giving even more of a reason to use this wondrous food source. (J Res, 2011 Med Sc).
Jessica Cox is a qualified practicing Nutritionist with a Bachelor Health Science (Nutrition) and over 15 years of clinical experience. She is the founder and director JCN Clinic, published author and established recipe developer. Jessica is well respected within health and wellness space for her no fad approach and use of evidence-based nutrition.