In Australia when you think of calamari your mind conjures up images of fish and chip shops, greasy butchers paper and pesky seagulls.  There is something comforting however about those memories for me, as I am sure there is for you. Fish and chips are commonly eaten on a relaxed weekend, frequently outdoors in parks or seaside. Once a cheap meal out, fish and chips have now become quite fancy with many shops offering a spectacle of seafood and trimmings. When I was a kid two dollars of chips bought you a mountain of salty deep fried spuds even a hungry family of four could not get through.  Now days, it's a bit more pricey.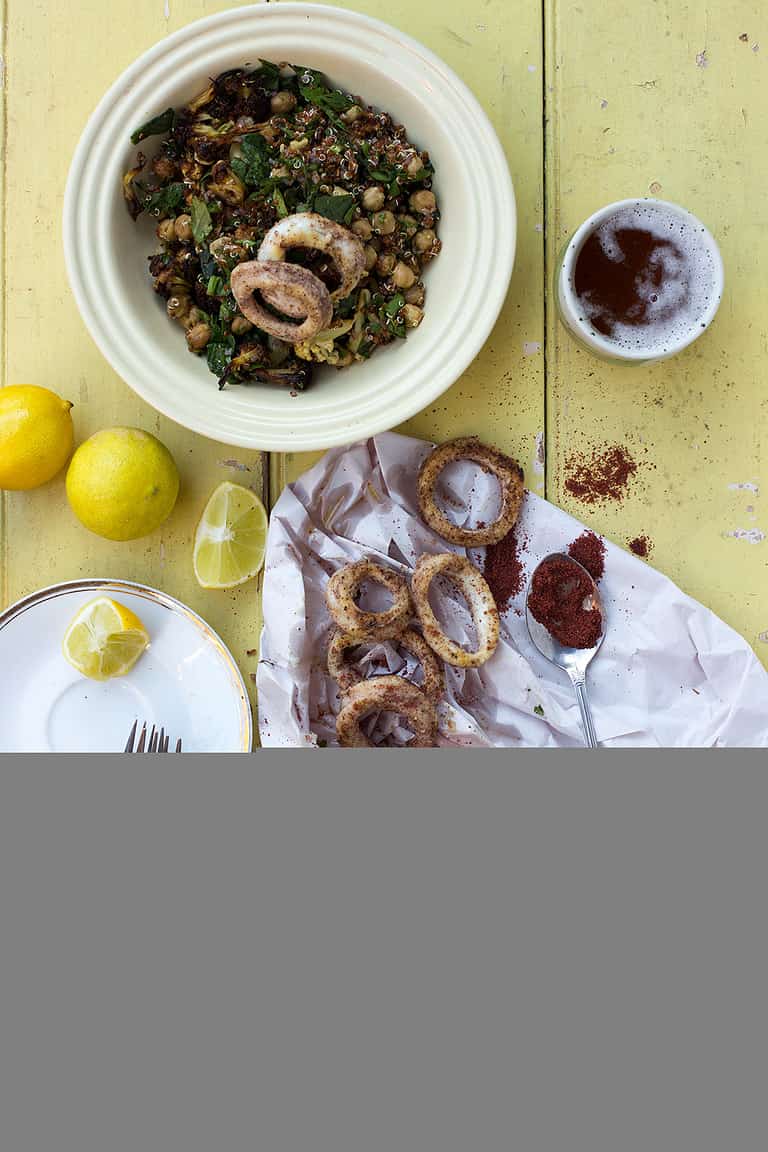 My mother in law worked in a fish and chip shop in New Zealand when my husband was in his twenties. He loves telling the story of how he would fly back to New Zealand without her knowing, and then wonder into the fish and chip shop. Her back would be turned as she was busily cooking over the fryer multitasking. She would ask over her shoulder what the customer would like to order and he would casually ramble off his order. Of course within seconds she would recognise his voice and there would be an eruption of hugs and tears.
As much as I love a bit of fish and chips, they are certainly not something that I would advise we eat everyday.  Shock horror, I hear you say. Calamari dipped in batter and then deep fried in vats of oil is enjoyable every few months after a few too many drinks on a Saturday night, but not on a weekly basis. Queue to the stage then please, sumac salt and pepper calamari.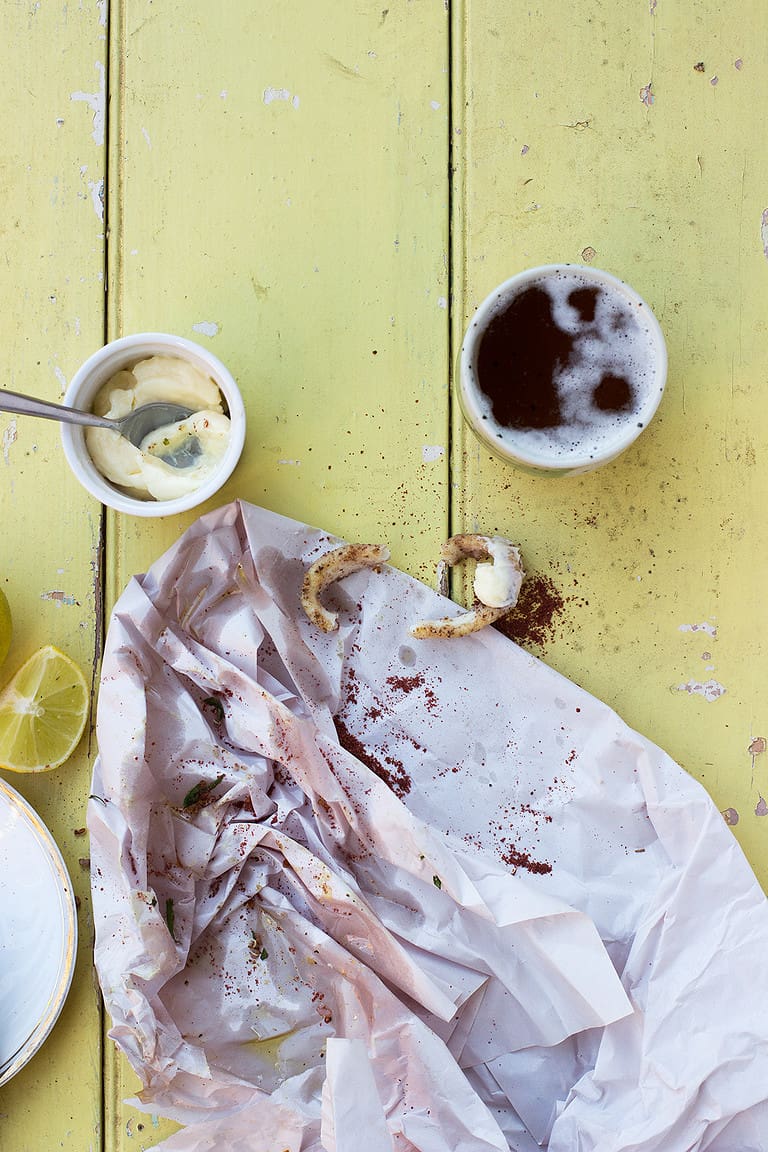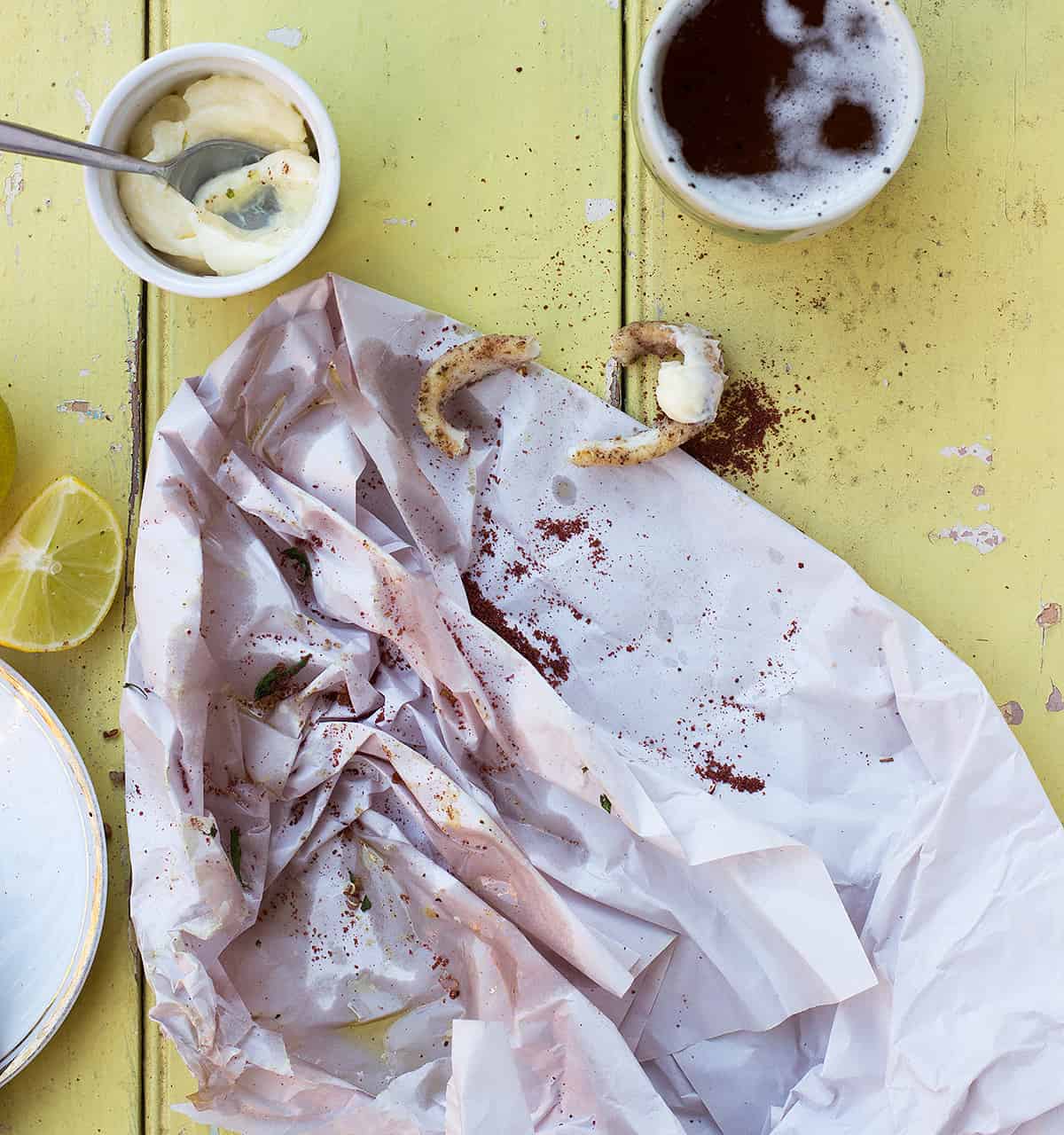 This sumac salt and pepper calamari is dusted lightly with a wholegrain based flour along with the tangy sweetness of sumac. Together with the salt and pepper this creates a wonderfully light coating that clings to the calamari and creates a light crust while sizzling away in a hot pan. The choice of oil here is quite imperative, as you want to get a really high heat. Choose oil that can handle strong temperatures, as mentioned below. Cooking the calamari by a light frying in a pan means that less oil is used as opposed to the tradition of deep-frying it.
Once this calamari is cooked it is best served straight from the pan with a refreshing side salad like this roast cauliflower and chickpea salad.
sumac salt & pepper calamari
serves

2 people

preparation time

10 minutes

cooking time

5 – 7 minutes
ingredients
4 squid tubes, pre cleaned
1 tablespoon sumac
1/3 cup brown rice flour (or spelt or wholewheat if gluten tolerant)
1 level teaspoon cracked pepper
1/2 teaspoon sea salt
2 tablespoons coconut oil or unrefined macadamia nut oil or grapseed oil
method
Slice the squid tubes width ways to create approximately 1cm rings, then set aside. On a large plate combine the flour, sumac, salt and pepper and mix well. Take the calamari and using your hands toss it through the flour mixture coating the squid well.
Heat a large frying pan and add ½ a tablespoon of the oil (see above). You will probably need to cook the calamari in two batches. Add half of your calamari being careful not to overcrowd the pan. Swirl the oil around to ensure it touches all the calamari in the pan. After 2 minutes, turn the calamari over with tongs and add another ½ a tablespoon of oil. Let this side cook until golden brown, around 1-2 minutes, and then remove from the pan and place on paper towel.  Repeat process with remaining calamari and oil.
Once all the calamari is cooked serve immediately with a lovely fresh salad such as this cauliflower and chickpea quinoa salad and some mayo if desired.
nutritional information
Sumac is a Middle Eastern spice that has a pungent sour and sweet flavour all in one, with a hint of smokiness. It is often used in Arabic and Turkish dishes to spice meats. Its stunning red colour is a red flag for its high antioxidant levels. Sumac is high in gallic acid, an active compound that is also found in mango, rhubarb and strawberries. Studies have shown that sumac contains powerful antioxidant activities stronger than Vitamin E and C. (Franziska F. Ferk et al, BMC Pharmacology 2007)
Calamari is surprisingly high in omega 3 fatty acids, well known these days as the good fats that help reduce inflammation and bring down cholesterol levels. Calamari is also a high source of amino acids (protein) and is also a good source of b vitamins and selenium. Calamari oil is in fact now becoming quite popular as a supplement, much like Krill Oil and Salmon Oils. If you are purchasing and using fish oils, it is important to buy products that have been carefully manufactured to prevent oxidation of fats (oxygen exposure that causes unstable rancid fats). Generally, if you open a bottle of fish oils and it has a fishy odour then this means that the fats have started to oxidise. Ask your local health food store supplier for the best brands, as its a supplement worth spending a little more on. (Benjamin B et al, Oxidation of Marine Omega-3 Supplements and Human Health, BioMed Research International 2013)
To create a balanced meal with the sumac salt and pepper calamari, combine it with a grain based salad, vegetables and lashings of citrus to bring it all together. If grains are not your thing, you could serve this with a grain free tabouli or sweet potato wedges and citrusy dressed rocket. There is always a way to make a dish suit you!
Jessica Cox is a qualified practicing Nutritionist with a Bachelor Health Science (Nutrition) and over 15 years of clinical experience. She is the founder and director JCN Clinic, published author and established recipe developer. Jessica is well respected within health and wellness space for her no fad approach and use of evidence-based nutrition.