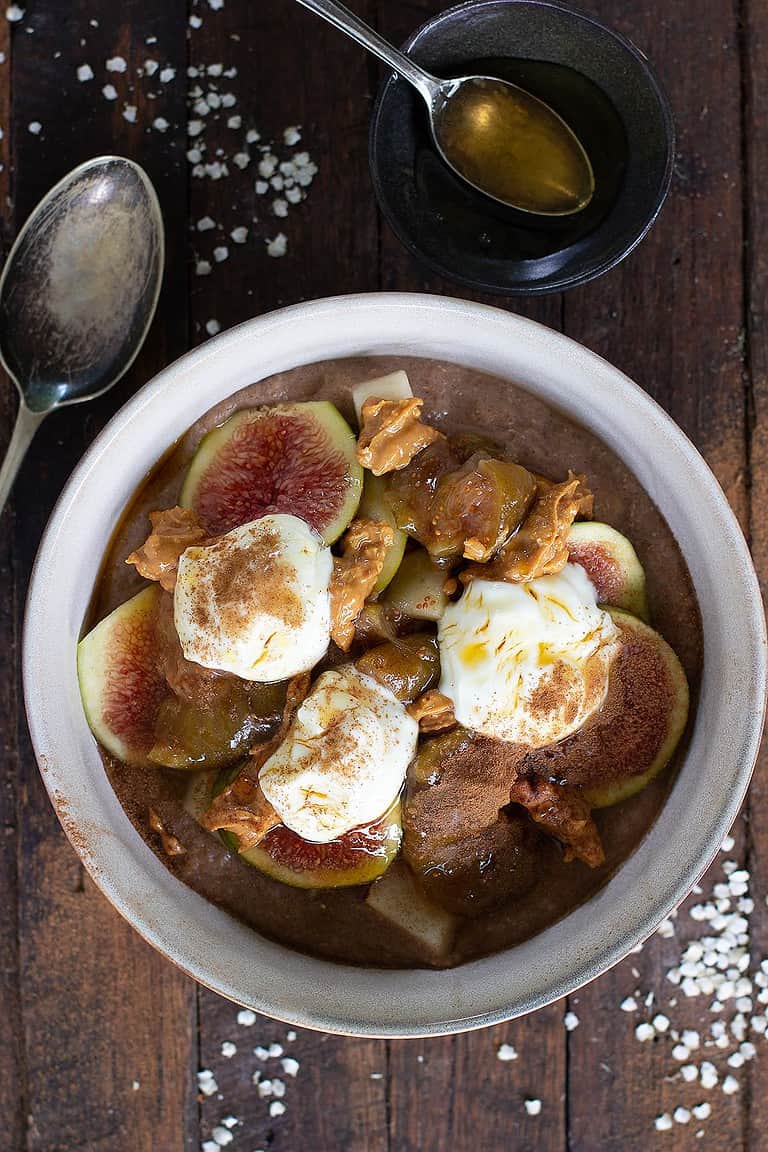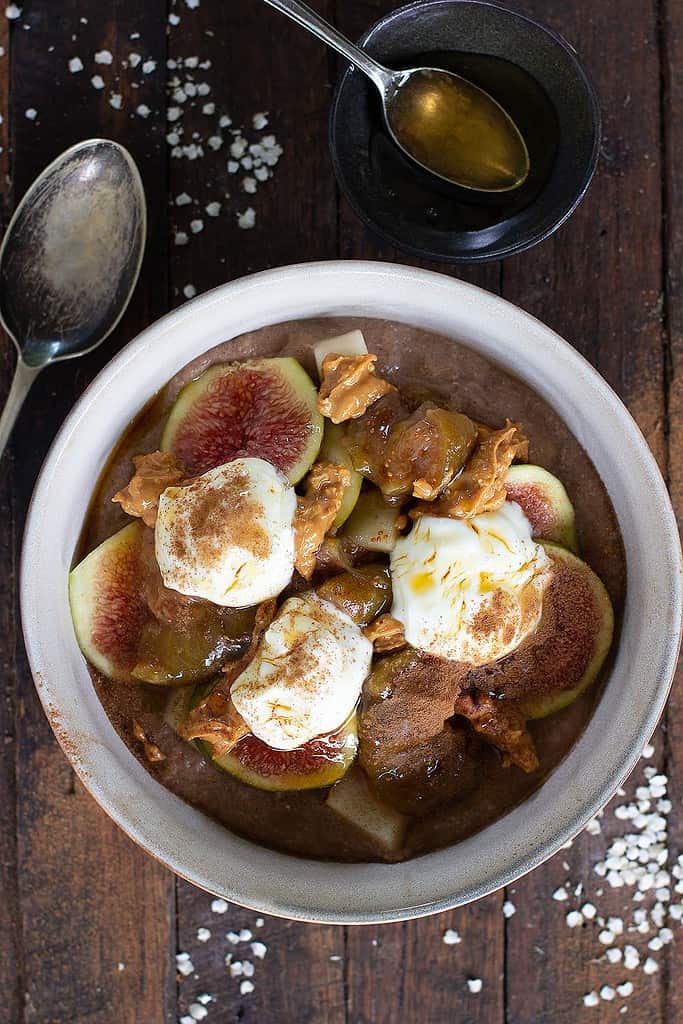 If you follow me on Instagram you will know that I have been (and still am) in a passionate love affair with my Salted Honey Protein Porridge. I've been having this as my breakfast pretty much every second day in combination with my Protein Pancake. I've also been promising to bring this recipe to you for a ridiculous length of time, so I've finally got my act together, cleared a space in the diary and made it happen.
I've actually not been much of a porridge gal in the past. I found it a bit like soups – too much of the same texture and flavour over and over. However, it occurred to me to 'hack' my porridge experience in the way I 'hacked' my soup experiences. If you check out my Leek, Cauliflower & Parsnip Soup or my Roast Pumpkin, Zucchini & Cauliflower Soup you will see its all about adding texture and depth of flavour with toppers. So the logical step was to apply this to my porridge game.
Now I am not talking about just some pretty berries scattered over the top or some chopped banana. The toppings are just as important as the salted honey protein porridge base itself. If you leave off the toppings you are robbing yourself of the entire experience. The toppings bring the sweet; they bring the crunch, they bring the creamy. Leaving them off just simply will not do.
I'm also all about how you build up the layers. Adding the fruit first to sink partially into the porridge is mandatory. Adding the peanut butter to the exposed porridge so it melts and spreads when it hits the heat – just as important. Adding the yoghurt as the finale on-top of the fruit so it gives a cool and creamy hit to each spoonful – perfection. Its an art people.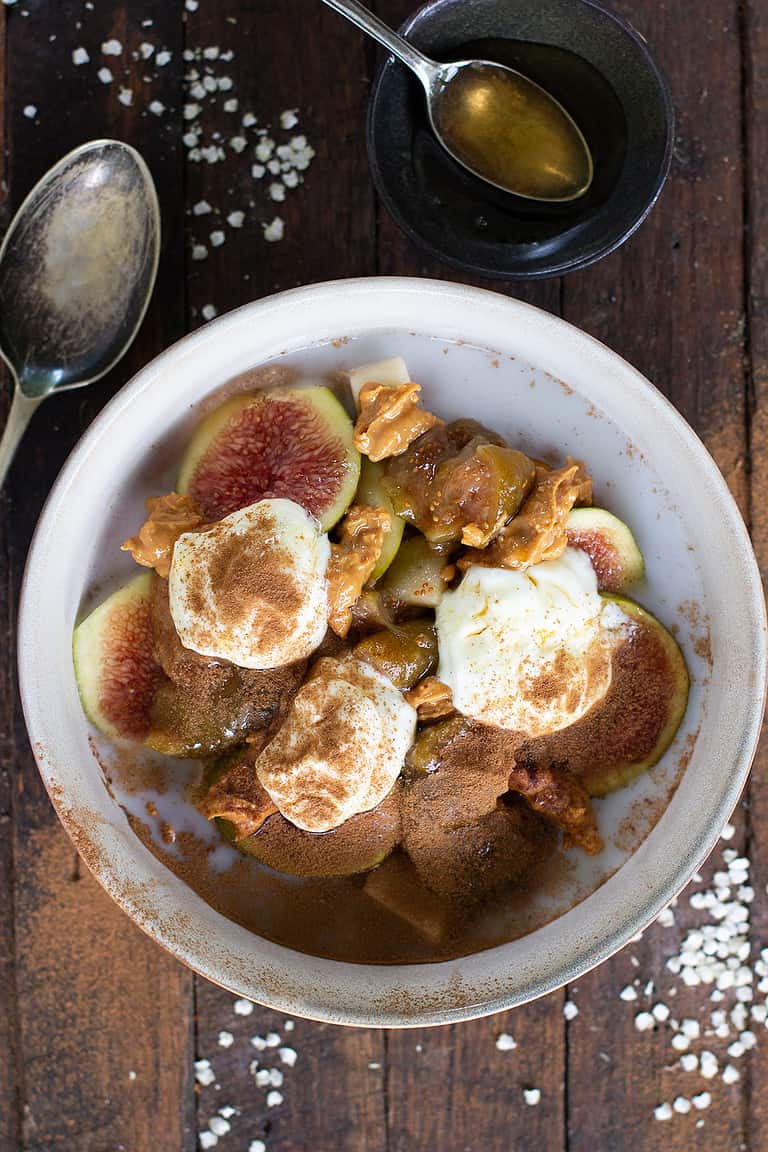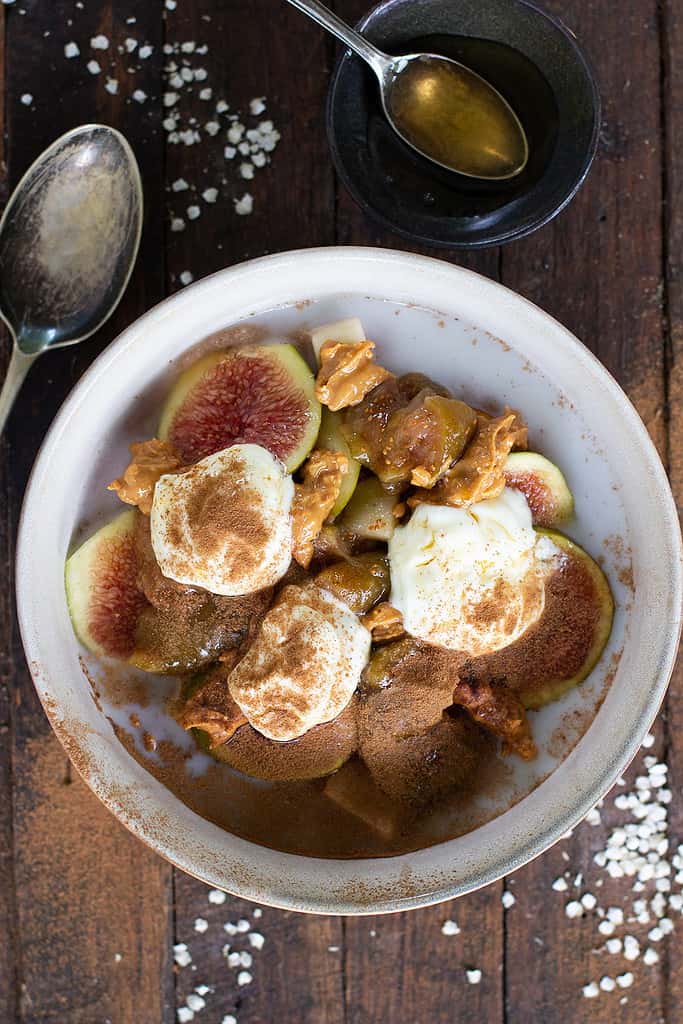 A macronutrient balanced breakfast
At The JCN Clinic one of our most heavily discussed meals of the day with clients would have to be breakfast. When we are looking at changing adverse dietary behaviours as a starting point, breakfast is often the meal that has the most holes. From a stereotypical western perspective breakfast is a carb only fuelled meal (think toast with jam or honey or a bowl of cereal) or to be honest, breakfast is commonly skipped completely.
Our JCN Nutritionist's and Naturopath's spend a large percentage of our first consultation with clients discussing breakfast ideas that are macronutrient balanced, that and also importantly suit our client's lifestyle and start to their day. This can vary quite dramatically from person to person as individuality of approach is always our number one priority. In fact, we dive deep into the variation of breakfast ideas we use in clinic in one of our more recent episodes of The JCN Clinic Podcast Show.
I highlight this with you all as I understand the 'art' in this porridge and my obsessions with it's toppings are not for everyone. However, the bare bones of this Salted Honey Protein Porridge base do provide an easy foundation for sustaining a macronutrient balanced start to the day. I give you permission to go rouge on my toppings suggestions and add a simple drizzle of nut butter alone as realistically you'll still be ticking all the nutritional boxes. It will hurt my soul a little bit but I'll get over it.
Like what you're seeing? Subscribe for new recipes and nutrition tips every week!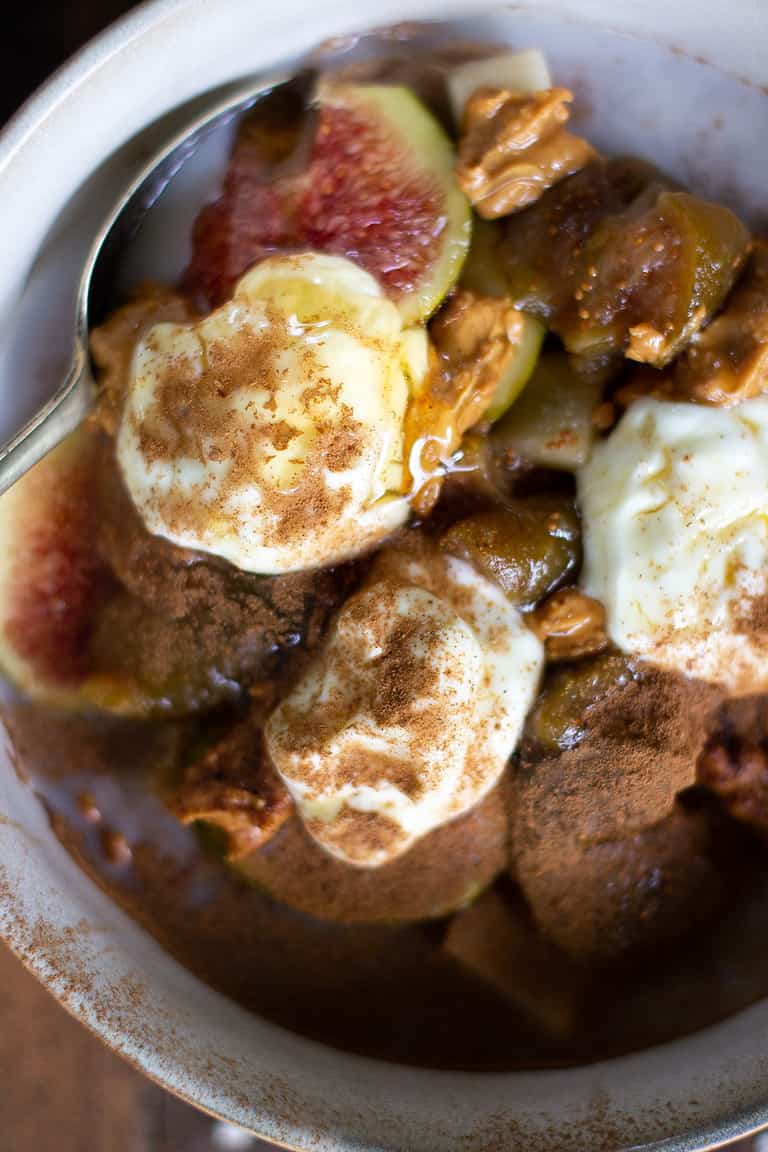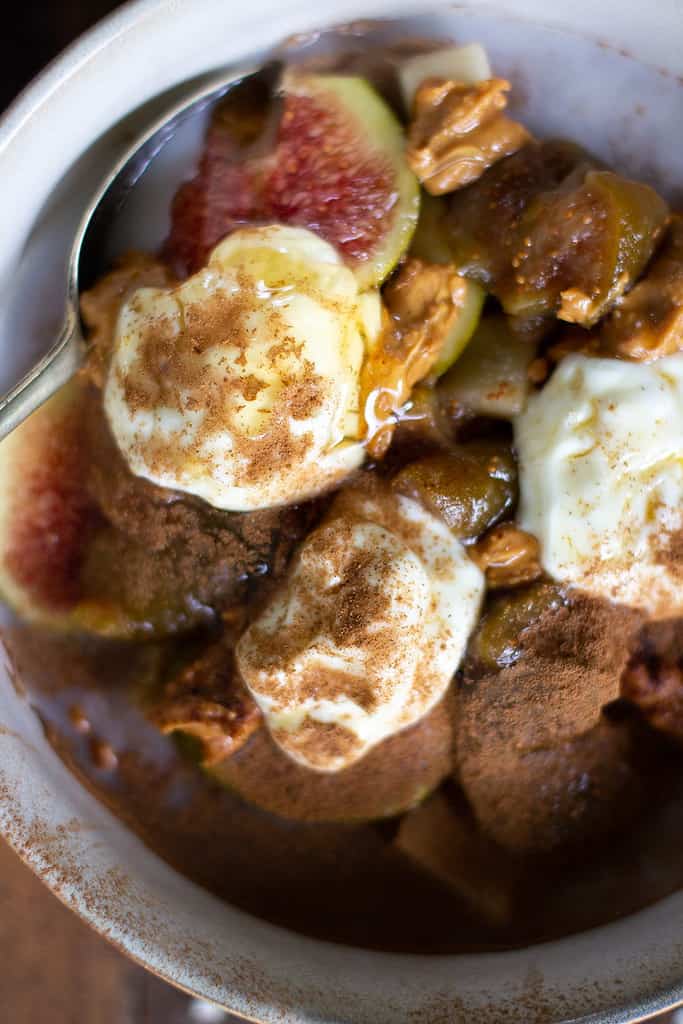 Need personalised nutrition advice catered to your needs?
If you are after personalised nutrition advice and dietary planning individualised to your health and dietary needs then contact us at The JCN Clinic with your enquiry. We are always happy to answer any questions you have!
salted honey protein porridge
serves

1

preparation time

5 min

cooking time
ingredients
2 heaped tablespoon quinoa flakes (can swap for other flakes of choice)
2 tablespoon pea protein isolate (I use unflavoured but you can swap for flavoured if you like)
1/2 banana, roughly diced
1 teaspoon cinnamon
1/4 teaspoon salt
1 teaspoon vanilla extract
1 teaspoon honey
3/4 cup water
suggested toppings
1/2 cup fruit of choice, including stewed
1/4 cup natural dairy free yoghurt (I used soy yoghurt)
1 teaspoon honey or maple syrup
1 teaspoon peanut butter
dairy free milk to drizzle over (optional)
method
As mentioned in the ingredients list, you can use flavoured protein powder instead. This will most likely mean you will not need to add the honey or vanilla extract depending on the flavour profile your protein powder provides. You can also swap the chopped banana for other fruits if desired.
Place quinoa flakes, protein powder, chopped banana, cinnamon, salt, vanilla and honey in a saucepan and cover with 3/4 cup water. Bring saucepan to a low simmer and stir well to ensure everything is nicely combined.
Allow to heat through and to thicken up (should only take 2 – 3 minutes with quinoa flakes). Once ready, spoon hot salted honey protein porridge into a bowl.
Now for the toppings! Top porridge first with fruit, the peanut butter allowing the nut butter to melt onto the hot porridge. Follow with yoghurt then drizzle over honey or maple syrup. I personally like to add a splash of mylk to finish.
nutritional information for salted honey protein porridge
| | |
| --- | --- |
| Calories/KJ | 435 cal/1820 kj |
| Total Fat | 12g |
| Saturated Fat | 2g |
| Total Carbohydrates | 55g |
| Sugars | 27g |
| Fibre | 7g |
| Protein | 30g |
Jessica Cox is a qualified practicing Nutritionist with a Bachelor Health Science (Nutrition) and over 15 years of clinical experience. She is the founder and director JCN Clinic, published author and established recipe developer. Jessica is well respected within health and wellness space for her no fad approach and use of evidence-based nutrition.