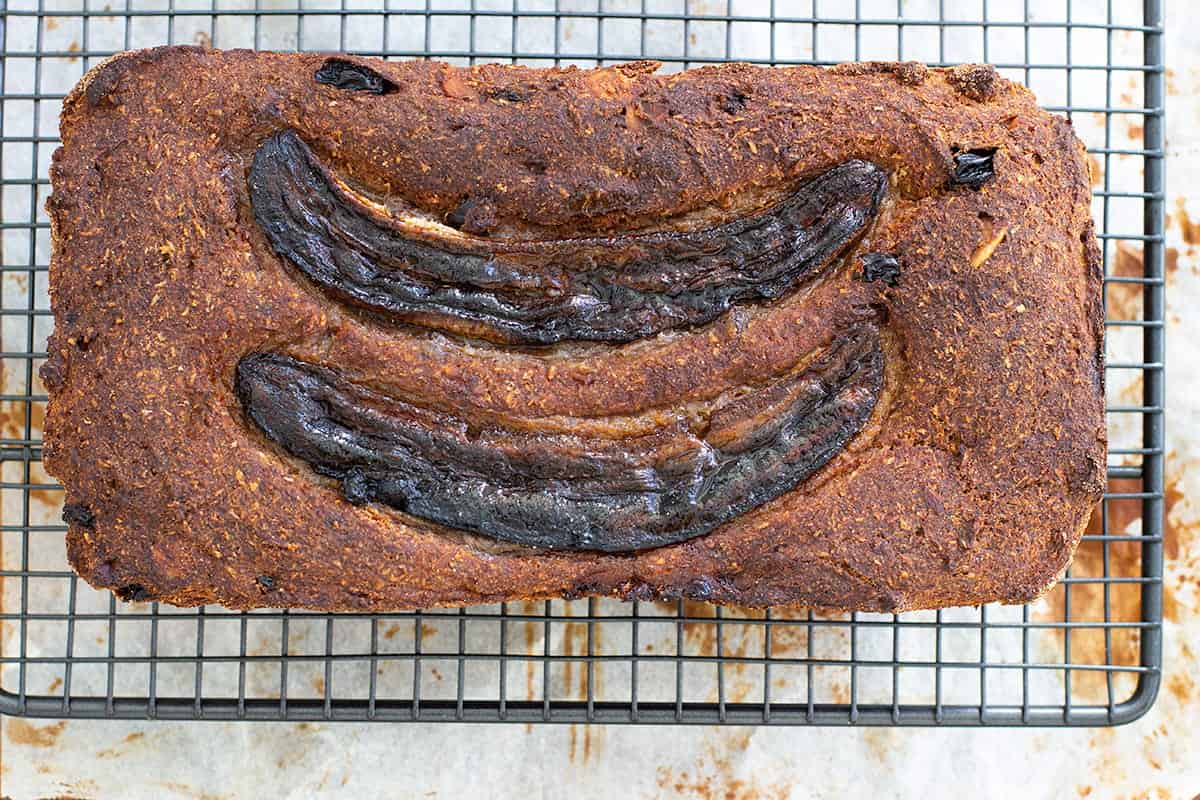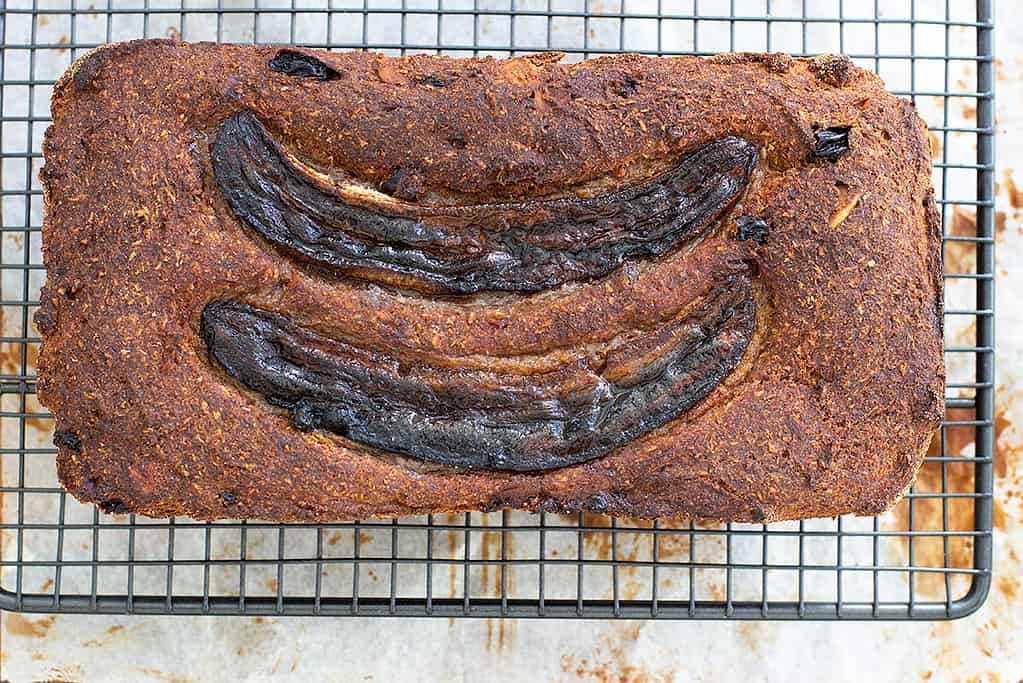 the best healthy vegan banana coconut bread recipe ever
There is nothing like a slice of fruit and nut studded banana bread slathered in butter (be that nut or seed based butter even). The smell of banana bread as it bakes is enough to drive you wild, the aroma of sweet spices and caramelising banana filling the air. With this Vegan Banana Coconut Bread I wanted to combine all of my favourite sweet flavours without relying on adding extra sugars or ingredients that many with sensitive digestive systems cannot tolerate.
I've acutally been toying with the idea of a sweet version of the Gut Friendly Bread or SIBO Friendly Bread for some time. I knew it would be a amalgamation of the two recipes as I wanted to use blended fruit in the batter like the carrot in the SIBO Friendly Bread.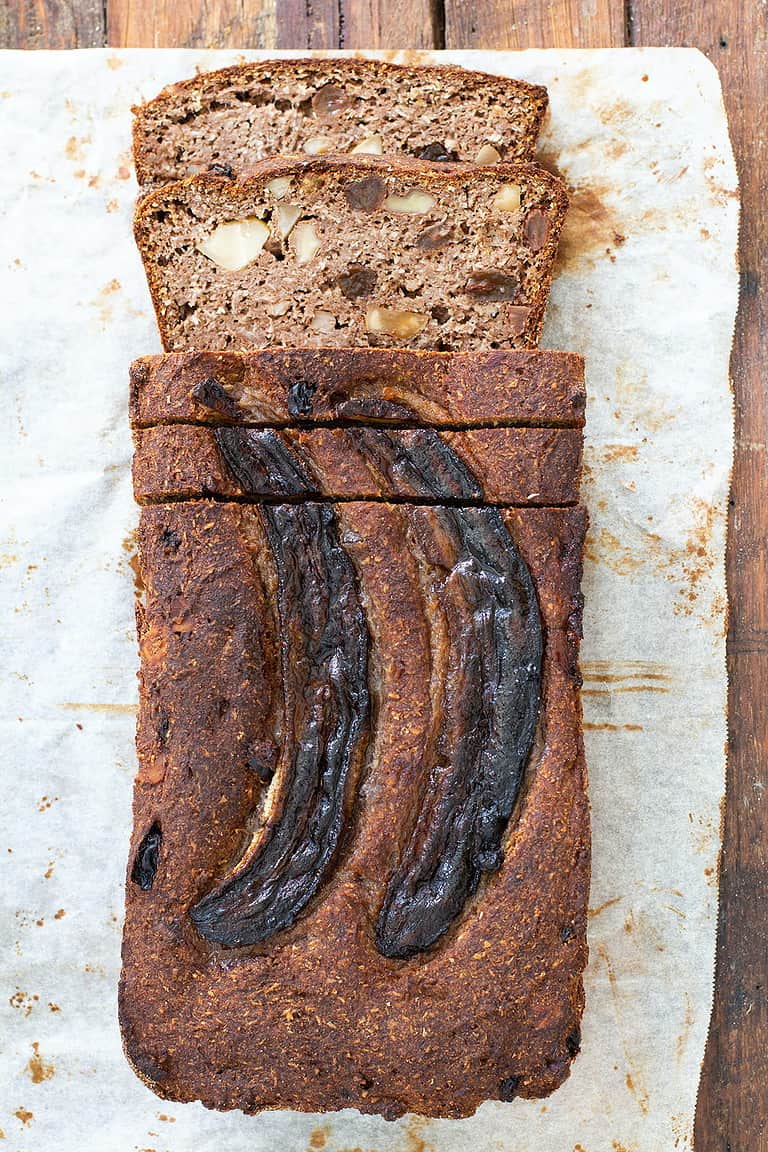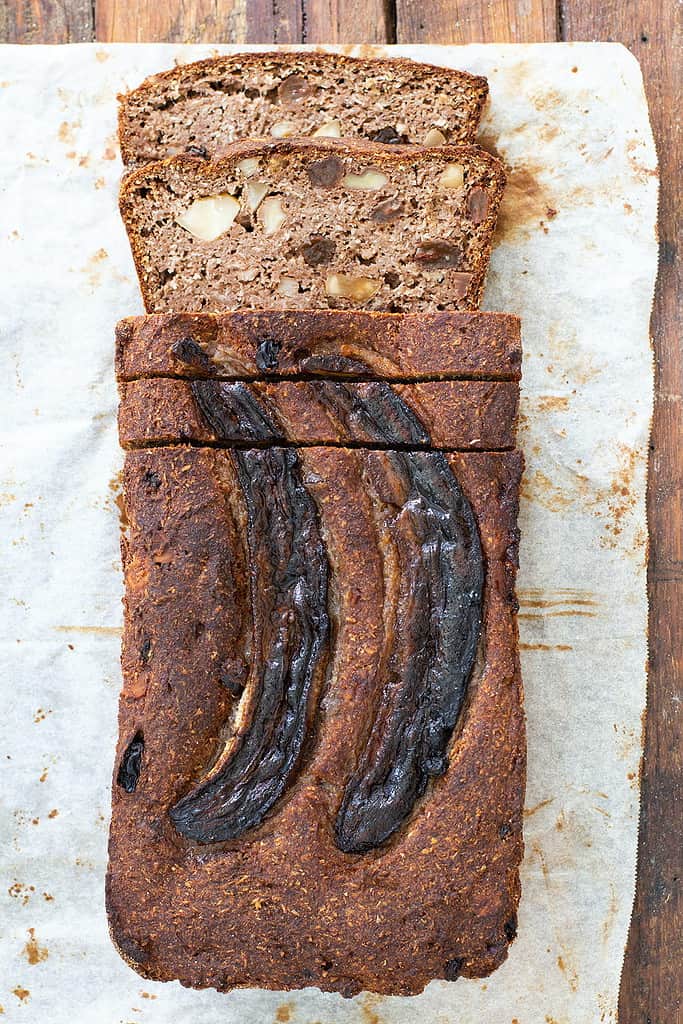 So many of you not only use these gut friendly bread recipes as a way to include more whole food meals and snacks in your diet, but also as reliable recipe options that tick intolerance friendly boxes. Therefore, I wanted to create a sweeter bread base that worked well for both providing a nutritious and nourishing recipe yet was also friendly on the gut. I also wanted the recipe to be quite flexible so you can chop and change it up to suit your needs further. Different flour, alternative nut or seed meals, different fruit based – this Vegan Banana Coconut Bread has all the options for adaptions as I have listed below.
how to adapt vegan banana coconut bread for low fodmap and intolerance friendly versions
use ground sunflower seeds or ground hazelnut meal in place of almond meal for lower FODMAP
use just ripe banana instead of super ripe bananas and ground macadamia nuts instead of desiccated coconut and almonds for lower histamine version
use stewed apples or stewed berries in place of banana for lower starch fruit options
omit raisins and add in cacao nibs for lower natural sugar option and lower FODMAP
use a mix of seeds such as pumpkin seeds, sunflower seeds and sesame seeds if requiring a nut free version along with sunflower seed meal in place of the almond meal
use mashed cooked pumpkin or carrot instead of mashed banana for a fruit free option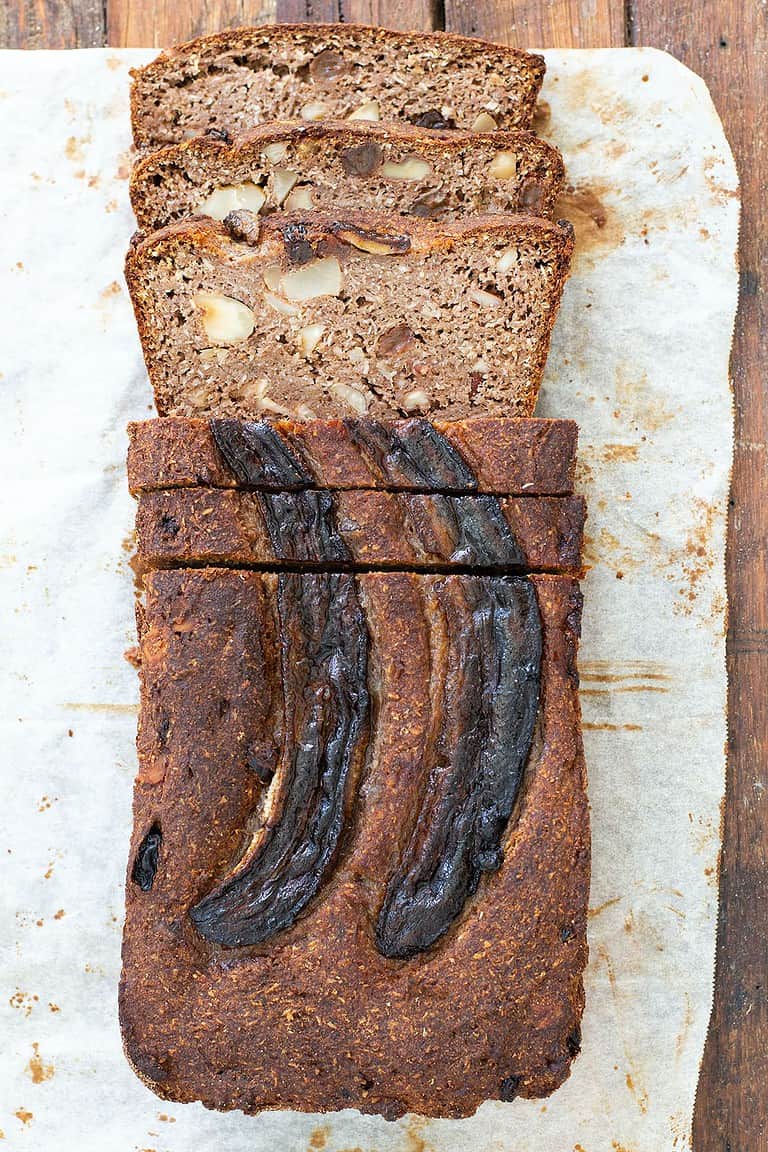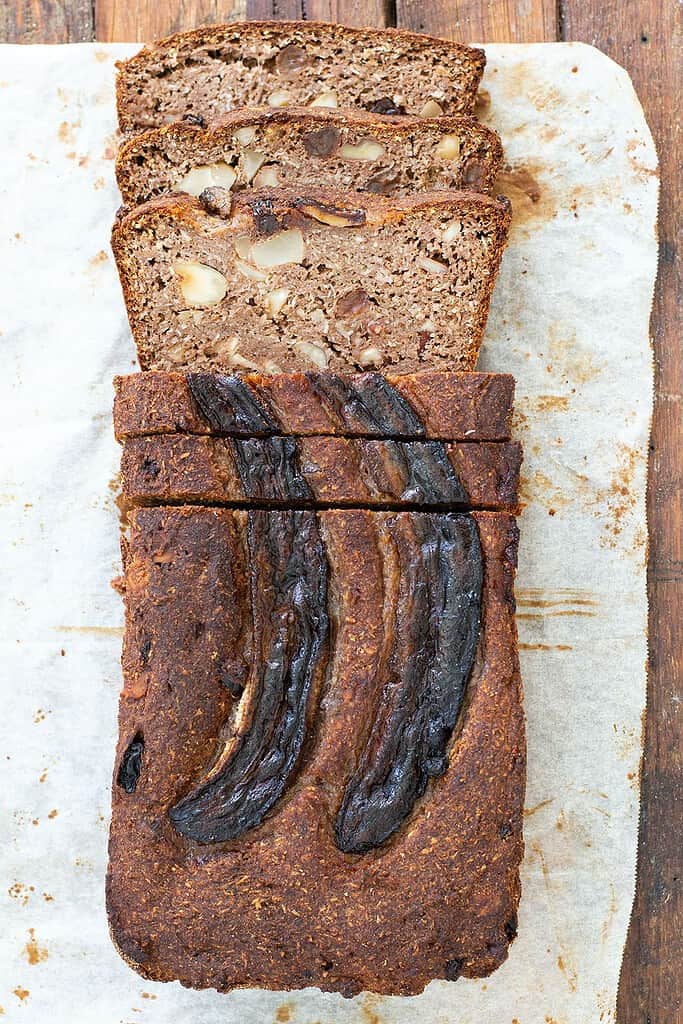 All of these variations give you endless ways that you can mix and match this recipe. Of course catering for individual dietary needs aside you can also add in different flavours and ingredients just because! If you are anything like me it's always tempting to try something new with a recipe, so here are some extra ideas just because its always fun to mix it up.
what else can I add to a base banana bread recipe?
add in chopped dark chocolate or cacao nibs for healthy chocolate vegan banana bread
add in extra spices like cinnamon and five spice
swap 1/4 cup of water for 1/4 cup of black strap molasses for a strong malt flavour
stud the top of the bread with sliced pears or apples instead of banana
swap 1/4 cup of water for 1/4 cup of rum
add in an extra 1/2 cup of chopped dried figs or medjool dates
swap 1/4 cup of sorghum flour for 1/4 cup mesquite powder for a caramel flavoured banana bread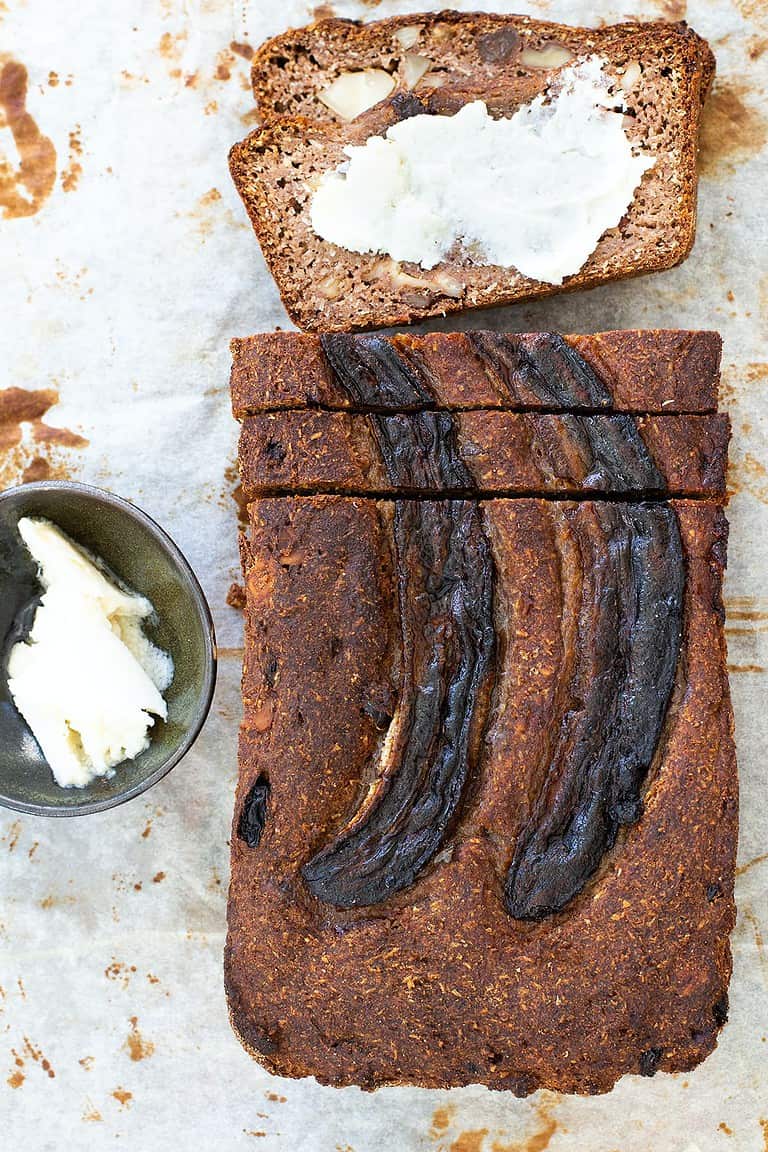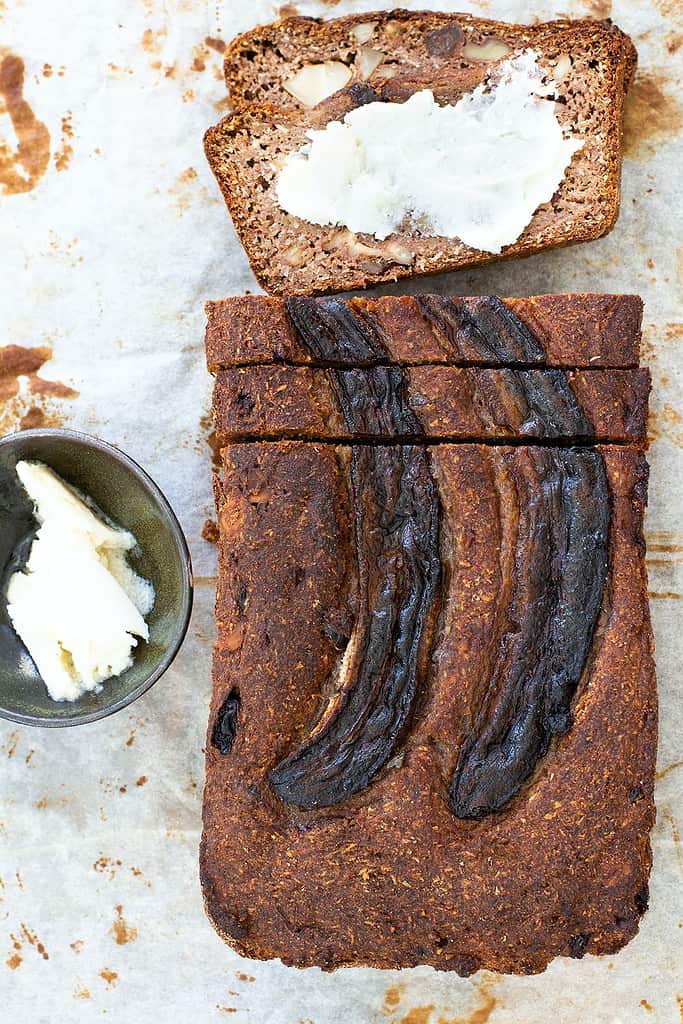 Now with all of these extra ideas I should encourage you to make this Vegan Banana Coconut Bread first as is before you go medaling too much! It really is a delight. Quite dense as any whole food loaf should be, but packed with the flavours of toasted banana and coconut. The added walnuts and brazil nuts provide nutty crunch and the raisins bursts of sweetness. I do love it toasted personally then smeared with a really good vegan butter or peanut butter.
batch cooked banana bread
The other wonderful fact about making your own bread is that you can make up as much as you want, then slice it up and freeze it for later use. I encourage just about all of my clients at The JCN Clinic to batch cook in general, in particular aiming to entice at some point the idea of batch cooking bread. Once you've broken the seal its as easy as 1, 2, 3. Home cooked bread is leagues above bought bread and having your own bread that you can whip up a batch of every second week and then pull out of the freezer when needed is just the best.
This Vegan Banana Coconut Bread like the Gut Friendly Bread also travels well, so you can take a few slices and pop them in your little esky bag or travel bag and take it away with you. I've done this plenty myself, even on long haul flights. I just pack a little container of nut butter as well or use a spread at the destination if easier. It's really the classic case in point of spending a bit of time on the weekend preparing some staple recipes that pays off divid ends throughout a busy week.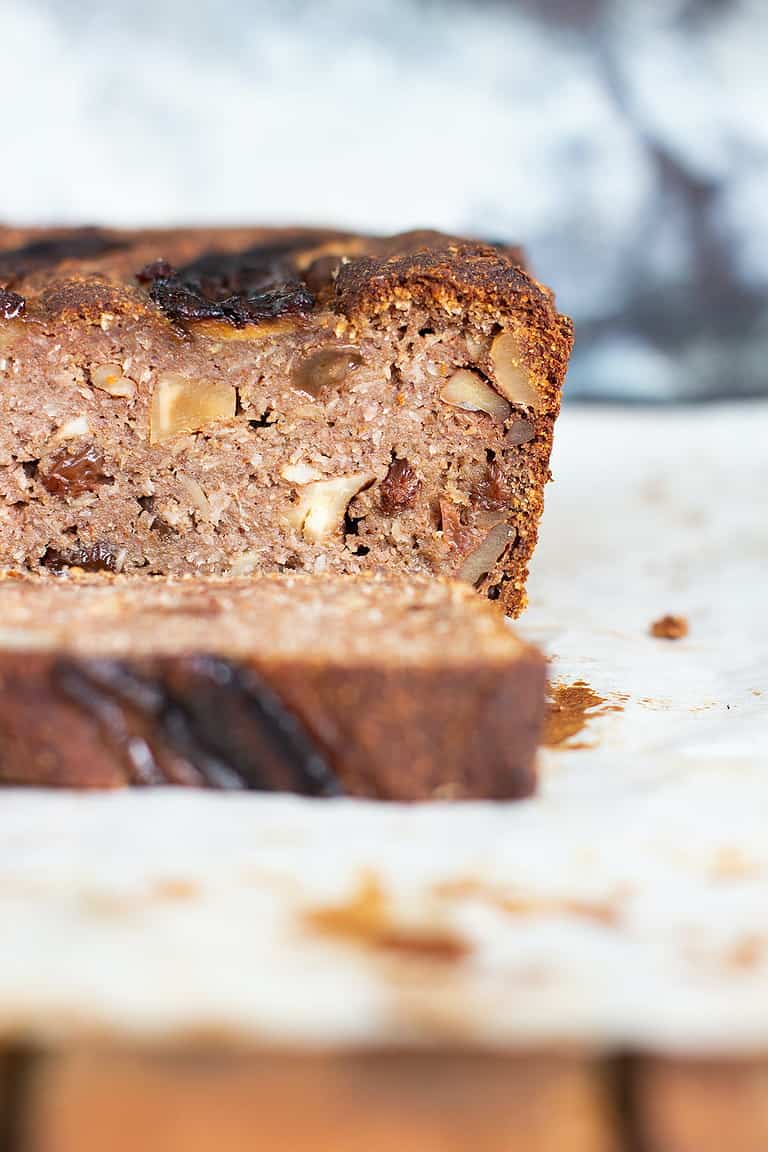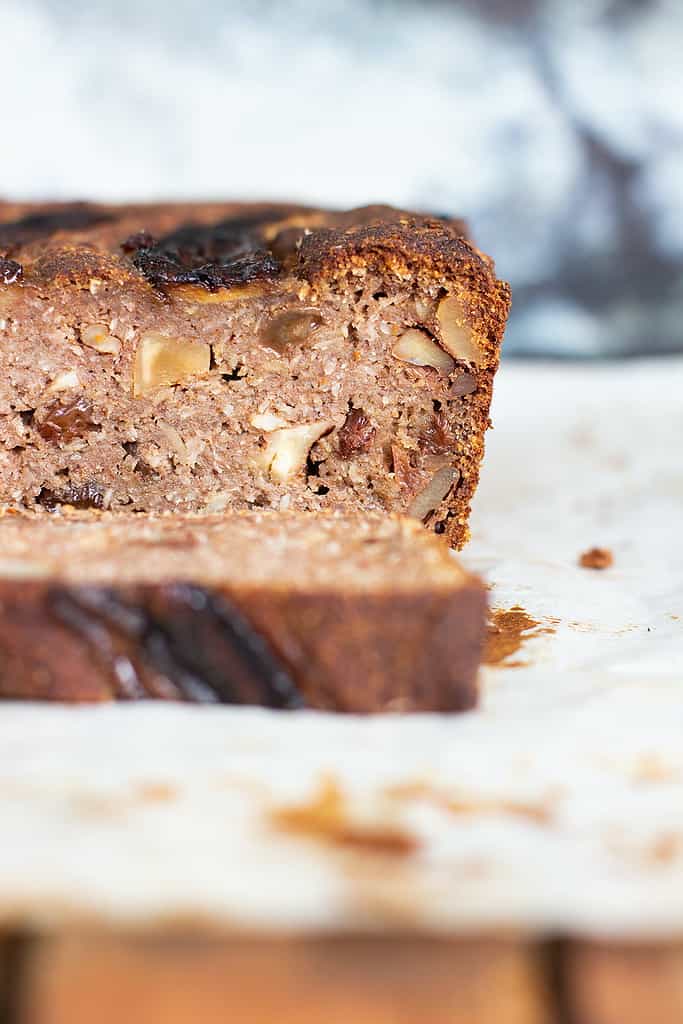 Like what you're seeing? Subscribe for new recipes and nutrition tips every week!
My last incentive in making this recipe is the fact that it makes a brilliant special breakfast or morning/afternoon tea, and with Mother's Day fast approaching this Vegan Banana Coconut Bread would be perfect to bake for your Mum right? If you are able to visit your Mum at the moment then think about making a freshly baked loaf and enjoying some toasted slices with her on Mother's Day. I know if I could visit my Mum I'd be doing just that. Although an earl grey tea on the side would also be mandatory right Mum?
Need personalised nutrition advice catered to your needs?
If you are after personalised nutrition advice and dietary planning individualised to your health and dietary needs then contact us at The JCN Clinic with your enquiry. We are always happy to answer any questions you have!
vegan banana coconut bread recipe
serves

2 as a side dish

preparation time

10 min

cooking time

50 – 60 min
ingredients
1 cup sorghum flour
1/2 cup almond meal
3/4 cup desiccated coconut
2 teaspoons baking powder
1 teaspoon cream of tartar
2 tablespoons psyllium husks
1/2 teaspoon sea salt
1 teaspoon ground cloves
1 teaspoon ground nutmeg
1/2 cup walnuts, roughly chopped
1/3 cup brazil nuts, roughly chopped
1/2 cup raisins (optional)
1 & 1/4 cup (250g) mashed banana
1 tablespoon apple cider vinegar
1 teaspoon vanilla extract
1 & 1/2 cup water
1/4 cup extra virgin olive oil
method
Please keep in mind that oven temperatures vary and you may not need the exact same time as outlined below. Keep an eye on your banana bread as it bakes to ensure it doesn't over cook.
Pre heat your oven to 180c.
Oil and flour a standard sized bread loaf tin (or line with baking paper if you prefer). My tin is 22cm(l) X11cm(w) x 55cm(d) (these are internal tin measurements).
In a large bowl combine the sorghum flour, almond meal, desiccated coconut, baking powder, cream of tartar, psyllium husks, salt, ground cloves and ground nutmeg and mix well.
Stir in the chopped walnuts and brazil nuts, followed by the raisins. Set aside.
Add to a blender the mashed banana, apple cider vinegar, vanilla extract, water and extra virgin olive oil. Blend till well combined.
Pour the wet banana mixture into the bowl with the dry flour and nut mixture and use a wooden spoon to mix everything together until well combined.
Take your oiled and floured bread baking tin and spoon in the banana bread mixture. Even the top out with the back of your spoon.
Cut the remaining banana down the centre and the push each half into the top of the banana bread, inside of the banana flesh facing up. Brush the banana with some extra virgin olive oil.
Place the Vegan Banana Coconut Bread into the oven for 50 – 60 minutes, checking at the 30 minute mark and ever 10 minutes after to ensure it is not cooked (oven temperature times may vary). The Vegan Banana Coconut Bread is cooked when it is firm to touch in the centre.
Allow to cool in the tin once cooked for 10 minutes and then use a butter knife to gently run around the sides of the bread tin. Flip the tin over and carefully remove the bread, placing on a wire wrack to cool.
Allow the Vegan Banana Coconut Bread to cool ideally before slicing (best left overnight to cure).
Serve Vegan Banana Coconut Bread with your favourite toppings. Lovely also toasted.
nutritional information for Vegan Banana Coconut Bread
This Vegan Banana Coconut Bread is free from gluten, dairy, eggs, yeast, sugar and can also be easily made nut free. This make it a wonderful choice for those of you following elimination diets or restricted diets whilst nutting out food sensitivities.
Sorghum flour is becoming super easy to access now here in Australia. I adore its flexibility in gluten free baking, it holds well and is not too starchy meaning it will not get gluey like rice flours or tapioca starch, or even coconut flour (though coconut flour has no starch, it is just quite absorbent). Sorghum flour is rich in fibre, just 1 cup contains around 12 grams of fibre. It is also a good source of B1, B2 and B3 along with minerals such as iron and phosphorus. Sorghum is also rich in flavonoids, a phytochemical with potent anti-inflammatory and antioxidant qualities. Sorghum flour is also quite inexpensive in comparison to other gluten free flours on the market.
Jessica Cox is a qualified practicing Nutritionist with a Bachelor Health Science (Nutrition) and over 15 years of clinical experience. She is the founder and director JCN Clinic, published author and established recipe developer. Jessica is well respected within health and wellness space for her no fad approach and use of evidence-based nutrition.